Two of the best cities in Southeast Asia in my opinion, both Singapore and Kuala Lumpur are must-see destinations if you're visiting this region, as both have so much to offer in terms of culture, food and attractions.
And the best thing? These 2 destinations are actually pretty close together, which means it's very easy to travel between them too.
Bringing you the full lowdown on how to get between Singapore and Kuala Lumpur, so you can easily combine them into one great adventure, is this full travel guide…
---
Related Posts
---
This page contains affiliate links meaning Big World Small Pockets may receive a small commission on any purchases at no extra cost to you.
---
Distance between Singapore and Kuala Lumpur
If you weren't in the know already, Singapore and Kuala Lumpur (or KL as it is known) are actually pretty close together.
Both situated on the same geographical peninsular (because KL is located in the south of Malaysia and Singapore is a tiny country / city rolled into one), it's actually pretty amazing how near each other these 2 cities are.
Indeed KL and Singapore are situated just over 35km apart from each other – a distance that can be covered by land in around 4 hours!
That's pretty amazing for Southeast Asi, a fairly large region where cities are often spread far apart.
Indeed it takes longer to get from the capital KL to many other destinations in Malaysia than it does get to Singapore!
But I digress, because it's travel between Singapore and Kuala Lumpur that this article focuses on, so if you're making this journey independently, as I did, here's the full lowdown on how to get between these 2 cities using bus, train, plane or tour.
Armed with all the info, you can then make your choice about which method suits you best….
#1 By Bus
So the first way to travel between Singapore and Kuala Lumpur is by bus.
This is by far the most popular method and it's the method I used too, which is why I'm including it first on this list.
Cheapest and among the quickest options, bus travel between Singapore and Kuala Lumpur also gives you flexibility, as there's a ton of different services leaving every day and from different parts of the city.
The easiest place to pick up a bus leaving Singapore from Kuala Lumpur is from the Golden Mile Complex – this is the centralised main bus station and will certainly be the easiest to grab a departing bus from with the largest range of options.
Either you can walk there and buy a ticket in person from one of the many bus companies, or you can save yourself the time of this errand and simply book online.
As always, I recommend the excellent website 12Go when it comes to booking this bus journey… in fact any journey across Southeast Asia!
12Go give you a huge range of journeys to choose from, including departure times and prices, so you can make the best selection for your travels.
To be honest, most journey times are fairly similar between Singapore and Kuala Lumpur so, if it was me, I would concentrate on the departure point (go for the Golden Mile Complex in Singapore), the departure time (what sort of time works with your travel plans) and finally your arrival point in Kuala Lumpur.
Kuala Lumpur is a huge city and although there are a few larger bus stations (with one in particular – known as Terminal Bersepadu Selatan, or TBS – servicing buses from destinations to the south to the capital, such as Singapore), many bus other services from Singapore will drop you off at a huge variation of destinations across the city.
Very often it's worth checking these destinations on a map to see if these other drop-off destinations are nearer to your accommodation in Kuala Lumpur than TBS – they probably will be!
If they are, I recommend going for that service instead of one that takes to you TBS, because you'll easily be able to use a rideshare service, like Grab, once you arrive in Kuala Lumpur to get to your accommodation.
And the shorter the distance of this journey, the better – you'll see why when you experience the traffic in KL!
In essence therefore, you should base your choice of bus from the Golden Mile Complex in Singapore to Kuala Lumpur in Malaysia largely on the time it departs and where it drops you off in KL.
Prices will be pretty standardised, and all the buses that run this route are reputable, comfortable and safe.. that's just how it is in Singapore!
Prices start from around $35 USD and buses take around 5 hours – although this depends heavily on what the border crossing is like, which is impossible to predict!
Nevertheless, the bus remains a safe and easy option – as a solo female traveller, I found it a piece of cake!
#2 By Train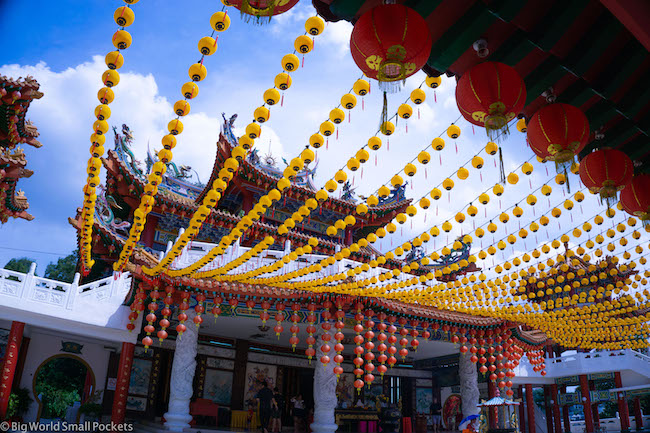 In general, I wouldn't recommend getting the train between Singapore and Kuala Lumpur, it takes ages and isn't that straightforward.
Unless you specifically love getting trains, I'd avoid it, but I'll give you a few details anyway in case it does tickle your fancy!
You actually need to change trains at Gemas when travelling from Singapore to KL, which means booking two tickets and adds even more hassle to the journey!
However, once you change at Gemas, you'll then be on a high speed train to KL, which speeds up the journey and the quality of the ride significantly.
Journeys depart from Singapore's Johor Bahru Central Station and arrive at Kuala Lumpur Central Station and tickets costs around $25 USD one way.
There are around 3-4 services daily by train between the 2 cities, but you can actually travel all the way to Bangkok from Singapore by train if you wish!
If you do wish, then I'd still break up the journey in KL, as well as further north in Malaysia in Penang if I were you, but there's no doubt going all the way to Thailand using this method would be fun!
Once again, use 12Go to book this train journey.
#3 By Plane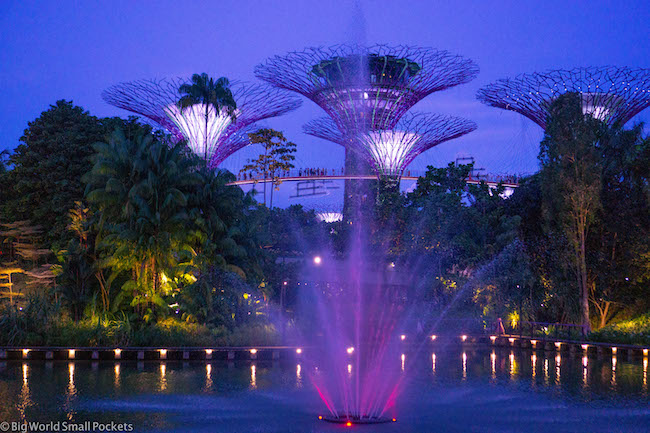 And now we come to the quickest option of them all, or it so it seems.
Yes you can easily take a flight from Singapore to Kuala Lumpur in just 30 minutes.
However, when you factor in getting to the airport, check-in time, passing through security, luggage collection time, as well as disembarking etc, the reality is that this option might not be that much quicker than the bus!
And it certainly won't be cheaper, with prices (even on budget airlines) starting from around $55 USD.
As always, it pays to book in advance with flights and to use a comparison website to get the best deal.
My go-to here is Skyscanner, because I always find they offer the best prices and options.
Have a look yourself, but do remember to consider your carbon footprint when booking a flight this short and perhaps book the cheaper bus instead!
#4 By Tour
And finally, the last option on this list, you can also take a multi-day tour in this part of Southeast Asia that includes the destinations of both Singapore and Kuala Lumpur and will shuttle you between the 2.
Here's my list of the 3 best tour options that take in both these great cities as well as the transport between them…
Bangkok to Singapore in 14 Days
South Asia: Hilltops & Street Food
Overland Tour from Singapore to Kuala Lumpur in 4 Days
Travel Guide to Singapore and Kuala Lumpur
When to Visit?
Situated fairly close to each other, Singapore and Kuala Lumpur tend to have similar weather patterns, which thankfully makes it easy to visit both destinations in one trip!
Because this is not a given with other parts of Southeast Asia or even other parts of Malaysia!
In general, the best time to visit both these destinations is between December and April, with February and March being the optimum months.
This is when it is driest and coolest in both destinations.
Trust me, in cities like Kuala Lumpur and Singapore, this is a godsend!
What to Do There?
For more ideas about what to do in Singapore and Kuala Lumpur, check out these 2 posts I wrote:
How Long to Spend There?
It might sound strange, but while most travellers donate more time to Singapore, I loved KL just as much and found there was so much to do there I couldn't fit it all in!
As such, I recommend a minimum of 3 nights for both cities, making your trip to Kuala Lumpur and Singapore a total of 6 days.
Of course, you could easily spend longer in both these cities, but this would have to be balanced against other destinations you might want to visit in the region.
In particular, Malaysia offers an amazing range of travel experiences you can't miss!
Where to Stay?
If you're a budget traveller like me, then the best place to stay in Kuala Lumpur is definitely Birdnest.
I totally loved this homely backpackers, which had a great location and friendly staff.
When it comes to Singapore, there's no question in my mind, you really should stay at Beary Bear Singapore – the best budget accommodation deal in this expensive city by miles!
Otherwise, if you want something a bit more private, then check out Oakwood Premier in Singapore, it manages to balance affordability (in this country) with good amenities.
In Kuala Lumpur, you've got a much bigger range of decent hotels for a decent price, but my pick of the bunch is definitely the EQ Kuala Lumpur.
What to Pack?
Here's my top 5 items I recommend taking to Kuala Lumpur and Singapore…
#1 Good Day Pack – A great idea for day trips and sightseeing adventures, a good day pack will help you carry all you need (including snacks, water, camera etc) and keep the weight distributed equally across your shoulders. This one from Osprey is fantastic.
#2 Walking Shoes – There's likely to be a lot of walking in these 2 cities, especially around all those attractions! As such, I advise packing a pair of good runners, like these New Balance trainers, which were perfect for my time here.
#3 European & British Power Adapters – Malaysia has a mix of power outlets, but generally opts for a mix of the European and British ones, so make sure you come prepared with a world adapter.
#4 Camera and Lens – I love my Sony A6000 mirrorless, which was ideal for capturing the colour, chaos and cuisine and charm of Southeast Asia.
#5 Rain jacket – It's so humid in both these cities that it can rain at any time of the year. Go prepared with a light thin, compact waterproof jacket that is perfect for travel and those sudden downpours!
Travel Insurance for Southeast Asia
World Nomads offers simple and flexible travel insurance. Buy at home or while travelling and claim online from anywhere in the world.
Alternatively, if you're a long-term traveller, digital nomad or frequent remote worker seeking travel health cover, check out Safetywing's Nomad Insurance policies.
Travel Money in Malaysia
When it comes to paying for things in Malacca, you want to ensure you're not being charged overseas transaction fees or getting poor exchange rates when using your card abroad, which is why I always take my Wise card away with me wherever I travel.
The easy way to spend abroad with real exchange rates, no markups and no sneaky transaction fees, you can use your Wise card just like a debit card here… and it links easily with Google and Apple pay – sold! Grab yours here.
Continuing on Your from Singapore or Kuala Lumpur?
From Singapore, you can then catch a flight to just about anywhere, which is pretty much what you'll need to do unless you plan to head north through the Malaysia Peninsular.
Changi Airport in Singapore is a huge international hub, so you have loads of flight options, but those to other Southeast Asian destinations are usually the most affordable including Thailand, the Philippines and Indonesia.
Flights to Australia and New Zealand, as well as Hong Kong and India, are also common from Singapore.
From Kuala Lumpur, you can again either fly to a huge range of international (and national) destinations, or you can continue to head overland up through the Malaysian Peninsular, visiting other spots in this amazing country, before carrying on to Thailand if you wish.
Learn more about what to do in Malaysia in this top itinerary I wrote for the country.
Consider booking your onward travel using the great website Bookaway, they compare hundreds of different journeys to save you time and money.
PIN IT TO PINTEREST!
So that's my guide about how to travel from Singapore to Kuala Lumpur
Hopefully you've found this information useful, but any other information you have to add that could help a fellow traveller out, please drop it into the comments box below…