A wonderful spot on the English south coast, Hastings is perfectly situated between coast and country.
With both sandy and pebble beaches on its shore, along with wonderful countryside perfect for walking around, there's no end of history and character thrown into the joyful mix of Hastings and its surrounds!
It certainly makes for a great trip, so if you're looking for a top weekend or day trip from London (or from anywhere in the southeast) then I can't recommend Hastings enough.
Bigger than Margate or Whitstable, but smaller than Brighton, Hastings is a perfectly-sized destination that boasts wide streets, large open spaces, several different areas and tons of stuff to enjoy there.
Talking of which, here's my list of the top 21 things to do in Hastings…
---
Related Posts
---
This page contains affiliate links meaning Big World Small Pockets may receive a small commission on any purchases at no extra cost to you.
---
#1 Wander the Old Town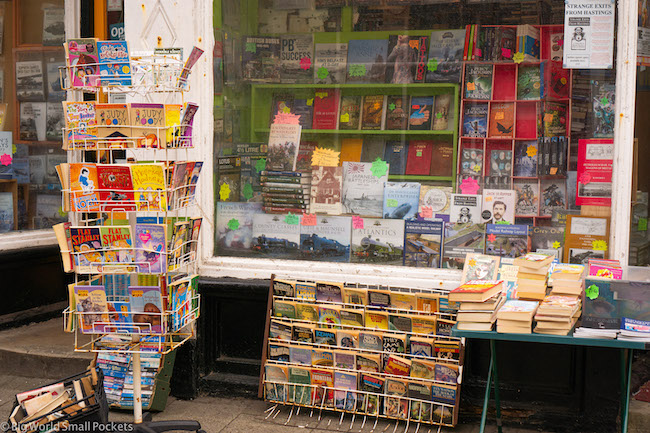 As I mentioned in the introduction, there's a few different parts to the town of Hastings (which is really the size of a city, but is called a town I guess because it doesn't have a Cathedral) and one part you absolutely can't miss is the wonderful Old Town.
Full of cobbled streets, independent shops, quirky artifacts, traditional fish and chip bars, along with vintage stores and the odd trendy restaurant or café, this is a stunning spot you can easily get lost in for a few hours.
#2 Visit Alexandra Park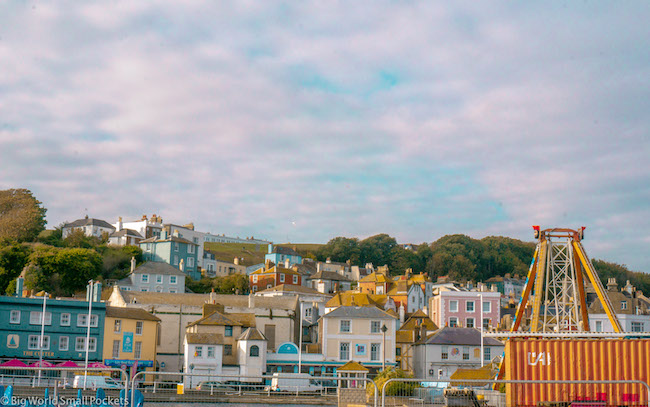 A beautiful public area in Hastings, Alexandra Park is definitely one of the best green spaces you must visit in this town thanks to its large pond and gardens.
Situated behind the station, this is actually Hastings largest park space and is a delight for the whole family with playgrounds, cafes and some seriously beautiful trees.
Also worth a visit is Hastings' Country Park, which is a lovely local nature reserve just out of the city to the east. Located up on the cliffs, it has stunning views of the expansive coastline below, which are magnificent on a clear day.
#3 Take the Funicular
It's a defining icon in Hastings and it's definitely one of the best things to do here!
Yes taking the funicular up above the town is an absolute Hastings classic, which sums up the kitsch charm of much of this seaside destination.
This cliff railway, as it's known, is the steepest in the UK and dates back to the Victorian era – the carriages still retain the historic look.
There's actually a few different funiculars, which you can use to get to West Hill, East Hill or the Country Park I mentioned above.
#4 Check out the Hastings Contemporary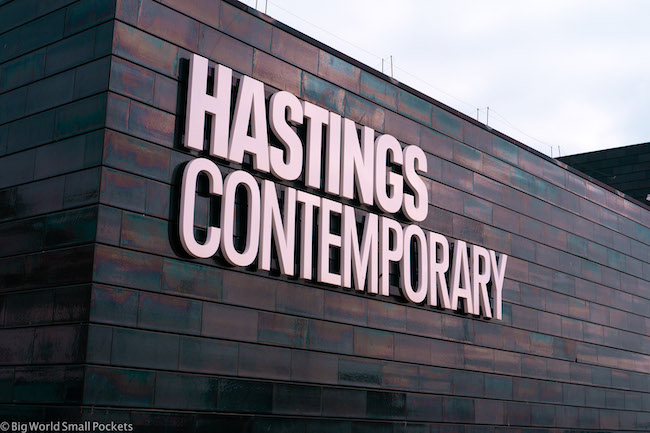 From things to do in Hastings that require some physical energy, we now move to a rather more sedate activity, and that is visiting the wonderful Hastings Contemporary.
Originally opened in 2012, and formerly known as the Jerwood Gallery, this is an incredible art space with a mix of permanent and revolving exhibitions that are well worth checking out.
Oh and it's free to enter too!
#5 Spend a Few Hours at Hastings Castle
And another cultural one of this list of must-do things in Hastings, it's visit Hastings Castle.
Amazingly not far from the centre of the town, this was originally a wooden tower built on top of a manmade mound.
Later developed into a stone fortress after William the Conqueror's coronation, (yep we're back to good old 1066 here!), the ruins you can visit today and are an important part of this historical story.
Tickets cost around £5 to enter and can be bought at the entrance.
#6 Stroll the Iconic Pier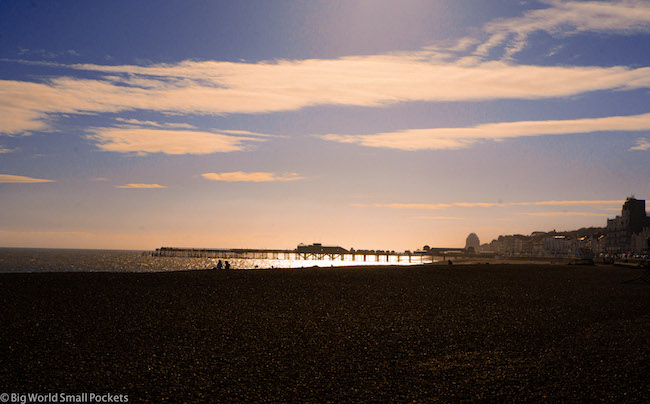 And from one historical structure of importance to another, yes down on the seafront now, there's no way you should come to Hastings and not stroll along the wonderful iconic pier here.
Recently regenerated, but originally built in 1872, this was once a music venue that sadly fell into disrepair following bad storms and fire.
But it's now been returned to its former glory and strolling along it is a must!
#7 Find Beautiful Pebbles at Pelham Beach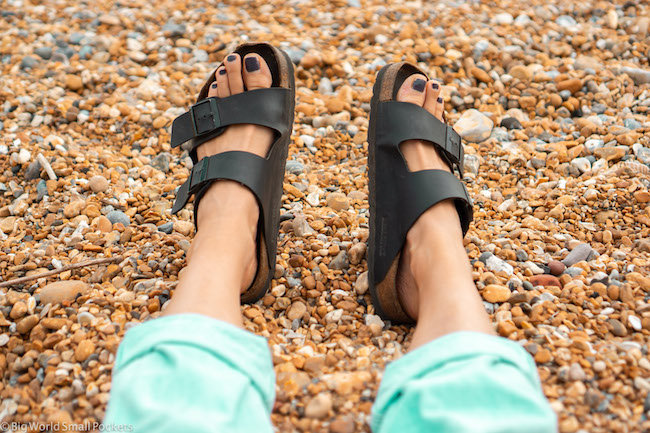 And just alongside the pier is the lovely Pelham Beach.
The main stretch of beach near to Hastings New Town, this is a pebbly affair, but it's easy access and cute beach huts still make it a firm favourite.
Definitely one of the best things to do in Hastings, Pelham Beach is one you can't miss.
#8 Be Fascinated at the Shipwreck Museum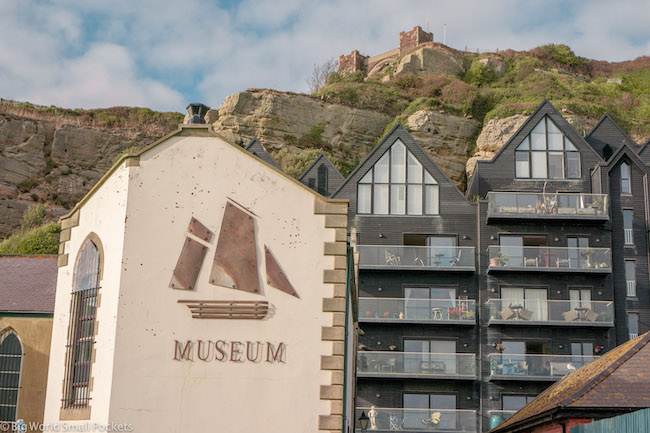 But now we turn from the beach to the sea, and it's time to learn about the seafaring history of this town and some of its unfortunate tales.
Containing many artefacts from ships that met their fate in the English Channel, Hastings Shipwreck Museum is a fascinating insight into how dangerous sailing used to be back in the day (and still is to some degree).
Adult entrance tickets cost £6.50 and can be bought on the door.
#9 Ride on the Miniature Railway
And right by the Shipwreck Museum is one of Hastings top novelty attractions, the miniature railway!
You can actually grab a ride on this tiny train, which runs on real tracks through the historic fishing port of Hastings, for a 600 yard journey!
A hilarious activity that is great for kids (big and small), the trip only costs £1.50 for a single journey or £2.50 for a return, and is well worth it in my opinion!
#10 Play a Game of Bingo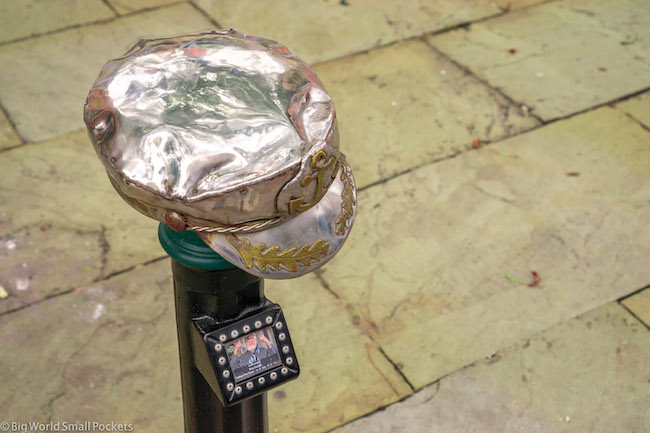 What can I say, no time in an old English seaside town is complete without a game of bingo.
Somewhere between an initiation process, a rite of passage and a slice of cultural voyeurism, you can't miss this one when you come down to Hastings.
#11 Eat your Weight in Fish and Chips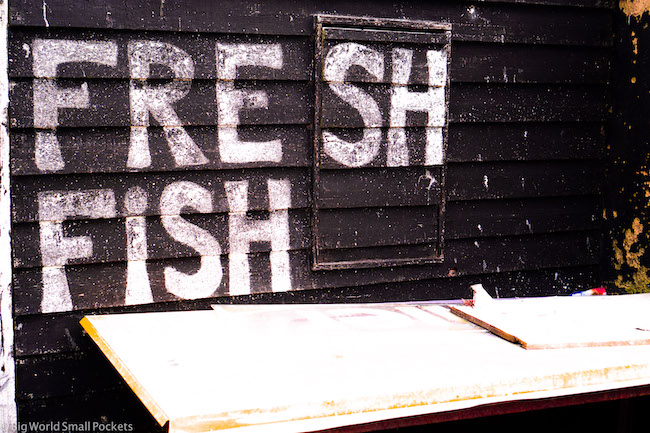 Nor can you miss this one!
Whether it's battered or fresh, fish is definitely the order of the day in this seaside town and there's plenty of ops when it comes to eating the stuff too – from your traditional chippies to your more upmarket spots.
The other thing that everyone eats when they come to Hastings is sweets- there's heaps of vintage-esque sweet stores here with tons of bright, colourful, sugary treats in jars many find hard to refuse!
#12 Go Fishing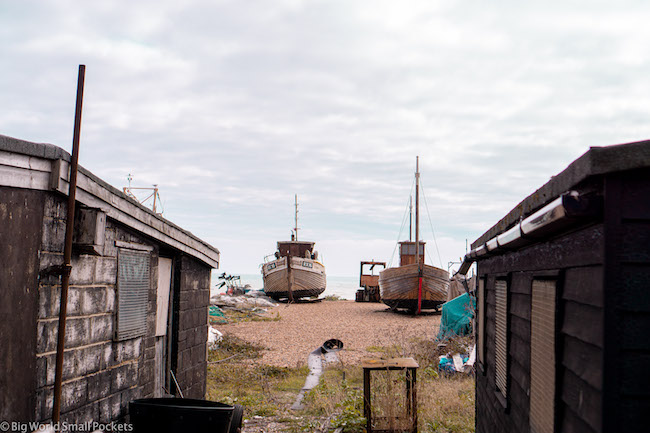 And if you're not eating the fish, then you're perhaps heading out to catch some on a fishing trip from Hastings?
Or, at the very least, you're wandering around The Stade – the heart of the historic fishing trade here and the largest beach-launched fishing fleet in Britain.
This is a great spot to head to if you're into your photography as well as, with authentic character by the bucketload.
#13 Shop for Antiques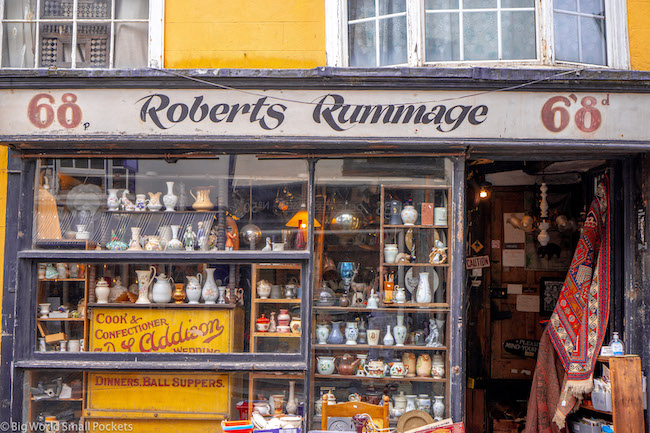 And talking of authentic character, there's so many great quirky, vintage shops in Hastings, that exploring a couple of them is a must while you are here.
The antique sellers, in particular, are the kings of kitsch in these parts, so definitely check out a couple of them if this is your thing.
#14 Find Rock-a-Nore Beach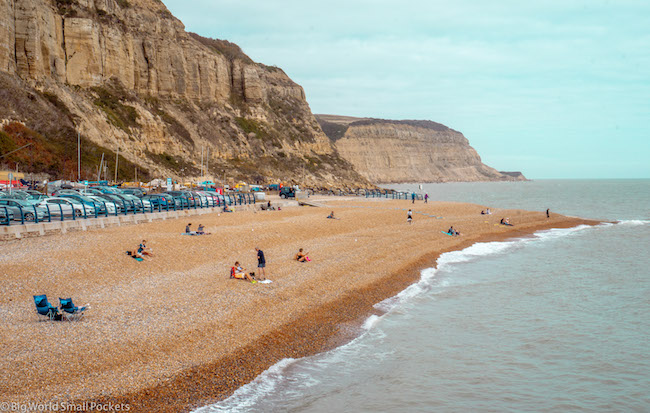 A sandy gem very close to Hastings Old Town, if the main Pelham Beach is a bit too busy, or a bit too stony for you, then Rock-a-Nore Beach is the one to head for.
An amazing spot to enjoy the sun, the sand and the sea, this quiet corner is a peaceful retreat and finding this beautiful, chilled spot was certainly one of my favourite things to do in Hastings.
#15 Swim in the Sea
And once you do find it, or any strip of sea along Hastings expansive coastline for that matter, you've got to get in the water!
Safety first, bravery second!
#16 Play a Game of Mini Golf
But back on dry land, who doesn't love a game of mini golf?
Ok, well I don't, but I know loads of people do, so this one's for you guys!
Known as adventure golf, the course along the seafront in Hastings is actually 3 championship miniature golf courses rolled into one!
This makes it the biggest in the UK, and is accompanied by a number of rides in the area too.
Perfect spot to head for families.
#17 Cycle
However, if you're into sports that involve 2 wheels, rather than a set of clubs, then maybe Hasting's beautiful cycle track is the one for you instead.
Running all along the seafront for 7km, you can hire bikes along here too.
Otherwise, bring your own bike and enjoy a massive ride as part of the National Cycle Trail 2, which actually runs through Hastings on its journey all along England's south coast from Dover in Kent to St. Austell in Cornwall and is 361 miles long!
#18 Explore East Hill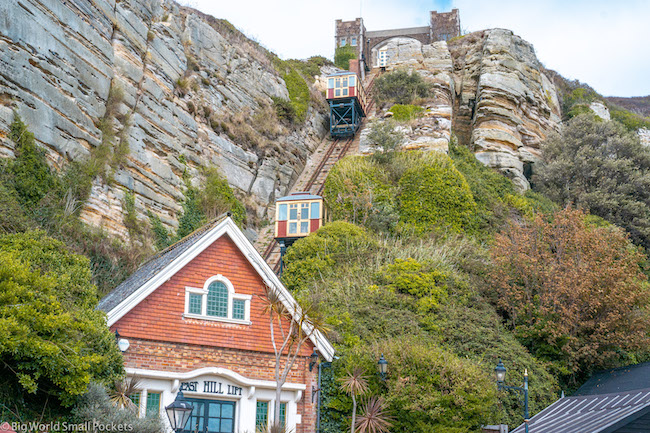 But if it's more elevated views of the coast you're after in Hastings, then it's hard to overlook (pardon the pun!) East Hill.
Rising above the Old Town, you can catch the clifftop railway up here and then take in the sweeping vistas and some lovely walks.
A favourite stroll of many is from East Hill to Ecclesbourne Reservoir, which is an ideal 6km trail if you fancy stretching your legs.
And it goes without saying, once you've paid for the funicular, this is all free!
#19 Hit Up Robertson Street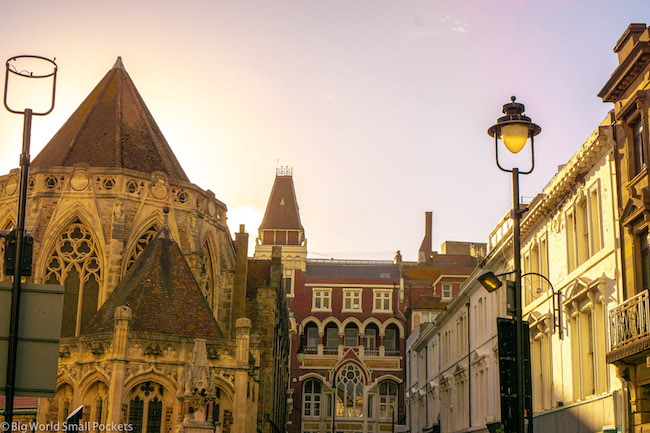 And while I know I've mentioned the Old Town in Hastings with its lovely cobbled streets and quirky shops, there's no question the so-called New Town here is coming along the regeneration line too.
Top of the list to see is Robertson Street, which is filled with great bars and restaurants – perfect if you're looking for a coffee, lunch, a drink or dinner.
The Vintage Living shop along this street is also well worth a look in too!
#20 Drink in a Traditional Pub
Rounding up this list now and winding down as we approach the end, what better place to finish up in Hastings than at a classic English pub?
There's too many to choose from here, but all of them boast plenty of character and some great pints!
#21 Don't Miss Battle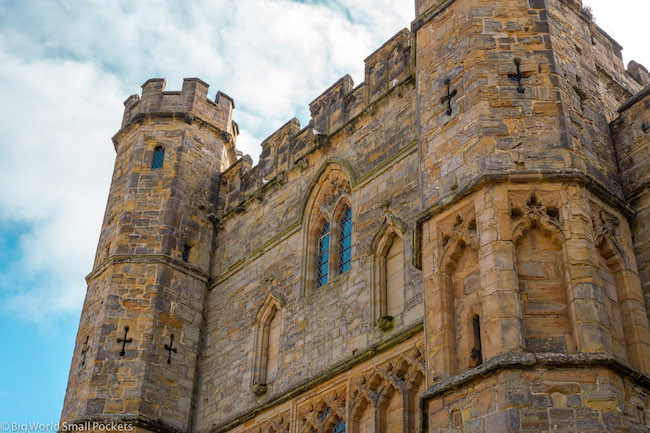 And last but not least, if you come to Hastings, you simply can't miss a side trip to the nearby town that gives this whole region its biggest claim to fame.
Yes Battle, where (all together now) the Battle of Hastings took place (see, joining the dots there), is just a few of stops from Hastings on the train and is well worth a couple of hours (or more) of your time
If you're either heading to (or back from) Hastings via London Charing Cross station, then Battle is actually a stop on the way, meaning you can easily hop off and head into the centre of this delightful town to visit the famous Abbey where it all took place many years ago.
The Abbey and battlegrounds are managed by English Heritage, so entrance is free to members, otherwise tickets can be booked in advance via their website.
Once you've learnt all about what went on in 1066 here, you can then enjoy one of the many trails in this countryside around – one of the biggest and best, will actually take you all the way to the charming destination of Rye – another gem of a destination in East Sussex.
Top Hastings Travel Tips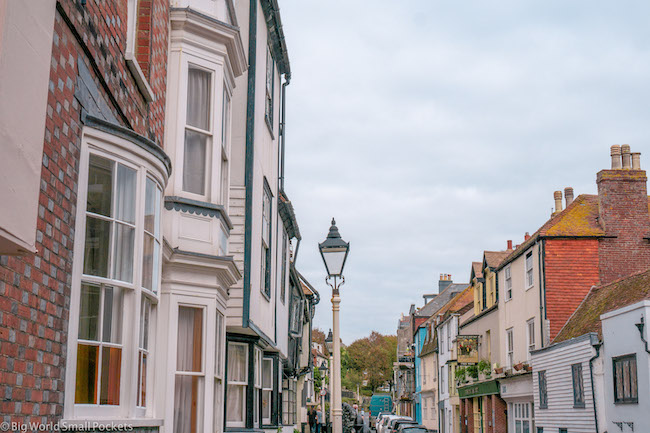 How to Get to Hastings?
You can easily get to Hastings, down in East Sussex in the south of England, from a range of destinations around the UK.
Many of these journeys will route via London, which is just a 1-2 hour journey from Hastings by train.
This makes Hastings a great affordable weekend or day trip – ideal for those seeking a bit of coast combined with countryside.
As always, I book all my UK train and coach travel using the great website Trainline.
I love how they automatically using split-fare technology to get you the best prices, as well as give you a huge range of services to choose from.
When to Visit Hastings?
I'd definitely recommend visiting Hastings in the summer, when the best weather will allow you to enjoy the beach, stroll the gorgeous Old Town and enjoy an ice cream on the Pier.
Just remember weekends, especially during the school summer holidays, can get very busy here and are probably best avoided unless you enjoy sharing the beach with throngs of others!
How Long to Visit Hastings For?
Hastings can easily be enjoyed as part of a great day trip from London.
If you set off early enough, you can also squeeze in a visit to Battle on the way!
The long summer evenings give you plenty of time to get back to the capital with a belly full of fish and chips and plenty of sand between your toes!
Otherwise, if you want to enjoy Hastings for a bit longer and perhaps explore some of the stunning East Sussex countryside around, this great town makes the perfect base for a weekend trip that is both easy and affordable.
Trains and coaches leave for Hastings from several different stations across London – get the full lowdown to making this journey here.
Where to Stay in Hastings?
And if you are looking at staying overnight in Hastings, then here's my top suggestions…
As always, VRBO has some great rental property options for groups and families. Check out this gorgeous historic cottage for 5 with a great location and beautiful furnishings or this spacious seafront apartment for 2 that has direct ocean views from the balcony.
Travelodge Hastings also offers great value accommodation within strolling distance of the beach and the Old Town. This is well-suited to overnight stays, where you just want somewhere to lay your head and aren't too worried about the feel of the place.
If you want something with a more independent spirit, then check out this cute, local guesthouse, which gets great reviews thanks to its brilliant location and excellent service. It's one of the best-priced in Hastings too.
Travel Insurance for the UK
World Nomads offers simple and flexible travel insurance. Buy at home or while travelling and claim online from anywhere in the world.
Alternatively, if you're a long-term traveller, digital nomad or frequent remote worker seeking travel health cover, check out Safetywing's Nomad Insurance policies.
Travel Money in the UK
The easy way to spend abroad with real exchange rates, no markups and no sneaky transaction fees, you can use your Wise card just like a debit card here… and it links easily with Google and Apple pay – sold! Grab yours here.
PIN IT TO PINTEREST!
And that's my list of the best things to do in Hastings – one of my fav destinations on the English south coast.
Have you visited Hastings?
What was your favourite thing to do there?
Or what are you most looking forward to enjoying in this great seaside spot?
Do help other travellers out by sharing your experiences in the comments below…