It's got to be one of the most charming towns in England – yes, good old Rye down in East Sussex really is filled with amazing things to do.
Touted as the best-preserved Medieval town in Britain (need to fact-check this, but I'm pretty sure I've heard it somewhere!), Rye really is a winner of the good old variety.
Small and quaint, with more cobbles than you can count (although quite frankly, why would you?), Rye is a day trip classic and a wonderful weekend away job.
Fairly easy to get to, but far away enough to stay calm and quiet, it's located in the rolling southern English countryside and is close the coast as well.
Pretty much the best of all the worlds in my opinion, Rye is a UK destination classic with tons of great things to do there.
Here are my top 15 picks of Rye's attractions…
---
Related Posts
---
This page contains affiliate links meaning Big World Small Pockets may receive a small commission on any purchases at no extra cost to you.
---
#1 Enter Through Landgate
Kicking off this list, I thought what better way to start than with an entrance to the city and one that tells the story of so much of its history too.
Enter Landgate – the last remaining entrance to the old walled city of Rye and quite the imposing structure to being your time in Rye at.
Dating back to 1329, this gate was originally built to ward off the marauding French troops that kept sailing across the Channel to ransack this part of the English coast and steal their church bells… among other things.
Ok I don't think they came for the bells specifically, but that's what they ended up with… you'll find out more later on in this article.
For the time being, admire the Landgate, walk through it into Rye, read the Blue Plaque to learn about it and then sit on a bench nearby and start to Google Rye history – the perfect entrance to your time here!
#2 Sample a Knoops Hot Chocolate
And conveniently, just as you come through the Landgate, Knoops is situated on your left-hand side.
Famed to be one of the best hot chocolates in the whole country – yeah that's right – there's now a string of Knoops around the country (mostly London), but this is the first and original.
Honestly, you can't miss stopping by to sample one of their famous sweet beverages and see if the hype lives up to its name.
#3 Go In Ypres Tower
But now it's back to historical larks, and next on my list of the top 15 things to do in Rye, it's to check out Rye Castle… or at least what's left of it!
Known as the Ypres Tower (spot the French influence I dare you), this structure was built in either the 13th or 14th century (apparently they're still not exactly sure) and has a perfect view across the marshlands to the coastline from where those pesky marauding Normans tended to come.
Open 7 days a well, and costing just a few quid to get in, there's some good historical information within this historical structure, care of an exhibition which looks a bit historical to be fair.
The nearby RCM East Street is the complimentary attraction which has more of a museum feel.
Either way, both are def worth a look in and a wander, especially for the historical buffs among you.
#4 Discover the Town Walk
And you can take in both of these attractions, plus many more in Rye, care of the excellent and also free Rye Town Walk.
Personally, there's nothing I love more in a good European town than a self-guided walk, which leads me to all the main sights, all the blue plaques and all the views for next to no effort and no money.
Rye Town Walk certainly doesn't disappoint and is a great way to orientate yourself around the historical centre.
The lookout along Watchbell Lane is particularly worth enjoying.
#5 Visit Lamb House
And also to be discovered along the Rye Town Walk is the National Trust site of Lamb House.
Occupying a prime spot in the historical centre of the town, this house is free to enter for National Trust members (learn more about becoming a member here) and is a beautiful Georgian building once home to the famous British writer Henry James.
The lovely walled garden here is also worth a stroll and a peaceful place to hide away from the rest of those pesky day trippers!
#6 Snap Mermaid Street
Once you've plucked up the courage to leave Lamb House, you'll conveniently find yourself just around the corner from Rye's most famous street – Mermaid Street.
To be fair, pretty much all of Rye is just around the corner, as there's only about 5 streets in the whole place, but that's not the point.
The point is Mermaid Street, and more specifically snapping it, is absolutely one of the must-do things in Rye.
With some of the oldest cobbles around here, as well as a stack of Instagrammable Medieval homes and a suitably ancient inn with a quintessentially tavern-y feel, this is essentially what you come to Rye for.
If you miss it, you've missed the whole point!
#7 Find the Oldest Pub in Rye
But despite looking it, apparently the Mermaid Inn is not the oldest pub in Rye.
No, that title goes to Ye Olde Bell Inn, which is just a hop skip and jump away in an adjacent street and dates back to the 15th century.
Visit in the summer months to enjoy the lovely outdoor seating area here, otherwise snuggle in by the roaring fire to enjoy your chosen tipple – you're on holiday after all!
My top tip here is that the outdoor seats at this pub are some of the best people-watching in Rye, so needless to say they get full early and people tend not to leave.
Lurking around in the street and pouncing at the earliest sniff of a free seat honestly is the best course of action if you don't want to start drinking at an obscenely early hour.
#8 Try the Rye Waterworks!
And now from the oldest pub in Rye to the quirkiest – yes East Sussex's first microbrewery is located in Rye and even, better than that, it's located in the old Waterworks building – so fun!
Trying one of the great beers on tap here is a must while you are in Rye and you can either sit outside, or pull up a pew inside amongst all the slightly bizarre memorabilia.
#9 Eat at the Standard Inn
I know I'm listing a lot of pubs here as some of the best things to do in Rye, but this is an old English town, so seriously, what do you expect?!
And on that note, in at number 9 on this list, it's another great Rye pub, this time the Standard Inn, which is the best place for a relaxed and affordable dinner with excellent quality food.
Just make sure you book, it gets busy!
#10 Catch a Film at Kino
And perhaps after dinner, it's time to relax and unwind and what better place to do that than in an arthouse cinema housed in a historic building.
Kino Cinema is a delightfully independent movie theatre, with a daily programme and a lovely café and bar alongside too.
Super place to catch a film after a busy day sightseeing!
#11 Walk to Camber Sands
If you've got more than one day in Rye, or you've got a full day and you sightsee quickly, then my tip is definitely to check out this top thing to do in Rye… even though it's not in Rye… you get what I mean!
Anywho, the point is that walking to Camber Sands is definitely one of the top things to do in this area!
The largest stretch of sand in this part of the UK (ok need to fact-check this again to be 100% sure, but think I'm right), Camber Sands is a delightfully wide and wild strip of beach.
Without any development behind, save for a few beach houses and a pier, it's rolling sand dunes that come down to this coastal area which stretches for miles in either direction.
Perfect for strollers, dog walkers, kite-surfers and all manner of other water sporting pursuits, Camber Sands is a classic you have to visit.
There's a designated trail all the way here from Rye, which largely keeps you off the road and next to a lot of sheep – which is nice in its own right.
Just go. Even in winter. It's epic.
#12 Coffee at The Whitehouse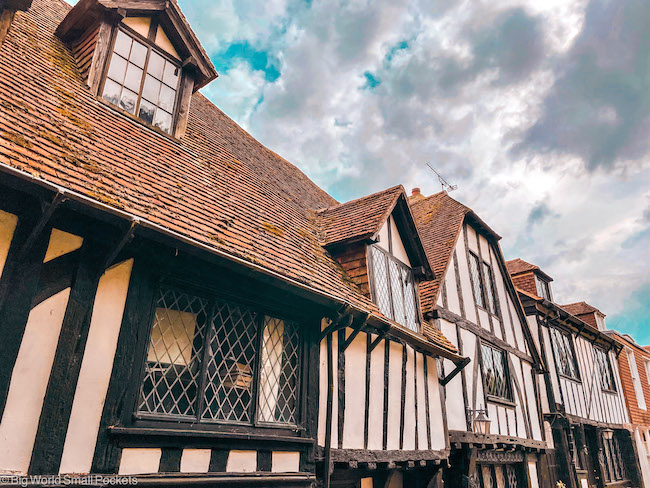 And once you've got back from Camber Sands, you'll likely need a good caffeine pick-me-up and my pick of the bunch (and yes there is a big bunch of cafes to choose from in Rye) is the Whitehouse.
These guys do an excellent oat milk flat white (I'm unashamedly that sort of coffee drinker) and a delicious savoury pastry accompaniment, as well as a great brunch, cake and other general bakery brilliance.
#13 Peruse the Shops & Galleries
Once suitably high on caffeine, it's time to hit the shops, with Rye offering plenty of quirky options, including a heavy spattering of antiques, sweets, soaps and art.
It seems a weird combination, but it works.
#14 Climb St Mary's Church
Despite having spent all your money by now, you may still have the £6 left required to climb the tower on St Mary's Church.
Occupying the prime spot in Rye, climbing up here to take in the view of the whole area is absolutely one of the best things to do in Rye and should not be missed.
The creaking ladder up through the rafters with minimal health and safety is just the beginning of the fun!
#15 Find the Old Shipyard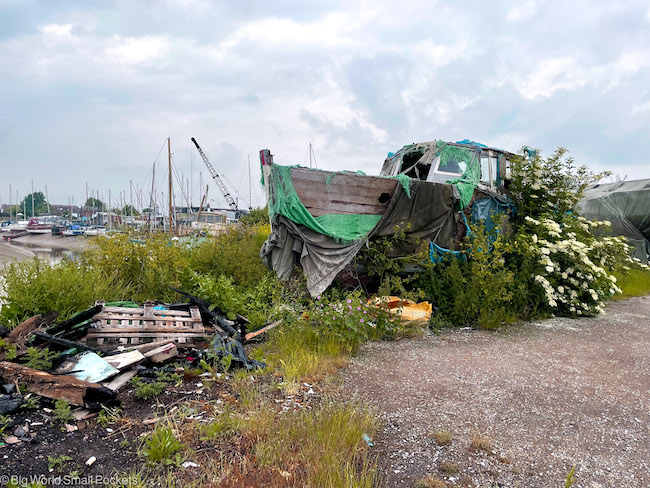 And last but not least on this list of the 15 best things to do in Rye, it's a bit of a hidden gem and that is to find the Rye Shipyard.
Ok, so it might not actually be called the Rye Shipyard, which understandably confuses things, but that's what it looked and felt like to me when I stumbled upon it in a bend in the River Rother just outside the historic town walls.
If you're into abandoned places, you'll probably love this spot too – full of atmosphere and characters and boat carcasses that seem half-forgotten on the edge of the marshlands… what could be better!
Top Rye Travel Tips
When to Visit?
There's no question in my mind, the best time to visit the town of Rye is during the summer season when the UK's good weather allows you to get the nicest experience from your time there.
This is especially true if you want to walk to and enjoy the beach at Camber Sands.
That said school holidays and weekends can get very busy in Rye, as it's a popular tourist town, so try to avoid these times if you want the least crowded photos!
How Long to Spend There?
One full day is enough to explore Rye, as you can easily walk around this tiny town several times in the course of a day!
If you're looking to experience some of the surrounding activities in the area – perhaps a swim at Camber Sands, a walk to the historic town of Battle or a drive to the utterly unique Dungeness – you can absolutely create a brilliant and jampacked weekend itinerary here that includes both history and nature.
If you've got longer to spare, then I highly encourage you to take a week, or even longer, to explore all there is to do in the county of East Sussex and the neighbouring county of Kent.
Learn more about what to do in the latter care of this list of the 13 best places to visit in Kent I wrote.
How to Get To Rye?
Rye is easily accessible by train from London, as well as other cities in the southeast of England.
London trains leave from St Pancras and are part of the highspeed service, which means this journey takes just over an hour.
You have to change at Ashford International, but it's really easy and straightforward.
Trains from St Pancras to Rye costs as little as £30 – even less if you have a Network Railcard – and run every hour.
In order to get the best prices, I always advise booking your train tickets at least a few days in advance, preferably a bit more, and using the excellent website Trainline.
Trainline's split-fare technology guarantees you the cheapest fares and their handy app allows you to store your e-tickets on your phone, meaning you don't have to mess around with collecting tickets at the station.
I also really like Trainline's journey planner feature, which allows you to track whether your train is on time and also lets you know when it's time to disembark.
Alternatively, you can easily drive to Rye too, which is probably the best option if you want to explore more of the surrounding area as well
From London, it's best to take the M20 via Maidstone and Ashford, which takes around under 2 and a half hours from the capital.
If you're looking to rent a vehicle in the UK, I recommend Discover Cars as they offer some great rates and are highly reputable – don't forget to check out these top tips I wrote if you're looking to hire a car on a budget in England too.
Where to Stay in Rye?
When I visited Rye, I actually stayed in The Whitehouse Rye.
With a brilliantly central location and free breakfast thrown in, if you're doing an overnight trip to Rye, it's hard to get more convenient than this spot.
For an iconic stay, and a bit of a splurge, it's hard to look past The House with 2 Front Doors – it's one of the prettiest properties on quinessential Mermaid Street.
Otherwise, if you want self-catering or to be at the beach, Bluebird is a whole 3 bedroom house you can rent for up to 7 people down at Camber Sands.
5 Key Packing Items for Rye
Here's my list of the top 5 packing essentials you shouldn't head to the beautiful destination of Rye without.
#1 A Good Camera – I love my Sony A6000, which is light, compact and great for travel.
#2 Decent Walking Shoes – Get prepared therefore and ensure you have a decent pair of walking shoes – these cross-trainers from New Balance are ideal (and totally stylish) for the job.
#3 Light Waterproof Jacket – This North Face one is perfect.
#4 Compact Hiking Day Pack – This super featherweight Kompressor from Marmot is my go-to, because it folds down to nothing and is water-resistant.
#5 Portable Charger – Never head anywhere without a trusty Anker Portable Charger, so you can take all the snaps and use all the maps you need!
Where to Head After Rye?
I've already outlined earlier in this article, quite a few places to travel in the area around Rye, including the towns of Battle and Hastings, Dungeness in Kent and Camber Sands.
However, just travelling a bit further will give you a ton more options, including the wonderful historic city of Canterbury, the very vibey fishing harbour of Whitstable, the iconic White Cliffs of Dover and the great walking territory of the Seven Sisters on the edge of the South Downs National Park.
Travel Insurance
World Nomads offers simple and flexible travel insurance. Buy at home or while travelling and claim online from anywhere in the world.
Alternatively, if you're a long-term traveller, digital nomad or frequent remote worker seeking travel health cover, check out Safetywing's Nomad Insurance policies.
Travel Money
The easy way to spend abroad with real exchange rates, no markups and no sneaky transaction fees, you can use your Wise card just like a debit card here… and it links easily with Google and Apple pay – sold! Grab yours here.
PIN IT TO PINTEREST!
So there you have it my list of the top 15 things to do in Rye, East Sussex, plus my top travel tips for when you head there.
I hope I've inspired you to explore this iconic gem of a spot… if you're travelling this way, it really should not be missed!
And tell me, have you visited Rye?
What was your favourite thing to do there?
Drop your answers into the comments box below, I'd love to hear them…