Honestly, it probably doesn't get more unique in the UK than Dungeness.
Part desolate shingle shelf, part abandoned fishing village, part post-apocalyptic industrial wasteland, it's a heady mix that has photographers and travellers with a penchant for the weird and wonderful drooling!
Almost uninhabited, save for a few converted weatherboard fisherman huts and a smattering of re-gen railway carriages, this place is a bizarre and offbeat coastal area that's utterly unique.
Thought to be the UK's only desert and with a subtle hint of wild west / American prairies thrown in for good measure – it's hard to advise you to do anything here but simply go and enjoy Dungeness for yourself.
And for that very reason, I'm bringing you all the lowdown about why you should visit as well as how and what to do when you get there in this, my ultimate guide to visiting Dungeness in Kent.
---
Related Posts
---
This page contains affiliate links meaning Big World Small Pockets may receive a small commission on any purchases at no extra cost to you.
---
Why Visit Dungeness?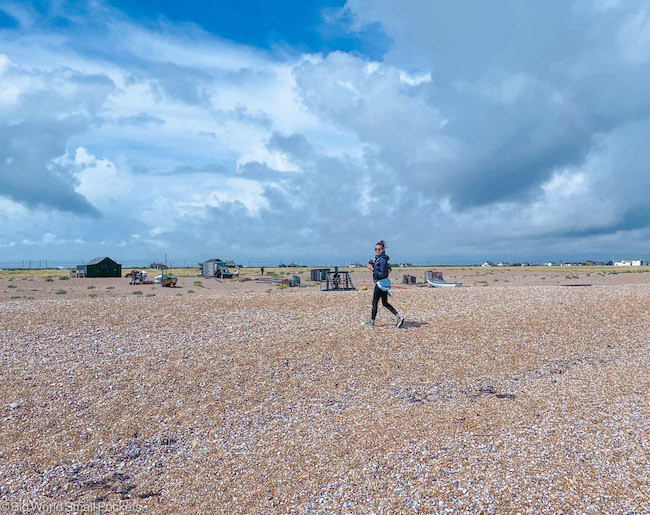 If you're into abandoned places and other kinda quirky spots when you travel, then you'll love Dungeness.
If you're feeling a bit burnt out by the kitsch seaside clamour of much of the southern English coastline and fancy a change, then you'll love Dungeness.
If you want to see a different side to Kent, a different kind of day trip that can't fail to impress, then you'll love Dungeness.
A land that time seems to have forgotten (sort of), Dungeness makes for a great London day out or the perfect inclusion in a longer Kent or East Sussex weekender.
For those into their fishing, or seafood, this is also a great spot and for those into their photography, it's hard to go wrong here too.
And for those who just want miles of undisturbed coastline to feel windswept and melancholy along, Dungeness could be the answer aswell!
Civilised in tone, but wild in feeling, Dungeness is the perfect coastal spot to get off the beaten track in the UK!
Where is Dungeness?
Dungeness is located in Kent, a county in the southeast of England.
Situated right on the coastline, the way the landmass of Dungeness juts out is actually what gives this place its unique geographic features, coupled with the marshland that largely lies inland behind it.
Just a hop, skip and a jump away from East Sussex, Dungeness is one of the most westerly points of Kent and very close in nautical miles to the French coastline – although you'll have to scoot up the road to Dover to catch a ferry there!
When to Visit?
There's no question in my mind, the best time to visit Dungeness is during the summer season, when the UK's good weather allows you to get the nicest experience from your time there.
This is especially true if you want to walk along the shoreline, eat fresh seafood on the cobbles and generally soak it all in.
Wild, winter weather might also be appealing in this desolate landscape (although photos will not be as good).
Just make sure you wrap up in suitable gear if you're opting for this!
How Long to Spend There
One full afternoon is enough to explore Dungeness, as you can easily walk along the coast, snap some of the quirky views and get a good feed-in during this time.
If you're looking to extend this to a day trip, then why not take in some attractions on your way down here – perhaps Rye and Camber Sands in East Sussex or some fun in Folkestone or Dover.
With any of these options, you can absolutely create a brilliant and jampacked day itinerary here that includes both history and nature.
If you've got time to go even further afield, then the Medieval city of Canterbury, the golden sands and kitsch charm of Margate, the wonderful seafood of Whitstable, plus all the vineyards, castles, walks and cycle routes of Kent are just waiting to be discovered.
Learn more in this list I wrote about the 13 best places to visit in this county.
How to Get To Dungeness
The trickiest thing about Dungeness, and part of what makes it so quirky, is that this place really is the end of the road!
As such, getting to it isn't always the easiest, especially if you're on public transport.
But it is possible, so read on to leanr more…
By Car
In all honesty, if you want to get to and explore Dungeness without a huge mission, the best option is probably to drive (sorry environment!)
To get to Dungeness from London, the best route to take is the M20 via Maidstone. Turn after just after Ashford and take the A2070, then the A259 and finally Romney Road towards Lydd, which takes around 2 and a half hours from London.
If you're looking to rent a vehicle in the UK, I recommend Thrifty Car Hire as they offer some great rates and are highly reputable.
And don't forget to check out these top tips I wrote if you're looking to hire a car on a budget in England.
Once you arrive at Dungeness, there is free parking available along the side of the road in, although this can fill up quickly, so I do suggest getting there in the early morning if possible.
Using Public Transport
Otherwise, if you are limited to public transport, the best way to get to Dungeness is via the highspeed train to Ashford and then to catch the number 11 bus down there, which will drop you at The Pilot pub.
Otherwise, you can also get the train to Folkestone and then hop on the number 102 bus from there down to The Pilot as well.
In order to get the best prices for trains in the UK, I always book tickets at least a few days in advance, preferably a bit more, using the excellent website Trainline.
Trainline's split-fare technology guarantees you the cheapest fares and their handy app allows you to store your e-tickets on your phone, meaning you don't have to mess around with collecting tickets at the station.
I also really like Trainline's journey planner feature, which allows you to track whether your train is on time and also lets you know when it's time to get ready to disembark.
For further discounts on the UK train tickets, you may consider getting a Network Railcard.
These have an annual fee, but usually get you up to a third off trains in and around London and the southeast.
If you live in London or plan to be travelling this part of the country a fair bit, they make a great investment.
By Steam Train
Finally, there is one more way to get down to Dungeness and in my opinion, it perfectly sums up the slightly offbeat nature of this place.
And that is taking the steam train!
Otherwise known as the Romney, Hythe & Dymchurch Railway, this historic locomotive operates on a line that began operating in 1928 – and you can see many of the old railway carriages, which have now become converted cottages there, as proof!
The RH&D Railway operated from either Hythe or Romney Sands to Dungeness and back.
Tickets must be booked in advance and can be done so here.
Given the infrequency of trains, this is certainly a journey you'll have to fit your timetable around but, if you can manage it, it's quite the way to arrive!
Things To Do at Dungeness
Honestly, the main thing to do when you reach Dungeness is to wander around!
Ambling about on 2 feet is the best way to take in this otherworldly landscape and to get under the skin of its quirky charm.
Strolling the shingle Dungeness beach is a great way to start your time here, as you pass semi-abandoned boats and shoreline fishermen.
Once you've tired of waking on pebbles, you can then divert back along the single-lane road, snapping the quintessential fisherman huts and converted railway carriages along the way (many have now become bouji Airbnb's which seems a little incongruous with their humble roots it must be said!)
The best one is probably Prospect Cottage, so try to find this for photos if you can.
You'll also want to see if you can spot the old BT Phone Box, which looks weirdly out of place propped up just beyond the shoreline and, behind that, it's hard to miss the Dungeness Power Station – a huge hunk of nuclear power industrial concrete and heavy fencing that looks like something out of a science fiction narrative.
There's also the lighthouse to enjoy in Dungeness – occasionally open and well worth a look-in if it is – as well as the RSPB bird reserve to explore in the marshlands around Dungeness, so do bring your binocs!
…And your camera!
For Dungeness is a photographer's paradise and you can happily snap away here to your heart's content.
Once all the hard sightseeing work is over, it's then time to relax with some food and drinks.
The Pilot is the famous pub where the railway stops, but it is a little out of the main action and you'll have to walk a way from here to the lighthouse.
The more central option is the Britannia Inn, which offers outdoor seating and some hilariously rude staff.
Honestly, this is one of the worst pubs I've been to in years, so pop in for a drink if you're looking for a good laugh at how bad hospitality can get!
By the train depot, there's also Ales on the Rails, which looks great but sadly wasn't open when I visited.
This leaves The Dungeness Fish Hut, otherwise known as the Dungeness Snack Shack on Google Maps.
This is definitely the place to head for food and drinks when you come to Dungeness – it was packed when I was there.
The place is one of those brilliant joints that you see popping up in many an old English fishing village these days.
The aesthetic is rough and ready – think small hut and picnic benches by the water – but the fresh seafood (if that's your thing) and craft beer is top-notch, making it a hit with those wanting a super tasty but casual and authentic option.
Ok, I'll just say it, this is the trendy place to get all the Reel feels for your Instagram shots, minus the pretense.
Where to Stay Nearby
If you want to stay in Dungeness itself, then your only choice is for chalet-type accommodation in some of the revamped fisherman cottages dotted along the pebbles.
If you're really looking to get away from it all, this could the perfect option.
Alternatively, you can head down to the road to the great sandy strip of Camber Sands, where a number of self-catering properties and holiday parks might suit those of you travelling as a group or family.
For something a bit more upmarket, check out The Workshop @ The Grange in Lydd or The Ship Hotel in New Romney.
Otherwise, why not motor on to either Folkestone, Deal, Rye or Hastings, where there's a lot more options owing to the popularity of these spots.
5 Key Packing Items for Dungeness
And finally, here's my list of the top 5 packing essentials you shouldn't head to the weird and wonderful world of Dungeness without.
#1 A Good Camera
No doubt you're going to be snapping like crazy in this otherworldly spot and need to ensure you have a good camera to do the place justice.
I love my Sony A6000, which is light, compact and great for travel.
#2 Decent Walking Shoes
You can't come this far and not enjoy a walk along the shoreline.
Get prepared therefore and ensure you have a decent pair of walking shoes – these cross-trainers from New Balance are ideal (and totally stylish) for the job.
#3 Light Waterproof Jacket
Whatever the time of year, you have to remember this is England after all, a country in which the heavens can open at any point!
Don't get caught out and ensure you have a good lightweight and waterproof jacket with you!
This North Face Venture 2 is perfect.
#4 Compact Hiking Day Pack
I never go on any trip, no matter how short, without a sturdy backpack to ensure I've got everything I need and that the weight is equally distributed across my back and shoulders.
This super featherweight Kompressor from Marmot is my go-to, because it folds down to nothing and is water-resistant.
#5 Portable Charger
And finally, I would never head off anywhere without my trusty Anker Portable Charger, which keeps my phone charged, meaning I can take all the snaps and use all the maps I need wherever and whenever I am!
Things to Know Before You Go
One of the most important things to know when you visit the Dungeness is that safety is paramount.
This includes not drinking alcohol if you're the designated driver, as well as ensure you play by the water safely.
Most importantly, do not swim at Dungeness.
The currents and tides here can be quite treacherous due to the steep shelf of the beach and there certainly aren't any lifeguards, or even enough people around, to help you if you get into difficulty.
You'll also want to bear in mind the weather, and make sure you pack accordingly for your trip to Dungeness, as the climate here can be wild and changeable – see my top 5 recommended items above.
In the winter months, it can be freezing, wet and windy here, so waterproofs are a must.
In summer, it can be seriously hot and there's little shade protection, so de ensure you bring sunscreen as well as a cap or other sunhat with you.
I'd also bring plenty of snacks and waters as there are few facilities around, including toilets, shops and general amenities.
The nearest town of New Romney has some very basic options, but you really need to drive to either Rye, or better Ashford or Folkestone, to find a decent level of supplies.
Where to Head After
There's plenty of great options within Kent and nearby East Sussex if you're continuing the exploring on after Dungeness.
Favourite Kent spots of mine include walking along the iconic White Cliffs of Dover, punting in historic Canterbury, oyster-snaffling in Whitstable and taking in the kitsch charm of sandy Margate.
Just across the county border in East Sussex, Rye and Camber Sands are just a short distance from Dungeness and then, a little further on, the towns of Battle and Hastings make for a super combination.
Continue into Sussex to discover the dramatic South Downs National Park and the iconic Seven Sisters Cliffs.
PIN IT TO PINTEREST!
So there you have it, my ultimate guide to visiting Dungeness in Kent, England
Have I inspired you to explore these utterly unique place?
Or perhaps you've been already?
Tell me all in the comments below…