Well let's be clear about one thing, it's staycation season folks!
Yes if the old pandemic has propelled anything into the stratosphere, it's the growth of travel closer to home!
Indeed millions of us have been roaming around nearer to our own backdoors than we normally would have and, it has to be said, I for one have much enjoyed the experience!
Now don't get me wrong, I'm almost certainly looking forward to packing my backpack and scampering off further afield but, at the same time, I truly have appreciated getting to know more of my homeland over these last 15 months.
And from the comments I've been getting from you guys, it sounds like I'm not alone.
So if you've already hopped onboard the UK staycation train and are keen for more, or you are yet to dip your big toe in and are wondering where to start, then listen up… this list of the 50 bucket list things to do in the UK is going to give you a ton of inspiration about what to do and where to go…
---
Related Posts
---
This page contains affiliate links meaning Big World Small Pockets may receive a small commission on any purchases at no extra cost to you.
---
#1 Tick London Off Your Bucket List
There's no question ticking London off your bucket list is a must.
This epic city filled with incredible historical sites, top museums, great galleries, yummy restaurants, beautiful walks, super shops and attractions, really does boast it all.
Whatever you're into, London has you covered!
Here's my list of the top 25 places to visit in this city.
#2 Marvel at Stonehenge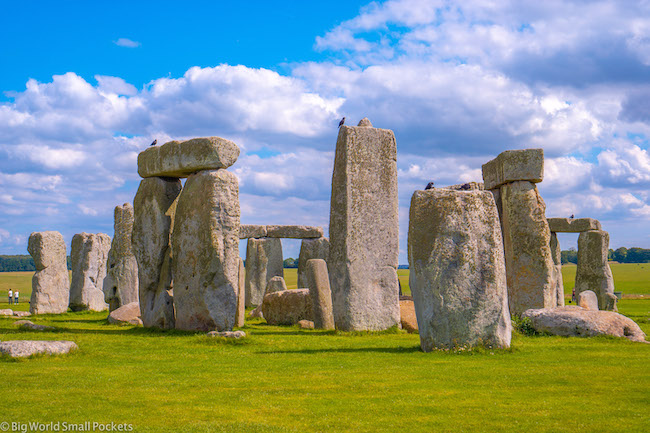 Over 5000 years old, the UNESCO-listed Stonehenge is one of the world's most famous structures.
Spend a day at this ancient site learning about the people that lived in this country thousands of years ago and marvelling at what they built.
You can learn about how to get from London to Stonehenge here, or discover how to get your Stonehenge tickets here.
#3 Hike Hadrian's Wall
Another UNESCO site, Hadrian's Wall was constructed to guard the wild north-west frontier of the Roman Empire.
Stretching 73 miles from coast to coast, you can walk the whole length of it as part of an amazing 5 day adventure.
Alternatively, if you're looking for a quick fix, then this top-rated 2 hour tour of the wall (complete with a full historical lowdown), should do the job!
#4 Road Trip Scotland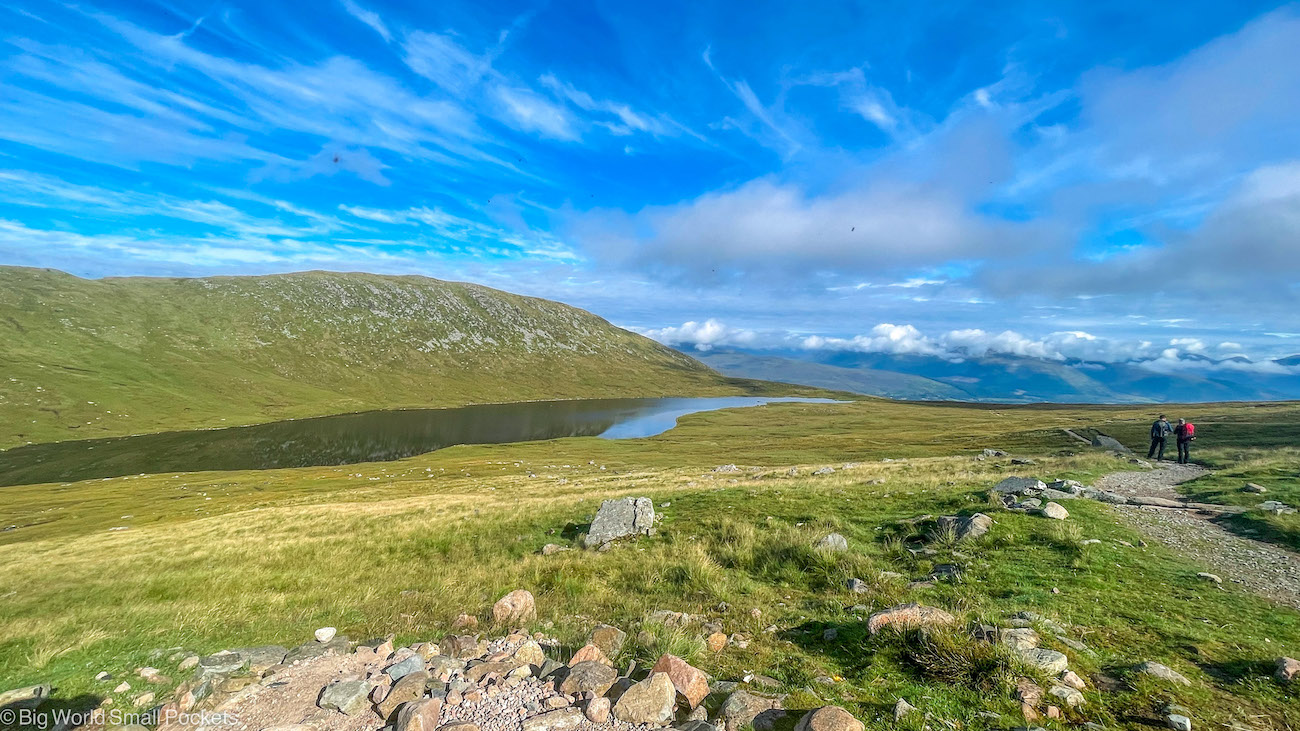 The North Coast 500 is one of the most famous road trips in the UK you can (and should) make!
Scotland's answer to Route 66, this is an iconic drive you can't miss for the scenery, the isolation and the whiskey tasting – it's a winning combination!
#5 Camp in the Gower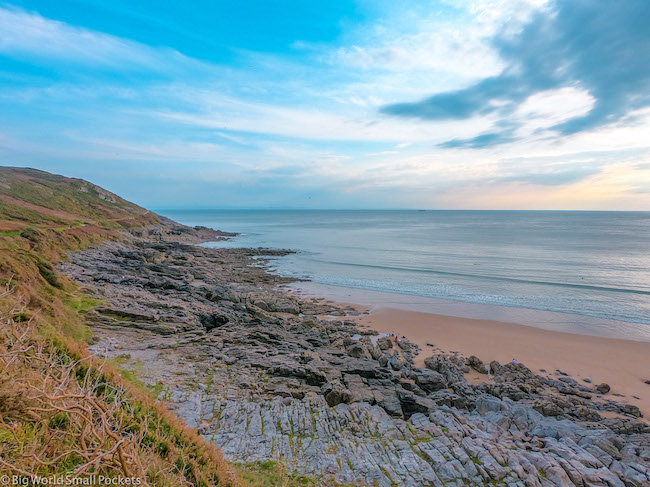 And from Scotland to Wales, the beautiful Gower Peninsula in the south of this country is a delight for campers thanks to its beautiful coastline, magnificent walks, historic sites and peaceful splendour.
Don't miss the famous Worm's Head while you are here, nor the opportunity to practice your surf skills!
Learn more about the best Gower beaches and the best Gower walks in these posts I wrote.
#6 Take a Tour of Belfast
The famous black taxi tours in Belfast really are a must when it comes to learning about the complex history of this city.
Taking around 1.5 hours, and led by locals, making these trips is totally one of the UK's most unique and interesting.
#7 Sing at the White Cliffs of Dover
"There'll be bluebirds over the white cliffs of Dover" sang Vera Lynn and, stood on the edge of Kent, with France clearly visible just under 22 nautical miles away, you can sing too as you stroll along these iconic limestone giants.
The White Cliffs of Dover are def one of the best places to visit in Kent and make for an awesome London day or weekend trip – check out my ultimate guide to visiting them here.
Otherwise, discover the top 10 other places I recommend you visit in Kent here.
#8 Snap Durdle Door in Dorset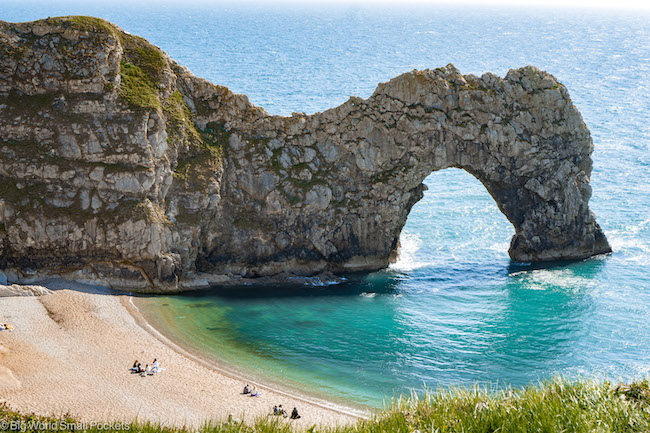 Another coastal special, the spectacle of the huge archway of Durdle Door in Dorset, located on one of the most beautiful stretches of coastline in the country, should not be missed.
Nearby Lulworth Cove is a must as well – do the hike between them if you can.
Here's a list of my fav Dorset walks if you want more inspo!
#9 Stroll Historic Bath
It's an absolute classic, but it's a classic for a reason, yes the UNESCO-listed city of Bath is a favourite of UK travellers thanks to its ancient streets, riverside setting, cute shops, impressive Abbey, Roman Baths and Christmas markets.
A great day trip from London, stay longer if you want to explore more of stunning Somerset, such as the pretty city of Wells, which is home to the oldest continually inhabited residential street in Europe.
#10 Order a Pint in a Pub
No matter where in the UK you are, you'll always find a good pub offering a brilliant pint, and sitting down to enjoy it, with some local company, is a bucket-list must!
With loads of craft breweries springing up across the country, there's plenty of beers and ales to try, and from traditional boozers to gastro-pub delights, choosing a good spot to sip on one shouldn't be hard!
Extra points if you manage to find a historic pub, many around the country date as far back as the 13th century and beyond!
#11 Stride out in the Yorkshire Dales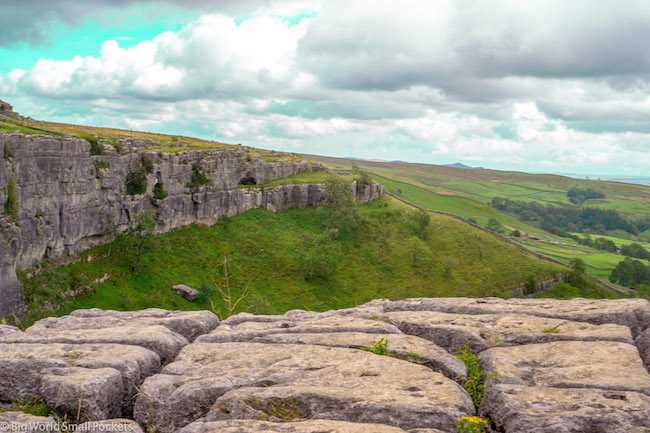 I know the UK has a lot of great pubs and beautiful green spaces for walks but, top of my list in both those categories, it has to be the amazing Yorkshire Dales.
A national park and incredible place for a hike, the delightful villages that scatter this area also add to the charm and appeal.
Don't miss Malham or Haworth – both gems in my book!
#12 Hire a Barge in Norfolk
The Norfolk Broads are famous for their flat and flooded composition, and hiring a barge to cruise the waterways at a leisurely pace here really is a dream!
Great with a group of mates, it's all about donning your captain's hat and getting out there!
#13 Summit Snowdown
And king (or queen) of the Welsh climbers, Snowdon is hard to overlook when it comes to the highlight summits you want to scrabble to the top of in this country.
Lying in the north of Wales, the national park that surrounds this mountain is also well worth exploring.
If you're not confident to do it alone, then this fantastic guided hike to the summit could be just the ticket!
#14 Pay Homage to the Beatles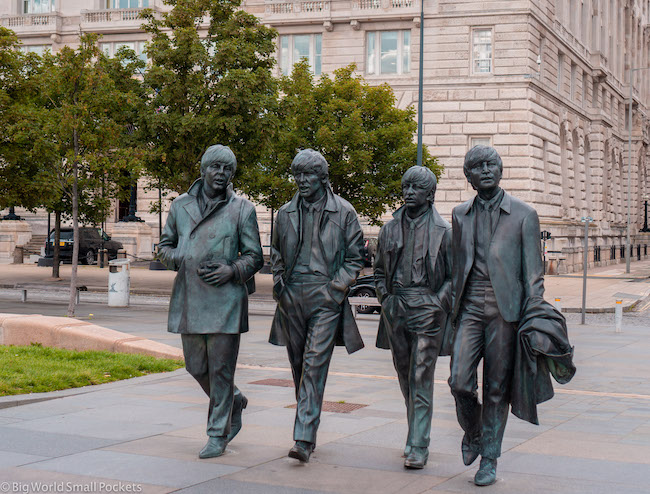 Home to the Beatles, as well as a whole host of other UK celebrities, Liverpool is a wonderful city in the northwest of England.
From the amazing Beatles Story through to the famous football grounds, ferries across the Mersey and a beautiful regenerated UNESCO-listed waterfront, full of great museums and cultural hotspots, this city is a total treat.
Discover my top 21 things to do there in this post I wrote all about my trip to Liverpool.
#15 Hike the Lake District
Also up in the north of England, actually just above Liverpool, is the mighty Lake District.
With some of the most striking landscapes in the country, ones which have inspired artists for hundreds of years, this is the perfect place to strap on your hiking boots and grab some fresh air.
#16 Hit the Beach in Cornwall or Devon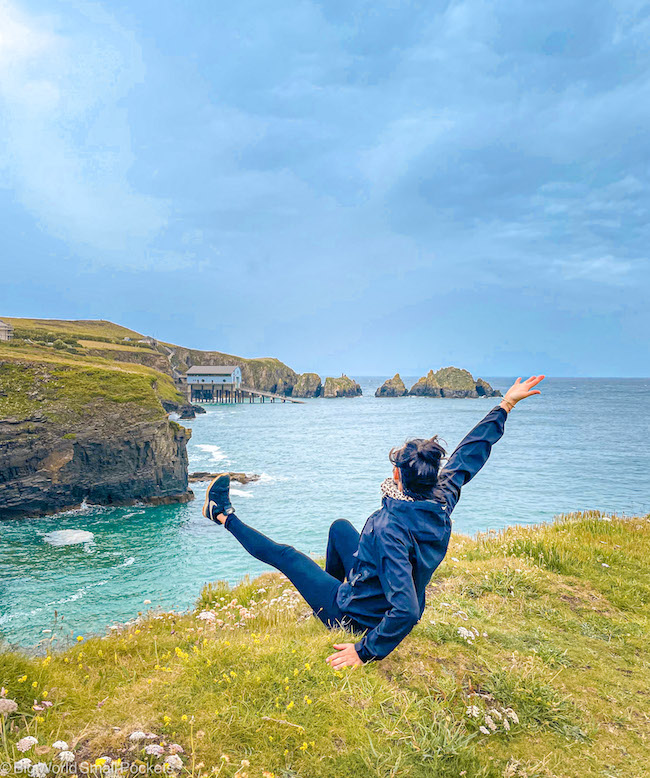 And when you're done with the Lakes, it's time to venture to the beach!
And top of this list have to be the counties Devon and Cornwall, with their wealth of amazing coastline, coves and cafes!
Yup no point coming all this way and not enjoying a famous cream tea too… it's all part of the fun!
#17 Spot Wild Ponies in the New Forest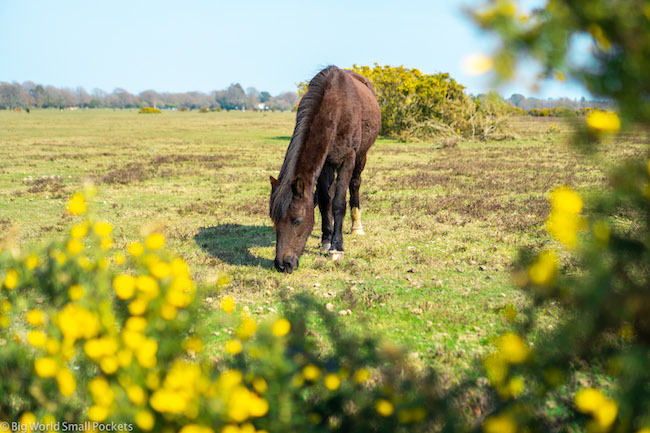 If wildlife is your thing, then the delightful New Forest is the ideal spot to clap your eyes on wild ponies… or donkeys!
Seen all over this amazing national park, where you can drive or cycle to your heart's content, the amazing trees and peaceful villages of this region make it a firm favourite.
Check out my list of the top 21 things to do in the New Forest.
#18 Find Your Fav Harry Potter Sites
The home of Harry Potter, the UK is awash with famous sites from the film and searching for them, spotting them and sharing them, is all part of the fun… if you're a Harry Potter fan!
A great one for the kids (big and small), there's so many options for tours and trains and trips to do with Harry Potter in the UK, that you really can't go wrong!
#19 Don't Miss the Cute Cotswolds Villages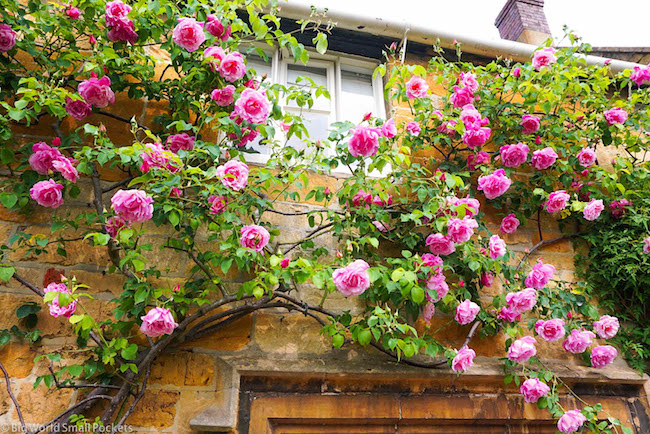 Another gem over in the southwest of England, the Cotswolds is famous for its beautiful villages, which are largely composed of cute sandstone cottages.
From Bourton-on-the-Water to Stow-on-the-Wold, don't miss the charming and quaint feel of this countryside area.
Check out my ideal 2 day Cotswold itinerary if you're heading this way.
#20 Drive the Brecon Beacons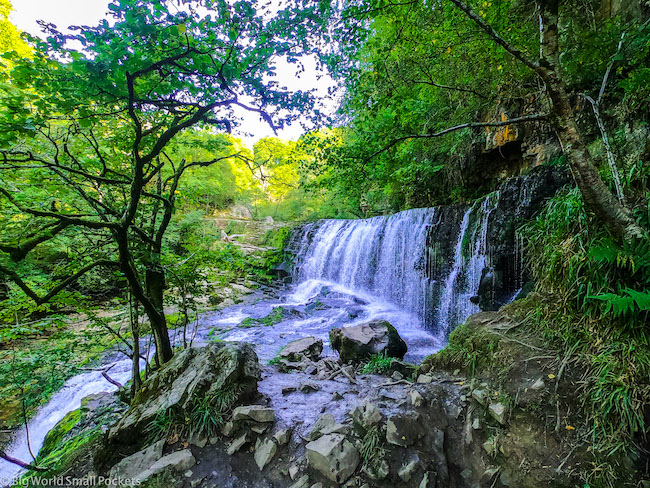 Another epic spot in Wales, the Brecon Beacons National Park is a wonderful mountain area awash with great hikes, beautiful waterfalls and some lovely villages too.
Camping and walking here are my fav things to do, but if you feel less active, then a drive through this wonderfully rural landscape, with its epic views, is also a delight.
Don't miss the amazing waterfalls in this park or the chance to climb Pen y Fan if you can.
#21 Shop Till you Drop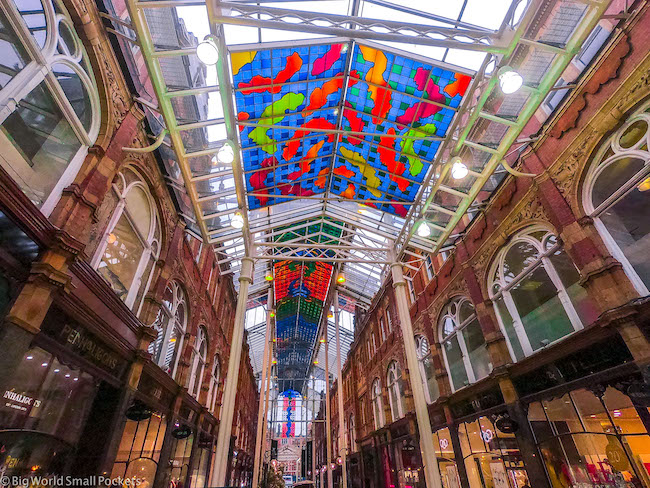 From Manchester to Glasgow, Newcastle to Nottingham, loads of the UK's cities have some fantastic shopping opportunities, so load up the credit card and get out there!
#22 Take in Edinburgh's Charm
The capital of Scotland, home to one of the world's largest fringe festivals and chock full of cobbled street charm – Edinburgh is a must on your UK travel list.
Climbing Arthur's Seat for amazing elevated views of the city comes highly recommended.
#23 See the Giants' Causeway
A UNESCO gem located over in Northern Ireland, this dramatic clifftop landscape is edged by the North Atlantic Ocean, giving its walking trails an extra rugged and wild thrill.
Certainly one for the UK bucket list.
#24 Snap Pretty Beach Huts in Suffolk
If you're looking to escape the crowds, especially from London, then let me recommend Suffolk.
Home to beautiful countryside and some stunning sandy beaches, the coastline here tends to be much quieter than the south coast and its villages all the more charming for it.
A great foodie destination, with pubs aplenty, it's the beautiful beach huts and pier at Southwold that always capture me most.
#25 Take a Vineyard Tour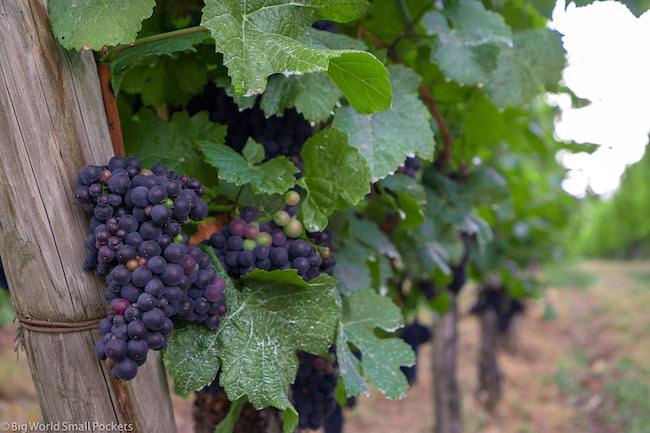 And if you're into your food, then why not pair it with a great wine care of the growing number of English vineyard tours that are popping up.
From Suffolk to Kent, Sussex to Dorset, English wine is starting to make a big splash in the sommelier scene… and I'm not joking!
#26 Eat all the Oysters in Whitstable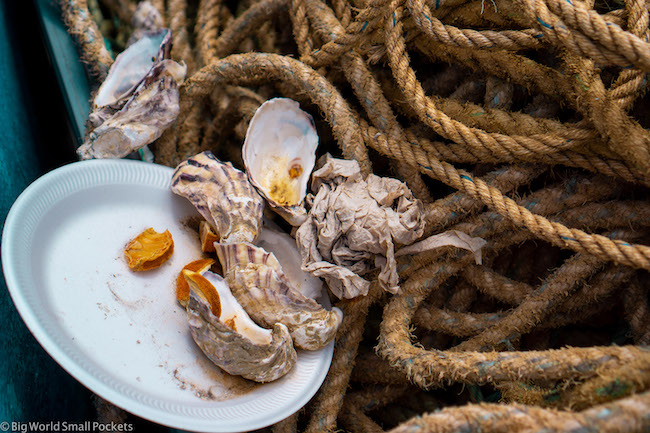 And while we're on the foodie theme, you can't miss out on a bit of UK seaside food while you're touring either.
Oysters are a particular fav and there's few better places to sample them than the great Kent seaside destination of Whitstable.
Awash with kitsch charm and beautiful coastal views, Whitstable makes for a great day trip or mini-break.
Learn more in my full travel guide to Whitstable.
#27 Spot Puffins on the Yorkshire Coast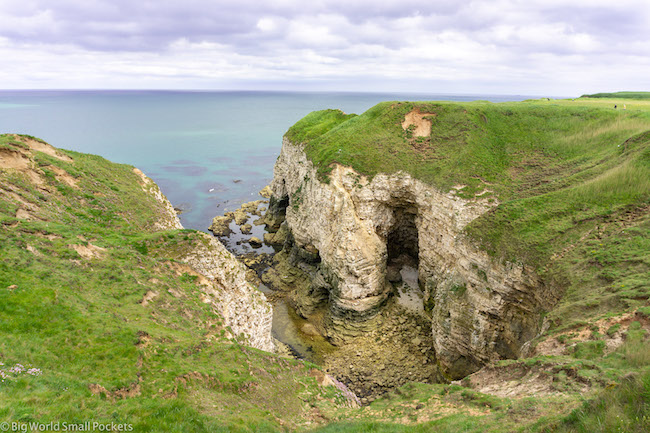 And sticking with the coastal theme, but this time moving north, the Yorkshire coast is often overlooked when it comes to the British seaside winners.
This is a real shame, because from the award-winning Robin Hood and Runswick Bays, through to the Gothic charm of Whitby, the atmospheric harbour of Staithes and the puffin-spotting cliffs of Flamborough Head – there's a lot to boast about here!
Check out my list of the 9 best places to visit on the Yorkshire coast here.
#28 Walk in the Footsteps of the Bard
Shakespeare is a British celeb we definitely won't be forgetting about any time soon!
Check out his birthplace of Stratford-upon-Avon or watch a performance at the amazing Globe Theatre in London for your fix!
#29 Take a Street Art Tour in Bristol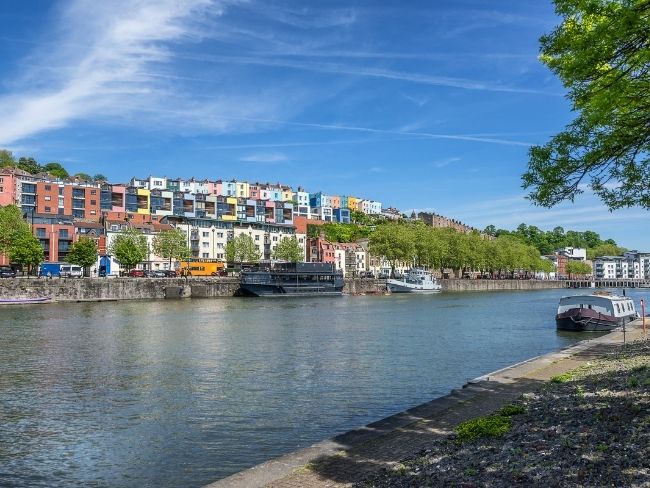 And now to a more modern artistic attraction… the city of Bristol is the home of Banksy – the world-famous graffiti artist – and his works dot this place.
Taking a tour to learn more about his street art, as well as that of the other artists in the city, is a great half-day activity.
Check out my list of the other tops things to do in Bristol here.
#30 Punt in Historic Oxford & Cambridge
Couldn't get through this list and not mention the famous student cities of Oxford or Cambridge.
The perfect places for historic walking or cycling tours, if you prefer a set of oars to 2 feet or 2 wheels, then trying your hand at punting in either of these riverside cities is def a British bucket list classic!
#31 Stride Out Along the Seven Sisters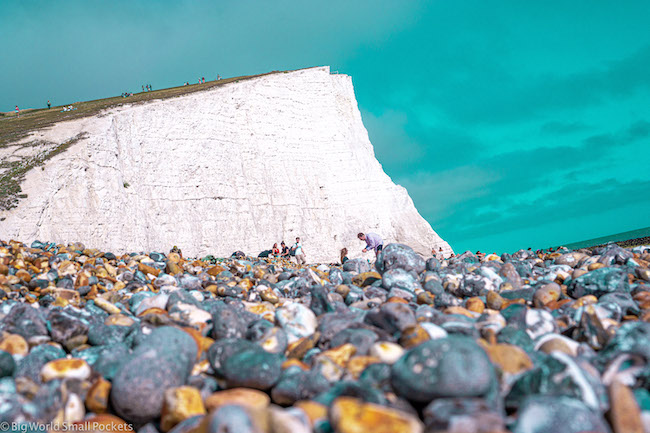 One of the best walks in the UK, and another easy trip from London, the Seven Sisters Cliffs in East Sussex sit between Eastbourne and Brighton, and are part of the mighty South Downs National Park.
Don't miss the strenuous clifftop walks, dramatic sea views or cute stretches of beach here.
Learn about the best places to start, finish, visit, eat and stay in the area here.
#32 Wave at the Queen in Windsor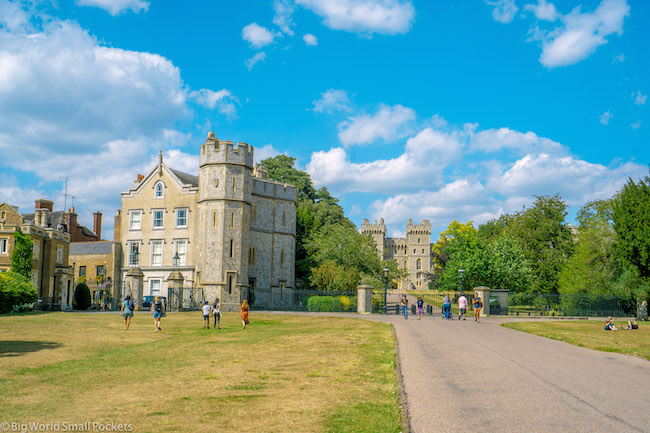 And another great walk near London is the Windsor Long Walk, which gives one of the most striking perspectives on the famous Windsor Castle.
Wave to the Queen, spot wild deer or check out Legoland while you're here!
#33 Get Away from the Crowds in Northumberland National Park
Up in the far northeast of England, in contrast to many National Parks on this list, Northumberland is delightfully off the beaten track and promises wild and windswept countryside without the crowds.
Just delightful!
#34 Kayak the Wye Valley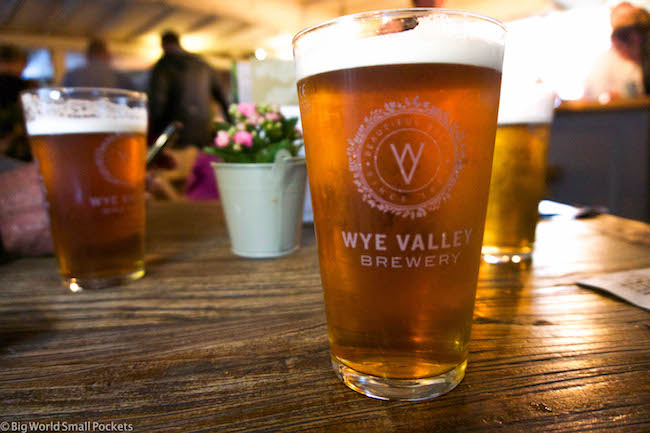 And another spot that tends to dodge the crowds is the Wye Valley on the Welsh border.
Lovely, green, quiet and remote, it's the waterways of this very rural area that provide some of the best river kayaking and SUP-ing opportunities in the country.
Reward yourself afterwards with a refreshing drink too!
#35 Spend a Weekend on the Isle of Wight
And if it's water you're after, then the UK certainly has a ton of islands to choose from!
Sticking to the south of the country for now, the Sicily Isles and the Channel Islands both make my top list.
However, it's the Isle of Wight that clinches the pole position thanks to its great walks, restaurants, historical attractions, top beaches and laidback vibes.
It's also the easiest to get to care of the multiple Isle of Wight ferry options.
#36 Discover the UK's Only Desert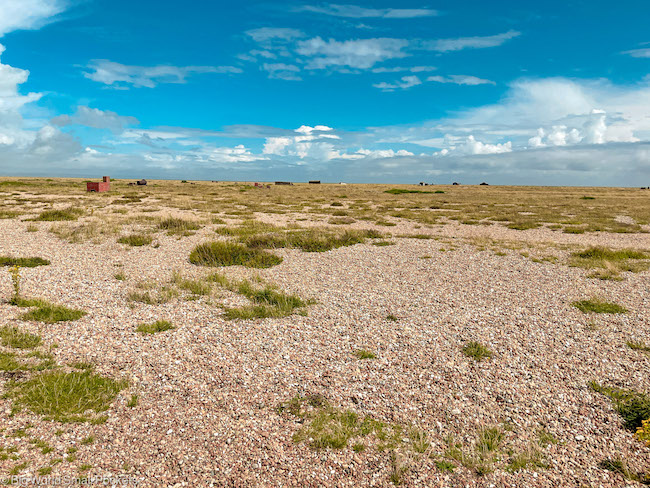 Did you know the UK had a desert?
Well you do now!
Yes Dungeness in the corner of Kent is the UK's only official desert and visiting here feels like stepping into another planet.
With an eerie abandoned feel and a beloved haunt of photographers and artists, this is a truly unique spot you shouldn't miss.
#37 Have a Night Out in Glasgow
One of the UK's most buzzing and authentic cities, Scotland's second city of Glasgow makes for a great and memorable night out!
Learn about the best 15 attractions to visit in this city if you have a day or 2 to spend here.
#38 Track Down all the Gormleys
The famous British sculptor, Antony Gormley, has an amazing array of huge, embedded pieces of art across the UK, and stopping to spot them as your tour this land is a top thing to do.
From sea sculptures in Kent to beach sculptures near Liverpool to the famous Angel of the North, there's a lot of great Gormley options to choose from.
#39 Stride Out on the Welsh Coastal Path
The amazing Welsh coastal path is one of the great UK walks that's very high on my list.
Sure I've done parts of it – if you can take any cliff path in Wales you will! – but making the whole thing sounds pretty amazing to me.
#40 Get Your Historic Home Fix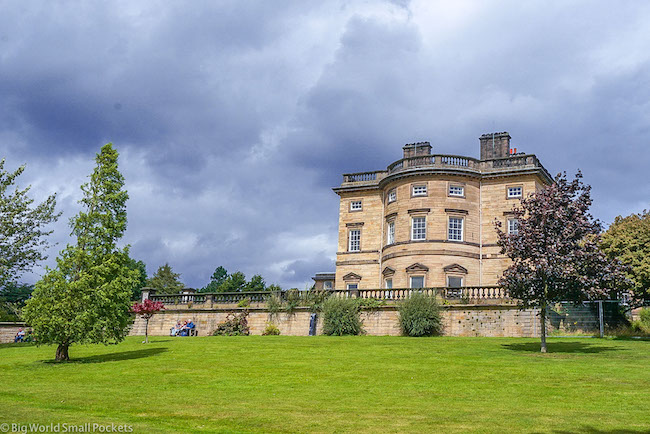 Oh the historic homes of the UK!
So many, so varied, so grand, so old!
It's impossible to list them all here, but a good place to start is with some of the ones made famous by TV shows such as Downton Abbey, or ones that are free to enter if you have either National Trust or English Heritage membership.
And an FYI: if you plan to travel in the UK – either of these memberships could really help you stick to a budget!
#41 Take in the View from Mam Tor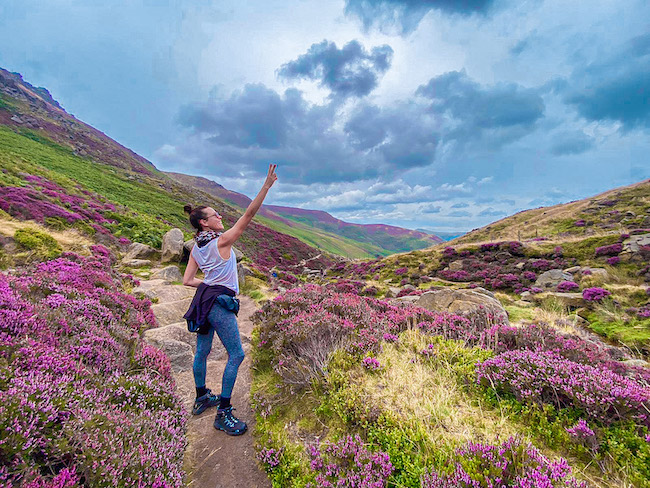 Can't believe I've got to number 41 on this list and failed to mention the Peak District so far… but here we go!
The beautiful Peak District National Park near Manchester is a great spot for hiking, eating a lot of cake and taking in the cute villages.
It's also got some cracking views, with the best probably being from the top of Mam Tor, one of the highest points around.
#42 Spot Seals in Lincolnshire
Who knew, but Donna Nook on the Lincolnshire coast is home to a colony of grey seals during the winter.
Visiting during the best months of October and November is a great chance to see one of the UK's least-known-about wildlife wonders.
Blakeney in Norfolk is another good spot for them.
#43 Visit Tintern Abbey in the Forest of Dean
I'm a massive fan of an old Abbey ruin – probably why I like Yorkshire so much… Bolton Abbey and Fountains Abbey there are amazing!
However another brilliant one is Tintern Abbey in the Royal Forest of Dean.
A beautiful woodland area near the Welsh border, the Forst of Dean is a stunning spot to get away from it all, and the Abbey ruins here are the perfect excuse to visit.
Made famous by the Wordsworth poem it inspired, the Gothic masterpiece of Tintern Abbey stands on the banks of the Wye River and dates back to an impressive 1131 AD.
#44 Hit up a Festival
And from the old to the new, no question, one of the top things you have to do in the UK is hit up a festival.
From food festivals to literary festivals, music festivals to beer festivals, film festivals to comedy festivals, there's so many that take place across the country and the year that you'll be hard-pushed to find something that doesn't fit your schedule.
#45 Dig for Fossils on the Jurassic Coast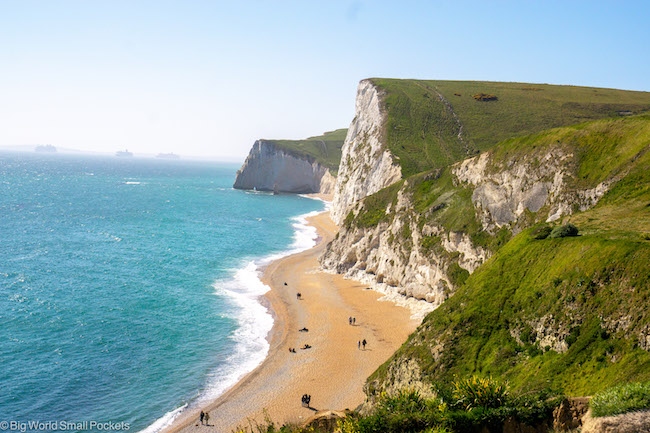 Digging for fossils isn't something you can do every day and that's exactly why it makes this list!
Lyme Regis, on the aptly named Jurassic Coast in Dorset, is a great place to give this a go!
Check out my list of the other top spots I recommend you visit in Dorset here.
#46 Eat all the Cheese at Cheddar Gorge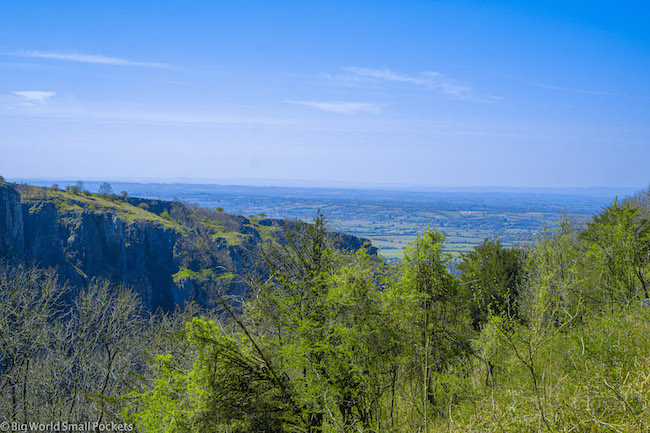 And just up the road in the country of Somerset, it's time to eat all the cheese and then hike it off care of Cheddar Gorge – England's longest gorge and quite the natural spectacle!
It really is quite an amazing place to see and hike, so make sure you get all details ahead of your visit care of this handy post I wrote.
#47 Get your Ancient Cathedral Fix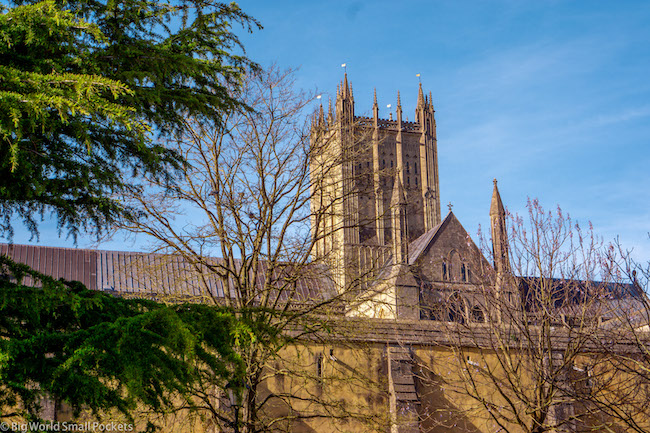 And just up the road from Cheddar Gorge is the amazing cathedral city of Wells, which I highly recommend you visit.
Even if you're not a Cathedral person, it's a pretty impressive sight.
Other contenders in the top ancient cathedral stakes include Canterbury in Kent, St Pauls in London, Winchester in Hampshire, Ely in Cambridgeshire, York and Salisbury in Wiltshire – all well worth a look!
#48 Hang out in the Brighton Laines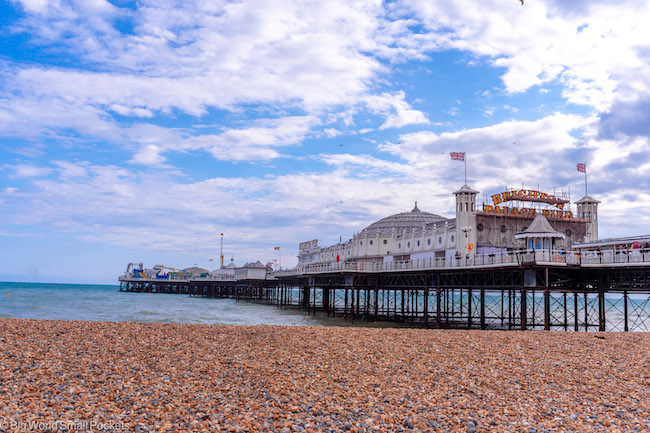 Also worth a look are the delightful Laines in Brighton.
A haven of alternative shops and quirky cafes, this coastal city is a must-see thanks to its vibrant and independent atmosphere.
And you can't beat some vinegary chips on the pebbles by the Pier – just watch out for the seagulls!
#49 Learn about the Battle in Hastings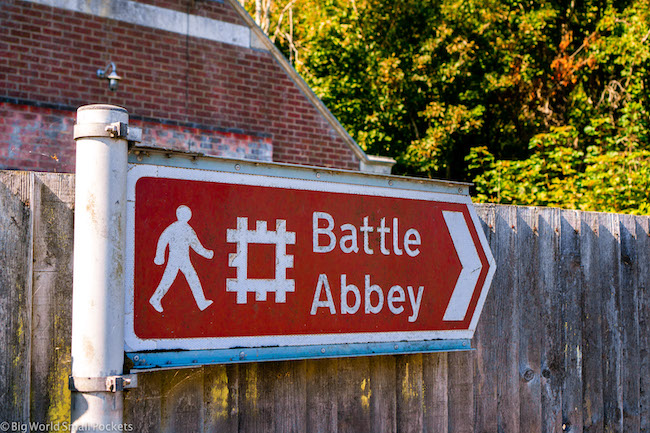 And just down the road from Brighton, Battle and the nearby city of Hastings combine history, hiking and coastal kitsch into one lovely package.
Head here for a few days to learn more about how this part of England changed the course of the country's story forever.
My travel guide to Hastings and Battle might be a handy thing to read in advance!
#50 Get Away to the Scottish Islands
And last but not least on this list of the 50 best things to do in the UK, it has to be an escape to the Scottish Islands.
There's a lot of islands to choose from up here, with some more remote than others, but all offer amazing experiences with their unique landscape, culture and wildlife.
How to Get Around the UK?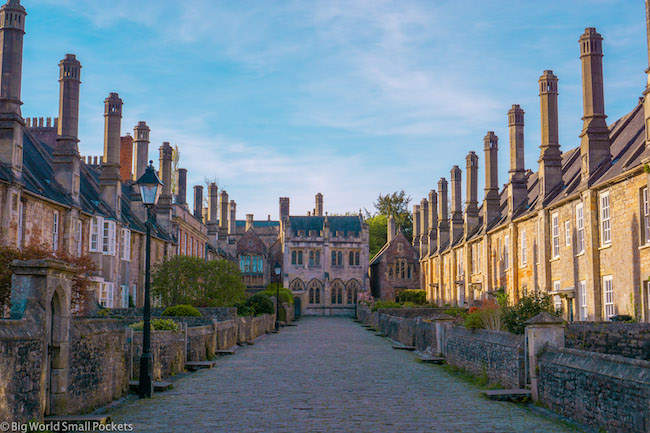 Hiring a car is probably the best option if you want to explore all of the top things to do on this UK list, because public transport in rural areas can be a bit thin on the ground.
If you're looking to hire a car in the UK, Discovery Cars offers some very competitive rates.
Otherwise, there are plenty of trains and coaches that can shuffle you between major UK cities and towns and, for budget travellers in particular, these can be a wonderful way to get about for less, especially when booked in advance.
As always, I use Trainline to book my UK coach and rail travel as they compare a huge range of transport options, as well as use split-fare features to get you the best deal on tickets.
Their handy app also allows you to track your journey, as well as save all your tickets in one handy place – winning!
Alternatively, if you want to take a tour around the UK, that will show you some of the top highlights without you having to fuss about hiring a car, arranging train tickets or planning your itinerary, then check out these top options.
Where to Stay in the UK?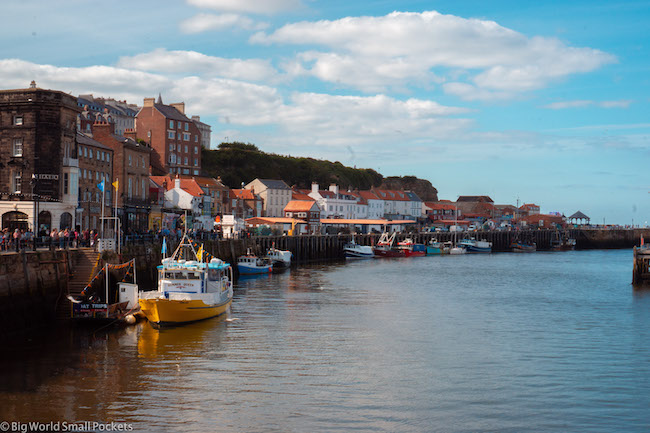 London is an obvious place to base yourself if you're travelling from abroad to the UK.
You could easily spend a week or more exploring just the capital, but if you want to get around to some of the UK's other towns, beaches or countryside areas, there's plenty of easy day trips you can enjoy from the capital too.
Check out this list of my top 20 day trips from London on a budget for more ideas.
Alternatively, Leeds makes a great place to base yourself in the north of England, with plenty of historic cities such as York, coastal areas such as Flamborough and Staithes, as well as the beautiful Yorkshire Dales National Park, all within day-trip distance.
Learn more in my list of the 35 best things to do in Yorkshire.
Otherwise, Edinburgh is a fab city you can use as your starting point before heading out to enjoy the Scottish Highlands and islands.
Alternatively, you can build your own itinerary around the UK, where you mix where you're staying every couple of days, as you enjoy a week or 2 hopping around the country and seeing as much as possible.
In all the locations I list here, as well as hundreds more across the country, Premier Inn and Travelodge provide excellent value for money in comfortable rooms that have all the facilities you could need for an overnight stay.
Check out the great prices (which start from as little as £30 per room) for Travelodge and Premier Inn by clicking these links.
When to Visit the UK?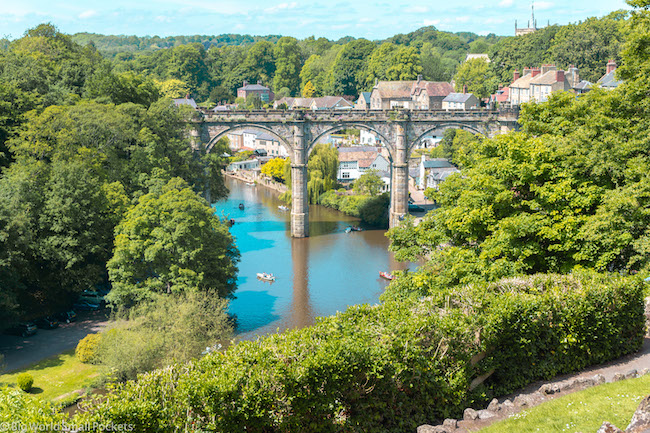 There's no question in my mind, the best time to visit the UK is during the summer season, when the "good" weather allows you to get the nicest experience from your time here, especially if you want to enjoy some hiking and or getting out to admire the countryside.
The only problem with the summer and the weekend in many of the top attractions is that they are the busiest times, so do be warned.
If you have the option to visit some of the UK's bucket list spots on a weekday, or outside of school holidays, then I'd advise this, as parking and getting some good snaps without a ton of other people in-frame will be a lot easier at these times!
UK Packing Essentials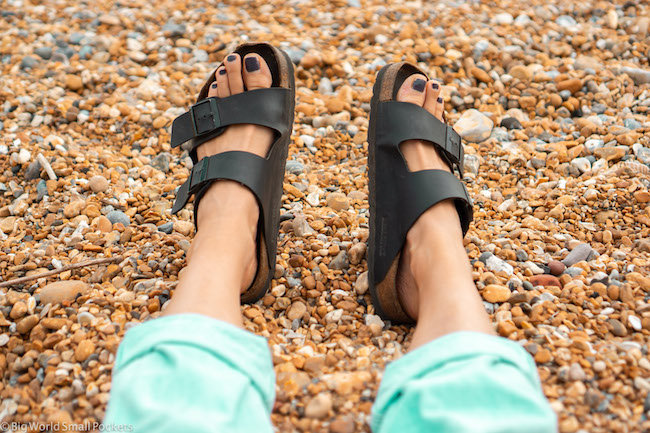 And now here's my list of the top 5 packing essentials you shouldn't travel the UK without…
#1 A Good Camera
No doubt you're going to be snapping like crazy in and need to ensure you have a good camera to do the UK justice.
I love my Sony A6000 and GoPro, which are both light, compact and great for travel.
#2 Decent Walking Shoes
No point heading out to explore the UK and not being able to enjoy a walk in the wonderful countryside.
Get prepared therefore and ensure you have a decent pair of walking shoes – these cross trainers from New Balance are ideal (and totally stylish) for the job.
#3 Light Waterproof Jacket
Whatever the time of year, you have to remember this is the UK after all, a region in which the heavens can open at any point!
Don't get caught out therefore and ensure you have a good lightweight and waterproof jacket with you.
This North Face one is perfect.
#4 Compact Hiking Day Pack
I never go on any UK travels without a sturdy backpack to ensure I've got everything I need and that the weight is equally distributed across my back and shoulders.
This super featherweight Kompressor from Marmot is my go-to, because it folds down to nothing and is water-resistant – ideal for those sudden showers.
#5 Portable Charger
And finally, I would never head off anywhere without my trusty Anker Portable Charger, which keeps my phone and camera batteries full all day every day!
This means no matter how many top things to do in UK I'm enjoying, I can take all the snaps and use all the maps I need!
PIN IT TO PINTEREST!
So there it is, my list of the 50 bucket list things to do in the UK.
How many have you ticked off your list already?
And how many do you still want to go to?
Let me know your favourites in the comments below…