Up in the northeast of England, the county of Yorkshire is a gem – pure and simple!
Hugely diverse, it's the famous Yorkshire Dales National Park that normally draws the crowds, but having spent quite a bit of time up there (I was a student in the main Yorkshire city of Leeds and have visited several times in my subsequent blogger capacity too!), I'm happy to say there's even more to Yorkshire than this.
Yes it isn't a well-known fact, but Yorkshire also has some amazing coastline!
Backed in part by the wonderful North York Moors National Park, with dramatic cliffs, sandy beaches and some epic walking possibilities, the Yorkshire coast really has a lot to offer, and if you're up this way, you definitely shouldn't miss it!
So here's my list of the best 9 spots to check out there…
---
Related Posts
---
This page contains affiliate links meaning Big World Small Pockets may receive a small commission on any purchases at no extra cost to you.
---
#1 Flamborough
Flamborough in the south of Yorkshire is a quiet little town that has an amazing headland on its doorstep.
With a glorious lighthouse and epic coastal views, combined with some top clifftop walks (including a handy loop that starts and ends in Flamborough town and takes in North Landing and the coast all the way down to Danes Dyke) there's lot to explore here.
Sandy beaches dot this coastal loop walk, but the jewel in the Flamborough crown is really the birdlife.
With tons of dramatic limestone cliffs, Flamborough Head is home to one of the most important bird colonies in Europe.
In the summer months, the cliffs here are packed with tens of thousands of breeding auks, gannets and gulls and my all-time favourite birds, puffins!
Yes, these cold-sea, coloured beak beauties can easily be spotted in Flamborough, even without binoculars, and I'm so delighted I saw them when I was here too.
#2 Whitby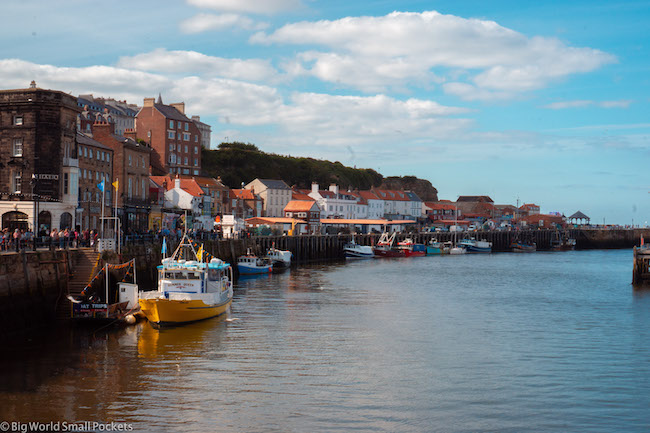 Showing how diverse the Yorkshire coast is, the second entry on this list is something totally different from Flamborough – it's the historic city of Whitby.
Made famous by the impressive Abbey, which sits at the top of the town, this atmospheric set of now ruins is meant to have inspired Bram Stoker's Dracula and, as such, the town has become a mecca for goths.
Although it's a climb of 199 steps up to get here, it's well worth it for the views of both the harbour and the sea and, if you're a member of English Heritage (or happy to buy a ticket), you can then get into the ruins and enjoy them too.
Otherwise, back down in the cobbled streets of Whitby, it's all about enjoying a drink, perusing the cute shops, munching down a local ice cream and generally soaking up the vibe in this very unique spot.
#3 Filey
A lovely seaside town just above Flamborough, the beachy spot of Filey is a key place to head for on the Yorkshire Coast if you want to feel the sand between your toes and a bucket and spade between your fingers.
Savour a salty fish and chips as you take in the historic promenade of this former fishing village, as well as its beautiful Edwardian architecture and 5 mile sandy bay.
#4 Staithes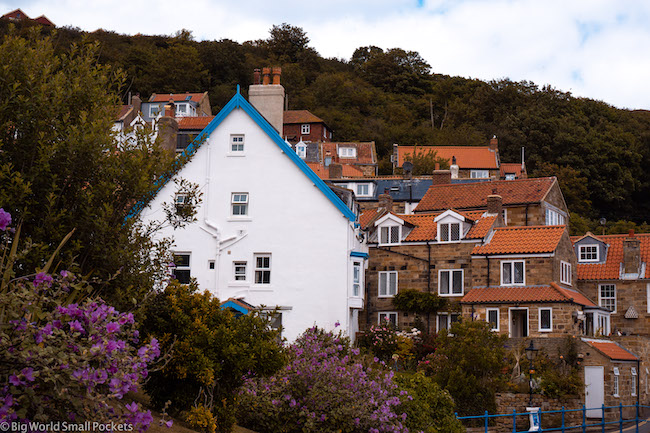 Ok, so I'll let you in on a little secret here – Staithes is actually my favourite spot on this list of the best places on the Yorkshire Coast because it's like something from another world!
Honestly, when I first stepped out of the car here and began wandering down the tiny, steep, cobbled streets to the sea, I literally felt like I'd just entered a historical TV drama.
The ambience of this isolated fishing town – often and wild and windswept – feels both eerie and beautiful at the same time.
And in the sun, as it was when I visited, it's even more stunning.
I was here for hours snapping photos (which is pretty amazing because the town is only about 3 streets big!), but this perfectly formed little village, which sits nestled amongst the cliffs with the moors all round it, is just too picturesque not to!
Once home to Captain Cook – so his legend swirls around the town – this once-thriving port is now a sleepy backwater, but somehow, it's all the more charming for it.
Climb up to the cliffs on the otherside for the best and most dramatic aerial shots of the place and its stunning natural surrounds.
#5 Hull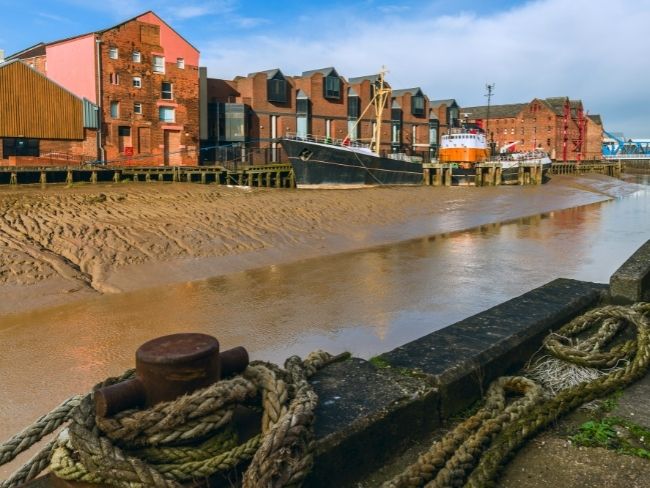 And from one coastal enclave to another, the bustling port city of Hull probably couldn't be more different to Staithes!
Located on the south part of the Yorkshire coast, Hull was the British City of Culture in 2017 and, as such received some much-needed regeneration during this time.
Things are looking up for Hull and top of the list of reasons to head there now is the world-class aquarium, The Deep.
The Seven Seas Fish Trail also adds to the list of attractions that explore this city's important fishing heritage
#6 Runswick Bay
But now we come back to the beaches, and it's harder to get better along the Yorkshire Coast than the marvel that is Runswick Bay.
A huge stretch of sandy shoreline, complete with some lovely safe swimming, there's also rock pooling, fossil hunting and coastal walks all on offer here.
The Times newspaper recently named Runswick Bay one of the top 50 beaches in Britain and there's no denying it's a family favourite round here!
I arrived at Runswick Bay having hiked from Staithes and can highly recommend this long, but worthwhile clifftop trail.
#7 Robin Hood Bay
And sticking with the bay theme, the other side of Whitby i.e. southwards, the lovely Robin Hood Bay is another top spot around here.
A picturesque old fishing village nestled at the edge of the North York Moors National Park, this dog-friendly and sandy bay is another great spot for families.
The town backs right onto the bay too and provides a lovely heritage dimension with its twisting cobbled streets that invite tales of smugglers and hidden treasures!
#8 Saltburn-by-the Sea
Next up we move right up to the north of Yorkshire Coast, almost to Middlesbrough, as it's time to really venture off the beaten track and head to the coastal town of Saltburn-by-the-Sea.
Full of Victorian charm, including its beautiful heritage pier (which is the last remaining one in Yorkshire FYI), you can really dig into the kitsch charm here with archaic cliff lifts.
Otherwise, move to modern times and enjoy a spot of surfing while you're up here… just maybe bring a wetsuit!
#9 Scarborough
And last but not least, it's probably the most famous spot on the Yorkshire coast, yes at position number 9, it's the original seaside classic of Scarborough.
I first visited here in 1997 while I was a fresh-faced undergraduate at the National Student Drama Festival, but since then have returned to take in Scarborough with its 2, (yes that's 2) beaches, its massive open-air theatre, the Cleveland Way walking trail (which boasts over 100 miles of footpaths in beautiful landscape) and it's oh so iconic bingo hall!
I mean come on, what's not to love?!
Yorkshire Coast Travel Tips
When to Visit?
There's no question in my mind, the best time to visit the Yorkshire coast is during the summer season, when the UK's good weather allows you to get the nicest experience from your time there, especially if you want to enjoy some hiking and perhaps even, dare I say it, dip in the water!
The only problem with the summer and the weekend is that this is when the coast is at its busiest, so do be warned.
If you have the option to visit some of the beaches on a weekday, or outside of school holidays, then I'd advise this, as parking and finding a patch of sand will be a lot easier at these times!
How to Get There and Around?
Driving to the Yorkshire Coast from across the UK is easy and straightforward with lots of good connections.
If you're looking to hire a car in the UK, Discover Cars offer some very competitive rates.
Otherwise, if you'd prefer to use public transport, it's possible, but things do get a bit trickier – mostly due to the lack of train stations in the region!
From London you can get to Scarborough in around 3 hours by train and you can access Whitby from either Leeds, Manchester, York or Newcastle using the rail network too.
From any of these places, you can then usually hire a car, grab a taxi, or perhaps catch a bus to where you need to get to.
As always, I use Trainline to book my UK coach and rail travel as they compare a huge range of transport options, as well as use split-fare features, to get you the best deal on tickets.
Their handy app also allows you to track your journey, as well as save all your tickets in one handy place – winning!
Alternatively, if you'd rather take a tour and not have to arrange or worry about anything, this day trip from York to Whitby and the North York Moors comes highly recommended.
Where to Stay on the Yorkshire Coast?
Whitby and Scarborough all have a heap of accommodation options.
The Mooredge B&B in Whitby and Mansion House in Scarborough both get great reviews.
However, Staithes or Saltburn would be my pick when it comes to a quiet and quaint place to base yourself.
Check out The Endeavour in Staithes or the Brockley Hall in Saltburn for my top recommendations.
How Long to Visit the Yorkshire Coast For?
The answer to this question is really up to you!
If you're staying or based somewhere like Leeds or York, then you can easily day trip to many of the locations on this list.
Otherwise, if you can manage a weekend, then you'll certainly be able to tick a good few of these top places to visit off your list.
Yorkshire Coast Packing Essentials
And now here's my list of the top 5 packing essentials you shouldn't head to the beautiful coastline of Yorkshire without…
#1 A Good Camera – No doubt you're going to be snapping like crazy in this gorgeous region and need to ensure you have a good camera to do the place justice.
I love my Sony A6000 and GoPro, which are both light, compact and great for travel.
#2 Decent Walking Shoes – No point coming this far and not being able to enjoy a walk along the clifftops of the Yorkshire coast.
Get prepared therefore and ensure you have a decent pair of walking shoes – these cross trainers from New Balance are ideal (and totally stylish) for the job.
#3 Light Waterproof Jacket – Whatever the time of year, you have to remember this is England after all, a country in which the heavens can open at any point!
Don't get caught out and ensure you have a good lightweight and waterproof jacket with you.
This North Face one is perfect.
#4 Compact Hiking Day Pack – I never go on any UK day trip without a sturdy backpack to ensure I've got everything I need and that the weight is equally distributed across my back and shoulders.
This is especially true when I'm heading to the beach and this super featherweight Kompressor from Marmot is my go-to, because it folds down to nothing and is water-resistant – ideal for those sea salty days.
#5 Portable Charger – And finally, I would never head off anywhere without my trusty Anker Portable Charger, which keeps my phone and camera batteries full all day, every day!
This means no matter how many top things I'm enjoying along the Yorkshire coast, I can take all the snaps and use all the maps I need!
Of course, it goes without saying you should bring your swimwear, beach towel and sunglasses too!
Where to Visit After the Yorkshire Coast?
If you're still keen for more northern splendour after the Yorkshire coast (and, quite frankly, why wouldn't you be?!), then you have some more great options on the doorstep.
First up, you may want to stick in the county and explore the Yorkshire Dales – the delightful village of Malham, with its great walks and country charm is a top choice.
Otherwise, if it's city life you're after, then Leeds is a buzzing Yorkshire spot you can't miss.
Or, to the north, there's the city of Newcastle and the Northumberland National Park or, in the other direction, the city of Liverpool and the world-famous Lake District are just begging to be explored.
Travel Insurance for Yorkshire & the UK
World Nomads offers simple and flexible travel insurance. Buy at home or while travelling and claim online from anywhere in the world.
Alternatively, if you're a long-term traveller, digital nomad or frequent remote worker seeking travel health cover, check out Safetywing's Nomad Insurance policies.
Travel Money
The easy way to spend abroad with real exchange rates, no markups and no sneaky transaction fees, you can use your Wise card just like a debit card here… and it links easily with Google and Apple pay – sold! Grab yours here.
PIN IT TO PINTEREST!
So there you have it, my list of the top 9 places to visit on the Yorkshire coast.
Which is your favourite and which are you heading to next?
Tell me all in the comments box below…