If there's one historic city you need to visit in the north of England, it has to be York!
Yes Manchester, Liverpool, Leeds and Newcastle all have selling points too (not least their cultural vibrancy) but, if you're after quaint cobbled charm and a good dollop of Viking history on the side, then it has to be York.
From the famous Minster cathedral to the ancient street of the Shambles, you could easily be mistaken for thinking you'd stepped into a Harry Potter film when you enter the heritage centre of this Yorkshire city.
But no, it really is this quintessential and it really is a must if you're looking to tick some UK greats off your travel bucket list.
Oh and it's also pretty easy to get to (with good bus, train and road connections) and pretty easy to get around as well (because it's small!)
So if you're looking for the ideal staycation weekend, or you're travelling the UK and want to explore a spot beyond London and the Cotswolds, why not put York on your list… you won't regret it!
And to show you why, here's my list of the top 25 things to do in this stunning city…
---
Related Posts
---
This page contains affiliate links meaning Big World Small Pockets may receive a small commission on any purchases at no extra cost to you.
---
#1 Check out the Famous Minster
Coming in at number one on this list of the top things to do in York, it has to be checking out the amazing Minster of course!
Dating back to the 7th century, with some stunning Medieval stained glass windows, this church is open 7 days a week but tickets should be booked and paid for online.
Don't miss out on the opportunity to climb the Minster tower, as the views from up there are spectacular.
Or, you can buy a York Pass, which includes entry to the Minster alongside some of York's other top attractions.
#2 Wander the Iconic Shambles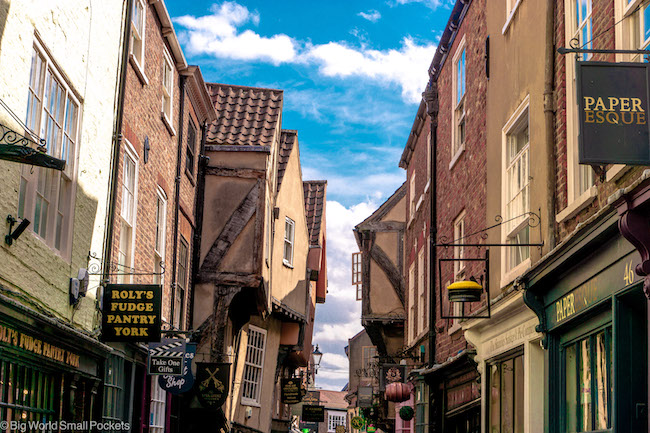 And one from York icon to another, now we move to another historic gem in the city – this time to The Shambles, probably the most famous street here.
Looking like something straight out of a movie, the Medieval half-timber houses that hang out over the cobbles below perfectly conjure up the sense of walking through history.
Dating back to the 14th century, the street used to be filled with butchers, which the names shambles (meaning meat market) refers to.
Now filled with all kinds of weird and wonderful stores – many of which have been inspired by the Potter films, including the fabulous potion shop – wandering down here and marvelling at the heritage buildings and totally unique offerings is a must!
#3 Relax in the Museum Abbey & Gardens
And after the crowded and tourist spots of the Minster and the Shambles, it's time to move to a rather quieter and more lowkey area of the city, one that is a perfect place to relax in.
The Museum Abbey and Gardens are situated at the edge of the city centre and are one of the most charming spots in York in my opinion.
With some beautiful ruins set in lovely gardens, this is the perfect place to stroll or relax as part of your busy sightseeing day!
#4 Find Mickelgate
But now it's time to re-enter the historic centre and what better entrance to make, than through one of the old city gates – Mickelgate.
This name also refers to the street leading into the centre, which is lined with delightful cafes that make for a superb refreshment pitstop!
Dating back to the Roman times, there's also several Grade I listed buildings along this street, which means it's another big tick for the history buffs out there!
#5 Get Spooked on a Ghost Walk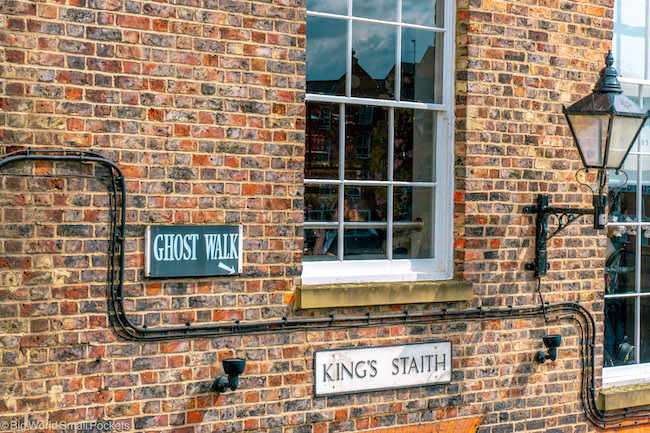 And if spooky history is your kinda thing, then you can hardly miss the opportunity to experience a Ghost Walk in York.
The perfect way to take in the Gothic sense of this city, the best and original, ghost walking tour takes place every evening from 8pm and has been running since 1973!
Taking around 90 minutes and offering great value, with group discounts available, I recommend booking this one online to discover the city's hidden alleyways, streets, and haunted buildings after dark!
If you prefer a Ghost Bus Tour in York, then check out this great option.
#6 Enjoy a Drink by the River
But if relaxing after dark is more your thing, then perhaps a drink along the river in York will suit you better?!
All along the River Ouse, but especially near Bridge Street, there are lots of lovely pubs with great riverside views and maybe even some sunshine if you come in the summer months!
#7 Sail on a River Cruise
But if you'd rather keeping moving than sit along by the river, then one of the top things to do in York has to be enjoying a river cruise.
The perfect way to see the city from a different perspective, an hour-long cruise along this fine waterway (with a great commentary to boot!) is the perfect afternoon entertainment!
Getting a flexible ticket is the best option here so that you can hop on a cruise whenever you feel ready during your trip to York.
If you'd rather be active and enjoy a cycling or walking tour, then there's options for those (although minus the commentary!) too.
#8 Stroll the River Walkway
If all that organised fun sounds like it might be a bit much for you (and I quite understand1) then perhaps a little self-guided stroll might be the answer.
If that is the answer for you, then there's few better spots I found in the centre of York than along the River Ouse.
A new walkway with a flat and smooth trail perfect for families, this is a great place to get away from the crowded cobbles of the city centre and get a fresh breath of waterside air.
#9 Snap the Skeldergate Bridge & Tower Gardens
And while you're walking along this trail you can't miss the unique-looking Skeldergate Bridge.
A York icon, snapping this guy, or perhaps even strolling across it, is definitely one of the top things to do in York.
And then, at either the start or end of your riverside walk, you'll be in the Tower Gardens, a lovely place to have a sit on a bench and take it all in!
#10 Go to the JORVIK Viking Centre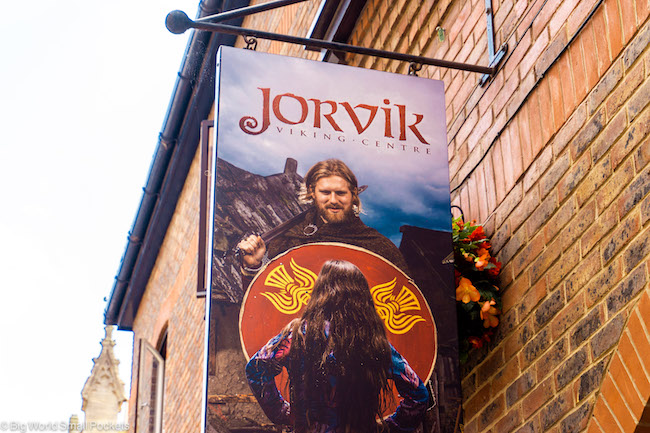 One piece of history we haven't touched on yet is the city's Viking connections and exploring these is absolutely one of the top things to do in York.
And the key place to head to do this is the Jorvik Viking Centre.
Showcasing the Viking city, Jorvik, that once stood on this spot over 1000 years ago, the centre resides on the very archaeological site where these discoveries were made and this world-famous exhibition is ideal for families where reconstructions really do bring this slice of history to life.
#11 Experience the York Dungeon
And if you want to continue the family-friendly history tour in York, then you can't miss the York Dungeon either.
A live show, which tells the story of 2000 years of York's dark history, this is a theatrical and special effects spectacle the kids will love!
As a top budget tip, if you're visiting both the dungeons and the Viking Centre, you might want to pick up a York Pass, which also includes entrance to the York Minster.
Valid for 1-2 days, this is a great way to save some money on your trip to York.
#12 Marvel at Clifford's Tower
Also included in the York Pass is entrance to the wonderful Clifford's Tower.
Well I say it's wonderful, but I also have to be honest and say I can't entirely vouch for it because it was closed for refurbishment when I visited York!
That said, the reviews from others are great and the outside is very impressive!
Built on a mound with elevated views over the city, Clifford's Tower is all that remains of what was once York Castle – built by William the Conqueror to keep out the marauding Vikings!
Also acting as both a prison and a Royal Mint in its time, Clifford's Tower is now managed by English Heritage.
#13 Catch a Show at the Opera House
York might not be as well known for its cultural offering as some of the other cities in the north of England, but it certainly has its fair share.
And the flagship place to get your slice is probably the York Grand Opera House.
Check out their website for full programme details.
#14 Find the Most Trad Pub you Can!
And what about a pre-theatre drink in one of York's many traditional pubs?
Yes, that's quite a few to choose from in this city, but I'm going to set you a challenge here – to find the oldest one you can!
Drop into the comments at the end of this article which one you went for…
#15 Don't Miss the Street Performers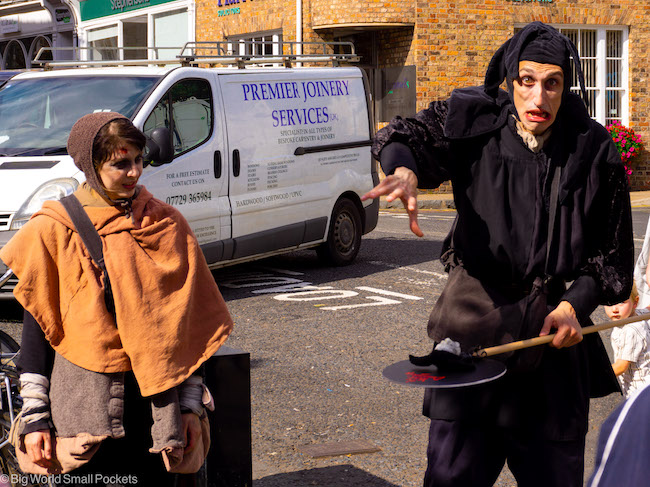 But if street performance is more you thing than a staged performance, you've definitely come to the right city.
In fact, I was bowled away by York's street performers and the huge crowds they gathered!
The key place to head is King's Square where daily displays can be seen for free… or a small donation.
#16 Learn York's Chocolate Story
And then conveniently located on King's Square too, is the wonderful exhibition that charts York's Chocolate Story.
A great tour exploring the history of chocolate and the city's confectioners, I was particularly pleased to discover here that York is the home of Terry's Chocolate Orange.
So of course, I had to buy a whole basket full to celebrate!
#17 Shop at the Market
And where did I buy these delicious Chocolate Oranges?
Well actually it was at the Co-op, but the point is that there are loads of great markets in York you shouldn't miss.
The Shambles Market, which is actually located alongside the famous street, is a great place to start thanks to its array of local traders.
#18 Scale the City Walls
Dating back to when York was a Roman town, the city was hemmed in on all sides, for defence purposes of course, by some rather thick walls!
Some of these thick walls still exist and climbing up and walking along them offers another great city perspective.
#19 Take Tea at Betty's
And surely after all that sightseeing, it's time for another refresher!
And what place better to take in a classic English beverage than in a classic Yorkshire icon?
And what more of a Yorkshire icon than Betty's tearoom!
The most famous one is in the Yorkshire town of Harrogate, but the one in York is just as good!
#20 Try to Say Whip-Ma-Whop-Ma-Gate
In a county where bizarre street names aren't an irregular occurrence, it is however still fair to say that Whip-Ma-Whop-Ma-Gate takes some beating!
Finding this York gem is a must during your wanderings in the city and then trying to say its name fast is another of the top things to do in York!
Denoting the shortest street in the city, the earliest record of it is 1505!
#21 Hit Up the Railway Museum
Not one for me personally, but I know plenty of people love the Railway Museum and that it's a firm favourite for many on this list of the best things to do in York.
It's actually the National Railway Museum and is free to enter, although booking in advance online is encouraged for this excellent collection of everything locomotive!
#22 Discover Richard III's Story
Another new one on the York museum scene is the Richard III Story – an incredible heritage exhibition that tells the tale of this ill-fated English king who died at the Battle of Bosworth after only reigning for a few years.
Another great one for the whole family, this exhibition is currently closed due to covid restrictions, but stayed tuned for its exciting reopening.
#23 Visit the Treasurer's House
As you'll know if you've read any of my other UK travel posts, becoming a National Trust member has perhaps been one of my biggest achievements!
Which is why a lot of my UK travel guides include mentions of their best sites around the country.
And I couldn't get through this list of the best things to do in York without mentioning the wonderful Treasurer's House.
This beautiful historic property, located very near the Minster, is an elaborate townhouse with gorgeous gardens and incredible views of the Cathedral.
#24 Go Inside the Merchants Hall
And onto another beautiful building in York, you can't miss Merchants Hall.
With a gorgeous and elaborate façade, inside is reserved for private events, but a short stroll into the courtyard is well worth it.
#25 See the Cute Shops and Cafes of Fossgate
And Merchants Hall can be found Fossgate, which is also a gorgeous historic street filled with cute vintage shops and gorgeous independent cafés that is well worth a stroll.
Top York Travel Tips
How to Get to York?
Getting from London to York by train is probably the most common way of getting to the city, especially for those on public transport.
There are several direct departures daily from London King's Cross and the journey takes around 2 hours.
The train station in York is a short walking distance from the historic centre, but you can easily walk from there to all the main attractions.
There's also a handy left luggage depot right by the train station too.
Alternatively, you can take the National Express bus to York from various locations around the country.
As always, I book all my train and coach travel in the UK using Trainline – I like the way they compare multiple journeys and use split-fare technology to get you the best prices.
When to Visit & How Long to Stay?
No question in my mind that you should definitely visit the historic city of York during the summer season.
This will allow you to get the most from the city's lovely setting because, let's face it, England is exponentially more beautiful when the sun shines!
The other option for visiting York is during the winter months – either around Halloween thanks to the ghostly connections of this city, or during December when the Christmas markets are in full flow and the city takes on a beautiful festive flavour.
You can actually probably enjoy most of York's attractions in a day, but if you really want to get under the skin of this city, and perhaps enjoy some of the surrounding attractions, including other towns, villages, coastal areas and hikes in Yorkshire, then why not make it into a weekend trip?
How to Get Around the City?
The centre of York is easily walkable on foot and I honestly wouldn't advise any other method of transport, especially given the traffic!
If you're going slightly further out of the city, then thankfully there is a great local bus service that should be able to get you to most places.
If you're continuing on elsewhere after York, like into the Dales National Park as I did, then it's probably best to hire a car, which will allow you the flexibility to explore more rural and remote areas.
As always, I recommend Discover Cars for the job.
Where to Stay in York?
And if you're looking at staying overnight in York, then here's my top suggestions.
York City Premier Inn certainly also offers great value accommodation within strolling distance of the, yes you guessed it, city centre.
This is well-suited to overnight stays, where you just want somewhere to lay your head and aren't too worried about the feel of the place.
If you want something with a more independent spirit, then check out the lovely Fort Boutique – with a very central location and private rooms, as well as apartments on offer, this place offers great comfort, cleanliness and facilities… right in the heart of the city.
5 Essential Packing Items for York
And here's 5 packing essentials you shouldn't head to York without…
#1 A Good Camera
No doubt you're going to be snapping like crazy in this iconic city and need to ensure you have a good camera to do the place justice.
I love my Sony A6000, which is light, compact and great for travel.
#2 Decent Walking Shoes
You're likely to do a lot of walking within the city centre of York, if not the Dales National Park too, so ensuring you have a decent pair of walking shoes is a must.
These trainers from New Balance are ideal (and totally stylish) for the job.
#3 Light Waterproof Jacket
Whatever the time of year, you have to remember this is England after all, a country in which the heavens can open at any point!
Don't get caught out and ensure you have a good lightweight and waterproof jacket with you!
This North Face one is great.
#4 Compact Hiking Day Pack
I never go on any trip, no matter how short, without a sturdy backpack to ensure I've got everything I need and that the weight is equally distributed across my back and shoulders.
This super featherweight Kompressor from Marmot is my go-to, because it folds down to nothing and is water-resistant – perfect for travel!
#5 Portable Charger
And finally, I would never head off anywhere without my trusty Anker Portable Charger, which keeps my phone charged meaning I can take all the snaps and use all the maps I need wherever and whenever I am!
Where to Head to After York?
If you're looking to explore beyond the city of York to some delightful spots in the same county, you've picked the right one, because Yorkshire is an absolute treat.
Check out my list of the top places to visit in Yorkshire, or narrow your choices down to these recommended Yorkshire coastal spots, or else, check out this guide I wrote about visiting one of my fav places in the Yorkshire Dales, Malham.
Alternatively, if it's more cathedral cities you're after, then the other most impressive ones I've visited in England are Wells in Somerset, Liverpool, Winchester in Hampshire and Ely in Cambridgeshire.
St Pauls in London is another must-see Cathedral.
Travel Insurance for the UK
World Nomads offers simple and flexible travel insurance. Buy at home or while travelling and claim online from anywhere in the world.
Alternatively, if you're a long-term traveller, digital nomad or frequent remote worker seeking travel health cover, check out Safetywing's Nomad Insurance policies.
Travel Money in the UK
The easy way to spend with real exchange rates, no markups and no sneaky transaction fees, you can use your Wise card just like a debit card… and it links easily with Google and Apple pay – sold! Grab yours here.
PIN IT TO PINTEREST!
So that's my guide on the top 25 things to do in York, plus my top travel tips when it comes to visiting this city.
Have you visited this beautiful spot yet?
What was your favourite thing to do there?
Please help other travellers out by sharing your experiences in the comments box below…