I have to admit, I visited Wells by mistake.
Yes it might sound like a strange mistake to make, but y'know, this pandemic-induced staycation of mine has thrown up all sorts of curveballs!
And Wells was one of them.
A welcome curveball in the end, but a curveball nonetheless because, in all honesty, this was a city I'd never even heard of until a few weeks ago!
It was only when I was looking to hike Cheddar Gorge in Somerset and searching for accommodation nearby that I happened to stumble upon Wells on the map – simply because it offered the only decently-priced nearby accommodation.
And so off to Wells I went, planning just to spend a couple of nights there as part of my real travel exploration into the Mendip Hills.
But oh how wrong I was!
Entering Wells for the first time on a glorious late April Friday evening, with golden hour in full glow and the central market square alive with people fresh of out a grueling winter lockdown, was nothing short of magical.
Read on to learn more and discover my top tips for visiting the beautiful destination that is Wells in Somerset…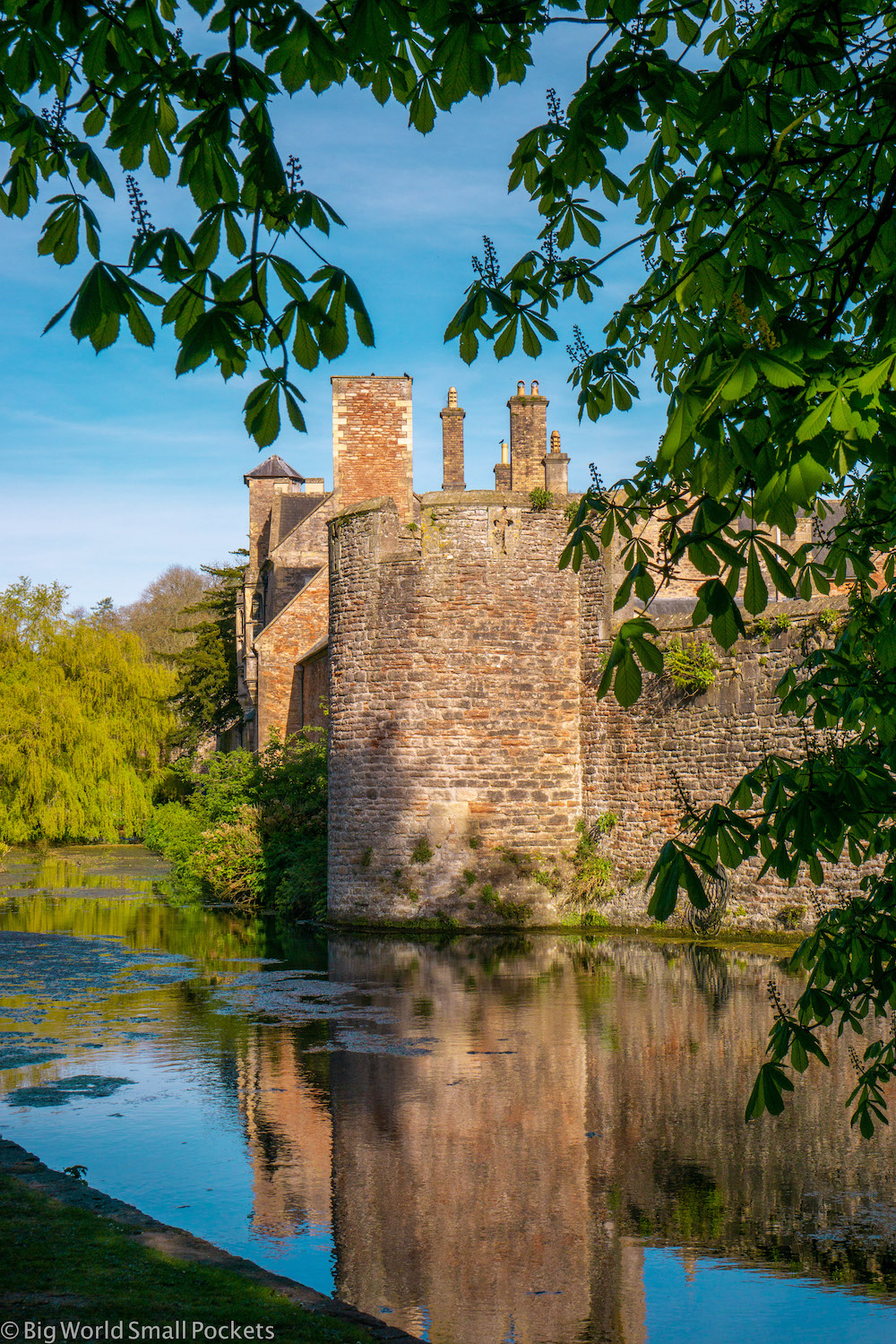 ---
Related Posts
---
This page contains affiliate links meaning Big World Small Pockets may receive a small commission on any purchases at no extra cost to you.
---
Why Visit Wells in Somerset?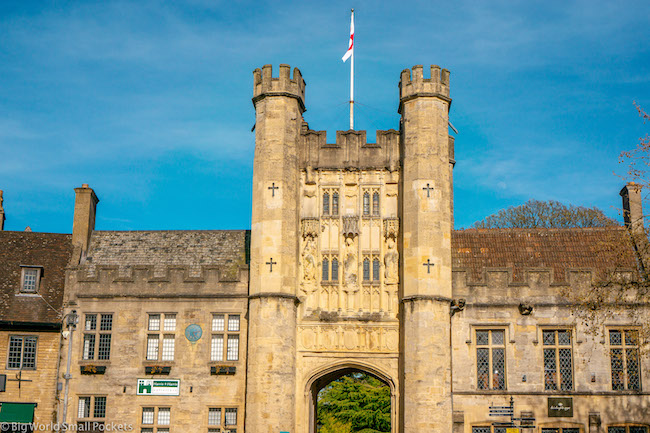 Honestly, in a nutshell, you have to visit Wells because it is one of the prettiest cities in England I've ever been to.
Yes as I mentioned in the introduction, I was blown away by the historic beauty of this city and when I say blown away, I mean completely and utterly mesmerised!
Wandering around the compact city centre on a stunning sunny evening, with golden hour in full glow, the incredible Cathedral, charming cobbled streets, historic buildings and peaceful gardens of the ancient Bishop's Palace just blew. me. away.
I literally knew nothing about Wells before I visited, which also added to the wonderful surprise I got as I really do think it's one of the most beautiful and under-the-radar spots in England there is.
If you're a fan of Cotswold charm or Medieval towns, Wells is going to be so up your street it's not true!
Throw in the fact that Wells also has delicious eateries by the bucketload, a thriving local community spirit and traditional English pubs aplenty, not to mention glorious countryside around too, and it's easy to see why it adds up to a pretty dreamy package!
Actually the smallest city in England (who knew?!), Wells lacks a train station, which seems to keep the day trippers away and, often usurped by the more famous cities of Bath and Salisbury nearby, it delightfully slips totally under the radar!
This only adds to the charm!
Yes, if you hadn't guessed already, I seriously rate Wells and, truthfully, can't see a reason not to visit to be honest!
When to Visit?
There's no question in my mind, the best time to visit Wells is during the summer season, when the UK's good weather allows you to get the best experience during your time there, especially if you want to take in some of Somerset's glorious countryside too.
How Long to Spend There?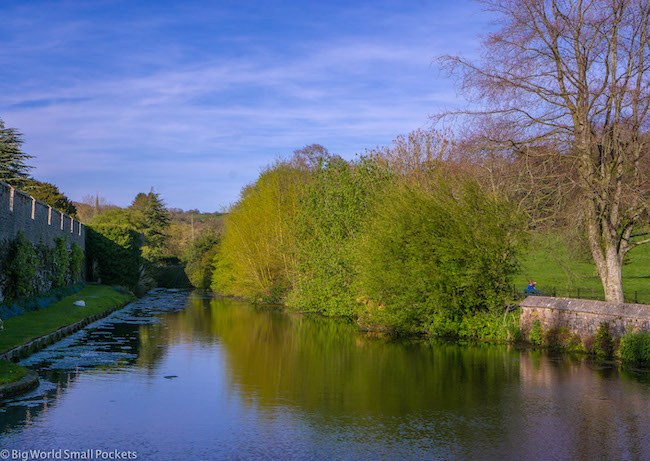 One full day is enough to explore Wells, as the centre really is small.
If you're looking to experience some of the surrounding activities I list in this article, then allow a day for each of them, aside from Frome which is quite small and can be enjoyed in a couple of hours.
How to Get to Wells?
The nearest train station to Wells is Castle Cary, 13 miles away.
From here you'll have to take a taxi to Wells as there is no public transport.
If you want to get the train to Castle Cary from London, you'll be using the Paddington to Plymouth line. Book this train, or any from across the country to Castle Cary, using Trainline.
Otherwise, you can get the bus to Wells from both Bristol and Bath, which are larger cities serviced by more regular trains from London.
These buses are run by First Bus, so check out their website for timetables and routes. In general, bus numbers 173/174 will bring you from Bath to Wells; otherwise bus number 376 will get you here from Bristol.
Alternatively, from London to Wells directly, National Express coaches run from Victoria Coach Station via Heathrow airport to Wells. This can take a while, but is a cheap alternative to the train.
Get more info on this option from the National Express website here.
Alternatively, if you want to take a tour to Wells, which includes some of the other highlights in the region too, check out this top option:
How to Get Around Wells?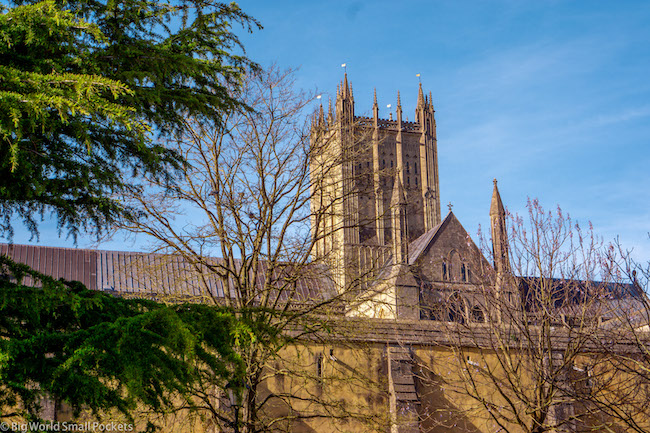 Wells is a very small city – in fact, it's the smallest in England!
This only adds to the charm and means you can easily walk around all of it on foot, including to the Cathedral and Bishop's Palace.
Otherwise, a local bus service operates too. Learn more here.
If you're looking to explore more of Somerset and things to do around Wells, then I'd highly recommend hiring a car for your trip here, as public transport is thin on the ground and trains largely non-existent in these parts!
As always, I recommend checking out Discover Cars as well as these top tips, if you're looking to hire a car on a budget in England.
Top Things To Do in Wells
#1 Explore Wells Cathedral
The jewel in the Wells' crown, it has to be said the Cathedral here is incredibly impressive, and that's coming from someone whose not generally that impressed by Cathedrals!
Absolutely massive and dating back almost 900 years, the western front of the Cathedral has one of the most impressive collections of medieval sculptures in the western world.
Along with this, you can't miss checking out the Scissor Arches, the Clock (which was installed in 1390), the beautiful stained glass windows, the Quire and its stunning embroideries, as well as the impressive medieval Chapter House while you're here too.
All in all, this Cathedral adds up to one incredibly ornate structure… it honestly took my breath away!
You can head inside the Cathedral and enjoy a free tour, which run Monday to Saturday and last around one hour, or you can book a private guided tour that includes accessing the high parts of the Cathedral, as well as the Chained Library, by heading to the Cathedral website here.
Group tours and those for families can also be booked via the website too.
In addition to all this, the Cathedral also hosts a full programme of concerts and recitals throughout the year, as well as a lot of lectures and talks, many of which are free to attend.
#2 Visit Bishops Palace Wells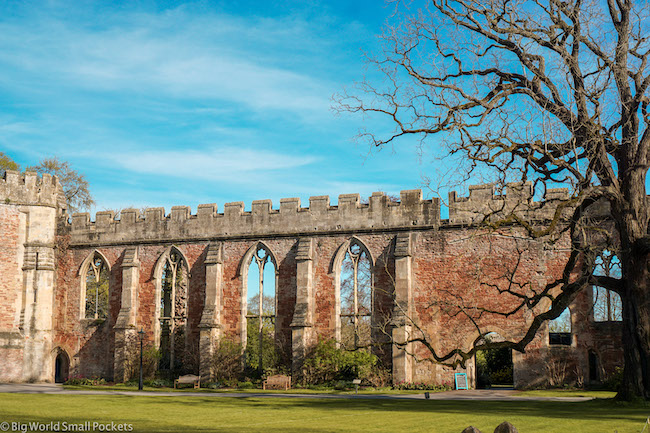 Home to the Bishop of Bath and Wells for over 800 years, this grand building, surrounded by a moat, is as beautiful as the nearby Cathedral, if not more so!
An ancient place, set to the backdrop of the Cathedral, Bishop's Palace is accessed via a gateway from the city's central market square.
Beautiful strolls around the moat, as well as around the gardens, buildings and courtyard inside, await you in this incredibly peaceful spot.
A family of swans, a drawbridge, a gatehouse, a great hall and a series of ramparts complete this magical destination.
#3 Hit up Central Market Square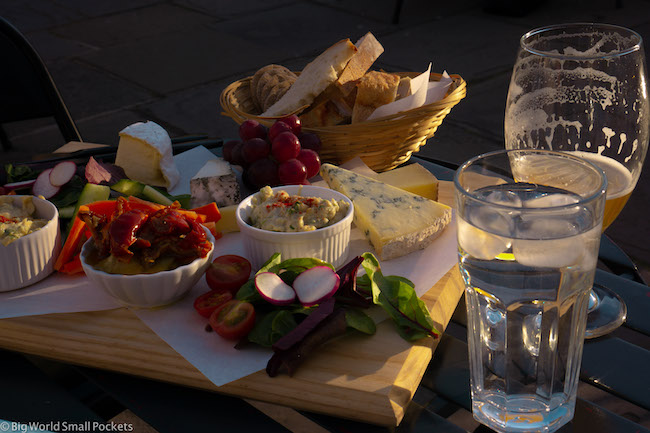 Just outside the Bishop's Palace, the central market square in Wells, is surrounded by restaurants, bars and cafes.
In the summertime, alfresco tables line the place and a feeling of being in mainland Europe floods this cobbled and historic spot
Absolutely delightful, the local cheeseboard and beers from The Bishop's Eye comes highly recommended!
#4 Wander Vicar's Close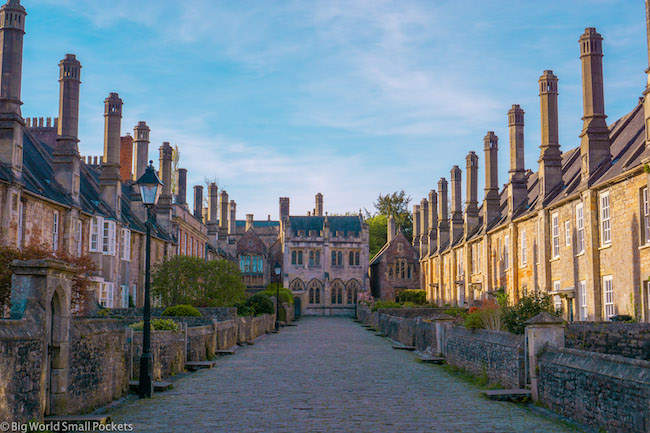 And if the Cathedral and Bishop's Palace didn't blow you away yet, then there's no doubt the Vicar's Close will.
Is this the prettiest street in the UK?
Probably!
And even more so if you just stumble upon it like I did!
Claimed to be the oldest, purely residential street (with original buildings surviving intact) in Europe, this street dates back to the 14th century.
Comprised of Grade I listed buildings, it is accessed via an entrance arch, which makes it even more dramatic and quaint.
#5 Hike Cheddar Gorge
And now we move onto my list of the top things to do around Wells as there's plenty of these too!
First up, the amazing Cheddar Gorge can't be missed.
Set in the beautiful Mendip Hills, enjoy a hike along the ridge of this incredible natural spectacle before finishing off at the Cheese shop at the bottom- of course!
You can then enjoy a stunning drive up through the Gorge, before finishing the day with an amazing glass of local cider.
Learn more in this post I wrote all about visiting Cheddar Gorge.
#6 Discover Wooky Hole Caves
A great place for families visiting the area, the Wooky Hole Caves make for an excellent day out from Wells with a whole heap of attractions on offer including the UK's largest cave system!
There's also a cave museum, a mini-golf course, a mirror maze, a mystic fairy garden and some animatronic dinosaurs the kids will love too!
For the adults, lovely grounds and walks, plus a decent café, complete the picture of Wooky Hole Caves as one of the top Somerset attractions.
#7 Head to Glastonbury
Deep in the heart of Somerset, the magical town of Glastonbury seems to run on a diet of myth and legend.
From narratives about King Arthur, through to Joseph of Arimathea and the Isle of Avalon, this an ancient town where the wafting notes of history seem to play out everywhere.
If you're not quite up to speed with my biblical and monarchic myths, then Glastonbury is the perfect place is delve in and learn more, otherwise, if you're well-versed in them, then Glastonbury is probably something of a holy grail for you!
In either case, the main thing you should do is visit Glastonbury town and the Tor, which stands on an impressive hill and offers stunning 360 degree views of the Somerset countryside around.
Learn more in this post I wrote all about the best things to do in Glastonbury.
#8 Day Trip to Bath
And now we come to a rather more famous thing to do in Somerset, a classic tourist destination.. and rightly so!
Yes one of the UK's flagship historic cities, complete with an amazing Abbey, beautiful buildings and shops, plus some Roman Baths thrown in for good measure!, Bath is a classic spot to visit near Wells and shouldn't be missed.
Learn more in my perfect Bath day itinerary here.
#9 Check Out Bristol
Probably the most eclectic city in Somerset, Bristol is a cultural hub alive with music, performance, street and spoken word art.
It's got its historic parts too and the Suspension Bridge views are epic, but Bristol time really is all about the more contemporary creative scene for me.
Don't miss a Banksy walking tour, or your chance to visit the bars and venues in Stokes Croft, if you're after some highlights!
Learn more in my list of the top things to do in Bristol on a budget.
#10 Go to Frome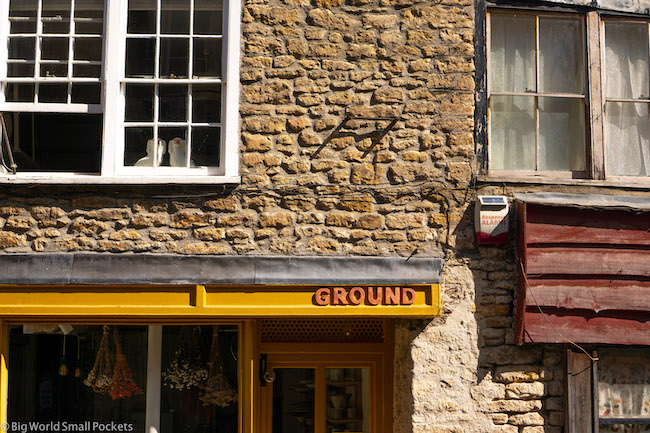 And last but not least, we come to the cute and quaint Somerset town of Frome.
Not far from Wells, and named one of the top places to live in the UK, Frome is another beautiful Somerset spot.
Definitely one of my top places to visit in Somerset, don't miss strolling by the river in Frome, enjoying a delicious brunch in the Black Swan Café, or shopping at the amazing boutique shops on Catherine Hill.
Where to Stay in Wells?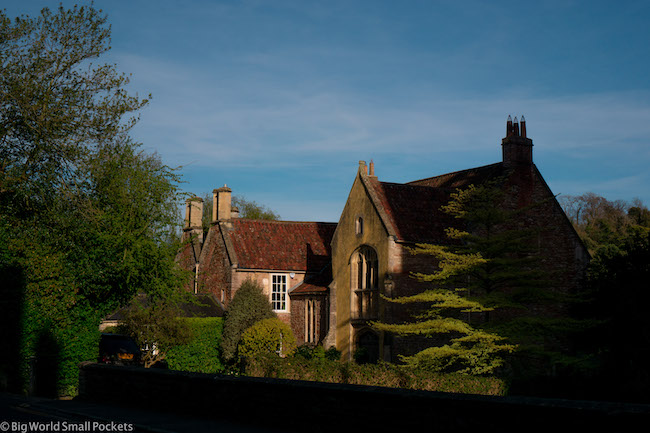 When it comes to accommodation in Wells, you'll be hard-pressed to find a better deal than the Premier Inn Wells.
Just a 15 minute walk away from the centre of the city, including the Cathedral, there's free wifi here, as well as tea and coffee facilities and luxurious Hypnos bed in all rooms.
An onsite restaurant also makes grabbing breakfast easy and straightforward too.
For something more independent, The White Hart Hotel in central Wells is a top-rated Bed & Breakfast that gets regular rave reviews thanks to its excellent location and good value for money.
Modern décor and brilliant staff complete the good food which is served in the gastropub below.
5 Key Packing Items for Wells
And finally, here's my list of the top 5 packing essentials you shouldn't head to the beautiful city of Wells without…
#1 A Good Camera – No doubt you're going to be snapping like crazy in this amazing historic city and need to ensure you have a good camera to do the place justice. I love my Sony A6000, which is light, compact and great for travel.
#2 Decent Walking Shoes – No point coming this far and not being able to enjoy a walk in the wonderful Somerset countryside. Get prepared therefore and ensure you have a decent pair of walking shoes – these cross trainers from New Balance are ideal (and totally stylish) for the job.
#3 Light Waterproof Jacket – Whatever the time of year, you have to remember this is England after all, a country in which the heavens can open at any point! Don't get caught out therefore and ensure you have a good lightweight and waterproof jacket with you. This North Face one is perfect.
#4 Compact Hiking Day Pack – I never go on any day trip without a sturdy backpack to ensure I've got everything I need and that the weight is equally distributed across my back and shoulders, This super featherweight Kompressor from Marmot is my go-to, because it folds down to nothing and is water-resistant.
#5 Portable Charger – And finally, I would never head off anywhere without my trusty Anker Portable Charger, which keeps my phone full of battery life meaning I can take all the snaps and use all the maps I need during the day!
Travel Insurance & Travel Money

World Nomads offers simple and flexible travel insurance. Buy at home or while travelling and claim online from anywhere in the world.
Alternatively, if you're a long-term traveller, digital nomad or frequent remote worker seeking travel health cover, check out Safetywing's Nomad Insurance policies.
In terms of travel money, the easy way to spend abroad with real exchange rates, no markups and no sneaky transaction fees, you can use your Wise card just like a debit card here… and it links easily with Google and Apple pay – sold! Grab yours here.
PIN IT TO PINTEREST!
So there you have it, my ultimate guide to visiting Wells in Somerset.
I hope I've inspired you to explore this smallest, but prettiest of English cities, as well as the Somerset countryside around.
It really is a beauty with so much to offer that it should not be missed!