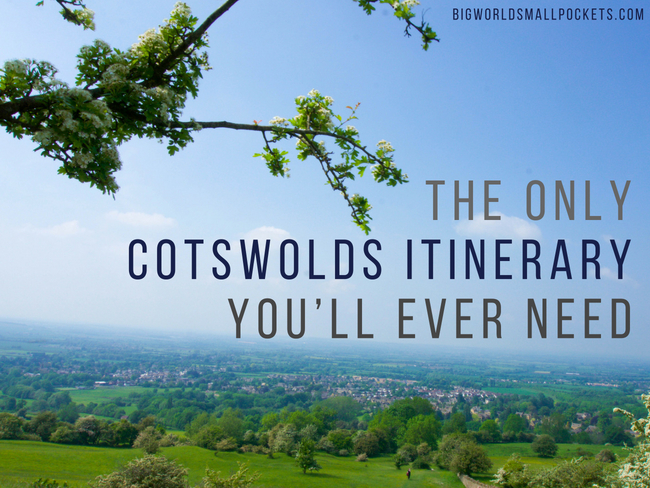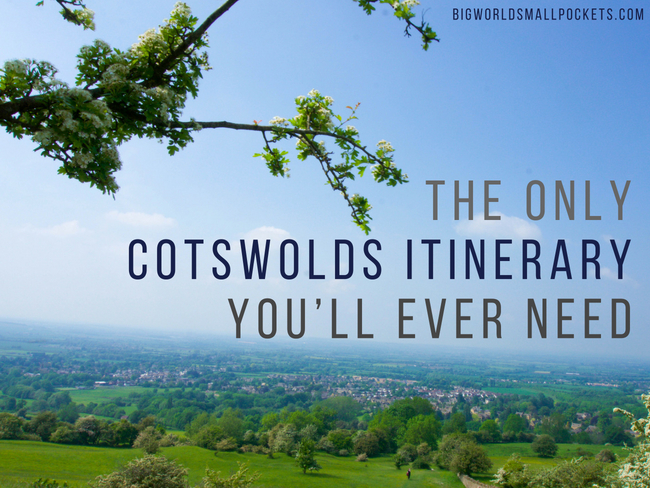 A great way to keep things cheap when you travel is to not travel too far and while that sounds amazingly unexciting, especially if you live in a country like the UK comme moi, it's actually rather exciting indeed!
(Am I getting old?!)
Because while travelling to the far-flung corners of the globe is marvellous, sometimes it's also important to open our backdoor, look on our doorstep and realise that's pretty marvellous too.
So in this vein and with the great British Summer swinging into full action, I decided to head for one of England's Outstanding Areas of Natural Beauty – the Cotswolds.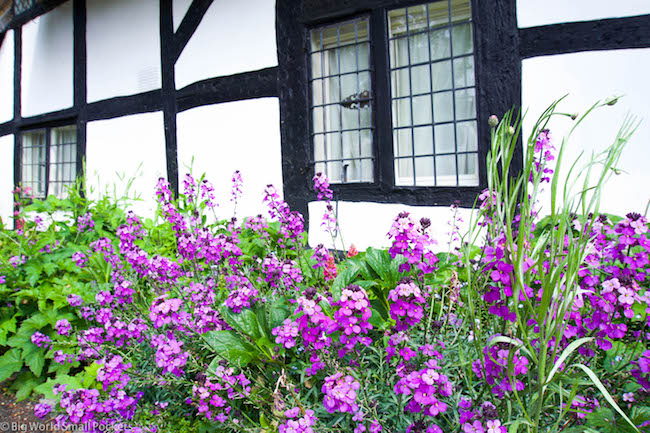 And I can certainly attest to its beauty as I hiked, snapped, and "pubbed" my way around this gorgeous part of the country; a part which actually spans 5 counties and is situated near the cities of Gloucester, Oxford, Bath and Bristol.
So if you're looking to do the same with a couple of days to spare on your next trip to the UK, here's the only Cotswolds itinerary you'll ever need to ensure you see the best of this beautiful bucolic landscape!
And, if you want to take a tour in the UK that includes the best of the Cotswolds, look no further than these great options.
---
Related Posts
---
This page contains affiliate links meaning Big World Small Pockets may receive a small commission on any purchases at no extra cost to you.
---
Arriving from London to Morton-in-Marsh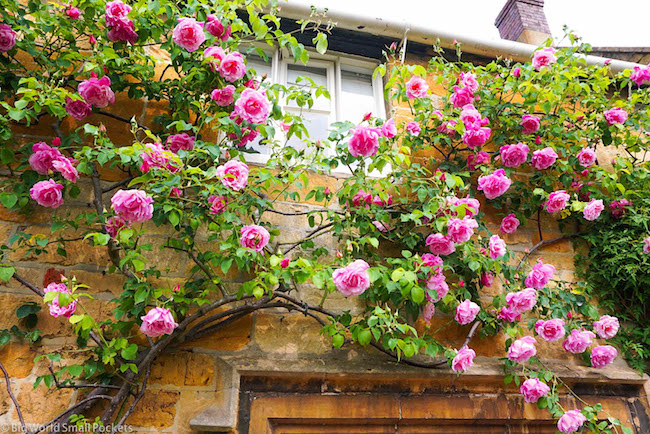 It's likely you'll be arriving from London when you're heading to the Cotswolds and travelling by train.
There's a couple of stations serviced from London Paddington, but probably the most convenient to start your time, and possible base yourself in, is Moreton-in-Marsh – a classic Cotswolds village.
With a historic town square and plenty of tearooms around, relaxing here and getting into the swing of things is a good way to kick off your Cotswolds itinerary.
If you're lucky enough to arrive on a Saturday, you may just get a chance to check out the French market like we did.
Otherwise, this heritage town boasts some good railway history, war memorials, a historic church and character-filled pubs – The Bell Inn has a good beer garden FYI!
Cotswolds Itinerary Day 1
As a designated Area of Outstanding Natural Beauty, there's no question the Cotswolds has some stunning scenery and getting outside to enjoy it is definitely one of the best things to do here.
And there's few better ways to take it all in, along with lungfuls of fresh air, than by walking in this classic English countryside.
With more trails to hike than you can shake a stick at, this was one of my favourite things to do in the Cotswolds and, from Morton-in-Marsh, you've got lots of options.
Coming highly recommended, hiking from Morton-in-Marsh to Stow-on-the-Wold and then onto Bourton-on-the-Water, not only gives you enough hyphenated place names to last you a lifetime, but is a beautiful full day's worth of walking that will lead you across rolling hills, over stiles and past plenty of fluffy sheep.
Both Stow-on-the-Wold and Bourton-on-the-Water are some of the best Cotswolds towns to wander around and from gorgeous, oldy-worldy shops to lovely pub gardens, stopping here for lunch, dinner, afternoon tea or a beer is all an important part of the experience!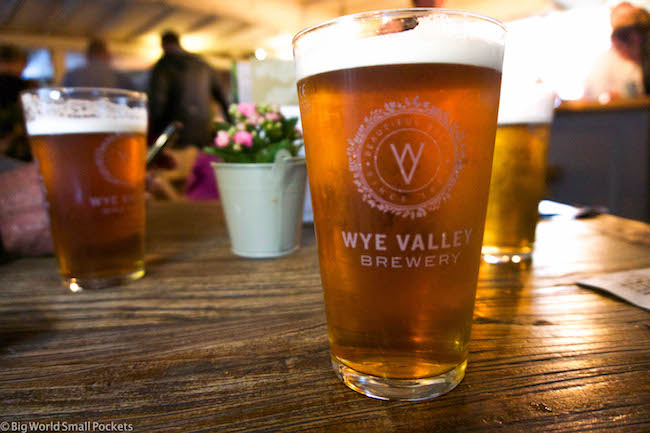 Borzoi Bookshop (a wonderfully long running, independent bookstore), Stow Town Coffee (an independent micro-roastery) and The Porch House (one of the oldest Inns in England dating from 947 AD) were 3 of my firm favourites.
Cotswold Itinerary Day 2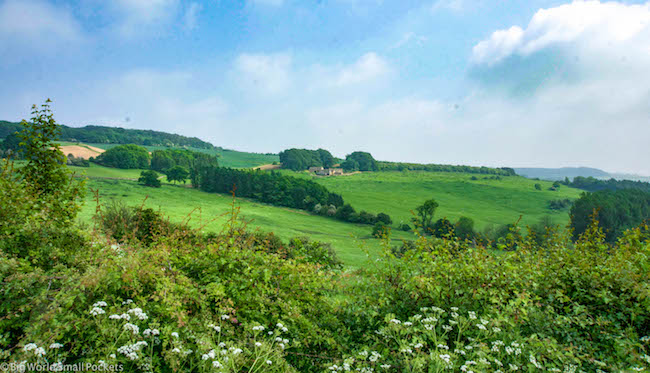 With another day in this gorgeous part of the UK, it's time to learn more about the history of this area, much of which dates back to Roman times and beyond.
The classic towns of Winchcombe and Broadway have plenty of historical sites to explore.
Particularly worthy of a visit are Broadway Tower and Sudeley Castle, which you can stroll up to and around for free.
Sudeley Castle was built in the 15th C and is one of the only castles in England still in residence.
Broadway Tower offers stunning views from its elevated position and incredible photo opps as it rises from the green countryside around.
Both market towns of Winchcombe and Broadway deserve a visit too.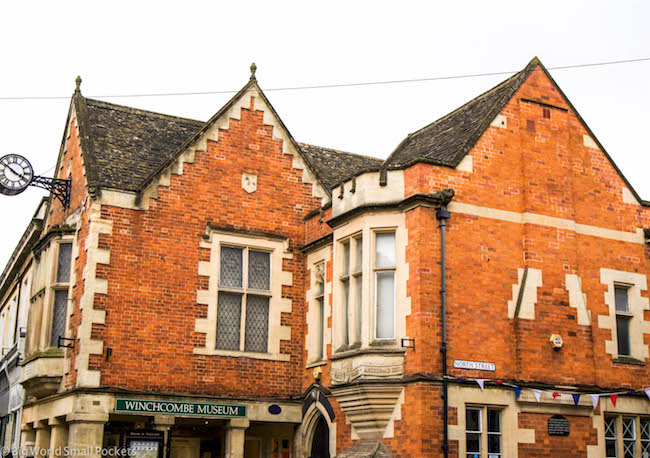 The former has a very quaint museum, while the second was my favourite town in the whole of the Cotswolds with its wonderful delis and quintessential atmosphere.
Both of these towns also typify so much of what is special about the Cotswolds – thatched roof cottages, rose climbing gardens and golden stone buildings nestle, as if in a time warp, next to fields yellow with rapeseed and rolling hills filled with bleating sheep.
Local food produce dominates menus in independent restaurants, local real ale fills the pubs and everywhere there's a pride and a celebration of rural England.
Gets my vote every day!
PIN IT TO PINTEREST!
And that's the only Cotswolds itinerary you'll ever need!
Trust me, just a few days in this wonderful part of the UK will have you falling (back) in love with this country and its countryside.