If you're anything like me, travelling light and packing small is both a struggle and a necessity when travelling.
I'm pretty strict on imposing baggage restrictions when packing, because I just know that when I have to lug around every kilo of that stuffed bag for months I'm going to regret it.
Plus I'm the kinda girl who likes to hike, camp and generally be outdoors getting amongst it, which is even more reason to shed that extra luggage weight.
But sometimes it can be hard to find a bag that suits me, that sits inbetween the day pack and the long-term backpack category.
After all, I don't want some 65+l monstrosity to lug around, but I also need something a bit bigger than a 30l day pack to fit my life into.
So I'm delighted to say I've found the perfect solution – enter the Jack Wolfskin Highland Trail 42 – which I can tell is already going to be my saving grace in Europe this summer.
---
Related Posts
---
This page contains affiliate links meaning Big World Small Pockets may receive a small commission on any purchases at no extra cost to you.
---
A European Summer with my Jack Wolfskin Highland Trail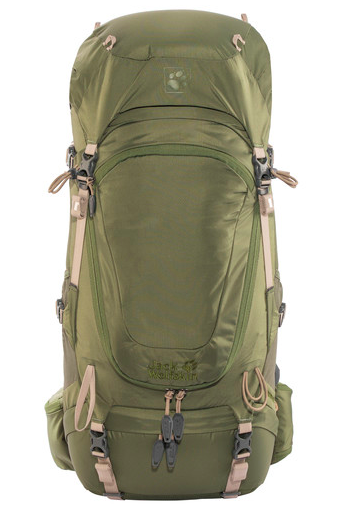 Because that's right, I'm off for a summer of fun in Eastern Europe and, as such, knew I had to find the perfect bag for these few months that was both lightweight, small and compact, but also looked and felt good.
And of course, that was somewhere in between that 65+l and 30l backpack size.
I needed something that was streamlined, great in colour (aka that would not show up every speck of dirt) and spacious, but was also reliable, comfortable and practical.
Because after all, when you're travelling in European cities you want to look good, but you also want to feel comfortable walking the sometimes long distances between the bus station and your hostel over all those cobblestones!
What's in a Colour
And actually, what first drew me to the Jack Wolfskin Highland Trail 42 was the colour.
I'm a huge fan of green, especially, "woodland green" as this one is described, and honestly, you just don't see so many bags in this colour.
Most are either a boring black or a full-on red, and it was great to find a bag that added a bit of lightness in terms of its hues, but wasn't garish or too bold either.
The sort of classic colour that you can wear with anything, that will hide the inevitable stains, but that you'll easily be able to recognise at the same time.
And after the colour it was the shape of the bag that attracted me, because it's tall, slim and streamlined.
And as far as backpacks go, it kinda looks elegant!
The Perfect Package
So those were the reasons I first started looking at this backpack and the more I looked, the more perfect I realised it was going to be for my European jaunt!
I've had cheaper brand backpacks in the past and the simple fact is, they don't last.
The zips blow out, the seams come loose and the quick 'wear and tear' factor actually makes them incredibly poor value for money.
So a good brand backpack is something I never skimp on, especially when I'm travelling overseas for a few months.
I mean can you imagine anything worse than a bag failing you while you're on your travels?!
COMPLETE NIGHTMARE!
And Jack Wolfskin really is at the top of its game when it comes to backpacker quality.
Since 1981, they've been "inspiring people to seek adventure, to enjoy the freedom of the outdoors and to explore the natural world" and nothing gets me going quite like this sort of mission statement!
Top Features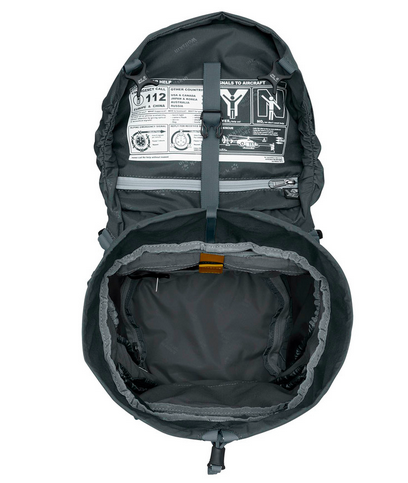 So yes, as well as being high quality and reliable, this backpack also has some pretty great features.
First up, the number of pockets is astounding; making it incredibly easy for you to store your stuff in various compartments, so your gear is quick and simple to locate.
I'm always a fan of a separate bottom section in a backpack and the Jack Wolfskin Highland Trail 42 not only has this, but also has some side mesh pockets, 2 top lid pockets, a full-length inner hidden secure pocket and a good-sized front pocket.
Access is easy via both the top of the bag, the bottom and the front, making packing and unpacking a dream.
In addition, there's also side pockets on the waist belt that make quickly grabbing some money, glasses, a pen, your passport, some mints and other essentials, incredibly easy.
But perhaps what I like best about this bag is what those waistband pockets connect to.
Yes, the support system of this bag is incredible!
I mean I've literally never felt so comfortable walking with a heavy backpack on in my life!
Initially, I was a bit worried by this bag because it's described as unisex (and often that means it sits way too high up on my back because it's designed for taller men) but that was simply not the case with this bag.
The suspension system fitted me perfectly, offering excellent ventilation and soft cushioning that perfectly moulded to the contours and ergonomics of my body.
The weight distribution feels great and the many adjustment options mean you can brilliantly tailor this backpack to suit your body type too.
Compression straps help keep the load compact and centralised, while the tall, thin design of the bag means it rests well against your back – not bulging out to the sides and setting you off balance.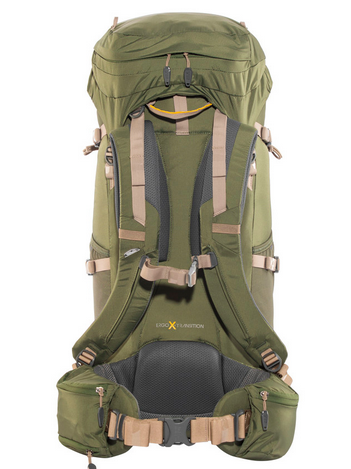 So there you have it, the reason, or reasons (!) why the Jack Wolfskin Highland Trail 42 is quite clearly the dream choice for my forthcoming trip to Eastern Europe this summer.
Have you checked out this bag before?
Did you love it just as much asme?!
I'm sure you will do soon!