If you haven't already heard, I'm currently championing Egypt as one of the best travel destinations going.
Honestly, it's astounding just how diverse and delightful this country is, especially in terms of the amazing historical and natural sights on offer.
The country is also safe – or at least I felt secure when here – and also boasts some wonderful weather most of the year.
With great prices, a huge range of cities, attractions and adventures, not to mention an ancient world wonder thrown in for good measure, no matter whether you want to sightsee, snorkel or sail, Egypt has it all!
And here, to get your wanderlust even more fired up, are 15 epic things to do in Egypt you should not miss!
---
Related Posts
---
This page contains affiliate links meaning Big World Small Pockets may receive a small commission on any purchases at no extra cost to you.
All prices given are correct at the time of publication. Egyptian Pounds= LE.
---
Grab Your Copy of How to Travel Africa for Less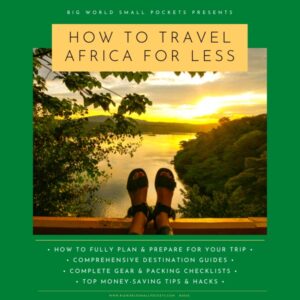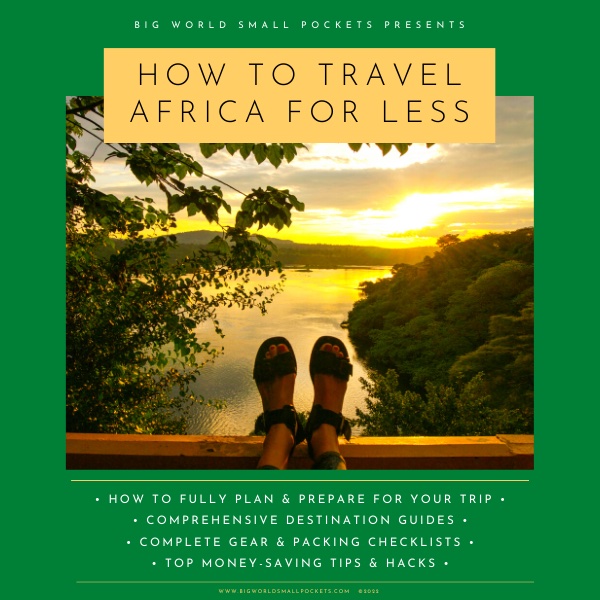 My ultimate guide to travelling Africa on a budget is now available, meaning you can finally get ALL my top tips for adventuring around all, or parts, of this amazing continent in one handy eBook, including…
Full Planning & Preparation Guides
Detailed Destination Info
Complete Packing & Gear Lists
Top Money-Saving Tips & Hacks
#1 Tick the Pyramids Off Your List
C'mon, it was always going to be at the top of the list!
After all, how can you come to Egypt and not visit the amazing pyramids?!
An absolute bucket list belter, the pyramids are situated over in Giza, which is located on the other side of the Nile from Cairo.
Early morning is the best time to head here so you can avoid the crowds and catching the Metro is the cheapest way to make the journey from central Cairo.
Spend a good few hours, wandering, snapping and heading inside the Pyramids, before also checking out the Cheops Boat Museum.
This is bound to be a day you never forget, so if you do want to hire a guide to help show you around, check out these top tours.
#2 Snap the Sphinx
Cairo's most famous attraction, and rightly so, the pyramids of Giza are one of life's travel greats and truly have to be seen to be believed.
However, I have to admit that their friendly neighbour, the Sphinx, probably impressed me more.
There's something just so iconic about this incredible monument – it really is mind-blowing to see it in real life and the excellent (as well as comedy) photos you can get here make the experience even more enjoyable.
The classic Sphinx kissing shot should not be missed!
Thought to be a staggering 4500 years old, this mythical creature, with a human face and the body of a lion, faces west to east with the setting sun.
The huge statue is carved from limestone and the amazing face is thought to represent that of Pharaoh Khafre – one of the rulers of the Old Kingdom.
Visiting the Sphinx is included in your ticket to see the pyramids, as it sits within the same complex and is just a short walk away.
#3 Marvel at the Treasures in the Grand Egyptian Museum
When I last visited Egypt, this insane historical archive was located in downtown central Cairo, in an old dusty museum so full of treasures, it felt like you'd stepped back in time.
Now however, the brand new Grand Egyptian Museum building (otherwise known as GEM… and it is!) has opened and conveniently it's located right in Giza, just not far from the pyramids and Sphinx.
This is the country's flagship exhibition space and is chock-full of ancient artefacts. Put quite simply, it's absolutely mind-blowing.
Just about anything that was salvaged from a tomb, temple or pyramid in Egypt was brought to Cairo and is now housed in room upon room of treasures here.
Indeed, GEM is the largest archaeological museum complex in the world and boasts more than 100,000 pieces among its collection, including King Tutankhamun's entire treasure collection, which is displayed to the public here for the first time.
So it really comes as no surprise that visiting the Grand Egyptian Museum is definitely one of the best things to do in Egypt and you'll want to allow at least 2 hours for it.
Entrance tickets to the Museum cost 120 LE for foreign visitors, although do be aware that the Mummy Room costs an extra 150 LE to enter and access to a camera anywhere in the museum will cost you a further 50 LE.
And if you're into museums, then the Luxor Museum is another top one to check out when you're in Egypt too.
After all, there's no question that getting your history fix is a must in this country!
#4 Be Astounded by Abu Simbel
And now we move on to yet another ancient treasure, although to visit this you'll need to leave Cairo and head south to the wonderful city of Aswan.
Most people access Abu Simbel from Aswan as part of a half day trip, which generally leaves before dawn to ensure travellers make the 200km+ journey south and arrive just at Abu Simbel just after sunrise.
And trust me, it's worth getting up early because this is definitely one of the best things to do in Egypt!
Built by Ramesses II, the awe-inspiring construction of Abu Simbel is hard to put into the words.
Featuring 2 of Egypt's most famous temples, these guys are absolutely HUGE!
Most famous are the 4 statues that greet you outside the main temple – they actually had me gasping with disbelief when I first saw them – but then there's more treasures that await you inside!
Transport to this incredible temple complex is cheap (around 300 LE for a return minivan journey from Aswan) and the entrance fee 255 LE actually includes a guide, meaning you can glean some amazing historical info on this place too.
If you'd rather take an organised tour to Abu Simbel from Aswan however, check out these top picks.
The sense of wonder Abu Simbel imparts is only increased when you learn that, stone-by-stone, each tiny part of these 2 enormous temples were painstakingly moved before the construction of the Aswan High Dam in 1968.
Had they not been moved, the temples would have been submerged by the newly created Lake Nasser and lost forever.
Honesty, the whole thing is mind-boggling!
#5 Lose a Few Hours on Elephantine Island
And while you're in the south of Egypt, you can't miss the opportunity to explore the city of Aswan for at least a day or 2 as well.
Steeped in history and a stronghold of traditional Nubian culture, I loved this relaxed Nile-side city and all the activities it offered.
From sailing in a felucca (a small, wooden boat) to visiting the Nubian Museum, marvelling at the Unfinished Obelisk to wandering the local markets, there's a huge amount to do here, which you can learn more about in my list of the top things to do in Aswan.
Otherwise, if you want to skip straight to the highlights, I rate Elephantine Island as one of the best things to do not only in Aswan, but the whole of Egypt too!
Costing you just 5 LE each way to sail here from the city centre of Aswan, Elephantine Island is an absolutely delightful place to stroll around for a couple of hours.
Taking in the quiet, dusty streets and traditional Nubian villages of this part of Egypt, it's easy to lose at least a good chunk of your day simply ambling around as kids play in the streets, men gather on the pavements smoking sheesha, women chat together in the doorways and families of sheep jostle their way past you.
Elephantine Island is also home to the Aswan Museum, where an entrance ticket will set you back 90 LE.
Here there is a small garden and an excavation site currently being worked on by a Swiss / German team and an exhibition hall.
Check out the ruins and the exhibitions first, before making your way to the Satet Nilometer.
An incredible measuring system the ancient civilisations of Egypt used to assess the height of the river, the Nilometer is situated within the museum grounds.
With steps that lead down to the river, and clever markings that help judge its height, this is a fascinating glimpse into the highly sophisticated skills of a society that existed here over 3,000 years ago.
And, (Instagram bonus!) at the bottom of the Nilometer is a nice archway, framed perfectly for your selfies shots. You can even sit on the bottom step here and cool off by dipping your toes into the world's most famous waterway!
#6 Cruise the Nile
And from Aswan, it's now time to start moving north as we continue this list of the best things to do in Egypt.
And the perfect way to move north, and definitely one of the best things to do in Egypt fullstop, is to enjoy a Nile cruise.
Although, if you're anything like me, you probably have reservations about how expensive this notoriously touristy experience might be!
But fear not, this amazing adventure is totally accessible to those on a budget too… as long as you have a bit of flexibility in your schedule and don't mind leaving things until the last minute!
I actually managed to score an amazing deal on a 3 night cruise from Aswan to Luxor when I was in Egypt and thoroughly enjoyed lazing by the pool on the top deck of the ship as the world's most famous river floated by.
Find out exactly how I bagged such an amazing deal for just $40 USD a night (including all food and temple visits), by reading this blog post about the experience and then get this one on your Egypt bucket list asap!
#7 Explore Edfu
And one of the best things about a Nile cruise is that it will allow you to visit a number of temples that you otherwsie probably wouldn't get to. And top of that list of Edfu!
One of the best temples located between Aswan and Luxor (which are the 2 cities most Nile cruises sail between), Edfu Temple is one of the best preserved in the country and is located on the west bank of the Nile, just a few km from a city that shares the same name.
Known for its amazing columns and incredible language inscriptions, Edfu is a relatively new temple thought to date back to only 237 BC.
And I say only, because this is nothing compared to some of them in Egypt!
When you cruise the Nile, a trip to Edfu is usually built into your package and includes transport from the boat to the site, as well as a guide to show you around the temple.
You'll still have to pay an entrance fee of 100LE, but that's a bargain given what you'll see!
If you are looking for Nile cruises that include Edfu temples visits, then check out these 2 options which are well-priced and get good ratings.
#8 Visit the Valley of the Kings
Without a shadow of a doubt, the Valley of the Kings is one of the most important historical sights in this country, making it a no-brainer on my list of the top 15 things to do in Egypt.
It's also easy to see on a budget, with most hostels in the city of Luxor (where the Valley of the Kings is) offering incredibly priced tours (like under $10 USD) that include transport, a professional guide and lots of other Luxor sights as well.
Otherwise, if you want to book a tour in advance, check out these great options.
Entrance to the Valley of the Kings costs 240 LE and includes access to 3 tombs of your choosing – a great reason to take a guide is so they can tell you which tombs are the best ones to visit!
Then prepare to be amazed as you step inside these crypts that are thousands of years old. With such intricate carvings and bright paintwork, you'd think they were created yesterday.
The famous tomb of Tutankhamun is also situated in the Valley of the Kings, and needless to say it's one of the busiest tombs.
You'll need to pay extra to visit it however and honestly, I really wouldn't bother as, despite its reputation, it's actually not that impressive! There are other tombs that are much better.
*sorry to burst your bubble*
That aside, you definitely want to make sure you get to the Valley of the Kings on your Egypt hitlist and allow enough time to spend at least half a day there.
#9 Don't Miss Karnak and Luxor Temples
There's no way you can come to Egypt and not visit these 2 classic temples, which can easily be combined into one trip and visited in the space of an afternoon.
First I suggest you head to Karnak Temple.
One of the largest in Egypt, this is a huge place you'll need at least a few hours to explore.
The "Forest of Pillars", as it's known here, is simply breathtaking and the sanctuary and purification lake are also must-sees.
Afterwards (and late in the afternoon is best), it's then time to visit Luxor Temple, where the entrance fee is 160 LE.
Situated in the heart of the city, I found this temple fascinating, not least because of the crossover of the Islamic and Christian artwork with the ancient Egyptian stuff – I mean, c'mon, even Alexandra the Great left his mark here!
The Avenue of Sphinxes, some of which still remain (and which used to stretch all the way to Karnak Temple), also give an amazing insight into just how grand and audacious this place was in its heyday.
It's also great to know that Luxor Temple is open until 9pm and being here around sunset, to catch the golden, fading light of the day reflect off the ancient stone pillars, really is a magnificent must-do.
#10 Day Trip to Saqqara
Most people, myself included, have never even heard of Saqarra until they get to Egypt, but I really think that should change!
And that's because this ancient site, which is situated near the former ancient capital of Memphis, boasts what is thought to be the oldest pyramid in the world!
The Pyramid of Djoser, as it's known, served as a royal burial ground and is one of a number of pyramids built at Saqqara by 16 different Egyptian Pharaohs.
Located 30km from Cairo, Saqqara makes for a great day trip from the capital and has mercilessly fewer crowds than the pyramids of giza.
Check out these top Saqqara trips if you fancy heading there.
#11 Enjoy the Tea and Sheesha Combo
The land of the teahouse, Cairo in particular, is jampacked with amazing places to enjoy a good Middle Eastern tea and people watch!
Combining this in the evening with smoking a traditional Egyptian sheesha (contains nicotine and is highly addictive FYI) and perhaps watching a football game, is the perfect way to get into the spirit of this county, which is why I've voted it one of the best things to do in Egypt.
There's lots of choices in the capital for spots to check out, but the wonderful Odeon Palace in downtown Cairo, had to be my favourite.
#12 Journey to Alexandria's Library
Once one of the largest libraries in the world, the ancient collection at Alexandria was the hub of a huge scholarly centre.
Sadly, years of neglect and conflict in the Roman period led the Great Library of Alexandria to be largely destroyed and the city of Alexandria lost its place in history.
That was, until recently, when a new modern library, Bibliotheca Alexandrina, was opened in the city in 2002 to commemorate its heritage as the capital of knowledge.
Egypt's second largest city, and sitting on the edge of the Mediterranean, Alexandria makes for a great overnight stay or day trip from Cairo.
Tours usually include a trip to the new huge and amazing library, as well as the mosques, markets, churches and castles also found in this ancient spot – here's some great options.
#13 Dive Dahab
Away from mainland Egypt, the Sinai Peninsula is almost like a different country.
Famed for its great diving opportunities, there's no question that getting underwater here at the Red Sea is one of the best things to do in Egypt.
And while the resort of Sharm-El-Sheikh is probably the most famous destination, the small town of Dahab just up the road is infinitely better!
Certainly the top destination for independent travellers at the Red Sea, this small town is awash with dive shops, cafes and hostels that offer some amazing prices!
I honestly could have spent weeks in this gorgeous little place, but had to make do with just 4 days, which I filled nicely with near-continuous hummus eating, yoga, diving, swimming and sunning myself on some of the best roof terraces I've ever found!
#14 See Saint Catherine's Monastery
Also found on the Sinai Peninsula in Egypt is Saint Catherine's Monastery.
Located at the entrance to a gorge, at the bottom of Mount Sinai, this is an Eastern Orthodox Monastery that became UNESCO-listed in 2002.
Built between 548 and 565 AD, it is the oldest continuously inhabited Christian monastery in the world and is also the home of the world's oldest continually operating library.
This absolutely makes visiting it one of the best things to do in Egypt and shows you how mindblowing this country is!
Tours are the best way to get to this remote spot and usually combine a visit here with a hike up Mount Sinai. Check out these top picks.
Most leave from either Sharm El Sheikh or Dahab and set off overnight, so that you can hike up Mount Sinai and enjoy sunrise from the top, before finishing at St Catherine's.
Mount Sinai is meant to be the spot where Moses received the 10 Commandments from God and, at a height of over 2200m, it is a sacred place in the Christian, Judaism and Islamic faiths.
#15 Discover Siwa Oasis
And finally, last but not least on my list of the top things to do in Egypt its discover the Siwa Oasis.
A remote and off-the-beaten track spot near the Libyan border, you will need to check the latest safety information before heading here.
But, if you're lucky enough to be able to visit, then get ready to see one of the fantastic places in this country yet!
More than 300 freshwater springs and streams sustain this remote desert oasis, while a series of saltwater lakes (hot and cold) only add to its unique appeal.
There's also sand dunes, caves, an old fortress, small mountains and a salt mine to discover.
The small town of Siwa is not far from the oasis and the cheapest way to get here is by bus from Cairo or Alexandria – although be warned this is a long journey taking between 9 and 12 hours.
The other option is a tour, which will allow you to have a guide to discuss the history of this fascinating outpost and its stunning natural phenomena.
Check out this 3 day option, which will give you enough time to get there and explore before you have to return.
Mini Egypt Travel Guide
Best Places to Stay in Egypt on a Budget
Aswan – Eka Dolli Guest House
Luxor – Bob Marley Peace Hostel
Cairo – Dahab Hostel
Dahab – Alaska Camp
When to Visit Egypt?
No question in my mind that you should definitely visit Egypt during the spring and autumn seasons i.e. from April to May and September to November.
This will allow you to get the most from the country's lovely historical and coastal sites without being too hot!
How to Get to Egypt?
Most people access Egypt by flying into the international airport in the capital Cairo.
As always, I use Skyscanner to find the best prices.
If you are crossing into Aswan from Sudan, check out this post which details all the ins and outs of crossing this African border.
Recommended Egypt Tours
I travelled Egypt as a solo female and felt perfectly safe, but if you'd rather take a tour of the country and enjoy then the company of other travellers, I totally understand.
Here's my top picks.
Travel Insurance for Egypt
World Nomads offers simple and flexible travel insurance. Buy at home or while travelling and claim online from anywhere in the world.
Alternatively, if you're a long-term traveller, digital nomad or frequent remote worker seeking travel health cover, check out Safetywing's Nomad Insurance policies.
5 Essential Packing Items for Egypt
#1 Egypt Lonely Planet – A great travel aide to this country with tons of historical info, the Egypt Lonely Planet will help you get the best from your time here.
#2 Arabic Phrasebook – Most people in Egypt who are connected with the tourism industry speak good English, but learning some Arabic never goes a miss, especially if you want to ensure you're paying the best prices! The Egyptian Arabic Lonely Planet phrasebook is a super affordable option.
#3 Good Camera – Egypt is one of those ultimate bucket list destinations and travelling here with a good camera will help you preserve the memories. I highly recommend the mirrorless Sony A6000. Light, compact and robust, it's been perfect for my African travel adventures.
#4 Sun Hat – Egypt is hot and dry, really like hot and really dry. When you're walking around temples and other sights you'll be exposed to the sun for long periods of time, so making sure you pack a sunhat for adequate protection is key. I love this one from Hello Sunshine.
#5 Amazon Audible – Travel in Egypt can often involve long train or bus journeys, so having something to listen to while you enjoy the scenery is a must! I love Amazon Audible, which is the best audiobook service around in my opinion!
SAVE THIS TO PINTEREST!
And that's it, my list of 15 unbelievable things to do in Egypt.
Have you visited this incredible country?
Were you blown away too?
Do let me know your favourite Egypt experience in the comments bow below…