One of the UK's most remarkable parks (not to mention one of its oldest), the Brecon Beacons is a phenomenally scenic part of Wales that should absolutely be on your British bucket list!
Encompassing a dramatic mountain range in South Wales, this is a rugged, ancient land that is ideal if you want to unplug and unwind.
With hiking, mountain biking, dramatic views and stargazing a go-go, it's perhaps no surprise to learn that camping in the Brecon Beacons is a popular past time as well.
Having spent some wonderful time in this part of the country as part of my first trip to Wales – which instantly blew me away FYI – there's no way I wasn't going to share the information with you guys!
Because I was honestly mesmerised by this wonderful part of the country and am so delighted I picked camping as the best way to explore it on a budget.
So here's my full guide to planning your trip – from when to visit, to the types of camping you can enjoy here, along with my top tips, packing items and recommendations, it's all you need to know about camping in the Brecon Beacons…
---
Related Posts
---
This page contains affiliate links meaning Big World Small Pockets may receive a small commission on any purchases at no extra cost to you.
---
Why Go Camping in the Brecon Beacons?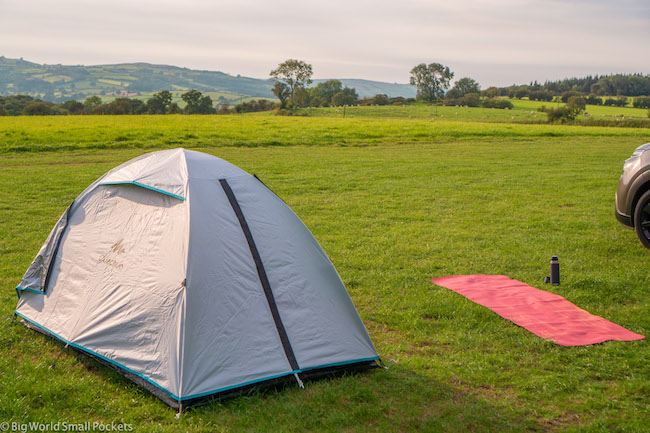 In my humble opinion, camping is the only way to experience the Brecon Beacons!
One of Wales' most beautiful spots with some incredible hiking trails and stunning rural views, this wild and wonderful landscape is full of rugged mountains, local farms, winding country roads, ambling sheep and ancient outlooks.
There's no surprise this is one of the oldest national parks not only in Wales, but in the UK too, and camping is the ultimate way to discover it!
The rural nature of this part of the UK only adds to the camping appeal, and the sense of getting away from it all and back into nature, compounds it!
Waking up under those open skies, to the sounds of the wind, trees and birds, truly makes you feel like you're experiencing this landscape in all its glory.
There's also a heck of a lot of campsites in the Brecon Beacons to choose from however and I'll go into my top 10 recommendations later on in this article, but right now I want to bring you some top tips to help you plan your adventure…
Top 5 Things To Do in the Brecon Beacons
So, as I've already outlined, getting out amidst the beautiful scenery and rural outdoors is the best thing to do in the Brecon Beacons.
Here's a list of my top 5 picks, so that you can get a sense of what you might like to do during your time here…
#1 Hike Pen Y Fan
No surprise, coming in at number 1 on this list is to hike to the summit of South Wales' tallest mountain – Pen y Fan.
An enjoyable half day hike, which allows you to take in stunning views of the whole region, this one really can't be missed!
#2 Discover the Waterfalls
Down in the south of the Brecon Beacons National Park, the many waterfalls you'll find are incredible, and exploring them all, best done on foot, is a great day activity.
Don't forget to take your camera – there's so many epic ones here you'll certainly want to snap a lot!
Learn more about the Brecon Beacon Waterfalls, and hikes around them, in this post.
#3 Get Active
But it's not just hiking, there's also a ton of other activities and adventures to enjoy in the Brecon Beacons too.
These include mountain biking, rafting and abseiling, as well as canyoning, so don't miss out on any of these if you've got the thirst for something a bit wild!
#4 Explore the Market Towns
And, on the other end of the spectrum at a rather more sedate level, one of the best things to do in the Brecon Beacons is definitely to explore the very lovely, historic market towns here.
From farmers' markets to quaint independent high streets, bustling local life and some wonderful foodie opportunities, the market towns are the backbone of life in this part of Wales and my favourite – Hay-on-Wye – should certainly not be missed!
This is especially true if you're into books!
#5 Head out Camping!
And finally, last on this list of the top things to do in the Brecon Beacons is, of course, to camp in this wonderful landscape!
Which is exactly why I'm bringing you this guide!
So let's hook in….
How to Get to the Brecon Beacons
There's no doubt the best way to get to the Brecon Beacons is to drive.
Hiring a car from wherever you're departing in the UK is a good option, or you can get to Swansea or Cardiff via coach or train and then hire a car from there like I did.
As always, I use Trainline to find best deal on trains and coaches to Swansea and Cardiff from across the UK.
Once you arrive in one of these Welsh cities, I highly recommend using Thrifty Car Hire as they offer some great deals on car rental and are very reputable.
Having a car to explore the beaches of the Brecon Beacons is really key, especially if you're camping, because public transport here is very limited.
Learn more in these top 12 tips I wrote about hiring a car in the UK on a budget.
If you do want to use public transport, there are buses that service the Brecon Beacons from Swansea, Cardiff and Newport.
For more information, check out this website www.traveline-cymru.info, but services to look out for include the T4 that runs from Cardiff to Newtown via Brecon and the T6 that runs from Swansea to Brecon.
When to Go Camping in the Brecon Beacons
There's no question the best time to go camping in the Brecon Beacons is between the months of June and September, when the weather is at its direst, sunniest and warmest!
Not only does this make for a more pleasant camping experience, but the better weather at this time of year will also allow you to enjoy more of the national park's beautiful landscape too – whether that's hiking or just taking in the view!
That said, this being of Wales, it can rain at any time of the year, even in the height of summer, so it pays to come prepared!
But then again, I visited the Brecon Beacons in the middle of September and experienced idyllic weather that saw me hiking under brilliant blue skies every day, so you just can't call it!
Where to Camp in the Beacons?
As I said, I'll run through my list of the top 10 Brecon Beacon campsites at the end of this article, but there's a key thing to know before moving on this article and that is to consider roughly where in the national park you want to camp.
There are loosely 3 parts to the Beacons – the east, the west and the centre.
The east section of the park is nearer to the English border and tends to be dominated by the Black Mountains. This area is home to some of the best historic market towns in this region, including Hay-on-Wye.
The west section of the park is more remote and definitely good for those of you who are more keen to get off the beaten track. Camping here is ideal if you want to get away from it all.
The central section is the most popular section thanks to it accessibility and its closeness to many of the main attractions. Camping here is ideal for those who want to tick some of the major hikes and sights off their bucket list, including Pen y Fan and the Waterfalls.
Brecon Beacon Services and Supplies
As a very rural area, it's perhaps no surprise that services and supplies can be limited in the Brecon Beacons National Park.
And in general, I'd advise buying everything you'll need for your trip in advance.
Not only is this because you may not be able to get it in this rural part of the country, but also certainly because the choice will be more limited and the price will be greater.
If you do forget anything however, the towns of Brecon, Hay-on-Wye and Abergavenny are the main spots to head for if you need food, fuel or camping bits.
Your best option is to stop there as part of your itinerary to avoid driving miles out of your way!
The town of Brecon, in particular, has a good range of supermarkets and stores where you should be able to get most things you need – otherwise the cities of Swansea and Cardiff will have a fuller selection of any gear or equipment you might have left at home!
Camping Options
The first thing to consider when camping in the Beacons is, "what sort of camping do you want to enjoy?"
By this I mean you generally have the choice of the following camping options:
#1 Motorhome, Caravan or Campervan
#2 Use an Onsite Tent, Shepherds Hut or Yurt
#3 Opt to Take Your Own Tent
#1 Motorhome, Caravan or Campervan
With the first option, it's likely you'll be using your own motorhome or caravan, but of course the option of renting a campervan in the UK and driving it to the Brecon Beacons is totally possible.
The pros of this option include the freedom to drive and explore where you like, as well as the potential to move quickly between campsites across the region and Wales too.
You'll also save on pitching / packing up time, be assured of staying dry if it rains and have a greater level of luxury and home comfort.
The cons are the cost and the hassle of driving a large vehicle, which can be especially annoying on many of the Brecon Beacons' twisting lanes and limited parking facilities – especially those for big vehicles.
#2 Onsite Tent, Shepherds Hut or Yurt
Using an Onsite Tent, shepherds hut or yurt is an option many campsites in the Brecon Beacons National Park provide.
I'll cover this more in the section on glamping later on in this article.
#3 Take Your Own Tent
Finally, you can opt to take your own tent and either use your own vehicle to get to the Brecon Beacons or public transport.
Using your own tent is certainly the cheapest way to camp here and having your own transport will give you a lot more options when it comes to where you can go and which campsites you can access.
In general (and although it's not great for the environment), I'd really recommend having your own vehicle when you explore this part of Wales, as the public transport here is limited, and it will make camping (and bringing everything you need) a lot easier! Eco cars are the best option for the planet.
When choosing your own tent, you can have a huge range of options from massive family models with multiple rooms you can stand up in, to tiny 1 man tents that pack down to almost nothing and are both light and easy to transport.
Choose your tent according to the number of people camping with you, how long you're planning to camp in the Beacons, the level of luxury you need and how you're planning to transport your tent and camping gear to this national park – by this I mean, will you have to carry everything, or can you sling it in the car?
The cons to taking your own tent are, of course, the level of organisation required, the hassle of transporting everything and the potential you might get wet if there's some heavy rain.
You're also likely to pick just one campsite and stay put if you have to pitch your own tent – the hassle of packing up takes up a lot of time if you plan to move around!
That is, unless you're hiking some of the extended walks in the Brecon Beacons and camping somewhere enroute each night.
In this case, you'll be travelling with an ultra-light featherweight tent you can easily transport on your bag with food and water etc, giving you the ultimate freedom to really get amongst the beauty of this national park.
Powered or Unpowered Campsites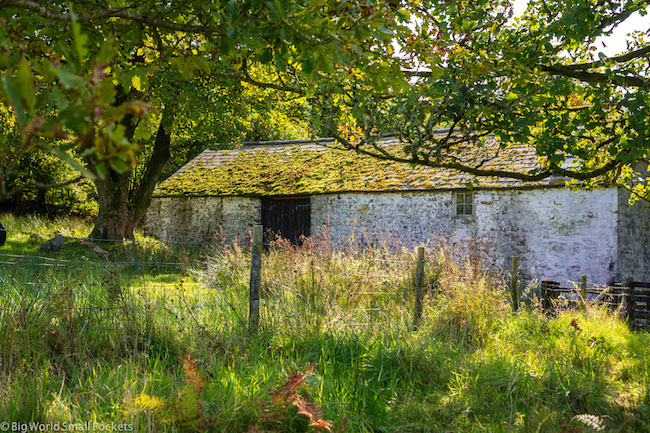 When it comes to either motorhome / caravan / campervan or tent camping, most campsites in the Brecon Beacons will offer either powered or unpowered sites.
Certainly if you have a campervan etc with you that has a fridge, lights and other items that need electricity, you're likely to want to get a powered site.
When you have your own tent, you can choose, but an unpowered site will be cheaper and allow for a more off-grid experience!
If you need to charge your camera or phone while you are camping in the Beacons, then bringing a portable power bank (see my packing list further down in this article) or 2 with you, will definitely prove a cheaper and easier option than a powered camping!
If you do go for a powered site, make sure you come armed with a mains hook up adaptor lead plug that will allow you to charge regular household devices from the 16A plug commonly found at Welsh campsites.
Wild Camping in Brecon
The other type of camping I haven't yet discussed is wild camping.
This is essentially when you just chuck your tent anywhere for the night without paying for a designated spot or site.
It pays to start off by noting that wild camping is not legal in the Brecon Beacons and many farmers (whose land you may be sleeping on) might not take kindly to you trespassing on their land.
That said, if you are discreet, tidy, quiet and clean, it's likely some people may turn a blind eye or not notice.
Wild camping is not common in the Beacons, but it is practiced, so if you choose to enjoy it, remember to pick your spot carefully and be very sensitive to park rules, land owners and the countryside code.
Closing gates, if they are closed when you find them, picking up litter and keeping the noise to a minimal level are just some of the more obvious pointers!
Glamping in the Beacons
If buying a tent, packing everything up in the car and sleeping out in the wild sounds like too much hassle, but you still want to camp in the Brecon Beacons, you may consider glamping instead!
Glamping is essentially "glamourous camping" – a more boutique version of the old-school outdoor accommodation option!
Normally recreating the experience in slightly more sturdy and permanent structures, this is a great way to get a feel for the outdoors and nature without sacrificing too much on comfort!
Glamping in the Brecon Beacons usually involves staying on farmhouse campsites, where outbuildings or sheds have been converted into boutique and unique dwellings, many of which retain their authentic character.
Levels of luxury and prices vary wildly and glamping in this part of Wales can encompass everything from staying in yurts to fully-self-contained shepherd's huts.
Glamping stays can be booked like normal places to stay through sites like VRBO. Then all you have to do is turn up and enjoy the facilities without worrying about getting all the camping gear organised in advance!
If it rains or the weather isn't great, glamping can be a great option too, as it is both affordable and offers some more permanent rain cover!
Many of the top camping spots I recommend below have glamping options, so you can pick the best choice for you based on your budget.
Otherwise, check out this cute, secluded cabin for 2 in the west of the Brecon Beacons National Park or, for 4 people, this beautiful log cabin on a farm not far from the town of Brecon, if you want some top-rated recommendations.
Top 10 Brecon Beacon Campsites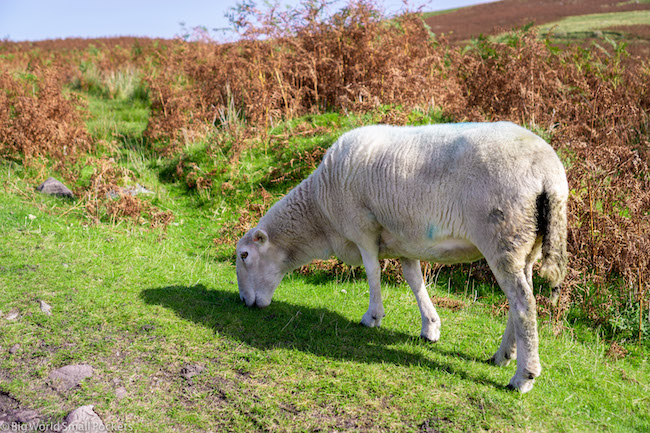 #1 Cefn Cantref Campsite
A top camping option in the Brecon Beacons for those on a budget this simple campsite on a farm property has powered and unpowered sites in a field that gives stunning views across the valley.
The amenities block is a good walk away, but is clean and very serviceable including a fridge and very warm showers!
#2 Pencelli Castle Caravan & Camping Park
A firm favourite and a multi-award-winning caravan and camping site, this Brecon Beacons camping classic sits just 4 miles from the town of Brecon, near Pencelli Castle.
As such, it is well located to enjoy all the national park's top attractions and boasts a huge range of amenities including catering for caravans, motorhomes and tents.
Great for families and easy to access, including by public transport, this is definitely of the top campsites in the Brecon Beacons.
#3 Bryncoch Farm Camping Glamping
Local farmers who have turned some of the land into camping faculties for tourists is very popular in the Brecon Beacons and here we see a great example of this.
Bryncoch Farm offers both basic camping, as well more boutique glamping pod options and is located near the small village of Llandyfan.
There's also caravan and motorhome pitches with electric hook-ups dotted around a private fishing lake and tents are catered for in a specific, quieter area too.
From this very westerly part of the Brecons, it's not too far to the coast either, which I know appeals to many!
#4 Gilestone Farmhouse and Glamping
Close to the main A40 road, it's easy to access Gilestone Farmhouse and Glamping, which sits along the banks of the River Usk.
The gorgeous Georgian farmhouse building provides the perfect backdrop for both camping and glamping options (from lodges to yurts) and the nearby village with its pubs and cute shop, make it a well-located option.
Everyone seems to be catered for at this extensive site, where the grounds are ideal for families, as well as groups wanting to enjoy the camping experience at its best.
#5 Priory Mill Farm
Close to Brecon and with a rather more casual and down-to-earth feel, Priory Mill Farm is another firm Brecon Beacon camping favourite.
The campsite is low impact, but ideal for those wanting an authentic and back-to-basic experience.
Perfect for those on a budget especially!
#6 Brecon Beacons Camping & Caravan Park
This more mainstream player is, unsurprisingly, situated in the heart of the National Park – in its most popular central belt.
With fantastic mountain scenery on the doorstep, which can be enjoyed as soon as you open your tent, this quiet and peaceful site offers powered and unpowered camping for motorhomes, campervans and tents.
Extremely affordable and very popular, it's certainly worth booking a spot at this place in advance, especially during the peak summer holiday season.
#7 Talybont Farm Campsite
Another great camping option in the Brecon Beacons, Talybont Farm is another local property that has opened its ground to tourists and I couldn't have been happier to find it!
Set near the town of Brecon, Hay-on-Wye is also fairly close, otherwise the local village offers some basic shops and services.
With large open pitches that are ideal for taking in the dramatic River Usk that flows nearby, bike rides, pony treks, sailing, fishing and golf are all possible activities you can enjoy in this area.
Caravans, motorhomes and tents are all welcome here too, as are children and dogs (on a lead!)
#8 YHA Brecon Beacons
Usually known for its hosteling connections, the great thing about the YHA in Brecon is that it has camping facilities too.
This incredibly well-located spot in the centre of the National Park gets really good reviews and also offers dorms beds and private rooms if the weather isn't quite what you expected!
Camping Pods and Land Pods complete the picture as the glamping options offered at this top spot which has views of Pen y Fan.
Organised around a cosy 19thC farmhouse, this YHA is run in collaboration with the National Trust, so offers a sense of heritage and history too.
#9 Aberbran Fawr Campsite
A quiet, peaceful, family campsite set in four acres, this great Brecon Beacons camping option offers spaces for caravanners, campervans and those just with tents too.
The Pick your Own shop (which is open during the summer months) is a wonderful addition and there's both riverside and meadow pitches to choose from.
Dogs are welcome at this firm family favourite just 3 miles from the town of Brecon.
#10 Penpont Camping
And last but not least, we come to #10 on this list of the best camping Brecon Beacon options – Penpont Camping.
This is a very free-spirited feeling place, with the lack of designated sites having a much more low-key vibe, which many campers welcome.
With plenty of room, a communal firepit and some riverside options, as well as nearby swimming holes, this is a spot for those who really want to get back to nature.
With spaces only really for tents, it's wonderfully quiet here and the communal facilities, including hot showers, are top-notch.
Packing List for Brecon Beacons Camping Trip
Tent
Ground Sheet
Travel Pillow
Pans / Plates / Cutlery / Cups
Flask / Coffee Maker
Water Bottle
Food Supplies
Washing Up Liquid / Bowl / Sponges
Activewear Clothes
Waterproof Jacket / Trousers
Cap for Sun Protection
Warm Clothes inc warm hat and socks
Clothes to Sleep In
Toiletries / First Aid
Wet Wipes / Tissues
Sunscreen & Insect Repellent
Smartphone
Camera & Spare Batteries
Top Tips for Camping in the Brecon Beacons
Don't pitch your tent on a slope or near animals, especially if you want to have a good night's sleep!
Do come prepared for inclement weather, even if it's not forecast and pack accordingly!
Remember to stay hydrated by drinking enough water, especially if you're hiking.
It goes without saying that sunscreen, and a hat or cap which protect you from the sun, are crucial during the summer months here.
If you need to use the toilet in the wild, do so at least 30 meters from water sources, such as rivers and lakes, and bury it well.
Don't climb fences or trespass onto private property.
Always pick up any litter and carry bags you can use for trash in your pockets.
Most campsites offer hot water, but bringing some wet wipes in case you can't handle a cold shower is probably a good idea!
PIN IT TO PINTEREST!
And there you have it, my complete guide to camping in Wales' Brecon Beacons, along with my list of the top 10 campsites there.
Have you visited this wonderful part of the UK?
Have any tips or recommendations to share?
Please drop them into the comments box below and help spread the news among fellow campers and travellers…