Offering some of the best walking in South Wales, there's no question the Brecon Beacons National Park has some wonderful hikes that cater to a range of abilities and access needs.
From stunning waterfall walks to epic climbs with views that amaze, I've compiled my list of the 7 best Brecon Beacons walks here, so that if you're heading to this gorgeous part of Wales you have no excuse not to strap on your hiking botos and get out there!
Let's jump in…
---
Related Posts
---
This page contains affiliate links meaning Big World Small Pockets may receive a small commission on any purchases at no extra cost to you.
---
#1 Pen Y Fan
The most iconic hike in the Brecon Beacons, Pen y Fan is South Wales' tallest peak and hiking to its summit is a great half-day walk in this national park for those who are up for a challenge.
Located in the centre of the Beacons, views from the top give impressive 360 degree vistas and can be reached from a range of directions and via a number of different trails.
The most common is to park at the Pont ar Daf Car Park and then follow the National Trust signs to the summit – you can hit up a couple of other peaks in the nearby area too by taking a longer circular route in this stunning landscape back to the car park.
This is a strenuous hike – at least the hill up to the top of Pen y Fan is and you should allow a good half-day for it, especially if you want to snap as many views as I did!
#2 Four Falls Trail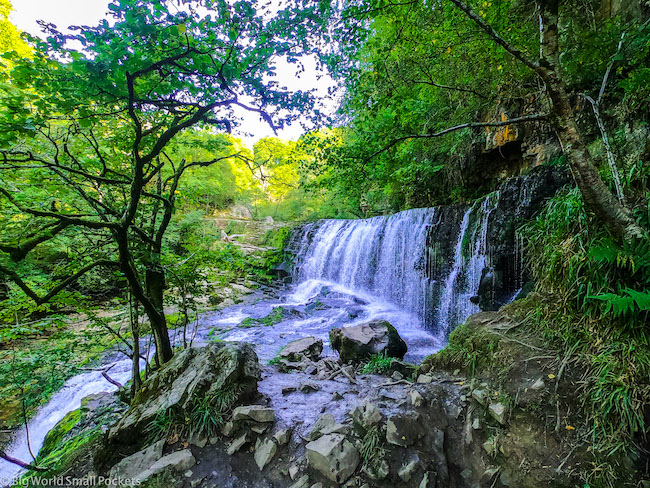 Another iconic walk in the Brecon Beacons, the Four Falls Trail is a beautiful path that allows you to explore the 4 main waterfalls in the south of the national park.
Taking in the falls of Sgwd Clun-Gwyn, Sgwd Isaf Clun-Gwyn, Sgwd y Pannwr and Sgwd-yr-Eira, this walk is around 5.5 miles long.
Parking is best at either Gwaun Hepste or Cwm Porth car parks, both of which you can find on Google maps. You can also park at Clun-Gwyn if you want a shorter circular option.
Again, take your camera for this hike as the waterfalls really are beautiful.
However please remember that no jumping or swimming is allowed here as the currents can be very dangerous and the rocks very slippy.
#3 Sugar Loaf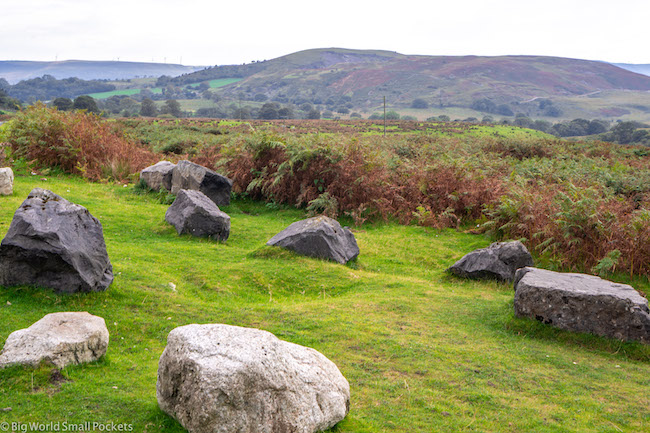 Over in the east of the Brecon Beacons National Park, in Monmouthshire near the town of Abergavenny, Sugar Loaf Mountain is another peak you can summit if you're looking for a good uphill hike!
Expansive views from the top can be enjoyed after you choose from a range of trails that lead you to the summit.
Surprisingly accessible, but certainly one of the best Brecon Beacon walks, the average 6 mile hike will take you up to an elevation of 596m.
The car park and the majority of the trailheads can be found on the southern side of Sugar Loaf, just off the A40.
#4 Horseshoe Ridge
With the car park for this hike situated between the Pontsticill Reservoir and Talybont Reservoir, there's actually a couple of trail options that lead from here.
However the most famous is the Horseshow Ridge, which takes in Pen Y Fan and is a challenging uphill hike that boasts amazing views.
Signposted by National Trail markers, this trail also takes in the peaks of Corn Du, Cribyn and Fan y Big in a 10 mile loop that you should allow 5-6 hours for!
#5 Llyn y Fan Circular Walk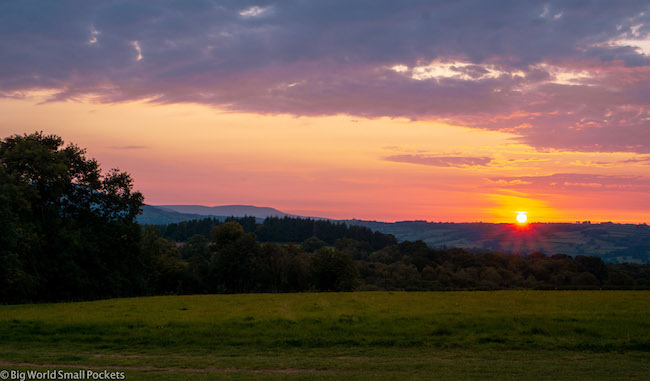 A giant Brecon Beacons walk at 15 miles long, the Llyn y Fan Fach and Llyn y Fan Fawr circular walk takes in 2 lakes.
Located over in the remote west of the park in the Carmarthenshire Fans, this walk needs a good half day to complete and begins from the Llyn Y Fan Fach car park in Llanddeusant.
Talking in the place of the Welsh legend, the Lady of the Lake, this is a Brecon Beacons walk which encompasses not only beautiful landscapes and several mountain peaks, but also a lot of local heritage, including a Bronze Age burial mound.
The peace and tranquillity you'll experience in this more remote part of the park is palpable and makes this hike one of the best walks in the Brecon Beacons without a doubt.
#6 Skirrid Mountain Walk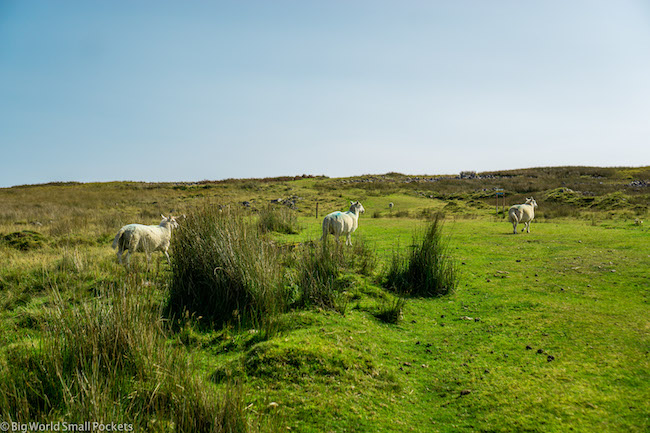 And coming in at number 6 on this list of the best Brecon Beacon walks is the moderate 2 hour trail of the Skirrid Mountain way.
One of the more accessible options on this list, this hike takes you through open woodland and up to a final summit, as part of a 4 mile trail.
Passing an Iron Age fort, as well as the remains of an ancient chapel, parking is along the B4521 in the east of the national park and this gentle, circular trail will lead you back there too.
#7 The Beacons Way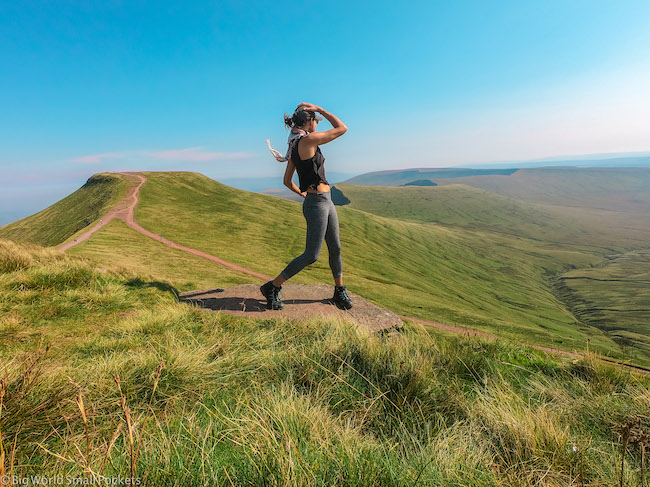 And finally we come to the last hike on this list, and that is the mighty Brecon Ways – a linear trail of 99 miles, which runs from east to west through the national park.
Taking in many of the Beacon's most iconic peaks and valleys, this walk usually takes around 8 days to complete and hikers will need to carry everything they need with them.
Established in 2005, this is a challenging long distance hike, but one that will have you falling in love not only with the Brecons, but with Wales in general!
Signposting and facilities are limited however, so this is not a hike for novices – a good level of experience when it comes to multi-day hikes and outdoor skills is required.
Top 5 Items to Remember When Hiking in the Brecon Beacons

#1 Walking Shoes
You can't come to the Brecon Beacons and not enjoy some of the epic trails here, as this post makes clear!
So walking shoes are a must!
I highly recommend these lightweight and comfortable ones from North Face, which are perfect for the job.
#2 Waterproof, Windproof Jacket
Look, as paradisical as I've made the Brecon Beacons NP sound (and it is), it also is Wales.
And that green around isn't green for nothing!
It's green because it rains a lot.
A lot of the year.
So bring a good waterproof and windproof jacket no matter what time of year you're coming ok?!
#3 Good Day Pack
If you're going to be spending any time hiking any of the trails in the Brecon Beacons, a good quality day pack is definitely a requirement.
This is a must for me to ensure I have everything I might need (snacks, water, camera, coat etc) and also to ensure the weight of these items is safely and equally distributed across my back and shoulders.
My top recommendation for travellers is the Marmot Kompressor, because it packs down to nothing and is water-resistant… I absolutely love mine!
#4 Camera
Having an excellent camera to snap the Brecon Beacons in all their glory, and preserve the memories, is an absolute given if you're travelling to this idyllic Welsh spot.
I love my Sony A6000 mirrorless, which never leaves my side and is perfect for travel.
I also enjoyed having a GoPro when I was here to capture all the hiking action!
#5 Portable Power Bank
There's no denying, power can be an issue in the Beacons, especially if you're out hiking in the area for a couple of days.
My solution: Come armed with 2 fully charged Anker power banks, so you can fire up your phone, camera or other devices whenever you and wherever you need – even when out in nature!
Top Tips for Walking in the Brecon Beacons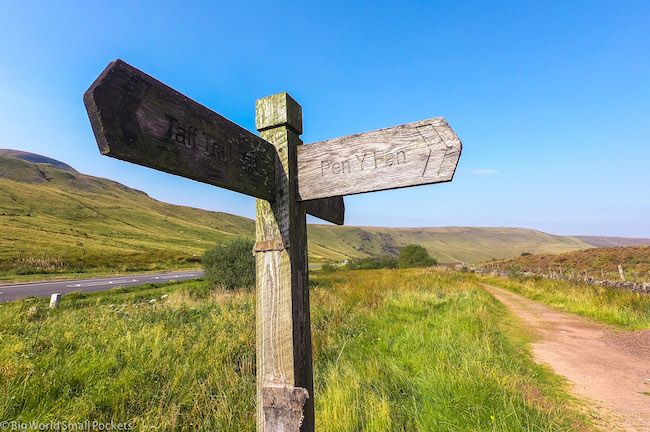 Always pick up your litter or rubbish – carrying a bag you can use for waste with you, is a good idea.
Download maps.Me in advance, so you have an offline area or the map, and use either AllTrails or Kamoot to read reviews and select your Brecon Beacon hikes.
Always tell someone where you are going and what time you are expected back.
Remember to carry all the supplies you may need with you – including food and water, as this is a rural area where shops and stores are limited.
Ditto, remember to have enough fuel in your vehicle to get you to the trailhead and back!
Take care when driving on the thin and narrow lanes of the Brecon Beacons National Park and watch out for wildlife, walkers, horse riders and cyclists.
Good hiking footwear with ankle support is a must when walking any trails in this area, as the ground is bumpy and uneven.
Where to Stay in the Brecon Beacons
If you're travelling on a budget, I've written a whole article about camping in the Brecon Beacons, which shares tons of great info about doing this, as well as my top recommended campsites there.
Alternatively, if you're looking for a bit more luxury, glamping is a great option. This style of accommodation allows you to experience the beautiful nature and rural vibes of this part of Wales without compromising on comfort.
VRBO is my go-to website for glamping and cottage properties.
Check out this cute, secluded cabin for 2 in the west of the Brecon Beacons National Park or, for 4 people, this beautiful log cabin on a farm not far from the town of Brecon, if you want some top-rated recommendations.
PIN IT TO PINTEREST!
So there you have it folks, my list of the 7 best Brecon Beacons walks.
Now that you've got a good idea of what walks there are to do in this part of Wales, and which ones seem like they might suit, you can definitely go away and do some more research about exactly where the trail leads you and what to expect.
Walking really is the best way to take in this national park in my opinion, and hopefully enjoying at least one of these trails will show you just how stunning this part of the UK is!
Have you completed any of these top 7 trails?
Have any tips to leave for other hikers?
Then please drop them into the comments box below…