One of Europe's most famous cities and an absolute gem on the travel and backpacker scene, no trip to Spain is complete without taking in a slice of Barcelona for at least 1 day.
From the wonderful architecture of this city to its beachside location, its bustling bohemian culture, its food and its nightlife, few can overlook this absolutely amazing city.
But what if you're short on time?
Is it still worth going to visit this epic destination?
Absolutely!
Barcelona in a day is totally possible – I should know, I've done it – so here, to bring you the full lowdown on how to see as much as possible in just 24hrs, is my ultimate guide to spending 1 day in Catalonia's capital.
Oh, and if you're a budget traveller, don't worry, I've got your back too with my handy-money saving guide at the end of this article to ensure you still see it all, without spending the earth!
Let's get stuck in…
---
Related Posts
---
This page contains affiliate links meaning Big World Small Pockets may receive a small commission on any purchases at no extra cost to you.
---
Morning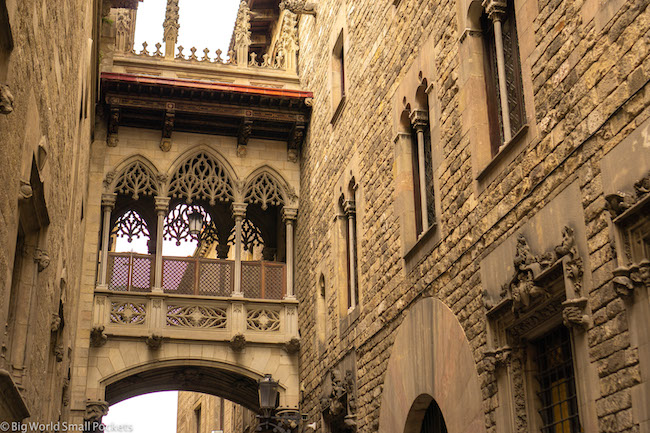 This guide to seeing Barcelona in a day works on the premise that you've already arrived in Barcelona either the night before or early in the morning – so that you have a full day to explore the city.
For more tips about getting to Barcelona, or about the best places to stay in this city, scroll down to the end of this article for more details.
Otherwise, it's time to hit that sightseeing trail and start taking in the classic bucket list gems of this city.
While many travellers want to do a free walking tour during their first trip tp Barcelona (and it is a great way to get acquainted with the city), by the time you've selected one, found your way to the starting point, waited for the massive groups to assemble and then slowly trudged around the city, you will have been wasting time my friends!
Precious time!
After all, with just one day in this city, we've got to move move move!
My alternative suggestion is to either take a private walking tour in the morning of your one day in Barcelona – check out this great option – or you take a self-guided tour.
With both of these options, you'll want to prep a little in advance, either by booking the private walking tour and arranging an early start (so you are finished by lunchtime) or by mapping out your walking trail so you know where you are going!
You can use the following itinerary to map your self-guided route in advance:
Start at Güell Palace. This is a mansion designed by Gaudí and, in a city that in many ways is synonymous with this artist, it seems a fitting place to start!
From here you want to head through the atmospheric and ancient Gothic Quarter until you reach the wonderful Plaça de Sant Jaume.
There's so many historic and wonderful buildings and monuments on the way here (an area that is over 2000 years old in parts) that I can't list them all, but you can easily use Google Maps or Maps.Me (if you want an offline version) to find them all.
A couple of my favourites include Palau de la Generalitat de Catalunya, El Pont del Bisbe and the columns left from the Roman Temple of Augustus, which was built in the 1st century.
After you take a shot break in Plaça de Sant Jaume, you can then head on to view the nearby Cathedral of Barcelona, as well as the Font de Sant Just.
Continuing on again, it's then time to hit up the Santa Caterina Market – an amazing fresh food, deli and groceries market that is alive with local culture and delights. Pick up some breakfast snacks and wander to the nearby Ciutadella Park to enjoy them.
Then walk up and through Barcelona's Arc de Triunfo, before heading on quickly to see the beautifully ornate and historic station of Barcelona North and its gorgeous surrounding park.
After this, head westwards towards the Plaça de Catalunya, before taking a stroll down Las Ramblas to finish off.
This is one of the city's most iconic streets and a must on any one day Barcelona itinerary.
Stop at the Boqueria Market for lunch.
Afternoon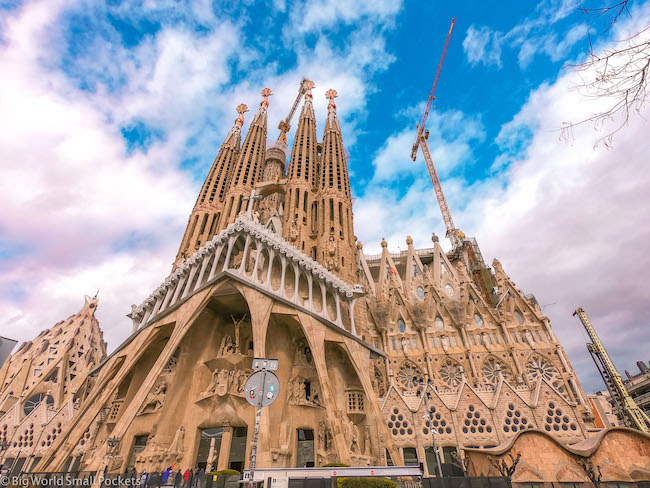 In the afternoon of your day in Barcelona, it's time to get you Gaudi on!
Your first stop is Sagrada Familia, but on the way check out the other Gaudi masterpieces of Casa Batlló and Casa Milà if you have time.
After this, it's onwards to the famous Gaudí designed church that is still being constructed in part!
The one thing you need to prep in advance for this place is to grab your tickets to enter this wonderful building ahead of time because, trust me, if you turn up on the day you won't get any.
I also think it's worth paying for the skip the line tickets here, because wasting time in queues when you only have a day in Barcelona is a complete no-no!
Once you've toured Sagrada Família, it's then time to motor on again to the magnificent Güell Park – a UNESCO-listed Gaudi must, which rounds up the main sightseeing numbers for your day in Barcelona.
Gaudí's epic outdoor space is north of the city, so you may want to hop on a metro out here and then grab the free park bus, or take an Uber. Learn more about the public transport options to get to Güell Park here.
Again, make sure you get your tickets for this Gaudi spectacle in advance here, to avoid wasting time, and then leave yourself a couple of hours to walk and explore this amazing place.
Evening
On your evening in Barcelona, I recommend staying put in the Gracia district around Parc Güell to enjoy the amazing bars and restaurants of this trendy and fun part of the city – it's a great way to round off your day in Barcelona.
Finish the night with a bang by heading back to the city centre to enjoy more drinks in the cafes and bars of the El Born district which will be closer to your accommodation if you're staying somewhere central.
Budget Tips for Your Day in Barcelona
Don't pay to visit any attractions except the Parc Güell and Sagrada Família. The rest can be enjoyed from the outside or for free – including lots of the city's museums on a Sunday if you're visiting the city on this day.
Buying a T10 transport ticket lets you use public transport in Barcelona (metro or bus) for 10 trips for a total of €10 (essentially €1 per trip). Usually, the price of a single ticket is €2.20, so this is a good saving.
Stick to local markets and small tapas bars for cheap food and drinks in Barcelona – or buy picnics from the markets or supermarkets and enjoy them in a park.
Stay in a hostel or a rental VRBO property – there's loads of great ones in Barcelona (check out my recommendations below).
Take a free walking tour if you feel like you want a guide in this city – ask at your accommodation for the best options.
Consider a Barcelona Pass if you plan to visit a lot of attractions – this will help keep your costs down.
Don't lug your bag around Barcelona all day, but instead pay to have it stored for just a few euros, care of the LuggageHero – a great app I always use to safely and securely store my bag when I'm travelling across Europe
For more information about how to visit Barcelona cheaply, check out this post I wrote about how to visit Barcelona on a budget.
4 Essential Packing Items for a Day in Barcelona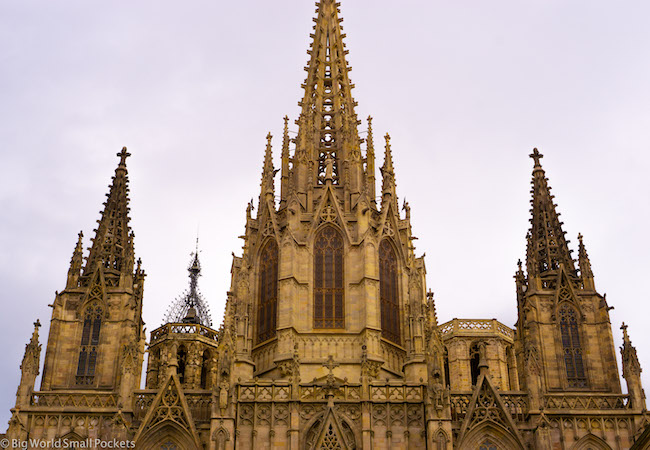 #1 Good Camera
You will pretty much be snapping non-stop during your time in Barcelona and will need a good camera to do this gorgeous city justice. I highly recommend the Sony A6000, which I use for all my travels and love, not least because it's light, compact and robust.
#2 Good Walking Shoes
There will be a lot of walking in Barcelona, it's as simple as that! Make sure your feet are comfortable therefore with a pair of New Balance Trainers.
Perfect for stylish city strolling, I love mine!
#3 Good Guidebook
I'm a massive fan of the Rick Steves Guidebooks and do think their pocket-sized Barcelona edition is well put together. Able to save you a lot of money if you want to learn about the history of this capital but not pay for a guide, this is a great travel accessory!
#4 Good Backpack
And to carry your camera and guidebook, you're going to need a decent backpack that will help you balance the weight as you walk and sightsee. In my opinion, you can't get better than the Bobby Anti Theft Backpack, which is also perfect for helping you avoid pickpockets, which are sadly common in Barcelona. Read my full backpack review here.
Travel Insurance for Barcelona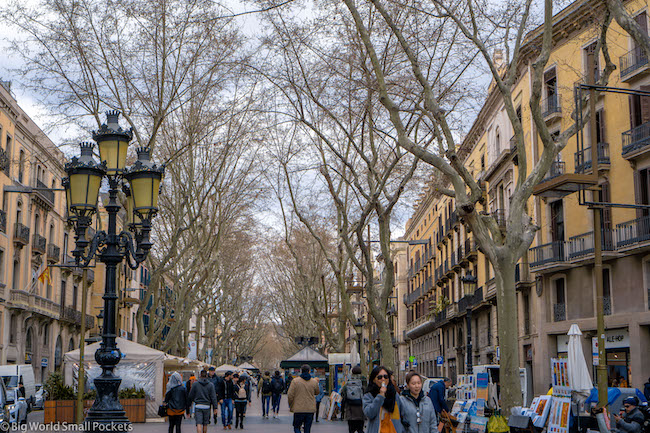 World Nomads offers simple and flexible travel insurance. Buy at home or while travelling and claim online from anywhere in the world.
Alternatively, if you're a long-term traveller, digital nomad or frequent remote worker seeking travel health cover, check out Safetywing's Nomad Insurance policies.
How to Travel to Barcelona?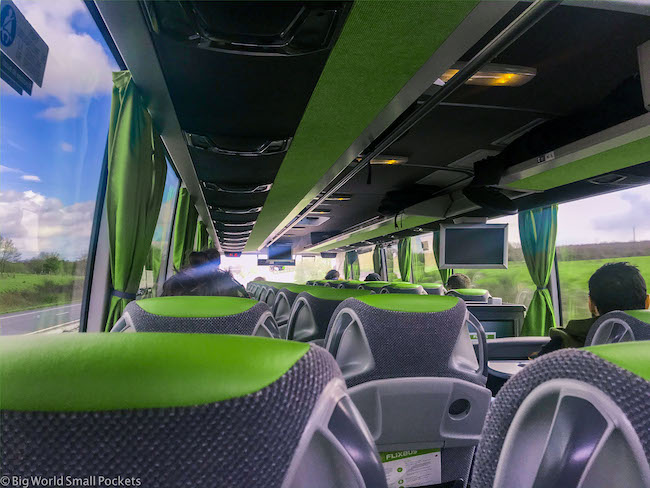 You can easily fly to Barcelona as this city has an excellent and well-serviced international airport. I always recommend using Skyscanner if you want to find the best deals on flights.
Otherwise, if you're looking to travel to this Spanish city by train or bus (and the planet will thank you) I always use Trainline or Flixbus to buy tickets at the best prices.
If you're travelling from Paris to Barcelona by train or bus, then check out this post I wrote which has lots of detailed info about this journey.
Or, if you're coming from Southern Spain, learn how to travel between Seville and Barcelona here.
Where to Stay in Barcelona on a Budget?
When it comes to actually knowing where to stay in Barcelona, VRBO can be a great option for grabbing a super accommodation deal in the expensive central districts of Barcelona, especially if you're travelling as a couple, family or larger group.
Check out this top-rated and stylish example, which sleeps up to 5 people across 3 bedrooms at some amazing rates!
Alternatively, if you're a solo traveller looking to meet others, then a well-located hostel can be a great option for budget travel in Barcelona.
And top of my list is the newly refurbished ANT Hostel.
Brilliantly located, just metres from Barcelona Nord station and minutes from the Gothic Quarter, with a bus stop right outside and a supermarket just around the corner, ANT Hostel is hard to beat for convenience.
With dorms, as well as private rooms, great staff as well as a clean and friendly feeling, this is certainly my top recommendation when it comes to Barcelona hostels.
Otherwise, if you're wanting something more private as a solo or pair of travellers, then this beautifully designed and affordable family-run guesthouse, right by La Sagrada Familia, is another top option.
Best Barcelona Day Trips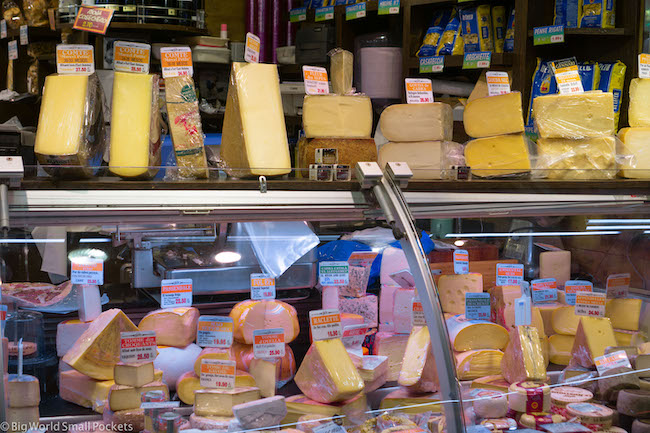 Now that you've seen the city of Barcelona in a day, you can tick this pretty Spanish gem of your list – but depending on where you're headed to next, or what time you have to leave the following day, you just might get an opportunity to explore a few of the surrounding areas too.
If so, then don't miss these excellent Barcelona day trips, that will showcase more of the wonderful Catalonia region and what it has to offer…
#1 Mount Tibidabo for hiking, nature and lookouts
#2 Montserrat for mountain and cultural sights
#3 Cardona for Medieval feels, salt mines and castles
#4 Girona for foodies, hiking in the Pyrenees or hitting the Costa Brava
#5 Figueres for Dalí and theatre / art / culture lovers
PIN IT TO PINTEREST!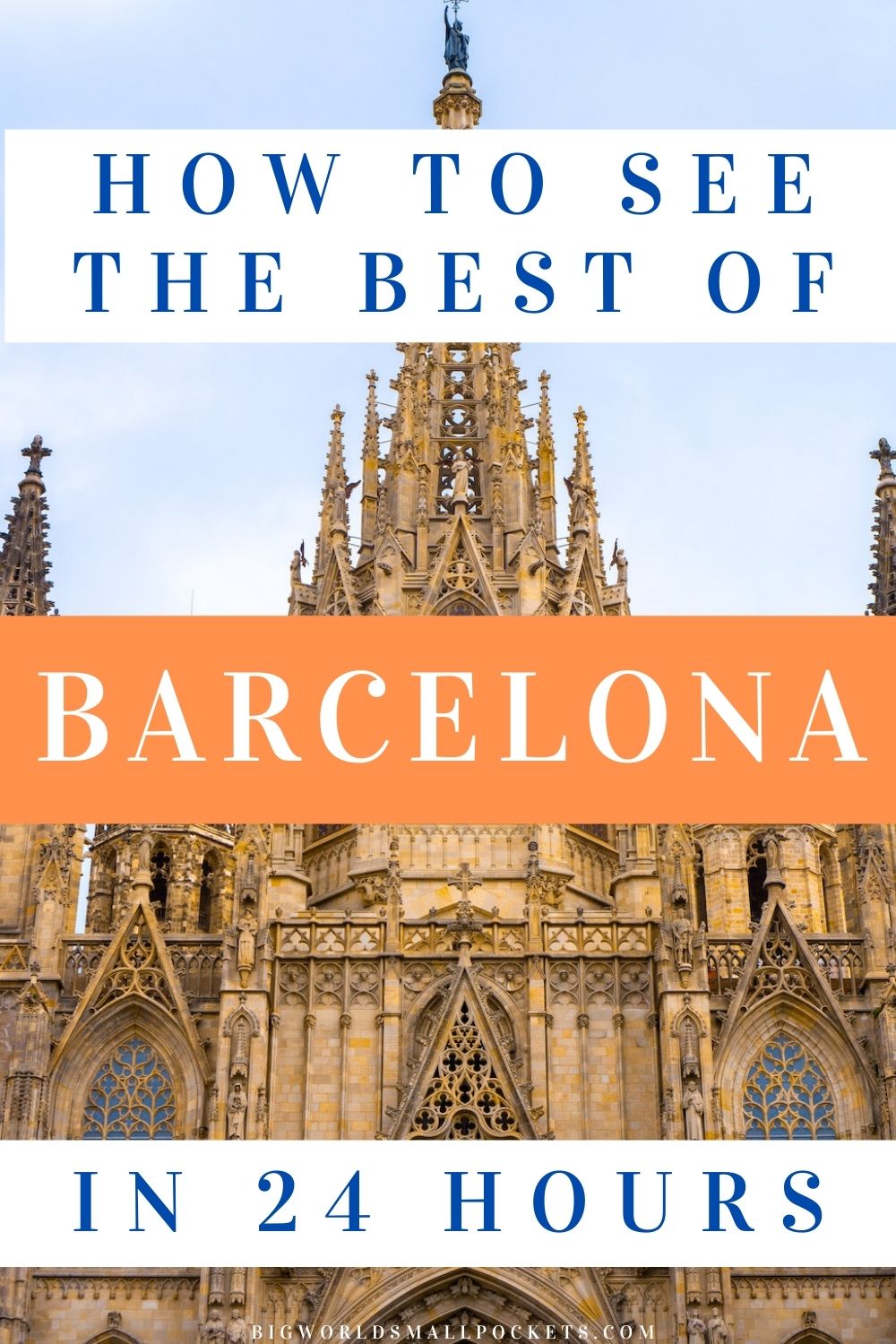 So there you have it, my perfect guide to seeing Barcelona in a day.
I'd definitely recommend getting this city on your bucket list soon if you haven't been already – it's so easy to cover so much of it in just a short time.
Have you been to Barcelona?
How long did you spend there?
Let me know about your experience in the comments box below…