The perfect seaside getaway from London, the charming Essex island of Mersea is seven square miles of golden sand glory.
The ideal day or weekend trip from the capital, this is the ideal spot to get tons of sea air, delicious seafood, wonderful beachside places to stay and oodles of strolling space – an epic to get away from it all.
An island girl myself, there's no question this awesome this tiny gem instantly captured me on the sunniest of staycation days and spending hours happily laying in the sun, admiring the sea views, had me feeling super relaxed and happy.
So on the back of that, I absolutely wanted to share my ultimate travel guide to visiting Mersea Island – all the info you need for your perfect seaside city break.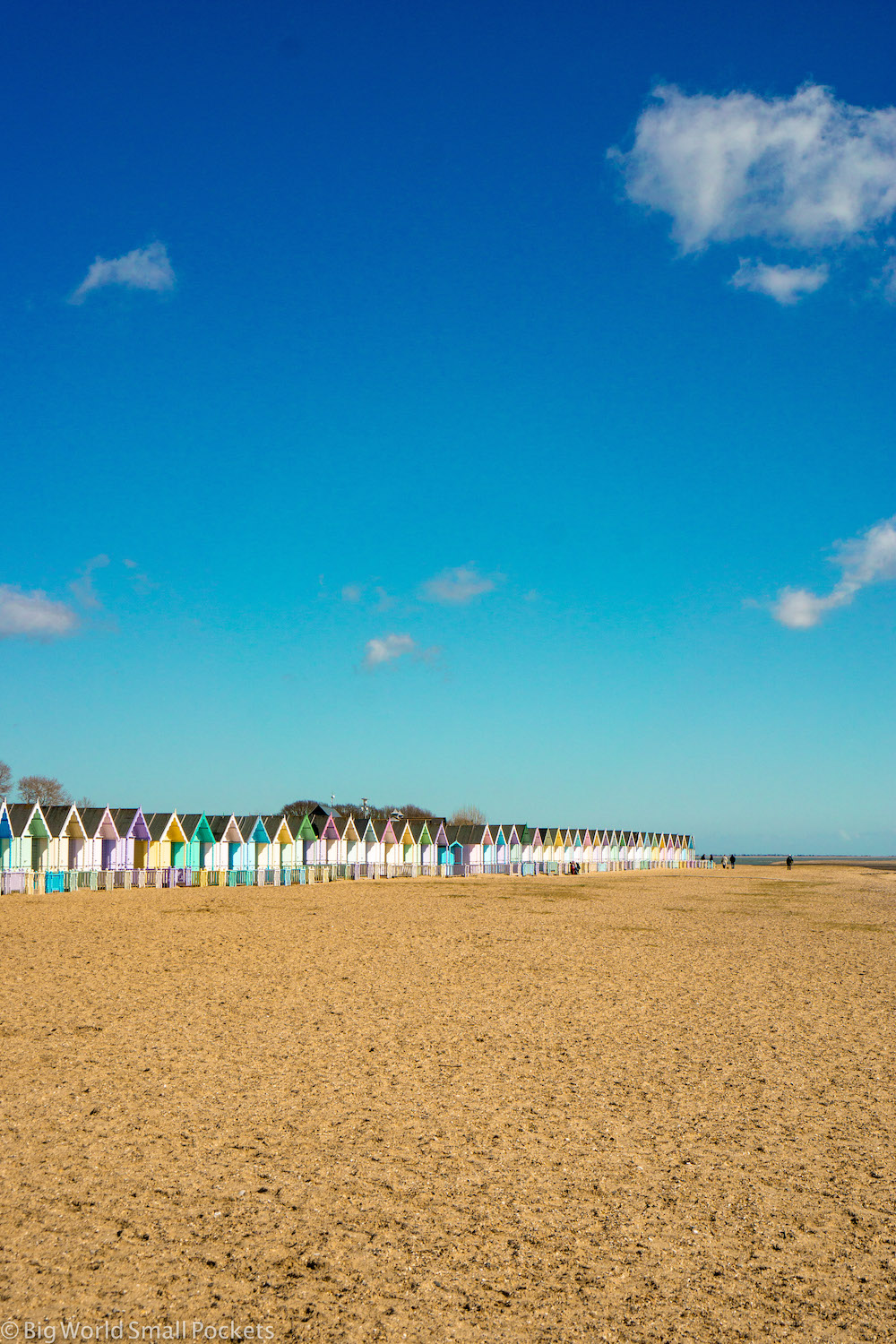 ---
Related Posts
---
This page contains affiliate links meaning Big World Small Pockets may receive a small commission on any purchases at no extra cost to you.
---
Why Visit Mersea Island?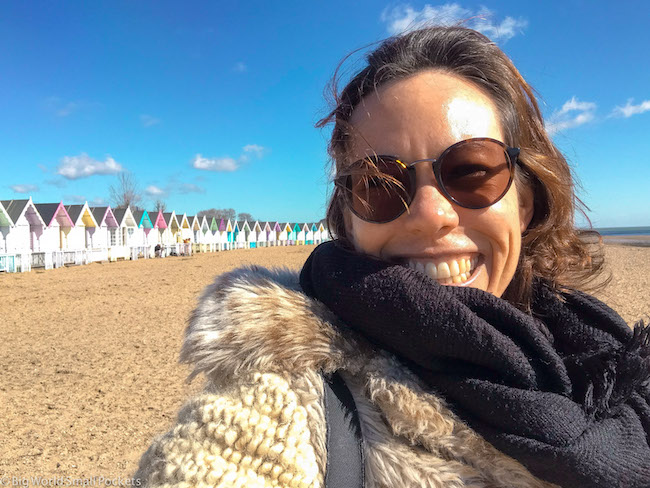 So if I haven't already spelled it out in the intro, Mersea Island is the ideal break for those looking for an easy and stress-free seaside escape from London.
Just a few hours' drive away, you can be relaxing on the beautiful sandy shores of Essex in no time from the capital, eating delicious fresh seafood and raising a glass in your beachside accommodation to a setting sun over a sandy shore.
That's right, a sandy shore! And lots of it!
Because, being an island, Mersea has plenty of beautiful coastal spaces perfect for strolling, sitting, sunbathing, paddling and pootling along.
The island is small and feels wonderfully safe, so spending a day or 2 here is the perfect way to unwind and relax – miles away from the hectic urban pace of life.
Where is Mersea Island?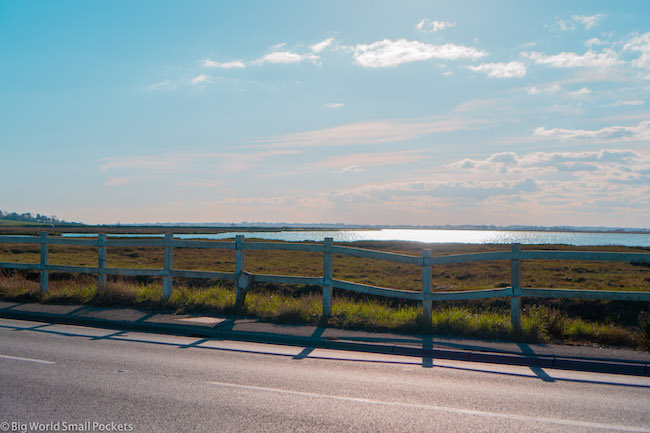 So, as I've mentioned a few times, Mersea Island is in the county of Essex, which sits in the east of England, on the outskirts of London.
Under 10 miles from the Essex county capital of Colchester, Mersea Island sits off the southern edge of the coastline here.
And island is the key word here, as there's just one road in and out of Mersea, which is called The Strood.
About once a month – when there are large, spring tides – The Strood can actually get covered by the tide, meaning access both to and from the island is restricted.
This is why it's crucial you always check the tide timetables before you make your journey to Mersea!
A good measure, in addition to doing this, is learn if the tide is at 4.5m or higher that day – if so it will probably cover The Strood.
In this case, you need to leave 1.5 hours either side of high tide to travel onto or off the island.
Cars do regularly have to be rescued, so please pay attention to this!
How to Get There?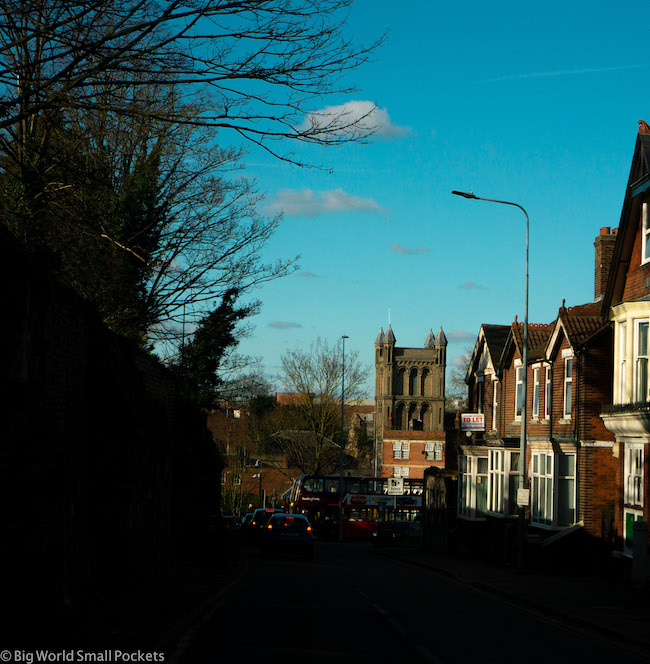 Taking under 2 hours by car to reach the island, the most common route to Mersea Island from London is to follow the A12 past Chelmsford, then exit at junction 26 and head along the B1025 past Tiptree.
This is a beautiful little drive – once you turn off the highway – as you pass through the gorgeous Essex countryside and some lovely quaint villages.
Driving really is the best and easiest way to get to Mersea Island, as it will offer you the most flexibility, especially if you want to explore other parts of the county at the same time.
If you don't have your own vehicle, then check out Thrifty Car Hire who offer a great range of rental vehicle at some great prices.
Alternatively, if you can't or don't want to drive, then you can get to Mersea Island using public transport and taxi.
The best way to do this is to catch a train to Colchester and from there take a short taxi to the island.
Trains to Colchester leave from London Liverpool Street and the taxi ride from the Colchester station to Mersea Island takes around 20 minutes.
As always, I use Trainline to search and book trains across the UK, as they offer great comparison options and some of the best rates around.
When to Visit & How Long For?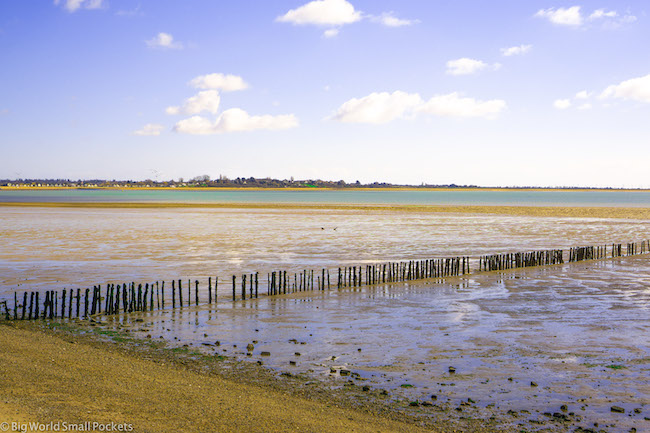 There's no question the best time of year to visit Mersea Island is during the summer months of May through September.
This is when the UK has its best weather and you're able to enjoy the stunning coastline here to the max.
If it's the beach you're after when you come to Mersea – and why wouldn't you be?! – then it's definitely the warmer and drier months of the year that you want to be here.
It goes without saying these are also the busiest times of the year, especially the weekends and school holidays, so if you're trying to balance the good weather with less people, opt for week-day stays that are outside the peak school holidays.
And when it comes to how long to spend on Mersea Island – a day trip is certainly better than nothing and will give you a great city escape.
However if you can spend more time than a couple of nights away from home, then Mersea will make for a great relaxing break. Or you can create your own Essex explorer weekend with 1 night on Mersea Island and another elsewhere in the county to make a good getaway of it.
Things to Do on Mersea Island
So there's no question that a lot of the top things to do in Mersea include relaxing and hanging out at the beach!
But there's also more than enough to do elsewhere on the island too.
From watersports and boating to golfing and eating, there's plenty of treats on offer.
Skip to the eating and drinking section of this article to get the lowdown on the best places to enjoy the culinary delights of the island; otherwise, you'll want to head to West Mersea – which is the main town on the island – for most of the other activities on this list.
Mersea Island Watersports and Essex Boat Trips operate out of West Mersea, and this is also where the Island Museum is situated. This place is well worth a visit, along with the cute local church.
Across on East Mersea you can't miss out the wonderful Cudmore Grove Country Park, which allows for some beautiful coastal walking, as well as some stellar views across the River Colne to Brightingsea Harbour.
And, in between, as you make your way from West to East, or visa versa, don't miss a stop at the Mersea Vineyards!
Mersea Island Beach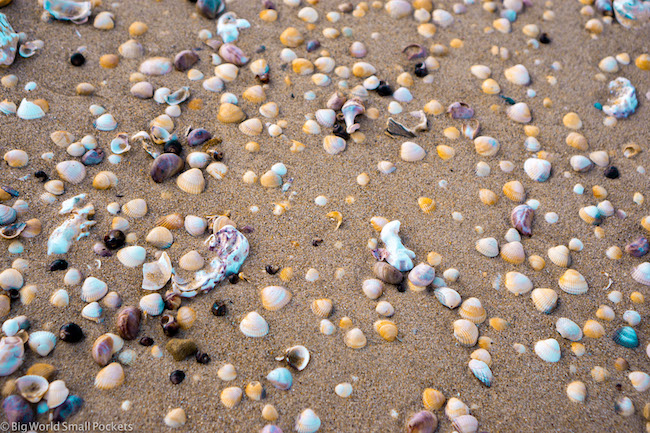 The main beach in Mersea Island is situated near West Mersea, which is the main town area too.
Victoria Esplanade runs the length of the coast here and begins from the West Mersea Marina before covering West Mersea Beach, Seaview and along to Waldegraves Holiday Park.
This is the sandiest prettiest stretch of the coast on the island and is the spot to snap the coloured beach houses, which are the most famous icons of the island.
If you want your Instagram shots, this is where to head!
Keep walking past the row of coloured beach huts, to the end of the bay, if you want the quietest spots – here a short path can take you to the top of a small lookout area too.
Mersea Island Camping & Caravan Parks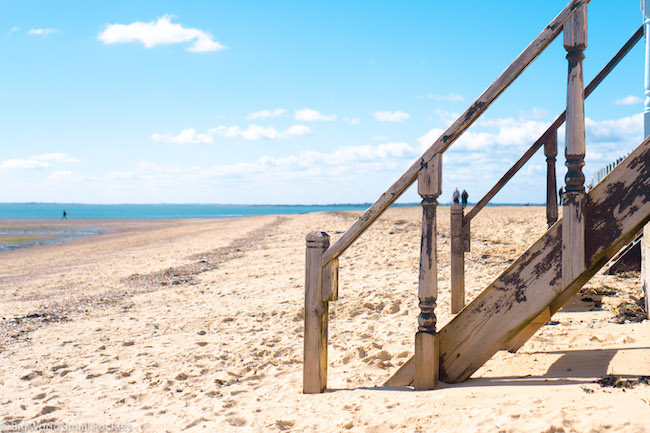 Camping or staying in a caravan park really is the way things are done here on Mersea, an island that has been a classic British seaside spot for centuries.
Below is a full list of all the options currently available on the island, most of which offer a range of camping, caravan spots and some glamping facilities too.
They are spread out across the west and east of the island, with almost all of them located extremely close to the beach – just what you want!
Search their websites to find price details and book…
Fen Farm Caravan Pan
Waldegraves
Firs Chase
Coopers Beach Holiday Park
Mersea Hotels, Guesthouses & Self-Catering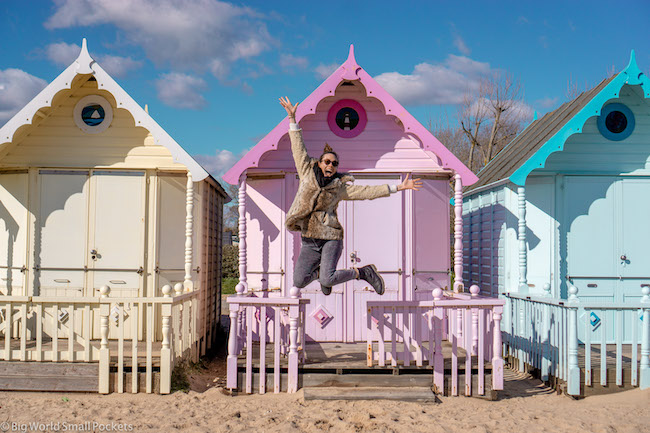 There's no question, camping and caravan vibes are the most popular forms of accommodation on Mersea Island, but there are some options for those who want a bit more luxury to – check out these top-rated options which are all situated within West Mersea…
The Victory at Mersea – a classic hotel that ticks all the boxes
The Retreat – a luxury, self-contained cabin with a king-sized bed and room for 2 guests, this is a gorgeous little spot by The Company Shed
No.19 – a bit of luxury and comfort in the heart of West Mersea sleeping up to 5 people
The Gilt Rooms – a cute, self-contained Bed and Breakfast for families and couples that is right near the beach
Eating & Drinking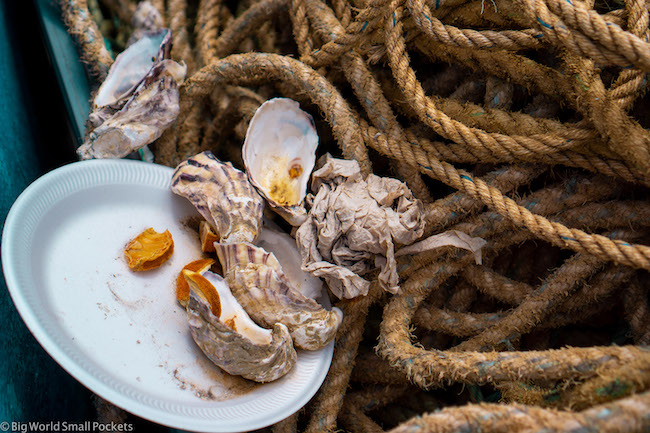 No question Mersea Island is famous for its seafood and here's my pick of the best places to enjoy it (and a good drink) on the island…
The Company Shed – the flagship seafood spot that is as wonderfully quirky as bring your own bread and beer sounds!
The Artcafé – the best place for coffee on the island, this cute and character-filled café in West Mersea is a must if you need your cake or caffeine fix
The Barn – a spot that's great to stop at if you're travelling between West and East Mersea, the Barn is a lovely coffee joint come souvenir shop where you can sit outside in the countryside sunshine. There are vegetarian, vegan and gluten-free options and they have Oatly mylk!
Mersea Island Vineyard Tea Room – I mentioned it on my list of things to do in Mersea Island, but the vineyards is also worth a stop if you feel like a good afternoon tea in gorgeous vintage surrounds. You can also try the wines and wonderful stouts they produce here too of course!
West Mersea Oyster Bar – famous for, yes you guessed it, the oysters, this places is another classic on the Mersea culinary hitlist and shouldn't be overlooked
The Gilt Rooms – one of the best restaurants on the island that serves food beyond seafood, the Gilt Rooms is also a BnB property and café that uses wonderful seasonal ingredients and cater for vegan, veggies and G-free-ers
Things to Know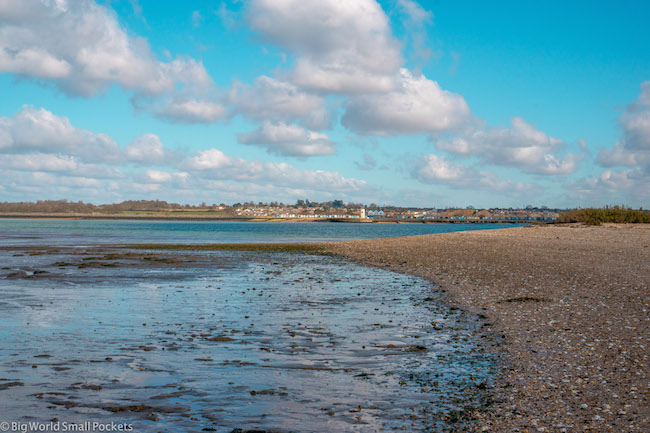 Most parking on Mersea Island is paid. Download the MiPermit app for the best and easiest way to pay for your vehicle at the beach car parks etc
Please remember to always pick up your litter – there are recycling and regular waste bins dotted across the island
West Mersea has a range of shops, including some small supermarkets, bakers and a butchers if you need to buy any produce
Phone signal across the island is good, so need to worry here!
Mersea Island has some great public toilets – probably some of the best I've seen in the UK! Go Essex!
Where to Go After Mersea Island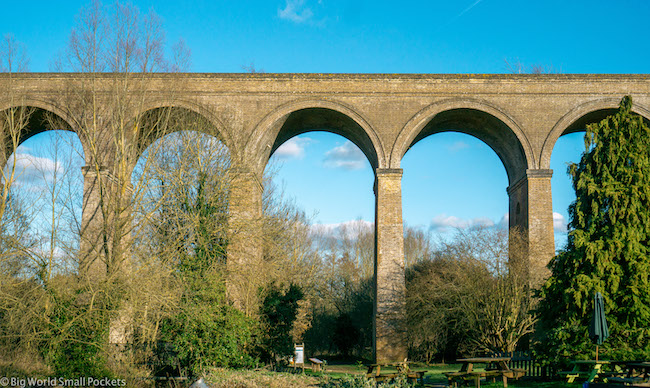 If you're making Mersea Island a stop on a longer Essex tour, then the nearby city of Colchester – the oldest city in England, and former capital of Roman Britain – is a great stop to include nearby as well.
Don't miss the Colchester Zoo and Castle either.
The wonderful Chapple Viaduct is another great option – this is one the largest brick structures in the UK (it's Grade II listed) and you can get some cool shots here!
Dedham Vale is an Area of Outstanding National Beauty in Essex that is well worth visiting for a country ramble and is known as Constable Country thanks to the paintings it inspired at the hand of this famous artist.
Saffron Walden – a historic and picturesque Medieval market town – is a must too, otherwise other coastal spots such as Clacton-on-Sea and Walton-on-the-Naze are definitely worth a visit as well.
5 Packing Essentials for Mersea Island
#1 Walking Shoes
You can't come to Mersea and not enjoy some walks along the island for gulps of bracing sea air. So walking shoes are a must have! I highly recommend these lightweight and comfortable ones from North Face, which are perfect for the job.
#2 Waterproof, Windproof Jacket
Look, as paradisical as I've made Mersea sound (and it is), it also is Essex! As such, you should be prepared for rain at any time of the year. So bring a good waterproof and windproof jacket no matter when you're visiting.
#3 Swimwear & Towel
You can't come to the wonderful coastline of Mersea and not bring swimwear. Swimwear and a sand-free beach towel!
#4 Camera
Having an excellent camera to snap Mersea Island in all her glory and preserve the memories is an absolute given if you're travelling done this way. I love my Sony A6000, which never leaves my side on travel adventures.
I also enjoyed having a GoPro when I was here to capture all the water action.
#5 Portable Power Bank
There's no denying, power can be an issue down in Mersea, especially if you're camping. Even if you have a powered site, remembering to charge stuff up, leaving it out overnight, or during the day, and constantly rotating electronics can be tiresome.
My solution: Come armed with 2 fully charged Anker power banks, so you can fire up your phone, camera or other devices whenever and wherever you need.
Even while you're down at the beach!
PIN IT TO PINTEREST!
And there you have it, my ultimate guide to visiting Mersea Island!
Have you camped in this wonderful part of Essex?
Have any tips or recommendations to share?
Please drop them into the comments box below and help spread the news among some fellow travellers…