Known as the Garden of England and being so close to London, Kent is the perfect place to explore if you want a quick break out of the city, or to get a feel for the UK beyond the capital.
Kent is also a great spot to escape to if you live in this country too of course, because goodness knows London-dwellers need a break from the chaos and a dose of good fresh air from time to time.
So the question is certainly not therefore whether you should visit Kent (the answer is, yes it's an excellent idea) but rather whether where in this county you should for.
Because Kent is pretty sizeable and from quirky coastal town to classic castles and historic hideaways., it certainly has a lot to offer.
So here to help you decide where to head on your next break in this part of the country is my list of the 13 best places to visit in Kent… enjoy!
---
Related Posts
---
This page contains affiliate links meaning Big World Small Pockets may receive a small commission on any purchases at no extra cost to you.
---
#1 Margate
Coming in at number one, it's London day trip favourite and all-round characterful, colourful coastal charmer, Margate.
A vintage classic now making a real revival, Margate was once a rather faded and bleak former beachside destination that has made an absolutely astonishing comeback in recent years.
The golden sandy beach here certainly makes it an easy draw, but so do the quirky vintage stores, the amazing seafood restaurants and the Turner Gallery, which has an outpost here.
Antony Gormley sculptures and the funfair Dreamland only add to the appeal, and the uniquely independent and kitsch feel of Margate has the hipsters flocking.
Learn more about how to travel from London to Margate, as well as the best things to do when you arrive in this town in the post I wrote.
Otherwise, don't miss popping over to Ramsgate if you have a chance and saying hello to the historic harbour here and also my friend Grant who owns the wonderful and welcoming Bedford Inn pub!
#2 Leeds Castle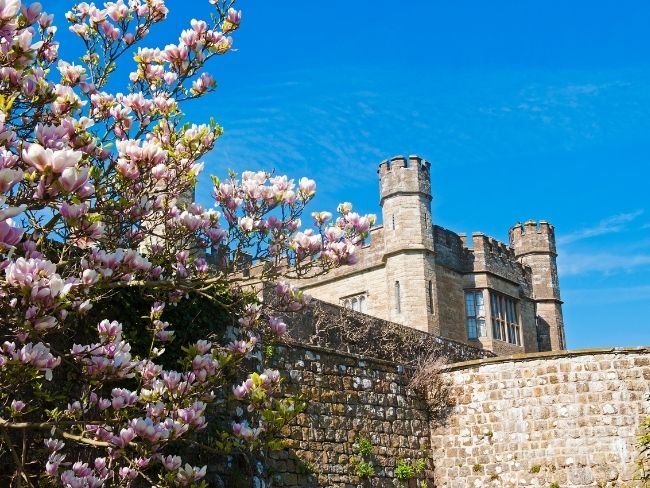 Next up, I show you just how diverse Kent is as we move from talking about quirky beachside spots to classic English heritage icons, such as Leeds Castle.
Boasting 900 years of history, this place makes an amazing day out.
With Maze challenges, falconry displays, gorgeous grounds, historic exhibitions and of course, the castle, itself, this is an ideal place to visit in Kent for all the family.
The fact you can even stay overnight here, with a range of accommodation including glamping on offer, means this is absolutely one of the best castles in Kent.
Built in 1119, you can chart a lot of English history through Leeds Castle, which sits just outside of Maidstone.
Use either the train or your car to get here, or hop on a sightseeing tour from London, which combines Leeds Castle with Canterbury Cathedral and Dover too.
#3 Whitstable
Next up it's another coastal classic and an absolute favourite day trip for Londoners seeking some of the top seafood the country has to offer!
Yes Whitstable is definitely one of my favourite places to visit in Kent, and is especially loved for its oysters, antiques and cute beach houses.
Unlike Margate, the coast here is pebbly, but Whitstable is smaller and has more of an upmarket and community feel to it in my opinion.
The amount of vintage independent stores and excellent restaurants are a similarity though and the chance to enjoy the Oyster Bay Trail and then the Viking Coastal Trail, either via 2 feet or 2 wheels here, means if you have the time you can actually travel all the way from Whitstable to Margate!
Learn more about Whitstable Beach in this complete travel guide I wrote about the area.
#4 Deal Castle
And now it's back to the Castles, wow we are skipping back and forth here aren't we!
Run by English Heritage, (so free admission if you're a member of this club) Deal Castle dates from the time of Henry VIII and is an absolute treasure when considering places to visit in Kent.
Located near the cute village of Deal, which is not far from the flagship port of Dover, it's no coincidence that this structure was built to defend the coastline from French invasion.
Entry prices are really reasonable for this attraction and there's a history audio guide for adults, as well as a whole range of activities and exhibitions usually laid on for kids.
A great stop-over if you are catching the ferry to France!
Or you could try Dover Castle instead! Pick up your entrance tickets for this one here.
#5 Canterbury
OK, now we start ramping it up a notch and getting seriously historical with this absolutely iconic place to visit in Kent.
Yes the Medieval city of Canterbury, home to one of the most famous Cathedrals in the world, absolutely cannot be missed if you are spending any time in this part of England.
An easy train ride from London, Canterbury can be toured independently – just get your tickets for the Cathedral online in advance – or you can also take a tour from London to this ancient religious building and city, which will allow you to visit some other great Kent sights (like the White Cliffs of Dover) at the same time.
A place of pilgrimage since the Middle Ages, audio tours can be bought to learn more about the history of the UNESCO-listed site, which has been a place of worship for 1400 years and also played a key role in the development of the Magna Carta.
#6 Hever Castle
And now we're onto number 6 on this list of the best places to visit in Kent and it's time for another castle.
This time it's Hever Castle, a 700 year old beauty complete with gorgeous gardens and grounds, maze, miniature model houses, military museum and of course, a gorgeous castle!
You can day trip to this historic beauty or even stay overnight here for a special treat.
It's worth pointing out that the Christmas season at this English piece of heritage is a magical time of year to visit as the whole place is wonderfully decked out.
#7 Reculver Towers
And oh my goodness, more history, but this time some that hasn't been so well-preserved, but is no less atmospheric for it!
Yes Reculver Towers that sit along the Kent Coast between Whitstable and Margate, at Herne Bay, are a wonderful place to amble around, not least because they are perched right on the clifftop and can be visited as part of a whole coastal walk stretching all the way from the wonderfully-named town of Sealsalter, through to the Isle of Thanet where Margate, Ramsgate and Broadstairs are located.
These towers date from Roman times when there was a fort here. Catch them during golden hour and you'll be treated to some stunning shots.
Oh and they're free to enter too!
#8 Broadstairs & Botany Bay
I mentioned the Isle of Thanet above, as well as the jewel in its crown (in my opinion) which is Broadstairs.
A wonderful hub of village life in this coastal sweep, you can visit independent cinemas, bookstores and pubs galore in this quaint English gem, as well as forage for fossils along the nearby Botany Bay – what more could you want?!
Or why not combine a visit to a pub and bookstore at my absolute fav spot here – The Chapel!
Oh perhaps, you'd like a walk?
Yes well that's on offer too, right along the coastal path that leads from either Ramsgate or Margate (Broadstairs is right in the middle!)
#9 Sandwich
The other great thing about Kent, if you hadn't noticed already, is that there is no shortage here of totally brilliantly-named places to visit!
Yes from Sealsalter to Deal, Loose to Plucks Gutter, there's no end of absolute classics, but perhaps my favourite has to be the old gem, Sandwich, and its accompanying No Name Street – they were really running out of appellations when they got this far!
Sandwich is located between Ramsgate and Deal, near the Kent Coast, and is actually one of the country's best-preserved medieval towns.
This means just wandering around here for a few hours is an amazing way to take in the incredibly ancient architecture.
Don't miss a stop at one of the cute cafes either, a walk along the English Coastal Path that runs through here, or a visit to the weekend market – they're all delightful!
#10 Tunbridge Wells
Now we move away from the coast of the county and closer to London, as we head onto number 10 on our list of the best places to visit in Kent, with this historic town, the Royal Tunbridge Wells.
Famous for its healing waters and fresh air, once a favourite haunt of Queen Victoria and Prince Albert, this is an easy day trip from London with some lovely shops and preserved historic features, including the famous Pantiles promenade.
#11 Chapel Down Vineyards
And after all that sightseeing, it's likely you might need to sit down and enjoy a drink and what better place than the Chapel Down Vineyards, one of England's most famous wine-growing centres!
Situated in Kent and absolutely one of the best places to visit in the county, this is a unique kind of experience where you can tour the grounds and sample the amazing produce too.
You can also stay overnight in this beautiful countryside spot or enjoy a wonderful group experience.
Either way, this is a side of Kent with a difference you shouldn't miss!
#12 White Cliffs of Dover
You've heard the song, now it's time to see them in real life!
Yes the White Cliffs of Dover are an iconic classic on this list of the best places to visit in Kent and can't be missed!
Take a tour from London to combine them with Canterbury Cathedral and Leeds Castle, or wave at them on your way to France as you speed past on the ferry.
Whatever you do, just don't miss them, because these National Trust giants boast epic views, scenic walking and some great wildlife spotting!
#13 Dungeness
And finally, we reach the last entry on this list of the best places to visit in Kent and I've given this much-sought-after place to the post-apocalyptic and very quirky Dungeness.
Not quite sure what this says about me, but I find this place fascinating!
A sort of end-of-the-line Australian Outback, Nevada desert feel washes over this huge shingle stretch of headland which continues to inspire artists with its bizarrely contrasting nuclear power stations, lighthouses and wooden weatherboard houses, mostly home to fishermen.
It's totally unique, totally bizarre and totally Kent! I love it!
PIN IT TO PINTEREST!
So there you have it folks, my list of the 13 best places to visit in Kent, England.
How many of these have you been to and which was your favourite?
Also have I missed any greats off the list?
Please feel free to join the conversation in the comments below and let me know…