Well I think it's fair to say that the cat is well and truly out the bag!
Yes when it comes to Canterbury, it's no longer a secret that this spot is THE alternative to a Cambridge or Oxford excursion.
Rivalling these 2 greats when it comes to historic charm, cathedrals and colleges, famous residents, numbers of students and even some punting opps, Canterbury pips the bill when you take into consideration the distance from London, the fewer number of tourists and that fact that the coast is incredibly close by too!
So it might not surprise you to learn that I'm actually pushing Canterbury as the best alternative to both Oxford and Cambridge when it comes to a historical city getaway.
Perfect day trip or weekend break material, Canterbury in Kent ticks some big boxes in the creative, cultural, cathedral, cobblestone, coffee and cuisine fronts – pretty much all my favs!
And here, to give all the deets, is my list of the top 21 things to do in Canterbury when you're there…
---
Related Posts
---
This page contains affiliate links meaning Big World Small Pockets may receive a small commission on any purchases at no extra cost to you.
---
#1 Visit the Cathedral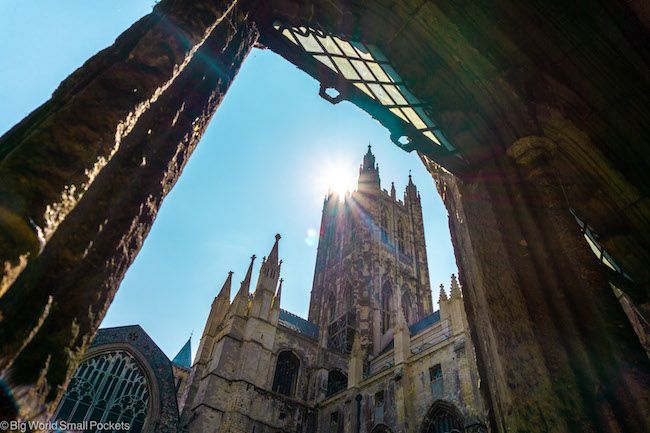 Coming in at number 1 on this list of the top things to do in Canterbury, it is of course to visit the Medieval magnificence that is the Cathedral here.
UNESCO-listed, absolutely massive and the premier Christian building in England (I think I've got that right!), even if you're not religious this is a must-see.
Dating back to the 12th Century, when the original structure here marked the official re-introduction of Christianity to Britain after the fall of the Roman Empire, its foundations were laid (in the spiritual sense at least) by St Augustine who was sent to spread the good word by Pope Gregory I.
Allow a good few hours to explore this huge building inside and out and to learn about its role both as a leading Abbey and in the demise of Thomas Beckett. At 11am you can also hear the bell ring out for world peace.
With some beautiful sensory gardens, wonderful archives, quiet cloisters and quadrants to discover, plus some fascinating ruins and exhibitions and even its own postbox, it's no surprise this remains a must-visit in Canterbury.
A highly important place that has attracted pilgrims for centuries, the Cathedral also remains one of the UK's most important religious buildings.
And, if you're after a treat, staying in the amazing Cathedral Lodge with its private views and access to the Cathedral, really is the way to do it!
#2 Find the Historic Statues
Next we move on to visit some of Canterbury's other top claims to fame… and would you believe it, there's plenty of them.
From Chaucer of Canterbury Tales fame, through to Christopher Marlowe, a renowned contemporary of Shakespeare whose play Doctor Faustus remains a classic in the English literary canon (I studied it at A-Level!) – there's plenty to choose from!
Wandering the historic streets of Canterbury and seeing how many statues of famous people you can spot is a great way to ensure you duck down all the small alleys and lanes of this beautiful city.
#3 Go to the Theatre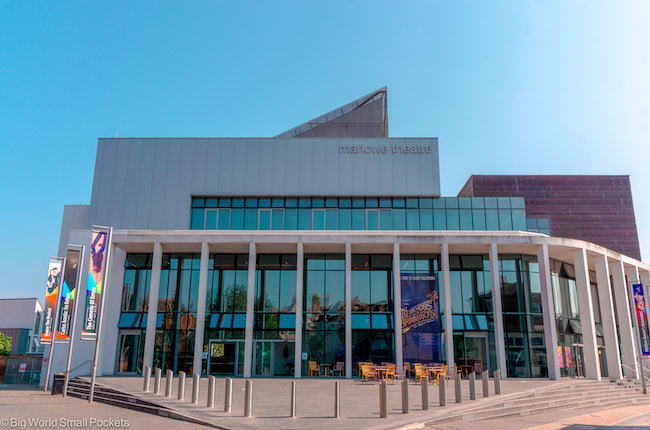 And while we're on the theme of famous English writers, you can't miss the chance to hit up the theatre in Canterbury.
After all, the city's role in so many great literary works make it a fantastic place to immerse yourself.
Located in the newer part of the city, which was rebuilt in the 50's and 60's after the damage the city sustained from WWII bombing, the Marlowe Theatre hosts regular touring productions.
Check their website for the full programme and to book tickets.
#4 Enjoy the Museums
And sticking with the cultural theme, we come to number 4 on this list of the best things to do in Canterbury and that is to hit up at least one of this city's great museums.
With history oozing from just about every nook and cranny, being in Canterbury is a great place to learn more about the past of the city, the county of Kent and the country at large.
Starting with the ancient classics, the Roman Museum is a great place to kick things off and especially awesome if you're travelling with kids thanks to its numerous interactive collections.
Then you can take things up the timeline a bit with a visit to the award-winning Beany Museum.
Located in the main High Street, and set in a beautiful historic building, this place is a must if you want to learn about Canterbury and why it played – and continues to play – such a pivotal role in the national narrative.
#5 Punt on the River
But ok ok, enough of the cultural stuff, now it's time to get outdoors and celebrate the wonderful setting of this city.
Because one can hardly visit Canterbury and fail to ignore its delightful position on the River Stour.
Offering some delightful photo opps (especially if the sun is shining), the river here only adds to the charming nature of the city centre and what better way to enjoy it than care of a good punting session.
There's a few companies offering trips for small groups in their punts / boats, so don't hesitate to shop around to grab the best deal.
Canterbury Historic River Tours were the ones I opted for, but all offer lovely leisurely excursions along the shallow waterways.
#6 Stroll the Historic Markets
And once you've finished your punting practise, it's time to get on your 2 feet and explore the streets of Canterbury.
Despite it being pretty compact, you could easily spend hours strolling around and snapping the Medieval buildings and streets as you meander around.
If you're on a tight time schedule however, then I suggest you head for a few choice spots.
The main crossroads in the city centre, which was actually where the word "canter" was coined, as pilgrims would arrive on horseback from either London or the continent and then choose their passage onto either the Cathedral or the River from here – moving at a quick pace to avoid highwaymen!
The other spots you can't miss are the historic market places – in particular, the Rush and Butter markets and Butchery Lane, which still bear the same names, but are now lined with lovely cafes where you can stop for a light refreshment, with a view of the Cathedral, just like people have done for hundreds of years!
#7 Get your Pilgrim Passport
And like people have for thousands of years, you can also get your pilgrim passport when you visit Canterbury.
Ok well maybe this is a more modern twist on an old tradition, but nevertheless, the fact you've made the pilgrimage to Canterbury, like millions of others over the course of history, still deserves some special recognition!
#8 Head to the Coast!
And then, why not continue on the pilgrimage to the coast!
Like so many coming to or from the continent hundreds of years ago, Canterbury's proximity to the English, as well as the French, coastline made it both appealing and accessible.
These days you can't sail across from Canterbury to France – you'll have to head down to Dover for that – but you can head to the sea and enjoy the wonderful spots you'll find there.
Top of the list and closest to Canterbury is the wonderful harbour town of Whitstable.
I've written a whole guide to visiting this city here, so click on the link and head over to my Whitstable-specific article for more info.
Otherwise, the other top spot to consider nearby to Canterbury is the kitsch seaside spot of Herne Bay.
Complete with a historic pier and plenty of activities for the whole family (candle making anyone?), this is a super spot to spend a day on the beach eating more ice cream than you should!
#9 Eat!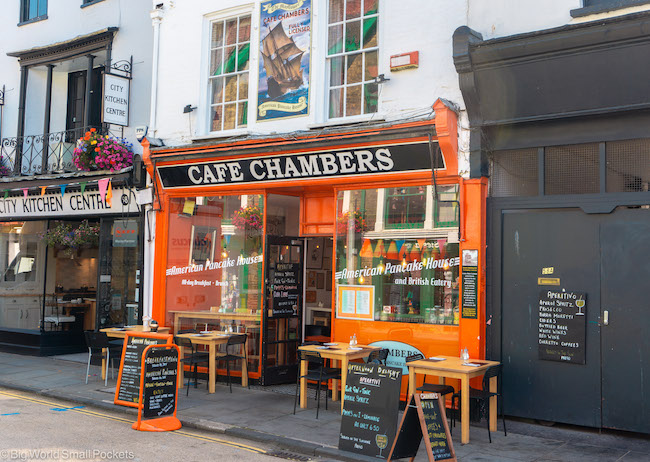 And talking of ice cream, there's no question one of the best things you have to do when you visit Canterbury, is eat!
There's so many great places to enjoy here, that it would be impossible to name them all, but aside from the fresh oysters in Whitstable, some favs in the city of Canterbury include Café du Soleil where you can sit out along the river (magic on a sunny day), Tiny Time tearoom for some classic British sandwich action, Café Chambers for a top breakfast (you can see the Cathedral's inhouse stonemason at work from the top floor) and the Burgan Café for vegan treats.
Top of the list though it has to be The Good Shed, which is right next door to Canterbury West Station.
Just go!
#10 Drink!
And once you're done with all the eating, it's probably time to do some drinking too!
The Refractory is my choice when it comes to Canterbury coffee spots, especially of the flat white oat milk variety.
For after hours drinking, check out the excellent beer garden at The Dolphin, the 13th century splendour at The Parrot or Alberta for cocktails.
That should be plenty to get you started!
#11 Step Back in Time at St Augustine
Well fuelled and refreshed, it's then time to get back on the sightseeing trail and a little way out of town, there's no way I could get through this list of the top things to do in Canterbury and not mention the wonderful ruins of St Augustine's Abbey.
Actually older than Canterbury Cathedral, this fantastic atmospheric spot is now managed by English Heritage meaning members can enter for free.
#12 Take a Walking Tour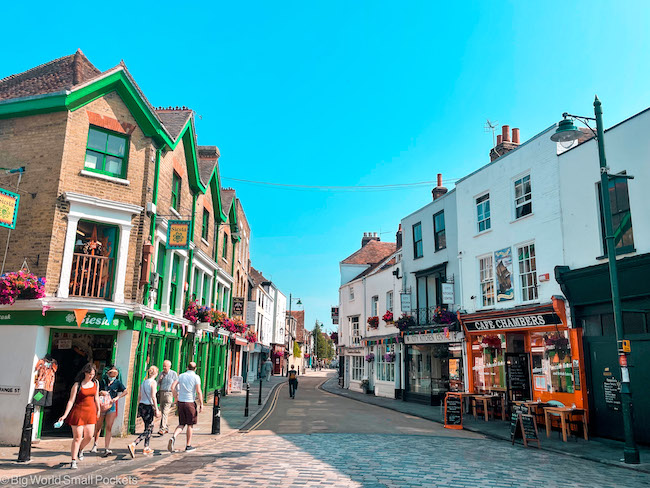 And if you want to learn more about these ruins or any slice of Canterbury action, then I've got the perfect solution for you… take a guided walking tour!
Not just any old walking tour however, the guys at CT Tours are so incredibly knowledgeable and passionate about the city where they were once students, that it's quite amazing.
Join one of their fantastic tours to learn all the quirky, fascinating and remarkable details about Canterbury that you simply would not get to learn anywhere else.
#13 Learn about the Canterbury Tales
And from the highbrow to the low brow, if you really want the full Canterbury Tales experience in all its rather questionable glory, then the Canterbury Tales visitor attraction is probably the one for you!
I didn't do it myself, but believe there's some wax mannequins involved!
#14 Peruse the Bookshops
Bringing it back up a notch, it's probably time to mention that Canterbury is also a huge student city and the population of the city swells to almost double during term time thanks to the many colleges that operate here.
As such, bookshops are big business here and if you're anything like me, then there's few better ways to spend a wintery or autumnal afternoon than by trawling the shelves of a delightful book store.
The Faucet is my pick of the Canterbury bunch.
#15 Sample a Brewery Tour or a Vineyard Tasting
Want to try something a bit different when you are in Canterbury?
Then I highly suggest booking yourself onto a brewery tour.
The amazing team at The Foundry know how to do it and can talk you through the exact process they employ to make their great beers, whiskeys, gins and rums!
It's quite the eye-opener and of course, the tastings at the end aren't too bad either!
I loved how passionate these guys were about the process of brewing and their home city too – all credit to them.
Otherwise, if wine is more your thing, then it's a blessing to know Kent is now producing some of the top wines in the UK.
Head to small-scale producers Simpson's Estate for a walk through their winery and delicious tastings at the end!
#16 Walk the Great Stour Way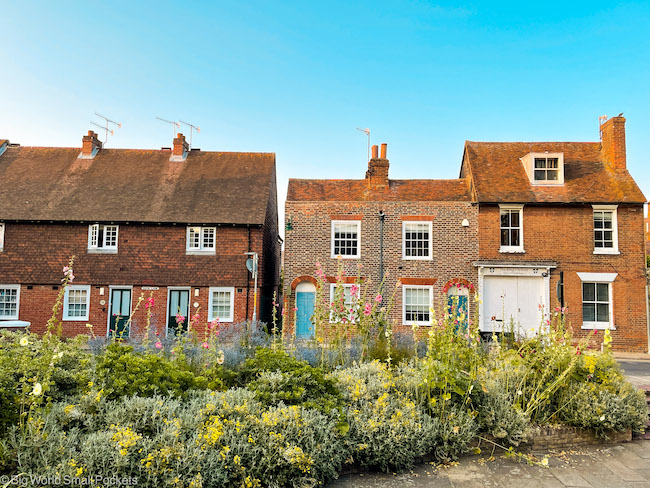 Now it's time to do some decent exercise, especially if you've just sat around drinking and eating thus far in Canterbury!
There's a lot of good walks to choose from, but my top pick has to be the Great Stour Way, which will take you all the way to the beautiful town of Chartham if you're up for it.
Another option if you're up for an even bigger walk, and that is to head out a little way from Canterbury and pick up the North Downs Way.
Follow this for a couple of days (which you can do) and you'll eventually end up in another of England's top Cathedral cities – Winchester.
#17 Try to Get Out of the Escape Rooms
If you prefer your walk to be round in circles, then you might also be interested in Canterbury's escape rooms.
Ok, I'm only joking, I know this isn't how it works really!
What I love most about this top thing to do in Canterbury is that the escape rooms here are set in the turrets of one of the Canterbury city gates – pretty cool!
And the view from the top is pretty epic too!
#18 Relax in the Westgate Gardens
And after all that excitement, it's probs time to chill out a bit.
And what better place to do it than in the gorgeous Westgate Gardens?
A must-see on this list of the top things to do in Canterbury, these guys are just on the edge of the city centre and provide the perfect place to enjoy a quiet stroll among the beautiful plants and along the riverside.
Particularly glorious in the sunshine!
#19 Get Spooked on a Ghost Tour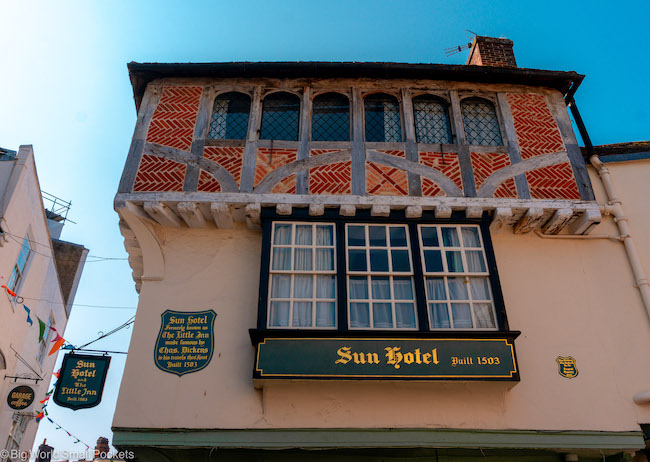 And for something a bit different, an evening Ghost Tour around the city centre is likely to leave you reeling in more ways than one.
Eccentric guide, John, will regale you with tales about the spooky history of this city, leaving you speechless and bemused to say the least!
#20 Amble the City Walls
Otherwise, you can undertake your own city tour and the best place to start in my opinion is with a stroll along the city walls.
Free to enter and a great way to orientate yourself, this is certainly one of the best things to do in Canterbury.
#21 Drink at the Beer and Cider Festival
And last but not least, it's time to let your hair down at one of Canterbury's many festivals.
There's plenty of annual festivities to choose from here, but probably one of the most fun is the Beer and Cider Festival.
You don't need me to explain what happens here… does what it says on the tin!
Top Canterbury Travel Tips
How to Get to Canterbury?
Getting from London to Canterbury by train is incredibly simple.
There are several direct departures every hour, from 4 London stations, that begin very early (pre 5am) and run until midnight.
Canterbury actually has 2 stations (Canterbury East and West) and in London trains leave from Charing Cross, Victoria, St Pancras and Cannon Street.
The fastest route is from St Pancras to Canterbury West which takes 50 minutes direct.
The slowest direct route takes just over 2 hours and runs from London Victoria to Canterbury West.
In general, the slower trains are cheaper, but this isn't always true and advanced purchases can lead to some great fares that cost just over £10.
The National Express Bus also runs direct from London Victoria to Canterbury, generally taking around 2 hours and costing £10 too!
As always I use Trainline to compare and get the best prices on all my UK rail and coach journeys.
You can also take a tour to visit Canterbury – ideal if you're looking for the most stress-free option that will also include a huge amount of interesting historical info.
Here's my pick of the bunch…
For more details about getting to Canterbury by coach or car, click here.
When to Visit & How Long to Stay?
No question in my mind that you should definitely visit the stunning city of Canterbury during the summer season.
This will allow you to get the most from the city's gardens and river (including punting) because, let's face it, England is exponentially more beautiful when the sun shines!
I visited Canterbury for the second time during a scorching July weekend and can happily attest to the fact it looked far more beguiling than when I visited in the winter drizzle the first time round!
That said, I am a sun bunny, so definitely am biased!
You can actually probably enjoy most of Canterbury's attractions in a day, but if you really want to get under the skin of this city, and perhaps enjoy some of the surrounding attractions, including the coastal cities of Whitstable and Herne Bay, as well as some vineyard visits, then why not make it a weekend? … you won't regret it!
How to Get Around?
The centre of Canterbury is easily walkable on foot and I honestly wouldn't advise any other method of transport, especially given the traffic!
If you're going slightly further out of the city, then thankfully there is a great bus service, with the #4 heading directly to the coast and #5 taking you on a longer, prettier countryside route.
For the cheapest bus tickets, download the Stagecoach app and buy them through there.
The Triangle bus route is another quick option for coastal lovers and don't forget about the car-free Crab & Winkle cycleway that goes direct from Canterbury to Whitstable.
Where to Stay in Canterbury?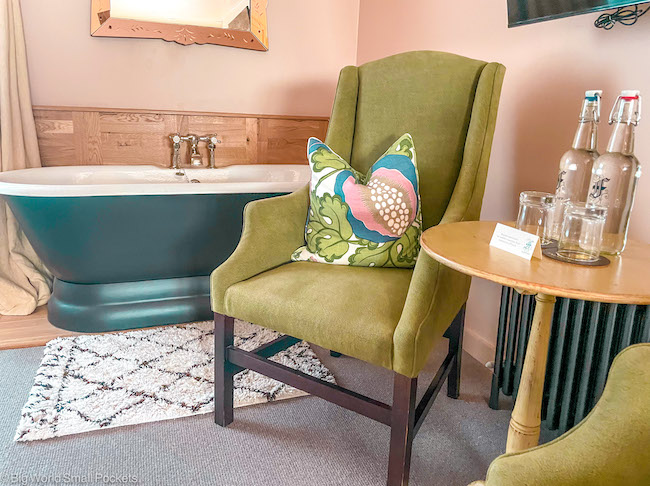 And if you're looking to stay overnight in Canterbury, then here's my top suggestions…
Canterbury City Centre Premier Inn certainly also offers great value accommodation within strolling distance of the, yes you guessed it, city centre.
This is well-suited to overnight stays, when you just want somewhere to lay your head and aren't too worried about the feel of the place.
If you want something with a more independent spirit, then check out the lovely Falstaff Hotel – with a pub and restaurant below, this place offers a small number of beautifully renovated rooms complete with freestanding baths.
It's gastropub accommodation at its best, right in the heart of the city.
This is where I stayed during my second trip to Canterbury and I couldn't rate the décor, size and comfort of the rooms enough!
Incredible value!
5 Essential Packing Items for Canterbury
And here's 5 packing essentials you shouldn't head to Canterbury without…
#1 A Good Camera
No doubt you're going to be snapping like crazy in this iconic city and need to ensure you have a good camera to do the place justice.
I love my Sony A6000, which is light, compact and great for travel.
#2 Decent Walking Shoes
You're likely to do a lot of walking within the city of Canterbury, let alone beyond it, so ensuring you have a decent pair of walking shoes is a must.
These cross trainers from New Balance are ideal (and totally stylish) for the job.
#3 Light Waterproof Jacket
Whatever the time of year, you have to remember this is England after all, a country in which the heavens can open at any point!
Don't get caught out and ensure you have a good lightweight and waterproof jacket with you!
This North Face one is great.
#4 Compact Hiking Day Pack
I never go on any trip, no matter how short, without a sturdy backpack to ensure I've got everything I need and that the weight is equally distributed across my back and shoulders,
This super featherweight Kompressor from Marmot is my go-to, because it folds down to nothing and is water-resistant – perfect for travel!
#5 Portable Charger
And finally, I would never head off anywhere without my trusty Anker Portable Charger, which keeps my phone charged meaning I can take all the snaps and use all the maps I need, no matter where I am!
Where to Head to After Canterbury?
I've already mentioned Whitstable, Herne Bay and the Vineyards (including Simpsons Estate) that should be visited around Canterbury, but what about elsewhere in Kent?
Wellll…. I've got plenty of great options up my sleeve thanks to numerous trips I've made to this fab county!
Top of the list have to be the iconic White Cliffs of Dover and the apocalyptic desert come abandoned fishing village of Dungeness.
Plus, who could forget the fabulous Margate, Ramsgate and Broadstairs on the Isle of Thanet?
Ohh Kent, so much to choose from!
And then just across the border in East Sussex, the kitsch beauty of Hastings, the hiking gem that is the Seven Sisters and the medieval charm of Rye is all yours for the taking!
Travel Insurance for the UK
World Nomads offers simple and flexible travel insurance. Buy at home or while travelling and claim online from anywhere in the world.
Alternatively, if you're a long-term traveller, digital nomad or frequent remote worker seeking travel health cover, check out Safetywing's Nomad Insurance policies.
Travel Money in the UK
The easy way to spend abroad with real exchange rates, no markups and no sneaky transaction fees, you can use your Wise card just like a debit card here… and it links easily with Google and Apple pay – sold! Grab yours here.
PIN IT TO PINTEREST!
And that's my guide on the top 21 things to do in Canterbury, plus my top travel tips when it comes to visiting this city.
Have you visited this beautiful Kent destination before?
What was your favourite thing to do there?
Please help other travellers out by sharing your experiences below…