And here it is, the post you've all been waiting for; yes drum roll please, this is the ultimate guide to visiting that one-of-a-kind, top-tastic destination of Whitstable Beach.
Located on England's southeast coast, and having been a stalwart of the British seaside holiday for decades, there was no way I was getting through a UK staycation this year and not hitting up Whitstable.
It's a veritable classic and it has been calling me for ages!
So, after training there on a particularly average Friday in August and having, quite frankly the time of my life regardless, here's my complete guide to visiting Whitstable Beach.
I've also included my list of the top things to do across this whole area, so no matter whether you are just pop down here from London for the day, or you're spending a good old weekend exploring this part of the UK, I got you covered!
Sit back, relax and enjoy a slice of seaside splendour as its quaint, quirky best…
---
Related Posts
---
This page contains affiliate links meaning Big World Small Pockets may receive a small commission on any purchases at no extra cost to you.
---
Why Visit Whitstable Beach?
Why should you visit Whitstable Beach?
Because it's bloody lovely that's why!
And it's only a few hours from London!
Yes if you're ready to escape the city for a bit of sea air, then it's hard to get better than Whitstable.
Sandy beach lovers may be a little disappointed by the pebbly stretch of coastline in this part of Kent, but what Whitstable lacks in golden, soft sweeps, it more than makes up for in vibe, atmosphere and fun.
Compared to Brighton, it's a lot smaller and more lowkey – really just a small town on the coast – and there is a palpable sense of community here, as well as a quaint quirkiness that pervades everything about this cute as a button beachside spot.
If you want fish and chips with a good dose of sea air, a local craft beer with your toes in the sea, some delicious oysters, photogenic harbour vistas, antique shops and retro independent stores, or an ice cream with a sunset backdrop (yes the beach here is west facing), then Whitstable is the spot for you!
What is Whitstable Beach Like?
Ok, so let's start by spelling out the obvious, Whitstable Beach, sits at the end of Whitstable town.
The beach is a long stretch of coastline that is divided into several different sections – namely Whitstable Beach Front, West Beach and Tankerton Beach.
The Whitstable Beach Front is the section nearest to the town and, unsurprisingly, tends to be the busiest, with day trippers crowding the seafood markets and locals perching keenly in their pretty coloured beach huts.
West Beach is to the, yes you guessed it, west of the beach front, and tends to be quieter with a slightly more residential, as opposed to tourist, feel. It runs as far as the brilliantly named town of Seasalter. I actually went all the way there just because of this brilliant name.
And finally, Tankerton Beach is a massive sweeping stretch to the east of the Beach Front. This patch tends to be quieter too and is a good choice if you want to escape the crowds. There's also some coloured beach huts here to snap as well.
Here you can walk for miles along the Whitstable Coastal Trail, until it eventually meets the Oyster Bay Trail at Herne Bay, enjoying expansive coastal views and a mad windswept, pleasantly melancholy feeling that only the English Channel somehow seems to impart.
Tankerton is also backed by grassy slopes, making it superb for families, and at low tide here there's rockpooling to enjoy too, as well as The Street, a path that leads you right out into the emptied seabed.
All 3 sections of Whitstable Beach are shingle i.e. comprised of pebbles, but generally provide safe, easy swimming and are Blue Flag rated.
They are also iconic thanks to their wooden groynes, which subdivide the beach into separate areas and are reminiscent of English seaside images you now only see on faded, vintage postcards.
Where is Whitstable?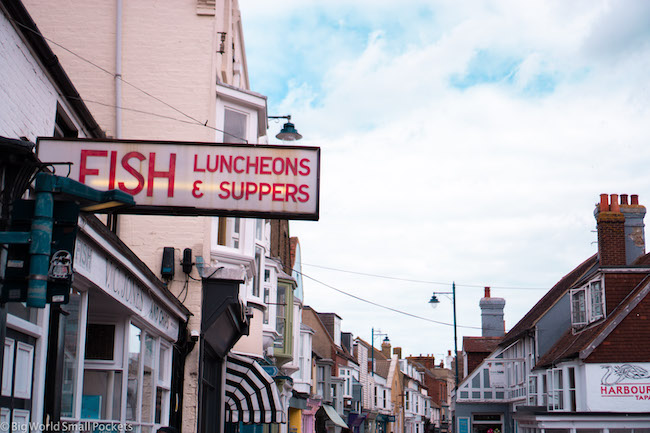 So now that I've sold you on Whitstable, I guess you'd like to know where it is!
Well the answer, as I've already briefly mentioned, is in the English county of Kent, which is in the southeast of the country.
Close to the capital, in fact just a couple of hours by train as I shall go into below, Whitstable (and Kent in general) make for the perfect London escape, be that on a day trip or for a weekend jaunt.
Whitstable is located within the council of Canterbury and this other great city, with its mighty ancient Cathedral, makes for the perfect complementary tandem trip.
How to Get to Whitstable?
So now we know where we are, we're going to move on to talk about how to get to Whitstable Beach.
Or, if you're heading to any other top Kent destinations, check out this post about how to travel more broadly from London to Kent.
By Train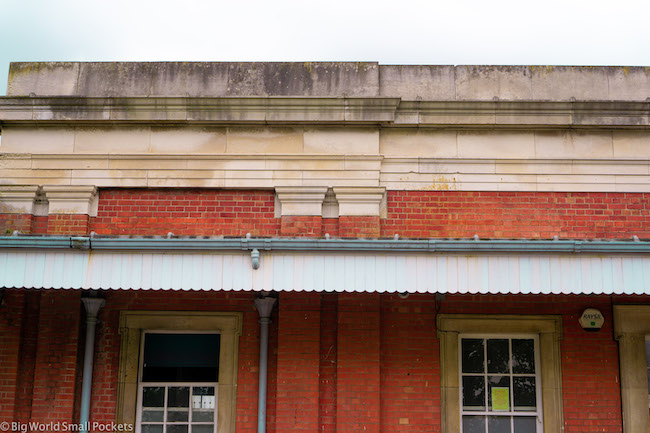 First up is the train, which is best caught from London, where regular services leave from both St Pancras and Victoria stations.
Trains from St Pancras are marginally quicker (at around 1 hour 15 minutes), but those from Victoria are marginally cheaper.
Compare prices and journeys times, as well as book tickets and check the status of your train all care of Trainline – my go-to site for booking train travel across the UK and Europe.
The train station in Whitstable is just a short walk from the centre of town – about 10 minutes.
You have to pass through Whitstable town to reach the beach from the station, so definitely check out the cute Harbour Street (full of local independent shops and delis) on your way.
By Bus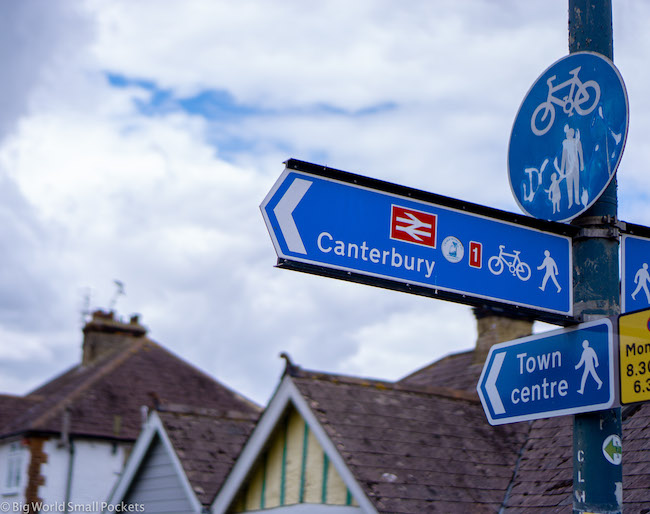 You can also use Trainline to book coach travel, care of the National Express – which is the leading coach company in the UK.
When I'm on a really tight budget and can't afford the sometimes crazy prices of trains in the UK, buses are my go-to.
To get to Whitstable Beach from London, you'll need to head to Victoria Coach Station first and then take a National Express bus to Canterbury.
From here, you'll then need to change to a local bus, or hit the cycle track that will take you the 7 mile journey to Whitstable.
Again, you can compare bus and train travel to Whitstable from London, as well as book tickets, via the Trainline app or website.
By Car
And finally, you can also drive to Whitstable of course.
Less good in terms of your carbon footprint and traffic congestion, but if there's a group of you, or you're heading on after Whitstable to explore more areas of Kent, such as Margate, then a car may prove useful.
Discover Cars are my go-to company for car hire in the UK, with some of the best rates and most trustworthy vehicles and services.
Learn more about renting a car in the UK with my top 12 budget tips.
Just remember you'll have to find and pay for parking in Whitstable too if you come by car – which can be easier said than done, especially on a busy summer weekend.
Gorrell Tank, opposite the harbour, is the main car park, but there's also some good on-street options in Tankerton, a 15 minute walk from Whitstable Beach Front.
When to Visit Whitstable Beach?
So now that you know how to get there, the next thing to think about is when it's best to visit Whitstable.
And look, I'd love to tell you the winter days here (when there's no one around besides a few windswept cockles and an atmospheric brood of grey clouds littering the sky) is the best time to visit Whitstable Beach (and it probably does have its merits) but let's be real, it's not.
The best time to visit Whitstable is on a scorching day in the summer when you can really enjoy the beach here, as well as the other things to do in this area, to the max.
That said, summer holidays and weekends will be manic with London day tippers, so coming in the week during the months of June through August, is certainly the best way to grab the best bits of both worlds.
Where to Stay?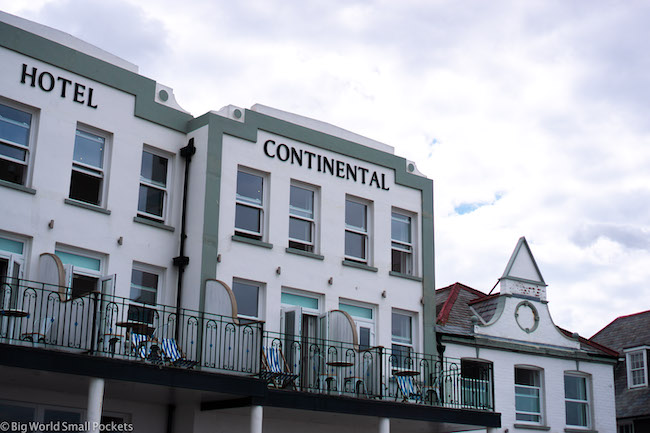 It's quite unbelievable, but accommodation around Whitstable Beach is actually pretty limited.
This is due to the history of the town, which has always focused on the fishing industry and the harbour, as opposed to tourism, which led to a lack of those classic waterfront hotels and guesthouses being built back in the day.
As such, I really do recommend Vrbo as the best option for some great rates on hotel rooms, guesthouses, whole homes / apartments and unique stays too
Check out this lovely, dog-friendly place, or this spot which is perfect for families, or this one that is ideal for those on a budget.
Otherwise, if you really want to splash out, you can also rent one of the iconic weatherboard fisherman huts – they really would be the best way to round off your Whitstable Beach experience!
If it's a hotel you're looking for along Whitstable beach, then the Hotel Continental, or the Marine Hotel in Tankerton are the best options, especially the latter, which has stunning sea views.
Top Things To Do in Whitstable
And now we come to the important matter of things to do in Whitstable, including the wonderful beach here, but also the town and surrounding area too.
And trust me there's a lot, which means if you're only here for the day you will have to pick and choose!
#1 Enjoy Whitstable Beach
First up, of course, you need to hit Whitstable Beach, which as we've discussed is a gorgeous strip of shingle delight you can stroll along, sit on or picnic at.
You can also swim in the sea here, walk The Street trail along the seabed at low tide or enjoy paddle boarding or kayaking on the water here.
There's several companies that can rent you the gear if you need.
Also popular, especially with kids, is crabbing.
You can easily grab a line, a bucket and some bait for a couple of quid at the little hut stores that line the Harbour and then head to the pier to try and suss out the competition!
Don't forget that, if you want a quieter spot, heading to West Bay or Tankerton is a good shout.
#2 Eat a Lot of Seafood
There's no question that a lot of Whitstable tourist trade is down to the scrumptious seafood they serve here, so freshly caught you can see the boats bringing in the next haul, as you enjoy their last.
As a vegetarian, this wasn't the option for me, but I do know Whitstable is an absolute hit with anyone wanting to try a classic fish and chips the real way – salty fingers, sea air and seagulls circling around them.
There's also the famous oyster bars at Whitstable, which are rumoured to have the best in the country and are very authentic, outdoor, genuine affairs.
Stalls litter the harbour area, where the scene of the boats and the sea infront of you certainly complement these quintessential delicacies.
And then, within the town of Whitstable itself, there's also some amazing fish and chip restaurants, as well as takeaway joints to try (Ossies seemed to be the most popular!) as well as iconic seafood eateries such as Wheelers too.
And don't forget the epic deli stores you can window shop at (like The Cheese Box), cute cafes to refresh at (like Blueprint Coffee & Books) and regular farmers markets where you can stock up on local goods too.
For something a bit different, or for the vegetarians among us, the excellent restaurant JoJo's is situated just above the beach at Tankerton and does a great meze platter!
#3 Drink a Pint on the Pebbles
And don't forget to wash it all down with an amazing pint of local ale or craft beer, which you can do in Whitstable sat right on the pebbles with your toes dunked in the sea too – absolutely one of my fav things to do here!
Yes the amazing Old Neptune pub is located right on Whitstable Beach and they serve a great local pint which you can have in their beer garden aka beer beach.
It's one of the best seaside experiences I've had, sat out there in the sun as the waves gently lap in front of you.
Alternatively, the Tankerton Arms is a great place to stop for a drink too!
#4 Stroll the Harbour & Town
And talking of waves lapping, strolling the harbour area around Whitstable Beach front, as well as the streets of the town behind, is legitimately one of the best ways to spend a day out from London and definitely one of the top things to do in Whitstable.
Filled with independent shops and eateries (as discussed), as well as some classic tacky souvenir outlets which it wouldn't be the British seaside without, the slightly arty, very quirky feel of this town is just delightful.
Open air markets are common in the summer and street art, as well as more formal galleries (like Chappell Contemporary), litter the place.
As I mentioned before, Harbour Street is the place to go for unique gifts in the town. Here, antique shops (I loved Laurens Antiques) nestle against more trad stores that make this area an absolute feast for photographers and bargain hunters alike.
All in all, Whitstable is not just about soaking in the sea air, but taking big gulps of its utterly amazing ambience too.
#5 Cycle the Kent Coast
But if strolling wasn't enough for you, then one of the best things to do in Whitstable is also to cycle.
Head to Tankerton and follow the Whitstable Coastal Trail until you meet the Oyster Bay Trail – a walking and biking track that will ferry you all the way to Herne Bay and eventually, when it becomes the Viking Coastal Trail, will take you all the way to Margate via the impressive Reculver Towers.
If cycling that far isn't your bag, then trust me, even just getting to the cliffs above Tankerton, either 2 feet or 2 wheels, is a delight.
And if the cliffs don't sound appealing, then don't forget you can also enjoy a flatter and more leisurely cycle of just 7 miles from Whitstable to Canterbury along the Crab & Winkle Way – it's the best way to combine 2 of this county's finest assets – coast and Cathedral!
#6 Visit the Castles and Gardens
Next on this list of the top things to do in Whitstable, is to visit the numerous castles and gardens around here, in an area that is laden with history.
I've already mentioned the Reculver Towers, which are situated a short drive (or longer cycle) from Whitstable, but even in the heart of this English town and not far from the beach, is the Whitstable Castle and Gardens – a wonderful place to stroll, relax and escape the beach crowds.
#6 Enjoy a Seal Safari or Boat Cruise
And finally, there's no point coming all the way to the seaside and not being able to get out on the water!
So why not hop aboard one of the lovely trips run by Whitstable Vintage Lifeboats?
Having restored a cute and iconic former lifeboat, this small business now run coastal tours that showcase the area and its history by some very well-informed and friendly locals.
Or else, why not go further on one of their amazing seal safari excursions? Perfect wildlife-spotting for all the family!
PIN IT TO PINTEREST!
Well well, there it is in all its resplendent glory, my ultimate guide to visiting the Whitstable Beach, as well as my list of the top things to do in the surrounding area too.
Are you a fan of Whitstable?
What's your top thing to enjoy there?
Do tell me and share any other tips you have in the comments below…