They may call to you via the wavering notes of Vera Lynn, the bucket list of a friend, or even the National Trust brochure – but the fact remains that, whatever draws you to the White Cliffs of Dover, these are one of England's classic sights.
Situated along the Kent coast in the south of the country – with France a mere hop, skip and a jump away – it's easy to see why these sleeping limestone giants remain etched into the national imagination.
Giving stunning views across the channel, some epic clifftop strolling and plenty of opportunities to enjoy more of Kent's attractions on their doorstep, the White Cliffs of Dover make for an ideal day or weekend trip, especially if you're coming down from London.
I'll go into the details of how to get to the White Cliffs in Dover, as well as why you should visit them, the best way to see the cliffs, what else you can do there and where you can eat and sleep nearby below, because this really is my ultimate guide to visiting the icons that are the White Cliffs of Dover!
---
Related Posts
---
This page contains affiliate links meaning Big World Small Pockets may receive a small commission on any purchases at no extra cost to you.
---
Why Visit the White Cliffs of Dover?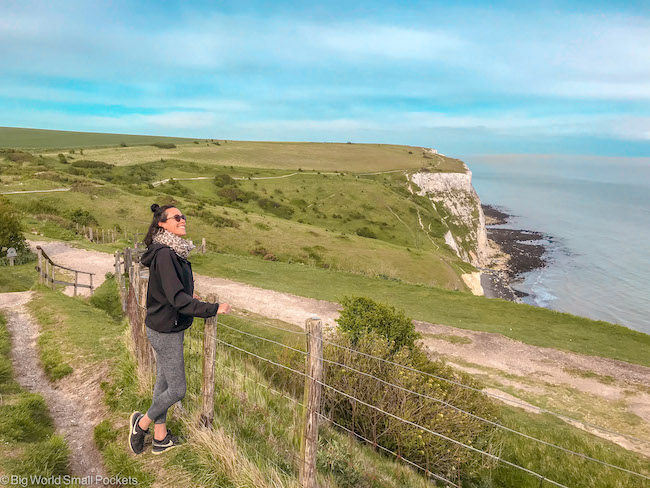 Well if you hadn't cottoned on already, the White Cliffs of Dover are a classic English icon!
Etched into the post-war national consciousness, thanks to the jingoistic lyrics sang by Vera Lynn, the White Cliffs remain famous across the country not least thanks to the amazing views they provide.
Now owned and managed by the National Trust, these great limestone cliffs are safe from development and industry and instead boast some incredible hiking opportunities and bucket loads of fresh coastal air.
Vast and wild, the White Cliffs of Dover are nevertheless not that far both from the port town of Dover itself, as well as many of Kent's other top attractions and coastal spots.
This makes visiting them as part of a wider exploration of the county totally accessible and easy.
Otherwise, if you're just looking for some fresh air and a break from the city, then it's hard to overlook these coastal giants as part of a great day trip.
Have I convinced you yet?!
When to Visit?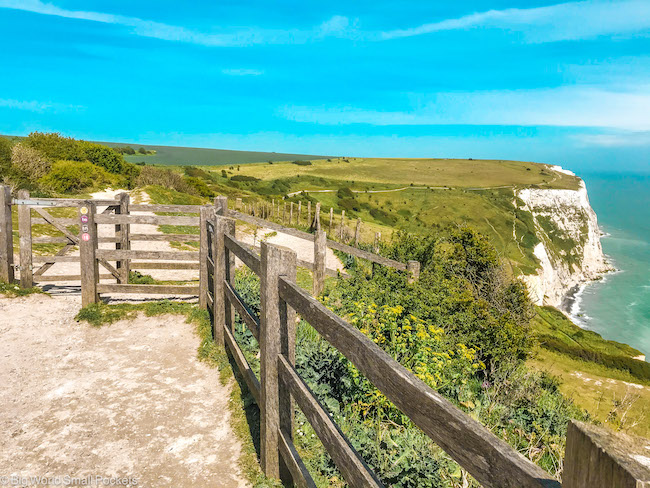 There's no question in my mind that the best time to visit the Dover White Cliffs is during the summer season, when the UK's good weather allows you to get the nicest experience from your time there.
This is especially true if you want to walk along the White Cliffs, take in the view of France or hit the beach in Kent either before or after!
After all, there's a lot of great ones nearby to choose from!
My favourites include Margate, Broadstairs and Whitstable, otherwise the nearby historical gems of Deal, Canterbury and Hever Castle are hard to overlook too!
How Long to Spend There?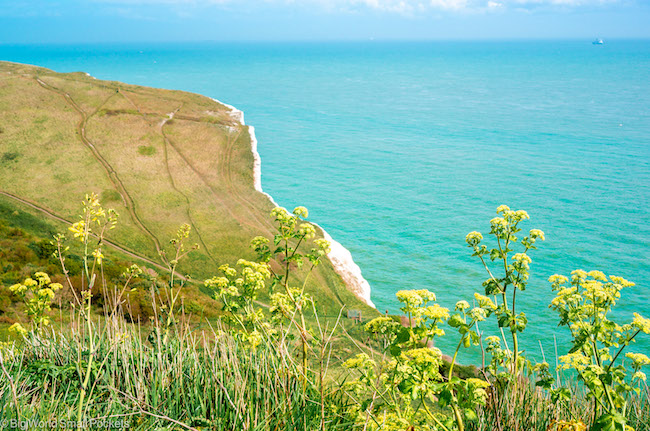 One full day is enough to explore the Cliffs of Dover, as you can easily walk along them and admire the view in an afternoon.
If you're looking to experience some of the surrounding activities in Dover – including the famous Castle and War Tunnels – you can absolutely create a brilliant and jampacked day itinerary here that includes both history and nature.
If you've got longer to spare, then I highly encourage you to take a weekend, or even longer, to explore all there is to do in the county of Kent.
Dover is really just the tip of the iceberg here, as from the Medieval city of Canterbury to the golden sands and kitsch charm of Margate, the wonderful seafood of Whitstable plus all the vineyards, castles, walks and cycle routes, there's no end of fun to discover in this southeastern county of England.
Learn more in this list I wrote about the best places to visit in Kent.
How to Get to the White Cliffs of Dover?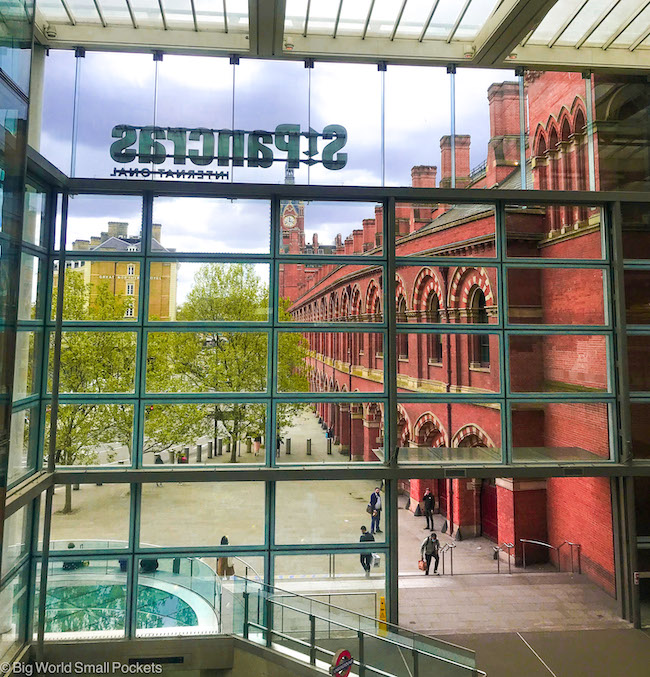 The White Cliffs of Dover are just a short distance outside of, yes you guessed it, the coastal town of Dover!
With a large port and harbour, thanks to its proximity to the French coast, Dover has quite an industrial feel to it and, outside of the Castle and the War Tunnels (which are both excellent by the way), probably doesn't offer that much for the visitor.
However, if you're looking to get to the White Cliffs using public transport, then Dover Priory is the spot to head for.
By Train
Regular trains arrive at Dover Priory, with the most popular route being from London St Pancras – part of a highspeed service.
Slower trains also leave from London Victoria and tend to be slightly cheaper, so if budget over time is more of a concern for you, then you may opt for this route.
Otherwise, I'd go for the St Pancras option, where fares cost between £25-35 and the ride takes just over an hour.
In order to get the best prices, I always recommend booking your train tickets at least a few days in advance, preferably a bit more, and using the excellent website Trainline.
Trainline's split-fare technology guarantees you the cheapest fares and their handy app allows you to store your e-tickets on your phone, meaning you don't have to mess around with collecting tickets at the station.
I also really like Trainline's journey planner feature, which allows you to track whether your train is on time and also lets you know when it's time to get ready to disembark.
For further discounts, you may consider getting a Network Railcard.
You'll pay an annual fee to get this railcard, but once in your possession, you normally get up to a third off trains in and around London and the southeast.
If you live in London, or plan to be travelling this part of the country a fair bit, a Network Railcard is a sound investment.
By Bus
Otherwise, you can get also get a coach to Dover from London.
Regular National Express coaches ply the route between the capital and Dover Priory and can also be booked using Trainline – making it really easy to compare coach and rail fares as well as journey times.
In general, coaches are much cheaper – some journeys as low as £5 – but they do take longer at around 3 to 3.5hrs.
If you're heading to Dover for a day trip, this may not be the best option for you, but if you have longer it could work.
By Car
Alternatively, you can easily drive to Dover too, via the M20 and Maidstone, which takes around under 2 hours from London.
If you're looking to rent a vehicle in the UK, I recommend Discover Cars, as they offer some great rates and are highly reputable.
Don't forget to check out these top tips I wrote if you're looking to hire a car on a budget in England.
With a car you can also drive right to the White Cliffs of Dover car park, which is owned by the National Trust.
Parking
You'll have to pay for parking at the White Cliffs National Trust car park unless you're a member (like me!).
This is really the only car park in the area and is therefore well worth the cost thanks to the easy access to the cliffs, the walking trails, a café and toilets it grants you!
You have to drive past a manned booth and barrier to access the car park here, so it's impossible to get around not paying… just in case you were considering it!
Otherwise, it's best to get a taxi to take you the 10 minute drive from Dover Priory to the White Cliffs Car Park – sadly there are no buses plying this route
There is a taxi rank outside the train station, but Uber is probably your best bet!
Alternatively, you can walk to the White Cliffs of Dover National Trust car park from Dover Priory – it takes around half an hour, but is all uphill!
You have been warned!
By Tour
If you want to avoid all the hassle of both driving and parking, as well as navigating public transport and taxis, then the best way to visit the White Cliffs in Dover is via a tour.
There are several good options, which generally leave from London and build the White Cliffs into a more extensive Kent day trip that takes in a number of the county's other top spots.
Check out these recommend day trip options for more info:
Best Walk Along the White Cliffs of Dover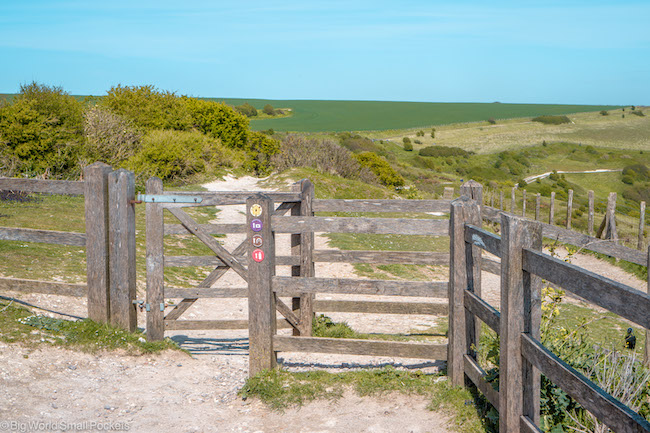 Once you've reached the National Trust Car Park, you're then in the best place to go explore the White Cliffs of Dover, which can really only be accessed on foot.
Yes the car park is the closest you can get to these limestone giants in a vehicle, so it really is a great idea to drive this far and then enjoy the rest via the excellently maintained and well-signed footpaths.
If you make the full walk along the cliffs and back to the car park, it'll likely take you a good few hours, so definitely take a trip to the toilet and perhaps fuel up at the National Trust café before you leave the car park!
There's also some large handy maps here to help you orientate yourself and plan your walking via the trails.
Otherwise, head out of the car park in the opposite direction you drove in and you'll see the well-marked trailhead.
This track actually forms part of the English Coastal Path, so you'll see those markers on the wooden posts, as well as a number of others.
This is a single trail, which takes you all along the top of the White Cliffs, and is the best way to see them and enjoy them.
The walking trail is also the best way to take in the extremely close views of France – it's actually quite mind-boggling to see how close it is here at only 22 nautical miles!
The trail is one-way, so you can follow it for as long as you like, before retracing your steps and heading back to the car.
The trail is not hugely strenuous, but it does undulate up and down over the cliffs and is not sealed, so do ensure you wear appropriate footwear.
The cliffs themselves actually make up the first part of the trail, but you can continue onto the National Trust South Foreland Lighthouse, which marks the end of the coastal section.
It will take you roughly 1 hour to get to the Lighthouse from the NT car park, including photo snapping time!
Otherwise, if you're still got some stamina, I highly recommend carrying on via the trail (which moves slightly away from the coast at this point) to St Margaret's at Cliffe – a really delightful coastal Kent town.
End Point: St Margaret's at Cliffe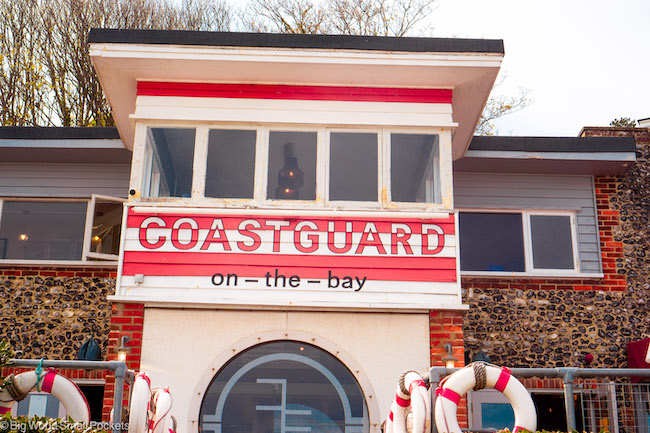 St Margaret's at Cliffe is the perfect place to walk to from the National Trust White Cliffs of Dover car park, before you turn back on yourself and retrace your steps.
A cute little village, which some gorgeous tearooms (the Pines is a fav!) and nice houses, the beach here also shouldn't be missed.
Once you enter the village via the trail, simply continue on down the hill (the aptly named Bay Hill) and you'll soon see the steps down to the beach on your right.
This is a pebbly beach, but it's a gorgeous quiet spot with a very local feel and backed by some classic, colourful beach houses.
There's some parking here too (good to know if you've got someone coming to meet you rather than retracing your steps!) and there's also public toilets and a little snack kiosk.
But the best thing is The Coastguard – a delightful pub serving good food and drinks with an outdoor space just metres from the shoreline!
It's the ideal spot to refresh mid-walk!
Where to Stay Nearby?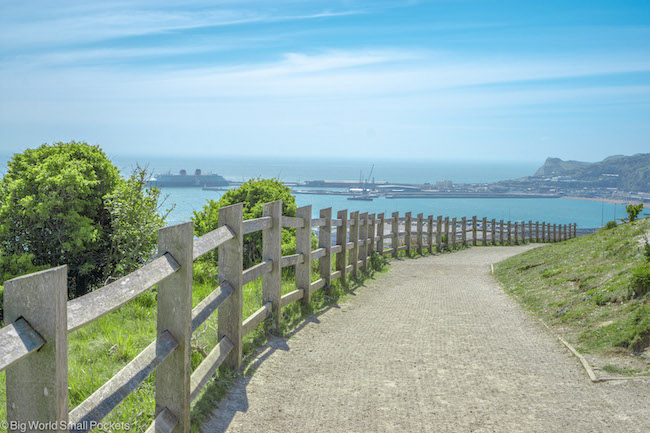 If it's getting late in the day and you want to stay somewhere near the White Cliffs, then one of the most budget friendly options is the Travelodge Dover.
Situated within the new, exciting St James retail and leisure complex, this place is just a short walk to the Dover Priory station and within 2 miles of the White Cliffs.
All double rooms here feature a king-size bed and there's on-site restaurant and bar too.
When it comes to accommodation in Dover, you'll be hard-pressed to find a better deal.
That said, Dover is a port town and, as with many places of this nature, doesn't have the best reputation!
Therefore, if you're happy to drive a short distance, you'll definitely find a more pleasant place to spend the night.
In St Margaret's at Cliffe, St Margaret's Hotel is a great option that's just 1 mile from the White Cliffs, meaning you can easily get there for sunrise or sunset!
Offering excellent value and with all rooms boasting flat-screen TV / DVD player plus tea / coffee-making facilities, guests here also have access to 2 indoor pools and a sauna – winning!
For something more quirky, then this Yurt within grounds of a 17th century country inn is a great option, or this Seaside Chalet is a top pick for those who want a self-catering option for up to 6 people right near the Deal Castle beach.
5 Key Packing Items for the White Cliffs of Dover
And finally, here's my list of the top 5 packing essentials you shouldn't head to the beautiful White Cliffs of Dover without.
#1 A Good Camera
No doubt you're going to be snapping like crazy in this iconic spot and need to ensure you have a good camera to do the place justice.
I love my Sony A6000, which is light, compact and great for travel.
#2 Decent Walking Shoes
You can't come this far and not enjoy a walk along the cliffs.
Get prepared therefore and ensure you have a decent pair of walking shoes – these cross-trainers from New Balance are ideal (and totally stylish) for the job.
#3 Light Waterproof Jacket
Whatever the time of year, you have to remember this is England after all, a country in which the heavens can open at any point!
Don't get caught out and ensure you have a good lightweight and waterproof jacket with you!
This North Face one is perfect.
#4 Compact Hiking Day Pack
I never go on any trip, no matter how short, without a sturdy backpack to ensure I've got everything I need and that the weight is equally distributed across my back and shoulders.
This super featherweight Kompressor from Marmot is my go-to, because it folds down to nothing and is water-resistant.
#5 Portable Charger
And finally, I would never head off anywhere without my trusty Anker Portable Charger, which keeps my phone charged, meaning I can take all the snaps and use all the maps I need wherever and whenever I am!
Top Things to Know Before You Go…
One of the most important things to know when you visit the White Cliffs of Dover is that safety is paramount.
This includes not drinking alcohol if you're driving back to London, as well as ensuring you walking safely along the cliffs.
The cliff edges here are high and dangerous, so although getting close to the edge may prove tempting when trying to get that epic shot, it's simply not worth it.
Strong winds and the serious issue of erosion, which undermines the stability of the cliffs here, are real factors to consider.
You'll also want to bear in mind the weather and make sure you pack accordingly – see my top 5 recommended items above.
In the winter months, it can be freezing, wet and windy here, so waterproofs are a must.
In summer, it can be seriously hot and there's little shade protection, so de ensure you bring sunscreen as well as a cap or other sunhat with you.
I'd also bring plenty of snacks and water as there are no facilities along the trail and you'll have to come prepared with all that you need after you leave the car park, before you reach St Margaret's at Cliffe.
Ditto, when it comes to the toilets!
Where to Head After the White Cliffs of Dover?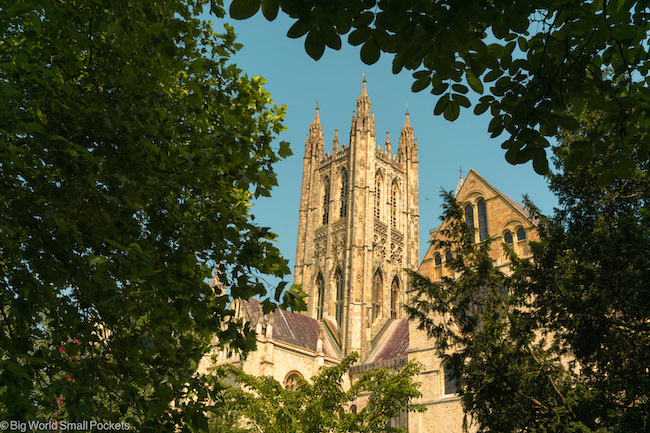 I've already outlined earlier in this article that there are quite a few great places to travel in Kent that are close to the White Cliffs.
My top picks include the wonderful historic city of Canterbury, the very vibey fishing harbour of Whitstable and the slightly mad but brilliant spot of Dungeness.
Beyond the borders of Kent however, there's also plenty more options within just a few hours, including the beautiful East Sussex spots of Rye and Camber Sands, Hastings and, if you're big into your cliff walking, the Seven Sisters, which are part of the South Downs National Park.
Travel Insurance for the UK
World Nomads offers simple and flexible travel insurance. Buy at home or while travelling and claim online from anywhere in the world.
Alternatively, if you're a long-term traveller, digital nomad or frequent remote worker seeking travel health cover, check out Safetywing's Nomad Insurance policies.
Travel Money in the UK
The easy way to spend abroad with real exchange rates, no markups and no sneaky transaction fees, you can use your Wise card just like a debit card here… and it links easily with Google and Apple pay – sold! Grab yours here.
PIN IT TO PINTEREST!
So there you have it, my ultimate guide to visiting the White Cliffs of Dover in Kent, England.
I hope I've inspired you to explore these iconic gems and to have a good stride out along them too!
If you're travelling this way, they really should not be missed!
Tell me, have you visited the White Cliffs?
Got any other tips to share with fellow travellers?
Then please drop them into the comments below…