It's one of Europe's most loved cities and with the Spanish ambience, top sights, artistic flavour, coastal location and great food and wine on offer, there's no question that Barcelona is an absolute winner.
If you haven't visited Spain or even Europe that much, then there's a high chance this gem is going to be on your bucket-list and rightly so!
For while the crowds are here most of the year and the weather can get super-hot in the summer, Barcelona will manage to impress just about anyone with its unique, quirky feels and relatively compact size.
The last time I was in Barcelona was when I stopped here as part of my no-flight adventure from the UK to North Africa (I'd got the bus here from Paris and was about to take the ferry to Morocco).
And honestly, I can't really think of a better place to enjoy a stopover because, when it comes to Barcelona, you'll always find something new to see no matter how many times you've been here.
And with that thought, here's my brilliant Barcelona itinerary – the perfect way to see all the classic sights of this city (plus a few unusual ones) in just 3 days…
Oooh and if you only have 1 day in the city, then check out my Barcelona in 24hrs itinerary too!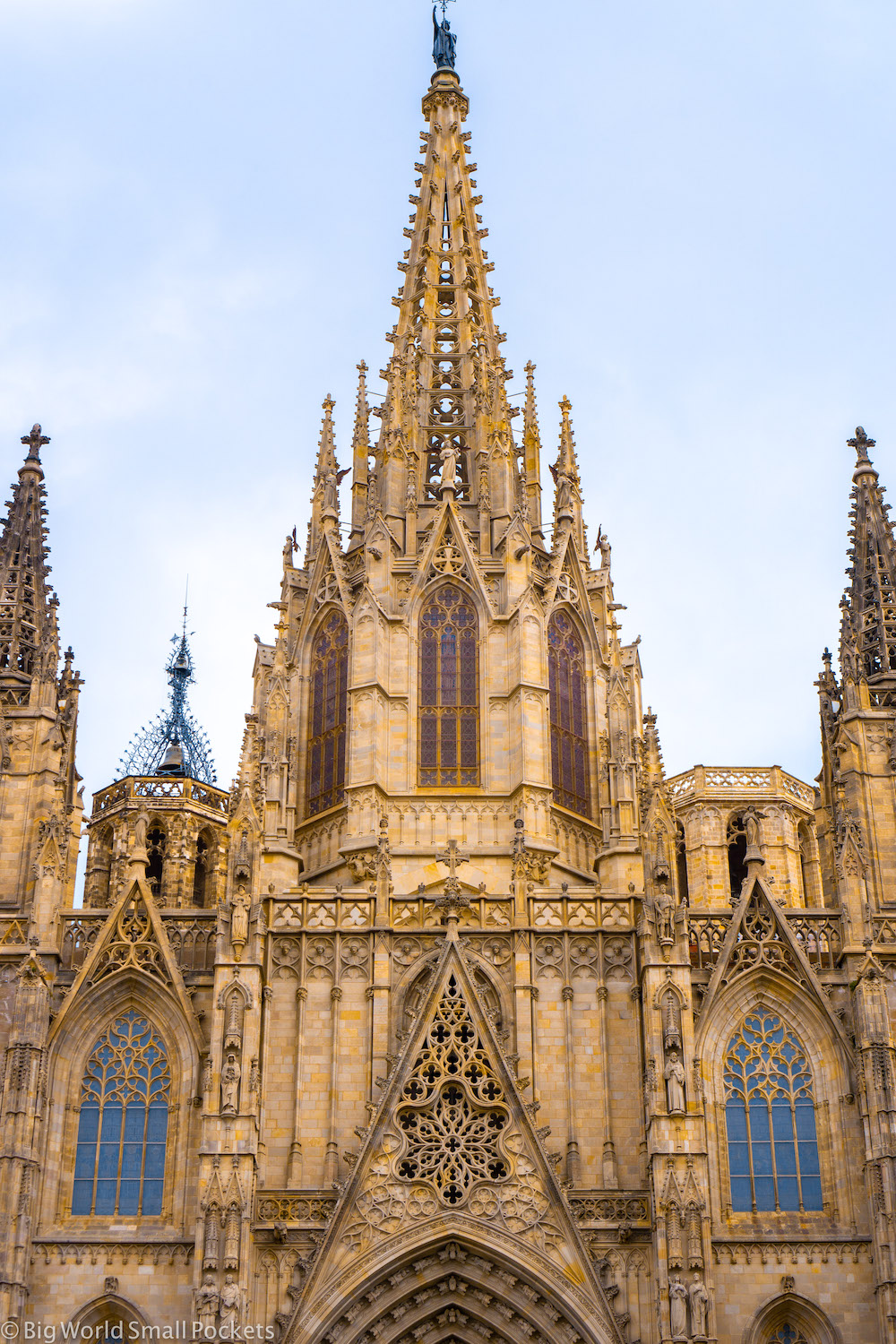 ---
Related Posts
---
This page contains affiliate links meaning Big World Small Pockets may receive a small commission on any purchases at no extra cost to you.
---
Barcelona Itinerary: Day 1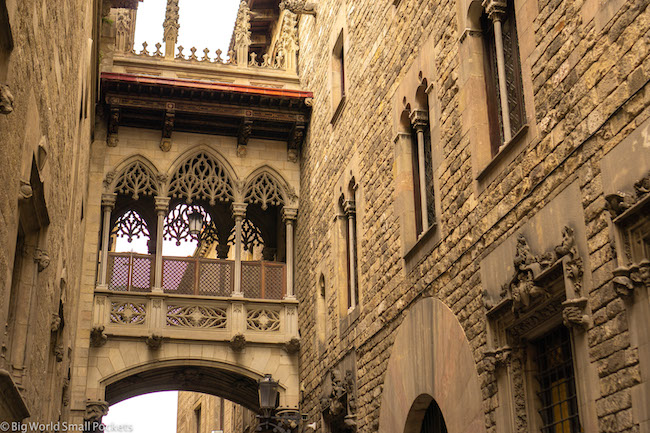 On day 1 of your Barcelona itinerary, it's all about seeing the classic sights – the sort of places that can't leave having missed!
A great way to do this all in a short timeframe (if you're pushed on time), or if you want to learn more about the city, is to take a walking tour.
There are many free options that operate in the city, which are great for budget travellers, but can get a bit crowded.
If you'd rather have a more personalised service therefore, then do consider a small group bicycle tour – you're likely to pay a little more, but might find it worthwhile, especially if you're trying to visit Barcelona in 3 days!
If you don't have the energy for the walking, then a segway tour or e-bike tour may suit you better and will also help your get orientated on your first Barcelona itinerary day and have you seeing a lot of the main sights too.
If you're doing a self-guided walk, then you can easily navigate this first day of this best Barcelona itinerary by foot, not least because this route will take you roughly in a loop, starting and ending at Güell Palace.
This is a mansion designed by Gaudí and, in a city that in many ways is synonymous with this artist, it seems a fitting place to start!
From the Güell Palace you want to head through the atmospheric and ancient Gothic Quarter until you reach the wonderful Plaça de Sant Jaume – a gorgeous place to sit and take it all in.
There's so many historic and wonderful buildings and monuments on the way here (the Gothic Quarter is over 2000 years old in parts) that I can't list them all, but you can easily use Google Maps or Maps.Me (if you want an offline version) to find them all.
A couple of my favourites include Palau de la Generalitat de Catalunya and El Pont del Bisbe, as well as the columns left from the Roman Temple of Augustus, which was built in the 1st Century BC.
After your chill in Plaça de Sant Jaume, you can then head on to view the Cathedral of Barcelona near here, as well as the Font de Sant Just too.
Continuing on again, it's then time to grab breakfast, a mid-morning snack or lunch (depending how early you start the day!) at Santa Caterina Market – an amazing fresh food, deli and groceries market that is alive with local culture and delights.
You can either enjoy your food in the market itself or head to the nearby Ciutadella Park to eat it alfresco and do some people watching at the same time.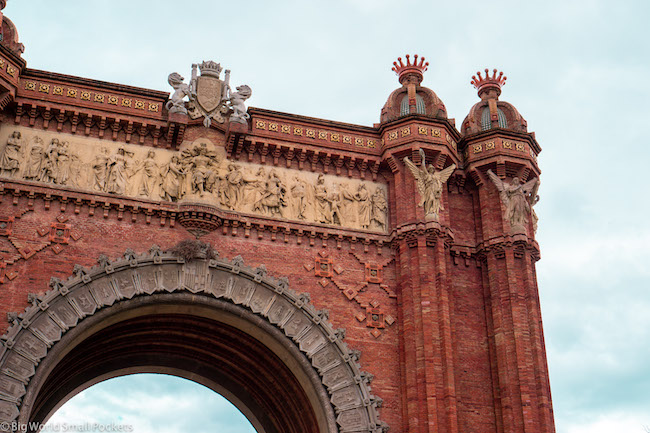 After this, walk up through the park, and don't forget to snap the Arco de Triunfo as you pass under it, before heading on quickly to see the beautifully ornate and historic station of Barcelona North and its gorgeous surrounding park.
After this, head westwards towards the Plaça de Catalunya, before taking a stroll down Las Ramblas to finish off.
This is one of the city's most iconic streets and a must on any Barcelona itinerary.
Stop at the Boqueria Market, just off Las Ramblas, for snacks or a meal enroute, before heading to visit the excellent Maritime Museum and snap the nearby Mirador de Colom if you have time.
If you still have the energy, the Magic fountain in the Montjuïc and Poble Sec barrio, can be a great thing to watch of an evening.
Otherwise, during the day, there are amazing parks, as well as a castle, botanic gardens and epic lookouts spots to enjoy from this hilltop location.
Either getting the bus or the cable car up this hill is probably advised after a massive sightseeing day any way!
Good to know there's a lot of great tapas to be enjoyed in the Poble Sec barrio if you want dinner over here too.
Barcelona Itinerary: Day 2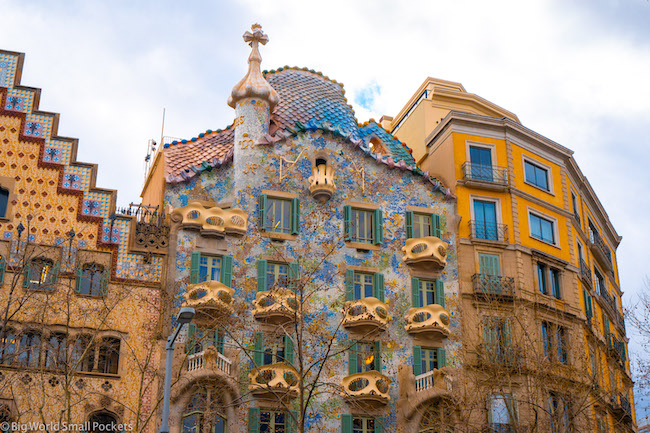 Day 2 of this Barcelona itinerary is called Gaudí day, as it's time to strap on your artistic boots and get seriously immersed in the work of this artist which dots the city.
First up, you'll want to head out from Barcelona's main tourist area, where you're likely to be staying, to the Casa Batlló, checking out the Güell Palace on the way if you didn't have time on Day 1.
Casa Batlló was once an apartment block designed by Antoni Gaudí in his iconic style, but is now a museum and is a great introduction to this artist's life and work.
From here, skip up the street to another Gaudí masterpiece and all-round favourite on this Barcelona itinerary, Casa Milà.
Pick up your skip the line and audio guide tickets for this wonderful attraction in advance here.
After this, you want to carry on up to the magnificent La Sagrada Familia – the famous Gaudí designed church that is still being constructed in part!
Grab your guided tour tickets to enter this wonderful building in advance because, trust me, if you turn up on the day you won't get in!
I also think it's worth paying for the skip the line tickets on this one, because wasting time in queues when you have only have 3 days in Barcelona is an absolute no-no for me.
If you want to enjoy a drink or a spot of lunch with a view of this famous spot then head to the nearby Hotel Ayre and take the elevator to the rooftop to enjoy your food or drink with a view!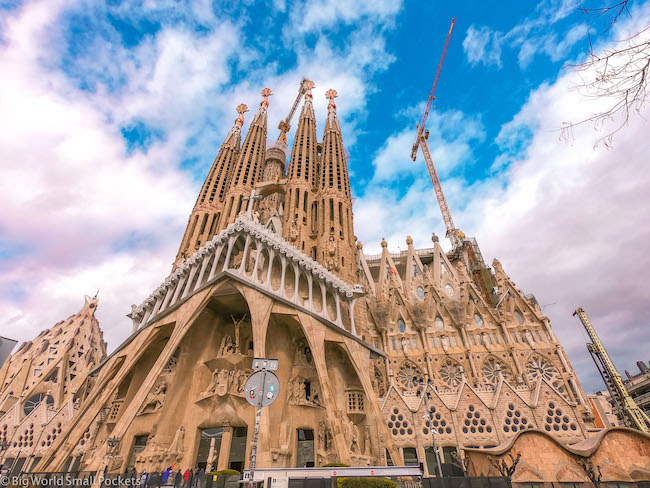 Otherwise, it's time to motor on again to the magnificent Güell Park – a UNESCO-listed Barcelona itinerary must!
Gaudí's epic outdoor space is north of the city, so you may want to hop on a metro to get out here and then take the free park bus, or grab an Uber.
Learn more about the public transport options for getting to Güell Park here.
You'll then want to leave yourself at least a couple of hours to walk around and explore this amazing place – again make sure you get your tickets in advance here.
If you still have time after this on day 2, why not then head to the off-beat favourite of Recinte Moderinsta de St Pau – a former hospital, the grounds and art museum here are delightful and you can get tickets in advance online to save you time too.
Otherwise, stay put in the Gracia district around Parc Güell to enjoy the amazing bars and restaurants of this trendy and fun part of the city.
Barcelona Itinerary: Day 3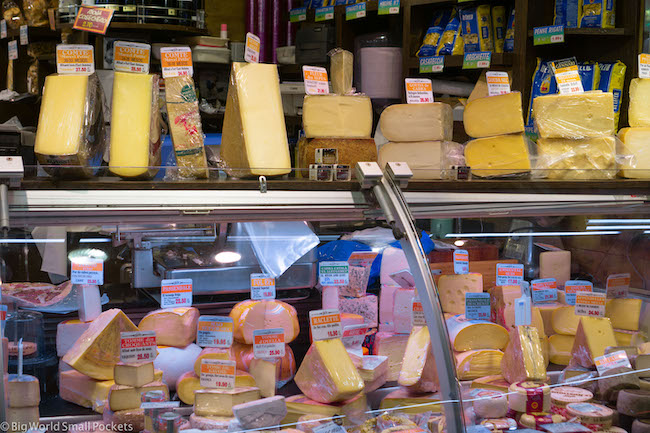 There's a few options for the third day of your Barcelona itinerary if you still have the energy!
The first up is to head to any of the areas you may have missed in the first 2 days due to the fact you're not as full-on as me when it comes to sightseeing – quite understandable!
These might include:
The Montjuïc Hilltop area with its cable car, palace, castle, gardens, parks, fountains and lookouts
Güell Park
Recinte Moderinsta de St Pau
If you did manage to cram in everything I suggested (and kudos to you if so), then there are heaps of museums in Barcelona, I haven't really touched the sides of elsewhere in this article.
You could easily spend a couple of days exploring all the museums in this city, so here are my top picks:
Picasso Museum
MACBA Contemporary Art Museum
Maritime Museum
CosmoCaixa
Otherwise, the third option for day 3 of your Barcelona itinerary is to head out of the city on a day trip.
Right on the coast, the beach is a very popular way to spend your last day relaxing in this city and, if the weather is good, I'd certainly find it a hard one to turn down!
However, if you're looking for some more cultural-historic activities, a spot of hiking or a few nature vibes, then consider these top options, which are definitely family favourites:
Mount Tibidabo for hiking, nature and lookouts
Cardona for Medieval feels, salt mines and castles
Girona for foodies and hikes in the Pyrenees
Then finally, it's time to head back to Barcelona for your last night.
Go out with a bang by rounding off your 3 days in this city with dinner and drinks in the restaurants, cafes and bars of the El Born district, which will be close to your accommodation if you're staying somewhere central.
Ideal for getting home late!
How to Get to Barcelona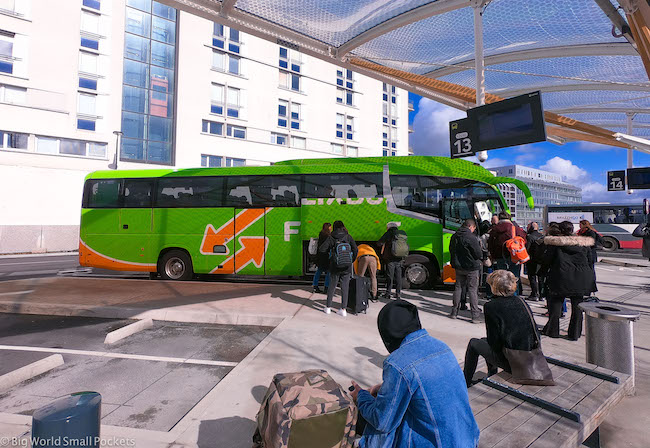 With an excellent and well-serviced international airport, you can easily fly to Barcelona from many cities across the world and within Spain. I always recommend using Skyscanner if you want to find the best flight deals.
Otherwise, if you're looking to travel to this Spanish city by train or bus (and the planet will thank you), I always use Trainline or Flixbus to buy these tickets at the best prices.
If you're travelling from Paris to Barcelona by train or bus, then check out this post I wrote which has all the info about this specific journey.
Otherwise, if you're coming from Southern Spain (or looking to travel onwards there), check out this post about travel between Barcelona and Seville.
If you're looking to travel on from Barcelona, then I'd strongly recommend the beautiful city of Valencia in Spain (which you can access via train or bus) or the amazing island of Mallorca, which you can easily access via a ferry or quick flight.
Getting Around Barcelona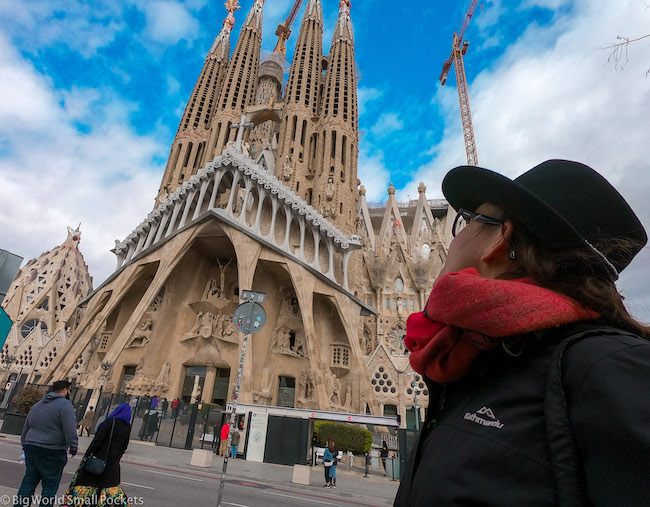 These are the 3 best options for getting transportation tickets to get around Barcelona in my opinion:
#1 T10 Transport Ticket
While it is totally possible to purchase individual tickets each time you need to take public transportation, the city has come up with this wonderful option to help you save some money during your stay.
The T10 Transport Ticket lets you purchase 10 trips for a total of €10 (essentially €1 per trip).
The price of a single ticket is €2.20, so for 10 individual tickets, it would be double the price of the T10.
You can use this ticket on any journeys using the metro or bus services although, unfortunately, airport transfers are not included and have to be paid for separately.
#2 Hola BCN Card
The amazing Hola BCN card gives you the option of unlimited travel within Barcelona for a daily price of €7.60, although the minimum purchase you can make is for 2 days/48 hours.
This is a great option for travellers that will be going from place to place not only using the metro and bus, but also the urban railway, TRAM and even the regional railway.
The best part of this card is that your trip from the airport is also covered if you're getting to Barcelona this way too.
#3 Barcelona Card
The Barcelona Pass is for the serious travellers looking not only to go from place to place, but also to see as many museums and exhibitions as possible.
Some of the benefits of this card include free transportation, free entry to the majority of Barcelona's museums, options to skip the line at popular sites, plus tons of deals and discounts on tours, shopping and dining.
It also comes with a map and city guide, as well as its own set of coupons that you can use in addition to the other discounts.
The card can be purchased in increments of 3, 4, or 5 days and prices range from €46-€61 which, once broken down, is about €12-€15 per day.
There are discounted card rates available for kids too.
The sad thing is that La Sagrada Familia and Park Güell are not included in this offer. However, for an add-on price, they do have a Gaudi bundle that gets you access to both attractions with the option to skip-the-line as well as enjoy an audio guide.
Where to Stay
When it comes to actually knowing where to stay in Barcelona, VRBO can be a great option for grabbing a super accommodation deal in the expensive central districts of Barcelona, especially if you're travelling as a couple, family or larger group.
Check out this top-rated and stylish example, which sleeps up to 5 people across 3 bedrooms at some amazing rates!
Alternatively, if you're a solo traveller looking to meet others, then a well-located hostel can be a great option for budget travel in Barcelona.
And top of my list is the newly refurbished ANT Hostel.
Brilliantly located, just metres from Barcelona Nord station and minutes from the Gothic Quarter, with a bus stop right outside and a supermarket just around the corner, ANT Hostel is hard to beat for convenience.
With dorms, as well as private rooms, great staff as well as a clean and friendly feeling, this is certainly my top recommendation when it comes to Barcelona hostels.
Otherwise, if you're wanting something more private as a solo or pair of travellers, then this beautifully designed and affordable family-run guesthouse, right by La Sagrada Familia, is another top option.
Best Insurance for Barcelona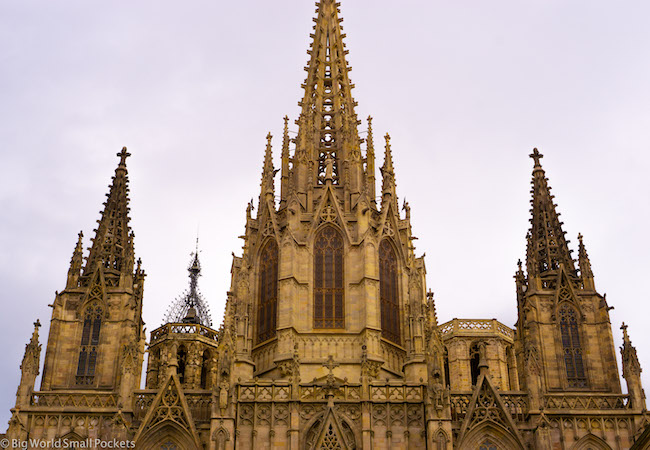 I wouldn't dream of travelling to a city like Barcelona without proper coverage as, unfortunately, this city is well known for its pickpockets.
When adventuring in Europe, I always recommend travel insurance from World Nomads which I've used during my time in this continent and across the world.
Otherwise, if you're looking for travel insurance with Covid-19 cover, then look no further than Safetywing's great Nomad and Remote Insurance policies.
These guys have you covered on the health front!
PIN IT TO PINTEREST!
Well that's my top 3 day Barcelona itinerary.
In fact, there's probably enough in here that you could stretch it to 5 days or perhaps even a week!
Which would be very easy to do in this gorgeous, historic and world-renowned city.
Nevertheless, for those of you on a short timeframe, I hope the itinerary has proved useful and that with it, you'll be able to see all the major sights of this city in a pretty short time and on a pretty low budget!
Any ideas to add to the itinerary?
Please drop them into the comments box below and join the discussion…