Before I travelled to Mallorca, I honestly thought it was only a place for package tourists and badly sunburnt brits abroad!
Admittedly, this might be due to an opinion formed during my childhood holidays there in the early nineties, but nevertheless, I certainly wasn't aware of how great Mallorca was for independent tourists.
I knew nothing of the wonderful resort-free beaches it offers, the great hiking and fantastic cycling you can enjoy there, nor the charming historic port towns and wonderful deserted forests and coves you can easily stumble upon.
Yes, I think it's fair to say I was a Mallorca novice!
But after just 1 week there, I've very much become a Mallorca convert!
Because while there are a few resort spots you can give a wide berth to, the rest of the wonderful island is just begging to be discovered.
Drenched in Spanish sunshine from April to October, the island is not only easy and inexpensive to get to, but it's also simple and affordable to adventure around once you're there.
So if you're thinking of heading to this Balearic beauty, then read on to learn all my top tips when it comes to travelling to Mallorca…
---
Related Posts
---
This page contains affiliate links meaning Big World Small Pockets may receive a small commission on any purchases at no extra cost to you.
---
#1 How Best to Get to Mallorca?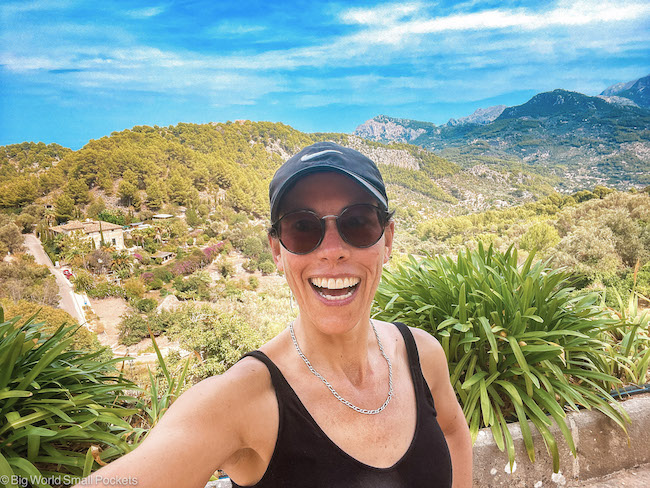 So first up with the obvious question – how to get to Mallorca!
Confusingly also often referred to as Majorca (so don't be confused it is the same place – just one uses the Catalan spelling and the other the anglicised one!), this island makes up one of the Balearic Islands, just off the coast of Barcelona in eastern Spain.
The capital of the island is Palma, which is a beautiful city (learn more in this article) with the only international airport.
As such, unless you are getting a ferry from Barcelona, it's highly likely you'll be looking for a flight to Palma to get to Mallorca.
Flights arrive regularly here from many European capitals, including several London airports.
Budget airlines offer the best deals (if you don't have any check-in luggage), otherwise you might be surprised by the affordability of regular airlines such as British Airways when you include checked luggage.
The best way to get info on all prices is to use a comparison tool of course and, as always, I suggest Skyscanner for the job!
#2 Do You Need a Visa?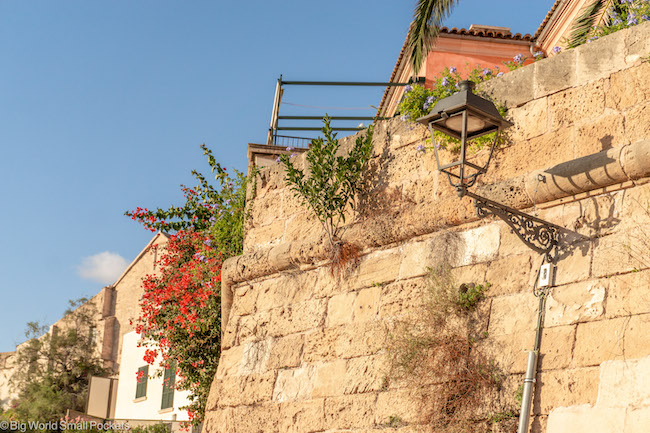 Mallorca is part of Spain, so if you usually need a visa to visit this European country you'll need one for Mallorca.
For those lucky ones, Spain is of course part of the Schengen travel zone in the EU, and this extends to the Balearic island of Mallorca.
For Brits wanting to get to Mallorca, you don't need a visa, but post-Brexit, we are now limited to 90 days out of every 180 in the EU – boo hiss!
#3 When Should You Visit?
No question in my mind that the best time to visit Mallorca is between the months of March and October – this is when the warm weather will allow you to take full advantage of the island's beautiful landscapes and beaches.
Just beware that in July and August especially, the island can experience some very high temperatures – think mid 30 degrees plus – so do bear that in mind if you're not a fan of the heat or you want to enjoy some more active adventures on the island.
When I visited in mid-September the temperatures were still in the high twenties and very pleasant.
#4 How Long Should You Visit Mallorca For?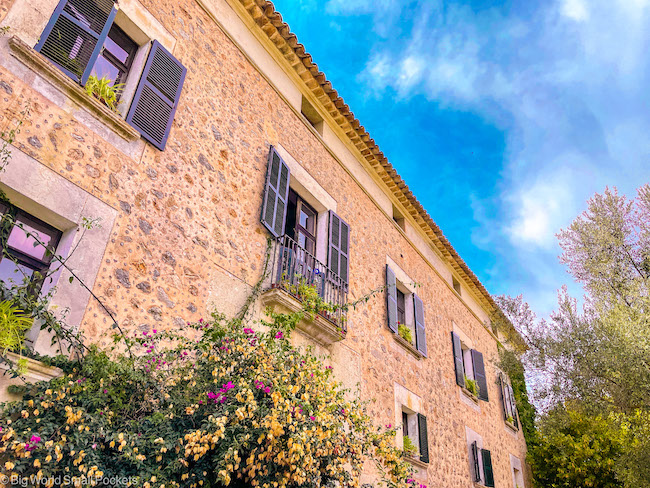 The amount of time you'll want to spend in Mallorca will very much depend on what you plan to do there, whether you've been before and how long you have for your trip overall!
In general, most people tend to enjoy 1-2 weeks on the island – this is a good amount of time if you want to include some days relaxing on the beach, as well as enjoy some other activities the island has to offer including cycling, hiking and wine tasting – more on this later!
2 weeks will certainly allow you to explore most of the island, especially if you have a car, whereas with just one week you might have to choose certain regions of the island to concentrate on i.e. the west and the north.
#5 How Best to Get Around Mallorca?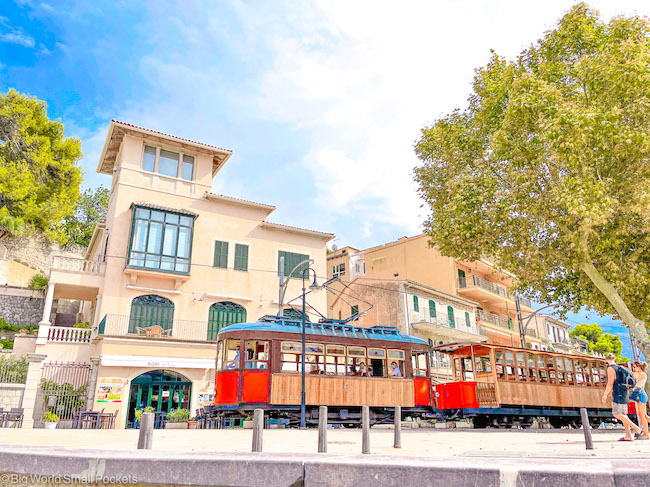 So with the mention of car hire, it seems like a good opportunity to talk about getting around Mallorca and how best to do this.
There are certainly some local bus options you can use to get around the island – although these can be infrequent and irregular.
There's also a train that runs from Port de Sóller to Palma, and while you certainly can use this, it is more of a tourist option than a regular commuter train.
In all honestly therefore, unless you are planning to stay in a resort and not move, the best option is to rent a car.
This will give the you freedom to get around and explore all the hidden beaches and cute towns you wish too – a key part when travelling to Mallorca.
I usually rent a vehicle with Thrifty Car Hire as they operate globally and have some great rates, however I actually found better deal in Mallorca with Wiber – so do check these guys out too.
All the car hire companies have handy depots near the airport in Palma, with shuttle services that can connect you with the arrival / departure hall and your rental car location.
If you plan to rent a car, don't forget to check if you need an international driving license to drive in Mallorca.
And do remember to bring this with you, as well as the credit card you reserved the car with, when you come to collect the vehicle.
If you don't feel confident driving in Mallorca, then I would definitely recommend basing yourself somewhere near the airport for ease i.e. in Palma or the areas around.
There's lots to do in these places and the beaches are beautiful too.
#6 A Word About Orientating & Driving in Mallorca!
So that you've got your hire car in Mallorca, it's probably worth talking a little bit about orientating and driving on this island.
Being part of Spain, they drive on the right-hand side in Mallorca – so Brits and other left-hand drivers do keep this in mind!
You'll also be pleased to know that the roads are very good in Mallorca and that the main highways here are especially well-maintained and easy to drive on.
The only challenging part can be in the north of the island where the twisting mountainous roads do require some patience and skills to navigate.
As always, google maps can get you around safely however.
Just remember that if you are hiring a car, you may want to bring a phone holder that will help you navigate using Google as most rentals don't include them.
#7 Where Should You Stay in Mallorca?
The island can generally be split into 4 main regions – the more remote north, the most populated west with Palma and Magaluf, the beach coves of the south and the long sandy strips and resorts of the east.
Thinking about what you want to do during your trip, and also how you might get around the island, are the key credentials when it comes to deciding where you might stay.
Check out this article I wrote specifically about how to choose where to stay if you are travelling to Mallorca.
#8 Best Things to Do in Mallorca?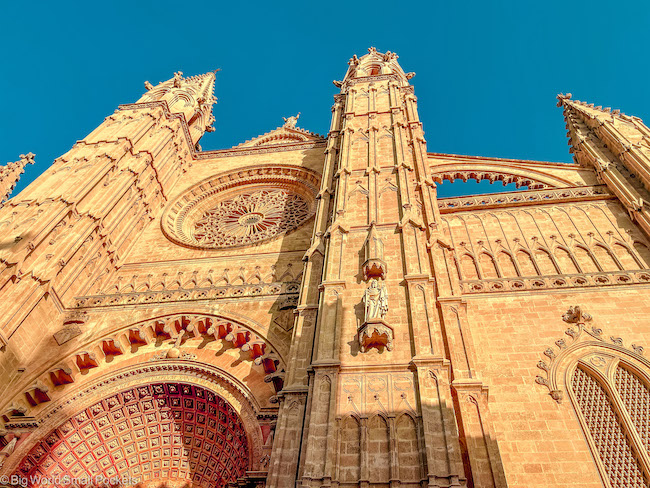 So yes, a key part to planning your whole trip to the island of Mallorca is deciding what you want to do there!
Do you just want to laze at the pool in the resort, go out day tripping and exploring, or do some serious hiking and cycling?
Are you up for getting off the beaten track to discover hidden coves, or would you rather stick to the easier and more accessible sandy stretches?
As a guide, the more developed resorts and sandy strips tend to be around Palma in the northwest of the island and also near Alcúdia in the northeast.
The south and especially the north tend to be a bit more remote, with the latter providing most of the island's great cycling and hiking trails, while the former has some beautiful cove beaches.
And who can forget the wine tasting and all the eating you can enjoy in Mallorca too?!
Many of the vineyards tend to be in the central flatter belt of the island, while wonderful restaurants can be found across Mallorca, but especially in the northern towns of Port de Sóller, Deià and Valldemossa.
Palma itself is also worth a couple of days – it's a beautiful coastal city with a lovely historic centre and impressive cathedral!
#9 Is Mallorca Safe?
Yes Mallorca is very safe to travel and very easy to as well.
Although the language of the local people is Spanish, due to the well-developed tourism industry here, English is widely spoken.
The island is also very used to tourism, meaning the infrastructure is good and things are generally set up and very straightforward for the average visitor.
Travelling as solo female here I'd certainly feel safe and, even if you don't speak Spanish or you get lost, there's good data coverage across most of the island you can always tap into.
On that note, if you're from the EU you won't experience roaming charges when you visit in Mallorca, which is a real blessing!
If you come from further afield then, as with anywhere in the world, I highly recommend getting your hands on a SIM card that will allow you to access the data network – you can pick one up at the airport or in Palma.
Having access to the internet is a great way to help you feel safe, to navigate with maps, to book activities or accommodation and to keep in touch with those at home.
If even you decide not to go down the data option, then it's worth knowing all accommodation and restaurants / cafes etc (well all the ones I experienced anyway) certainly had free wifi you could connect to!
World Nomads offers simple and flexible travel insurance. Buy at home or while travelling and claim online from anywhere in the world.
Alternatively, if you're a long-term traveller, digital nomad or frequent remote worker seeking travel health cover, check out Safetywing's Nomad Insurance policies.
#10 How Much Does it Cost to Travel Mallorca?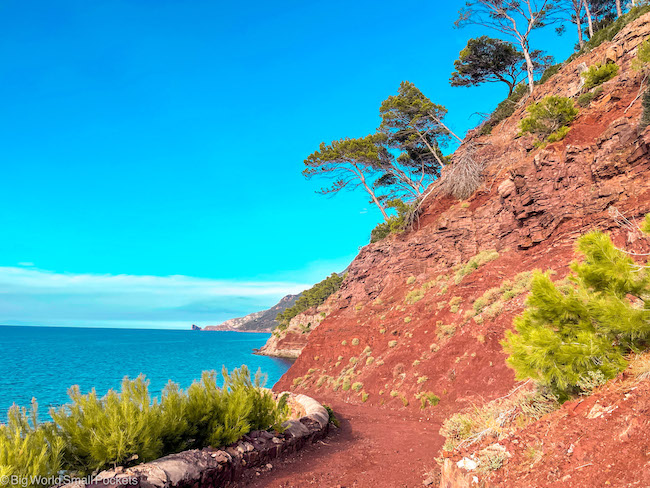 Well this really depends on what sort of trip you decide to do in Mallorca, because honestly you could cycle and camp or stay in Airbnb's and have a super cheap trip, or you could stay in a 5 star all-inclusive resort and blow a couple of grand!
In general, however, I found Mallorca a pretty affordable destination.
Both food and drinks are cheap in average bars and supermarkets are well-stocked which means if you have the facilities you can certainly cook in.
Airbnb's tend to be pretty well-priced too, particularly if there's a large group or family of you going and flights over to Palma are really affordable from elsewhere in Europe.
Our car hire cost a couple of hundreds euros for the week and we got a very efficient car so it didn't use a lot of petrol.
In general, I find Spain is by far one of the cheapest countries in Western Europe to travel (Germany and Portugal are the other budget gems in this region), so don't let money put you off if you're thinking of travelling to Mallorca.
#11 What's the Food and Drink Like?
And yes, one reason you might want to head to Mallorca is for the delicious food and drink!
Let's start with the simple stuff – tap water here is generally potable, which means you don't have to buy bottled water and waste all those plastic bottles – hoorah!
Beer and wine is also very affordable, especially the local stuff… did I mention Mallorca has a well-established wine culture and you can actually visit vineyards here and arrange tastings?
Food can be very affordable too if you go for the local options, especially tapas.
Paella and all things jamon (if you're not veggie) are of course also local winners!
Vegetarians (como yo!) might find things a little hard here but not impossible.
The island has a lot of olive groves and orange plantations, so at the very least you should get heavily involved in both of these products!
Other foods such as the pizza and pasta classics are also readily available.
And of course ice cream… what are holidays for after all?!
#12 What Should You Pack?
And now that you're hopefully pretty much sold on the idea that a trip to Mallorca is a good one, it's time to think about what you should pack for a fantastic trip here.
Well first up, we want to cover the beachwear, as this is pretty much an essential in my opinion!
If you're not a beach person, you probably won't be heading to this island!
So yes swimwear, beach towel, sunscreen and a good hat are musts.
I'd also bring activewear with you when travelling to Mallorca so that you can enjoy some of the fantastic hiking and cycling on offer here.
And what about some nice clothes in case you want to go out to dinner?
That said, things are pretty casual on this island, so shorts and t-shirts are totally fine in the day, plus trousers and a top for the evenings.
If you're visiting outside of the peak summer, then I'd advise a warm jumper and perhaps even a thin waterproof jacket in case of the odd of the shower.
And oh insect repellent is a definite must!
Learn more in this complete Spanish packing list.
#13 Can You Hike & Cycle Unguided?
In a simple, word, yes!
This island is an amazing spot for independent hikers and cyclists and I highly suggest taking full advantage if you're travelling to Mallorca.
The best spot to get active is probably in the mountainous north of the island, where the twisty-turny roads lend themselves to a good adventure!
There are even several dedicated cycle trails, including the famous 312 route, which will take you a good few days to complete.
For hikers, the north is also the best spot to head for.
There's some amazing multi-day trails you can walk that take between 8-10 days – the most popular are the GR221 and the GR222.
You can also opt for day treks that take in shorter sections of these routes.
This is what I did when I was in Mallorca and I have to say that the stretch between Deià and Port de Sóller was particularly wonderful – not least because it started and finished in 2 of Mallorca's top towns!
This meant I managed to combine a good hike and some fab sightseeing, as well as a good sea swim and some beach time all in one day – what a winner!
If you would rather take a guided walking tour in Mallorca however, then this is also possible. Check out these top picks.
PIN IT TO PINTEREST!
So there you have it, my top 13 tips for travelling Mallorca!
Have I sold you on this beautiful Spanish island yet?
I sincerely hope so!
Got any questions?
Then don't hesitate to drop them into the comments box below and I'll get back to you!