Well!
Had it not been for my trip to this Balearic island in September, I certainly would not have been writing this post!
In fact, I certainly would not even be recommending going to Mallorca, such was my view of this Spanish isle.
But I have to say, the trip I just enjoyed to this incredible spot totally changed my mind… and has even left me wondering what other classic European holiday destinations I've written off without giving them a real chance.
Because in my mind, Mallorca was simply a spot you either went as an 18 year old with your mates after your A-Levels, or a place you went for a cheap package holiday with the fam.
To sum up both cases, I thought Mallorca was reserved for the Brits abroad market – certainly not a market I'm interested in!
But after being convinced there was more to this island, I agreed to a late summer break there with a group of friends and honestly couldn't have been more delighted!
For yes, while there certainly are areas of Mallorca ideal for the 2 (personally less appealing) groups I've described above, there's also a huge amount of other travel scenes Mallorca caters for as well.
From the cycling scene to the hiking scene, the quiet villa scene to the hidden cove scene, the culture scene to the foodie scene and, who could forget, the wine scene – you can just about name a travel scene and Mallorca probably caters for it!
Not bad for an island with less than a million inhabitants.
So to celebrate the diversity of this fabulous spot, as well as my newfound love for it, and to convince you not to write it off either, here's my complete guide on where to stay in Mallorca, no matter which kind of travel vibe you're into…
Oh and here's a post about my top 10 Airbnbs in Mallorca too if that's of interest!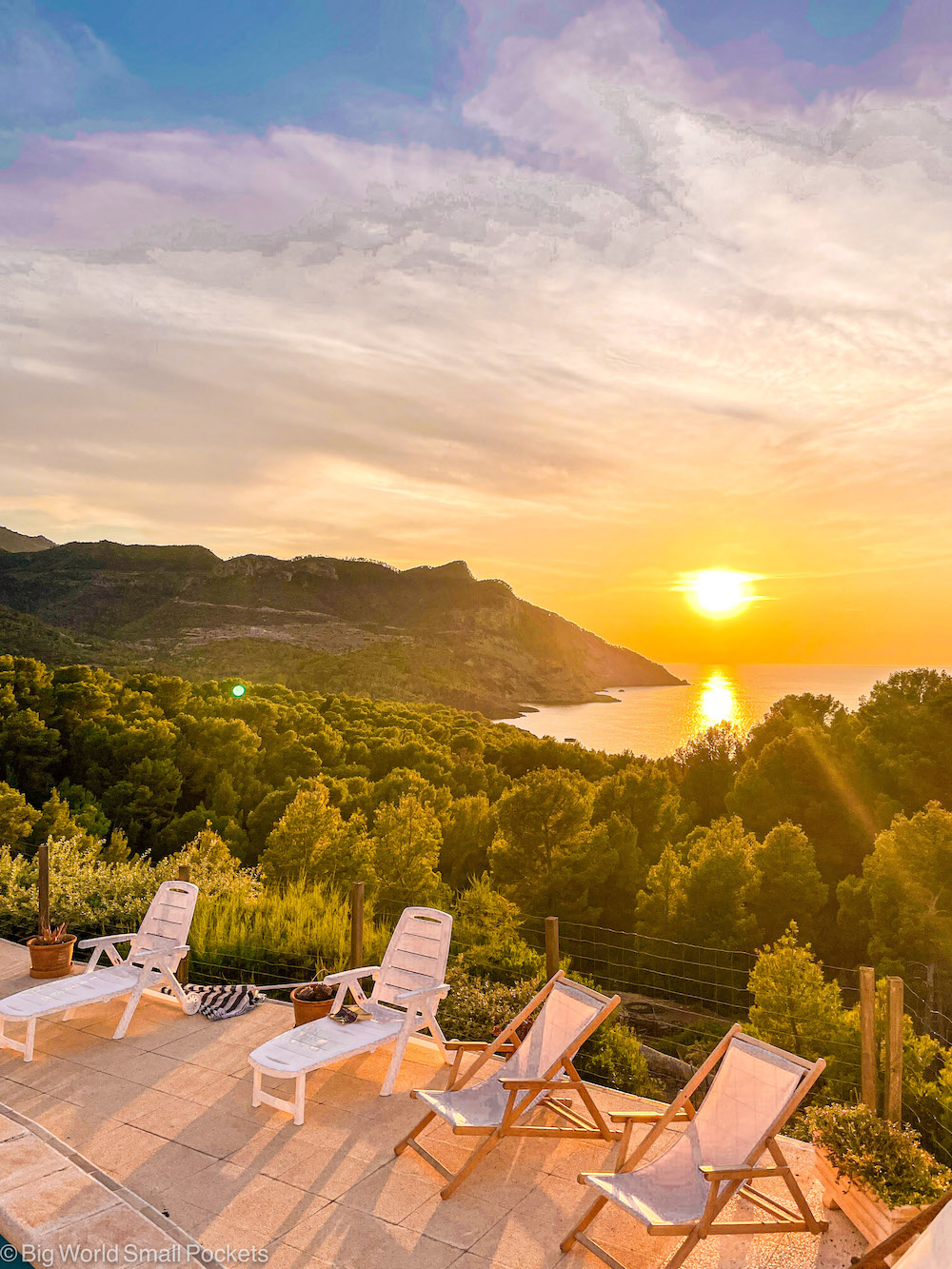 ---
Related Posts
---
This page contains affiliate links meaning Big World Small Pockets may receive a small commission on any purchases at no extra cost to you.
---
Things to Consider When Choosing Where to Stay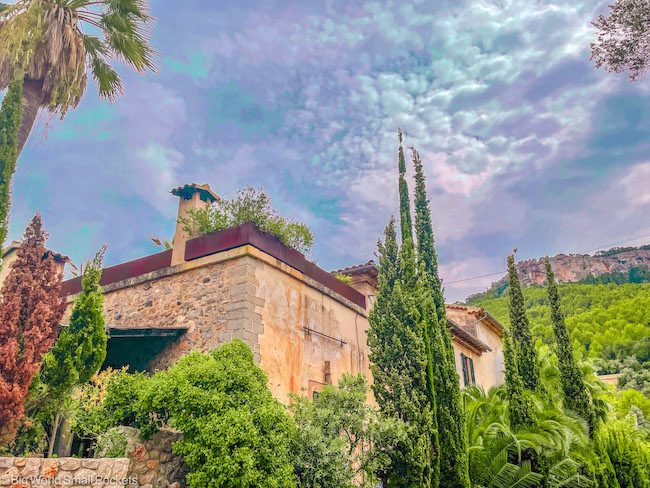 So first up on this guide, I wanted to cover some points that may help you hone your decision about where to stay in Mallorca.
These are mostly practical considerations that will hopefully assist you in teasing out the best options when it comes to where you might want to stay vs where you might actually have the best time staying!
As such, it pays to take a minute to consider…
#1 Who You're Travelling With
Are you travelling alone, as a couple, with a young family or with a group of friends?
Taking time to consider who you're travelling with and which sort of location might best fit the needs of your particular arrangement is absolutely key when it comes to finding the best place to stay in Mallorca.
For young families or multigenerational parties, areas where there's a lot of different options, as well as easy access, so people have flexibility, may work best.
Consider beaches with safe swimming or spots that combine some culture and good food with the sea and sand (and perhaps snorkelling?) as well.
If you're travelling alone, would you like to be somewhere you have the possibility to meet other travellers, or would you prefer to get very off the beaten track?
For couple and groups – are you looking to party, get active or perhaps a bit of both?
Considering who you're travelling to Mallorca with, really will help you work out the best region of the island to base yourself in, because it pays to remember that driving long distances every day is not conducive to a great holiday experience!
As such, basing yourself in the right place, which caters to the needs of you and those you're travelling with, is absolutely crucial in having the best time!
#2 What Sort of Holiday You Want to Have
Similarly, you'll also want to consider the sort of holiday you wish to have in Mallorca.
This will of course be determined by the people you're travelling with, as well as your own personal choices.
Will you need an area that offers a lot of variety and flexibility?
Or, are you happy to stick with a mostly beach-orientated place? Or a spot that offers the best cycling?
Considering the type, as well as range of activities you want to enjoy on your travels (as well as the amount of time you have available to enjoy them!), will really help you narrow down where you want to stay in Mallorca.
#3 Ports vs Towns
And now a quick word about some of the specifics when it comes to where to stay in Mallorca.
Being an island, the sea obviously plays a big role in the appeal of this travel destination, however, you'll often find that many towns have 2 parts – the town itself, which is often situated inland, as well as the port / harbour / beach area, which is nearby, but may well be a drive away.
Classic examples here include the town of Sóller and the nearby Port de Sóller, as well as Pollença and the coastal sister spot of Port de Pollença.
Remember to choose carefully which part of a destination you'd rather be based at (because the distance between the 2 sections is rarely walkable) and to keep in mind that while the coastal spots will offer beachside access and more amenities, they can be more touristy.
On the other hand, the inland towns are generally quieter and more local in feel, but can have less amenities and tourist infrastructure.
The choice, as they say, is yours….
#4 Your Transport
Thinking about how you might get around the island is another key factor when it comes to determining where to stay in Mallorca.
If you're planning to rent your own car, this is less of an issue, but you probably still don't want to be driving miles every day!
If you don't rent a vehicle, then you'll absolutely want to think about how to get to your accommodation, how you might get around from there and how much all this might cost.
I'd honestly recommend staying in or near Palma if you don't have a vehicle – your trip will be a whole lot easier this way!
#5 Your Budget
And talking of cost, you absolutely want to bear budget in mind when choosing where to stay in Mallorca.
If you're travelling on a budget (hola my people!), then you do not want to choose a swanky resort area to stay in, even if the accommodation prices are good. This is because it's very likely food, drink and excursion costs from here will be huge!
Ditto if you're happy to cook in and hike all day, then perhaps a remote Airbnb in a more isolated location might suit you?
It pays to always remember that travel usually costs more than you think (which is ok, because it's probably the best thing to spend money on in my opinion!), and that, once you've factored in flights, insurance, car rental, food, excursions and activities, you might actually have less to spend on your accommodation than you originally thought!
Region by Region Guide to Staying in Mallorca
Ok, so now that we've got the key considerations out the way, it's time to start breaking the island of Mallorca down a bit into manageable regional chunks.
The idea here is not to reduce this Balearic beauty to a 2D checklist, but to hopefully provide some overview information about how different areas of the island might suit different people and travel styles.
Honestly, I'm including this list simply because I find overall guides very helpful for getting my head around a place I've never been before – they help flesh out the experience a little when I'm simply looking at a blank map!
And with this mind, I've split Mallorca into 4 major sections and included an overall guide to each of these parts of the island here…
#1 Palma and Surrounds (Southwest)
Being the capital and spot of the international airport, Palma and the beaches within easy distance of here are very accessible.
This was the first part of the island to develop for tourism, so amenities tend to be very good here too.
Most beaches in this western part of the island boast lovely sand and there are some great resorts here that range from the party capital of Magaluf through to the very chic and luxury spot of Puerto Portals.
If you'd like more idea, check out my list of the top 15 things to do in Palma.
#2 Northern Mountains
This north is the spot to head if you want to enjoy some more active adventures in Mallorca as, largely speaking, it boasts the best cycling and hiking opps on the island.
Depending where exactly you stay along this stretch, it can take less than an hour from Palma airport as a handy highway connects you at least some of the way.
That said, navigating between destinations in the north can take a while due to the twisty-turny mountainous roads and access between spots in this more remote part can be very hard without a rental vehicle… although probs worth it in my opinion!
Key spots in the north include Sóller, Valldemossa, Banyalbufar and Deià.
#3 Northeastern Beaches
Another gem for those who want easy access and some great beaches, the eastern part of Mallorca is ideal for families and beach lovers.
Like the west, there are several purpose-built resorts here which means amenities are good and the sand and sea are on point!
A handy motorway connects this part of Mallorca with Palma, meaning access is quick and easy despite it being on the other side of the island.
Both Alcudia and Port de Pollença can be found on this stretch.
#4 Southeast Stretch
Another quieter part of Mallorca, there are some lower-key resorts and pretty towns in the south of the island, but in general, the small coves of this area make it more of a mecca for those looking to get away from the mass tourism crowds.
It also tends to be a bit more upmarket here, with the towns of Porto Colom and Santanyí, both in the southeast, being my pick.
Where to Stay in Mallorca: Top 10 Spots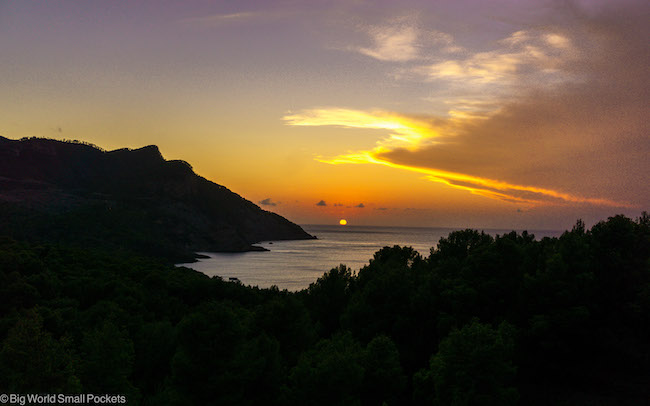 Ok, so now that you've thought about the factors that might lead to your best holiday, plus the regions of the island that may support this, it's time to start drilling down into exactly where to stay in Mallorca.
And to help make it easier for you, I've picked my top 10 destinations, along with my 3 affordable accommodation choices in each!
Let's get stuck in…
#1 Palma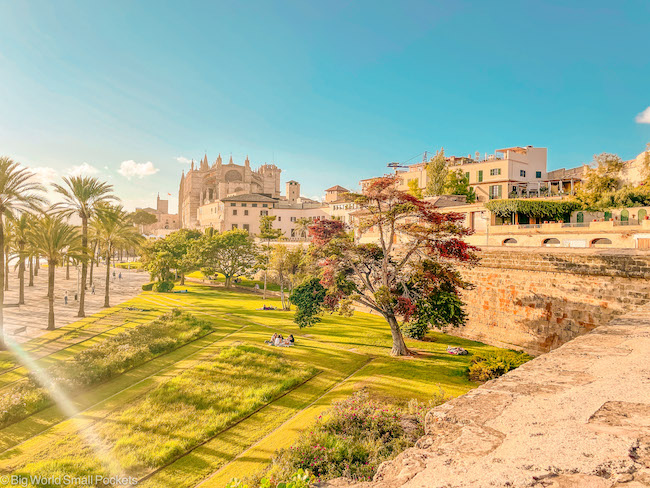 The capital of Mallorca, Palma is a surprisingly great place to stay in Mallorca in my opinion.
Usually, I'm not a big fan of staying in a city when there's some amazing beaches around to discover, but did you know Palma sits right on the coast and actually has a beautiful sandy beach right nearby?
It also boasts a wonderful historic centre – think small skinny cobbled streets with overhanging balconies and sexy shutters (classic Mediterranean style) – complete with a stunning Cathedral and impressive array of former fortresses and prisons, plus galleries and museums too.
And who could forget the food scene!?!
Ideally situated for those who have longer to explore Mallorca and want to spend a few days soaking in the culture and cuisine of this charming heritage gem, Palma is also a top option for those who don't want to hire a car (the airport is just a short taxi ride away) or for those who want to meet other travellers – lots of budget travellers stay here and everyone passes through at least once.
Needless to say, this is one of the nightlife centres of Mallorca too – think rooftop cocktails!
Top 3 Picks for a Stay in Palma:
#2 Beaches Around Palma
But what if you don't have easy access to transport, but don't want to be based in Mallorca's capital?
Well then you'll be pleased to know some of the island best beaches and resorts lie within a very short distance of both the airport and the historic centre here.
I didn't want to list them all out as, honestly, there's plenty to pick from, as this southwestern part of the island was the first to develop for tourism.
However, areas you can choose from here range from the very alcohol and nightlife heavy Magaluf with its infamous party strip, through to the highly exclusive marinas of Puerto Portals and Port d'Andratx just about everything in between.
The beauty of these areas are that they are close access to the capital and its airport, and have an excellent array of amenities and some seriously great beaches.
If you're on a family trip, the diversity and accessibility of this region might well prove the ticket.
Top 3 Picks for a Stay at the Beaches Around Palma:
#3 Magaluf
I've mentioned it above as one of the beaches around Mallorca, but it would seem mad not to put this Spanish party megalith in a category of its own!
Not my kinda of place to be sure – for one I'm far too old – but if you're looking for a mega boozy hol with the crew and you're aged between 18 and 25, this might well be the place you want to stay in Mallorca!
Top 3 Picks for a Stay in Magaluf:
#4 Port de Sóller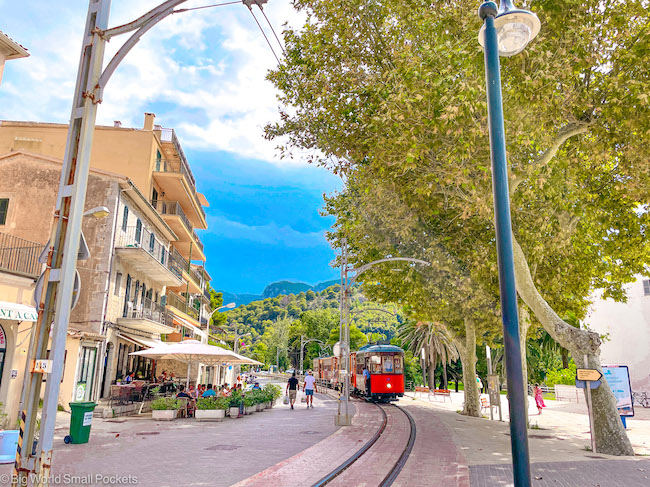 And from the ridiculous to the sublime, Port de Sóller is another top coastal resort in Mallorca that is easily accessible from Palma.
That said it's an altogether different kettle of fish entirely from the resorts nearer to the capital.
(Ps. is "different kettle of fish" just a British saying or does anyone else get what I mean by this? Genuine feedback helpful by the way!)
Anyway, I digress, the point is although it has a beautiful sandy beach and quite a big tourist scene, Port de Sóller couldn't be more different from Magaluf.
Situated on the northwest coast of Mallorca, amidst much of the island's best hiking and suitably backed by a glorious mountain range, this coastal spot has a "tourist" strip, along with a lovely harbour, but is much quieter and more refined.
Excellent eateries, including the top-rated Patiki Beach, are here and enjoying the shops and civilised bars along the waterfront after a sunset sea swim is what life is all about here.
There's plenty of options to choose from when it comes to accommodation too, but check out my top 3 picks to get started.
Oh and don't miss the historic and fully operational train that runs from here to Palma, it passes the inland town of Sóller too, which is also delightful and should not be missed
Top 3 Picks for a Stay in Port de Sóller:
#5 Deià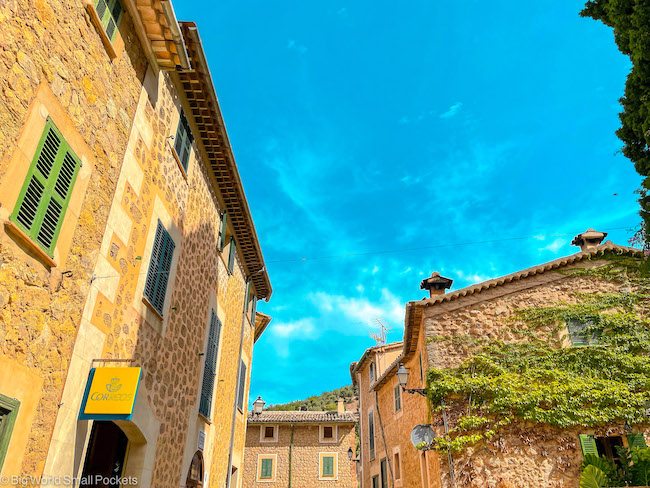 And sticking with the northern theme, next we move to the charming historic port of Deià, which is a short drive (ish given the mountainous roads) from Port de Sóller, but has a much more charming, heritage feel.
Think Palma on a smaller more quaint scale, this quiet spot has incredible cobbled streets with all the snap-tastic angles you could want from a beautiful Spanish island.
An old port town, Deià also boasts some incredible hiking, with one of the most popular walking routes in Mallorca running right past the coast here.
It also has an amazing food scene!
For those looking for something quieter and altogether more cultural and cuisine-orientated, Deià might just be the option for you.
However, this spot is not advised for those without their own vehicle here as everything around will be difficult / costly to get to from here (including the airport) without your own set of wheels.
Top 3 Picks for a Stay in Deià:
#6 Valldemossa
And now we move into number 6 on this list of my top picks for where to stay in Mallorca.
Another historic port town gem in the mountainous north of the island, Valldemossa is not dissimilar from Deià, but I just felt I had to include it as a separate item here!
Can you tell which part of the island I really like best already?!
Sat on a hilltop, surrounded by a terraced landscape, Valldemossa offers car-free cobbled alleys and rich cultural heritage, making it a superb place to stay for those who want to take advantage of the historical as well as the outdoor advantages of Mallorca.
Great hiking and cycling are all on the doorstep and the cobbled charm of this place is undeniable.
A famous monastery, a smattering of museums and a Moorish backstory all complete the picture here.
In essence, Valldemossa is ideal for those culture vultures among you and those who want to enjoy something beyond Mallorca's sandy shores.
Top 3 Picks for a Stay in Valldemossa:
#7 Port de Pollença
But what about those sandy shores I hear you cry?!
Well fear not, because we're back joining the beach game with this absolute gem of a beach spot over in the northeast of the island.
Close to the inland town of Pollença itself, which is big on the historic charm, this place is absolutely one of the best places to stay in Mallorca for those who are part of big groups or families.
And the reason for this is that it offers something for everyone.. and all within easy access too!
Many of Mallorca's top cycle routes and trails can be enjoyed from here, as can many hikes and walks for those who prefer 2 feet.
This is a good coastal strip here, with a lovely sandy beach and clear water and the inland town is full of historic charm to boot.
Although touristy, this doesn't feel as resorty as some of the places in Mallorca (I'm looking at you Alcudia!) and it's easy to get away to some of the island's more remote spots from here if you have a car.
Access to Port de Pollença is also easy from Palma with a motorway linking this eastern part of the island with the capital in less than an hour.
Top 3 Picks for a Stay in Port de Pollença:
#8 Alcudia & Around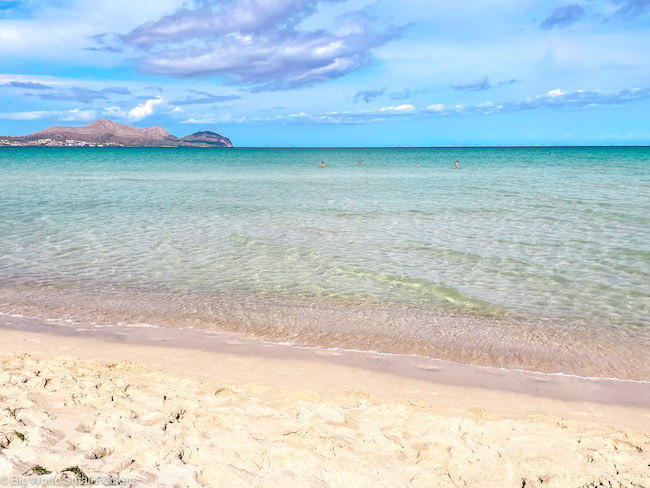 And just down the road from Port de Pollença, Alcudia and the sweeping bay below it, are other beachside spots that offer some lazy sandy opps.
A lot more resort / strip based than its northern neighbour, there are however are few different resorts to choose from in this wide sweeping bay which offers crystal-clear waters with some beautiful sand and even a national park on the doorstep.
Can Picafort is the main touristy developed spot here (I'd avoid it personally, but up to you!, but the gorgeous Playa de Muro make Alcudia and its surrounds well worth looking at when it comes to where to stay in Mallorca.
Offering great amenities, easy transport links and lots of activities, this is a firm family favourite.
Top 3 Picks for a Stay in Alcudia & Around:
#9 Cala Figuera or Santanyi
And we're coming very close to the end of this list of my top picks for when it comes to stay in Mallorca now, but I couldn't finish without hitting up a few choice selections from the southeast of the island.
As I discussed in my prelude to this article, the southeastern coast tends to be less resort-based and doesn't have the mountainous and active-inviting terrain of the north, but it nevertheless boasts some of the most stunning small coves of Mallorca and is ideal for those who want to get off the well-trodden path.
The downside is it will take you a little longer to get here from Palma and you'll certainly need your own transport.
If that isn't an issue for you however, then the coastal spot of Cala Figuera or the more island town of Santanyí offer great possibilities.
Both are big on the views and the beauty and both are areas I'd love to explore more.
Top 3 Picks for a Stay in Cala Figuera or Santanyí:
#10 Porto Colom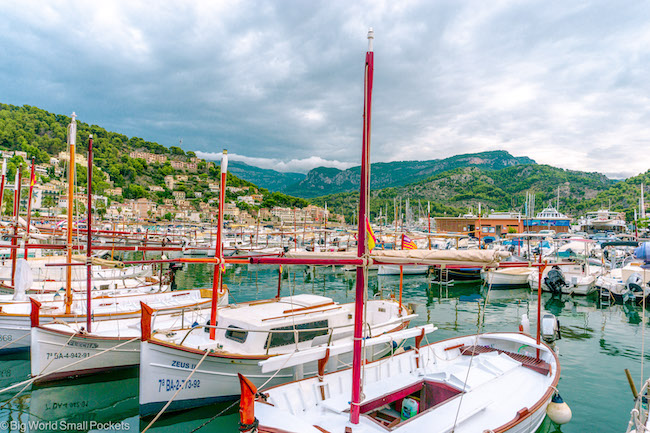 And last but not least we come to number 10 of my top picks for where to stay in Mallorca and that place goes to another southeastern coastal gem – Porto Colom.
Located more to the east of Cala Figuera or Santanyí, this guy has got a lovely lighthouse for starters and boasts some adorable fishing village charm too.
Here you can enjoy boat trips here or even a spot of golf.
For those looking for something that combines a touch of class with the coast, and a resort that doesn't scream Brits abroad, Porto Colom could be the one for you.
The downside is the driving time from Palma and your distance from the mountains in the north – for walkers especially, I'd go elsewhere, but for those who want to eat, relax and soak Mallorca in, this could be just the chestnut!
Top 3 Picks for a Stay in Portocolom:
Mini Travel Guide to Mallorca
When to Visit Mallorca?
No question in my mind that the best time to visit Mallorca is between the months of March and October – this is when the warm weather will allow you to take full advantage of the island's beautiful landscape and beaches.
Just beware that in July and August especially, the island can experience some very high temperatures – think mid 30 degrees and above – so do bear that in mind if you're not a fan of the heat or you want to enjoy some more active adventures on the island.
When I visited in mid-September, the temperatures were still in the high twenties and very pleasant.
How to Get to the Island?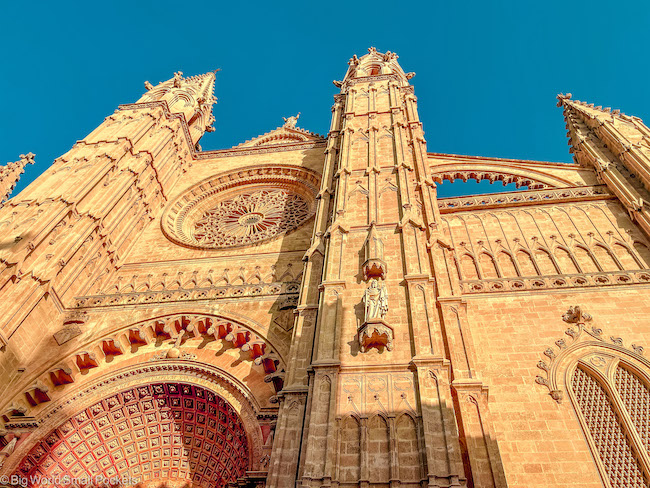 Unless you are getting a ferry from Barcelona, it's highly likely you'll be looking for a flight to Palma to get to Mallorca.
Flights arrive regularly here from many European capitals, including several London airports.
Budget airlines offer the best deals (if you don't have any check-in luggage), otherwise you might be surprised by the affordability of regular airlines such as British Airways when you include checked luggage.
The best way to check is to use a comparison tool of course and, as always, I suggest Skyscanner for the job!
How to Get Around Mallorca?
There are certainly local bus options you can use to get around the island – although these can be infrequent and irregular.
There's also a train that runs from Port de Sóller to Palma and, while you certainly can use this, it is more of a tourist option than a regular commuter train.
In all honestly therefore, unless you are planning to stay in a resort and not move, the best option is to rent a car.
This will give you the freedom to get around and explore all the hidden beaches and cute towns you wish to.
I usually rent a vehicle with Thrifty Car Hire as they operate globally and have some great rates.
Travel Insurance for Mallorca
World Nomads offers simple and flexible travel insurance. Buy at home or while travelling and claim online from anywhere in the world.
Alternatively, if you're a long-term traveller, digital nomad or frequent remote worker seeking travel health cover, check out Safetywing's Nomad Insurance policies.
Top Packing Items for Mallorca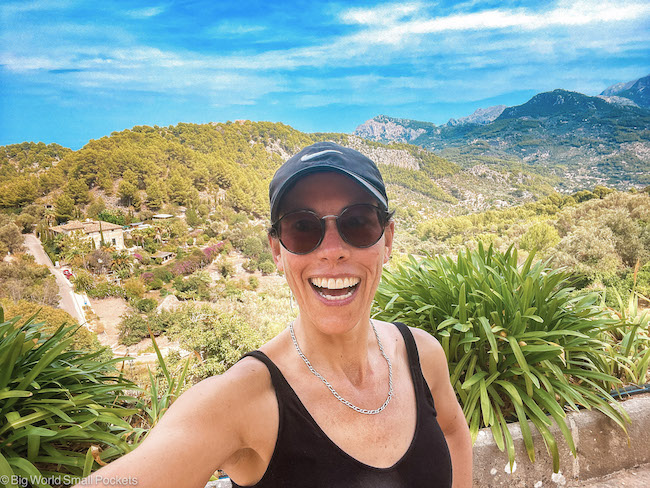 Swimwear, a beach towel, sunscreen and a good hat are all musts for those top-rated Mallorca beaches!
I'd also bring activewear with you, so that you can enjoy some of the fantastic hiking and cycling on offer.
And what about some nice clothes in case you want to go out to dinner?
That said, things are pretty casual on this island, so shorts and t-shirts are totally fine in the day, plus trousers and a top for the evenings.
If you're visiting outside of the peak summer, then I'd advise a warm jumper and perhaps a thin waterproof in case of the odd of the shower.
And oh insect repellent is a definite must!
PIN IT TO PINTEREST!
So there you have it, my complete guide on where to stay in Mallorca.
Have I sold you on this beautiful Spanish island yet?
I sincerely hope so!
Got any questions?
Then don't hesitate to drop them into the comments box below and I'll get back to you!