There's no question one of the reasons I enjoyed my time in Mallorca so much was down to the fact I stayed in an incredible Airbnb!
Located in the northwest of the island, it took over 15 minutes from the main road to reach this deserted spot down a dirt track.
Surrounded by mountains and a fabulous coastline it was the dream spot to get away from it all.
Which is why I know a good Airbnb can really make or break a great holiday and why I'm passionate about helping you find the best one.
Sadly the place I stayed in has now been taken off the market, but I've found 10 other great examples across a range of travel styles.
Because the key to a good Airbnb really is finding the place that suits your needs best.
And to help you do this, I've pulled out the best 10 Airbnbs in Mallorca across 10 travel categories.
Time to get stuck in…
---
Related Posts
---
This page contains affiliate links meaning Big World Small Pockets may receive a small commission on any purchases at no extra cost to you.
---
Where to Stay in Mallorca?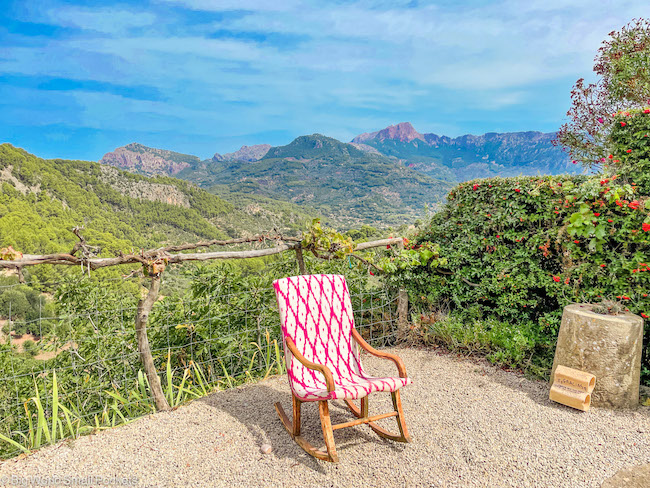 I always think Mallorca can be divided into 4 main regions when it comes to where to stay.
First up, there's Palma and its surrounds, which I largely define as the capital and the beaches within easy distance of it.
Most beaches in this part of the island boast lovely sands and there are some great resorts here that range from the party capital of Magaluf through to the very chic and luxury spot of Puerto Portals.
Then there's the northwest of Mallorca, which compromises of the more remote mountainous terrain and is well suited to those who want to enjoy active adventures in Mallorca such as cycling and hiking.
The northeast of the island boasts the popular beachside resorts of Port de Pollença and Alcúdia, both of which tend to suit families and beach lovers because the amenities, sea and sand are good.
And finally, the southeast is another quieter part of Mallorca, where there are some lower-key resorts, with some small coves and quaint towns thrown in for good measure!
To learn more about all these regions and the top destinations within them, check out this post I wrote specifically about the 10 best places to stay in Mallorca.
And now for my list of the 10 best Airbnbs in Mallorca…
#1 Best for Those on a Budget
Studio Pool View – Las Palomas Apartments
This cute studio apartment, which sleeps 2 people, is absolutely ideal for those travelling to Mallorca on a budget.
Just 12km from the capital of the island – Palma – it's cheap and easy to get here from the airport by bus or taxi, meaning you can avoid the costs of a hire car.
Plus this Airbnb is only 50m from the beach, so you can easily just roll out of bed and onto the sand!
A private swimming pool means this studio offers loads of free ways to spend your time and with a fully equipped kitchen, you can keep meal costs down by eating in too.
The area is quiet, but do bear in mind this studio doesn't include wifi – a downside for digital nomads, but probably perfect for those who really want to check out during their holidays!
#2 Best for Families
This stunning property, which is managed by superhosts and gets some incredible reviews, is beautifully furnished and sleeps up to 6 guests across 3 bedrooms with plenty of twin beds to suit everyone!
There's also free parking, wifi, a full kitchen, TV, air-conditioning, a washing machine, a garden, a pool, an outdoor shower, a fireplace and free beach gear to keep everyone happy.
For those with small children, you'll be pleased to know a travel cot, kids' books and toys, as well as ahigh chair and kids' tableware is also available.
Spotlessly clean and in a quiet neighbourhood, with stylish décor, modern facilities and a beautiful roof terrace, this place is also brilliantly located within the town of Pollença, which offers a lot for families to do too.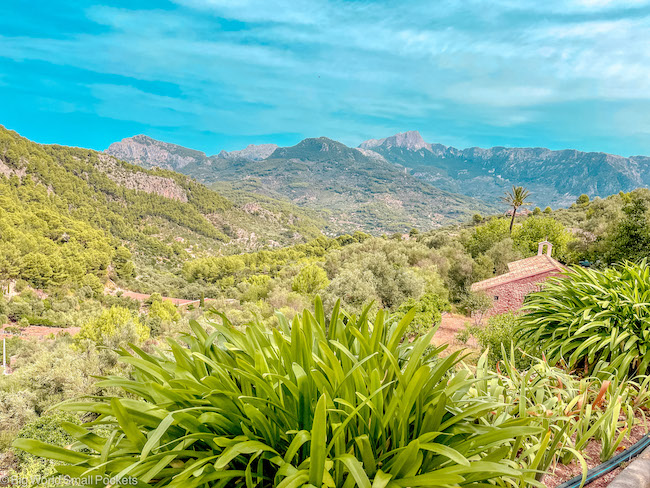 #3 Best for Couples
From families to romantic settings, now we move onto the best Airbnb in Mallorca for twosomes.
And I've selected this gorgeous space thanks to its stunning décor, top reviews and beautiful, peaceful setting within an agrotourism destination.
With a washing machine, wifi, air-con and a good kitchen, this place provides a full range of modern amenities, but combines this with stone walls and other charming rural villa-style features in a stunning finish.
Despite being a remote location, you're actually only a short drive from shops, the beach and the amazing north of the island with its great cycling and hiking opps.
The garden, patio and pool access complete the picture in this green and romantic getaway.
#4 Best for Groups
Villa Katy – Strand, WiFi, Pool
Next up we have the best Airbnb in Mallorca for groups!
I actually travelled to Mallorca myself as part of a large group (believe it or not, there were 20 of us staying across 2 amazing Airbnbs!), so I definitely know what to look for on this island when it comes to finding an awesome place for large numbers of people!
Enter Villa Katy, which sleeps up to 7 guests across 3 bedrooms, including 1 with twin beds.
With an incredible review score and just about all the amenities you need, I love the saltwater pool here, as well as the property's proximity to the beach.
It's definitely important when travelling with a group that everyone has the space to go off and do their own thing if they wish, which is why the walkable beach access and free parking for multiple cars is a great feature of this place too.
Shops are also nearby and the pool and garden of this quiet spot make it a wonderful group getaway.
#5 Best for Easy Access
Ideal Chalet, Cycle-Tourism, Palmanova
If you're looking for easy access when it comes to your Mallorca Airbnb, so that you don't have to worry about car rental when you are here, then it's hard to get better than this option!
Situated in a residential zone, with 2 supermarkets, a bus station, taxi stops, pharmacy and the beach just a few minutes walk away, things couldn't be better located than this chalet!
With 4 bedrooms sleeping up to 8 guests, this is also a great group rental in Mallorca, with wifi, a pool, beach views, a private backyard, a fire pit and BBQ thrown in for good measure!
Pets are also allowed and the kitchen is fully equipped.
Rave reviews regularly praise the value of this spot, as well as the location and amount of amenities, including top-notch nearby restaurants.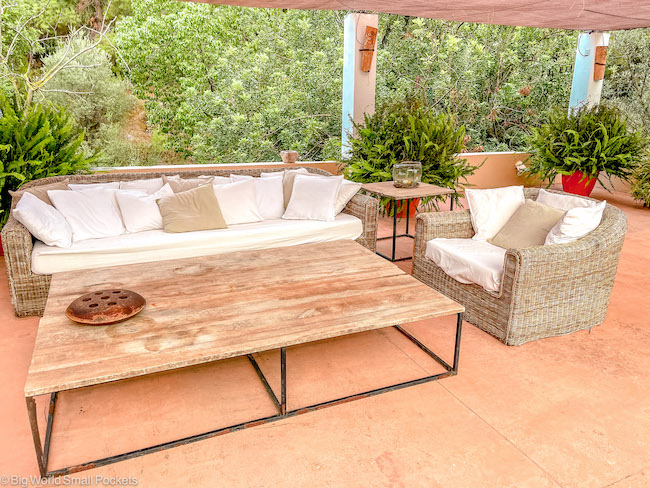 #6 Best for Quiet Stay
Rural House with Pool and Chimney
But at the opposite end of the scale, here's my pick for the best Airbnb in Mallorca when it comes to those wanting a quiet stay.
Tucked away on the outskirts of the gorgeous town of Sóller, which is the mountainous northwest of the island, this property is surrounded by fields and boasts spectacular views of the town and the Serra de Tramuntana range.
With a private pool and garden, from which guests can enjoy this restful spot, the place also has free parking (which is great as you'll need a car to get here), along with free beach gear you can use, a BBQ, outdoor furniture and a fully equipped kitchen and bathrooms.
A great option for cyclists or long term guests, this place sleeps up to 6 people across 4 bedrooms and combines modern facilities with a rural, heritage feel.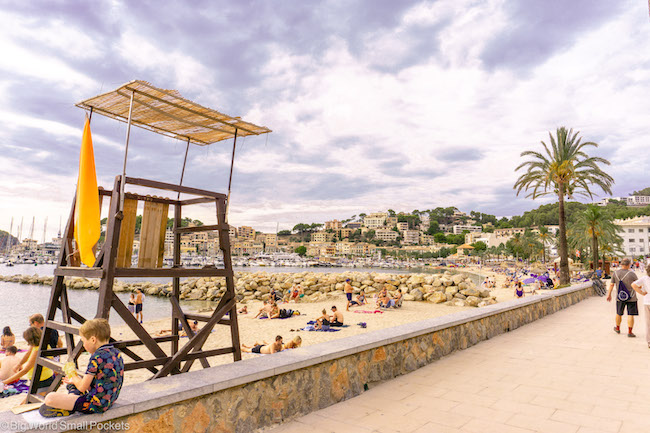 #7 Best for Beach Lovers
And from the mountains to the coast, next we move to the best Mallorcan Airbnb for beach lovers and here I've selected a gem so close to the water you can literally roll into it!
Yes the sea essentially laps the back patio of this 3 bed home in Alcúdia and a sandy beach is just a few minutes walk away, which means you probably couldn't be any closer.
If you're coming to Mallorca for the sea views therefore, this is the spot!
A fully equipped kitchen, free parking, wifi, BBQ and outdoor furniture complete this gorgeous modern villa that sleeps up to 6 people.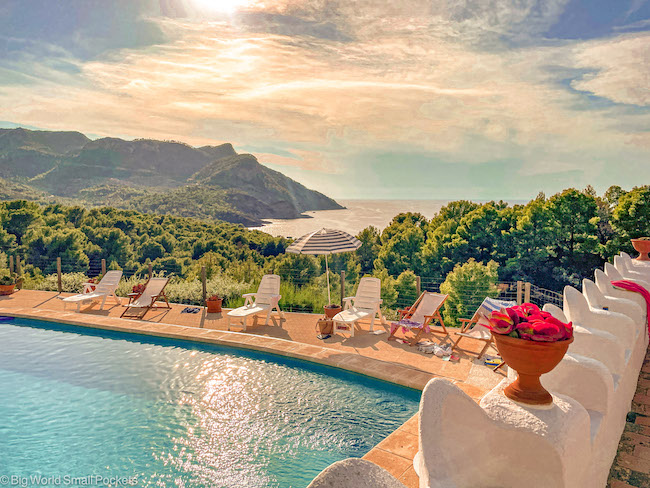 #8 Best for Luxury
Grand Luxury Villa Overlooking Sea
If your trip to this Spanish island is the holiday of a lifetime, or perhaps in celebration of a special occasion, then look no further than this top-rated Airbnb in Mallorca if you want to indulge in some serious luxury.
First up, this place is absolutely huge – sleeping up to 9 guests if you wish – across 5 gorgeous bedrooms.
With 4 bathrooms to boot, there's plenty of space for everyone in this newly renovated and stunning stone villa.
Set on top of a hill, with incredible panoramic views of local villages and the ocean, this luxury property is located in a 70,000m2 gated estate, which you'll have all to yourself.
On top of this, a saltwater pool terrace, hot tub, outdoor dining area, sun lounger area, yoga area, outdoor shower area, BBQ and mini soccer field are all at your disposal!
Sustainability here is high too with 75% of the electricity at the property generated through photovoltaic panels and showers are heated with solar thermal collectors.
You can even hire qualified staff for housekeeping or kitchen services if you want the ultimate indulgence!
#9 Best for Long Term Stays
Perfect for long term stays, this excellent Mallorcan Airbnb, located on the outskirts of Santanyi, is a great spot in the southwest of the island.
Set in a peaceful spot surrounded by nature, and with a private pool and garden, plus multiple terrace spaces, along with free parking, wifi and a well-equipped kitchen, this place has everything you need to settle into Mallorca.
Even more ideal is that they allow stays of 28 days or more.
The location is also perfect, with all the essentials available in the nearby town, and so much of the rest of the island is accessible by car in under 30 minutes.
I particularly love the decor of this place, which incorporates the stone villa feel in a sophisticated and sensitive way without sacrificing any modern facilities.
The indoor wood burner is especially lovely in the colder months.
#10 Most Unique Mallorca Airbnb
In The Mountains with Pool – Villa Sa Teulera Sóller
And last but not least, we come to the most unique Airbnb in Mallorca and one of my top 10 overall picks for places to stay on the island.
This was actually a fairly tough category to choose because there's so many gorgeous stone villas, farmhouses and cute dwellings on this island, but after much deliberation, I've gone for this one.
What I particularly loved here was the mountainous setting and the incredible panoramic views, which really are next level!
It's also a typical Majorcan natural stone villa, a family property, which has been lovingly restored and now boasts some amazing reviews.
All the usuals are here – pool, kitchen, wifi, free parking, washing machine etc – but it's the incredible setting and views that set this place apart!
How to Get to Mallorca?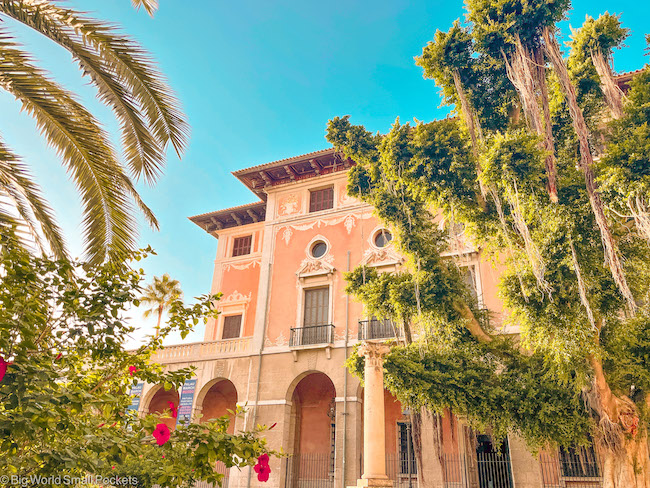 Palma holds Mallorca's only international airport.
As such, unless you are getting a ferry from Barcelona, it's highly likely you'll be looking for a flight to Palma to get to Mallorca.
Flights arrive regularly here from many European capitals, including several London airports.
Budget airlines offer the best deals (if you don't have any check-in luggage), otherwise you might be surprised by the affordability of regular airlines such as British Airways when you include checked luggage.
The best way to check is to use a comparison tool of course and, as always, I suggest Skyscanner for the job!
When to Visit Mallorca?
No question in my mind that the best time to visit Palma (and Mallorca in general) is between the months of April and October – this is when the warm weather will allow you to take full advantage of the island's beauty.
Just beware that in July and August especially, the island can experience some very high temperatures – think mid 30 degrees plus – so do bear that in mind if you're not a fan of the heat or you want to enjoy some more active adventures here.
When I visited in mid-September the temperatures were still in the high twenties and very pleasant.
How Long to Visit Mallorca For?
Most people visit Mallorca for 1 to 2 weeks.
With a fortnight up your sleeve you'll have plenty of opportunities to explore most of the island – perhaps moving and basing yourself in different locations to explore the different parts more easily.
With just one week to visit, you can still see a lot of Mallorca, but may have to choose a certain region i.e. the north, to avoid overstretching yourself.
The upside to this, however, is that you've always got a reason to return and explore the parts you didn't yet see!
How to Get Around Mallorca?
When it comes to getting around Mallorca, there are certainly local bus options you can use. Learn more here.
However, I really do think the best option is to rent a car.
This will give you the freedom to explore all the hidden beaches and cute towns you wish.
I usually rent a vehicle with Thrifty Car Hire as they operate globally and have some great rates, however I actually found a better deal in Mallorca with Wiber – so do check these guys out too.
10 Packing Essentials for Mallorca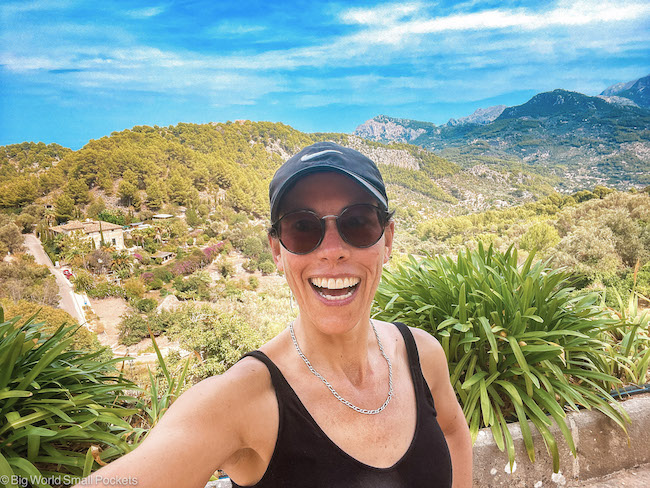 Travel Insurance for Mallorca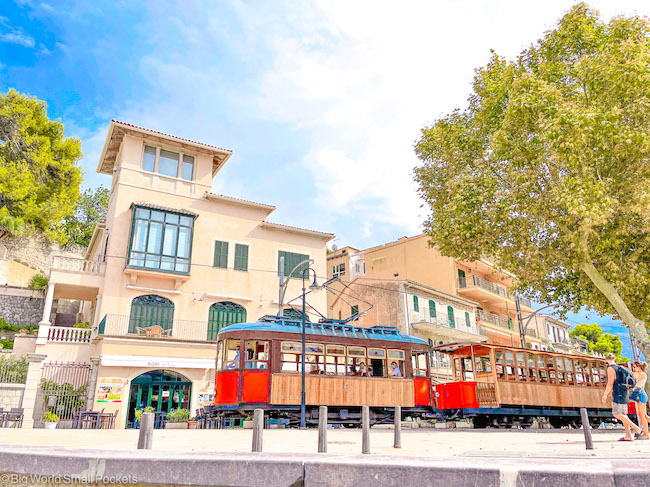 World Nomads offers simple and flexible travel insurance. Buy at home or while travelling and claim online from anywhere in the world.
Alternatively, if you're a long-term traveller, digital nomad or frequent remote worker seeking travel health cover, check out Safetywing's Nomad Insurance policies.
Where to Travel After Mallorca?
If you still have time for more travelling after Mallorca (and lucky you if so!) then you may want to head to Barcelona, as easy and regular ferries and flights run from the island to this excellent Spanish city.
Check out my top Barcelona itinerary here for more info.
Otherwise, you may want to explore elsewhere in Spain – the capital Madrid, the city of Valencia and the amazing region of Andalusia all come highly rated by me!
PIN IT TO PINTEREST!
So there you have it folks, my top list of the top 10 Airbnbs in Mallorca.
Tell me, which is your fav on this list?
Or do you have another top Mallorca Airbnb to recommend?
If so, please drop it into the comments below…