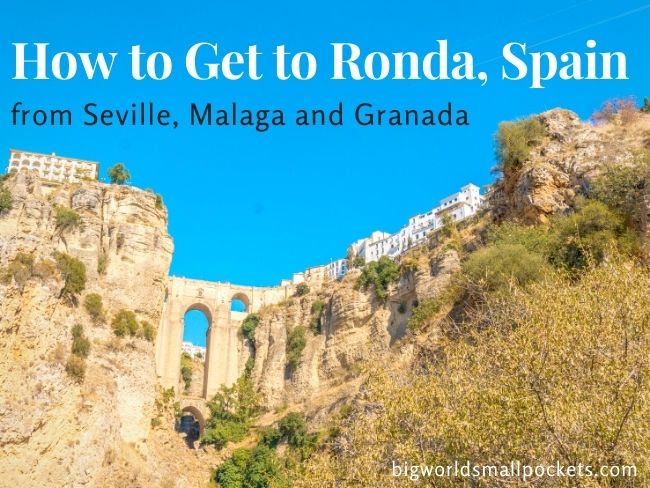 If you're touring Andalusia in Southern Spain then trust me, you cannot miss Ronda.
Almost everyone who visits this wonderful region heads to Granada, Seville and Malaga, but not everyone learns about what a gem Ronda is and why they really shouldn't miss this spot!
Thankfully, I was tipped off by a good friend who used to live in this part of the world, which meant I added it as a hit on my Andalusia list.
And what a hit!
The long weekend I spent in Ronda actually turned out to be one of the highlights from this trip and if you're into hiking, road tripping, amazing scenery, bridges and historic towns (not to mention good food and wine too of course), then I'd encourage you not to miss it either!
And to make your life even easier, I'm now getting to tell you exactly how to get there as well.
This means you've really got no excuses not to visit Ronda!
So no matter whether you're coming from Seville, Malaga or Granada (the 3 places most people tend to come from), here's exactly how to get to Ronda in Spain…
---
Related Posts
---
This page contains affiliate links meaning Big World Small Pockets may receive a small commission on any purchases at no extra cost to you.
---
Where is Ronda?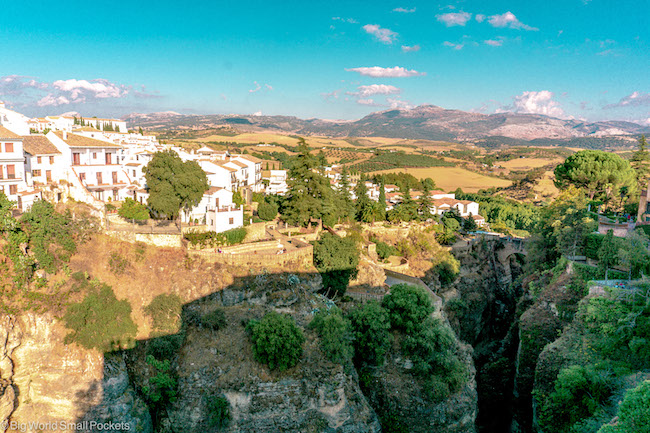 But first up, it's probably important to tell you where exactly Ronda is!
This will definitely help when it comes to learning how to get there!
As I said in the intro, Ronda is situated down in Andalusia in the south of Spain.
Ronda lies in the west of this province, in between the 2 national parks of the Sierra de Grazalema and the Sierra de las Nieves and between the 2 cities of Seville and Malaga, north of Gibraltar.
Why Visit Ronda?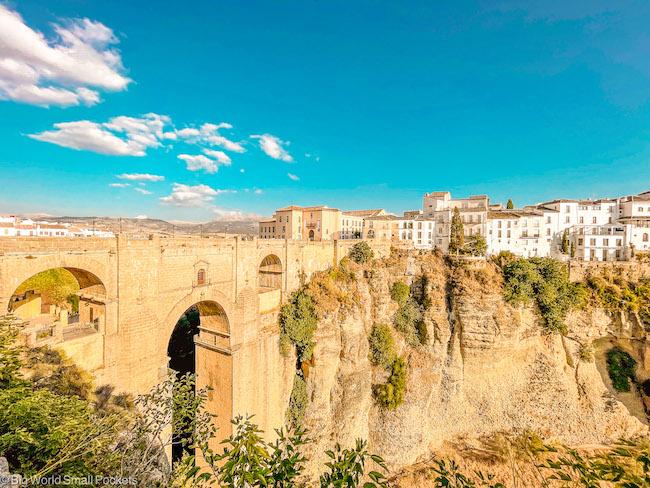 Why wouldn't you visit Ronda?!
That said, if you're looking for a more specific reason (and I can't blame you!), then I have to start by saying Ronda is a very pretty historic town set in gorgeous surrounds
This means no matter whether you want to road trip the courtside around – including the nearby Sierras, or want to go out hiking in some of Andalusia's most striking scenery, Ronda makes for the perfect base.
If you're tired of busier, bigger cities in the region too – cities such as Granada, Malaga or Seville – then Ronda also makes for a more relaxed and peaceful stay.
This is due to its smaller size and the fact that, even though it is a popular spot, there are fewer tourists in Ronda (many of the ones that are there will be Spanish) and it's a more relaxed Andalusian spot.
Ronda is also a great spot if you want to enjoy some typical food and drinks from this region, as well as view one of the most picturesque bridges in the country!
Oh yeah!
When to Visit Ronda?
In my opinion, the best time to visit Ronda is during the shoulder seasons of April, May and June or the months of September and October.
July and August are simply too hot in Andalusia (especially inland) – think high 30, or even 40 degrees – but the months either side of the peak summer are ideal.
Lower temperatures at this time, combined with blue skies and clear weather, make hiking and getting outdoors in and around Ronda ideal.
For me, the landscapes and scenery around Ronda are some of the city's best aspects, so you certainly want to choose visiting months in which it's possible to enjoy these aspects.
How to Get from Seville to Ronda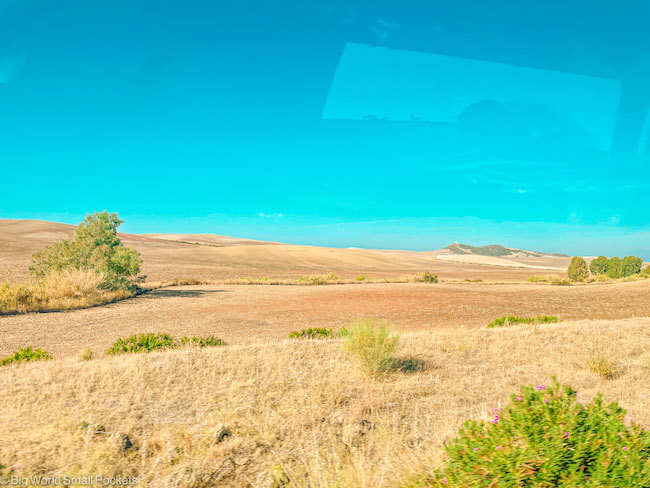 First up, I'm going to discuss how to get to Ronda from Seville, which is the capital of Andalusia and a major transport hub.
If you're arriving into this region by plane, train or bus, then it's likely you'll be arriving into Seville, so knowing how to get from this city to Rona is very useful.
First up, you can rent a car in Seville and drive to Ronda.
The distance between the 2 cities is 85km ad will take you just under 2 hours.
Having a car will give you lots of flexibility to explore the surrounds of Ronda too and perhaps explore other destinations within Andalusia afterwards.
As always I recommend using Thrifty Car Hire, who are a very reputable company that offer some great prices.
Alternatively, if you're rather not deal with the hassle or expense of renting a car, then you can take the train from Seville to Ronda.
Its's a real mixed bag when it comes to trains on this journey – with the shortest option taking around 3 and a half hours, and the longest taking up to 6 hours!
Also worth pointing out is that these journeys all involve at least one change in a place called Antequera – it's the connection time here that will be the major dictator of how long the overall journey is.
Starting from 30€, trains between Seville and Ronda can be cheap, but are a lot of hassle and time when you consider the journey time.
Probably a better option than the train therefore, is to take a bus, which costs much less at around 16€ and generally takes less time too.
You don't have to change when you take the bus from Seville to Ronda, i.e. there are direct options, and it can take as little as 2 hours!
As such, you might not be surprised to learn it was the bus that I opted for when travelling from Seville to Ronda.
For this journey, and throughout my time in Spain, I booked all my train and bus travel using Trainline.
I really like how they easily allow you to compare rail and coach options in English (including journey durations, times and prices), as well as allow for secure payment in multiple currencies.
You can then store your e-tickets using their handy app – so no need to mess around trying to find a printer when you are away or wasting time trying to collect tickets at stations – such a winner!
Check out prices and options for your travels in Andalusia using Trainline here.
Finally, if you want the most stress-free option, without any of the need to research, then a day trip from Seville to Ronda might be just the option for you.
In general, these day trips are long, full days, but do allow you to cover a lot of ground and see a lot of sights in a short period of time.
You also get the services of a guide, which means you really can delve deep into the history and culture of this region.
Here's a super private option that is definitely going to offer you an amazing experience.
Or else, join in with a cheaper group trip like this top-rated one.
Otherwise, if you want to spend longer in Ronda than just a day, but don't want to drive or catch public transport, there's also a private transfer option from Seville to Ronda too. Get prices and deets here.
How to Get to Ronda from Malaga
As I said in the intro, Ronda is situated between Seville and Malaga, which means the next most obvious choice when it comes to getting between these cities is to go from the beautiful coastal city of Malaga.
Actually, Malaga was a real surprise gem for me in Andalusia, but that's another story, the point is, don't be put off by Malaga if you think it's going to be an awful "Brits Abroad, Costa Del Brexit" spot… it's not!
It's much more edgy and vibey than that and definitely deserves at least a couple of days on your itinerary.
As such, if you're travelling from Seville to Malaga, you can actually hop on a transfer service that includes a stop in Ronda – how good is that!
This is a really easy way to cover a lot in one day, and involves almost no organisation from you, check out this top option if that appeals!
Otherwise, you can of course head to Malaga, drop your bags and enjoy this city and then arrange a day trip from there to Ronda, which is again wonderfully low on the organisation.
Check out this well-reviewed and affordable choice to learn more.
Otherwise, if you'd prefer a public transport option, there are trains and buses from Malaga to Ronda, that are quite affordable.
Trains prices start from around 17€ (although they do go up to around 60€), but are a bit of a mission, as they involve at least one change and take around 3 hours – not great for a day trip.
Once again therefore, I think the best option is to take a coach from Malaga to Ronda, and there are direct services taking under 2 hours in some cases and costing less than 15€.
This is the method I opted for and I found it very straightforward.
As always, I booked the journey through Trainline.
Or course, you can also drive from Malaga to Ronda too. This will involve you covering a distance of just over 100km and take around 1.5 hours.
If you do want to rent a vehicle, then check out Thrifty Car Hire for some of the best deals in Spain generally.
Otherwise Wiber Car Rental (who are based in Malaga specifically) offer some great prices too.
How to Get to Ronda from Granada
And last but not least, we come to how you can travel from the magnificent city of Granada to Ronda.
Granada is further away from Ronda than both Seville or Malaga, so options are more limited, but I thought I'd still include it here as it's a very popular destination in Andalusia and often people travel from there to other destinations in the region.
Given the distance, it isn't possible to day trip from Granada to Ronda, so you'll want to head there to stay at least one night or, in my opinion, two!
There's also no coach options either, which really means that unless you're renting a vehicle (which you can easily do in Granada by the way care of Thrifty Car Hire), the only option is the train.
The train station is a little way out of Granada (although not as far as the bus station!), but it's easy to get an Uber there from the city centre where you'll likely be staying.
Train journeys that take under 3 hours are possible to find for as little as 22€, but you will always have to change in Antequera Santa Ana.
Finding a journey with a good connection therefore is key and the best place to do that and book tickets is over at Trainline… of course!
How to Get Around Ronda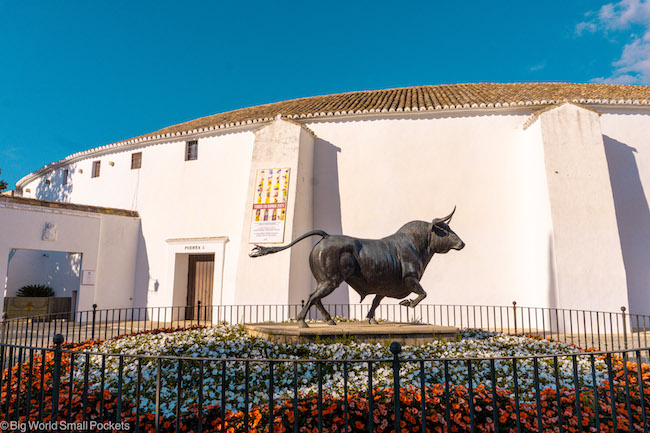 The centre of Ronda is really small, which means you can easily navigate it on 2 feet.
In fact, this is definitely the preferred option, as much of the centre is pedestrianised.
If you're wandering further afield, such as to the national parks around Ronda, or perhaps to some of the Pueblos Blancas (the pretty historic white villages dotted in the countryside near here), then you'll probably want to rent a vehicle.
Although Ronda has some rental options, you'll probably find the cheapest deals in some of the larger cities around such as Malaga or Seville.
How Long to Spend There
One day is really enough time to explore the centre of Ronda and to hike around the famous bridge.
However, I'd really recommend at least a couple of days in Ronda if you want to explore some of the surrounding countryside too.
Then, of course, you might just also want to chill out and laze around by a pool if your accommodation has one!
I definitely know I enjoyed doing this – the view we had was an added bonus!
Where to Stay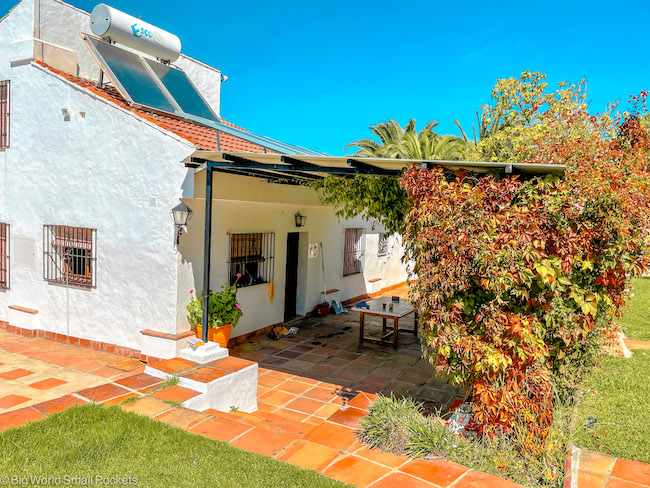 When it comes to budget accommodation in Ronda, you'll be hard-pressed to do better than the Hotel Andalusia Ronda.
Clean, comfortable, with great helpful staff and only a 1 minute to the centre, there's even free parking right nearby.
If you'd rather stay somewhere with a kitchen and self-catering options, then Apartamento Calle Nueva is hard to beat.
A 2-bed place offering incredible value for money, it gets top reviews thanks to its excellent location, spacious nature, great hosts and excellent homely comforts.
Packing Essentials for Ronda
Best Travel Insurance for Spain
I wouldn't dream of travelling anywhere these days without proper coverage and always recommend travel insurance from World Nomads which I've used during my time across Spain and the world.
World Nomads are actually one of the few companies that will insure you for a huge range of outdoor activities as standard – essential for a region like Andalusia.
Alternatively, if you're a long-term traveller, digital nomad or frequent remote worker looking for travel insurance with Covid-19 cover, then look no further than Safetywing's great Nomad Insurance policies.
These guys will cover you at some seriously great prices, including if you have to quarantine!
Where to Head After Ronda?
It goes without saying that Seville, Malaga and Granada, with its amazing Alhambra, all make good options to head for after Ronda.
Gibraltar is another option, as are the historic spots of Cadiz and Jerez de la Frontera.
And who can forget Córdoba – the former Islamic capital of this part of Spain – with its magnificent Mosque Church!
PIN IT TO PINTEREST!
So there you have it, my complete guide on how to get to Ronda from Seville, Malaga and Granada.
And tell me, have you visited Ronda?
How did you get there?
Let me know any info in the comments box below…