It's the reason most people visit Granada, infact it's the reason many people visit the region of Andalusia and it can be a reason many people even visit Spain.
Yes the mighty UNESCO-listed Alhambra is an icon lots of us have on our travel bucket list and I'm happy to confirm it's every bit as amazing as I imagined!
But buying Alhambra tickets and getting top information to help plan your visit here can be hard.
Between knowing what sort of tickets to buy, where to buy them, whether to opt for a tour and what time of day to visit the Alhambra, there's a lot of key information you need to know to ensure the best visit here.
And sadly, I found most of this info either missing or misleading or both (!) when I was researching my trip.
Which is exactly why I've put together this ultimate guide to buying your Alhambra tickets, plus my other tops tips for your time at this incredible Spanish icon.
It's the only guide you'll need to fully plan your Alhambra visit, so let's get stuck in…
---
Related Posts
---
This page contains affiliate links meaning Big World Small Pockets may receive a small commission on any purchases at no extra cost to you.
---
Why Visit the Alhambra?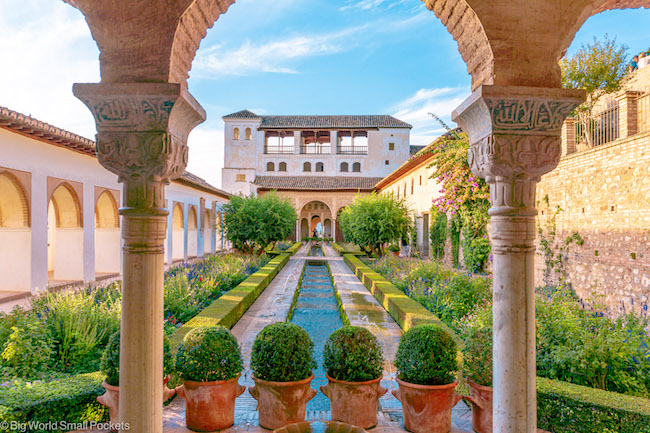 An ancient palace and fortress built during the rule of the famous Nasrid Empire, this huge Moorish complex sprawls across a hilltop that towers over the city of Granada in Andalusia, Spain.
Comprised of 3 parts – the Nasrid Palaces, the Alcazaba and the Generalife Gardens – the earliest parts of the Alhambra date back to the 13th century.
UNESCO-listed with stunning architecture and scenery, this is Granada's most popular tourist attraction and a key icon across both the region and the country.
You could easily spend the best part of a day exploring all the areas of this site (which I go into later in this article) and, as the Alhambra is open all year round, you really do have a huge amount of choice about when you visit.
Just beware the crowds can be dense at the Alhambra, but don't let that put you off.
As a huge bucket list treat, this is a travel must when you visit Andalusia and certainly the best thing to do when you visit Granada.
A historical gem, a cultural icon, a glorious spot over Granada and a beautiful peaceful place to soak in a former regal ambience, visiting the Alhambra is something you can't miss.
Alhambra Tickets: By Access Types
So now that I've convinced you to visit the Alhambra, the next step is to talk about buying your Alhambra tickets.
Because as I mentioned in the introduction, this can be a complex business!
Especially confusing is the fact that there's so many different sorts of Alhambra tickets and no clear overview guide that gives clear information about them and how they compare… or not one that I could find anyway!
Which is why I've decided to start by breaking down the different types of Alhambra tickets, firstly in terms of access.
So kicking off, it pays to know that out of the 3 different sections of the Alhambra I outlined above (the Nasrid Palaces, the Alcazaba and the Generalife Gardens), you can get tickets that include access to all 3 of these areas, as well as tickets that include access to just 2 of them.
In very simple terms, this means you can buy Alhambra tickets that grant you access to the Nasrid Palaces, the Alcazaba and the Generalife Gardens or you can buy you tickets that just grant you access to the Alcazaba and the Generalife Gardens (and not the Nasrid Palaces).
Tickets that include entrance to the Nasrid Palaces have a timed element, because access to this area has to be booked within a time set slot.
Entrance to other parts of the Alhambra site – the Alcazaba and the Generalife Gardens – do not have timed entry.
Almost any ticket you get that includes some form of tour in or to the Alhambra, will likely be a ticket that grants to entrance to all 3 areas, and that's because the main place to be guided in this large complex is the Nasrid Palaces.
There are a few odd exceptions of guided tours that don't include the Palaces (more on this later) but, in general, most tickets that only include access to the Alcazaba and the Generalife Gardens are just entrance tickets and generally don't include any form of guide.
Personally, I highly advise choosing a ticket that includes access to all 3 areas of the Alhambra – when you've come this far to visit such an icon, you certainly don't want to miss out on any part of it – namely the Nasrid Palace – so don't!
What Time Should You Book For?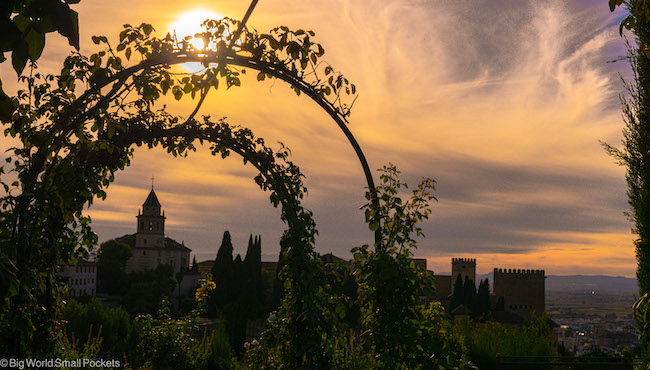 So now we know that, if your ticket to the Alhambra includes entrance to the Nasrid Palaces, you need to select an entrance time.
Just to be clear, this is not the time you're allowed to enter the Alhambra site, it's the time you're allowed to enter the Nasrid Palaces, which are about a 15 minute walk from the main entrance point.
Either before or after you visit the Nasrid Palaces, you can visit the Alcazaba and the Generalife Gardens, whenever you like, on the specified day of your ticket.
You can also spend as long as you like in the Nasrid Palaces, but you just need to enter them within the specified timeslot on your ticket.
But what time to pick?
As timeslots are available from the opening until an hour before the closing of the Alhambra, it's hard to know when the best time to visit the Nasrid Palaces is.
However, having visited the Alhambra myself now, I really think that visiting in the afternoon is a great option.
You really need around 4-6 hours to view the whole Alhambra site and, if you can be here at the end of the day (until the site closes), you can enjoy golden hour and sunset views here and over the whole of Granada.
If this sounds like a good option to you, then I recommend starting your visit with the Nasrid Palaces at around 1 or 2pm. This will allow you a good amount of time to spend at the Palaces and then a good amount of time to visit the Alcazaba and the Generalife Gardens afterwards too.
Because I'm very happy to confirm the golden hour views over Granada were on-point from both the Alcazaba and the Generalife Gardens in the late afternoon… and there were less crowds too.
You can also visit the Alhambra at night, which is certainly a magical experience too.
Alhambra Tickets: By Tour Type
Which brings me to my next point, namely that not only are there different sorts of tickets for the different areas of the Alhambra, but there's also different levels of tickets too.
The basic ticket – whether it's for all 3 areas of the Alhambra, or just 2 – is just an entrance ticket. This will grant you access to the site, but doesn't include any sort of guide or commentary. It's worth noting at this point that you do not need a guide to enter the Nasrid Palaces, you can go unaccompanied.
The next level up is an audio guide ticket. These sort of tickets offer just what they say on the tin – entrance to specified areas of the Alhambra plus an audio guide – a headset pack that you'll pick up at the entrance. Most of the audio tour tickets out there include entrance to all 3 areas of the Alhambra.
However there are also some that are cheaper because they don't include the Nasrid Palaces.
And finally, we come to full guided tours. This is when a professional guide accompanies you on your visit, to explain much more about what you're looking at when you're visiting. Tours prices include entrance tickets which, as I mentioned above, generally include access to all 3 areas, but can exclude the Nasrid Palaces if you're looking for a cheaper option.
Group size (small, large or private tours) are something else to consider when looking at guided tour Alhambra tickets, as well as whether transport is included or you'll meet your guide at the entrance to the site.
Should You Take a Tour?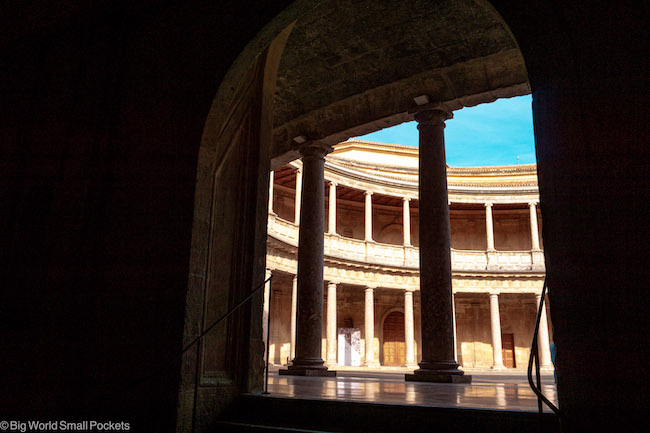 This is really down to you and is about balancing your desire to learn lots about the Alhambra vs how much independence and freedom you want to explore the site.
The middle option is the Audio Guide here, but of course, this costs more than a simple entrance ticket, so it depends how large your budget is.
Personally, I took an unguided tour around the Alhambra.
Firstly this was because I'm a budget traveller, but also because I really wanted the freedom to explore the site at my own pace and not have to worry about wandering around with a large group.
This was my choice, and I was very happy with it, but I do understand that if you really want to learn more about the historical and cultural significance of a site that some form of guide is definitely a good idea for you.
When to Book Tickets?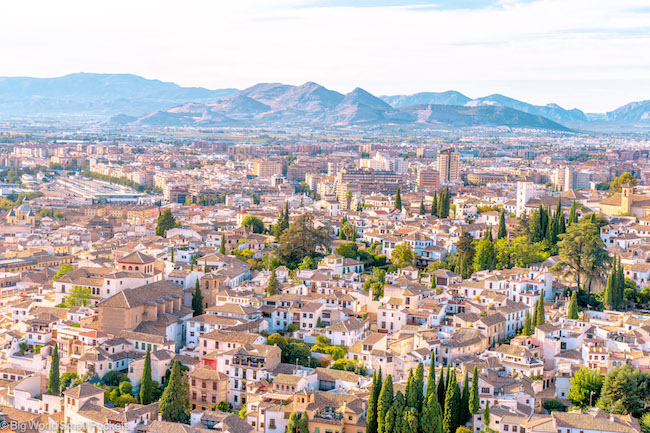 There's no question, the Alhambra can get really busy and as such, I advise booking tickets as far in advance as possible.
This generally means you'll be booking tickets online, which is easy to do.
Even though I visited the Alhambra in Granada during covid-times, which thankfully meant the crowds were a lot less, I still booked my ticket a couple of weeks in advance and I suggest you do the same.
Best Way to Buy Alhambra Tickets
And the way I bought my tickets online was through GetMyGuide.
I found their range of tickets great and I really liked how each option was clearly explained in English and I could pay in a foreign currency i.e. not euros.
I could have booked my Alhambra tickets direct through the official website of this UNESCO site, but honestly, I found it totally overwhelming and confusing. I couldn't work out what each sort of ticket allowed you to do and what was included where and so I gave up!
For a minimal booking fee, I found GetYourGuide much easier to navigate, use and book through and that's why I recommend them to other visitors too.
And here, to make it even more simple, is my list of the top Alhambra tickets depending on what type of access and tour level you're looking for:
And now we to come to my other top 5 tips for visiting the Alhambra…
#1 What to Wear at the Alhambra?
The most important thing to wear to the Alhambra is comfortable shoes as there's lots of walking within this site.
You're also likely to want a sunhat and clothing that covers your shoulders to protect you from the heat and UV rays you'll be exposed to, especially if you visit during the warmer months of May through October.
#2 How to Get There?
You can get a bus or taxi up the Alhambra entrance, or enjoy walking there.
The walk up to the entrance from the city centre of Granada is uphill and steep, so be prepared, but I rather enjoyed it!
A reminder that it's then about a 15 minute walk from the main entrance to the Nasrid Palace entrance.
If you are taking a tour, remember to check to see if it includes a transport transfer.
If you're taking a day trip from elsewhere in Andalusia to the Alhambra, it will almost certainly include transport direct to the entrance.
#3 Key Items to Bring With You
Don't forget sunscreen when you visit the Alhambra, as well as a good camera, like this Sony A6400.
Water and snacks are also a good idea to keep you fuelled through a long sightseeing experience.
And having a good daypack, like this one, to carry everything easily with you is also a great option.
But the most important thing to bring is personal ID, such as a passport – you'll need this to get into the site even if you have your ticket already.
#4 Facilities at the Alhambra
Brilliantly, there are lots of information people around the Alhambra site to help if you get lost or need to ask any questions. They all speak English
There's also locker facilities if you need to store any bags and plenty of toilets you can stop by and refresh at.
There's also several cafes if you need to refuel and souvenir shops if you want to stock up on memorabilia.
#5 What to Expect From Your Visit
Visiting the Alhambra can be a long, hot tiring, sightseeing day, but it's certainly worth it!
Just be prepared for crowds, hot conditions and lots of walking… and you'll be fine.
Take time to rest and refuel when you need and don't rush – technically you have all day at the site if you wish.
Be patient when taking photos to avoid others getting in your shot and do a bit of research beforehand about the history of the site to ensure you know a little about what you are witnessing.
How to Travel to Granada?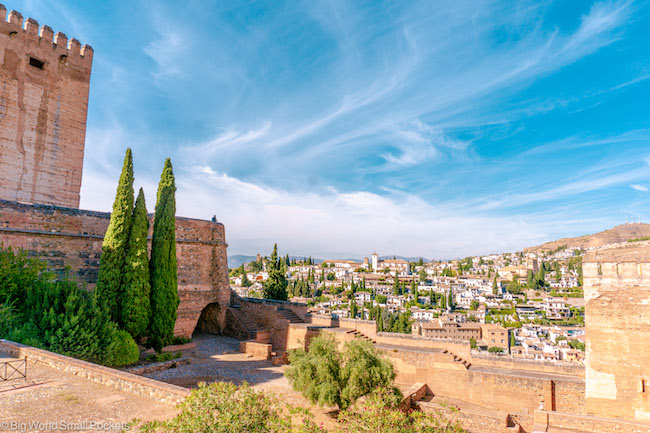 Granada has both a bus and train station, with regular arrivals from around Andalusia and Spain. The train station is closer to the centre, but buses tend to be a cheaper way to get here.
From either the train or the bus station, it's best to take a taxi to the city centre – Uber drivers cannot go into the historic centre. Fares should cost around 7€.
Travelling in the other direction, from the centre to the stations, there's a taxi rank in Plaza Nueva.
I highly recommend Trainline for booking train and bus journeys to Granada, as they make it easy, quick and simple to compare hundreds of rail and coach journeys to the city from across Spain.
There's also a small domestic airport just outside Granada with regular flights from Barcelona and Madrid and, as always, I suggest Skyscanner for the job!
Alternatively, if you're coming from Malaga to Granada, check out my full post about how best to make this journey here.
When to Visit Granada?
No question in my mind that the best time to visit Granada (and Andalusia in general) is during the months of April through June, plus September and October.
This is when the warm weather will allow you to take full advantage of the city's beauty at its best, but you won't be wilting in the summer heat, which regularly sees temperatures in Granada rising to 40+ degrees.
I've visited Granada in September and October and find the climate during these months ideal for sightseeing.
How Long to Visit Granada For?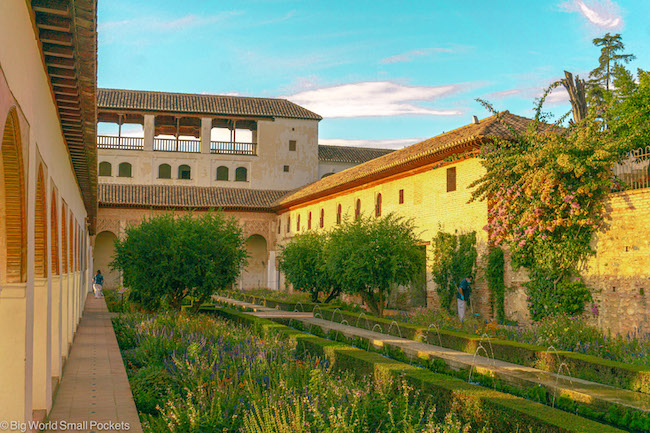 Most people visit Granada for 2-5 nights.
It's a small city and you can certainly cover many of the sights in this time, plus enjoy some day trips too.
Where to Stay in Granada?
Travel Insurance for Spain
World Nomads offers simple and flexible travel insurance. Buy at home or while travelling and claim online from anywhere in the world.
Alternatively, if you're a long-term traveller, digital nomad or frequent remote worker seeking travel health cover, check out Safetywing's Nomad Insurance policies.
Where to Travel After Granada?
If you still have time for more travelling after Granada (and lucky you if so!) then you may want to head to Ronda, Malaga, Cordoba or Seville – all top destinations within Andalusia that can easily be reached either via driving or via public transport from Granada.
Check out these articles for some inspiration…
PIN IT TO PINTEREST!
So there you have it folks, my complete guide to buying your Alhambra tickets and the best way of doing just that.
And tell me, have you visited the Alhambra?
Which tickets did you go for?
Any tips you can give to fellow travellers would be gratefully received!
Just drop them into the comments below…