The amazing city of Granada is an absolute must on any Andalusian itinerary.
In fact, it's a must on any Spanish itinerary full stop!
And this article is going to bring you all the top things to do there.
Yes, the historic city of Granada is a real treat and, not only is it a top city, but it's also one of the cheapest cities in Spain too (hellooooo budget travellers!), packed with epic things to enjoy for the foodies, culture vultures, hiking hounds and history heads among you.
Granada is also just a great place to chill out, get safely lost, use as a base to visit the Alhambra or Sierra Nevada, and generally soak up the mega bueno vibes that are Andalusia.
So if this sounds like a good idea to you (and quite frankly who doesn't fall into this category?!), then here's my list of the top 10 things to do in Granada – it's the only guide you'll need to having the best time here!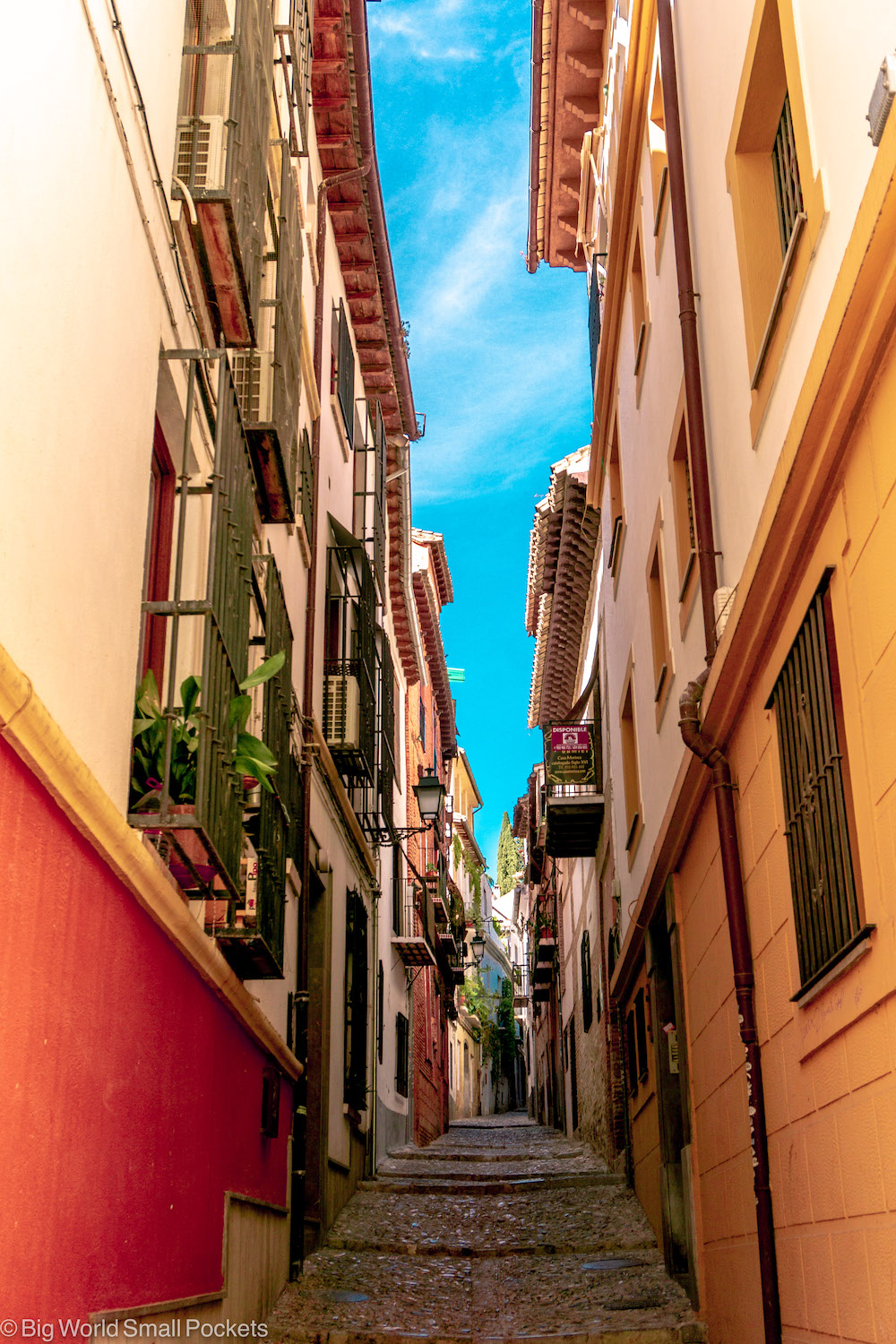 ---
Related Posts
---
This page contains affiliate links meaning Big World Small Pockets may receive a small commission on any purchases at no extra cost to you.
---
#1 Visit the Alhambra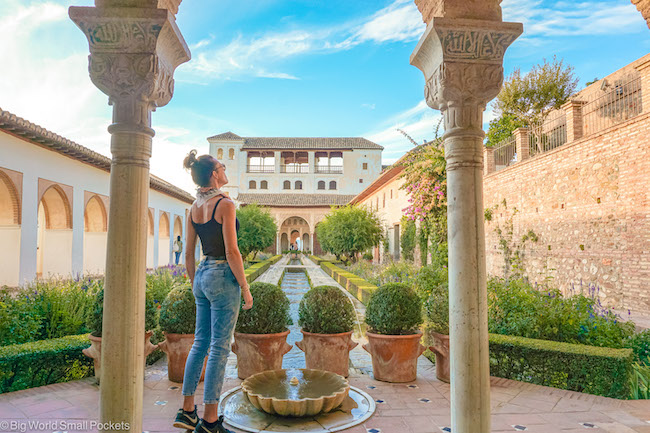 The jewel in the Granada crown (literally!), the Alhambra is an absolute must-visit on your list of the top things to do in Granada.
UNESCO-listed, world-famous, ancient and stunning, this is a huge bucket list tick and is indeed the reason most people visit Granada full stop.
The Alhambra sits on a hill above the centre of the city and there's actually 3 parts to this huge Moorish structure – the Palaces, the Alcazaba and the Gardens.
All are worth seeing and can be accessed with a single ticket, so this really is a place you need to spend the best part of a whole day exploring.
Buying tickets, knowing where to go, how to get there and what to see – plus all the different ways of doing this – can be very confusing however, or at least I found it to be!
So, for your one-stop, easy guide to buying Alhambra tickets and getting the best from your visit there, check out this ultimate Alhambra guide I wrote all about doing just that!
#2 Head to Sacromonte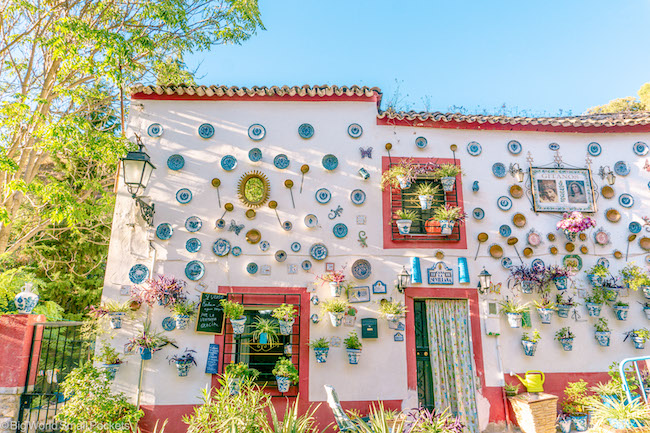 And another one of the must-do things in Granada, which actually lies outside of the centre too, is head to the hilltop area of Sacromonte – a traditional neighbourhood situated east of the city.
Famous for its cave dwellings, where some people actually still live, there's a great museum (get your tickets here) where you can learn more about the fascinating history of this area, as well as its residents.
Sacromonte has now become a rather touristy area, but it's still possible to get away from the crowds by continuing on further up the hill and deeper into the countryside.
There's a famed eco pizza place here that's well worth discovering deep in the caves, but if that seems a little too remote for you, then heading at least as far as the church at the top of the main road – Abadia del Sacromonte – is a great idea.
As you wander the grounds of this Abbey and stare across the valley, you can still see some cave houses buried in the mountain with small tracks leading to them.
You also don't want to miss the amazing sunset view you'll get from up here too – it's delightful crowd-free compared to many of the other miradors closer to town.
Once the day is done, you can easily walk back to the centre Granada in around half an hour, or catch the number 34 bus back to Plaza Nueva.
#3 Watch a Flamenco Show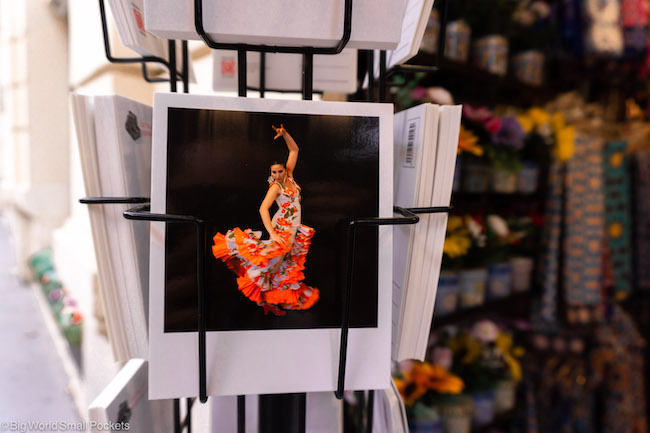 But if you're not ready for the fun in Sacromonte to end just yet, then walking down from the abbey will bring you back to the area by the museum where, at night, there are tons of flamenco shows, in caves, for you to view.
Flamenco traditionally comes from Andalusia, so seeing at least 1 incredible display of this culturally unique and mind-blowing Spanish dance is a must during your time here.
Tickets usually cost around 20€, but can be more if they include food – it's best to opt for those that don't include a meal if you're on a budget therefore.
After all, there's no shortage of other great places to eat in Granada if you'd rather shop around!
Check out this top-rated flamenco show you can buy well-priced tickets for in advance.
#4 Eat All the Tapas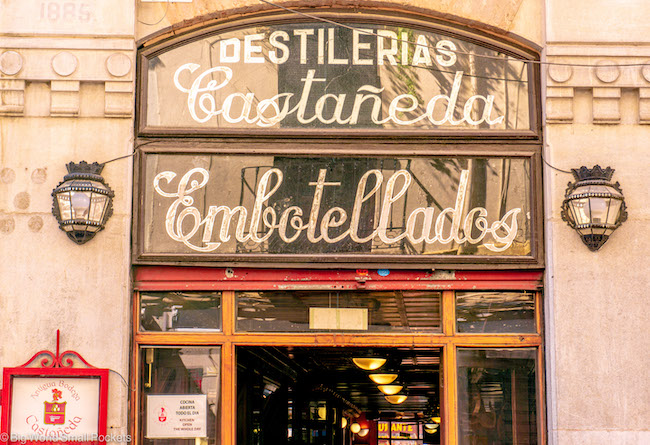 And talking about eating, there's no way I could get through this list of the best things to do in Granada and not mention tapas!
Yes thought to be the home of tapas, Granada is the place to get involved, if you haven't already in Spain.
And even if you have, you should eat more in Granada because it's rumoured to be the best and the cheapest in the country!
Because yes, believe it or not, a lot of tapas in Granada is free! Simply order a caña (a small glass of Spanish beer, usually Estrella) at just about any bar after 4pm and you'll get the tapas bought to you for nothing… oh hello!
Otherwise, if you really want to dig deep into the tapas vibes here and the food scene generally in Granada, check out this top-rated walking food tour, which includes the chance to sample traditional dishes, mountain-cured ham and regional artisanal wine.
It's probs not one for us veggies, but meat-eaters rave about it!
#5 Enjoy a Sightseeing Tour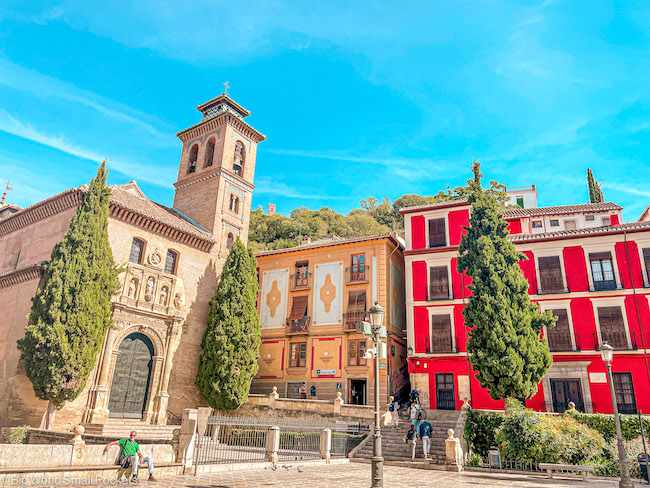 And talking of walking tours, taking a guided stroll around Granada is absolutely one of the top things to experience in this city.
From great sunset or mystery and legend walking tours, right through to Segway tours and even a tour on electric bikes, there's plenty of options to choose from here depending on how active you are feeling!
All those I mention above take around a few hours and start from around 13€.
Otherwise, for a full day option, this offering will take you to the Alhambra, Albayzin and Sacromonte (largely on foot) and is a great way to cover a lot of ground in a succinct way and with the knowledge of an expert guide.
Whichever kind of guided tour you opt for however, enjoying at least some sightseeing in Granada in this way offers a superb opportunity to learn more about the history, architecture and culture of this highly unique city.
Afterwards, don't miss the new town in Granada, aka Realejo, for some great street art and shopping, or browse more traditional handicrafts in the Alcaiceria area too.
#6 Check out the Cathedral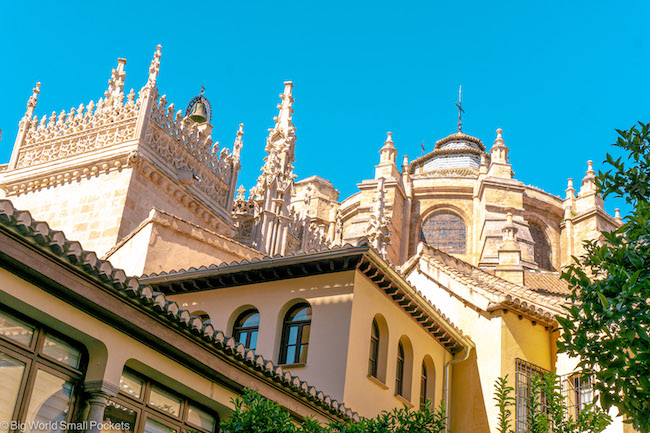 And if you don't see it as part of a guided tour, then this is definitely a must for your time in Granada.
Yes the city's grand Cathedral is probably the centre's number one icon and taking some time to admire its beautiful structure, as well as visit inside is a must.
It dates back to the sixteenth century and sits at the heart of was once the Muslim Medina here.
Tickets can be bought at the nearby ticket office, but there's often massive lines, so I highly recommend getting yours in advance.
This super option also includes entrance to the Royal Chapel, located nearby, as well as the Arabic Baths – another historic Granada site.
I like the fact that it offers the ability to skip-the-line… after all, what you don't need in the roasting Andalusian sun is to be stood outside in a queue!
#7 Stroll the Carrera del Darro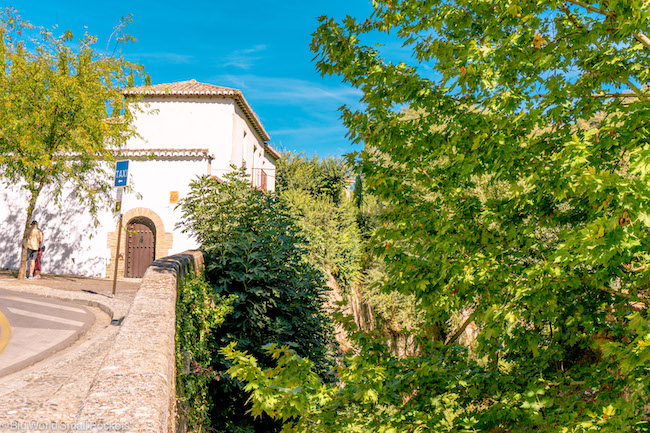 And now, after all that sightseeing, it's probably time to unwind with some gentle strolling and some people-watching.
Plaza Nueva is a big hub of action and is a lovely place to grab a drink or a snack and take in the street performers.
Otherwise, for something quieter, I found the lovely Carrera del Darro hard to beat.
The street that runs along the river here (you'll walk it if you head to the Alhambra or Sacromonte on 2 feet), there's some fun cafes situated here, as well as lovely views to take in along this very picturesque cobbled area.
#8 Wander to Albaycín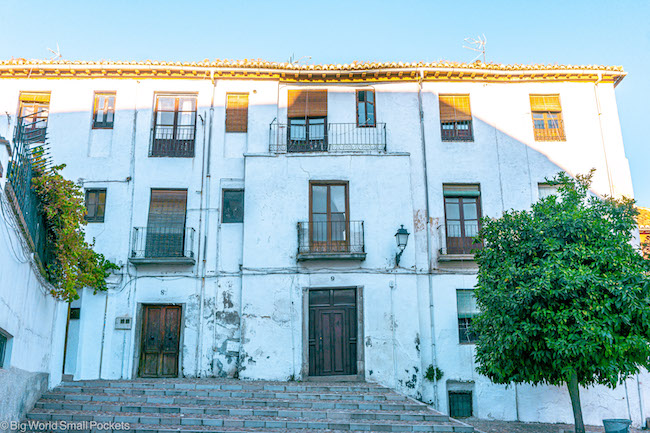 One of the oldest parts of Granada, again set on a hill above the valley (spot the trend here!), this charming historic area is well worth a stroll around.
It's best to go on foot to explore the beautiful cobbled streets and the famous white-washed houses of this area, including some great souvenir shops along and near Elvira Street.
And probably the best time to come to this pretty and insta-worthy place is towards the end of the day.
Not only is this so you don't have to manage the uphill walk in the midday heat, but also because this elevated area has some great lookout spots (known as miradors in Spanish) to take in the stunning sunsets Granada is famous for.
My fav had to be the Mirador de San Nicolas, even though it's pretty crowded.
Mirador de San Miguel, close to Sacromonte, is also a winner!
#9 Day Trip to La Alpujarra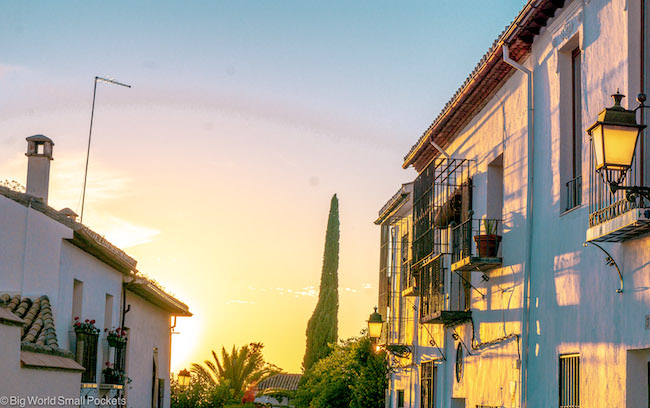 And now we move to some of the best things to do around Granada – some great day trips that you should definitely enjoy if you're in this city for more than a couple of days.
First up, it's a trip to La Aplujarra – one of the gorgeous mountain villages that lies in the countryside around Granada.
One of Spain's highest villages, if you don't have a car, it's easiest to take an organised day trip here, which will also include stops at some of the other trad villages in the area including Lanjarón, Orgiva, Trevélez, Capileira.
Learn about how life has been lived out in these elevated settlements for generations, snap the typical white-washed houses, eat classic regional food and revel in the breathtaking scenery!
#10 Go Hiking or Biking in the Sierra Nevada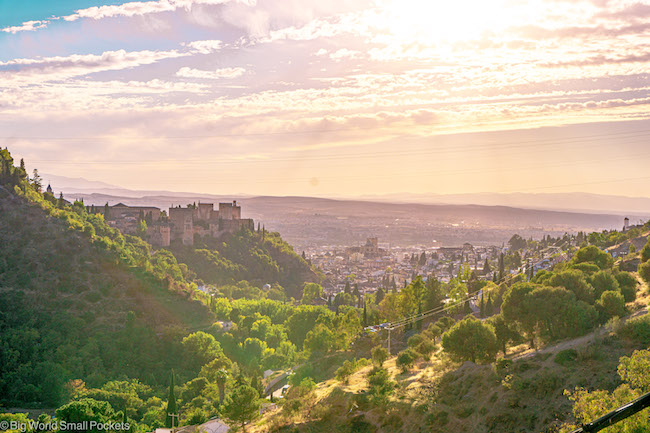 And last but not least, this is another top thing to do in Granada for all you mountain lovers.
Yes, Granada sits at the foothills of the beautiful Sierra Nevada National Park and getting out into nature here to enjoy walking some of its stunning trails and taking in some of its amazing views, makes a trip here a real winner!
With hundreds of endemic flora and fauna species, not to mention a fascinating history – the area was the frontline of the Spanish civil war – this region will have you heading up to 2,600m to take in some wonderful fresh air.
Check out this guided day trip or this E-bike adventure for 2 great Sierra Nevada day trip options.
How to Get to Granada?
Granada has both a bus and train station, with regular arrivals from around Andalusia and Spain.
The train station is closer to the centre, but buses tend to be a cheaper way to get here.
From either the train or the bus station, it's best to take a taxi to the city centre – fared should cost around 7€. It's worth noting that Uber drivers cannot go into the historic centre.
Travelling in the other direction, from the centre to the stations, there's a taxi rank in Plaza Nueva.
I highly recommend Trainline for booking your train and bus journeys to Granada, as they make it easy, quick and simple to compare hundreds of rail and coach journeys to the city from across Spain.
There's also a small domestic airport just outside Granada with regular flights from Barcelona and Madrid and, as always, I suggest Skyscanner for the best ticket deals!
Alternatively, if you're coming from Malaga to Granada, check out my full post about how best to make this journey here.
When to Visit Granada?
No question in my mind that the best time to visit Granada (and Andalusia in general) is during the months of April through June, plus September and October.
This is when the warm weather will allow you to take full advantage of the city's beauty best, but you won't be wilting in the summer heat, which regularly sees temperatures in Granada rising to 40+ degrees.
I've visited Granada in September and October and find the climate at this time ideal for sightseeing.
How Long to Visit Granada For?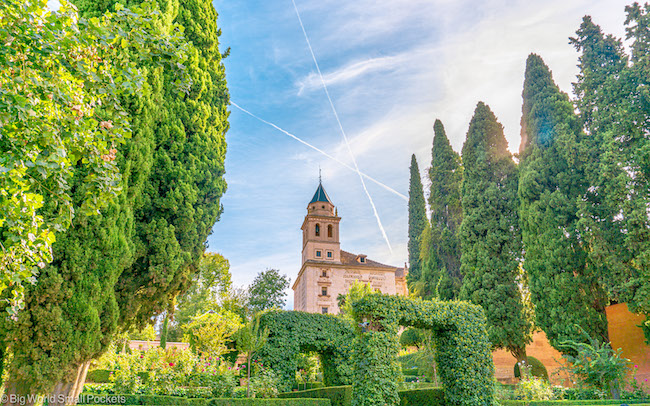 Most people visit Granada for 3-5 nights.
It's a small city and you can certainly cover many of the sights in this time, plus enjoy some day trips too.
5 Packing Essentials for Granada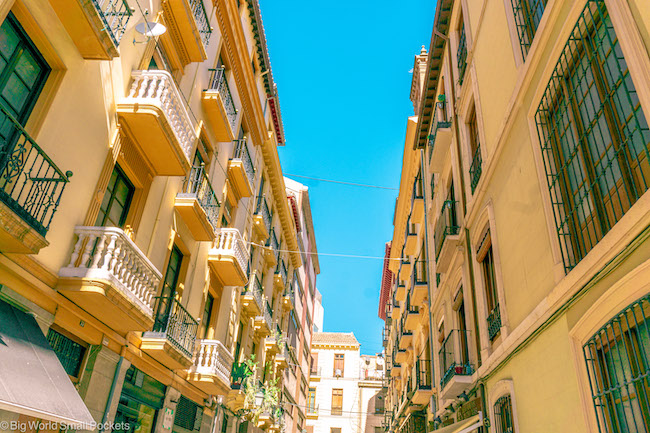 Where to Stay in Granada?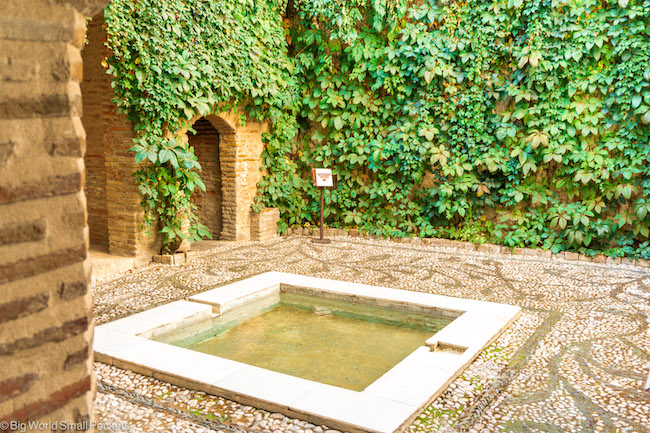 Travel Insurance for Spain
World Nomads offers simple and flexible travel insurance. Buy at home or while travelling and claim online from anywhere in the world.
Alternatively, if you're a long-term traveller, digital nomad or frequent remote worker seeking travel health cover, check out Safetywing's Nomad Insurance policies.
Where To Travel After Granada?
If you still have time for more travelling after Granada (and lucky you if so), then you may want to head to Ronda, Malaga, Cordoba or Seville – all top destinations within Andalusia that can easily be reached either via driving or via public transport from Granada.
Check out these articles for some inspiration…
PIN IT TO PINTEREST!
So there you have it folks, my top list of the top 10 things to do in Granada, Spain.
Tell me, which is your fav on this list?
Or do you have another top Granada place to visit?
Just drop it into the comments below if so…