Let's be real from the off here, seeing Spain in 1 week is not an easy task, there's so just many amazing places to visit in this country, so many varied things to see and do and so much food and amazing wine to drink, that cramming it all into a week is always going to mean some amazing things do get left off the menu!
But, let's also be clear, this is not an opportunity for despondency!
Quite the opposite!
Instead, you have a whole 7 days to soak in the flavours and feelings that make up a country as wonderful as Spain and we definitely want to make the best of this.
Which is exactly what this article is all about!
Your one-stop guide to visiting Spain in a week, this article condenses down all the best elements of travel in this country into an amazing itinerary that will provide one heck of a sensational experience!
So why wait any longer?
Let's get cracking and show you exactly how to make the best of your 7 days in the magic that is Spain…
---
Related Posts
---
This page contains affiliate links meaning Big World Small Pockets may receive a small commission on any purchases at no extra cost to you.
---
Day 1 & 2: Barcelona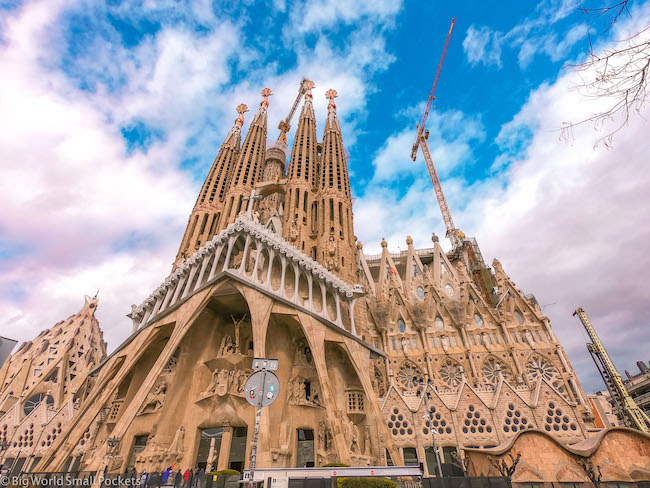 Recommended Places to Stay in Barcelona…
Budget Hostel: Hostel Felipe 2
Apartment: Casa Camper Barcelona
Affordable Hotel: Occidental Barcelona 1929
It's time to kick off your week in Spain and what better place than the amazing city of Barcelona!
Full of Gaudi charm, an electric atmosphere, strong cultural identity and a beach at its doorstep, this is a wonderful destination for instantly giving you an irresistible sense of what Spain has to offer.
On day 1, arrive in Barcelona and then consider a walking tour or eBike tour around the city centre to orientate yourself and get a sense of the history and heritage in these timeworn streets.
In the afternoon, you'll want to get your Gaudi on!
Start with a visit to the, as yet still unfinished, Sagrada Familia and make sure you book your tickets in advance to avoid the queues and wasting time.
After this, it's onwards to the amazing Parc Guell, which I again recommend booking tickets for ahead of time to make sure you get the most from the experience.
Finish off with an evening in either the vibey district of Gracia around Parc Güell to enjoy the amazing bars and restaurants, or head to the cafes and bars of the El Born district.
Learn more about the best way to spend one day in Barcelona in this post I wrote all about how to get the best time from just 24hrs in this city.
On day 2 in Barcelona, it's time to enjoy an amazing day trip – there's so much to see around Barcelona that you can't miss this one.
Depending what sort of activities you're into and how you're feeling, I'm going to give you a choice of day trips here to provide a bit of flexibility, so just pick the one you fancy the most and enjoy.
First up, there's the beach – easy to reach via public transport, spend your time relaxing on the sand and enjoy the sea – 2 of the best things Spain offers in my opinion!
However, if you're looking for some more cultural-historic activities, a spot of hiking or a few nature vibes, then consider these top options, which are definitely firm favourites:
Head back to Barcelona and try to get a good night's sleep – you've got an early start on day 3!
Day 3: Valencia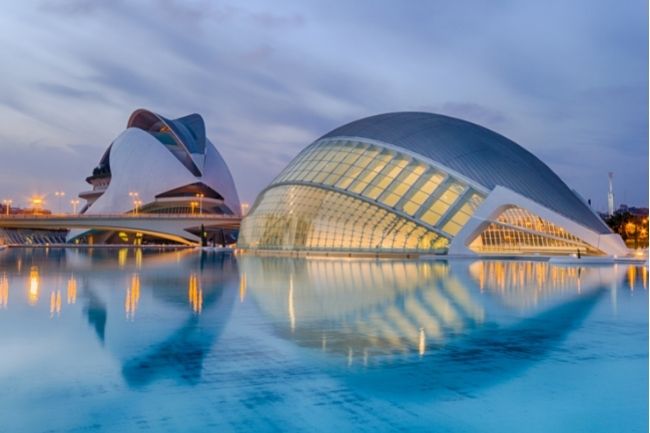 Recommended Places to Stay in Valencia…
Budget Hostel: Hostal Antigua Morellana
Apartment: Feten
Affordable Hotel: Cosmo Hotel Boutique
Starting as early as 7:15am, there are regular direct trains from Barcelona to Valencia, which is definitely the easiest, and also a very cost-effective way to get between these 2 cities.
The journey takes under 3 hours on the quickest service and you can pick up tickets for as little as 25€ if you book in advance. As always I recommend Trainline for this job!
It might be tempting to sleep in, but really, the earlier the train you catch from Barcelona (the 8:15am is a quick and good option that gets you in before 11am), the earlier you'll arrive in Valencia and be able to enjoy this city.
After all, you've only got a day here and you can always catch a few zzz's on the train!
Arrive in Valencia and dump your bags (you may not be able to check-in if you arrive this early) before heading out to see this beautiful and fun city famed for its mix of architectural styles.
Booking a walking, segway or bike tour is an easy and efficient way to see a lot of this city and to learn about its history – there's so many churches, squares, towers, museums and fab markets here you could go to town!
Valencia is a lot less touristy than Barcelona, which makes it a nice second stop, and there's plenty of amazingly authentic food and wine options too you should definitely get involved with!
On top of that, you can also hit the city beach if you fancy relaxing for a few hours, or why not head up in a hot air balloon and see the city from above!
Day 4: Madrid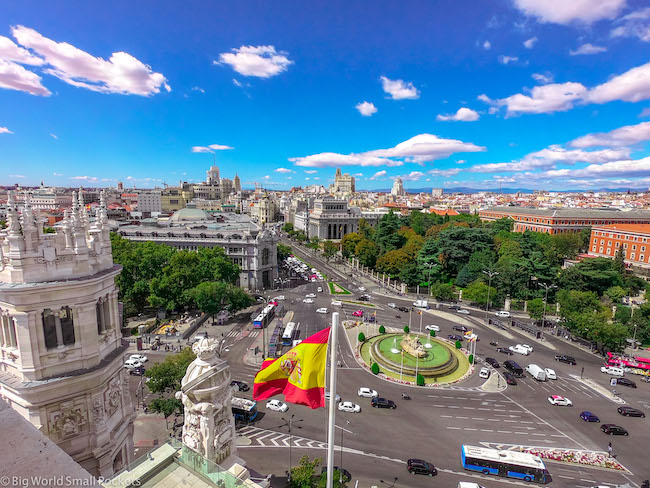 Recommended Places to Stay in Madrid…
Budget Hostel: Hostel Delfina
Apartment: Arenal Suites Gran Via
Affordable Hotel: Woohoo Rooms Fuencarral
Gosh we really are rattling through things here aren't we! But honestly, if you want to see Spain in a week, there's no better way to go about it!
After your fab night in Valencia, it's time to hop on a train to Madrid.
Again, I suggest an early start so you can make the most of your time in Spain's capital.
There are many direct services between the 2 cities and the quickest takes under 2 hours, meaning if you leave Valencia around 9:30, you can be in Madrid for lunch! Book your rail tickets ahead of time (to get the best fares) using Trainline.
Although Spain's capital Madrid is filled with a huge number of tourist attractions, it is easy to visit in a day if you put your mind to it!
Don't miss the famous Prado Museum or a stroll through the beautiful nearby botanic gardens (Real Jardin Botanico), which make up a part of the huge El Retrio Park.
The Palacio de Cristal and lake of this park are also must-sees, before you head on to Puerta De Alcala for some iconic Madrid snaps from the CentroCentro building, which has a fabulous observation deck for great city views.
Then it's over to the west of the city to take in the foodie heavens of Mercado de la Cebada and Mercado de San Miguel, plus the main square of Plaza Major and the Cathedral de la Almudena.
Finish up your time in Madrid at the Royal Palace – book your skip-the-line tickets here – before heading to the Temple de Debod for sunset, where the elevated views will give a great perspective across the capital.
When it comes to dinner, the more casual Lavapies district is filled with fun streetside, casual bars, or else play it more mainstream along the street of Calle de la Cava Baja, or the Malasana district and Plaza Santa Ana.
If you have any longer time to spend in Madrid, check out my ideal 2 day itinerary for the city, which will give you even more inspiration about how to spend your time here.
Day 5: Seville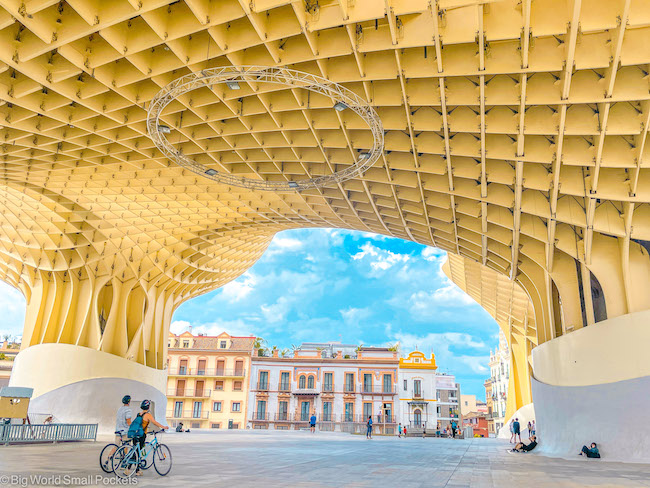 Recommended Places to Stay in Seville…
Budget Hostel: Room007 Salvador Hostel
Apartment: ON Suites Sevilla Apartments
Affordable Hotel: H10 Casa de la Plata
I'm hoping you've got a lot of energy because after a day of the capital it's time to head on again, this time to another iconic Spanish city.
Yes on day 5 of your 1 week in Spain, we're finally making it to the southern region of Andalusia, probably my favourite in the whole country!
Famed for its mix of cultural influences, given its Moorish and Catholic heritage, you're almost in North Africa here and you'll feel it in the warmth of both the temperature and the people!
The capital of the region is the gorgeous Seville – an elegant and historic city that is definitely worth exploring.
Check out my list of the top 19 things to do in Seville for the full lowdown about my fav spots in this city, but safe to say you can't miss the huge Cathedral here, the Giralda Tower, the Triana District or the Setas de Sevilla.
Oh and the evenings in Seville are all about grabbing a flamenco show – this is the home of the traditional Spanish dance after all! Check out this top-rated option for more inspo.
To get to Seville from Madrid, a train is again the best option. Book a speedy direct service through Trainline and you'll be in your next destination in under 3 hours – there's an 8am service that's a good option and will cost around 35€ if booked in advance.
Day 6: Granada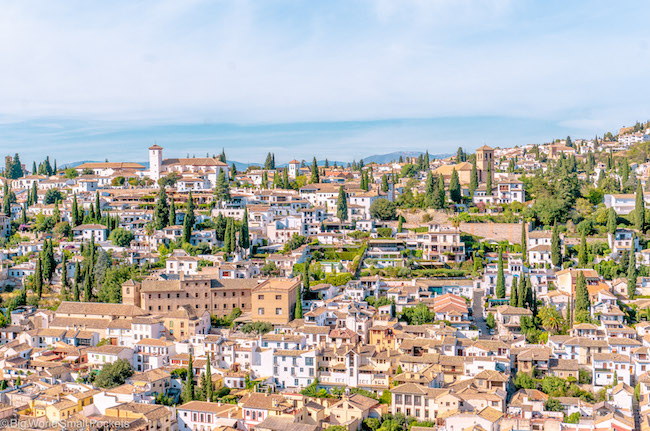 Recommended Places to Stay in Granada…
Budget Hostel: Oripando Hostel
Apartment: Carmen de Alaia
Affordable Hotel: La Posada de Quijada
It might be within Andalusia still, but it takes an annoying amount of time to get between Seville and Granada – both bus and trains are good options here, which direct trains being about 10 minutes quicker, but buses being about 25€ cheaper! Compare both options over at Trainline.
Either way, I suggest leaving Seville in the morning so that you can reach Granada by lunchtime.
Make your way to the city centre – both the bus and train station are a little way out of town – drop your bags and head out to explore the small city centre and grab some lunch from a café.
You'll need to refuel because the afternoon of day 6 of your week in Spain is going to be a big one!
Yes it's time to head to the icon that is the Alhambra!
An amazing fortress, former palace and gardens complex, this is a must-see sight during your week in Spain and again I suggest booking your tickets in advance to ensure you don't miss out and can guarantee an afternoon time slot.
Now, buying your tickets for the Alhambra can be a little confusing, which is why I've written this full guide to help talk you through it and ensure you make the right choice. Head over to this article to learn more.
After a whole afternoon spent wandering this architectural and cultural marvel, it's time to relax and unwind in Granada – take in some of the delicious tapas (Granada is meant to be the home of tapas) and enjoy a wine or 2.
If you're really keen for more sightseeing, then my list of the top 10 things to do in Granada can provide you with some great inspiration.
Day 7: Malaga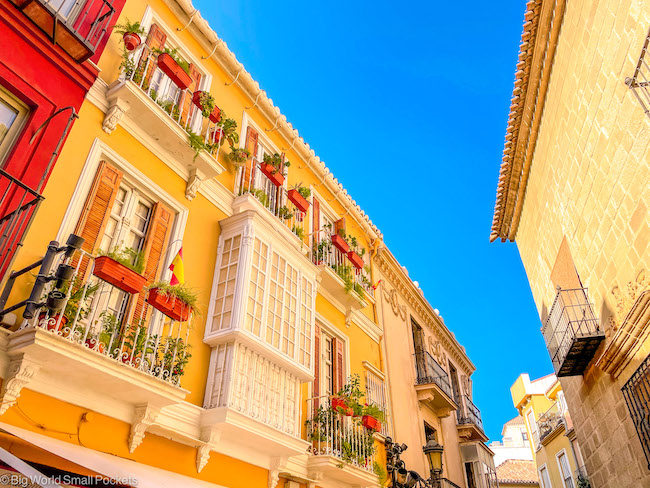 Recommended Places to Stay in Malaga…
Budget Hostel: TOC Hostel Malaga
Apartment: Apartamentos de Lujo
Affordable Hotel: ICON Malabar
And last but not least, we come to day 7 of your attempt to see Spain in a week… if you've made it this far, I salute you!
And I'm also going to reward you, because Malaga is the perfect spot to unwind in and savour your last day in this country.
Also located in Andalusia, it's quickest, easiest and cheapest to get a bus here from Granada, so forget the slow train and hop on a quicker coach service instead – book over at Trainline.
In under 2 hours you'll then find yourself in the coastal Mediterranean city of Malaga – a world away from the awful Costa del Sol images you have may in your mind!
Yup, this historic city comes with some very young, vibrant and authentic vibes. It's a real treat and the perfect place to finish up your itinerary.
Be under no illusion, it's not as prestigious as Seville or Barcelona – it really is a living / working city – but is filled with a wonderful historic centre, castle, fortress (known as the Alcazaba), Cathedral and some great museums, including the famous Picasso Museum – did you know he grew up in this city?
Finish up your day at the beach – swimming in the med, eating freshly grilled sardines and watching a killer sunset!
Check out my list of the top 15 things to do in Malaga for more inspiration. It really is the perfect city to end your trip to Spain and very conveniently, has an international airport you can use to fly on to your next destination or home!
Check out Skyscanner for the best deals on flight tickets and round up your itinerary for seeing Spain in a week in style!

How to Get to Spain?
If you're coming from an international destination, particularly one further away, it's likely you'll be flying into Spain.
The country has many international airports, but for the sake of this itinerary, the best to fly into will be Barcelona.
As always, I suggest Skyscanner for bagging the best flight deals.
Otherwise, you can also use buses or trains to travel to Spain from nearby countries easily, including France, Portugal and Italy. In the long run, coach or rail travel may prove more cost-effective for getting to Spain and will certainly be better for your carbon footprint.
I highly recommend Trainline for booking train and bus journeys to Spain, as they make it easy, quick and simple to compare hundreds of rail and coach journeys to the country from across Western Europe.
When to Visit Spain?
No question in my mind that the best time to visit Spain is during the months of April through June, plus September and October.
This is when the warm weather will allow you to take full advantage of the country's beauty at its best, but you won't be wilting in the summer heat, which regularly sees temperatures in parts rising to 40+ degrees.
I've visited Spain across all these recommended months and found the climate ideal for sightseeing as well as hitting the beach!
5 Packing Essentials for Spain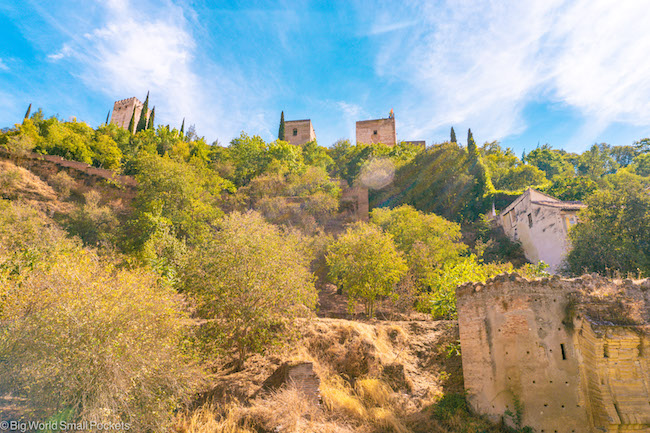 Travel Insurance for Spain
World Nomads offers simple and flexible travel insurance. Buy at home or while travelling and claim online from anywhere in the world.
Alternatively, if you're a long-term traveller, digital nomad or frequent remote worker seeking travel health cover, check out Safetywing's Nomad Insurance policies.
Travel Money in Spain
The easy way to spend abroad with real exchange rates, no markups and no sneaky transaction fees, I always travel to Spain with my Wise card.
It works just like a debit card… and it links easily with Google and Apple pay – sold! Grab yours here.
Where Travel After Spain?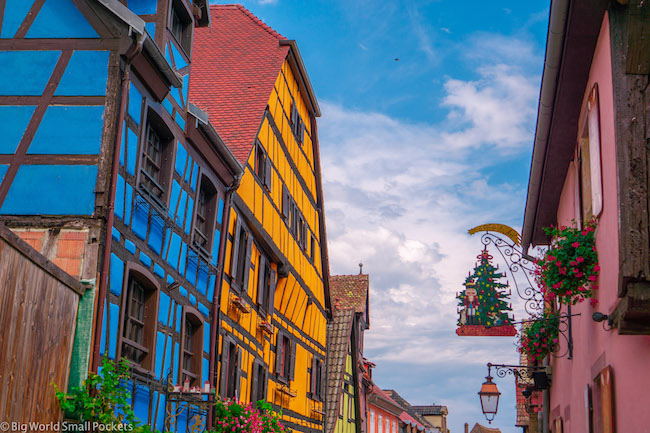 If you still have time for more travelling after Spain (and lucky you if so!), then you may want to head to France, Portugal or Italy – all top destinations within western Europe that can easily be reached from Spain either via driving, a short flight or via public transport.
Check out these articles for some inspiration…
PIN IT TO PINTEREST!
So there you have it folks, my ultimate guide to seeing Spain in a week.
I hope I've inspired you to believe that 7 days in this country really can make for a wonderful adventure.
Do you have a fave Spain destination that didn't make the list?
Just drop it into the comments below if so…