Let me tell you, picking the top 21 top things to do in Portugal for this article has been no easy task!
A country filled with sensational and diverse activities to enjoy, aswell an eclectic and amazing array of places to visit – from the mainland to the many islands – Portugal is filled with travel treats!
But fear not, I've done the legwork so you don't have to, and here I bring you the definitive list of the very best things to do in this country.
Time to get stuck in and start planning that trip!
---
Related Posts
How Much Does it Cost to Travel Portugal?
---
This page contains affiliate links meaning Big World Small Pockets may receive a small commission on any purchases at no extra cost to you.
---
#1 Catch a Historic Tram in Lisbon
Still in use, the historic carriages of Lisbon's public transport network have become synonymous with this city, and their distinctive yellow and wooden designs can be found on many a Lisbon Insta post.
And for good reason too… they are really beautiful.
The most famous tram line to catch is the number 28, which takes you past many of the capital's main attractions and it's well worth joining the crowds to enjoy a ride for just a few euros.
Take it all the way to the lovely Castelo de São Jorge if you can.
Set on the highest hill in the capital and illuminated at night, it's hard to miss this historic giant, and visiting it is absolutely one of the top things to do in Lisbon.
Check out my other picks for the best things to do in Lisbon here.
#2 Wine Taste in the Douro Valley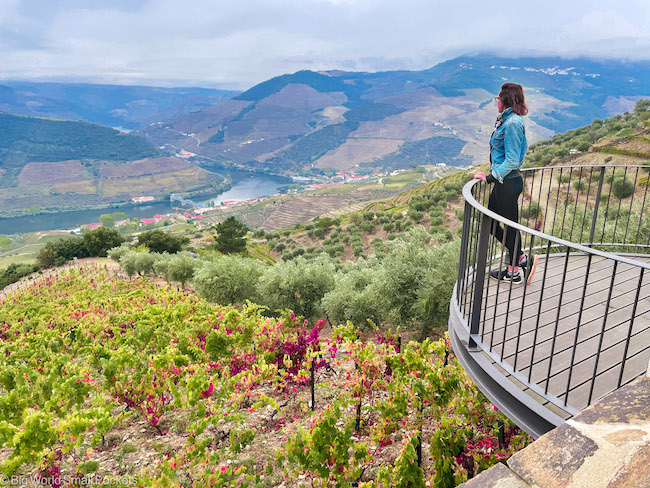 This is an absolute must when it comes to top things to do in Portugal, as the Douro Valley (near Porto) combines several aspects this country is most famous for.
From beautiful landscapes and traditional culture, through to riverboat rides and, of course, some amazing vineyard visits and port tastings, there's no question the Douro Valley offers a slice of northern Portugal at its best.
It's easy to enjoy a DIY day trip here by driving the few hours into the Douro Valley from Porto, calling at several of the top small vineyards as you go, including my favourite of Quinta de Santa Eufémia.
Most vineyard visits include a tour of the port-making process, as well as several tastings, for a small fee. You can then purchase bottles of your favourites too of course!
Otherwise, take an organised wine tasting tour of the region, like this top-rated day trip from Porto.
#3 Eat Pastel de Nata in Belem
If you're in the centre of Lisbon, then I highly suggest hopping in an Uber, or jumping on a tram, to head slightly further west to the outer-lying suburb of Belem.
Once here, don't miss the amazing tower of Belem or the Jerónimos Monastery, but most important for your bucket list is a stop at the most famous patisserie in Portugal – Pasteis De Belem.
Founded in 1837, this institution creates some of the country's best pastel de nata – the famous Portuguese egg custard tarts – and sampling at least one is absolutely a top thing to do in Portugal.
But be warned, this place has an amazing reputation, so you'll want to arrive early to avoid the queues that often line the streets outside the front door!
#4 Wander Historic Porto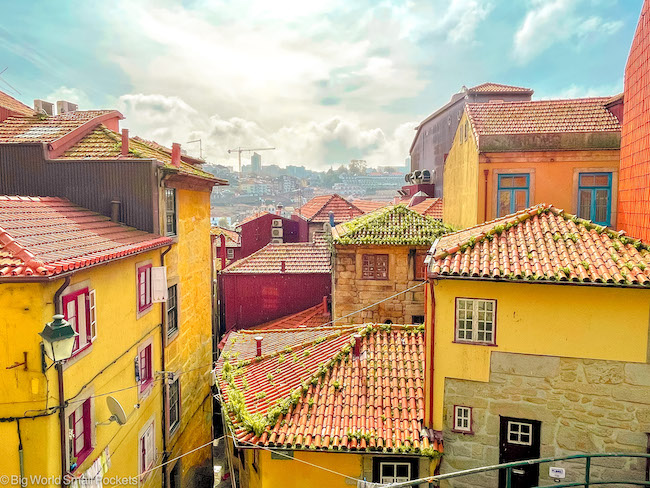 The historic Barrio Ribuera in Porto is like stepping back in time and wandering the thin cobbled streets of this district is a must when you visit this city.
Honestly, the whole area is a delight, except for the number of steps (did I mention Porto is one heck of a hilly city?!), but my highlight had to be Escadas do Barredo and the street at the bottom of it – Rua São Francisco de Borja.
Cameras at the ready guys, this place is a photographer's dream!
After you've explored all the nooks and crannies of Barrio Ribuera, I then suggest heading across the city's huge metallic bridge (Luís I Bridge) to stroll the riverfront, satellite city of Gaia and take in Porto from a different angle.
Discover 16 other great things to do in Porto here.
#5 Hit the Beach at Cascais
The cities and countryside in Portugal are beautiful, but there's no question in mind that the coast is another stunning part of this country that can't be missed.
And there's few better places to hit up the coast here than Cascais, just a short train ride or drive from Lisbon.
Once a traditional, peaceful fishing spot, this town is now a major Portuguese coastal resort, so if you were hoping for something quiet, perhaps think again!
Instead, what you will find is plenty of action in quite a flashy and upmarket seaside strip.
But don't let that put you off!
With an imposing fort and a good selection of museums, there's plenty stuff to do here aside from hitting the lovely sandy beach – although I personally didn't manage to drag myself away!
Restaurants abound too of course, as do the feel-good chilled-out vibes!
#6 Stroll Cute Obidos
Is this the prettiest town in Portugal?
I think it just might be, and therefore visiting Obidos is absolutely a top thing to do in Portugal.
Yes this charming and historic town, full of artsy vibes and gorgeous little shops, as well as its own castle, makes for a great stop between Lisbon and Porto if you've decided to rent a car in the country.
Wander the cobbled streets and have your camera at the ready – this place is about as cute as it gets!
If you don't have your own vehicle, you can take an organised day trip to Obidos from Lisbon – check out this great organised option for more info.
#7 Marvel at the Sintra Castles
And another thing to do in Portugal you can't miss is marvel at the beautiful castles in Sintra.
Just 30km from Lisbon, and easy to enjoy either via public transport or as part of a great guided day tour, begin your day here by heading to the travellers' favourite of Pena Palace.
Situated right on top of a hill in the Sintra-Cascais National Park, it offers amazing views across the wooded, green landscape all the way to the Atlantic Ocean.
After this Palace, I highly recommend popping in to discover the mysterious gardens and enigmatic structures of Quinta da Regaleira, before making your way into the town of Sintra to enjoy a late lunch and sample 1 or 2 local beers at the craft brewery here.
Complete your day in this UNESCO-listed area by visiting the National Palace of Sintra or hitting up the souvenir shops.
Learn how to travel from Lisbon to Sintra by train in this post I wrote, or else discover more about visiting the Sintra Castles themselves here.
And finally, if you want to save yourself the hassle of organising a day trip to Sintra, check out these top-rated day trip options from Lisbon, which sort out everything for you…
#6 Be Wow-ed by the Batalha Monastery
Often combined with a trip to the town of Obidos, Batalha is a UNESCO-listed monastery that is guaranteed to take your breath away.
Whether it's down to its charming atmosphere, lack of tourist crowds or gorgeous architecture, I can't be sure, but there's no question this Late Flamboyant Gothic (and yes, that is the official name of its aesthetic style) masterpiece is a must-see when in Portugal.
If you don't have your own vehicle, but still want to day trip to Obidos and Batalha from Lisbon, then check out this well-organised option.
#9 Get Your Beach On in the Algarve
Heading down to the Algarve in the south of Portugal to take in the beautiful coastline and stunning beaches this part of the country offers is absolutely one of the best things to do during any trip here.
A great place to base yourself in the Algarve is around Albufeira, thanks to its central location, complete beautiful white sands, dazzling water and plenty of restaurants and bars to choose from.
Once here, don't miss the chance to explore the old town of Albufeira for at least a day, before heading out to take in the striking cliffs, boat trips, kayaking opps and sea caves that make up the stunning Algarve area around it.
The town of Tavira, hiking to Ponta da Piedade and surfing in Sagres also shouldn't be missed if you want to explore more that the lovely Algarve region has to offer.
#10 Hike in Madeira
Look, if you weren't in the know already, then I'll let you in on a little secret – Madeira is a hiker's dream!
So if strapping on your boots and getting out to be amazed by some seriously dramatic landscapes sounds like fun to you, then heading to this island for a good stomp or 2, is absolutely one of the best things to do in Portugal.
With so many routes and paths to choose from in Madeira, it's hard to know where to start, but it doesn't get better in my opinion, than the amazing 2 Picos trail, which sends you on an awesome route between 2 of the island's tallest peaks.
Known as PR1, this is a flagship trail so don't expect to have it to yourself, but luckily the steep climbs and sheer drops keep the masses away!
Def one of the best day hikes I've done ever… fact!
Other top hikes in Maderia include the PR6 and PR8, which both take in some of the island's other wild landscapes – from volcanic rock formations to waterfalls galore!
Learn more in this article I wrote about the 5 hikes in Madeira you can't miss.
#11 Get Your Tile Fix!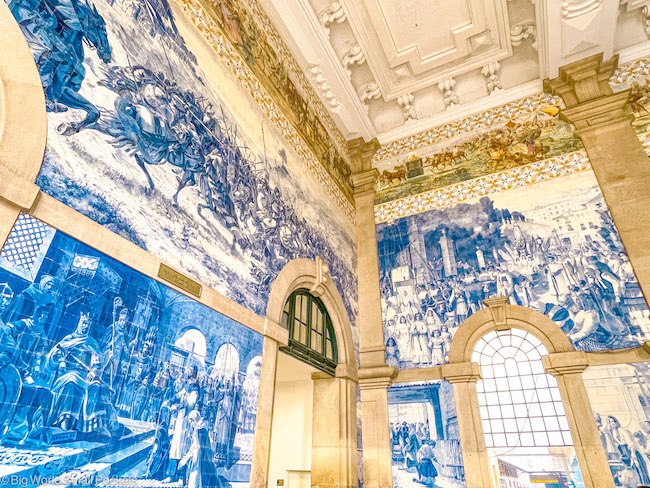 If you go anywhere in Portugal, you simply can't miss the beautiful blue and white tiles this country is famous – known as Azulejos.
Honestly, nothing makes me think of Portugal more, and there's plenty of lovely buildings in Lisbon and beyond that showcase this traditional and iconic form of decoration.
Some of my favourites were near the Church of Sao Roque in Barrio Alto in Lisbon, as well as in the Sao Bento train station in Porto, but really they can be found all over the country, so it pays to have your camera at the ready wherever you are!
#12 Snap Portugal's Most Famous Book Store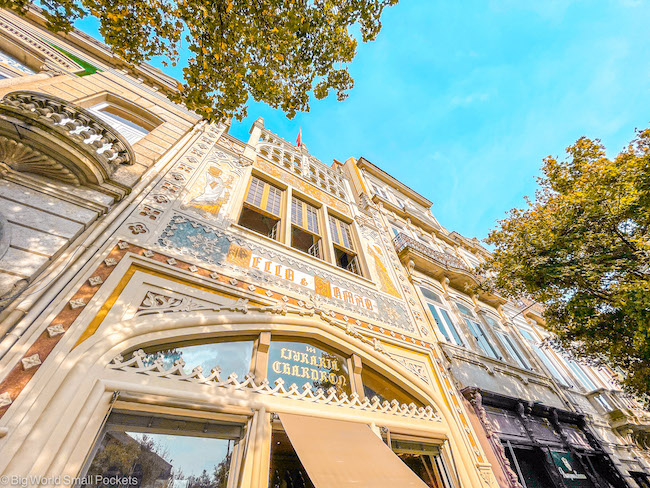 And from the outside of buildings to the inside of them, you can't miss stepping inside Porto's famous bookshop Livraria Lello if you spend even a day in this city.
Iconic thanks to its gorgeous steeping staircase and decadent furnishings, it's worth pointing out however that this is neither free (it costs 5€) or quick to access.
Long queues snake back from the front door at most times of the day, as numbers inside are restricted, but time it right and you can certainly join the insta crowd with a famous Portugal snap!
#13 See the World's Biggest Waves
Have you heard of the famous surf mecca of Nazare?
Well if not, then let me fill you in… this place boasts numerous records for some of the largest waves in the world!
Yes if you've seen any of the crazy videos on social media with surfers being towed out by jet skis to attempt to ride waves so big they look like something out of a Hollywood movie… then they were probably filmed in Nazare.
Outside of the beach, the waves and the surf, the town here also boasts some lovely trad fishing vibes and, most days, you can watch the fisherman doing their thing; not least from Sitio – a lookout spot that gives one of the best vantage points on the whole Portuguese coast!
You can of course drive to Nazare, or else take an organised day trip from Lisbon, many of which include stops at either Fatima, Obidos, Batalha (or all 3!)
This is actually a great way to see a lot in one day, so if this sounds up your street, then check out these top-rated options…
#14 Explore Braga & Guimarães
If you're looking for a Porto day trip instead, then the towns of Braga and Guimarães make for a great combined day out full of historical and religious grandeur and I highly recommend this brilliant day tour for the job.
Both towns are key in the national narratives of Portugal – Guimarães is often thought of as the birthplace of the country, while Braga is considered the religious capital of the nation, so yes, big cheese!
It's perhaps no surprise then that in Braga, the main attractions are the amazing gothic Se de Braga Cathedral and the Bom Jesus do Monte – a beautiful baroque hilltop church that stands 5km from the centre.
In Guimarães, it's all about wandering the pretty Medieval town itself – checking out the ancient castle, the bustling plazas and the Gothic monastery, as well as riding the cable car up to Penha Hill for those views, views, views!
#15 Cycle to Capela do Senhor da Pedra
This is definitely one of my fav things to do in Portugal, not least because it includes a lot of my favourite things – an active element, a lot of coastline and plenty of stops for drinks!
Yes hiring a bike in Porto and then heading out of the city on 2 wheels will quickly connect you with a traffic-free trail that leads all along the beautiful coastline that sits so near to this city.
Although you can head north, my tip is to bat for the southern coastal ride instead, which will bring you to the magical Capela do Senhor da Pedra – a tiny monastery set right on the sand.
Explore this unique site on foot and then carry on cycling further south for deserted Atlantic beaches, where wild waves crash onto pristine, white sandy shores.
#16 Kayak in Peneda-Gerês National Park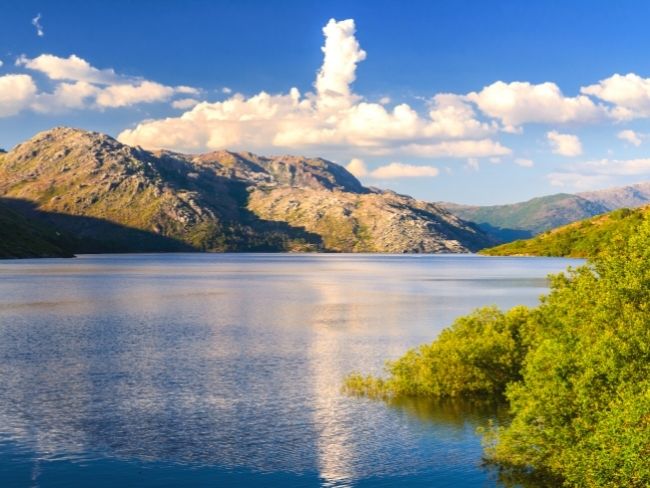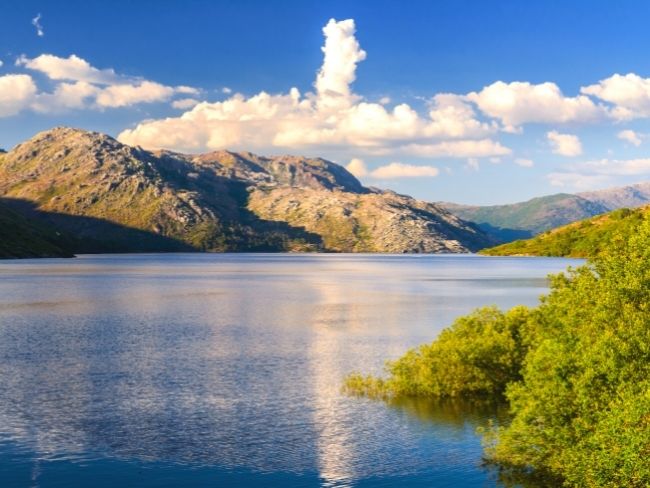 And from one area of natural beauty to another, there's no question a trip to the gorgeous Peneda-Gerês National Park is another great thing to do in Portugal.
Home to some super kayaking opportunities, as well as plenty of waterfalls you can discover on foot care of some lovely hiking trails, this is one of Portugal's oldest preserved areas and has been designated a nature reserve since 1971.
With amazing blue waters and some incredible lookouts, there's also opportunities to swim in the natural pools here, as well as explore the local traditional villages.
Again, you'll need your own set of wheels to explore this region to the full, so if you don't have a rental car, this top-rated day trip from Porto to Peneda-Gerês might be just the answer!
#17 Walk the World's Longest Suspension Bridge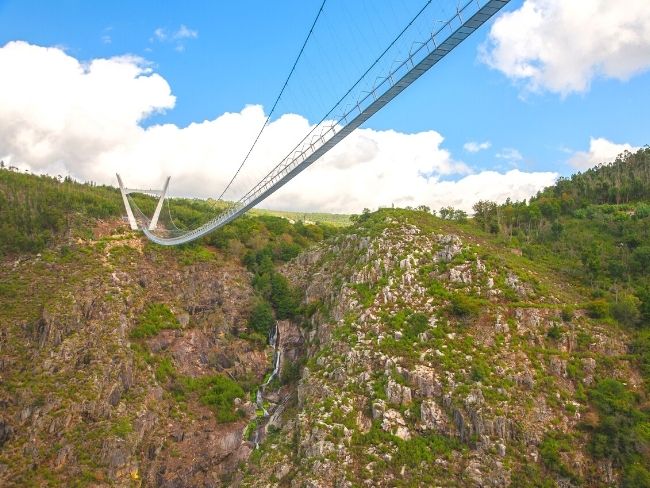 About an hour away from Porto, the 516 Arouca Bridge (in the town of Arouca), claims to be the world's longest pedestrian suspension bridge in the world – now surely that deserves a wow!
About half a kilometre long, and hanging almost 200m above the fast-flowing Pavia River below, this is certainly not one for the faint-hearted!
But it is one for those who love a bucket list challenge, or an adrenaline rush, because as you walk the 10 minutes across this suspension bridge, the structure beneath your feet wobbles and you're treated to some pretty elevated and intense views!
Tickets can be purchased for the bridge online here, or else check out this top day trip to the 516 Arouca Bridge from Porto, which includes some stunning drive time through the wonderful landscape in this part of northern Portugal.
#18 Ride in a Wicker Basket
Now to talk about one of the weirdest, but best things to do in Portugal – an activity that truly belies how unique the island of Madeira is!
Because yes, one of the island's top attractions is the option to ride down a really steep hill, complete with traffic, in a huge wicker basket!
If you didn't know already, Madeira is hill central and as you soon as you move metres away from the coastline here, things start rising up to the clouds.
And the capital, Funchal, is no exception, with the suburb of Monte – clue is in the name – being one the most elevated parts of this city.
Thankfully you don't have to walk up here for the great views – there's a handy cable car you can catch for that, but once you've snapped the scenery, there's only one way to get back down the hill and that is via a massive wicker basket!
And yes, this is as weird and wonderful as it sounds!
Pushed by men wearing boater hats (who knows why), you can fit up to 3 riders in a basket, so this is def one to do with your mates.
Prices depend on the number of peeps per basket, so grab a couple of friends and prepare for the ride of your life, down one of the skinniest, steepest streets I've ever seen!
Learn more about this activity in my article all about the top things to do in Madeira.
#19 Take a Dolphin Watching Tour
If you want to enjoy more of Portugal's coastline, perhaps from a different angle, then it's hard to beat a boat trip when it comes to the top things to do in this country.
With options available across the country – from Madeira to the Azores and the Algarve – half-day trips usually run in both the morning and the afternoon, and there's normally a huge array of different vessels to choose from – be it catamarans, yachts or even pirate ships!
Most boat tours in Portugal will take you out for around 2-3 hours to spot dolphins (which you'll definitely see), as well as whales during certain seasons – fingers crossed you spot more than I did!
A great one for the whole family, this is a super way to celebrate Portugal's natural marine environment too.
#20 See the Lakes of the Azores
The Azores are probably one of the least visited parts of Portugal thanks to their remote location in the Atlantic island.
However what these isolated islands lack in visitors, they certainly make up for in natural beauty!
Volcanic islands, the Azores' striking landscapes include several beautiful lakes and many can be hiked to, which is always a welcome bonus in my book.
Top picks include Sete Cidades Lake, Furnas Lake and Fogo Lake, which boast stunning colours, kayak trips, sulphur baths and some bizarre cooking opportunities between them!
And let's not forget the Azores also have some amazing beaches too. Here's the 15 best stretches of sand you'll find there.
#21 Swim in Volcanic Pools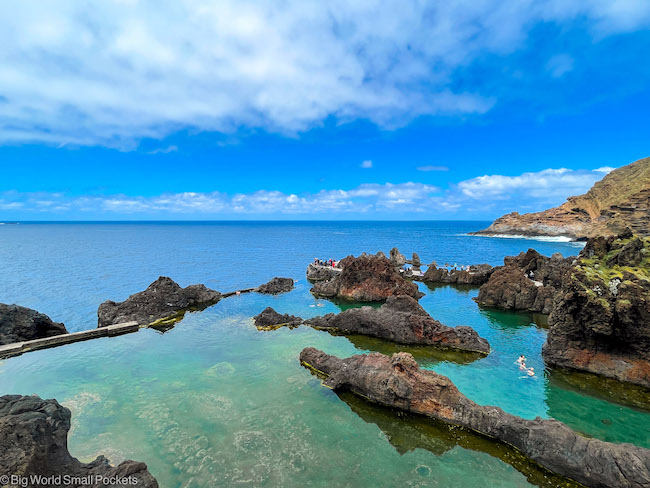 And sticking with the island / aquatic / geothermal vibes, if you're in Madeira instead of the Azores, then you can't miss taking a dip in the lovely volcanic pools of Porto Moniz.
Located over in the northwest of the island, these pools are filled by the sea and use the natural rock formation of the cliffs here, along with manmade constructions, to create a lovely and safe swimming area.
There's also natural swimming pools to be found in Azores too FYI, so no need to miss out!
When to Visit Portugal?
If you're thinking of enjoying any of these things to do in Portugal, then it's probably a good idea to think about when you might want to visit this country!
And no question in my mind, that the best time to enjoy this lovely destination is during the months of April through June, plus September and October.
This is when the warm weather will allow you to take full advantage of the country's diverse charm, but won't have you wilting in the summer heat or drowning in any winter rains!
How to Travel To and Around Portugal?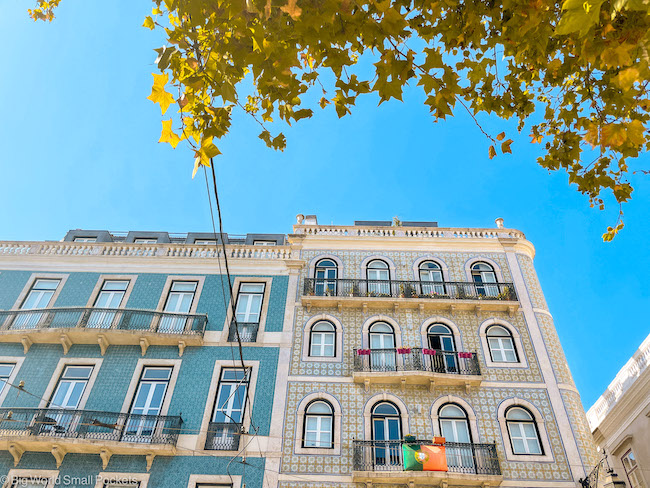 If you're coming from an international destination, particularly one further away, it's likely you'll be flying into Portugal care of the country's international airports.
Lisbon, Porto and Faro (in the Algarve) are the primary mainland airports, while across in the island of Madeira, the international airport is located just outside the capital of Funchal.
Flights arrive into all these airports from across Europe, as well as further afield and, as always, I suggest checking Skyscanner to bag the best flight deals.
Otherwise, you can also use buses or trains to travel to mainland Portugal from neighbouring European countries, such as Spain and France.
Coach or rail travel may prove more cost-effective for getting to Portugal if you're already nearby and will certainly be better for your carbon footprint.
I highly recommend Omio for booking train and bus journeys to mainland Portugal, because this website makes it easy, quick and simple to compare hundreds of rail and coach journeys to the country from across the Iberian region and beyond.
Once in Portugal, if you want to hire a car and see as many of the country's top attractions as possible, then why not grab a great deal here?
Recommended Portugal Tours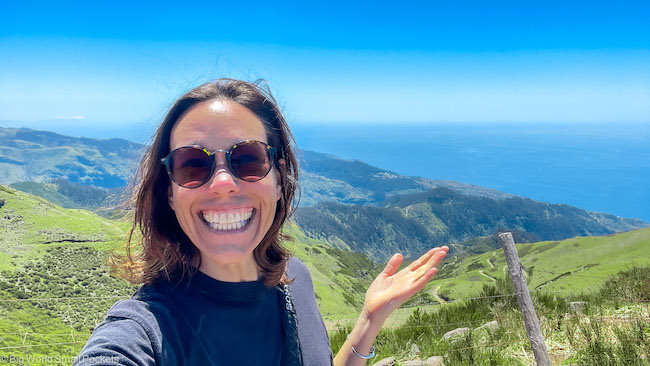 If you're not totally comfortable with travelling this country independently, then a small group or guided tour is a great option that will have you seeing the best of Portugal safely, securely and easily.
Check out these top picks for some super ideas and prices.
Travel Insurance for Portugal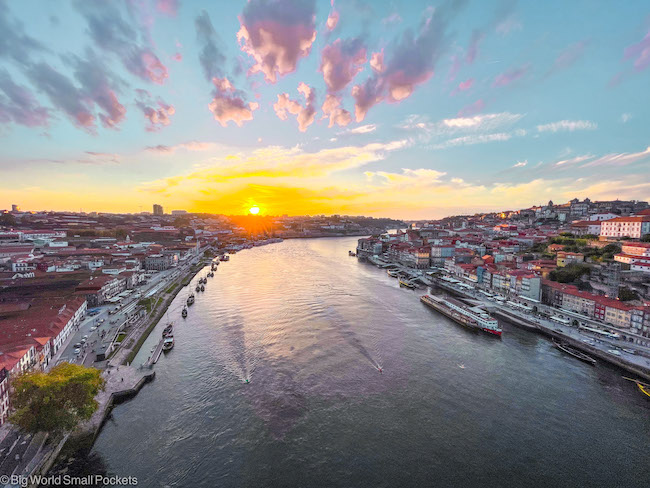 World Nomads offers simple and flexible travel insurance. Buy at home or while travelling and claim online from anywhere in the world.
Alternatively, if you're a long-term traveller, digital nomad or frequent remote worker seeking travel health cover, check out Safetywing's Nomad Insurance policies.
SAVE THIS TO PINTEREST!
And there you have it my list of the top 21 things to do in Portugal.
Which is your favourite?
Let me know in the comments box below… I'd love to hear if your favourite made my list!