When it comes to countries in Europe that have recently sailed to the top of many a bucket list, it's hard to get better than the Iberian country of Portugal.
Awash with some great cities, stunning coastline, incredible hiking, delicious food and great some great vineyards, Portugal's such a bit hit all round, that it's no surprise so many of us are flocking there at the moment.
And the great news is this country is still less crowded than classic gems such as France, Spain and Germany and definitely more affordable too.
So if you're looking to sample a slice of this fantastic country, here's my ultimate itinerary to seeing the best of Portugal in either 1, 2 or 3 weeks…
---
Related Posts
How Much Does it Cost to Travel Portugal?
---
This page contains affiliate links meaning Big World Small Pockets may receive a small commission on any purchases at no extra cost to you.
---
When to Visit Portugal?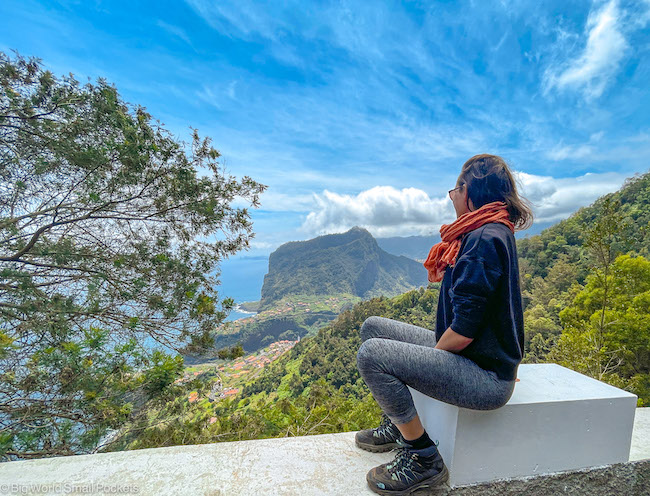 If you're thinking of enjoying any of these Portuguese itineraries, then it's probably a good idea to think about when you might want to visit this country.
And there's no question in my mind that the best time to enjoy this fab destination is during the months of April through June, plus September and October.
This is when the warm weather will allow you to take full advantage of the country's diverse charm, but won't have you wilting in the summer heat or getting rained on during the winter period.
How to Travel to Portugal?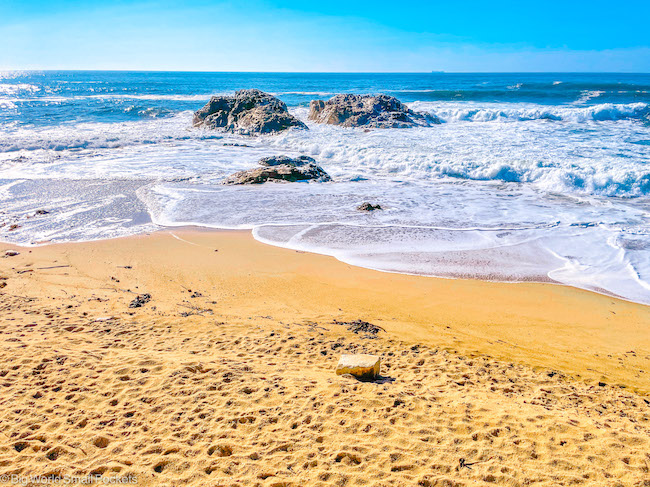 Before we kick off these 3 great Portugal itineraries, I thought it would be useful to give you some key info on how to get to travel to this country… after all, it's a good idea that if you want to visit Portugal, you know who to get there first!
If you're coming from an international destination, particularly one further away, it's likely you'll be flying into Portugal, care of one of the country's international airports.
Lisbon, Porto and Faro (in the Algarve) are the primary mainland airports, while across on the island of Madeira, the international airport is located just outside the capital of Funchal.
Flights arrive into all these airports from across Europe, as well as further afield and as always, I suggest Skyscanner for bagging the best flight deals.
Otherwise, you can also use buses or trains to travel to mainland Portugal from neighbouring European countries, such as Spain and France.
Coach or rail travel may prove more cost-effective for getting to Portugal if you're already nearby and will certainly be better for your carbon footprint.
I highly recommend Omio for booking all train and bus journeys to mainland Portugal as this website makes it easy, quick and simple to compare hundreds of rail and coach rides to various parts of the country from across the Iberian region and beyond.
1 Week: Lisbon & Porto
For those on a short visit, this 1 week itinerary is perfect for taking in 2 of Portugal's top cities, as well as some of the beautiful historic towns and stunning coastline that lie in between them.
Day 1-2: Lisbon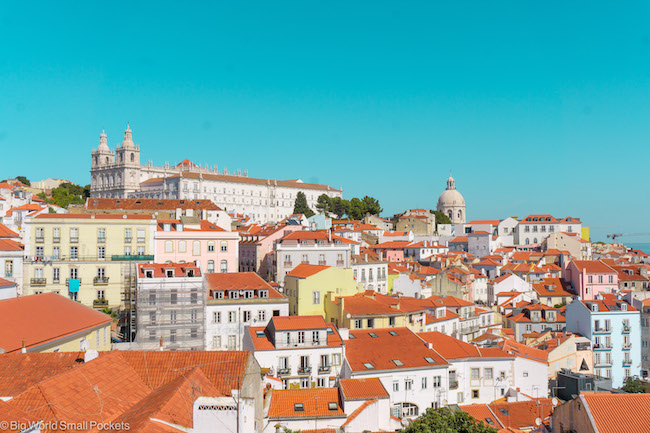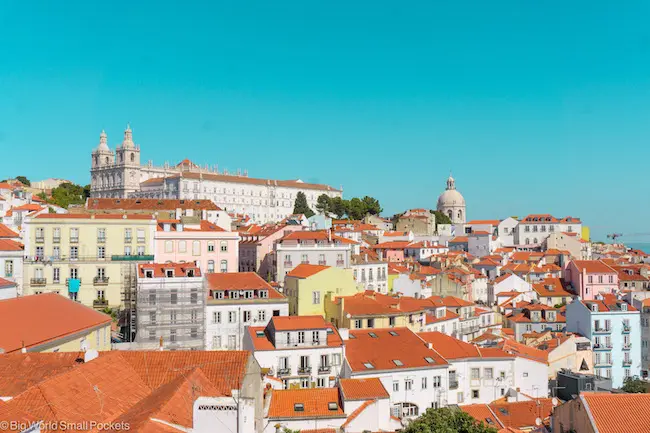 Where to Stay: Top 10 Lisbon Airbnbs
Begin your week in Portugal in this country's wonderful capital.
With an international airport, and flights arriving from across the world, Lisbon makes a great starting spot and I recommend spending 2 amazing days here to take in all the great sights, as well as a brilliant visit to an area beyond the city centre too.
On day 1 it's time to enjoy the main points of interest in the centre of Lisbon including the city Cathedral – one of the capital's oldest buildings – plus the iconic ruins of Carmo Convent, the Arco da Rua Augusta and Santa Justa Lift.
Just miss a ride on the iconic #28 tram either, which will take you to the Castelo de São Jorge, Lisbon's ancient castle, from where you can enjoy magnificent views across the city.
Spend the rest of the day cafe hopping across the capital and soaking up some sun in the many beautiful squares of this chilled city and then, in the evening, hit up the central districts of Graça or Barrio Alto for some great bar options and plenty of vibe!
Learn more in this list of top 21 things to do in Lisbon.
On your second day in Lisbon, I recommend heading out to the riverside suburb of Belem which is very easy to access via tram or Uber.
Here you can visit the amazing tower of Belem and the Jerónimos Monastery, as well as one of the most famous patisseries in Portugal – Pasteis De Belem!
Founded in 1837, this institution is renowned for its famous Portuguese custard egg tarts – the devilishly delicious pastel de nata – and yes, they are some of the country's best, so don't miss out!
After Belem, grab an Uber to the nearby LX Factory – a hidden cobbled street filled with cute cafes, independent shops, great restaurants and fab bars where you can enjoy sunset views and a rooftop tipple!
Day 3: Sintra
And for your final day in the Lisbon area, I suggest heading out on a day trip to the Disney-like castles dotted around the nearby town of Sintra.
Situated within a gorgeous national park, with lovely views over the wooded reserve and across to the coast, there's actually several castles to visit in Sintra, but if you only have a day here, I suggest limiting your time to just 3 or 4, to make sure that you see a decent amount of them but don't get castled-out!
You can either take an organised day trip to Sintra, or learn how to enjoy a cheaper DIY day trip by train from the centre of Lisbon here.
Day 4: Obidos, Batalha, Fatima & Nazare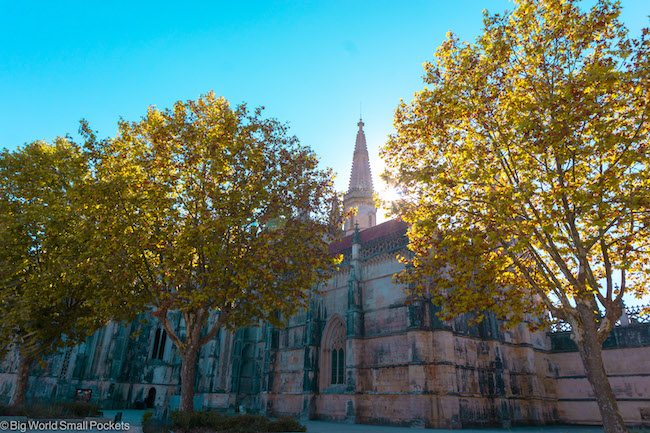 On day 4 of this 1 week Portugal itinerary, it's now time to leave Lisbon behind and start heading north.
The easiest option here is to rent a car to give yourself the flexibility and the ability to road trip at your leisure – because a Portuguese road trip, even a small one, really shouldn't be missed!
Find a great car hire deal in Portugal here.
Then rather than heading straight to Porto, if you do rent a car, I highly recommend spending a day in the glorious countryside and coastal region in between here and Lisbon.
The quaint towns of Fatima and Obidos can't be missed with their historic streets and beautiful buildings, and the UNESCO-listed monastery at Batalha is also well worth a stop.
Finish up day 4 at the coastal resort of Nazare, where some of the world's biggest waves have been recorded and where local fishermen and surfers can be seen braving the waters – although I don't recommend you join them.
Day 5-6: Porto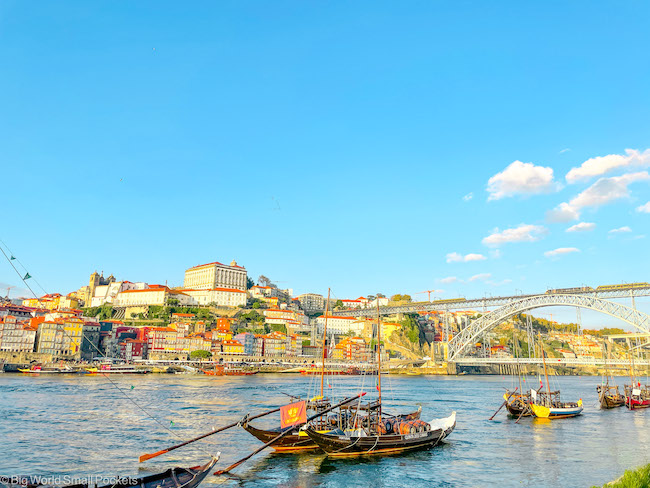 Where to Stay: Top 10 Porto Airbnbs
On your first day in Porto, it makes sense to spend your time exploring all the nooks and crannies of this fabulous city and really getting under its skin.
Hop on a free walking tour in the morning to get a feel for this place and don't miss the beautiful tiles of the São Bento train station and the churches of Igreja do Carmo and Igreja de Santo Ildefonso.
Historic Barrio Ribuera is another must-visit part, and the famous insta-spot of Livraria Lello bookshop is worth checking out – just get there early if you want to avoid the queues!
Climbing the Clergies Tower, stepping inside the Porto Cathedral and visiting the traditional market for your foodie fix are all must-do's too, and then, in the afternoon, why not savour a river cruise on the Douro – the main waterway that runs through Porto.
Then round off your day in style by taking in a stellar Porto sunset from Miradouro da Ribeira in Jardim do Morro park.
On day 6 of this 1 week Portugal itinerary, I highly recommend heading out of Porto on a wonderful cycling day trip to the coast.
Pick up your wheels from Porto Rent a Bike, and head out of Porto along the traffic-free cycle trail that connects you with the coast.
Cycle south to the magical Capela do Senhor da Pedra – a tiny monastery set right on the sand – and then beyond for deserted Atlantic beaches, where wild waves crash onto white sandy shores.
Head back to Porto in the afternoon and enjoy some time in Gaia.
Gaia is the satellite city that lies on the other side of the Douro River from Porto and is famous for its wine tasting and cellars. You'll pass it as you cycle back to the city centre on your bike, which makes it the perfect stop-off in my opinion!
This guided wine tasting tour might be the perfect solution for quenching your thirst, or else there's some great opps for independent port cellar visits and tasting sessions too. My pick of the bunch has to be the lovely Vasques De Carvalho in Gaia – I'm sure you won't be disappointed either!
Learn more about how to spend your time in Porto with this list of the top 17 things to do in this city.
Day 7: Douro Valley
And on the final day of your 1 week Portugal itinerary, it's time to head to the country's famous wine-growing region – the Douro Valley.
A day trip here from Porto that includes both wine tasting and a chance to enjoy the beautiful countryside and historic towns is a must in my opinion.
If you don't have your own vehicle, I highly recommended this great guided wine tasting day trip to the Douro Valley that runs from Porto, or else learn about my top 5 picks for the vineyards to visit independently here.
2 Weeks: Lisbon, Porto & Algarve
With 2 weeks for your Portugal itinerary, I recommend following the 1 week itinerary above and then from Porto, it's time to head down to the Algarve in the south of the country and enjoy some of the beautiful coastline and stunning beaches this part of Portugal offers.
I recommend finishing your holiday at the beach to give you some chill out time after the sightseeing bonanza of week 1, and you can either fly, train or drive down to the Algarve from Porto in a day.
Once here, my tip is to get off the beaten track as much as possible and avoid the main towns of Lagos and Faro. If you have a rental car, this will definitely be more possible.
A great place to base yourself is Albufeira thanks to its beautiful white sands, dazzling water and plenty of restaurants and bars.
Explore the old town and beaches here for at least a day and then head out to take in the striking cliffs, boat trips, kayaking and sea caves that make up the rest of the lovely Algarve area.
Don't miss the towns of Tavira, the hiking adventure to Ponta da Piedade or the surfing capital of Sagres either if you really want to explore all the Algarve has to offer.
3 Weeks: Lisbon, Porto, Algarve & Madeira
And with 3 weeks for your Portugal itinerary, you really can see and enjoy a lot of this wonderful country – including moving beyond the mainland to the stunning island of Madeira.
One heck of a dramatic place, filled with soaring mountains, lush green foliage, wild craggy cliffs and some seriously stunning views, honestly this island will make you feel like you've arrived in Jurassic Park, minus the dinosaurs of course!
With some of the best hiking on offer in Europe in my opinion, not to mention unique villages, black sand beaches, some unique cultural spots and fabulous views a go-go, it's easy to spend a week in Madeira and still not see all this diverse island has to offer.
But when it comes to things not to miss, then the traditional houses of Santana, the 2 peaks hike, the 25 Waterfalls walk, riding down one of Funchal's steepest hills in a wicker basket and the natural volcanic pools at Porto Moniz are all on the list.
Situated off the coast of North Africa, it's best to fly to Madeira from mainland Portugal and then hire a car to allow yourself to really get around and explore this great island to the max.
And if you're looking for a place to stay here, then you can't go wrong with the unique, family-owned property of Quinta de Saraiva.
Situated amongst vineyards and banana plantations, this fabulous spot offers amazing views from its poolside area and is brilliantly located above the fishing village of Câmara de Lobos, not far from the capital Funchal.
Learn more about the top 21 things to do in Madeira here and get 50€ discount off your 4 night stay in Quinta da Saravia by using my exclusive discount code: bigworldsmallpockets here.
Round off your time in Madeira, and this Portugal itinerary, with a seaside sunset poncho (the delicious local Madeiran drink) in the gorgeous coastal enclave of Ponta do Sol on the south coast.
Travel Insurance for Portugal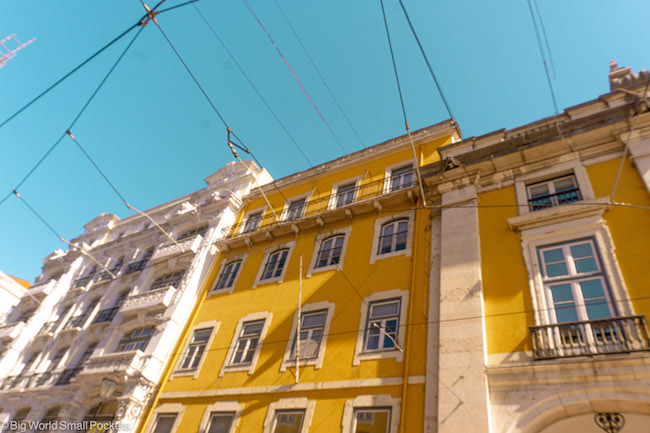 World Nomads offers simple and flexible travel insurance. Buy at home or while travelling and claim online from anywhere in the world.
Alternatively, if you're a long-term traveller, digital nomad or frequent remote worker seeking travel health cover, check out Safetywing's Nomad Insurance policies.
Travel Money in Portugal
When it comes to paying for things in Malacca, you want to ensure you're not being charged overseas transaction fees or getting poor exchange rates when using your card abroad, which is why I always take my Wise card away with me wherever I travel.
The easy way to spend abroad with real exchange rates, no markups and no sneaky transaction fees, you can use your Wise card just like a debit card here… and it links easily with Google and Apple pay – sold! Grab yours here.
PIN IT TO PINTEREST!
And there you have it, my ultimate Portugal itinerary.
I hope it's convinced you to visit this wonderful country and also given you a good insight into how best to spend your time there.
Because don't forget, if 3 weeks isn't enough, you can always return!
Have you visited Portugal?
What was your favourite part?
Tell me all in the comments box below…