Honestly, who knew the small island of Madeira was jampacked with so many amazing things to do?
Not me, that's for sure!
That is, not until I spent 9 epic days exploring the length and breadth of this Portuguese archipelago and realised that I could have done with even longer to absorb the wealth of adventure and activity this Atlantic Ocean gem offers.
Situated off the west coast of North Africa, Madeira largely escapes the European bucket list tickers, probably due to its remote location and the fact so little is known about this sub-tropical haven.
But miss this beauty out at your peril because, trust me, Madeira has a ton of exciting and totally unique opportunities that really should be making your bucket list.
So strap in as I bring you the top 21 things to do in Madeira and show you just how diverse and dazzling this underrated island is…
---
Related Posts
---
My stay at Quinta da Saraiva was kindly gifted but, as always, all views are my own.
This page contains affiliate links meaning Big World Small Pockets may receive a small commission on any purchases at no extra cost to you.
---
#1 Snap the Santana Houses
I don't really know why I'm kicking off this list with one of the most touristy things to do Madeira – not like me at all! – as usually I'm much more into the off the beaten track gems, but I guess I'm building up to them!
Because yes, no denying the famous traditional Madeiran houses you can see in the village of Santana are hardly a quiet affair.
Awash with tourists during the peak of the day, I highly recommend visiting these triangular, brightly coloured dwellings either early in the morning or late afternoon to avoid the coach crowds.
But do so and you'll get a lovely insight into the very unique Madeiran culture and also some super fun shots among these cute and it must be said, very pretty, traditional houses.
If you don't have a car to drive here and the thought of a coach tour puts you off as much as me, then this great-rated 4×4 day trip from Funchal to the northeast of Madeira, including Santana, could be just the ticket!
#2 Climb to the Church at Sao Vicente
Also included in the above-recommended tour is a trip to the lovely enclave of Sao Vicente, which is actually one of the villages I stayed in during my time in Madeira.
A cute and quaint enclave with a very local feel, there's a coastal strip here with a few cafes, shops and restaurants to check out, as well as an excellent wine bar, called Porto de Abrigo (which translates as open door), that's a great place to sample some delicious Madeiran port – I recommend the dry 10 year FYI!
However, it's the gorgeous hilltop church that really captures the imagination here the most.
Capelinha de Nossa Senhora de Fátima offers stunning views and the climb from the roadside up the 175 stairs to the top is well worth it!
For those who want a tourist tick, there's also some caves you can explore at Sao Vicente.
#3 Dip in the Volcanic Pools at Porto Moniz
Staying in the north of the island here, another of the top things to do in Madeira is to take a dip in the lovely volcanic pools of Porto Moniz.
Located over in the northwest of the island, it is a decent drive to get here from Funchal, but there's plenty to do on the way that makes it worthwhile and then ending up with a relaxing and refreshing dip certainly is hard to beat!
Filled by the sea (and thankfully there's not much tidal movement here so you don't have to worry about them emptying too much), there's actually 2 sets of pools at Porto Moniz, which use the natural rock formation, along with manmade constructions, to create a lovely and safe swimming area.
The main pools charge 3€ to enter, but you're essentially just paying for the changing rooms, because if you walk to the other end of the esplanade, you'll find an equally delightful spot that you can enter and bathe in for free.
No prizes for guessing which one I opted for!
Don't miss the lovely infinity pool at the free ones and, after you've dried off in the sun post-dip, head to the Seaview Restaurant, which is the best place to eat in this town.
With parking available in the centre of Porto Moniz if you're driving here, the other option is to take a tour to this part of Madeira – here's a top-rated one.
#4 Visit the Black Sand Beach at Seixal
And sticking with the northwest theme, next we travel onto the cute enclave of Seixal, which also boasts some volcanic pools, as well as an amazing black sand beach.
Having not been to many of these before (I usually prefer the golden sand variety), I can actually say that this beach had me pretty convinced that alternative colours can be beautiful too, thanks to its striking backdrop, clear water and jet-black sand which is wonderfully bizarre to lie on
Great for taking pictures with dramatic scenery, Seixal is definitely one of the best places to visit in Madeira.
#5 Enjoy a Whale Watching Tour
If you want to enjoy more of this island's coastline, perhaps from a different angle, then it's hard to beat a boat trip when it comes to the top things to do in Madeira.
Generally leaving from Funchal – with half-day trips running in the morning and the afternoon – there's a huge array of different vessels to choose from, be it catamarans, yachts or even pirate ships!
Most will take you out from Funchal for around 3 hours to spot dolphins (which you'll definitely see) as well as whales during certain seasons.
I visited Madeira in May – technically Pilot Whale season – but sadly we didn't spot any of them (I blame myself as I think I'm cursed when it comes to whale watching trips but that's another story!), however there are definitely reported sightings during this month usually.
Even outside of the whale disappointment however, I'm really glad I took this boat trip as it was a super way to appreciate the beauty of Madeira from another perspective and to view the second-highest sea cliff in Europe – Cabo Girão.
Yup, just another Madeiran claim to fame!
Check out the boat trip that I took here.
#6 Get your CR7 Fix!
Did you know that the famous footballer Ronaldo comes from Madeira?
Neither did I, until I arrived on the island and realised that the airport was named after him!
And that's just the beginning, because this place is Ronaldo mad, and why wouldn't they be?!
One of the greatest footballers of all time (or so I'm told!), Funchal, the capital of Madeira, is really the place to head for fans, with a huge statue depicting this iconic sportsman, as well as a museum dedicated to his trophies!
For the die-hard fans, the museum is worth a visit (validated by the football fan I visited Madeira with), but for the rest of us, a comedy selfie with the statue will probably suffice!
#7 Ride in a Wicker Basket
And as these last 2 entries concentrated on the Funchal area, I thought I'd stick with the capital vibes and talk about one of the weirdest, but best things to do in Madeira – an activity that truly belies how unique this island is!
Because yes, one of the island's top attractions is the option to ride down a really steep hill in a huge wicker basket!
If you didn't know already, Madeira is hill central and as you soon as you move metres away from the coastline here, things start rising up to the clouds.
And Funchal is no exception, with the suburb of Monte (clue is in the name) being one the most elevated parts of the capital.
Thankfully you don't have to walk up here for the great views – there's a handy cable car you can catch for that, but once you've snapped the scenery, there's only one way to get back down the hill and that is via a massive wicker basket!
And yes, this is as weird and wonderful as it sounds.
Pushed by men wearing boater hats (who knows why), you can fit up to 3 in a basket and this is def one to do with your mates.
Prices depend on the number per basket, so grab a couple of friends and prepare for the ride of your life, down one of the skinniest, steepest streets I've ever seen!
Learn more about this activity in my article on the top things to do in Funchal.
#8 Hike Dos Picos
After all that action in the capital, it's now time to get back out into Madeira's wonderful countryside, and what better way to do this than via an epic hike?
Yes if you weren't in the know, Madeira is a hiker's dream, so strapping on your boots and getting out there is absolutely one of the best things to do on this island.
And it doesn't get better in my opinion, than the amazing 2 Picos trail, which sends you on an awesome route between 2 of the island's tallest peaks.
Known as PR1, this is a flagship trail, so don't expect to have it to yourself, but luckily the steep climbs and sheer drops keep the masses away!
I talk more about this hike in my list of the top walks in Madeira, so head there for the full lowdown. Suffice to say however that this linear trail between Pico de Areeiro and Pico Ruivo blew my freaking mind!
Def one of the best day hikes I've done ever… fact!
#9 Walk the 25 Waterfalls
We're going to go into a bit of walking theme here, as this next entry on my list of the best things to do in Madeira is also a top hike.
Known as PR6, or Levada das 25 Fontes, this is another stunning island trail that has to be on your list.
Situated further to the west of the island, this walk is, as the name suggests, scattered with waterfalls and discovering as many of them as you can, plus the beautiful levadas that make up Madeira's unique irrigation system, ensure this hike is a must-do.
There's several different routes to choose from here and I opted for the one that included the Risco waterfall… and can highly recommend it.
For those who make it to the bottom of the hill (the car park is at the top), if you don't fancy the climb back up, then there is a handy minibus shuttle service too!
If you're looking for a guide on the walk, or a way to reach the area from either Funchal, Canico, Santa Cruz or Machico, then here's a top guided day trip.
#10 Wander Ponta de São Lourenço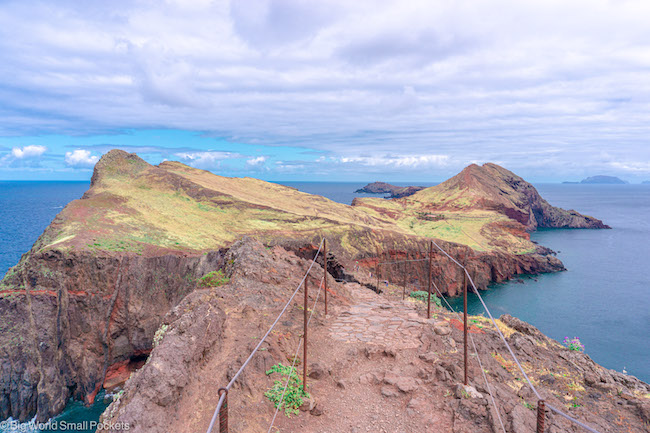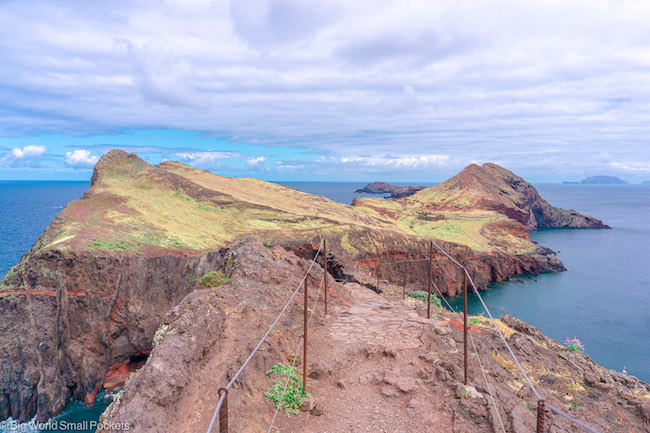 And yet another great island hike, Ponta de São Lourenço is an amazing peninsula that forms the most easterly part of Madeira. The only way to access the amazing natural arch that sits at the end is via the PR8 walking trail.
You can park at the head of the peninsula, but after that, you have to follow the trail that will lead your feet to the end of this tiny but striking strip of land, complete with its iconic rock formations and volcanic, arid feels.
Thankfully this is an easy hike – not many steep climbs – but the sense of wild coastal isolation and the epic views really do make it a top thing to do in Madeira.
Here's a good guided tour if you want to take one – it includes transport from Funchal.
#11 Hit the Sand at Machico
And what better way to relax after this windswept and desolate feeling trail (especially if you made it to the final peak and back), than with a well-deserved dip in the ocean!
Well you're in luck, because just down the road from Ponta de São Lourenço is one of Madeira's few golden sandy beaches and a great safe swimming spot that makes it the perfect place to refresh.
Although the sand has been imported (the jury is out on whether it's from the Sahara or elsewhere!), there's good facilities at this beach which makes it ideal for families looking to cool off, or friends wanting to relax and enjoy a dip.
#12 Grab a Gelato at Calheta
And Madeira's other golden sand beach can be found at Calheta – which may be easier to access if you're staying in the west of the island.
The closest Madeira has to resort-type tourism, don't expect this place to be quiet, but it does have a lovely safe swimming area and a nice harbour with a great gelato shop – the pistachio flavour comes highly recommended!
There are also boat trips leaving from here too if you're looking for an activity to tag onto your day at the beach.
#13 People Watch at Camara de Lobos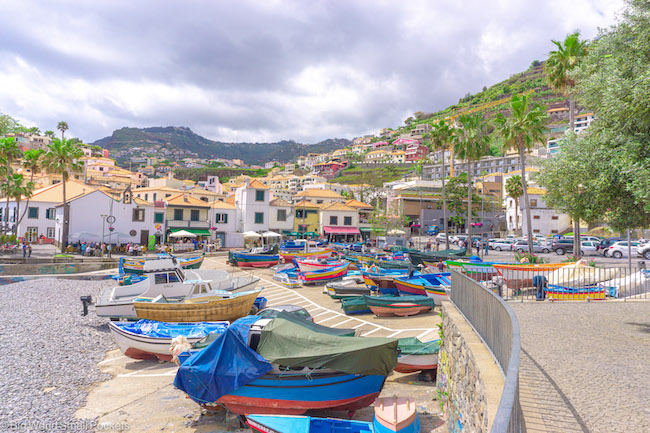 And another great coastal spot in Madeira that you can't miss is the quaint fishing village of Câmara de Lobos.
Located on the south coast, not far from Funchal, this is the perfect place to head for a relaxed coffee with a view of the sea and the pretty sight of colourful wooden fishing boats bobbing on the shore.
#14 Stay in a Heritage Hotel
And just up the hill behind the bobbing fishing boats of Câmara de Lobos is the amazing heritage boutique hotel of Quinta da Saraiva.
Set amidst banana plantations and vineyards, with stunning coastal and countryside views from the gorgeous pool, this is seriously the best place to stay on the island with balcony views to die for, friendly staff, amazing breakfasts and a jacuzzi to enjoy at night under the stars!
Oh and they have free charging for your electric vehicle too… it just gets better!
Owner Juan has renovated this beautiful family property to offer visitors to Madeira a truly special stay and with my exclusive code BigWorldSmallPockets you can now get a €50 discount on a 4 night stay.
So go on, what are you waiting for?
Book your amazing stay in Madeira here – you won't get a better price!
#15 Take a Wine Tasting Tour
And if staying on a vineyard wasn't enough, then you'll be pleased to know that taking a wine tour is also one of the best things to do in Madeira.
The perfect way to take in the scenic views of the island's grape growing scene and savour some of the amazing ports they produce here, this is a great adult activity that allows you to learn more about the strong agricultural heritage of the island.
Choose between these great options depending on the type of wine tasting trip you're after…
#16 Try a Poncha or 3!
And if the wine gets you all jazzed up and you want to try something a little stronger, then how about sampling Madeira's signature drink – the poncha?!
A fruity cocktail made from a sugar cane spirit (like white rum, but a bit more punchy – or should I say ponchy!), fresh orange and lemon juice, plus a good dollop of local honey.
It's delicious, affordable and can be enjoyed from just about anywhere on the island.
My top tip is to check the juice used is fresh (sometimes they go for a passionfruit variety which is also nice) and to sample ponchas in a few different places to find out exactly how you like yours served!
#17 Grab a Sunset at Ponta Do Sol
And what better place to sample a poncha than with a Madeiran sunset for a backdrop?
And the best place I found to take this in was the stunning enclave of Ponta do Sol, which I actually stumbled across by accident.
A hidden coastal enclave on the southern coast, this delightful village has several bars along its coastal promenade, but the best seat in the house has to go to Restaurante Sol Poente, which juts out over the sea, facing the sunset, and is owned by people who once lived in jersey – big up the homeland!
#18 Gorge on Espetadas
And after all those drinks, it's time to head for dinner and you meat-eaters can't miss out on the Portuguese special that is the espetada.
Essentially a huge skewer of meat – usually beef – this is not one for the faint-hearted or the vegetarians (comme moi), but it is a local specialty and meant to be delicious.
Wash it down with a good serving of bolo do caco – which is a local bread filled with garlic butter!
#19 Learn to Surf at Porto da Cruz
And after all that food, you might well be in need of a bit of exercise, which is why it's great to know that another top thing to do in Madeira is learn to surf!
The lovely spot of Porto da Cruz, not far from the airport, is the best place to head with a bit of bohemian and backpacker-y feel and some lovely coastal hikes and views.
Check out the Calhau Surf School there for more details.
#20 Drive Under a Waterfall
And coming to the end of the list now – and what a list it's been – if you're driving anywhere on Madeira, then you can't miss the chance to drive right under one of the amazing waterfalls this island has.
Many of the waterfalls cascade into pools and over cliffs, some actually run onto the road providing free car washes and on occasion, showers for tourists and locals alike!
A great one can be found on the road into Ponta do Sol from the west and there's another top one as you head out along ER110 towards the 25 Fontes walk.
#21 Soak in the Views
And last but not least, the best thing to do in Madeira, whether you're in a car, on a boat, or out on foot, is to take in the views of this amazing island – honestly there's nothing quite like it!
When to Visit Madeira?
May to September is the best time to visit Madeira.
Learn more in this detailed post I wrote about the best time to visit the island.
How to Get to Madeira?
Fly to the Cristiano Ronaldo International Airport!
Find the best deals at Skyscanner, including with budget airline carriers like Ryanair and EasyJet.
How Long to Spend There?
I'd suggest at least a week to see a lot of Madeira and enjoy many things on this list.
10 days would be even better!
How to Get Around Madeira?
Hiring a car is the best way to get around Madeira. Find a great deal here.
Otherwise, if you don't want to drive, I recommend staying in Funchal – there's an airport bus that can run you to the capital from the airport and then a public bus service you can use to get around parts of the island from there.
Alternatively, you can also take an organised tour of Madeira that includes transport, as well as a heap of guided activities in this beautiful Portuguese island. Check out these fantastic options for more info.
Travel Insurance for Madeira
World Nomads offers simple and flexible travel insurance. Buy at home or while travelling and claim online from anywhere in the world.
Alternatively, if you're a long-term traveller, digital nomad or frequent remote worker seeking travel health cover, check out Safetywing's Nomad Insurance policies.
SAVE THIS ARTICLE TO PINTEREST!
So there you have it, my mammoth guide to the best things to do in Madeira!
Which was your favourite on the list?
Tell me all in the comments box below…