I'm not going to beat around the bush here, instead I'll get straight to the point and say Madeira is a hiking mecca!
Given how into walking I am, it's pretty incredible it's taken me this long to get to this amazing Portuguese island, but thankfully I've finally made it and can certainly attest to the fact that this is one heck of a hiking hotspot!
With everything from coastal paths, city strolls, waterfall walks and epic mountain trails just begging to be explored, it's not a case of whether you should hike in Madeira, but only when… and then which trails to select!
Blessed with a lush, subtropical landscape this island is incredibly diverse, which means any trail you pick will almost certainly present you with a different type of scenery… and have you "wow"-ing around every corner.
So now that I've waxed lyrical about the hiking in Madeira, it's time to crack on with the highlights – the 5 Madeira hikes you really can't miss…
---
Related Posts
---
My stay at Quinta da Saraiva was kindly gifted but, as always, all views are my own.
This page contains affiliate links meaning Big World Small Pockets may receive a small commission on any purchases at no extra cost to you.
---
What is Hiking in Madeira Like?
I thought it might be useful to kick off this article with a quick word about hiking in Madiera in general – which is actually pretty hard to do!
Yes thanks to this island's diversity, it's pretty hard to speak broadly about what to expect from your walks here, because each trail offers something wildly different.
That said, there are a few common trends to draw, and a key one of these is that all the major hikes in Madeira are incredibly well signed.
In fact, you'll probably only need to check Google maps to find the trailhead and drive there – after that, it's pretty easy to follow the clear red and yellow wooden signs that dot the island and give great directions across all the trails.
These are complemented by lots of information boards, which also include maps, and well-maintained trails that Madeira clearly works hard to keep clean and accessible.
All in all, this makes hiking in Madeira both easy and safe.
The only thing you need to worry about really is your fitness!
To get to most of the trails in Madeira, I strongly recommend having a car – as public buses don't really visit the more remote areas where the best hikes tend to be. Buses are also infrequent and having a car will give you the flexibility to arrive and depart whenever you like.
Remember to take a good daypack with you to Madeira, as well as plenty of water and snacks on all hikes.
Generally, most of the trailheads have cafes and small provisions, but it definitely pays to come prepared, especially if you're on a long hike, because most of the trails are wonderfully situated in nature and away from services that you might need.
This makes hiking in Madiera also very peaceful and the best way to see this landscape in all its natural glory.
So strap on your hiking boots and let's get started…
#1 Dos Picos – PR1
So coming in at number one, it's my absolute favourite hike in Madeira – in fact, this might just be one of my top day hikes of all time!
Big call!
The flagship PR1 (each hike in Madeira has a PR number to make things really easy), this epic 7 hour excursion takes you between 2 of the island's highest peaks and back again.
You can start at either end of the trail, but with access and parking better at Pico do Areeiro, I'd really recommend beginning there.
There's a café and toilets to use at the start of the trail, which is situated at 1800m above sea level – because yes, this is the island's tallest summit.
Often rising above the clouds, I was treated to amazing views on this mountainous trail, as the clouds often parted to reveal stunning craggy landscapes covered in thick green foliage that really reminded me more of South America than Europe.
Steep, with some serious inclines and descents, there's also tunnels that feature in this trail, so remember to bring your headlamp, as they aren't lit!
But brave the climbs and the darkness, and you'll be rewarded with a stunning and exhilarating trail that takes you all the way to Pico Ruivo in roughly 3-4 hours.
Stop for refreshments here and then carry on along an additional trail if you're really on a hardcore mission (consider PR1.2).
Otherwise, if you're not lucky enough to have someone collecting you in a vehicle, you'll have double back on yourself and trace your steps back to your vehicle.
But given the beauty of the landscape here, if you're anything like me, you won't mind seeing it for a second time!
#2 Ponta de São Lourenço – PR8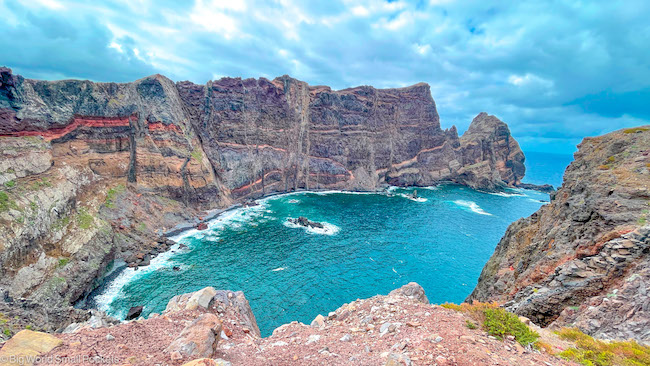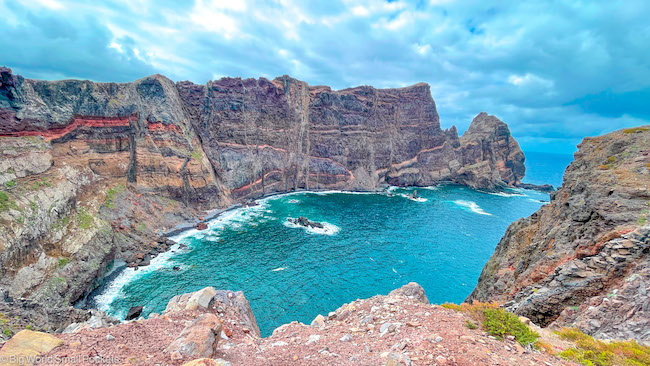 Next up, it's a rather more sedate affair, but the hike along the São Lourenço peninsula is no less stunning for it.
Located in the far east of the country, this trail – labelled PR8 – stretches along the skinny strip of land that tails out into the Atlantic Ocean.
With an impressive rocky arch formation at the end, plus a lighthouse and a peak to summit too, there's no end of striking features to take in as you enjoy this walk.
Very different to the PR1 I wrote about above, the Ponta de São Lourenço is a coastal trail, so be prepared for occasionally windswept and wild ocean views along with dramatic rock formations.
At 8km in length, this is also a linear hike (so again you'll need to double back on yourself) but again the landscape was fine to see twice in my opinion!
Also in contrast to PR1, the landscape of PR 8 is very dry and reminded me a lot of the volcanic Canary Islands – this makes it a great contrast to many of the other Madeira hikes on this list.
Parking at the foot of the trailhead (there's a car park and a couple of refreshment vans here), this relatively flat hike means it can get crowded, so I recommend starting either early in the morning or late in the afternoon to avoid peak visitor times.
Nevertheless, this is definitely still a top Madeira hike in my book, as it offers a highly unique view as part of a fairly accessible day walk.
If you really want to see the diversity of Madeira, don't miss it!
#3 25 Fontes – PR 6
Next up on this list of top Madeira hikes, we're back into the lush hinterland of the island, but this time over to the west.
Here the 25 Fontes hike (known as PR6) is the standout trail to enjoy.
Again, this one can get crowded due to the fact it's pretty famous, but there's lots of detours and alternative trails you can take in the area to avoid the masses – including the recommended diversions to Pico Risco and the Risco Waterfall.
The brave among you can even enjoy a dip in these freezing waters, otherwise the Risco waterfall is a lovely spot to relax and enjoy a spot of lunch, before following the Levada do Risco back to where you parked your car.
For those who want to stick to the classic trail, follow the road down from the car park to the pool at the end, where 25 waterfalls (hence the trail name) flow into a beautiful pool set amidst a shady forest landscape.
Hiking back up to your car is necessary at the end, or you can take the "cheat" option of the shuttle bus, which costs a few euros and is designed to ferry weary walkers back up the hill!
#4 Vereda dos Balcões – PR11
We back to the east of the island with this top Madeira hike, which is set within the beautiful Parque Natural do Ribeiro Frio, not a million miles away from Pico do Areeiro.
Popular with day trippers, especially bird watchers you come see what they can snap at the lookout here, this trial however is the perfect way to escape the crowds and get under the skin of this cloud forest type-landscape a little more.
Tranquil and very lush, this is only a short walk however – measuring 3km return – which makes it very accessible, and with some lovely lookouts along the way (including the famous Balcões viewpoint) there's no question this walk is a must do.
You'll spot a huge number of amazing tree species here too and, on a clear day, the central mountain chain of Madeira too.
Flat and wide, this trail is great for families, especially because it finishes back in Ribeiro Frio, where you can handily enjoy a delicious lunch thanks to the trout farm that is located here – vegetarians like me can disregard!
#5 Caldeirao Verde – PR9
And last but not least on this list of the top 5 hikes in Madeira, we come another stand out entry, the PR9, otherwise known as Caldeirao Verde.
Located in the northwest of the island – and the perfect hike to tie in with snapping the traditional houses at Santana if you fancy it – the best place to start this trail from is the Queimadas parking lot (find it in Google maps), where you can leave the car and set out on the walk.
Like PR1, this is an adventurous hike, which will see you passing through tunnels and scaling some pretty big inclines, before descending into some lush valleys – São Jorge being the most notable.
At an elevation of just under 1000m, you'll follow the levada for much of this trail -which is a great way to learn about this fascinating natural irrigation system that is unique to Madeira.
With impressive views and numerous tree species to spot along the trail, you'll end up at the lovely Caldeirao Verde lagoon, a high altitude lake that is filled by the waterfall that tumbles into it.
At just under 9km, this is a good day hike that will take between 5-6 hours to complete depending how long you spend at the lagoon and how many photos you stop to take along the way!
Guided Hiking Trips in Madeira
If you don't have a car to get you around Madeira to all the best hiking spots, or if you want to join a group of other hikers and / or benefit from having a guide, then check out these top-rated full day and half day Madeira hiking excursions.
When to Visit Madeira?
May to September is the best time to visit Madeira.
How to Get to Madeira?
Fly to the Cristiano Ronaldo International Airport!
Find the best deals at Skyscanner, including with budget airlines carriers like Ryanair and EasyJet.
How Long to Spend There?
I'd suggest at least a week to see a lot of Madeira and enjoy all the hikes on this list.
10 days would be even better as you'd have some days to relax at the beach after!
Where to Stay in Madeira?
Just up the hill, behind the bobbing fishing boats of Câmara de Lobos on Madeira's southern coast, is the amazing heritage boutique hotel of Quinta da Saraiva.
Set amidst banana plantations and vineyards, with stunning coastal and countryside views from the gorgeous pool, this is seriously the best place to stay on the island with balcony views to die for, friendly staff, amazing breakfasts and a jacuzzi to enjoy at night under the stars!
Oh and they have free charging for your electric vehicle too… it just gets better!
Owner Juan has renovated this beautiful family property to offer visitors to Madeira a truly special stay and with my exclusive code BigWorldSmallPockets you can receive a €50 discount on a 4 night stay.
So go on, what are you waiting for?
Book your amazing stay in Madeira here – you won't get a better price!
How to Get Around Madeira?
Hiring a car is the best way to get around Madeira.
Compare lots of hire companies easily and find yourself a great deal here.
Travel Insurance for Madeira
World Nomads offers simple and flexible travel insurance. Buy at home or while travelling and claim online from anywhere in the world.
Alternatively, if you're a long-term traveller, digital nomad or frequent remote worker seeking travel health cover, check out Safetywing's Nomad Insurance policies.<
SAVE THIS POST TO PINTEREST!
So there you have it, my list of the 5 hikes in Madeira you can't miss!
I hope it's helped convince you to visit this beautiful island.
Have any more Madeira hiking advice to share?
Then please help fellow travellers out by dropping your tips into the comments section below…