In my general travel experience, I have to say that travelling to islands never works out as cheap as hitting up mainland destinations.
It's as simple as that!
Usually, there's an added cost of getting there, plus food and services tend to be a little more expensive after your arrival too – either due to the fact that options are a little limited or the fact that most things (even hire cars!) have been shipped in.
But I'm delighted to say that travelling in Madeira – a Portuguese island in the Atlantic Ocean – appeared to be the exception to this rule!
Having visited mainland Portugal only a few months before, prices here were pretty fresh in my mind – in fact, I've written a post about them here – and comparing notes, I have to say that the costs of travelling in Madeira pretty much came out as equal to spots such as Lisbon and Porto… and were perhaps even a little less.
So if you're thinking of travelling to Madeira, but are worried about how much an adventure to this island might cost you, don't be!
Check out my full lowdown on the price of a trip here and then get booking!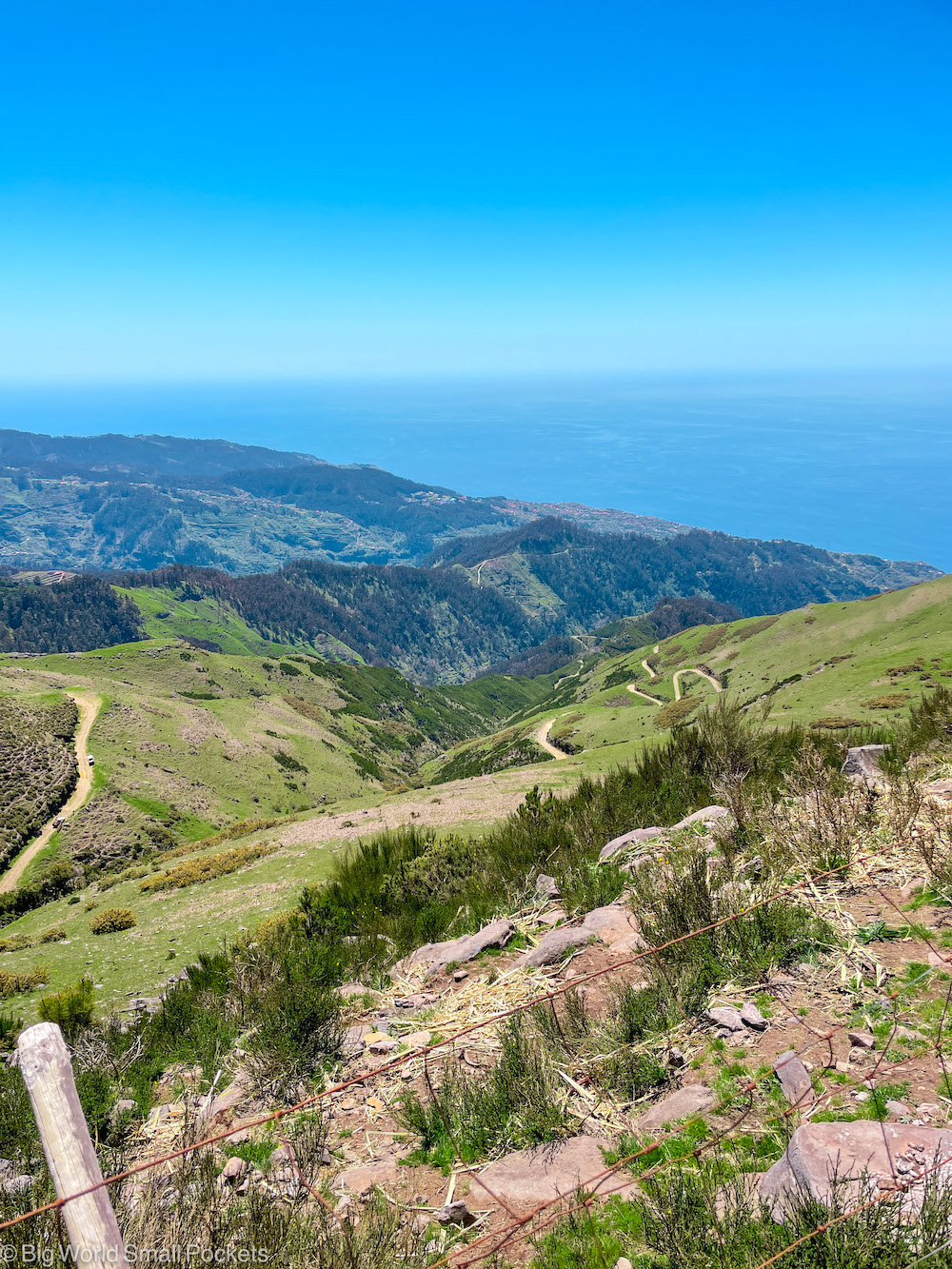 ---
Related Posts
---
This page contains affiliate links meaning Big World Small Pockets may receive a small commission on any purchases at no extra cost to you.
---
Intro to this Madeira Trip Budget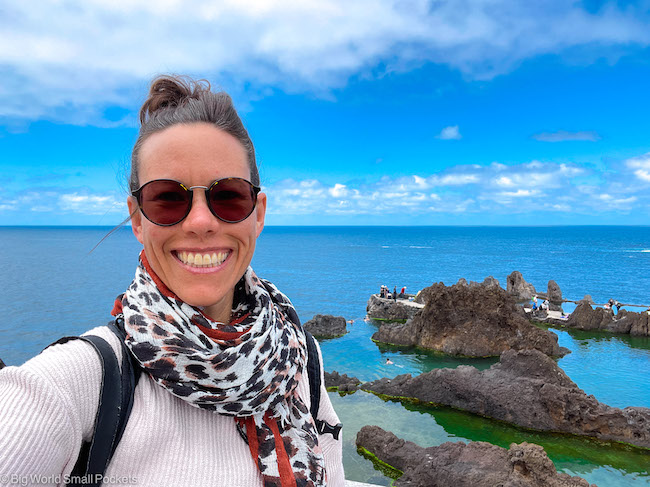 The first thing I'd encourage you to do is head over to my things to do in Madeira post and then come back here!
To give you some idea of what to expect from this island, this other article is a great read and will give you a ton of inspo about the sort of things you might want to budget for when in Madiera, as well as the general vibe of the place – which I have to say is pretty relaxed (music to many a budget traveller ear!)
I recently spent 10 days in Madeira, and this budget will be costed exactly based on the trip I took – staying in the same places, enjoying the same activities and getting around in the same way.
Obviously, this will involve travelling affordably as much as possible, i.e. utilising Airbnbs, local guesthouses and small scale activity providers to try and keep the costs down.
That said it will include a few splurges, that wouldn't be considered budget travel items but which, in Madeira, are well worth the expense – these include hire car costs or the price of some tours if you decide not to rent a vehicle.
This budget doesn't include the cost of flights to get to Madeira, but thankfully a whole host of budget airlines service the main Funchal airport here, meaning you can usually pick up a bargain. As always I recommend Skyscanner for finding the best flight deals.
Worth pointing out too, that this budget does not include any visa expenses or insurance costs, so don't forget to factor those in as well.
Madeira is part of Portugal and part of the EU – therefore the same entry requirements apply, i.e. whatever visa you need (or don't need) to enter Portugal, will also apply to Madeira.
For many travellers from outside Europe, this will involve a Schengen visa. For EU nationals, no visas are required. For British passport holders, visas are not required for stays of up to 90 days in any 180-day period.
World Nomads offers simple and flexible travel insurance. Buy at home or while travelling and claim online from anywhere in the world.
Alternatively, if you're a long-term traveller, digital nomad or frequent remote worker seeking travel health cover, check out Safetywing's Nomad Insurance policies.
And now back to this article and the question of how much it costs to travel in Madeira…
First up, I'm going to give you a category expense breakdown, so that if you are travelling to Madeira for longer than a week (or with a bit more / less cash), you can do your own workings.
Then, at the end of this post, you'll find the complete budget breakdown of my 10 day stay in Madeira to let you know exactly how much to set aside for your trip in total.
Hope all this info helps and that you have a wonderful time travelling this island too!
#1 Accommodation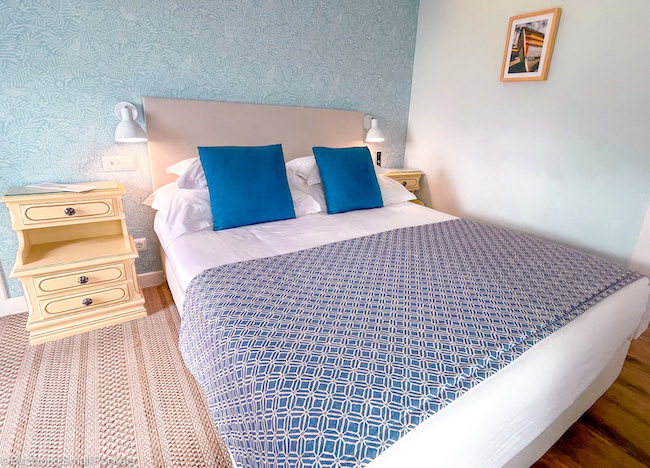 Accommodation costs in Madeira are really reasonable, especially for Europe, and you can pick up some real bargains, particularly if you are travelling as a couple or a group.
There aren't many hostels in Madeira, so almost all affordable accommodation comes in the form of local guesthouses or Airbnbs.
In guesthouses and small hotels, standard double or twin rooms (usually including breakfast) begin from €70- €100. Check out Villa Alto Boutique Hotel or Quinta da Saraiva for 2 top-rated options.
The latter of these is a family-run, heritage property that has been lovingly restored and is located just up the hill behind the bobbing fishing boats of Câmara de Lobos – a cute village on Madeira's south coast.
Set amidst banana plantations and vineyards, with stunning coastal and countryside views from the gorgeous pool, this is seriously the best place to stay on the island with balcony views to die for, friendly staff, amazing breakfasts and a jacuzzi where you can enjoy a relaxing soak under the stars!
Oh and they have free charging for your electric hire vehicle too… it just gets better!
Owner, Juan, offers visitors to Madeira a truly special time at Quinta da Saraiva and with my exclusive code BigWorldSmallPockets you can now receive a €50 discount on any 4 night stay here. Book your amazing time at Quinte de Saraiva here – you won't get a better price!
Otherwise, Airbnb apartments in Madeira can be picked up for around €50- €70 – a real bargain if there's a lot of you, as these spaces are often houses that sleep up to 5-6 people and include a kitchen space so you can prepare your own meals.
At the other extreme of the price range, luxury stays in Madeira can be up to €200 a night – like the amazing Hotel Quinta da Casa Branca, which offers a pool, spa and fitness facilities amidst a 5 star experience.
After you've decided on your budget, the hardest thing about choosing accommodation in Madeira is knowing where to stay.
Check out this article I wrote all about that – it will really help you choose which part of the island to base yourself in, especially if it's your first time here.
#2 Transport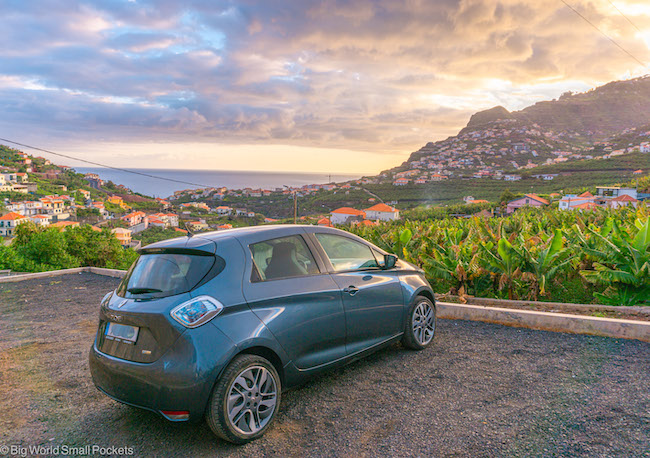 Transport costs can make a huge difference when it comes to the price of travelling in Madeira, and these will largely be based on how much time you have on the island and how much you want to see there.
By this I mean that, if you want to really explore the island at your own pace and enjoy lots of day trips and hikes, you're probably best to hire a car.
If you're based in Funchal and only want to venture out to some of the more remote parts of the island for a couple of days, then taking tours for these excursions (and using the public transport service the rest of the time) might be a more cost-effective option for you.
Hiring a car is also a cheaper option if there's a group of you – we piled 5 of us into a car, which made it pretty affordable! – but having to foot all the costs yourself if you're a solo traveller means your budget could soon start spiralling.
As a guide, a hire car with full comp insurance can be picked up for around €60 a day in Madeira. If you have external excess insurance cover, you can bring this cost down by not going fully comp and using your 3rd party insurance here to mop up the costs of any accidents if they happen.
Of course, you'll need to add fuel to the rental costs of hiring car, but this can be eliminated by renting an electric vehicle. Some accommodation operators, such as Quinta da Saraiva even offer free charging for your electric vehicle overnight – what a winner!
Alternatively, if you don't want to rent a vehicle, you can use the cheap local bus service to get between Funchal and many of the islands' other main towns / destinations – although do be aware the bus service is neither frequent or late running!
Find out more details about buses in Madeira, including timetables, here.
And if you don't have wheels, but want to explore some of Madeira's best natural landscapes – including hiking routes, beaches and volcanic pools, then it's probably best to take day tours, which tend to operate from Funchal and include hotel pick-ups in the capital. I'll give more details about these tours in the next section.
Sadly no Uber is available in Madeira and taxis can be costly. That said, they are available for short trips, including from the airport to Funchal centre, if you don't want to hop on the bus for this journey.
#3 Tours & Activities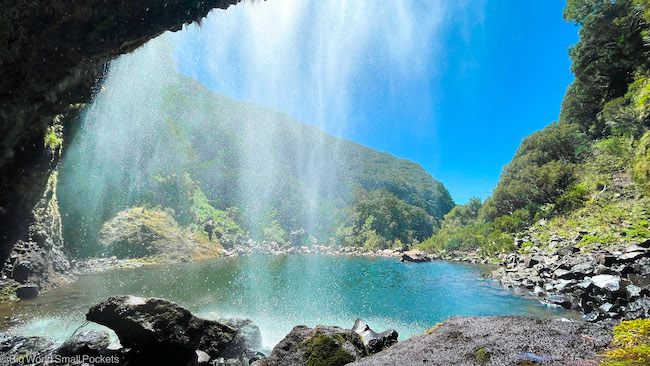 And coming in at number 3, it's another variable cost in the Madeira travel budget, because this expense category will really vary depending how many tours and activities you take.
As I mentioned above, if you don't have a car, then you probably will take at least a couple of tours in Madeira to help you experience the stunning natural landscapes of this island and its jaw-dropping diversity.
On the other hand, if you do have a car, then you might not take any trips – apart from maybe a boat tour to spot whales and dolphins as I did, or a food or wine tour where no one wants to be the designated driver!
Whale-watching and dolphin-spotting tours usually cost around €25-40 per person and here's a top-rated sunset option that comes highly recommended.
When it comes to local culinary tours, this Funchal food and wine walking tour gets great reviews, but is costly at around €70 per person.
In Funchal, you don't really need to take any tours if you don't want to. You can easily wander this city for free and entrance to most churches, plus many museums / gardens are either free or cost under €7.
The exception is the wicker basket ride, which again depends on how many people you have in your basket, but works out on average about €25 per person.
If you are, however, planning to venture beyond Funchal on some epic day trips, then here's my top picks for Madeira day trips, which all cost between €35-60 per person:
#4 Food & Drink
Following on from the potentially large tour bill, you'll be pleased to know that food and drink in Madeira is not nearly as expensive!
Of course, this doesn't include fine dining options, but in general, a coffee in a local café will cost you around €2 and a pizza in a casual restaurant around €10.
Staying somewhere that offers breakfast, or has a small kitchen (so you can pop to a supermarket for a few bits) is a good way to save money here.
A casual sandwich and drink lunch in a café is likely to be around €5-10 and dinner out with a glass of local beer around €15-20.
Limiting how much alcohol you drink in Madeira is an easy way to keep the budget even lower, but if you do enjoy a glass or 2, sticking to local drinks such as Coral lager or the local fruity cocktail – Poncha – is a good way to go.
This means you should be able to get by on as little as €20-25 a day when it comes to eating and drinking – it just depends how much you like indulging in this way!
Can I also point out that food is not Madeira's strong point in my opinion, so I really didn't bother to spend a lot on it!
Final Madeira Budget Breakdown
And here it is, the complete (per person) breakdown of what it costs to travel in Madeira for 10 days on a budget to mid-range scale!
Return flights to Madeira from London – €100
10 days travel insurance – €30
10 nights accommodation per person in a shared double room or group Airbnb – €400
10 days hire car based on 2 people sharing – €300
Fuel for 10 days of rental car use – €100
Entrance fees and short tours in Funchal – €60
Food and Drink and 10 days – €250
Total – €1240
I hope you've found this article about how much it costs to travel in Madeira useful.
And tell me, is the total figure more or less than you expected?
I'd love to know what you think and also how much you've budgeted for / spent on your Madeira travels, so please drop your answers into the comments box below…
SAVE THIS ARTICLE TO PINTEREST!