If there's one thing Madeira is not, it's short on places to stay!
Probably due to the island's diversity and the fact that almost every part of it has a wealth of great things to visit and enjoy, there really isn't a clear choice when it comes to the best place to base yourself when visiting Madeira.
Which is good in one way… and kind of annoying and difficult in another!
Because if you're experiencing anything like when I was trying to select my Madeira accommodation, you're feeling pretty overwhelmed and very lost.
In fact, I was so lost, I ended up staying in a few different places in Madeira, just so I could work out which spots were best!
I also drove and visited almost every corner of this island during my 10 days here, which means I'm now pretty perfectly placed to bring you the full lowdown about where to stay in Madeira… and even get specific depending on what you like doing, when you're visiting the island and how long you're staying for!
Let's get stuck in…
---
Related Posts
---
My stay at Quinta da Saraiva was kindly gifted but, as always, all views are my own.
This page contains affiliate links meaning Big World Small Pockets may receive a small commission on any purchases at no extra cost to you.
---
#1 Best Place to Stay if You Don't Hire a Car
Funchal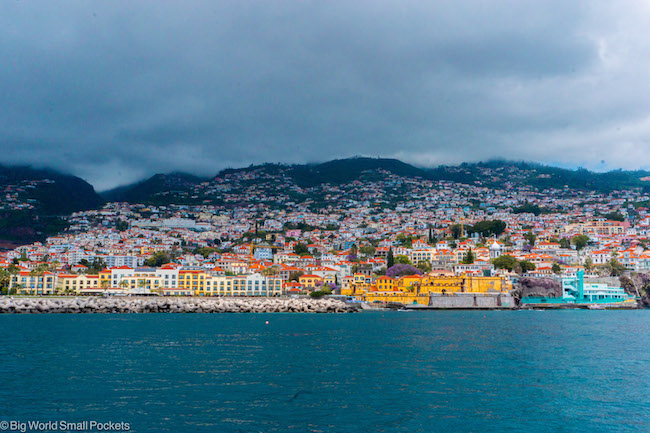 So yes, we're straight in here with the island's capital, because if you don't have a car to use during you're time in Madeira, you're absolutely going to want to base yourself in Funchal.
Not only will this be most convenient for getting to and from the airport – there's a local bus service that makes the trip, or else taxis aren't too pricey – but the capital is also the easiest place to base yourself if you want to get around the island using public transport too.
In addition, if you want to enjoy any hiking excursions or 4×4 trips that take you to see the best of Madeira's diverse and delightful landscape, then again, Funchal is the place to stay.
And that's because most tours leave from the capital (and usually include a free accommodation pick up and drop off), which certainly makes Funchal the easiest place to base yourself if you want to see and do a lot, but don't have your own wheels.
Check out these top-rated tours that leave from Funchal for more ideas…
But it's not just tours around the island that the capital is good for, because Funchal also has a lot of great sightseeing opps on its doorstep too.
From sliding down a hill in a huge wicker basket (I'm not joking!), to whale watching and dolphin-spotting, many of Madeira's top things to do can be enjoyed in and around the capital, meaning you really don't have to go too far.
So if you want to experience the best of Madeira, but avoid the hassle and expense of renting a car, then I definitely recommend Funchal as the place to stay during your time here.
Top Places to Stay in Funchal…
#2 Best Place to Stay if You Want to Be Quiet but Close to the Action
Câmara de Lobos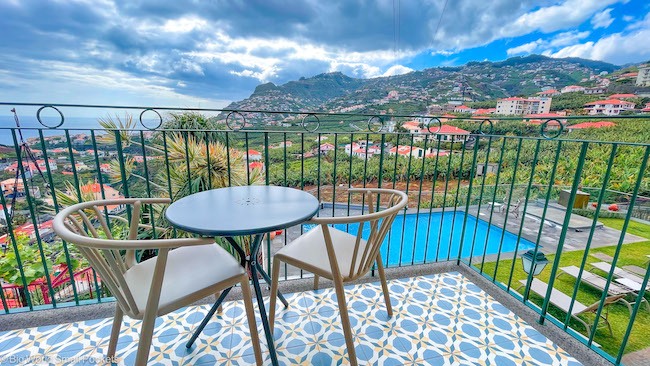 Ok, so I know this is a bit of a weird title, but it was hard to try and find a description for Câmara de Lobos because, despite being one of the best places to stay in Madeira, it's also hard to define!
A historic fishing village, with a local as well as a tourist-friendly vibe, this lovely spot is small and quiet, but still has a certain charm and buzz about it.
The lovely harbour-side setting and boats bobbing in the bay here definitely make it a tourist drawcard, but at heart, it's a quiet local village.
This kinda makes it the best of both worlds – a chilled and tranquil spot, but one that also boasts a sense of local life and vibe.
Câmara de Lobos is also brilliantly close to Funchal and the airport, which makes it easy to access, and there's plenty of good restaurants and bars there too.
This means if you're staying anywhere in the area, then walking here for dinner is a good option if you don't want to select a designated driver!
Top Places to Stay in Câmara de Lobos…
#3 Best Place to Stay for Surfers
Jardim do Mar
Ok, so this is a bit of an easier category to define, because next up on my list of where to stay in Madeira, I have selected the top spot for surfers on this island.
Yes, it isn't commonly known that Madeira is a great spot for beginners and experienced surfers alike, but the news is slowly getting out there and this cute spot down on the southeast coast is grabbing more than its fair share of the limelight.
Due to its location, Jardim do Mar receives the swells of the North Atlantic and a large diversity of waves – from point breaks to reef breaks.
And with a name that translates as the "garden of the sea", you can tell the stage is well and truly set here for a laidback and water-heavy time!
Top Place to Stay in Jardim do Mar…
#4 Best Place to Stay Resort Feels
Calheta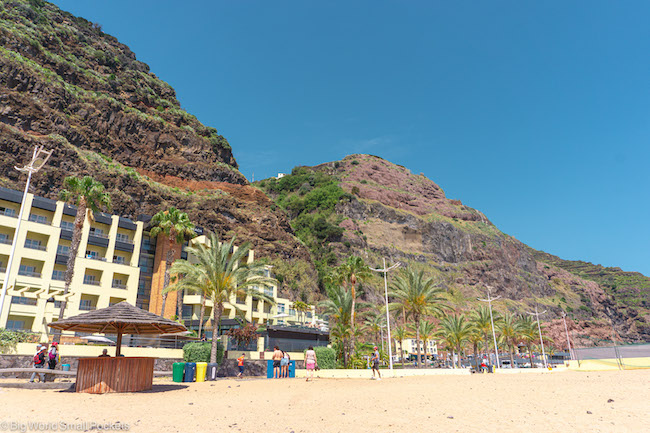 And right near Jardim do Mar is another one of the best places to stay in Madeira, although this one couldn't be more different!
Yes from surfer town to full resort, if you want somewhere to really get a tan, stroll a harbourside, get a gelato, swim in the sea and generally get on the mega-relax, Calheta is probably the place for you.
I think it's pretty fair to say that Madeira is not renowned for its resort tourism – for a start, it's quite far away from mainland Europe and doesn't always boast the best weather (those pesky mountains hang on to those clouds), nor does it have a huge number of sandy beaches… but Calheta is the exception here.
Ok, so it's a manmade beach at Calheta, but it's still pretty decent, with good safe swimming.
Plus, the hotels around here definitely make it the place to come if you just want to chill by the pool with other tourists and not really move!
Top Places to Stay in Calheta…
#5 Best Place to Stay for Families
Machico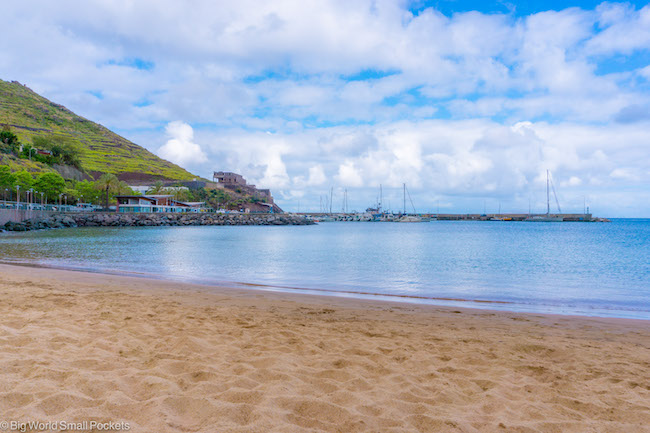 Otherwise, if you like your sandy beach served with a bit more of a local feel and a trad town – one that boasts good restaurants, amenities and a fair amount of charm – look no further than Machico.
Another manmade beach in Madeira, the white sand here is really nice and again there's good swimming, making it a top place for kids to enjoy.
With plenty to do in the town as well as around, this is a perfect spot to keep all family members happy – as an example, the nearby Ponta de Sao Lourenco is a great place for a lowkey walk – in fact, it's one of my top-rated Madeira hiking trails!
Safe, calm and quiet, but with supermarkets, things to do and places to eat, Machico is a good all-rounder for families and not too far from Funchal and the airport either.
Top Places to Stay in Machico…
#6 Best Place to Stay for Local Feels
Sao Vicente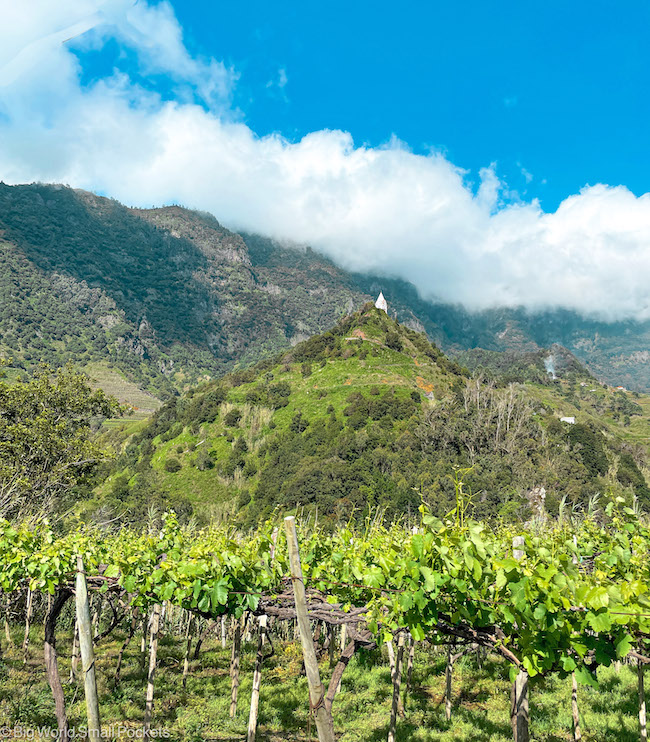 Over on the north coast, we now come to the lovely village of Sao Vicente, which is definitely full of the local vibes.
One of the places I chose to stay during my time in Madeira because it boasts some great priced house / apartment options, I really liked the authentic, quiet and charming nature of this village and its surrounds.
The north of the island tends to be a bit quieter on the tourist front – the fact it's often not as sunny and dry as the south coast definitely accounts for some of that – but you can certainly have some lovely days in the north too and, for those of you looking to really immerse yourselves in the more jungly and wild scenery of Madeira (including some of the island's top hikes and mountain trails), the north coast can be a great option.
Enter the town of Sao Vicente, which is certainly one of the top places to stay in northern Madeira thanks to the great value for money it offers and the culturally authentic feels.
Top Places to Stay in Sao Vicente…
#7 Best Place to Stay for Exploring Northwest Madeira
Porto Moniz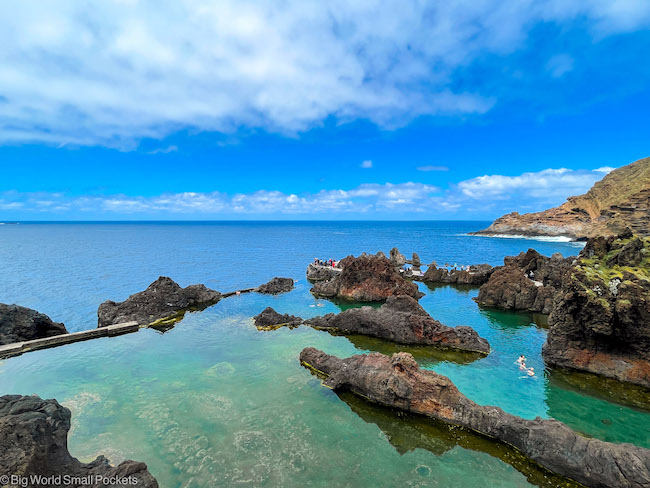 And last but not least on this list of where to stay in Madeira, we come to the best place to base yourself if you want to explore the northwest of the island.
This is generally acknowledged as the more remote part, but it does boast some of the best scenery and natural attractions, including volcanic swimming pools, black sand beaches and lush, tropical scenery.
The small hamlet of Porto Moniz has some affordable places to eat and drink, but it's really because of the accessibility to the more off the beaten track area of the island, that you'd stay here.
Do be aware however, that when I say off the beaten track I am not referring to Porto Moniz itself – this place draws the crowds thanks to the pools here – but stay slightly further out and you're unlikely to see too many other tourists!
Top Places to Stay in Porto Moniz…
When to Visit Madeira?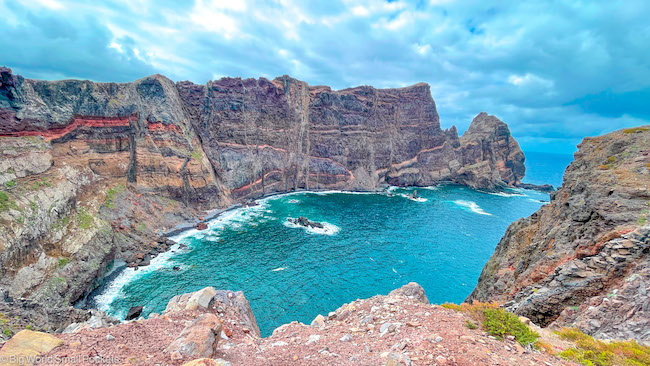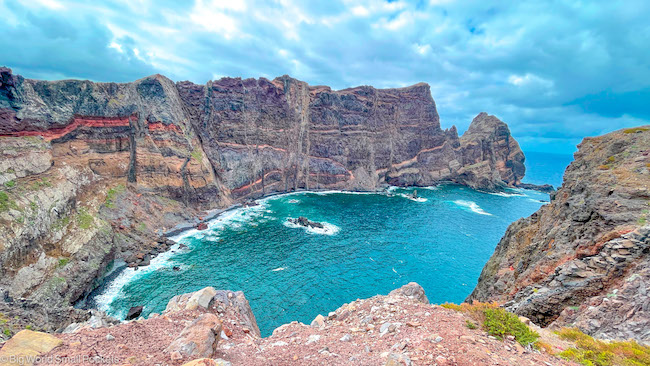 May to September is the best time to visit Madeira.
Learn more in this detailed post I wrote about the best time to visit the island.
How to Get to Madeira?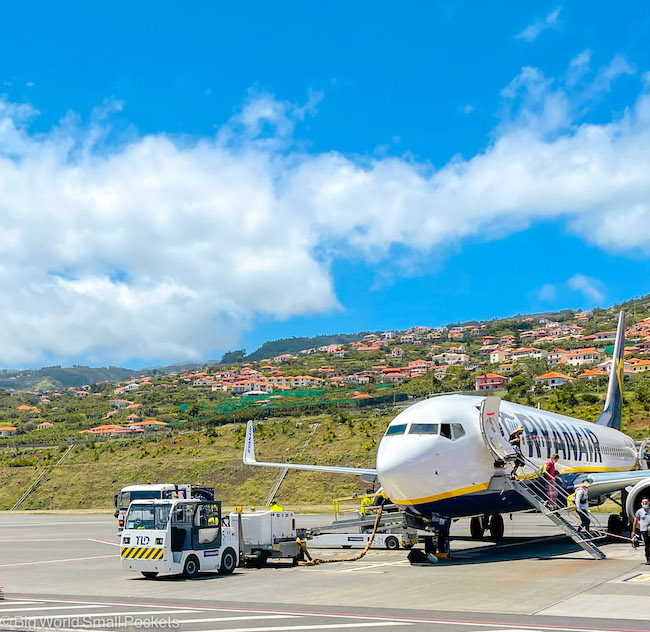 Fly to the Cristiano Ronaldo International Airport!
Find the best deals at Skyscanner, including with budget airline carriers like Ryanair and EasyJet.
How Long to Spend There?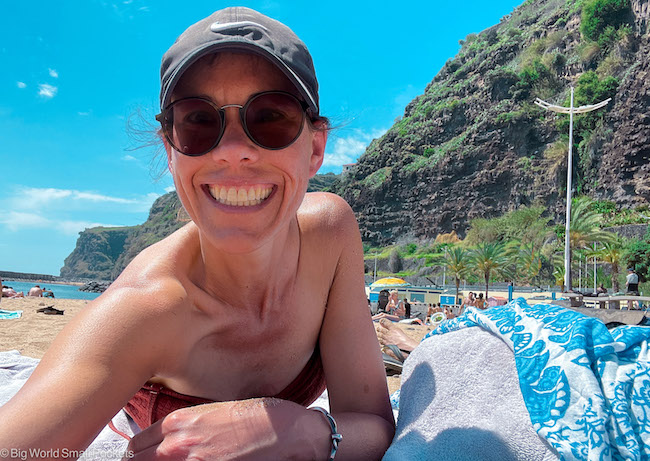 I'd suggest at least a week to see a lot of Madeira and enjoy many things on this list.
10 days would be even better!
How to Get Around Madeira?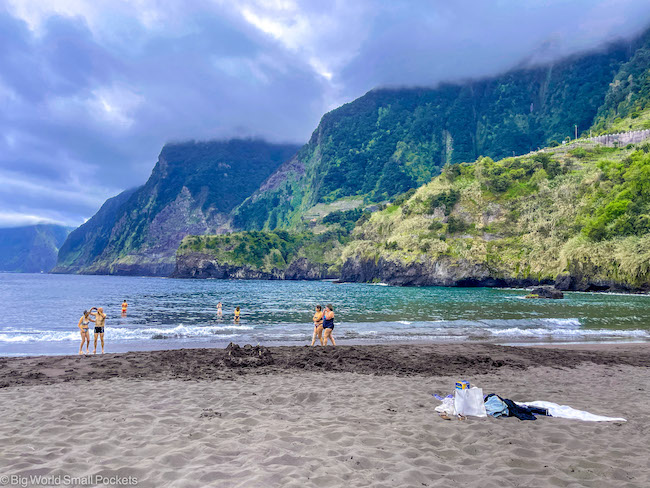 Hiring a car is the best way to get around Madeira. Find a great deal here.
Otherwise, if you don't want to drive, I recommend staying in Funchal – there's an airport bus that can run you to the capital from the airport and then a public bus service you can use to get around to other parts of the island.
Travel Insurance for Madeira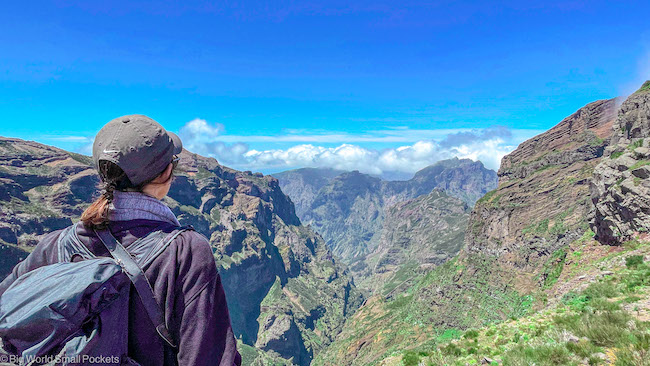 World Nomads offers simple and flexible travel insurance. Buy at home or while travelling and claim online from anywhere in the world.
Alternatively, if you're a long-term traveller, digital nomad or frequent remote worker seeking travel health cover, check out Safetywing's Nomad Insurance policies.
PIN IT TO PINTEREST!
So when it comes to the question of where to stay in Madeira… now you know!
Which of these 7 hotspots makes your list?
Or have you visited Madeira before and want to recommend somewhere else to readers?
Please drop all your feedback in the comment box below…