When is the best time to visit Madeira? Read on to learn exactly when to visit for an unforgettable trip..
A Portuguese island, politically part of Europe, Madeira is actually situated off the west coast of Northern Africa and therefore has a climate that much more closely resembles this subtropical part of the world.
Through into this mix however, the volcanic landscape of Madeira, the fact it sits in the Atlantic Ocean and the largely elevated nature of its topography (read. it's pretty freaking mountainous!) and you've got yourself a veritable climate feast.
Which is exactly why it can be pretty confusing to work out when the best time to visit Madeira is.
But fear not, I've got the full breakdown on exactly when you should travel to this island, no matter whether you want to sightsee, sunbathe, head out hiking or a combination of all 3.
So let's keep this intro short and get stuck straight into the details…
---
Related Posts
---
My stay at Quinta da Saraiva was kindly gifted but, as always, all views are my own.
This page contains affiliate links meaning Big World Small Pockets may receive a small commission on any purchases at no extra cost to you.
---
When to Visit Madeira?
So weirdly I'm starting this article off with a kinda conclusion, because the first slice of info I'm bringing you is the best time to visit Madeira overall.
This means no matter what you're heading to Madeira to enjoy (chilling, hiking, sailing, eating, drinking, sightseeing… the list goes on and on), I'm kicking things off here with the best overall months to book a trip to this gorgeous island.
And, in my opinion, those top months are May and September.
Part of the Spring and Autumn seasons respectively, the reason I've chosen these 2 months is because they offer the best overall experience – the happy middle ground as it were.
Technically part of the shoulder season, May and September avoid both the heavy rainfall Madeira experiences in winter and the hot temperatures and high humidity the island often gets in summer.
Offering mild climates, with long days that boast good sunshine hours, both May and September give visitors the chance to not only enjoy the mountain trails of this dramatic island, but also the chance to swim in the sea, head out on whale-watching tours, sightsee in Funchal and enjoy a good flower or wine festival too!
In addition, prices are not at their peak, and you're sure to find a bargain both in terms of a flight to the island and accommodation.
And neither are crowds too heavy, which means you won't have to share the hiking trails and viewpoints with too many other tourists!
Sounds ideal right?
And that's because these months pretty much are in my opinion – a notion backed by the fact that I specifically chose to visit Madeira in May myself!
Madeira Climate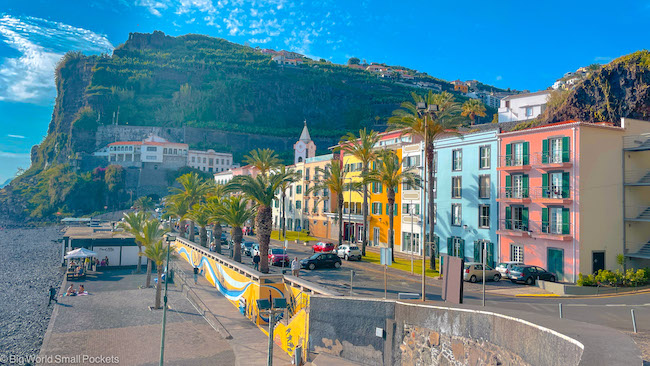 Ok, so now that we've got the basics out of the way, it's time to go into a lot more detail because, despite how much of a no-brainer I've made May and September sound when it comes to the best time to visit Madeira, there are a few variables!
And the main one of these is the mountainous geography of the island and the fact that it can be brilliantly sunny, hot and dry on one side, while just half an hour away, on the other side of Madeira, it's not unusual to simultaneously experience clouds, mist, wind, humidity and even rain!
Yes welcome to the conundrum that is working out the best time to travel to this island!
Because it's a small island territory, situated in the subtropics and with a pretty mountainous terrain that begins to climb almost straight from the coastline, Madeira is not always as sunny and dry as you might hope.
A short boat trip off the island will quickly show you how passing clouds often get stuck on the mountains here and can bring misty and wet conditions, even if it's sunny at the coast!
Even if it is sunny when you start to head up the mountains, you can quickly find the conditions change when you reach the top, as clouds have rolled in seemingly from nowhere!
But conversely, the opposite is also true!
Many a time, I was driving through clouds on my way up to begin an elevated hike in Madeira, only to reach the top and find the clouds had disappeared – or I'd ascended above them – and was met, instead, with glorious blue sky conditions – hoorah!
In essence, the Madeiran climate is very changeable.
And this is exactly why, when you travel to this island, you really need to be prepared with lots of layers and for all eventualities, no matter what time of year!
The other point to note is that often the north of the island – the "otherside" of the mountain range as it were – does tend to be wetter and cloudier and sometimes you'll drive from there to Funchal (or elsewhere on the southern coast) and be surprised to find a totally different type of weather.
Is this because you've changed location? Or because the clouds have blown across? Who can tell!
All I know is that it happened to me multiple times!
So the moral of the tale is being prepared with everything you could possibly need (including a sun hat, a waterproof jacket, a bikini and a jumper) whenever you head out the door for a day in Madeira!
And, and because it's an island and a mountainous one at that, it can also get windy out of nowhere too (especially in exposed areas), so I just wanted to prepare you for that too!
Madeira Seasons
To put things in context, Madeira has 4 main seasons – which are broadly aligned with the main European ones…
March – May is known as Spring with mild temperatures that hover around the high teens / low twenties (centigrade that is!). Rainfall begins to drop and the days are getting nice and long – think around 9 hours of daylight. The island is lush and green.
June – August is summer in Madeira when temperatures can soar to the thirties and the humidity skyrockets. Rainfall is low and sunny days are common.
September – November is essentially an autumn season when the temperatures begin to cool down as rainfall increases. Days shorten, but there's still plenty of sun that will allow you to get out and about.
December – February is winter in Madeira. As a subtropical island, even the coldest months on this island are mild and rarely drop below 15 in the day, which makes taking a dip in the sea still possible for the brave among you! However, rainfall is significant in the winter and cloudy wet days tend to predominate over sunny ones.
Visiting Madeira is certainly possible all year round – you'll never be freezing cold or without any sunshine, but as I said in the first section of this post, spring and autumn would be my picks when it comes to the best seasons to visit Madeira.
Best Time to Visit for Sightseeing
So now we move on to some more of the specific activities travellers head to Madeira for, as we take a look at which visiting months best suit these.
Sightseeing can be enjoyed across Madeira (from the traditional houses of Santana in the northeast, through to the lighthouse at Ponta do Pargo in the southwest) which, as discussed previously, can make things difficult given how changeable the climate is from one part of the island to the other!
However, I'd say the most visitors heading to Madeira for sightseeing base themselves in Funchal – the capital – which is the southeast of the island, as this city has the most sightseeing on offer and is easiest to get around the island from.
Funchal and its surrounds tend to have a drier and sunnier climate than other areas of Madeira, especially the mountains, which means visiting in early spring or late autumn is totally possible.
In fact, April and October would be great months for sightseeing in Madeira as temperatures are lower, as is rainfall, and crowds are thinner too!
Best Time to Visit for Hiking
If you're heading to Madeira for hiking, then great choice, because this island is a walker's paradise!
And that's even given the fact you have to prepare for at least 4 seasons in one day if you're heading out walking, especially in the mountains!
Look, the reality is that clouds, wind and rain are possible at any time of year up in the lofty heights of Madeira, although less so in the summer.
That said, you do have to contend with some pretty crazy temperatures at the time of year, which is why I wouldn't pick summer as the best time for hiking in Madeira – don't forget not all your walks will be at elevation and it will be roasting down on the coast between June and August.
And in winter, the high chances of rain would certainly make hiking less fun in my book, which is again why I'm selecting spring and autumn as the best seasons if you want to enjoy the best walking this island has to offer.
The later spring months of April and May are ideal – mild temperatures and lower rainfall, with long days and a good chance of blue skies – as are the autumn months of September and October.
Trails might be slightly busier at these times, but it's worth it for the good conditions in my opinion.
Just make sure to research when the island marathons are on, especially the Island Ultra Trail event – they tend to fall during these months, but are best avoided unless you are actually taking part!
Best Time to Visit for the Beach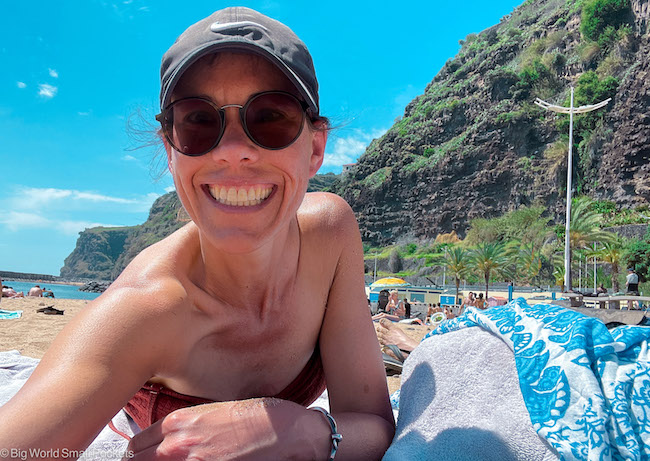 Ok, so now we come to the good stuff, the things holidays are really made for right?
Yes the beach, the sea swimming and the sunbathing are what I'm all about!
Seriously, I do love a good coastal chill when I'm on holiday and despite doing both a lot of sightseeing and hiking in Madeira, I made sure I got to swim in the sea and lie on the sand too.
And that's despite Madeira not really being an island for the beach – most are black sandy or rocky!
However, if you're here predominantly to catch the rays, then summer will definitely be the best time for you to visit Madeira.
Hight temperatures, low rainfall, long blue sky days – it's got it all!
Best Time to Visit for Wine
Or maybe it's the wine you're really going to Madeira for?
Well again, you're in luck, because this island has plenty of the stuff and you'll spot vineyards (be they commercial farms or in somebody's backyard) right across the island.
To take in the full experience though I highly suggest visiting during the island's wine festival which runs annually from late August through early September.
This is when the harvesting takes place and there's several great wine tours on the island you can enjoy that will really allow you to savour this element of Madeira's unique culture even more.
Check out my top picks here…
Cheapest Time to Visit Madeira
Avoiding high summer and Christmas are the main tips when it comes to finding the best time to visit Madeira for a bargain!
And that's because many locals return to the island during this season and things can get rather busy.
The winter months – outside of the festive season – are certainly the cheapest to visit Madeira, but you have to balance this with the high rainfall.
Overall, therefore, I personally lean towards early Spring and late Autumn being the best times if you want to balance decent weather with a good deal!
How to Get to Madeira?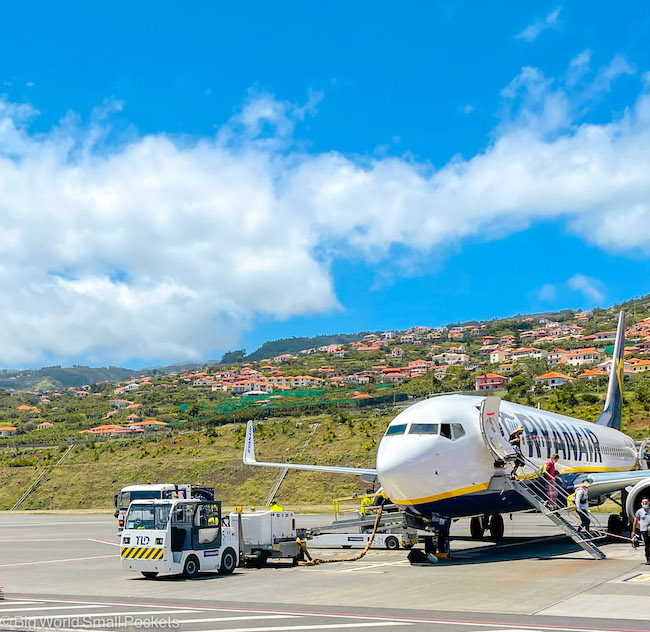 Fly to the Cristiano Ronaldo International Airport!
Find the best deals at Skyscanner, including with budget airline carriers like Ryanair and EasyJet.
How Long to Spend There?
I'd suggest at least a week to see a lot of Madeira and enjoy many things on this list.
10 days would be even better!
Where to Stay in Madeira?
Just up the hill behind the bobbing fishing boats of Câmara de Lobos on Madeira's southern coast is the amazing heritage boutique hotel of Quinta da Saraiva.
Set amidst banana plantations and vineyards, with stunning coastal and countryside views from the gorgeous pool, this is seriously the best place to stay on the island with balcony views to die for, friendly staff, amazing breakfasts and a jacuzzi to enjoy at night under the stars!
Oh and they have free charging for your electric vehicle too… it just gets better!
Owner, Juan, has renovated this beautiful family property to offer visitors to Madeira a truly special stay and, with my exclusive code BigWorldSmallPockets, you can receive a €50 discount on a 4 night stay.
So go on, what are you waiting for?
Book your amazing stay in Madeira here – you won't get a better price or experience!
How to Get Around Madeira?
Hiring a car is the best way to get around Madeira and you can find a great deal here.
I highly recommend an electric vehicle – great for the planet, great for your pocket!
Travel Insurance for Madeira
World Nomads offers simple and flexible travel insurance. Buy at home or while travelling and claim online from anywhere in the world.
Alternatively, if you're a long-term traveller, digital nomad or frequent remote worker seeking travel health cover, check out Safetywing's Nomad Insurance policies.
SAVE THIS POST TO PINTEREST!
So there you have it, my complete guide to the best time to visit Madeira!
I hope it's helped you decide when you visit this beautiful island.
Have any more advice to share?
Then please help fellow travellers out by dropping all your Madeira tips into the comments section below…