If you're looking for a European capital that doesn't involve too much sightseeing or museum-going, but is heavy on the cafes, beautiful tiled buildings, ceramic shops and sunset lookouts, then Lisbon could be the city for you! And here's the top Airbnbs in this city.
Still pretty affordable as European capitals go too (and therefore great for budget travellers), the country's political and economic lead city is great for those wanting to dive into the culture of this country, not to mention the great food and superb port tastings too!
A buzzing place with some top day trips to sample on the side as well, there's an international airport in Lisbon too, which makes it very easy to access.
So if you're keen to spend a few days in the gorgeous Portuguese capital, and need somewhere to stay, then check out this list of the top 10 Lisbon Airbnbs and prepare to be inspired!
---
Related Posts
---
This page contains affiliate links meaning Big World Small Pockets may receive a small commission on any purchases at no extra cost to you.
---
#1 Best for Those on a Budget
Yes, this place really is as cheap as 25€ a night… for up to 2 people!
What a bargain!
Especially when you consider it comes with its own private bathroom too!
The décor is modern and clean in this renovated heritage property and you'll be very centrally located in a core Lisbon district here too.
Hugo, the host, gets great reviews and this property also boasts lovely views over the old town and Tejo river too… what's not to love?!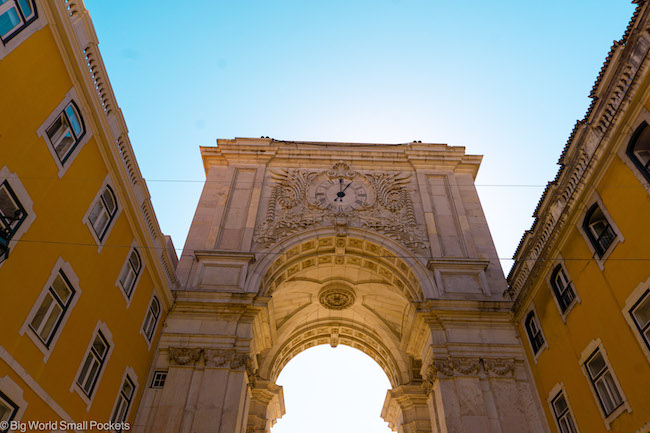 #2 Best for Families
Hosting 6 guests across 3 bedrooms, this modern décor property with 2 double beds, and a set of bunk beds, is perfect for families.
The cot, washing machine, air-conditioning and elevator access only add to the family-friendly nature and a fully equipped kitchen and recent renovation also increase the comfort and appeal.
Located next to the river and with a garden in front, this property gets loads of sun and daylight (a winner in my book!), and is situated in the heart of the city, with easy access to all public transport, as well as supermarkets and restaurants.
Excellent ratings praise the host's communication and central location, as well as cleanliness and check-in process, making this a great Lisbon Airbnb.
#3 Best for Couples
Renovated Modern Studio in the Historic Centre
But from families to romantic settings, now we move onto the best Airbnb in Lisbon for couples.
This light and airy studio apartment, with modern, tasteful decor, is situated in the historic Mouraria quarter and is within walking distance from many major sites including a stop on the famous Tram 28 route.
With very efficient air conditioning, room darkening shades, fast wifi and a 32″ Smart TV, it's got everything you could need, including a Nespresso coffee machine that completes the picture!
Perfect for those who really want to explore the best of Lisbon from where they're staying, this is a lovely space to head back to for an evening and also wake up at in the morning.
#4 Best for Groups
With the capacity to sleep 10 guests, this top Lisbon Airbnb for groups boasts 4 double bedrooms and a private pool, along with comfortable socialising spaces!
Located in Belem, on a prominent street, accessing the best of this district is easy from this great Airbnb, while the centre of Lisbon is just a tram or Uber ride away.
This large and modern apartment has wifi, aircon, TV, board games, free onstreet parking and a fully equipped kitchen, however, what really clinches it for me, is the beautiful decking, pool and outdoor furniture that this makes this place the perfect spot for friends to hang out.
Top host communication and easy check-in seal the deal!
#5 Best for Long Term Stay
And now we move on to the best Airbnbs in Lisbon for long term stays and a great option for those who are wanting to stay at least a few weeks in this city… or maybe even more!
I've gone with a fairly affordable option here, as I know budget is definitely a long-term consideration, as well as the need for easy access to the city centre – it's certainly crucial when I stay anywhere for a while.
And both these factors make this cute apartment a winner!
Set in the historic neighbourhood of Misericórdia, this property boasts 2 double bedrooms, a modern bathroom, a full kitchen and a lovely living space.
All are beautifully decorated with a modern and bright feel, but the best bit has to be the triple glazing, which means a good night's sleep is guaranteed!
#6 Best for Coastal Access
If you're looking for water views when you stay in Lisbon, it's seriously hard to beat the outside terrace this place boasts, making it ideal for those who want to enjoy outdoor space as part of their accommodation choices.
After all, isn't dining alfresco on a terrace with amazing views and setting sun all part of the perfect Lisbon experience?!
Stylishly decorated and centrally located, this property has 3 single beds, plus a sofa bed, an excellent kitchen, wifi, washing machine and aircon.
Top reviews praise, well, pretty much everything, including the excellent value for money!
Sold!
#7 Best for a Splurge
Situated in the centre of Lisbon, this stunning 4 bedroom property is a hidden treasure.
Sleeping up to 8 guests and offering the highest standard of furnishings and fittings, the private panoramic pool and gardens make this a hidden hideaway in the heart of bustling Lisbon.
Situated next to the walls of the city's castle, there's a private bathroom off each bedroom here, along with full aircon and heating system, free toiletries, workspace, wifi and large TV.
Breakfast is included and amazing views definitely make this one of the top Airbnbs in Lisbon.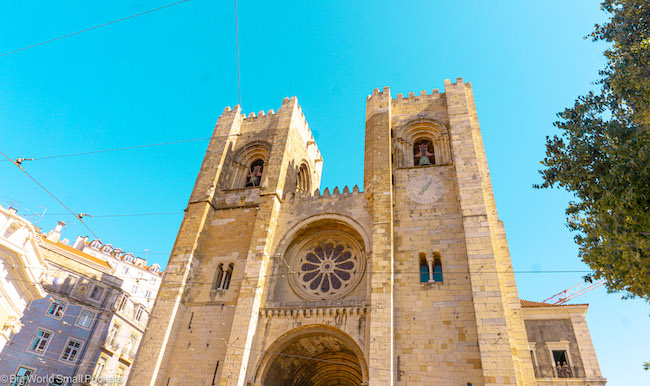 #8 Best for Loft Apartment
So while in Lisbon, you really can't miss the opportunity to stay in a loft apartment, which makes the most of this city's fabulous architecture.
With a prime location in one of the most iconic and prestigious neighbourhoods of Lisbon, this 1 bed apartment, which includes a kitchen, dedicated workspace, TV, wifi, aircon, bath and paid parking offsite, is a winner.
Modern throughout, including double glazing, and a whole host of public transport options on the doorstep, it's no surprise this apartment gets rave reviews for cleanliness, communication and location.
#9 Best with Private Balcony
If you're coming to Portugal to enjoy the alfresco lifestyle, then a private balcony will definitely come in handy when you're looking for a Lisbon Airbnb.
And I've got just the answer!
Seriously you are not going to get better than this 1 bedroom apartment, located in the city centre, with parking on the premises to boot!
I know!
And it gets amazing reviews from former guests too!
Told you it was a good 'un!
Sleeping up to 4 guests, with a separate living and dining space, this is the perfect Airbnb for a couple who have a vehicle in Portugal.
There's also aircon in this place, superfast wifi, a washing machine, room darkening shades, kitchen with coffee maker, lift and did I mention the private balcony?!
I know there's a lot of exclamation marks in this one, but seriously, I think this spot deserves them!
Situated in a beautiful, traditional building, this spot has been restored to incorporate modern features and a clean minimal design and really offers a winner combo!
… one more exclamation mark for luck!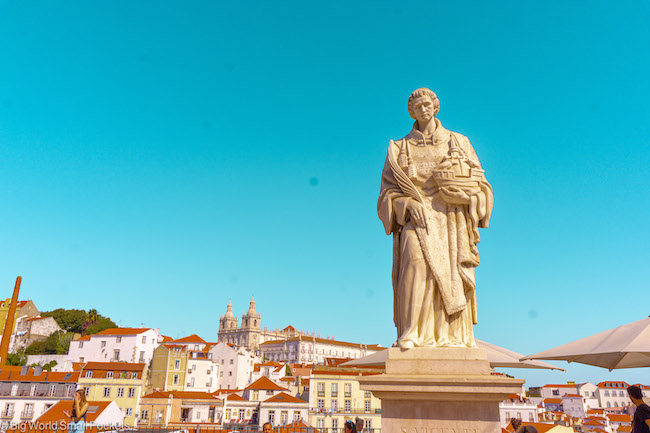 #10 Most Unique Porto Airbnb
And now we come to the most unique Lisbon Airbnb and trust me, if you're looking for something a bit different, this could be the one.
A 1 bedroom luxury apartment, accommodating 2 people in a queen bed, this apartment is built in what used to be the old stables of the Chiado convent.
Utterly unique, there's a private terrace off the bedroom, and much of the design incorporates the old brickwork of the convent arches.
Situated in a prime location, with great access to restaurants, shops, galleries and nightlife, the joys of Lisbon are just a short walk away.
The fantastic host, Ricardo, gets rave reviews and this unique property also boasts a kitchen space, aircon, TV, wifi and kitchen.
Starting your day in Lisbon by sipping an espresso on the patio here will certainly provide you with a travel experience you won't forget!
When to Visit Lisbon?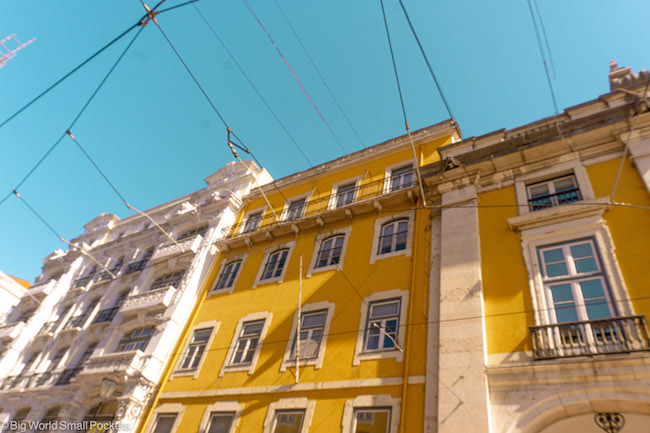 No question in my mind that the best time to visit Lisbon is during the months of April through June, plus September and October.
This is when the warm weather will allow you to take full advantage of the city's charm, but you won't be wilting in the summer heat.
How to Get to Lisbon?
If you're coming from an international destination, particularly one further away, it's likely you'll be flying into Lisbon care of the city's international airport.
As always, I suggest Skyscanner for bagging the best flight deals.
Otherwise, you can also use buses or trains to travel to Lisbon from elsewhere in Portugal, such as the Algarve, or neighbouring European countries, such as Spain.
I highly recommend Omio for booking train and bus journeys to Lisbon, as they make it easy and quick to compare hundreds of rail and coach journeys to the city from across the Iberian region.
5 Packing Essentials for Lisbon
Travel Insurance for Portugal
World Nomads offers simple and flexible travel insurance. Buy at home or while travelling and claim online from anywhere in the world.
Alternatively, if you're a long-term traveller, digital nomad or frequent remote worker seeking travel health cover, check out Safetywing's Nomad Insurance policies.
Where to Travel After Lisbon?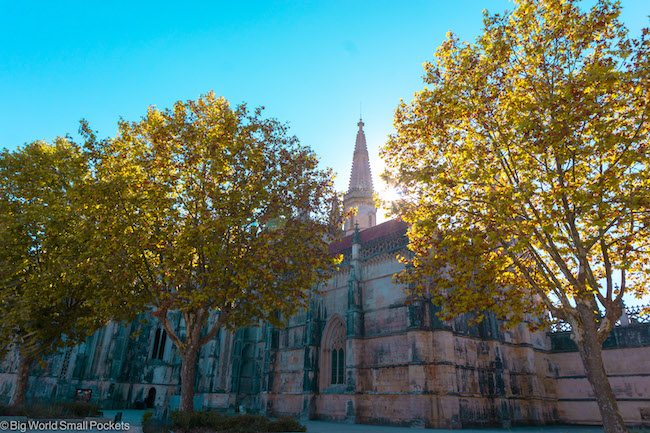 If you still have time for more travelling after Lisbon (and lucky you if so!), then you may want to head to other parts of Portugal or Spain.
Check out these articles for some inspiration…
PIN IT TO PINTEREST!
So there you have it folks, my list of the top 10 Lisbon Airbnbs.
Do you have a fave Lisbon Airbnb that didn't make the list?
If so, I'd love to hear about it, so please drop your recs into the comments below…