There's no question Lisbon is now a huge hit when it comes to European city trips.
Oozing creative and cultural flair, what this city doesn't offer among its charming streets, quaint cafes and boutique shops, it certainly will boast from its epic lookouts, superb bar scene and delicious culinary choices.
So yes, trust me when I say Lisbon is a city you're going to fall in love with!
And this love affair won't just start and end with the city itself – it's likely to extend to some of the amazing day trips it's also easy to sample during your time here.
From glorious coastline to fairy-like castles, ancient monasteries to unique suburbs, the array of fantastic Lisbon day trips you can savour are almost as good as the city itself!
So let's get stuck in with this list of the 8 top Lisbon day trips you simply can't miss…
---
Related Posts
---
This page contains affiliate links meaning Big World Small Pockets may receive a small commission on any purchases at no extra cost to you.
---
#1 Sintra
Ok, so first up on this list of the best Lisbon day trips is an absolute classic – but it's a classic for a reason and that's because if you've ever spied the brightly-coloured Disney-like turrets of the castles in Sintra, it's likely you'll have bookmarked this one already!
Just 30km from Lisbon and easy to enjoy either via public transport or as part of a great guided day tour, hitting up the castles of Sintra is an absolute must during your time in this part of Portugal.
Begin your day by heading to the travellers favourite of Pena Palace which, situated right on top of a hill in the Sintra-Cascais National Park, offers amazing views across the wooded landscape all the way to the Atlantic Ocean.
Spend at least a couple of hours strolling and snapping the vibrant yellow and red towers here, before heading through the woodland trail to your next Sinta castle – The Moorish Fortress.
Here the ruined and authentic walls are just begging to be explored and the views aren't bad either!
After this, I highly recommend popping in to discover the mysterious gardens and enigmatic structures of Quinta da Regaleira, before making your way into the town of Sintra to enjoy a late lunch and sample 1 or 2 at the craft brewery here.
Complete your day in this UNESCO-listed area by visiting the National Palace of Sintra or hitting up the souvenir shops.
Learn how to travel from Lisbon to Sintra by train in this post I wrote, or else learn more about visiting the Sintra Castles themselves here.
And finally, if you want to save yourself the hassle of organising a day trip to Sintra, check out these top-rated options which sort out everything for you…
#2 Porto
Perhaps a controversial entry on this list of great day trips from Lisbon, but in actual fact Porto – Portugal's second city – is possible to visit in a day from the capital… as long as you make an early start!
With options to travel there by train, bus or car for a day trip (learn more here), I'd actually strongly recommend taking an organised tour instead if you want to make the most of this excursion.
And the simple reason for this is because it's a pretty long way between the 2 cities and taking a tour will allow you to relax on the journey and therefore save all your energy for exploring this great city when you arrive.
Because a great city it certainly is (did I prefer it to Lisbon? Maybe!) and, if you can spare more than day to visit Porto, I certainly recommend you do.
If time is tight however and a day is all you can allow, then that's certainly better than nothing and will absolutely grant you enough time to get a flavour for this quirky, ancient city and its main sights.
From beautiful churches, amazing markets, stunning tiles, great river views, plus restaurants and cafes galore, there's a lot to enjoy in Porto and that's even before you get stuck into the port tasting themselves!
Learn more in my list of the top 17 things to do in Porto and then check out these great day trips that run to the city from Lisbon…
#3 Explore Fátima and Coimbra
Back to the closer Lisbon day trip options now, this gem is a feast for those who are big into their churches and universities.
But this isn't just any old church or university, nope, Fatima and Coimbra are home to one of the biggest pilgrimage sites in Portugal and one of the oldest universities in Portugal respectively.
Wander the Cathedral and cobbled streets of these ancient towns (one of which dates back to the 13th century) and explore historic palaces and learn the stories of the miracles that took place here.
This is a great day trip from Lisbon if you have your own vehicle, otherwise, this top-rated small group day trip is the perfect option for those who want a stress-free option.
#4 Obidos & Batalha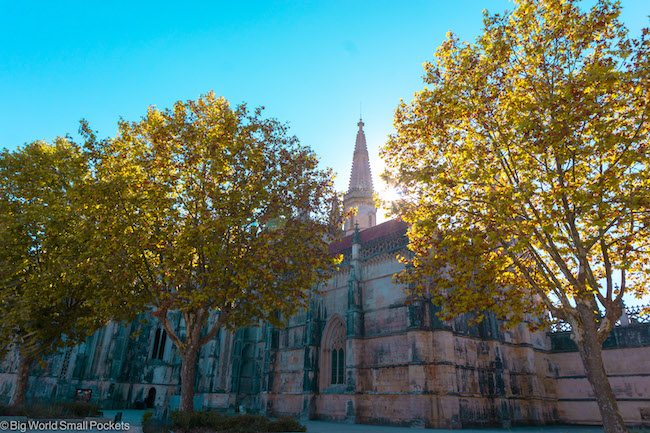 A superb option for those who have their own vehicle, heading north out of Lisbon will allow you to check out both of these sites in an easy day trip.
First up is the charming town of Obidos.
Small but perfectly formed, this cute town is full of artsy vibes and gorgeous little shops and also has its own castle – located up a hill of course (this is Portugal after all!)
Wander the historic streets and have your camera at the ready – this place is about as cute as it gets!
After Obidos, it's time to continue into Batalha – a UNESCO-listed monastery that is likely to take your breath away.
Whether it's because of its charming atmosphere, lack of tourist crowds or gorgeous architecture, I can't be sure, but there's no question this late flamboyant Gothic (and yes, that is the official name of its aesthetic style) masterpiece is a must-see when in Portugal.
If you don't have your own vehicle, but still want to day trip to Obidos and Batalha from Lisbon, then check out this great organised option.
#5 Belem
Is it technically part of Lisbon, or does it qualify as a day trip? – must be honest the jury is still out on this one, but either way, there's no question that this glorious suburb that lies on the outskirts of the capital, is a must-visit.
Home to the 16th century tower of Belem (an enormous Gothic Monastery) and – who could forget – just about the most famous Pastel de Nata spot on the planet – Pastéis de Belém – if you need any excuse to day trip to Belem this is surely it!
It's really too far to walk to Belem from Lisbon's city centre – plus it's not a very nice walk along a motorway either – so the best ways to get here are either public transport (E15 tram) or an Uber.
Once there, enjoy strolling this estuarial laidback suburb and sampling one of its many top seafood restaurants.
Belem is also a great spot to learn about Portugal's eventful seafaring history.
Oh and because this is Portugal, except plenty of lovely tiled buildings too!
#6 Cascais
But if, after all that sightseeing and seafood / nata eating, you're feeling pretty done-in, then perhaps a trip to the coast is in order?
And there's few better places to hit up the coast from Lisbon than Cascais, which makes the perfect beach day trip.
Once a traditional, peaceful fishing spot, this town is now a major Portuguese coastal resort, so if you were hoping for something quiet, perhaps think again!
Instead, what you will find is plenty of action in what is quite a flashy and upmarket resort.
With an imposing fort and a selection of museums, there's also stuff to do here aside from hitting the lovely sandy beach – although I personally didn't manage to drag myself away!
Restaurants abound too of course, as do the feel-good chilled out vibes!
Getting to Cascais from Lisbon is easy via a train ride, or check out this top-rated guided tour, which includes a visit to Sintra.
#7 Arrabida Natural Park
And for even more nature time, why not consider this great Lisbon day trip to Arrabida Natural Park.
A huge protected area of wildness, which has been under preservation laws since 1976, Arrabida can be found on a coastal peninsula south of Cascais.
But despite being next to the sea, this natural park is also home to a decent mountain range – Serra da Arrábida – as well as a series of sandy beaches.
Kayaking, snorkelling and caving activities are all up for grabs as part of organised day trips to this delightful natural landscape and some guided tours also include a visit to nearby Azeitão for wine tasting at a family vineyard – oh hello!
Check out my top picks for day trips to Arrabida from Lisbon below…
#8 Nazare
And last but not least on this list of the top 8 day trips from Lisbon, we come to a great option, albeit it one that will take your further north!
Because yes, up the coast north of Cascais (but quite a distance north I need to add) is the famous surf mecca of Nazare.
Ok well, it's famous for surfing because it's famous for the waves and quite frankly, it should be, as the town boasts numerous records for some of the largest waves in the world.
If you've seen any of the crazy videos on social media with surfers being towed out by jet skis to attempt to surf some waves so big they look like something out of a Hollywood movie – they were probably filmed in Nazare.
Outside of the beach and the waves and the surf, there's not a huge amount going on here, but if you fancy another sandy Lisbon day trip that isn't Cascais, this makes for a great option.
The town itself also boasts a lovely trad fishing vibe too and most days here you can watch the fisherman doing their thing – not least from Sitio – a lookout spot that gives one of the best vantage points on the whole Portuguese coast.
You can of course drive to Nazare, or else take an organised day trip from Lisbon, many of which include stops at either Fatima, Obidos, Batalha (or all 3!).
This is actually a great way to see a lot in one day, so if this sounds up your street too, then check out these top-rated options…
When to Visit Lisbon?
No question in my mind that the best time to visit Lisbon is during the months of April through June, plus September and October.
This is when the warm weather will allow you to take full advantage of this city's charm, but you won't be wilting in the summer heat.
Where to Stay in Lisbon?
I highly recommend the districts of Baixa, Barrio Alto and Graca when it comes to the best places to stay in Lisbon.
Check out these top accommodation picks, including hostels, hostels, guesthouses and apartments and use the handy map feature to filter between districts.
5 Packing Essentials for Lisbon
Best Travel Insurance for Lisbon
I wouldn't dream of travelling anywhere these days without proper coverage and always recommend travel insurance from World Nomads which I've used during my time across Portugal and Europe.
If you're a long-term traveller, digital nomad or frequent remote worker looking for travel insurance, then look no further than Safetywing's great Nomad Insurance policies. These guys will cover you at some seriously great prices!
How to Pay in Portugal
When it comes to paying for things in Portugal, I always recommend using card payments as much as possible, because many ATM machines in this country charge hefty withdrawal fees.
But of course, you want to ensure you're not being charged overseas transaction fees or getting poor exchange rates when you use your card abroad, which is why I always take my Wise card away with me.
The easy way to spend abroad with the real exchange rates, no markups, no sneaky transaction fees and a free Euros account, you can use your Wise card just like a debit card in Portugal… and it links easily with Google and Apple pay – sold!
Get yours here.
Where to Travel After Lisbon?
If you still have time for more travelling after Lisbon (and lucky you if so!), then you may want to head to other parts of Portugal.
Check out these articles for some inspiration…
PIN IT TO PINTEREST!
So there you have it, my list of the top 8 Lisbon day trips.
Which one most appeals to you?
I'd love to know!
Please drop your thoughts into the comments box below…