So you're travelling to Portugal and want to enjoy both of this country's top cities in a short amount of time?
Then read on, because this post will be perfect for you!
Answering all the questions you have around whether you can, and should, day trip to Porto from Lisbon, I'll provide all the travel details you need as well as pros and cons to help you make the best decision for your trip.
So let's get stuck in…
---
Related Posts
---
This page contains affiliate links meaning Big World Small Pockets may receive a small commission on any purchases at no extra cost to you.
---
Should You Day Trip from Lisbon to Porto?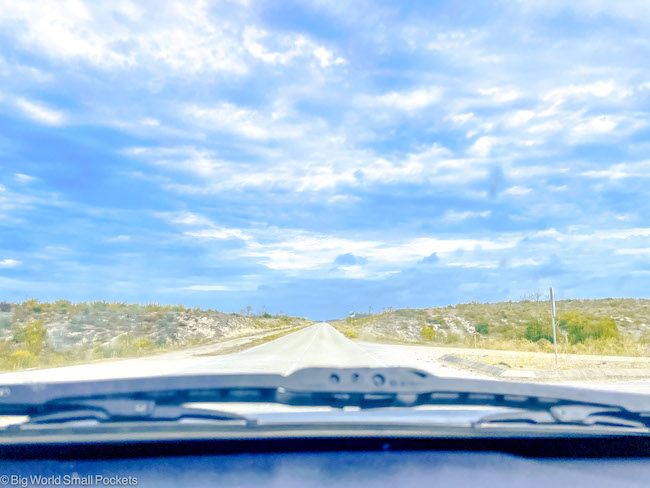 So the first thing you need to know if you want to day trip from Lisbon to Porto, is that this will be a long day.
Situated some 300km apart – if you want to make this journey there and back in 24 hours, you'll need to make an early start!
That said, it's not insurmountable, but if you're looking to have a more relaxing trip, then this might not be the excursion you're looking for!
This means that yes, while you can physically day trip from Lisbon to Porto, whether you should or not is another matter.
If you have a few (or even one) spare day up your sleeve, then it may be better to spend a night in Porto – but we'll get on to this.
The other option is to consider your itinerary – remember that Porto is north of the capital Lisbon so, if you're heading off elsewhere after your Portugal travels – perhaps into Northern Spain or France – then it actually makes sense to go to Porto and stay there, rather than retrace your steps.
This is especially true if you're making a land journey to one of these destinations after Portugal, but is also true if you're flying, because Porto has a large international airport that services many European destinations.
Alternatively, if you're heading south after your time in Portugal, you may want to arrive into Porto, spend a day or 2 there, then head onto Lisbon for a few of days before continuing your journey on, perhaps to the Algarve or southern Spain.
Organising your trip this way makes more sense than doubling back on yourself, especially when it comes to a day trip as long as that from Lisbon to Porto.
If you are gung-ho on the sightseeing however and really want to cram in as much as you can into a short timeframe, then yes it is possible to day trip from Lisbon to Porto via 3 means – self-drive, public transport or a guided tour.
Here I go into all 3 of those options, and recommend tips and tricks, so you can get the best from this travel experience.
Day Trip Lisbon to Porto: Self-Drive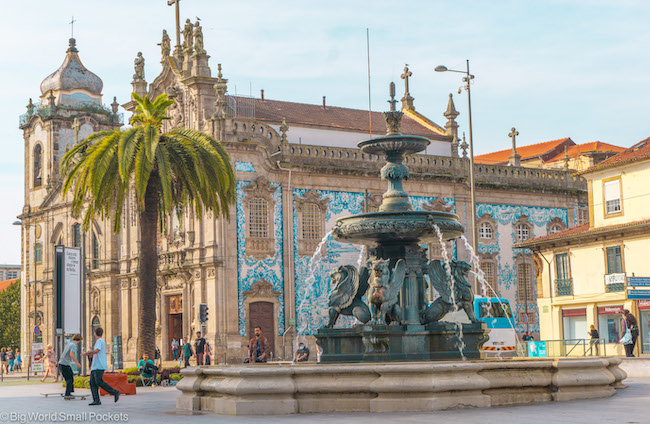 First up, it's the self-drive option.
This is the option where you literally rent a car and drive yourself between these 2 cities – stopping in Porto for a few hours before turning round and heading back to Lisbon.
Quite simply, because of the driving distance involved – think at least 3-4 hours each way – and the fact you're likely to be tired, this isn't a great option unless you're in a group to share the driving duties.
Hiring a car as a group is also a more economical option, but don't forget rental amounts usually go up once you start adding additional named drivers to the rental policy.
When you hire a car in Lisbon, it's best to do so from the city outskirts – this will help prevent getting stuck in traffic and slowing down your journey time even more.
It will also help you avoid the costs of parking in the city, as you can simply make your way to the outskirts, pick up the rental vehicle and hop straight on the motorway up to Porto.
As such, I recommend Thrifty Car Hire, who allow for pick-ups at Lisbon airport, which makes for a great option.
To drive to Porto, head for the A1, which runs north from Lisbon and takes in both cities via the easiest and fastest route.
Usually one of the advantages to hiring a car is the flexibility, because you get to build in stops on the way. And while there are several great stops between Porto and Lisbon, it's unlikely you'll have to time to stop and enjoy these as part of a day trip.
For this reason, I really only recommend hiring a car and driving from Lisbon to Porto if you're planning to spend a couple of nights in Porto, or a few days exploring Portugal on the way up there.
This will allow you to strike a much more leisurely pace and to take in some of the great towns and sights on the way, including Obidos, Averio and Batalha Monastery.
I actually drove with a friend from Lisbon to Porto and stopped at all these spots, which made for a great road trip adventure!
Don't forget however, when you arrive in Porto, you'll then need to find and pay for parking – preferably a secure one too. This isn't impossible, but it's just something else to think about and organise if you do choose to self-drive on your day trip from Lisbon to Porto.
Day Trip Lisbon to Porto: By Train or Coach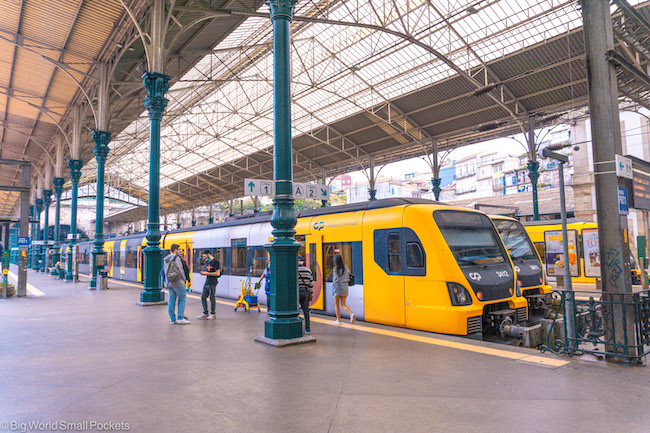 If I've put you off self-driving on your day trip from Lisbon to Porto (sorryyyyy!), then here's some other options that might prove great alternatives.
First up, it's the train, because yes it's easy, simple and affordable to use public transport to travel between Lisbon and Porto and then enjoy a DIY day trip in this country's second city.
With 17 trains daily between the 2 cities, there's plenty of options to choose from, but once again I recommend catching an early one to make sure you get the most time possible in Porto, especially as this journey can take 3-4 hours to complete!
My advice?
Get up early and sleep on the train if you have to!
The 7:09am departure from Lisboa-Oriente station is a good option, because it's one of the fastest services and will get you into Porto-Sao Bento station just after 10:30am.
Coming back, leaving Porto-Sao Bento at 6:20pm will get you into Lisbon just before 9:30pm.
Lisboa-Oriente station is situated outside of the city, so it's worth bearing in mind you'll need to get an Uber or bus to this station if you're staying in the city centre of Lisbon.
When it comes to arriving in Porto, you'll need to change stations here, as again the main Porto station you'll arrive into, Campanha, is located outside the centre.
However any train to this station from Lisbon, will include an onwards suburban train to Porto-Sao Bento, which is just a 4 minute ride away and is the station you'll want to get to.
Sao Bento is situated in the historic heart of Porto, so head here for the easiest connection to your sightseeing activities and a chance to gasp at the amazing tile mosaics.
Train tickets can be booked and paid for on the Portuguese national rail carrier website- Combois de Portugal.
Tickets in second class trains cost as little as 40€ return when booked in advance.
Alternatively, you can also travel by coach between Lisbon and Porto for your day trip.
Coach journeys are actually about the same length of time as the train, but tickets tend to be cheaper, so if you're travelling on a budget, this could be a good option.
Gipsyy, Flixbus and ALSA all operate on the Lisbon-Porto route, which means there's lots of departures to choose from too – roughly one an hour.
Most coaches also leave from Lisboa-Oriente and arrive into either Porto-Campo or Porto-Garagem Atlantico. They cost as little as 20€ return when booked in advance.
Taking roughly 3 hours each way, the coach is a surprisingly great option for your Lisbon to Porto day trip and I recommend using Trainline to find and book the best ticket deals.
Of course, the advantage to taking public transport when it comes to your day trip to Porto from Lisbon is that you don't have to drive and can sleep on the journey!
It's altogether a less stressful option in my opinion, meaning you can save your energy for your Porto sightseeing.
Day Trip Lisbon to Porto: Organised Tours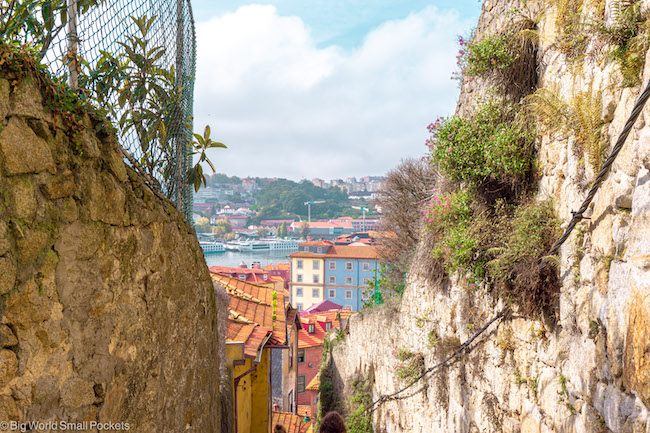 But the least stressful of all the options when it comes to day tripping to Porto from Lisbon has to be the organised tour option.
This is a great choice to go for, especially if you're short on time to reach and book options, because everything will be done for you.
No need to get to a train or bus station and worry about missing your return, with a guided tour you can just sit back, relax and enjoy the day, safe in the knowledge somebody else is taking care of all the logistics for you!
Tours also generally include guides and activities once you get to Porto, which is another great time-saving option, as it means you don't have to think about booking, or be in time for, any independent tours you might have arranged during your day in the city.
Sometimes organised trips also include additional attractions, which makes them a great way to see a lot in a short amount of time. Plus, you'll usually be travelling as part of a small group in an air-conditioned vehicle, which makes them really pleasant too.
Of course, tours are a bit pricier, but they sure do take the effort out of planning and getting the best from this epic day trip experience.
And with that in mind, here's my top 2 picks…
So… Should You Day Trip to Porto from Lisbon?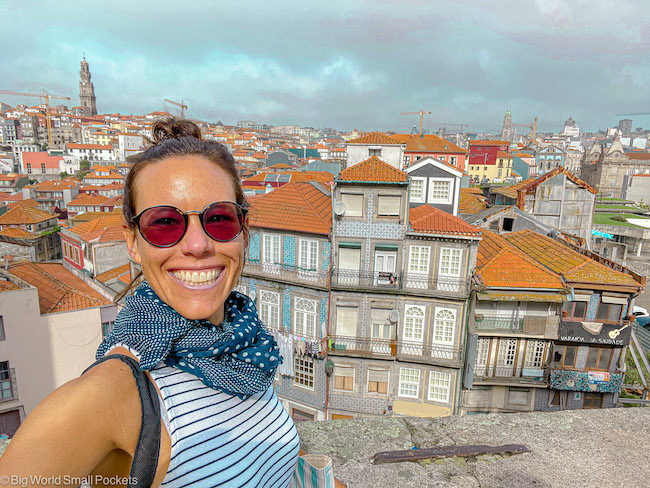 Well now, that's a very good question!
And I'm hoping that by this point, you might feel like I've helped you make up your mind on this one!
After all, the decision about whether you do want to day trip from Lisbon to Porto is really a balance of time and logistics vs your desire to see as much of this country as possible.
Honestly, in an ideal world, I recommend against day tripping to Porto and instead suggest you spend 2-3 days in this city as it really offers a lot.
By just day tripping here, I think you're doing it (and the amazing day trip options it offers in its own right) a disservice, but of course, that's only if you have the luxury of time!
If you only have a few days in Portugal, then staying in Porto and Lisbon really isn't an option for you, and you may wish to just day trio to Porto.
That said, do consider some of these other top Lisbon day trips instead – after all, there's more than enough to do around this city without travelling hundreds of km across the country for just a few hours
And don't forget, you can always return to Portugal and visit Porto another time!
However, if you have your heart set on Porto – and I can't blame you, it is a charming city – then a day trip from Lisbon is not only possibly, but likely to make a really jam-packed and enjoyable day trip too!
For more info about just how enjoyable, don't forget to check out this article I wrote about the 17 top things to do in Porto, which is bound to get your wanderlust sentiments rolling!
When to Visit Portugal?
If you're planning a trip to Portugal, then it's a good idea to think about when you might want to visit Porto.
And there's no question in my mind, that the best time to enjoy this city is during the months of April through June, plus September and October.
This is when the warm weather will allow you to take full advantage of Porto's charm, but won't have you wilting in the summer heat.
I've visited Porto across all these recommended months and found the climate ideal for sightseeing as well as hitting the nearby coast.
That being said, you will find Porto has some of a micro-climate, where sea fog can often roll in the morning!
Don't despair however, in the warmer months the sun usually burns it off by late morning.
5 Packing Essentials for Portugal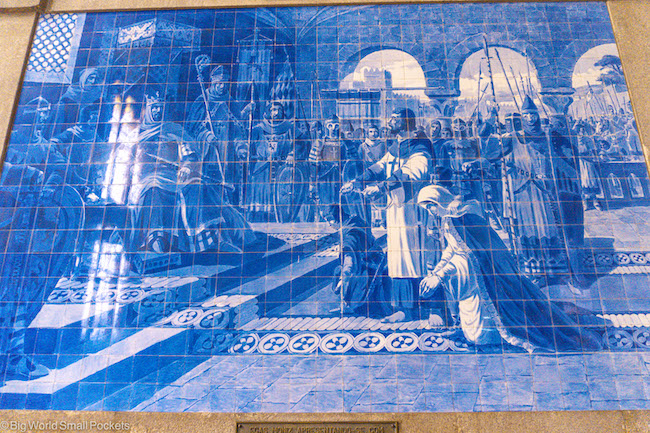 Travel Insurance for Portugal
World Nomads offers simple and flexible travel insurance. Buy at home or while travelling and claim online from anywhere in the world.
Alternatively, if you're a long-term traveller, digital nomad or frequent remote worker seeking travel health cover, check out Safetywing's Nomad Insurance policies.
Where to Travel After Portugal?
If you still have time for more travelling after Portugal (and lucky you if so!), then you may want to head on to another nearby country such as Spain, France or Italy.
Check out these articles I've written about my fav parts for some top inspiration…
SAVE THIS ARTICLE TO PINTEREST!
So there you have it folks, my full lowdown on whether you can, and should, day trip from Lisbon to Porto.
I hope I've inspired you to visit both cities, but if you still have any questions, please don't hesitate to drop them into the comments below and I'll get back to you…