Set over in the very east of France, the beautiful Alsace region is one of the spots in this country you have to visit, especially if you like a good wine route!
Offering incredible Medieval villages that look like something out of a fairytale, combined with some of the country's best vineyards, stunning countryside views, plus the ability to take in castles, enjoy a road trip and exercise your legs muscles with some serious cycling fun – this part of France really does have something for everyone.
Not known for being super affordable, unfortunately, I am happy to report that I visited this region on a budget and, as such, am able to bring you some great cheap travel tips for seeing the region in an affordable way too.
So strap in for the ride folks, here's my complete guide to planning your ultimate trip along the Alsace Wine Route!
From the top vineyards and village to visit, along with a full itinerary, as well as tips on how to get there and where to stay, this is the only info you'll need to ensure you see the best of this fabulous French region…
---
Related Posts
---
This page contains affiliate links meaning Big World Small Pockets may receive a small commission on any purchases at no extra cost to you.
---
What & Where is the Alsace Wine Route?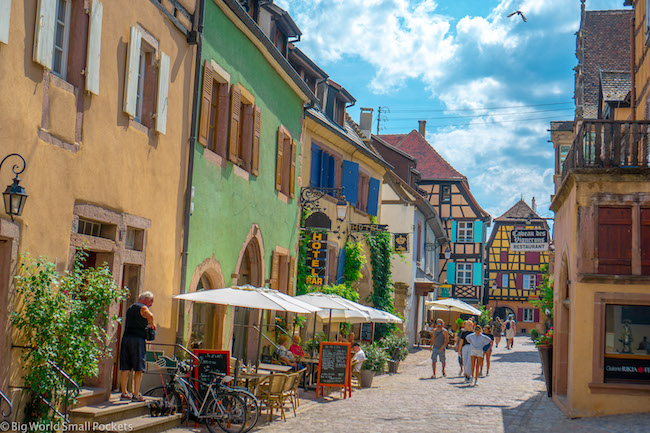 As I already mentioned in the intro to this article, the Alsace region is situated in the northeast of France, in the department of Grand Est, which runs alongside the German border.
As such, influences from both countries (historically the area has shifted between these 2 national powers) is what brings the Alsace its one-off and Instagram-famous charm!
Noticeable in everything, from the iconic half-timbered and brightly colours buildings (which are said to have inspired Disney's setting of Beauty and the Beast) through to the food and, of course, the wine, the Alsace really showcases how the merging of 2 European cultures can result in an utterly unique area that oozes its own distinct charm.
So at this point, I should probably dig into the wine topic!
One of the most renowned aspects of this region and a prime reason so many visit, the wines grown in this part of France are also common across the border too and include Rieslings, Gewurztraminers and Pinot Gris, as well as tipples derived from the red Pinot Noir grape too.
There are over 1000 wine producers situated in the Alsace region, most of them small, family-run operations who host their own tastings in their cellars.
Of course drinking and buying wine here is the thing to do!
Visiting some of the most charming and character-filled vineyards, as well as the picturesque villages and medieval castles of this region, form the backdrop of the Alsace Wine Route travel experience.
Stretching from the regional capital, Strasbourg in the north, down to the town of Mulhouse in the south, this 170km wine route trail is the best way to take in the breadth and depth of this iconic area.
I'll go into more depth about the best ways to travel this route, as well as the stops to make and where to stay later, but right now my advice would simply be to start in Strasbourg and work your way south from there.
In my opinion, this is the best way to take in the region, as both the landscape and the quaint villages only get better the further south you go!
Check out my itinerary near the end of this post for my list of the best villages and vineyards you shouldn't miss along the Alsace Wine Route.
How to Get There?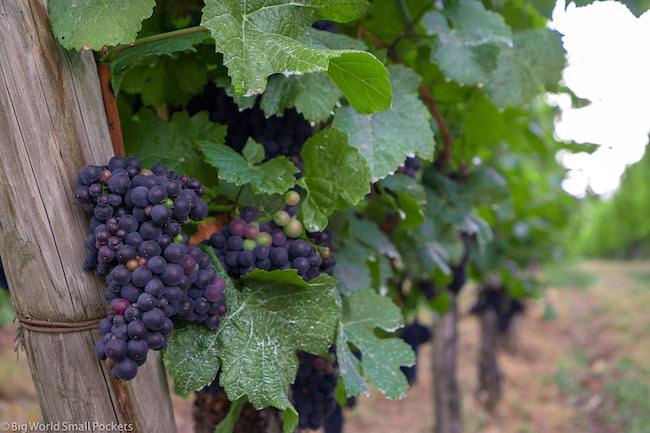 So yes, as I said, I recommend beginning your Alsace Wine Route adventure in Strasbourg, the region's capital and a famous French city you should definitely explore.
Starting in Strasbourg- the largest urban area in the Alsace – also gives you time to get acquainted with the region and to make a plan about how you'd like to visit the rest of it.
Preparing any supplies, booking any trips or vineyard tours, as well as mapping out an itinerary, will all be easiest from here.
Strasbourg is also the easiest place to get to if you're coming from Paris or other areas in the north or west of France.
Serviced by major motorways (very helpful if you're driving) or good train and bus connection (very helpful if you're travelling by public transport), it's a key access hub – another good reason to make it your launching point to explore the Alsace further.
You can learn more about visiting Strasbourg, in particular its world-famous Cathedral, in this complete travel guide I wrote about the city.
I highly suggest checking out this article if you plan on swinging by Strasbourg as part of your Alsace Wine Route (which I definitely recommend you do), but for now, I'll just say that I'd give the city of Strasbourg at least 1 full day to explore.
That's likely to mean 2 nights, as your first day will probably involve a good amount of travel time to get there.
Paris to Strasbourg is around a 6 hour drive (traffic dependent) and public transport takes a similar amount of time – trains are quickest, but buses are cheapest.
These services can be booked via Trainline or Flixbus respectively and both run from many major destinations across France and from other nearby European cities (including those in Germany and Switzerland).
Trainline and Flixbus are my go-to sites for booking train and bus travel across Europe as they offer simple and secure reservations in English at some of the best rates.
When it comes to staying in Strasbourg, I highly recommend a rental apartment, which provides the best value accommodation near to the historic centre – which is where you want to be!
VRBO are my go-to site for finding great rental apartments in France and beyond, just check out this incredible apartment right in the historic centre of Strasbourg, with a Cathedral view, which sleeps up to 6 people and has been recently renovated – it's a steal!
Best Time to Visit the Alsace Wine Region?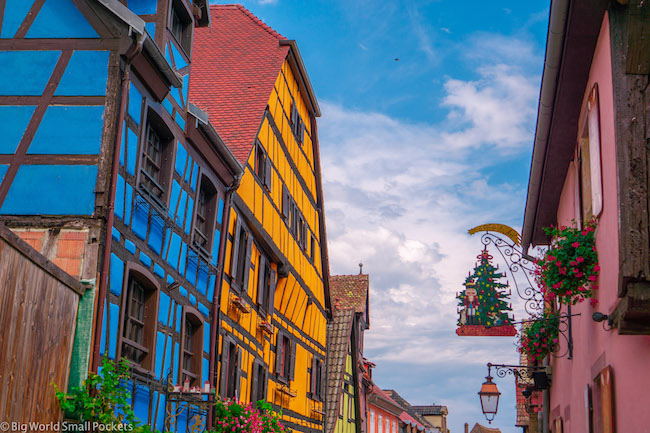 As well as the wine and villages and castles and views, the Alsace region is also well-known for its beautiful Christmas markets – hardly that surprising when it's located so close to Germany!
This means the region is a popular spot to visit in December.
However, if you want to enjoy the wine routes specifically, there are 2 other times of the year when I suggest you visit.
The first is during the summer months of June, July and August.
This is when the region experiences its best weather – long, hot, sunny days and makes sightseeing in the villages, as well as cycling in the region, superb.
Prices and crowds can be high at this time, but it's a price worth paying in my opinion.
Summer is also the best time to visit the Alsace region if you want to camp here – this will help keep your budget really low despite the high season.
The other time to visit the Alsace Wine Route is during the harvest season, which runs during the months of October and November.
Unlike other French wine regions, such as Bordeaux, visitors are allowed to visit the vineyards at this time and many wonderful festivals happen to coincide with the harvest season.
This is the best time to visit the Alsace if you are really here for the wine, the atmosphere is unbeatable and again, it's worth the slightly higher price-tag for the experience.
How Many Days to Stay?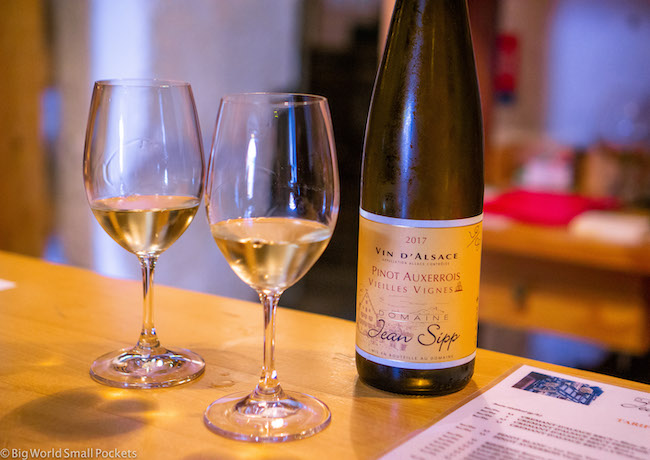 Next it's time to think about how long you may want to spend along the Alsace Wine Route.
This really depends on how long you can allow for your trip, as you could easily spend a week here exploring everything at a leisurely pace and enjoying the wine tasting to the max.
We'll cover this more in the full itinerary I give below but, as a benchmark, I'd allow at least 2 nights in Strasbourg and then 3 nights further south along the wine route.
With 5 days, an overview of your Alsace Wine Route trip may look something like:
Day 1: Travel to Strasbourg, Stay in Strasbourg.
Day 2: Explore Strasbourg. Stay in Strasbourg.
Day 3: Explore south of Strasbourg as you drive down to the main Wine Route region. Stay along the Wine Route.
Day 4: Day of cycling the Wine Route to explore best villages and vineyards. Stay along the Wine Route.
Day 5: Day of driving the Wine Route to explore more villages / vineyards or those further away. Stay along the Wine Route.
Day 6: Depart
4 full days is a good amount of time for exploring this region as, after a while, all the villages start to blend together and there's only so much cheese you can eat and wine you can drink before you need a change of scene!
This overview does, however, rely on you having your own transport.
Most people rent a car when they visit the Alsace, whether to get to Strasbourg or once they are there.
For tour options or public transport options, see the next section.
Where to Stay?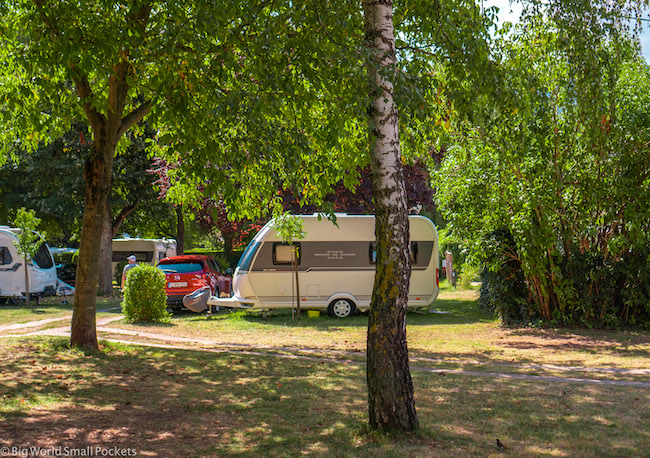 When it comes to seeing the Wine Route, I highly suggest choosing one place to base yourself in and then enjoying the area from there.
It's a pretty compact region – at least the main hub of the Wine Route is – and staying in one spot and tripping around from there is likely to be the most stress-free option.
Many people choose Colmar as a base, but I prefer the smaller villages around Eguisheim.
I camped in the tiny spot of Wihr-au-Val, which provided easy access to all the best villages and vineyards and felt wonderfully authentic.
The campsite I stayed at was called Camping La Route Verte and was incredibly well-priced and located. Everything was clean, quiet and calm and there were some good supermarkets and spots to fuel the car nearby.
You could also rent bikes from here.
Overall, it was a great budget option.
Learn more about camping in the Alsace region here.
Otherwise, if you would rather stay in Colmar, or any of the more popular villages on the Wine Route, check out this list of my top 10 Alsace Airbnbs.
How Best to Experience the Alsace Wine Route
Driving
So as you'll see from the basic outline above, having your own transport is the most popular and the easiest way to visit the Alsace.
As a regional and rural area, public transport can be limited and it's certainly a lot more difficult to fit everything in, as well visit the vineyards (which usually lie outside of the villages), without your own wheels.
Having a vehicle also allows you flexibility – if you like a place and want to stay longer, you can.
Camping, which is a key way to visit this part of France on a budget, is also much easier if you have your own vehicle to transport everything you need.
If you're coming with your own vehicle, this is easy.
If you need to a hire car you can so do either as soon as you get to France or from Strasbourg.
If you're trying to be budget-conscious, and watch your carbon footprint, then my advice would be to make your way to Strasbourg via public transport, which is easy, and then hire a car on the morning of the day you plan to leave this city.
This is what I did, getting the Eurostar to Paris from London, before heading out on the fast TGV train to Strasbourg.
After exploring Strasbourg for 2 nights, I then picked up my hire car and set off to explore the Wine Route from there.
Doing this will save you the costs of parking in Strasbourg and also reduce the number of rental days you require the vehicle for, as you're unlikely to use it in Strasbourg – this city centre is very small and very easy to navigate on foot.
For rental cars in France, check out Thrifty Car Hire, who are very reputable and offer some of the best rates around.
Cycling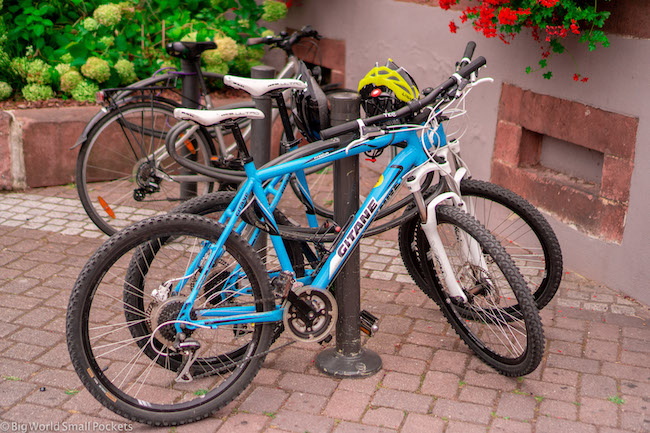 With its fairly flat terrain and gorgeous vineyard vistas, cycling at least part of the Alsace Wine Route really is the best way to experience this region in my opinion.
Usually an avid hiker, even I was converted to an adventure on 2 wheels in this part of France because, quite, simply, there's nothing more delightful then ambling between villages and vineyards at this slow and leisurely pace, taking it all in as you go.
Hardcore people will often cycle the whole 170km Wine Route from Strasbourg to Mulhouse, but if you're not super into cycling, then a day rental on a bike can still provide a wonderful experience.
There are many companies in the area you can rent bikes from – either for the day or longer.
Prices start at around €20 per day and it's best if you can find a company near where you are staying on the Wine Route, so they can drop off and pick up the bikes from your accommodation.
Not much advance planning is required here and bike hire can usually be sorted the day before they are required.
Locks and helmets are usually included, as well as a basic repair kit, but do check this at the time of booking.
Public Transport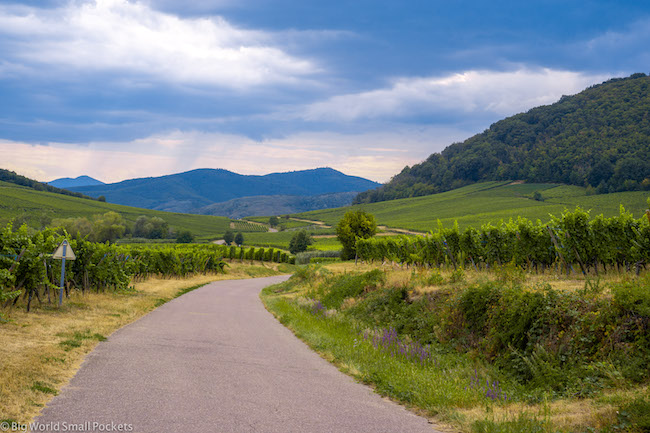 Although trains are the quickest and easiest way to get into and out of the Alsace region, they are not the best way to explore it, simply because most of the small villages here don't have stations.
If you're using pubic transport therefore, buses are your best option.
From Strasbourg you can connect via bus or train to Colmar – the largest town in the main Wine Route area – and then, from there, use local buses to get to the villages.
Do bear in mind that many of the vineyards will be hard to get to without your own car or bicycle.
I suggest basing yourself in Colmar if you're using public transport.
Learn more about how to make the journey from Strasbourg to Colmar in this article I wrote.
Tours
If you're short on time, don't want to hire your own vehicle or can't be bothered to try and work out the local French bus timetables (and I don't blame you!) then probably the best way for you to experience a slice of the Alsace Wine Route will be to take some day tours.
Running from Strasbourg or Colmar, these guided tours will take you to many of the key villages and vineyards in an easy and stress-free way, allowing you to sample the wine without a designated driver!
Here's my pick of the bunch:
Ultimate Alsace Wine Route Itinerary
Now that you've got a good idea about all the ways you can experience the Wine Route, I'm going to give you a fuller itinerary of how to spend your time in this region.
This itinerary will take in all the best sights and parts of the region and is largely designed for those with their own vehicle, however it can be adapted.
The key points to take from this are my recommendations for villages and vineyards – you can then build these into your own itinerary if needs be!
It's also good to know that most people who work in the tourism and wine region here speak French, German and English – phew!
Day 1 – Arrive Strasbourg
I always leave a day for travel at the start of any itinerary, as all travellers I know (myself included) underestimate how long it takes to get places and also how exhausted you can feel after a big travel day!
Therefore on day 1, I simply suggest getting yourself to the Alsace region.
As we've talked about earlier in this article, I recommend this means you head for Strasbourg, either by public transport or car.
Arrive in the city and get settled in your accommodation, before taking a walk around the historic centre in the evening if you have time.
Day 2 – Explore Strasbourg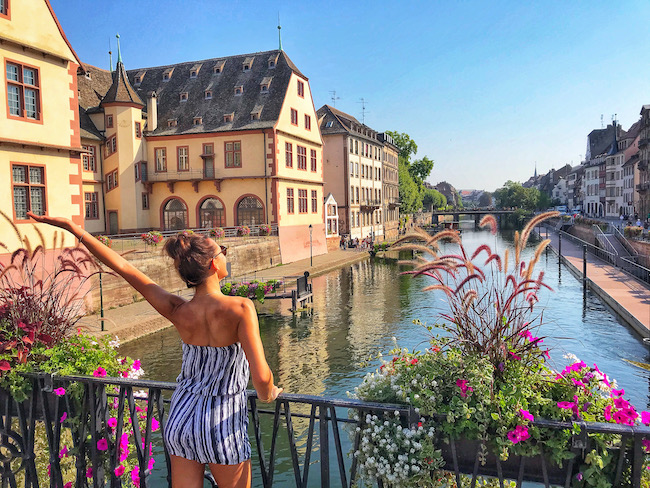 I would use day 2 to enjoy a full day in the city of Strasbourg – there's a lot to see and do here, but as the historic centre is compact, most of it is easy to navigate in a day on foot.
Check out my article about visiting Strasbourg for a list of recommended things to see and do.
Just don't miss the Cathedral, or its light-show, if you visit in the summer.
Strolling along the river here and soaking in the vibes is also a must.
Day 3 – Begin the Wine Route
On your third day in the Alsace area, I suggest getting into your car and heading out of Strasbourg. Make your way south, to the main Wine Route area, taking in some of the top sights on the way.
These include Fort Mutzig (a must for history buffs), the village and Robert Blanck vineyard in Obernai and one of the region's top castles, Chateau du Haut-Koenigsbourg, which has stunning views.
After this full day of sightseeing, it's time to head onto your Wine Route accommodation.
As I've mentioned above, I think choosing one place to base yourself and then moving around from there is the best option for a hassle-free trip in the Alsace.
I prefer the smaller, less touristy towns around Eguisheim as the best options for a base.
Day 4 – Cycle the Wine Route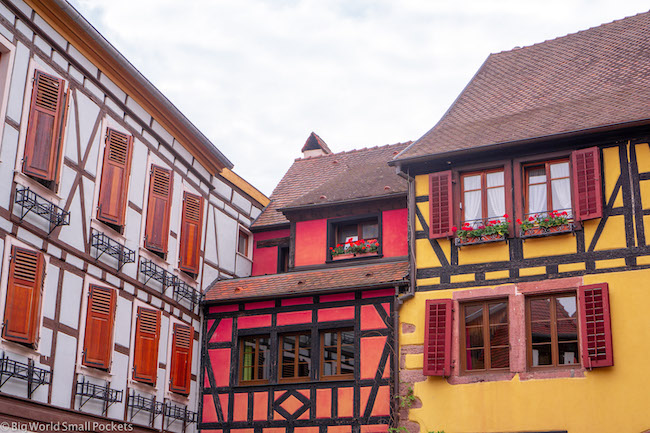 On day 4 of your Alsace Wine Route itinerary, I think it's time to hire a bike and set out from your accommodation to really dig into the beautiful villages and vineyards of this area… bring on the tastings!
When it comes to cycling, you can either use Maps.me to get around offline, or create a route using Google maps.
Alternatively, there is a designated Cycle Trail called the Wine Route to help you navigate your way around. Just following these signs will take you to many of the area's highlights long quieter riverside roads and purpose-built cycle trails – ideal if you're not a fan of the traffic!
Although it was a long day, from my campsite in the village of Wihr-au-Val, I first hit up the famous village of Ribeauvillé (1.5 hour ride) – it's a beauty and should not be missed.
Don't miss the Domaine Jean Sipp wine cellar here, along with your chance to try a famous Kougelhopf Cake – a speciality of the Alsace region.
Picking up some amazing Munster cheese, which is a speciality of this region too, from the Fromagerie Ribeauvillé, is a must!
After Ribeauvillé, it's time to push on to village number 2, the delightfully charming Riquewihr.
This was my favourite village, thanks to its small size and beautiful ambience.
Don't miss the Upper Door at the top of the cobbled main street – just ambling around this picture-perfect gem is enough to keep you entertained!
After this, it's then time to cycle on to the third village – Kayersberg.
This cycle through the back lanes of the vineyards from Riquewihr to Kayersberg was incredibly special with some stunning views – don't miss it!
Once you've arrived, just wandering this little town is the best thing to do, as well as eating as much as you can and drinking as much as you can safely!
The very famous vineyard of Domaine Weinbach lies just outside. Book ahead to sample wines here in an incredible setting!
Day 5 – Drive the Wine Route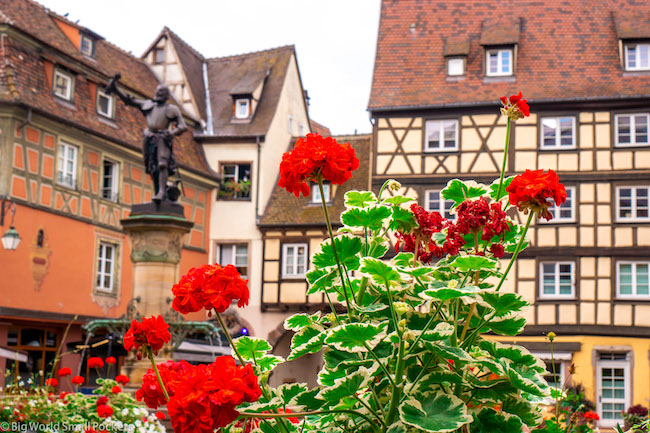 With your legs having had a good workout, why not kick back on day 5 with a drive to the other most famous parts of the Alsace region.
Busy, more commercialised, Colmar is certainly worth a look – the hub of the action here, I enjoyed seeing it, but it certainly wasn't my fav compared to the smaller villages.
Also cycling into this larger town wouldn't be much fun, which is why I've left visiting here for the driving day.
If you're not the designated driver, Mannala Pils Bar, is worth an afternoon drink in.
After Colmar, round off your Alsace village time with a trip to Eguisheim.
Often voted the most picturesque village in France, the circular layout of this town is fascinating, if not a little confusing, especially after a few glasses!
However the walled town vibes and classic photo spots make this a firm traveller favourite – not least because it's the birthplace of a former Pope!
Grab a snack at Boulangerie Marx, before heading onto the best vineyard I visited along the Alsace Wine Route – Vins d'Alsace Domaine Ernest.
Offering incredibly authentic feels in a traditional setting, the wonderful owners of this family vineyard couldn't be more helpful and more accommodating when it comes to buying and trying their wines.
All in all, this was an epic tasting experience in their ancient, homely cellar.
Day 6 – Moving On
Brilliantly located, there are so many different destinations you can choose to visit after the Alsace region.
A firm favourite of mine is to head across the nearby German border and explore the amazing historic cities and fab beer gardens of Freiburg and Heidelberg.
The Black Forest area around here is also ideal for hiking!
Here's how to travel from Strasbourg to Frankfurt if you're heading off that way.
Otherwise, Basel, Zurich or Lucerne in Switzerland make good next steps if you're budget is large enough!
What to Pack for the Alsace?
And finally, here my list of the top 4 packing essentials you shouldn't head to the Alsace Wine Route without.
#1 A Good Camera
No doubt you're going to be snapping like crazy with these amazing vineyard views and need to ensure you have a good camera to do this region justice.
I love my Sony A6000, which is light, compact and great for travel.
A GoPro would also be fun for any cycling adventures!
#2 Decent Walking Shoes
No point coming to the wonderful villages of the Alsace and not being able to enjoy their historic streets on 2 feet.
Get prepared therefore and ensure you have a decent pair of walking shoes – these cross-trainers from New Balance are ideal (and totally stylish) for the job and also good for cycling in.
#3 Light Waterproof Jacket
Whatever the time of year, you have to remember this is France, a country in which the heavens can open at any point!
Don't get caught out therefore and ensure you have a good lightweight and waterproof jacket with you.
This North Face Venture 2 is perfect.
#4 Compact Hiking Day Pack
I never go on anywhere on my travels without a sturdy backpack to ensure I've got room to daytrip with everything I need and that the weight is equally distributed across my back and shoulders.
This super featherweight one from Marmot is my go-to, because it folds down to nothing and is water-resistant.
More Travel Tips for the Alsace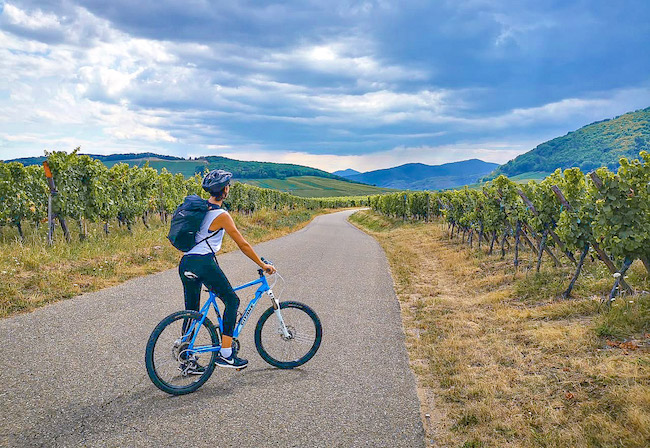 Travel Insurance for the Alsace
World Nomads offers simple and flexible travel insurance. Buy at home or while travelling and claim online from anywhere in the world.
Alternatively, if you're a long-term traveller, digital nomad or frequent remote worker seeking travel health cover, check out Safetywing's Nomad Insurance policies.
Travel Money for the Alsace
When it comes to paying for things in France, you want to ensure you're not being charged overseas transaction fees or getting poor exchange rates when using your card abroad, which is why I always take my Wise card away with me wherever I travel.
The easy way to spend abroad with real exchange rates, no markups, no sneaky transaction fees and a free Euros account, you can use your Wise card just like a debit card in France and it links easily with Google and Apple pay. Grab yours here.
PIN IT TO PINTEREST!
Well there it is, my complete guide to planning your trip to the Alsace Wine Route.
I hope it's proved helpful in getting you ready for your adventure to one of France's most beautiful regions.
Any more questions about enjoying this part of Europe, just drop them into the comments box below and I'll get back to you…