Home to beautiful wine tasting experiences, quaint Medieval villages, brightly-coloured half-timbered homes and stunning French scenery, there's no question the Alsace area, in the Grand-Est region of France, takes some beating.
There's so much to do and see here, not to mention eat and drink, that you really should allow at least 5 days to explore this region to the fullest.
And what better place to settle in for 5 days than in an Alsace Airbnb – offering better value accommodation than a hotel or guesthouse, with the option of cooking facilities and wifi making it preferably to camping, for many there's no question Airbnb's also offer a lovely way to get into the spirit of the destination, with some fabulous charater-filled properties to rent too.
All in all, I really highly recommend checking out my list of these top 10 Alsace Airbnbs – I've done the hard work on finding the creme de la crème, so you don't have to!
---
Related Posts
---
This page contains affiliate links meaning Big World Small Pockets may receive a small commission on any purchases at no extra cost to you.
---

#1 Best for Those on a Budget
Offering incredible value for an entire apartment to yourself, this well-located and well-appointed studio is perfect for solo or couple travellers on a tight budget.
Situated in the charming and historic village of Turckheim – a lovely part of the Alsace that is a common and close alternative to Colmar (quiet and better in my opinion), this budget gem of an Airbnb is well-located in the centre of this lovely local spot.
With superhosts on hand to offer a seamless booking and check-in process, this place gets rave reviews for being really clean and perfectly situated when it comes to exploring the region.
#2 Best for Families
Meublé de Tourisme dans Maison Alsacienne
A superhost rating, with many great features especially useful for families who are travelling together, this top Alsace Airbnb gets rave reviews thanks to its wonderful setting between mountains and vineyards as well as its 50m² floor space!
Built into a traditional Alsatian half-timbered home, this property offers ample parking and a well-equipped kitchen, as well as 2 bedrooms (with double and twin bed options) and a sofa bed, meaning sleeping for up to 6 guests is allowed.
Children's tableware, a baby monitor, a travel cot and a high chair are all included in this family-perfect place to stay, which has good wifi and a private entrance thrown in for good measure.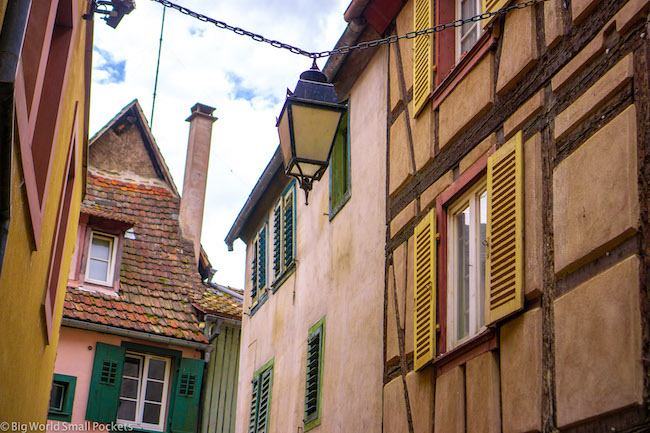 #3 Best for Couples
This beautiful, light and airy property is the perfect Alsace Airbnb for couples thanks to its wonderful valley views and close proximity to the quaint town of Murbach.
Wood fires, a spiral staircase and period features complete the sweet and romantic feel of this little hideaway, with access to the garden an added bonus.
The kitchenette means this place is well-suited to those who perhaps want a lazy breakfast, but are likely to go and enjoy meals out during their stay. An option to have a chilled bottle in the fridge is, of course, available however!
Free parking and wifi are included and the place continually gets top reviews thanks to its friendly hosts, quiet peaceful location and relaxed feel.
#4 Best for Groups
One of the reasons I have picked this as one of the best Alsace Airbnb for groups is thanks to its excellent location in the wonderful historic village of Eguisheim.
This is an Alsace favourite – known for its unique circular, walled formation, beautiful period properties and, of course, fabulous local food and wine!
The thing I like most about Eguisheim is that it's much smaller, more quaint and quintessential than larger, nearby Colmar, but still provides all the best the Alsace region has to offer.
This is why I've chosen it as the perfect spot for a group of friends or couples who are travelling the region.
And within Eguisheim, this Airbnb is hard to overlook.
Sleeping up to 6 guests, across 2 bedrooms (which contain an assortment of double, single and sofa beds), this place offers plenty of flexibility for different compositions of groups.
Its central location in the heart of Eguisheim is also perfect, as nobody has to be the designated driver after a tour of the wonderful wine tastings on offer here!
A fully equipped kitchen, dining table plus chairs, a Bluetooth speaker, wifi, washing machine, garage (free parking) and a private entrance are also all part of this excellent offering.
#5 Best for Central Town Location
If you do however, prefer a busier more town-like location for your stay in Alsace (as opposed to village feel), then Colmar is definitely the spot to head for
Much more central to the wine region than Strasbourg, and a lot more intimate too, Colmar provides the historic parts of the Alsace with a great choices of restaurants and bars, as well as tours around the area.
As I've said within my other articles about the Alsace region, if you're travelling here using public transport only i.e. without your own vehicle, Colmar is certainly the place to base yourself.
And within Colmar, this brilliant Alsace Airbnb takes some beating.
Right in the heart of the historic centre of Colmar, this pretty apartment sleeps up to guests with a separate bathroom, bedroom, kitchen and living space all contained with a traditional and historic Alsatian building.
Located near many different restaurants and bars, this place nevertheless is on a quiet street and has a washing machine and wifi for those who need it.
The place gets great reviews thanks to its helpful hosts, clean comfortable environment and superb location in the heart of one of the Alsace's most touristic spots.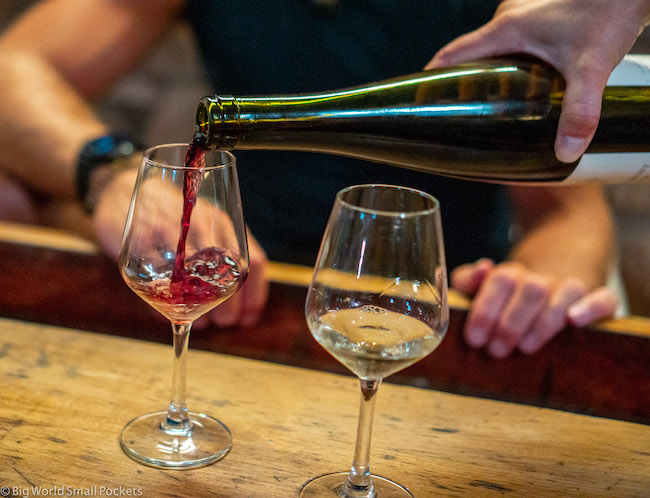 #6 Best for Rural Location
Gite des Histoires: "The Stork"
A whole cottage, in a wonderful rural and quiet location, but with the great treasures of the Alsace also easily accessible, this is my top pick when it comes to Alsace Airbnb's set in the countryside.
With a fully-equipped kitchen, separate living room, bathroom and bedroom with quality bedding, this property has a high standard of fittings and energy efficiency, which complement its beautiful natural location.
Free onsite parking and good wifi, means it's easy to stay connected from this rural spot, which is perfect for those who wish to visit the many vineyards of the Alsace Wine Route.
A car, or at least bicycles, are necessary to get around, but the cosy and clean feel of this cottage, plus the small touches from the hosts make it a winner!
#7 Best for Village Location
So I've covered those who wish to stay in Colmar, as well as those who wish to stay in the countryside, but now it's time to strike out into the middle ground for those who wish to stay in an Alsace Airbnb situated in one of the many stunning historic villages here.
So why not had to one of the top villages in the region (at least one of my favourites) and that is the stunningly beautiful Ribeauvillé.
An entire flat sleeping 4 guests, it's quite remarkable to find a place this big situated in a historic building in the heart of this very popular tourist destination.
With beautiful exposed stone walls and wooden ceiling beams, as well as parking, a well-equipped kitchen and self check-in, this place can be popular with families too thanks to its lack of stairs and provided cot.
There's sadly no wifi, but with chateaus and wineries aplenty within easy distance, who needs it?!
#8 Best for Luxury
Modern House with Sauna and Spa
Sleeping up to 11 guests, with 5 bedrooms and 3 bathrooms, this is a beautiful modern property, that definitely claims the best luxury Airbnb in the Alsace region.
A 190m² villa, laid out over 3 levels, with a private car park, a sauna, a spa, a walk-in shower and special fitness equipment, this place is top of the range with a terrace and garden to boot.
Of course you have a private entrance too, along with a washing machine and all the amenities are located very near to the wonderful town of Kaysersberg too.
A real treat of a find!
#9 Best for Long Term Stay
Douillet et Lumineux Appartement
This modern and stylish apartment in Colmar is quite different to many of the other historic properties on this list of the top Alsace Airbnb's, but I thought it was time to mix it up, especially as ancient French gites aren't everyone's cup of tea!
And that's especially true if you're staying somewhere for a while, when the quirks of living in an old property can wear off quite quickly and you long for a bit more modern comfort.
Enter this lovely apartment, which is available for stays of up to 28 days+ and sleeps up to 2 guests.
Ideal for those travelling alone, or on business, there's good wifi in this property, as well as a separate dedicated workspace and separate living area vs bedroom.
Self check-in makes the procedure for accessing the property really easy and previous guests rate its close proximity to both the train station and city centre, make it especially easy for those without their own vehicle.
A large kitchen, full of amenities and essentials, parking and a quiet location (despite being central) are further great assets to this Alsace Airbnb gem, which is clean, bright and airy.
#10 Most Unique Alsace Airbnb
A shepherd's hut set in forest land filled with hiking possibilities a-go-go- probably isn't everyone's dream.
But it is mine!
And that's why this guy claims the title for the most unique Alsace Airbnb on my top 10 list!
With an alcove bed and a cite cosy space, this is all about the back to nature vibes, with a good touch of modern living, including a well-equipped kitchen and good heating for the winter.
There's no wifi, but the free parking and huge expansive views and outdoor space more than make up for it!
Beautiful location, spotlessly clean, very romantic, totally unique and close to Strasbourg are all top pointers previous guests give for loving this spot.
PIN IT TO PINTEREST!
And there is it travellers!
My list of the top 10 Alsace Airbnbs!
Hope they've provided some great accommodation ideas for your trip to one of France's most spectacular regions.