Strasbourg Cathedral has to be one of the most striking cathedrals in France.
And if you know France, that's quite the claim!
Set in a stunning historic city, full of riverside charm and tourist potential a-go-go, this Gothic beauty is one of those bucket list French icons you have to visit!
Plus the beauty of Strasbourg's Medieval centre, as well as the amazing day trips outside the city you can also enjoy here, make it one of my ultimate French destinations.
So if you're planning a trip to this part of the country, either as part of a Strasbourg city weekend or a longer Alsace region adventure, you can't miss Strasbourg Cathedral!
And here's everything you need to know about visiting this giant to help you plan the perfect trip…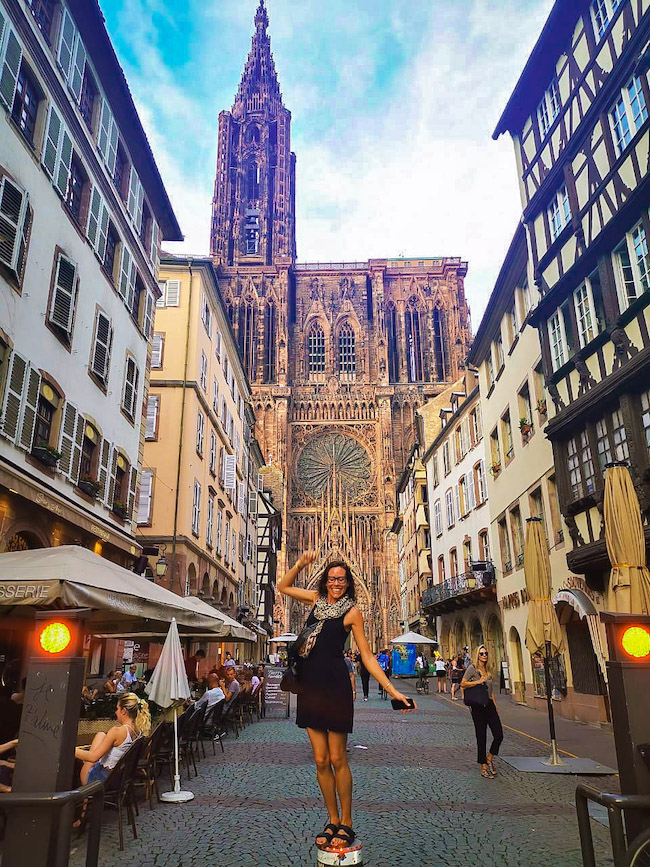 ---
Related Posts
---
This page contains affiliate links meaning Big World Small Pockets may receive a small commission on any purchases at no extra cost to you.
My Strasbourg Pass was kindly sponsored by Strasbourg Tourism but, as always, all views are my own.
---
Why Visit Strasbourg Cathedral?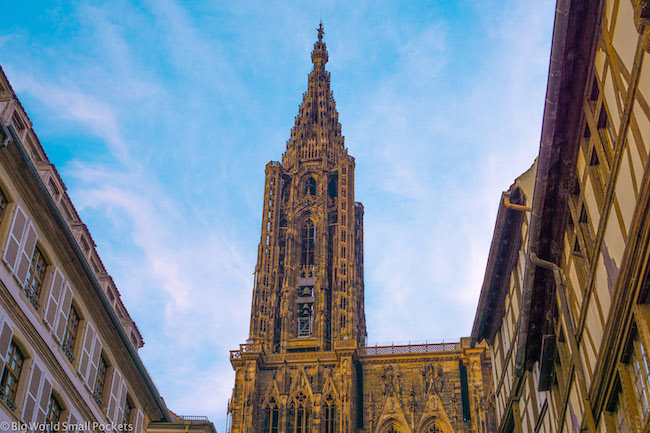 One of the leading Catholic Cathedrals in France, Strasbourg's is a leading example of Gothic architecture and to say it's an impressive one would be an understatement!
For many years the tallest building in the world, for 227 years from 1647 to 1874 to be exact, Strasbourg Cathedral is now 6th tallest building in the world.
Pretty impressive for a structure, largely assembled in the Middle Ages!
Decadently ornate, with beautiful views across the city, the Cathedral can even be seen from Germany's Black Forest on a clear day and in its time, has won singing praises from writers as famous as Victor Hugo and Goethe.
Construction on the current Cathedral is widely thought to have begun in 1176, but before that was a Roman site of worship here, meaning its religious roots extend way back.
The building you see today was completed in 1439 and has certainly stood the test of time.
The staggering spire of the Cathedral, as well as its heavily decorated façade (which has hundreds of sculptures built into it), are its key feature and now, set in a beautiful square, this massive building can be admired from all angles.
The pink hue of the stone looks gorgeous at all times of the day, but is particularly beautiful during golden hour just before sunset.
At night, during the summer months, Strasbourg Cathedral is now home to an impressive light show, which can be watched for free several times in an evening.
This is just one of the reasons that Strasbourg is one of my top 50 places to visit in Western Europe.
How Best to Enjoy the Cathedral?
Walking up to and around Strasbourg Cathedral is definitely the best way to take it all in.
Coming from any side, as you round the corner of Rue Merciere, the vastness of this dominating structure in front of you is suddenly overwhelming!
I think I did a little gasp when I first saw it!
Set in a charming, car-free square, filled with cafes, restaurants and original medieval buildings, strolling all around the outside of the Cathedral, snapping away, is certainly the way to first enjoy this beauty of a building.
After that, you've got a few additional choices…
Inside the Cathedral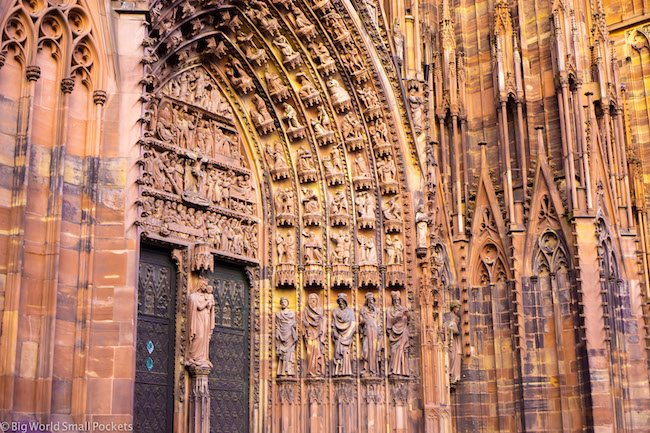 First up you can wander into the Cathedral and take in the huge expanse of the body of this church.
Entrance to the Cathedral is directly infront of you if you wander up Rue Merciere and entering via the grand front doors, you can enjoy the long nave and the amazingly original stained-glass windows, especially with the rose window which sits on the entrance side.
The huge organ, the pulpit and Renaissance astronomical clock are 2 other worthy features you shouldn't miss.
Learn more about the Cathedral by enjoying a free walking tour in the city (you can also enjoy a reduced-price walking guide if you have the Strasbourg Pass), otherwise, enjoy the inside of the Cathedral independently, between 7-11am and 1-7pm.
The Cathedral is free to enter.
From the Viewing Platform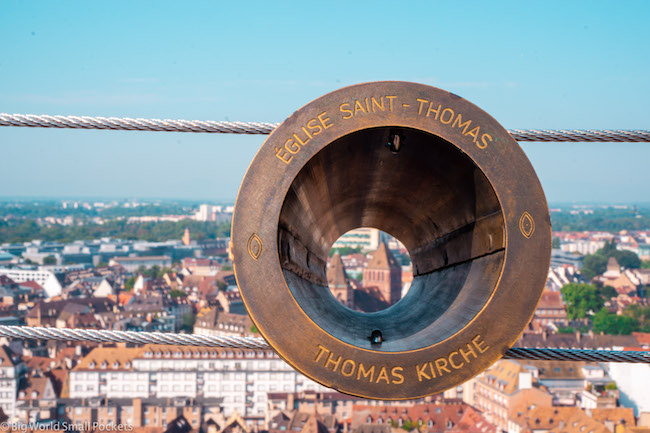 For many people, however, the best way to enjoy the Strasbourg Cathedral is to climb up its impressive viewing platform, which sits up in front of its towering spire.
Scale the 329 stairs, whose skinny twists and turns are definitely enough to make you feel a little dizzy, and enjoy stellar views over the historic centre of Strasbourg, otherwise known as La Petite France.
After taking in the view – and there's some cool features that let you easily identify the buildings around up here – you can then walk through and directly under the amazing spire, admiring its construction from the inside!
Entrance to the Cathedral platform costs €8 and tickets can be bought at the entrance.
The viewing platform is open every day from 10am to 6pm, except Christmas Day, New Year's Day and Labour Day.
Entry is free on the first Sunday of every month.
If you want to learn more about the Cathedral with a guide, check out this private walking tour.
Astronomical Clock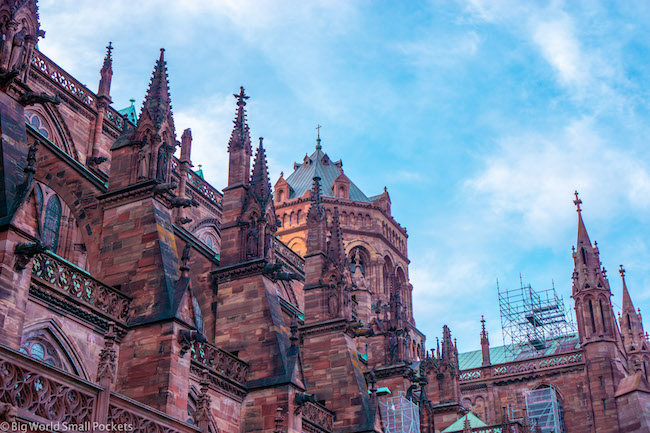 The amazing Astronomical Clock is one of Strasbourg Cathedral's most-loved features and watching its performance, which happens every day at 12:30pm is definitely one of the best ways to enjoy it.
You have to pay to see this too however – and the cost is €3.
Booking is advised, but with the Strasbourg Pass, you can skip the queue and see the display for free.
The clock works its magic every day except Sundays and public holidays, and has a unique mechanism, which was built in 1547 for a team of Swiss clockmakers.
The show involves the marvellous the Apostles Parade – a moving procession in which figures of the Apostles march in front of Jesus.
Light Show
And finally, the last way you can enjoy the beauty of Strasbourg Cathedral is during the summer evenings in this city, when a fabulous light show takes place.
Over 500 spotlights bring to life the exceptional architecture of this building after dark, showcasing its pink sandstone and illuminating the detailed features of its sculptures in time to classical music.
Lighting up the west side of the Church, the show is free to view along Rue Merciere and where this lane meets Rue du Vieux-Marche-aux-Poissons.
The show lasts around 20 mins and is free to view, usually every half an hour between roughly 9:30pm – 11:15pm, depending on the month.
It runs usually from the end of July until the end of September and is a must if you're visiting Strasbourg at this time of year!
When to Visit Strasbourg?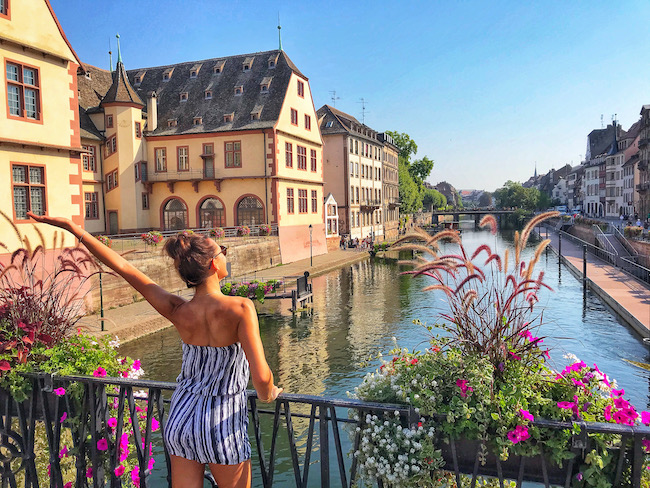 Summer
Located in the east of France, in the Alsace region and incredibly close to the German border, there's no doubt there's 2 key times to visit Strasbourg.
The summer months provide the ideal time with long days and riverside strolls making this the perfect city break.
At this time, the weather is great and the outside eateries around the Cathedral can be enjoyed, along with the light show, which only runs during these months.
Just beware of the heat – it can get really hot in Strasbourg in July and August, with temperatures regularly exceeding 30 degrees.
If you love the sun like me, these hot blue sky days are ideal, but I do understand they're not everyone's cup of tea, especially if the place you're staying in doesn't have aircon!
Winter
Given its closeness to Germany, this region has changed hands multiple time between the 2 nations and it's easy to see the blending of both cultures in the Alsace region, and the city of Strasbourg is no different.
You'll recognise this immediately from the look of the buildings, but there's also another distinct cultural crossover and that's the amazing Christmas markets!
While traditionally thought to be a German special, Christmas markets are also very common in the Alsace region, and the city of Strasbourg, making the last month of the year another key time to visit.
In fact, Strasbourg is home to the oldest Christmas market in France, dating from 1570, and in December becomes the most illuminated city in Europe boasting a 30m high Christmas tree!
Awash with fairy lights and that magic wintery feel, this is an ideal time to visit the city and its Cathedral too.
Needless to say that at both these times of year (summer and Christmas), the tourist crowds are heaviest too, but in my opinion, they are worth it!
How to Get to Strasbourg Cathedral?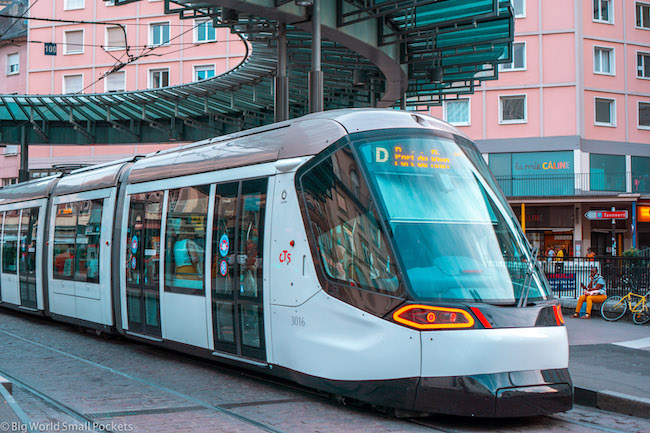 In essence, once you get to Strasbourg, you can easily walk to the Cathedral, which lies in the historic heart of this city.
Walking here is by far the easiest way to reach the Cathedral directly, as many of the streets around are entirely pedestrianised.
Strasbourg's historic centre is also small and delightful to wander around, so strolling on your 2 feet is certainly the best way to take it all in.
By Train
Strasbourg has a large and well-connected station that services many destinations within France as well as internationally.
The most popular routes for tourists tend to be from Paris, with the journey taking around 2-2.5 hours care of a high-speed TGV, or from nearby Frankfurt in Germany with Deutsche Bahn trains.
Learn about this journey in the article I wrote all about how to travel between Frankfurt and Strasbourg if you're looking to make the short hop across the border – it's actually very easy because these cities are so close!
Trains also run from Strasbourg to the neighbouring countries of Belgium, Switzerland and the Netherlands, which really means the world is your oyster… or at least Europe is!
If you're travelling to Strasbourg from the UK, like I was, then I highly recommend hopping on the Eurostar from London to Paris, catching the metro across the French capital and then hopping on another train straight out to Strasbourg.
This is a really easy flight-free journey to make if you're looking to keep your carbon footprint low.
As always, I recommend booking all your European train journeys (including the Eurostar) in advance through Trainline.
Booking online in advance is going to give you the best-priced tickets and with Trainline's handy app you can arrange e-tickets, meaning you don't have to mess around with collecting any passes at the station.
Trainline also makes navigating trains in Europe easy, with everything converted into English in one easy-to-read format. You can also pay in multiple currencies and booking online with them is totally secure – all the wins!
By Bus
If budget is a real issue for you and you're perhaps booking late in the day (meaning the cheapest train tickets aren't available) then you may want to consider catching the bus to Strasbourg.
Again, you're most likely to be doing this from Paris, where Flixbus runs direct buses that take roughly 5-6 hours and are direct.
There's also a night time service which takes around 9hours, leaving Paris late at night and getting you into Strasbourg in the morning.
Flixbus also runs services from Strasbourg onto the German cities of Frankfurt, Heidelberg and Freiburg, as well as direct services to Zurich in Switzerland, Milan in Italy and a lot of other destinations within France, such as Lyon.
Flixbus has free wifi, free power sockets, as well as free luggage allowances, onboard toilets and their app is great for storing eTickets and checking the location of your bus in realtime.
I've used Flixbus as a budget traveller across Europe and can I highly recommend their efficient and safe services.
Book your journey to or from Strasbourg with FlixBus at the best rates here.
By Flight
Strasbourg has its own airport, with regular flights arriving from across Europe, including direct services from 31 destinations such as Madrid, Barcelona, Amsterdam, Palermo, Athens, Brussels, Bucharest and Istanbul.
This is can be a quick way to get to the city, but is also worse for your carbon footprint.
If you do want to check prices and departures for flights to Strasbourg however, then I highly recommend using Skyscanner who include a huge number airlines in their searches and therefore offer some of the best deals around.
By Bike or Car
And finally, you can also cycle or drive to Strasbourg.
The Alsace region in France, of which Strasbourg is the capital, is famous for its cycle opportunities – learn more in the following sections of this article, as well as my post I wrote about cycling between the wineries of the Alsace here.
Otherwise good motorways connect Strasbourg with Paris (around a 5- hour journey) as well as Germany and other parts of France.
Just remember to budget in the toll expenses of this journey.
Other Things to Do in Strasbourg
While Strasbourg's Cathedral is undoubtedly the jewel in this city's crown, there's still a heap of other attractions to enjoy in this amazing city.
Here's my pick of the bunch…
#1 Stroll La Petite France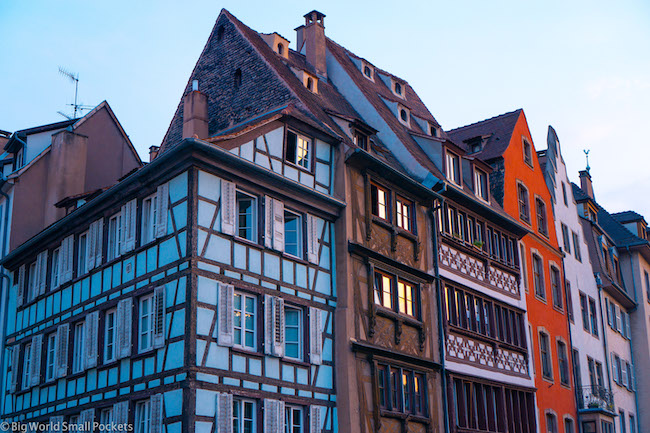 Most of Strasbourg's picturesque buildings can be found within the Grande Île – the UNESCO World Heritage Site in the centre of Strasbourg.
As part of this, La Petite France, the former tanners and millers district found to the west of the area, is probably the most beautiful with its perfectly preserved Medieval buildings.
Almost all the houses here hung over the street and it's a feast for photographers.
Strolling along the river is Strasbourg is also a must, or you can join the locals for a picnic or a drink on one of the main jetties, enjoy a seat in a neighbouring café or wander along some of the beautiful bridges.
#2 Visit a Museum
There's also a heap of museums to be visited in Strasbourg, some of which are very close to the Cathedral.
The Alsatian Museum, the Oeuvre Notre Dame Museum, as well as the Museum of Fine Arts and The Vaisseau are probably the most popular, and with the Strasbourg Pass you can get free entrance to one museum, as well as a reduced entrance price at a second.
#3 Take a Tour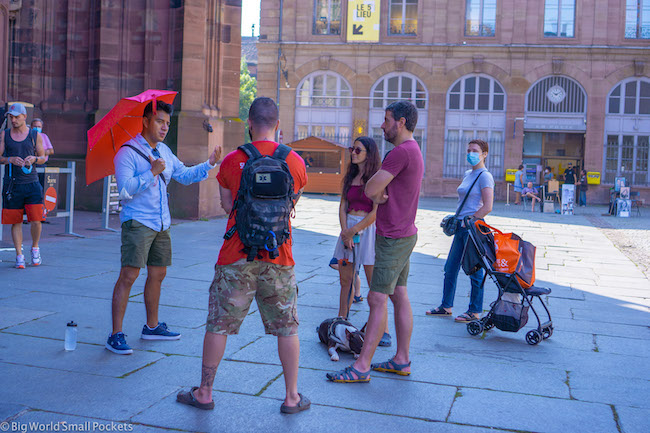 Also included in the Strasbourg Pass is a free boat tour along the main river that runs through Strasbourg – this is a gorgeous way to take in the city.
Cycle tours and segway tours, as well as walking tours, are also popular and a great way to learn about the history of this region.
For the really adventurous, there's also a little train that does a route by the Cathedral and is great for families.
#4 Check Out Other Quarters
Outside the Grande Île in Strasbourg, the "Neustadt, which is the former German Imperial Quarter (and also UNESCO-listed) and the European Headquarters in Strasbourg, with its famous Human Right's Building (home to the European Court of Justice and the European Commission of Human Rights), are also worth visiting.
And if it's more green spaces you're after, then the Botanical Gardens in Strasbourg and the huge Orangerie Park also can't be missed.
Finally, the Rhine, with its delightful cycle and walking trails, as well as regenerated port spaces and bridges is a beautiful area and strong symbol of Franco-German reconciliation.
To learn more about how this part of France has shifted historically between the nations of France and Germany, heading out of Strasbourg to Fort Mutzig is a great way to learn more.
This makes an awesome half day trip and the fort is set in beautiful surrounds with views over the city to boot. Entrance costs €12.
#5 Eat!
And last but least, there's no question one of the other best things to do in Strasbourg is eat and drink!
At the heart of one of France's great wine region, Alsace has some superb wines you can try and enjoying these, alongside some of the typical culinary delights, is definitely an activity most good French trips are made of!
Restaurants line the River in Strasbourg and although pricey, are amazing.
Otherwise, so for some cheaper fare, head down with a picnic to join the locals along the banks of the Ill River or check out the better-value cafes near Place du Marche Gayot (La Cantina did great pizzas for a good price) or cute cafes near Kleber Square – Le Café Potager (vegan-friendly) was my favourite!
To enjoy more French wine, then it's certainly worth heading out into the broader Alsace region to cycle between the amazing Medieval villages and vineyards here.
Learn more about my time doing just this here.
Where to Stay?
If you're looking for a great place to stay in Strasbourg, then I highly recommend checking out the top accommodation booking site VRBO, who have some great deals in the city.
VRBO offer rental properties, which are much more personal and better-priced than hotels and give you a greater sense of freedom and privacy.
Staying in a rental apartment in Strasbourg is also a great way to keep prices down, as many have small kitchens and are within walking distance of the historic centre.
Check out this gem of an apartment, which has a view of Strasbourg Cathedral and is slap bang in the middle of the Petite-France historic city. The apartment has air conditioning, along with a kitchen, living room and wifi, offering great value for money.
Alternatively, take a look at my list of the top 10 Airbnbs in the surrounding Alsace region here.
Otherwise, if you're on a budget, check out this top-rated hostel in Strasbourg.
What to Bring & Pack?
And finally, here's my list of the top 4 packing essentials you shouldn't head to the Strasbourg Cathedral without…
#1 A Good Camera – No doubt you're going to be snapping like crazy with these amazing Cathedral views and need to ensure you have a good camera to do this city justice. I love my Sony A6000, which is light, compact and great for travel.
#2 Decent Walking Shoes – No point coming to Strasbourg and not being able to enjoy this beautiful historic city on 2 feet. Get prepared therefore and ensure you have a decent pair of walking shoes – these cross trainers from New Balance are ideal (and totally stylish) for the job.
#3 Light Waterproof Jacket – Whatever the time of year, you have to remember this is France after all, a country in which the heavens can open at any point! Don't get caught out there and ensure you have a good lightweight and waterproof jacket with you. This North Face one is perfect.
#4 Compact Hiking Day Pack – I never go on any day trip without a sturdy backpack to ensure I've got room to carry everything I need and that the weight is equally distributed across my back and shoulders, This super featherweight Kompressor Plus from Marmot is my go-to, because it folds down to nothing and is water-resistant.
Oher Top Travel Tips for the Alsace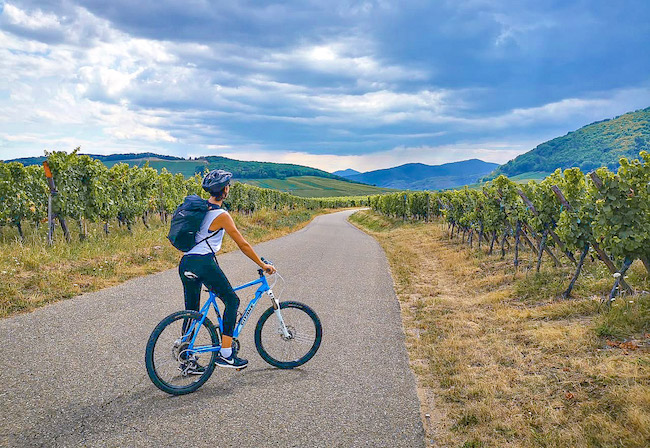 Travel Insurance for the Alsace
World Nomads offers simple and flexible travel insurance. Buy at home or while travelling and claim online from anywhere in the world.
Alternatively, if you're a long-term traveller, digital nomad or frequent remote worker seeking travel health cover, check out Safetywing's Nomad Insurance policies.
Travel Money for the Alsace
When it comes to paying for things in France, you want to ensure you're not being charged overseas transaction fees or getting poor exchange rates when using your card abroad, which is why I always take my Wise card away with me wherever I travel.
The easy way to spend abroad with real exchange rates, no markups, no sneaky transaction fees and a free Euros account, you can use your Wise card just like a debit card in France and it links easily with Google and Apple pay. Grab yours here.
PIN IT TO PINTEREST!
And that's everything you need to know about visiting Strasbourg Cathedral folks!
Hope you've found this guide handy in planning your time in this amazing part of France.
Don't forget, if you're into Cathedrals, you can check out my guide to visiting the famous St Paul's Cathedral in London here.
Have you been to Strasbourg Cathedral?
Have any tips to share?
Please drop them into the comments box below so we can help fellow travellers out…