Although located incredibly close to each other, the amazing thing about Frankfurt and Strasbourg is that they are 2 wildly different cities located either side of a national border.
As such, travelling the short distance between them can be an amazing way to discover 2 different regions in 2 different countries within one short and easy trip or journey.
Located in Germany, Frankfurt is a business city not known for its tourism, but which has certainly enough attractions, museums and riverside action to keep you entertained for at least a day… if not longer!
However the real benefit of travelling to Frankfurt is for the amazing German towns, history and landscapes that can be explored in just a few short hours from this city, including the wonderful university towns of Heidelberg and Freiburg, their fab beer culture, as well as the Black Forest and all the outdoor opportunities it presents.
Moving across from Frankfurt to Strasbourg in France only takes a few hours – depending how you make the journey – but can instantly transport you to another world.
Strasbourg is a picturesque, historic city whose Medieval buildings were not as badly damaged by the World Wars and the surrounding villages of France's Alsace region are awash with fairytale-like buildings and scenic wineries.
Both cities offer amazing Christmas markets as well as summer festivals, making these the 2 key times of the year to visit.
As such, combining Frankfurt and Strasbourg into one amazing trip is a great idea if you want to see how cities situated so close to each can inhabit such different worlds (you gotta love Europe for that) and here's all the info you need on how to travel between them…
---
Related Posts
---
This page contains affiliate links meaning Big World Small Pockets may receive a small commission on any purchases at no extra cost to you.
---
Frankfurt to Strasbourg by Train : The Basics
For the purposes of this article, I'm going to discuss travelling from Frankfurt to Strasbourg i.e. in the direction of east to west, but please do bear in mind that you can absolutely visit these 2 cities the other way around as well.
All this information will still apply in exactly the same way if you are travelling from France to Germany, you'll just have to follow it in reverse!
I often get asked in which direction I recommend people travel i.e. Frankfurt to Strasbourg or Strasbourg to Frankfurt, but my answer is always the same, it honestly doesn't matter.
My advice is just to select the route that works best given your timeframe, your travel priorities and your itinerary in general.
If you're flying in and out of either city (or catching a train on elsewhere afterwards) then checking prices of onward journeys may help sway your decision as to which city you begin / finish in.
Personally, if the decision wasn't clear, then I'd opt to finish in Strasbourg – it's just such a pretty city that I can never resist its charms!
Distance
On average, it takes just over 3 hours to travel a distance of under 200km between Frankfurt and Strasbourg by train.
However there are high-speed trains that can get you there much quicker in under 2 hours!
These are the trains run by the national high-speed rail providers, namely Deutsche Bahn's ICE (Intercity-Express) service and France's TGV network operated by SNCF.
Regional or some slower trains services (including those with changes) might take longer and, in general, you can expect those which run over weekends or public holidays to be a bit slower too.
Even bearing this in mind, train tends to be the quickest way to travel between these cities using public transport, but do just check the journey time before you book any service!
Stations
All the trains making this journey leave from Frankfurt Hbf and arrive into Strasbourg's main station.
Hbf stands for Hauptbahnhof, which means main station in German.
Frankfurt Hbf is a central hub on the German rail network and many international connections pass through here on their way to Switzerland or Austria, as well as France, plus other long-distance destinations in Germany such as Berlin too.
Strasbourg station (Gare de Strasbourg) is the second-largest station in France and also has many international departures including to Belgium, Netherlands and Switzerland as well as other major cities in France such as Paris.
Both Frankfurt's and Strasbourg's main stations are centrally located within their respective cities.
They are very convenient to access (using public transport) from both the cities' airports, centres and suburbs via either shuttle, tram, bus or S-Bahn depending on which of them you are in!
As usual, I just use Google maps' direction feature to navigate my way to stations in Europe using public transport.
Services
In general, there are around 30 daily train services between Frankfurt and Strasbourg.
These are almost exclusively offered Germany train operator, Deutsche Bahn, and France's rail company, SNCF.
A few services are also operated by Austria's OBB rail company and another by France's InOui train service, but these are far less frequent.
Comparing all services is made super easy by the great website Trainline, which handily has everything bookable in English.
Their simple booking service, across multiple currencies and languages, plus their quick-to-use app, is why I always recommend them when it comes to booking train or bus travel across Europe.
Schedule
Of the roughly 30 daily train services operating between Frankfurt and Strasbourg, only a couple are direct journeys.
Therefore, do ensure you check the number of changes if you want a direct service – the prices usually aren't more expensive, but the journey times are a lot quicker!
The majority of trains between Frankfurt and Strasbourg have 1 change, most of which occur at either Karlsruhe Hbf or Offenburg stations.
Beware of waiting times here if you want to make your journey as efficient as possible.
The first departures on services from Frankfurt to Strasbourg are normally around 3am, while the last depart at approximately 9pm.
In general, I would avoid train journeys during rush hour or over public holidays if I could – congestion tends to be worse and the whole situation more stressful!
Eco-Travel
The great news is that trains from Frankfurt to Strasbourg are electric, which means they have a very low carbon footprint – this is true of almost all trains in Western Europe.
If you are trying to travel in a more sustainable, the train is therefore a great way to go.
Given the fact that it's also fast, pleasant, stress-free and relatively good value, means using the rail network to get between these German and French cities is an all-round great option!
Buying Tickets for the Train
So now that we've covered the basics about travelling from Frankfurt to Strasbourg by train, it's time to cover how to buy tickets for this service.
In general, tickets can be booked up to 6 months in advance and start from as low as €25.
Booking Online
As is commonly the case when booking trains in Europe, you can book all tickets direct through the national railway site.
However, I very often find these sites hard to decipher and confusing to use.
Which is why I always book European trains using Trainline.
Often the prices here are just as cheap and the website is so easy to use in English (or an array of other languages) that it's a no brainer for me.
You can pay using international cards and you can change the currency to view converted prices.
They also have a great app, which allows you to not only book tickets on the move, but also store your e-tickets (doing away with the need to print anything out) and check the journey planner – essentially letting you know if the train is on time, late and where to get off etc.
Booking online with Trainline also allows you to book in advance, which is likely to give you the best priced seats and also does away with the hassle of having to collect any tickets at a station, as passes are all electronic.
Booking in Person
The other thing to remember is that you can absolutely just turn up on the day and buy your train ticket at your departure station then and there.
This won't give you the best price but, by leaving things to the last minute, it will grant you a high degree of flexibility.
Classes & Seat Reservations
To secure the cheapest train tickets from Frankfurt to Strasbourg, booking non-refundable options with no seat reservations are likely to offer the best rates.
When you book with Trainline, you can upgrade to ensure you have seat reservations for an extra €4.
You can also buy semi-flexible fares, which allow for some changes or refunds in the form of vouchers. This level of ticket costs an extra €6.
You can also buy fully flexible tickets, which are significantly more.
As a budget traveller however, I'd always opt for a standard ticket with no seat reservation and no flexibility, especially on a journey as short as that from Frankfurt to Strasbourg.
If you book early enough and get a decent priced ticket, then the hassle of making changes (should you need to) outweighs the small cost of just getting another ticket if you do need to change.
What to Expect on the Journey
Boarding
As with the vast majority of trains in Europe, there's no need to check-in for your German or French train ride.
You simply enter the station and then check the boards for the platform your train will depart from.
Then you just find the platform, board the train and sit in your reserved or a free seat in the correct carriage class if your ticket is unreserved.
Ensure you then have your tickets (or e-tickets) to hand for when a conductor or inspector passes by.
Worth pointing out here that the Trainline app has a handy Journey Tracker section that allows you to see when your correct departure station is coming up and therfore when you need to be ready to exit the train.
Luggage & Facilities
You'll be pleased to know that there are no restrictions on luggage with either Deutsche Bahn or SNCF trains.
As long as you can carry your luggage onto the train, there's usually ample rack space at either of carriages, as well as above-seat storage for smaller bags.
These services also have room for bikes to be taken onboard, although this generally needs to be booked in advance.
Bikes on board tend to incur a separate fee, but this can be booked and paid for when buying your passenger fare.
If you need to arrange luggage storage in either Frankfurt or Strasbourg, then I highly recommend LuggageHero – a great left luggage app I've used myself across Europe.
All train services running between Frankfurt and Strasbourg free wifi and power outlets, as well as toilet facilities.
Although, as is often the case with trains in Europe, it pays to be prepared here with your own paper, wipes and antibacterial hand gel in case there's not any of these things!
Exploring in Frankfurt and Strasbourg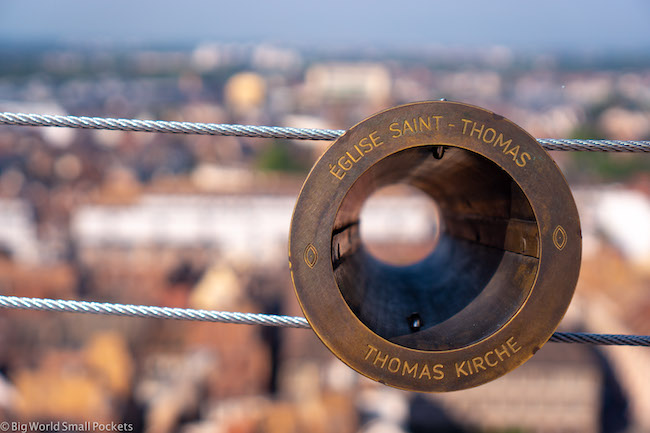 Of course, outside of the journey, it's likely you'll have some time to explore these 2 great cities too and here's my top tips for doing just that…
Frankfurt
If you want to learn more about Frankfurt, then check out these articles I wrote, which give you the perfect travel lowdown on the city, including how long to spend there, where to stay, as well as the best places to hang, eat, sightsee and enjoy.
Strasbourg
When it comes to Strasbourg travel inspiration, this post I wrote about the city's Cathedral, which includes information on what else you can enjoy in the city, where to stay, eat and how to get around, should come in useful.
Alternative Methods to Travel Between Frankfurt and Strasbourg
In case you're wondering whether there are other transport methods apart from the train to get between Frankfurt to Strasbourg the answer is yes.
Here's my lowdown on the other alternative methods of doing just that…
Frankfurt to Strasbourg Bus
The Frankfurt to Strasbourg bus is definitely the cheapest way to travel between these 2 cities, especially if you're are booking last minute.
Prices start from under €10, which can mean it's less than half the price of the train.
That said, the bus does take a longer – between 3 and 4 hours depending on whether the service is direct.
Plus you have to allow for traffic of course.
Buses between Frankfurt and Strasbourg are operated by Flixbus, with around 3 direct services daily.
One of these is an overnight journey which can be useful for big-time budget travellers who may be looking to save on a night's accommodation as well.
One of the day-time Flixbus services involves a change, which I'd definitely avoid if you can!
Buses from Frankfurt to Strasbourg both depart from and arrive into the respective city's central stations – Gare de Strasbourg and Frankfurt Hbf – the same place as the trains.
Flixbuses have free wifi, free power sockets and free luggage allowances, as well as onboard toilets, and their app is great for storing eTickets as well as checking the location of your bus live in real-time.
I've used Flixbus as a budget traveller across Europe and can I highly recommend their efficient and safe services.
Book your Frankfurt to Strasbourg FlixBus journey at the best rates here.
Flight
There are no direct flights between Frankfurt and Strasbourg (probably because they are so close and easy to navigate overland) but there are some non-direct services, mostly operated by KLM via Amsterdam.
However, the service takes over 3 hour because of this transit.
Flying is likely to be the most expensive way to make this journey and after you factor in the time of getting to and from the airport, as well the check-in time, it's unlikely to prove quicker than the bus, let alone the train.
Flying between Frankfurt to Strasbourg is also worse for your carbon footprint.
If you do still want to check prices and departures for flight from Frankfurt to Strasbourg however, then I highly recommend using Skyscanner who include a huge number airlines in their searches and therefore offer the best deals around.
Car
And finally, the last way you may consider travelling from Frankfurt to Strasbourg is via 4 wheels.
Either this will involve renting a car and driving the distance yourself, or trying out a carpooling service like BlaBlaCar.
If you want to rent a vehicle then check out Thrifty Car Hire for some of the best deals.
The pros to renting a car are: flexibility and ability to truly take in the scenery and landscape you'll pass through.
The cons are: the expense and level of organisation involved as well as the issue of having to drive in a foreign country.
The drive is likely to take between 2 and 3 hours depending on traffic and covers a distance of roughly 220km.
Renting a vehicle is altogether better if there's a group of you because you can share the costs and the driving duties.
Carpooling is great for budget or solo travellers as you share lifts with other people driving the same way.
In this way, it's normally a good chance to meet locals and travel very cheaply.
Normally you'll also be taken straight to the door of where you are staying with carpooling, which makes life easy.
Just use common sense and exercise caution in terms of safety as always.
Continuing on Your Journey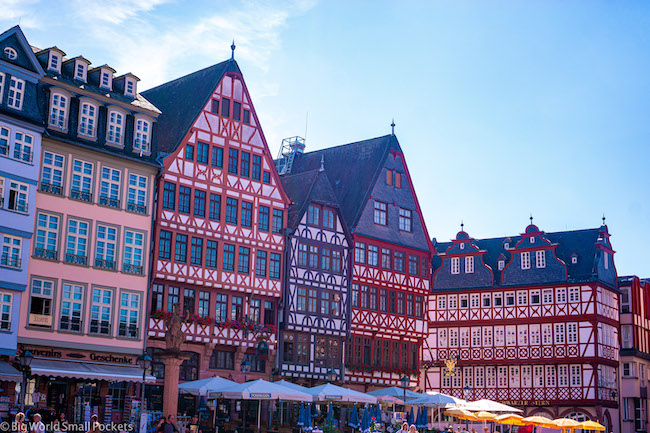 Don't forget that after your time in Strasbourg or Frankfurt, the fun doesn't have to stop there!
The French capital of Paris can easily be access from Strasbourg and is well worth a few days exploring.
Who doesn't love a bit of Paris after all?!
You also shouldn't stop in Strasbourg without exploring more of the Alsace region and its fabulous villages and vineyards.
Learn how to travel from Strasbourg to Colmar – one of the iconic Medieval towns in this region – here.
Otherwise, cities in the Netherland, Switzerland and Belgium, such as Bruges and Amsterdam, as well as other German destinations, such as Berlin, are easy to travel on to from Frankfurt.
If you're enjoying a European tour, these are all great cities to call in on, and any of the transport methods mentioned above in this post can be used to get you there.
PIN IT TO PINTEREST!
And there it is, my guide on everything you need to know about travelling from Frankfurt to Strasbourg.
Have you made this journey?
Which method of transport did you use?
Please leave any information about your journey that may help fellow travellers in the comments box below….