I've got to be honest, at this point, 1 year ago, I had not even heard of Freiburg.
In fact, it was only when I mentioned to a close friend (who studied German at University and knows the country like the back of her hand) that I was planning to travel in the Black Forest area of the country, that the name Freiburg first even entered my lexicon.
But enter it did and, assured by her how brilliant, green and charming this small university city (official known as Freiburg im Breisgau and located in the Baden-Württemberg region) was, Freiburg quickly worked its way into my plans… and boy / girls am I glad it did!
For Freiburg, quite simply, proved to be an absolute treat.
With just about everything you want from a lovely German city, this history-filled, forest-surrounded, beer hall-loaded destination quickly shot its way into my heart and up my top German destinations list.
In fact, I've recently named Freiburg as one of the 50 best places to visit in Western Europe – yes it's that good!
So if you're planning a trip to this Black Forest beauty, then read on to discover my list of the 15 best things do in Freiburg as well as my top travel tips for the city.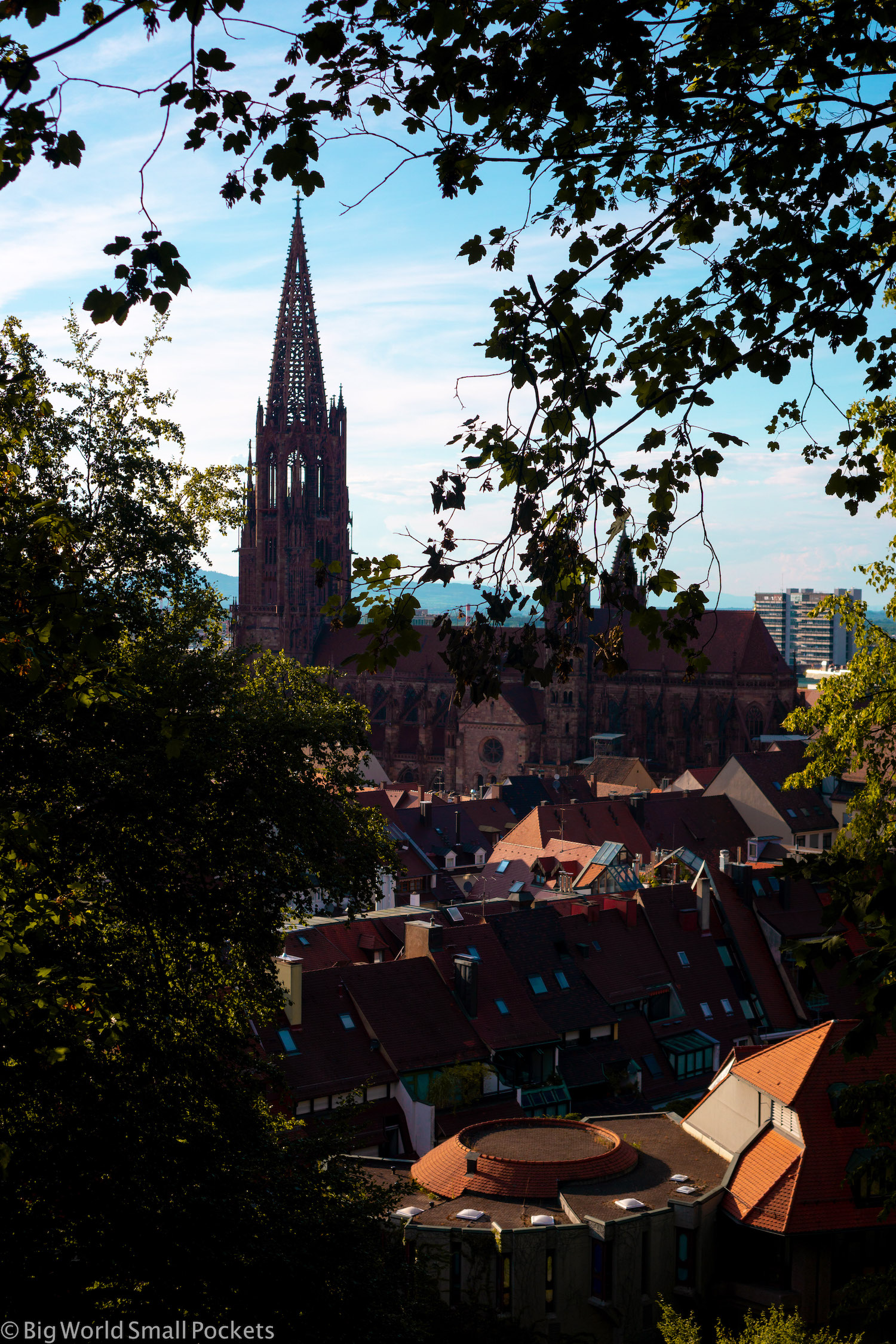 ---
Related Posts
---
This page contains affiliate links meaning Big World Small Pockets may receive a small commission on any purchases at no extra cost to you.
---
#1 See the City Gates
First up on this list of the top things to do in Freiburg is to check out this historic city's gates.
Yes like many old cities in this part of Germany, Freiburg was once a walled city and large gateways helped protect the population, as well as make clear the entrances, exits and boundaries of the city.
Seeing the City Gates is a good introduction to the historic nature of this town, and strolling the cobbled streets between them is another delightful walk back through time, as some parts date as far back as 1202!
The most famous, and probably impressive gate in my opinion is Martinstor (Martin's Gate in English), which is clearly marked on Google maps if you're looking to find it.
#2 Enjoy a Beer Hall or 2!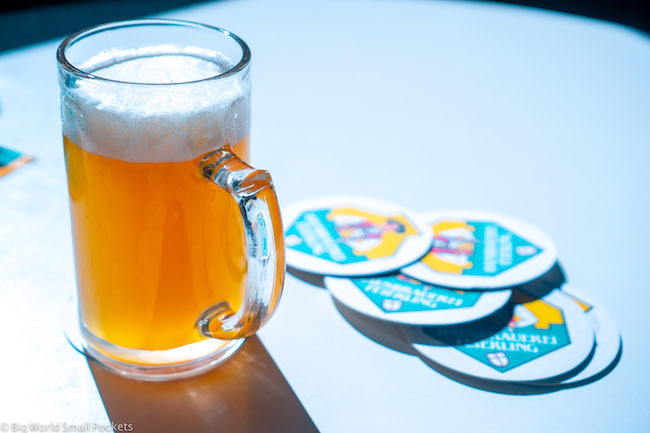 And as you wander along those cobbled streets of Freiburg, there's no question one of the top things to do is to stop off and enjoy a stein or 2 (that's a huge German beer for the initiated) in once of the city's many beer halls.
Not that I like to perpetuate any stereotypes, but this is a student city after all!
My favourite had to be Biergarten Brauerei Feierling for the record – this is the genuine, authentic, local real deal!
#3 Marvel at the Cathedral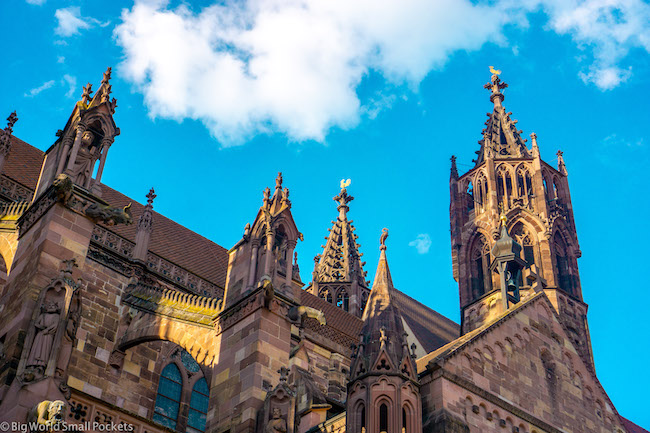 The Freiburg Munster, which is the Cathedral in the heart of this city, is an absolute masterpiece and stopping to marvel at it in the central square is certainly one of the top things to do in Freiburg.
The Gothic religious icon, with its famous square tower, has beautiful Black Forest views from the top, as well as an impressive chiming show seemingly hourly!
The nearby beautiful and historic Merchants Hall is also worth a snap.
You can also enjoy drinking or eating around both these buildings, especially in the summer months, which is very fun and no way as near as expensive as you'd think!
#4 Climb the Observation Tower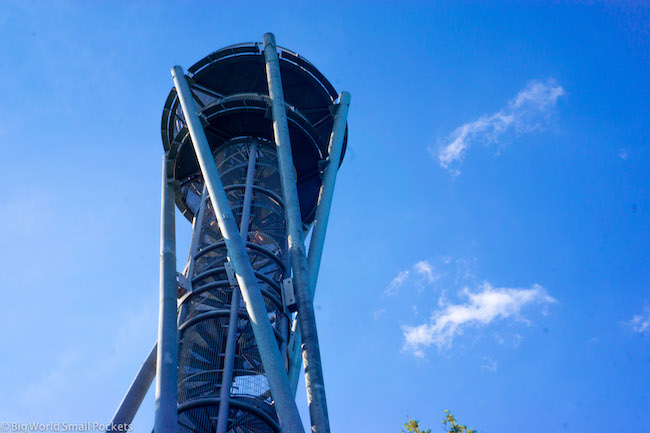 But if you really want the best views of the Black Forest, then forget the church tower, it's all about climbing the Observation Tower, which lies just beyond the city gates, on top of a hill located right next to the city.
Known as the Aussichtsturm Schlossberg, which means the Castle Tower, this 35m towering giant sits atop of Castle Hill (unsurprisingly) and offers the most epic of views!
Do not miss it!
Either you can climb the hill and the tower, as I did, stopping at the Kanonenplatz viewing area on the way and perhaps the Kastaniengarten for a stein on the way down!
Otherwise, if you're not up to the walk, the Schlossbergbahn or funicular can carry you up there.
#5 Take a Dip in the River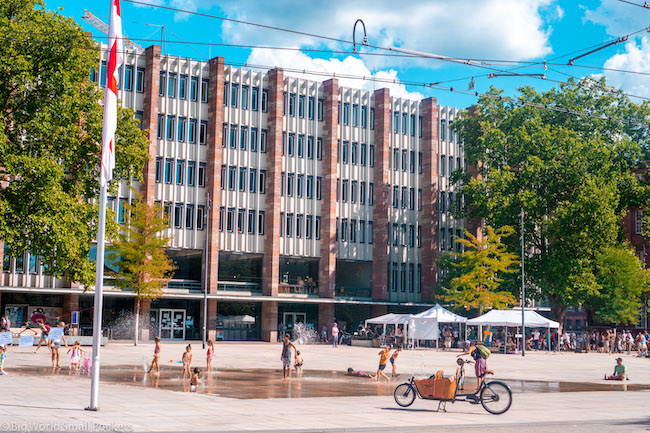 This is probably one of the summer, but it looked absolutely idyllic!
Seeing so many locals swimming in this River Dreisam, which runs through Freiburg, definitely convinced me it was safe and around the bridge known as Kronenbrucke, seemed to be the most popular place for it.
If you don't fancy a river dip, them some fountain fun in the city centre may suffice instead!
#6 Relax in the Seepark
Another great outdoors number to enjoy when you're in this city, and absolutely one of the best things to do in Freiburg, is head to the massive Seepark.
In fact, this is where I spent my first evening after arriving in the city, strolling around, having a pretzel (obvs!) and enjoying a beer with a view of the lake.
Strolling, boating and people watching are the top things to do here as it offers a great slice of local life that you shouldn't miss, even if it is a little way out of the centre.
That said, Seepark is handily very near the Airbnb I recommend at the end of this article.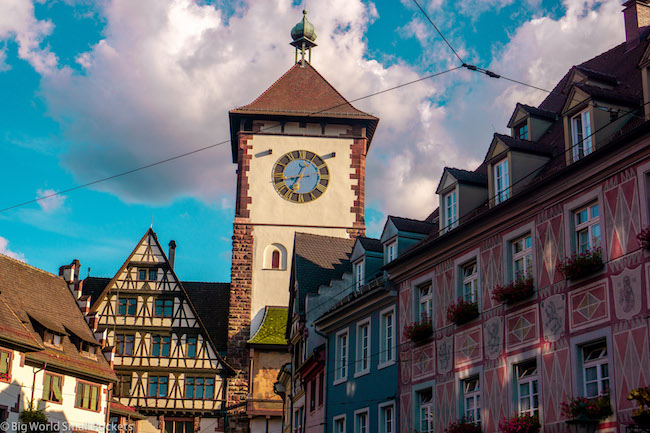 #7 Stroll the Japanese Garden
And within the Seepark is also the lovely Japanese Garden.
However this place is so cute, I really thought it warranted its own mention on this list, especially given the story of how it came to be here.
Freiburg is actually twinned with the Japanese town of Matsuyama and this garden was built in the 1990s by the Japanese landscape architect Yoshinori Tokumoto as a gift for Freiburg's citizens.
How lovely is that!
The park is open from 9am to 5pm, is free to enter and is wonderfully peaceful.
#8 Hike in the Black Forest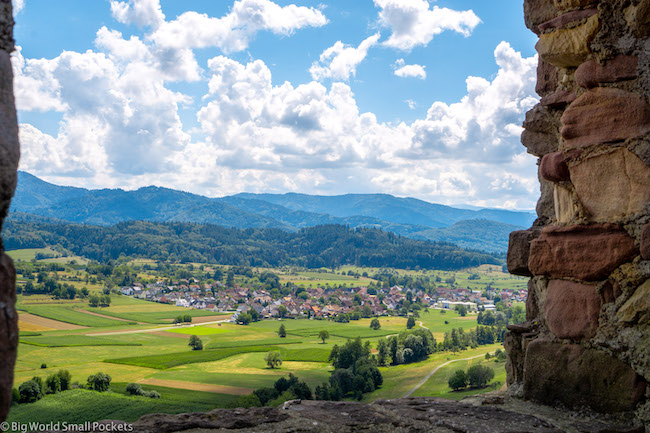 And sticking with the nature theme, but perhaps leaning towards a rather more wild version of it, you simply cannot come to the city of Freiburg and fail to take in the mighty Black Forest that sits all around it.
A day's hiking is the best way to enjoy this landscape in my opinion, with tons of trails within easy reach of the city.
The 2 free hiking apps – AllTrails and Komoot – both list a ton of great walks to choose from.
#9 Join the Crowds at Titisee Lake
If you like your nature served in a rather more leisurely fashion however, then instead of heading for a hike, why not head out of Freiburg for a fun day in the Black Forest town of Titisee.
This place is very popular with locals, especially during holidays and weekends, there's even a fairground here, but the jewel in the crown is the Titisee Lake – the perfect place to cool down in summer.
#10 Eat Trad German Food
And while you're out with the locals, you may as well gorge yourself on delicious German food too!
Pretzels are the go-to snack in this part of Germany and, of course, they are big on the bakeries here as well – with all the amazing breads and cakes you can think of.
I tried some sweet bread thing with raisins and almonds when I was here that was particularly delicious… and I'm not even into sweet things!
You also can't miss trying some yummy sauerkraut either and, if you're a meat-eater too, it seems fair to say no trip to Germany is a trip to Germany without eating a lot of sausage.
One Bratwurst to-go please (need to find meat-eating travel companion to review this option for me).
#11 Discover the Epic Veggie / Vegan Restaurants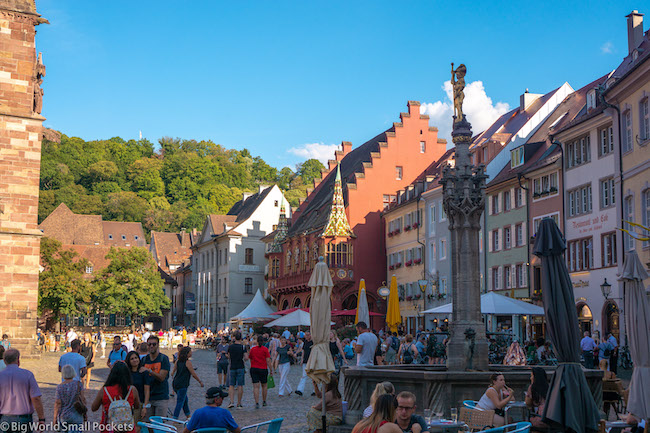 But fear not fellow plant-eating people, the great news is that Freiburg is a really progressive city (it's one of the most environmentally-savvy in Germany too) and there are tons of fabulous vegetarian and vegan restaurants too.
Can we thank the students for this?
Actually, I was lucky enough to have a few German friends who live in this part of German and who all – knowing I don't touch the sausage – recommended Adelhaus to me as a great plant-based option.
#12 Take in the View from Schauinsland
We're back on the day trips now and probably the perfect option for your second day in Freiburg and, the option ALL my German friends recommended to me, was to drive out to Schauinsland and take in the view.
A mountain in the Black Forest, reaching up to 1,284 m above sea level, taking the cable car up to the top is definitely one of the highlight things to do while you are in Freiburg.
#13 See Ravenna Gorge & Bridge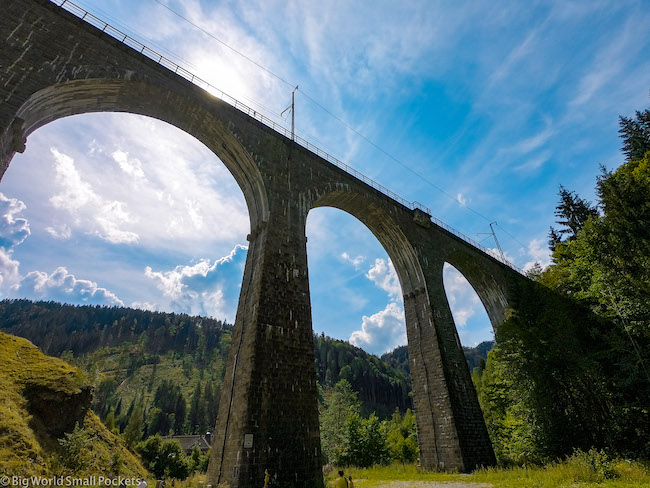 Another option, slightly closer to the city is to head out and see the Ravenna Gorge and Bridge in the Black Forest.
There are several trails in this part of the landscape, which means it's a great hiking and sightseeing combination that can often be paired with nearby Titisee as well.
It's most likely you will need your own vehicle, or a friend with one, to enjoy this, but if you have either of those then you're good to go!
#14 Discover the Hochburg Ruins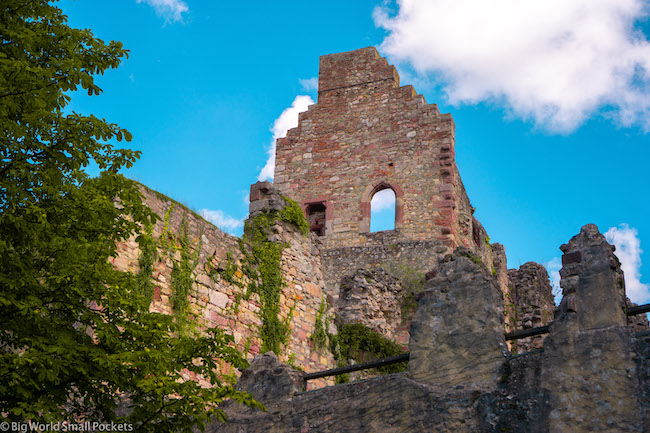 Of all the places I discovered around Freiburg, I have to say this was my favourite.
Yes the Hochburg Ruins, which I actually just stumbled across by chance after driving across the French border, were an utterly delightful find.
The sort that can only be so delightful when you have no idea they exist, no expectations and they turn out to be one of the most memorable places you went!
Despite not being in any of the guidebooks, discovering this spot was a real treat, not only for the views and insta-worthy shots, but also for the history and sense of the unknown.
#15 Experience the Freiburg Christmas Markets
And finally on this list of the top things to do in Freiburg, we come to the Freiburg Christmas Markets.
Having visited the city in the summer, I actually can't claim to have experienced these myself, but time your visit right, or time it for this very reason, and there's absolutely no reason you should miss one of Germany's most amazing festive features.
When to Visit Freiburg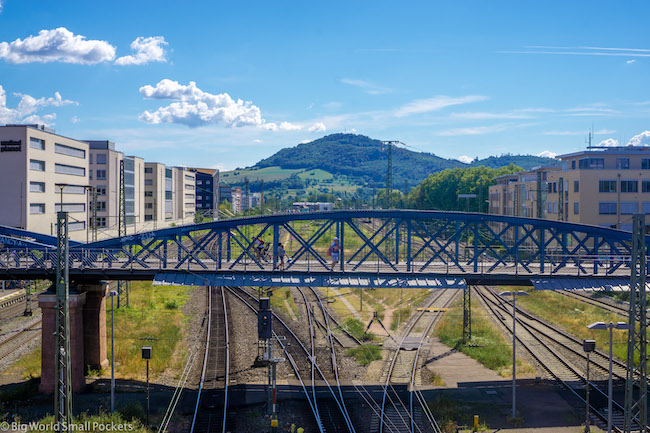 There's no question, in my mind at least, that there's 2 crucial times to visit Freiburg.
One, as you may be unsurprised to learn, is in December, when the aforementioned Christmas Markets are in their full splendour.
The other time I recommend visiting is when I did – in the summer months.
At this time, the warm long days offer amazing opportunities for hiking and sightseeing in the daytime, followed by balmy evenings in those wonderful beer gardens.
Because Freiburg is not a hugely popular destination for international tourists, the summer months also shouldn't be too crowded.
Given Freiburg's location in the Black Forest area, I also imagine Spring and Autumn here (with the changing of the season in full force) is also pretty spectacular.
How Long to Spend There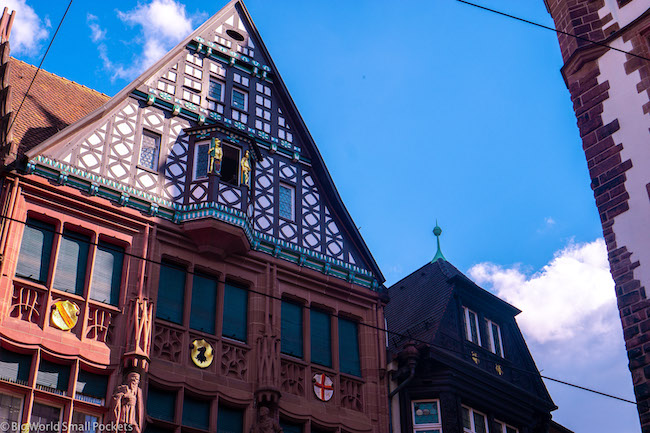 As a small city, a couple of days is plenty of time to explore Freiburg.
In other words, this is a perfect weekend break, or a short stop, enroute to some other bigger destinations like Bavaria or the French Alsace wine region where you're likely to spend more time.
I spent 3 nights in Freiburg and found it exactly the right amount of time.
Arriving late on day 1, I had enough time left in the day to enjoy a beer in Seepark and get to know the residential area around my cute Airbnb.
Day 2 I spent a full day exploring the city and the Observation Tower.
And then on day 3, I headed out into the forest for some hiking.
Where to Stay in Freiburg
So as I mentioned above, I stayed in a rental apartment in Freiburg, which was ideal for me as a budget traveller and was situated in a residential area with lots of green spaces around.
Quiet and local and near a few good parks, I could also walk into the city from this place, or get the tram on the way home, making it the perfect balance of budget and comfort for me.
For these reasons, I always recommend staying in rental properties when visiting German cities and VRBO is my go-to website for this.
Check out this top-rated apartment, close to the centre of Freiburg as well as a great range of shops, restaurants, cafes and parks if you're looking to do the same. Sleeping up to 3 people, it's very well-equipped, has easy access to public transport and is very spacious… an all-round winner!
If you prefer to stay in a hostel however, then the only official hostel in the whole Black Forest area is near Freiburg – how perfect is that!
If you want to spend your time hiking or doing more outdoors stuff in the Black Forest, as opposed to being based in a city, then this hostel could be the option for you.
It gets great reviews and can be booked at an excellent price here.
Finally, if you want to be right in the heart of the action, and experience a bit more comfort and privacy, then I highly recommend The Alex Hotel. I love the modern decor, the fabulous service and the excellent breakfast at this place!
How to Get to Freiburg
If you're enjoying a European road trip, Freiburg is easy to navigate your way to by car along the excellent German motorways.
I'd say most travellers head here either from the large German cities of Frankfurt or Stuttgart, the Swiss cities of Basel or Zurich, or the French city of Strasbourg, which is just across the border.
From most of those cities you can also get numerous trains to Freiburg if you're using public transport, or buses if you're on a tight budget.
As always, I use Trainline to book my trains across Europe, because they make everything so easy and straightforward and offer excellent prices and easy e-tickets.
When it comes to bus travel in Europe, I love Flixbus, who I've used many times and can't recommend enough given their insanely good prices, free wifi, comfort and safety.
Check out Flixbus for all your European bus travel, including to Freiburg, here.
What to Pack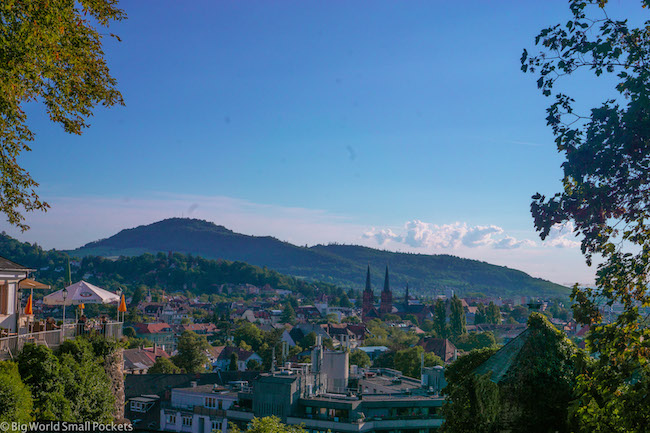 And finally, here my list of the top 4 packing essentials you shouldn't head to Freiburg without.
#1 A Good Camera – No doubt you're going to be snapping like crazy with these amazing forest views and need to ensure you have a good camera to do this city justice. I love my Sony A6000, which is light, compact and great for travel.
#2 Decent Walking Shoes – No point coming to Freiburg and not being able to enjoy this beautiful historic city on 2 feet. Get prepared therefore and ensure you have a decent pair of walking shoes – these cross trainers from New Balance are ideal (and totally stylish) for the job.
#3 Light Waterproof Jacket – Whatever the time of year, you have to remember this is Germany after all, a country in which the heavens can open at any point! Don't get caught out there and ensure you have a good lightweight and waterproof jacket with you. This North Face one is perfect.
#4 Compact Hiking Day Pack – I never go on any day trips without a sturdy backpack to ensure I've got room to carry everything I need and that the weight is equally distributed across my back and shoulders, This super featherweight Kompressor from Marmot is my go-to, because it folds down to nothing and is water-resistant.
PIN IT TO PINTEREST!
So there is it, my list of the 15 best things to do in Freiburg.
Have you been to this wonderful German city?
Did you like it as much as me?
What was your favourite thing to do there?