One of my favourite countries to visit in Africa, there's no question Morocco is safe for female travellers and a definite highlight on my top African itineraries.
And this applies to those of us adventuring solo too. In my experience, there's no question Morocco is not only a safe destination, but also has a huge amount to offer.
In fact, quite a few attractions in this country made it onto my list of the 55 best things to do in Africa, which just shows you how much I recommend visiting this country.
Have travelled in Morocco myself as a solo woman traveller several times, I can now bring you my top 9 tips when it comes to female travel in this north African delight…
---
Related Posts
---
This page contains affiliate links meaning Big World Small Pockets may receive a small commission on any purchases at no extra cost to you.
---
Grab Your Copy of How to Travel Africa for Less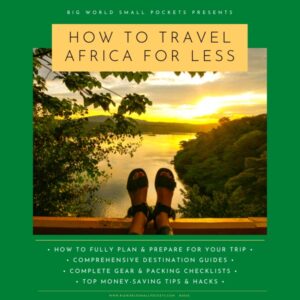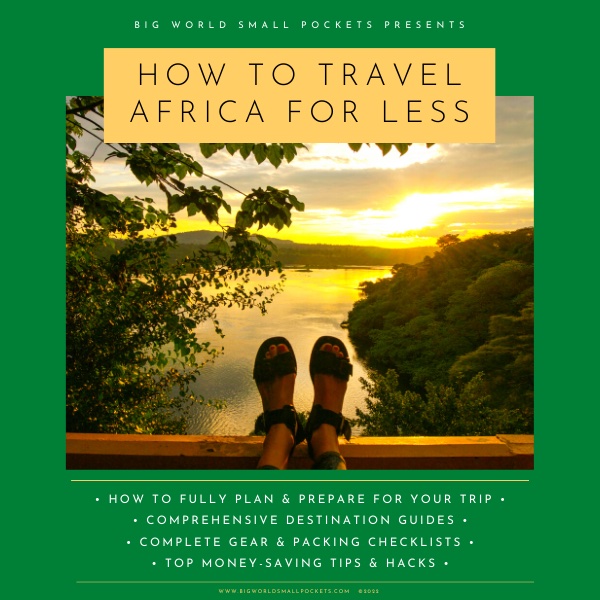 My ultimate guide to travelling Africa on a budget is now available, meaning you can finally get ALL my top tips for adventuring around all, or parts, of this amazing continent in one handy eBook, including…
Full Planning & Preparation Guides
Detailed Destination Info
Complete Packing & Gear Lists
Top Money-Saving Tips & Hacks
#1 Dress Correctly
First up when it comes to the issue of female travel in Morocco is what to wear when travelling in this country.
Of course, putting this tip into action actually starts before your trip begins, right when you are packing or thinking about what to pack.
In fact, considering what to wear in Morocco is one of the questions I get asked about most when it comes to women travelling here, which is why I wrote this complete packing Morocco checklist.
The first point to bear in mind however is that while Morocco is an Islamic country, women (local or foreign) are not required to wear a headscarf except when visiting religious buildings.
That said, I would certainly avoid any tight or revealing clothing, instead opting for long-sleeved and long-legged tops and bottoms that stretch to the elbow and below the knee.
Shoulders and chests should also be covered – which is often convenient in terms of sun protection too.
In Morocco, I wore a lot of thin pashminas to cover my chest and shoulders whilst still providing ventilation in the heat.
I also liked combining thin bamboo leggings with knee-length loose tunics that kept things respectful but also comfortable when travelling.
#2 Going Out in the Evening
After what to wear, the next common question I get from women travellers looking to head to Morocco is about going out in the evening.
In general, I tend to urge solo female travellers to err on the side of caution and not head out alone in the evenings, especially in big cities.
In Morocco however, especially in towns and cities, I felt quite comfortable doing this, provided I knew where I was headed and I didn't walk too far from my accommodation.
In part, this is because Moroccan life (like many North African and Middle Eastern countries) has a late-night culture, meaning many people can be found out on the streets, shopping, meeting friends or eating after dark.
This level of activity on the streets tends to make travellers feel safe, even if they are solo.
No question that heading out as part of a group in the evening is very safe.
#3 Get a SIM Card
If you still feel hesitant, then let me introduce you to a little tip that always makes me feel safer when I travel as a woman anywhere in the world, particularly solo.
And that tip is, buy a local SIM card.
This may sound kind of obvious, but often travellers don't realise how simple, easy and useful this is.
For the small hassle when you first arrive and need to sort out a SIM, the safety and ease you feel after getting it up and running doesn't compare.
In Morocco, I highly recommend getting a SIM card from Maroc Telecom because they have the best coverage across the country and also offer very affordable tourist SIM packages, which give a large amount of data over a short period of time.
Learn more about buying a SIM card in Morocco in this post I wrote about the top 21 things to know before you travel this country.
#4 Take Tours / Join Groups
Another obvious point, but one it may be worth making to women travellers looking to head to Morocco, is that if you're worried about travelling alone in this country, you can always take a tour.
While I don't think it's necessary a full tour of the country, it may help you find your feet and feel more comfortable.
And if that means the difference between you going and not going to Morocco, then I'd consider it a worthy investment.
Check out this list of top tours
, which cover large parts of Morocco in itineraries ranging from 2-7 days.
Alternatively, you can travel independently in Morocco, but take some tours to certain destinations.
This is a great way to mix being brave and having a bit more flexibility, with meeting other people and forming a group at some points during your travels.
One place where I took a tour when in Morocco was to the Sahara Desert.
Learn more about that adventure and what is involved in this post I wrote.
#5 Read Reviews
And a key part when it comes to selecting tours, as well as accommodation or any other services you might use, especially as a solo female traveller, is to read the reviews.
Yes reviews from other travellers are such a great way to pick up on whether you'll feel safe and secure as a women traveller.
I have almost no doubt, you will, but this is more to give you peace of mind.
Also, you may feel safer knowing you can leave a bad review if this is the case too!
GetYourGuide, Hostelworld and Agoda all have facilities for reading and leaving reviews and these are the main sites I use to book services when I travel.
#6 Be Sensible & Respectful
Next on this list of these top tips for women travellers in Morocco is an age-old adage, but also very a true statement.
Be sensible and respectful.
Yes in a country like Morocco, showing respect and being respectful is a key cultural component.
As a traveller, and a woman, you can show this by dressing and acting appropriately, especially at ancient, holy or significant sites.
Remember you are a guest in this country, a country which may have different values from you, but paying attention to codes of behaviour and being conscious of your own, really does offer you the chance to learn a lot and experience how other people around the world live.
This, after all, is a major goal of travelling.
This is not about being right or wrong, but about being open and tolerant to difference, no matter what your own feelings are.
Coupled with respect, it also pays to be sensible.
This applies not just to Morocco, but to anywhere in the world.
Use common sense, listen to your gut instinct and don't take unnecessary and ill-planned risks.
These are where accidents are most likely to occur.
This also applies to accidents such as petty thefts, where phones and bags are most often stolen when you're not paying attention and using your common sense.
Using your common sense before you travel.
World Nomads offers simple and flexible travel insurance. Buy at home or while travelling and claim online from anywhere in the world.
Alternatively, if you're a long-term traveller, digital nomad or frequent remote worker seeking travel health cover, check out Safetywing's Nomad Insurance policies.
#7 Be Kind, But Firm
And continuing along this line of thought, it also pays to be kind and gracious during your time in Morocco, but also firm.
This especially applies to women travellers in this country, where smiling or talking extensively to a male may give the wrong cultural signals – signals you may not be aware of, or be intentionally, giving.
Please bear this in mind and always remain gracious, but clear with your boundaries and expectations.
If you want to avoid being hassled in souks and markets, then a polite no thank you and walking away should suffice.
You'll rarely be followed, touched or hassled for long if you, calmly and clearly, state you are not interested and move on without making any further eye contact.
#8 Careful On Buses
And a key place this can come into play is on buses, which you'll likely use to get around Morocco at least part of the way.
In general, I've found that when you book with a more premium company like CMS Buses in Morocco, they try to sit female travellers next to each other.
Learn more about my adventures in this department on my travels from Marrakesh to Fez and how I got to Chefchaouen.
While on shorter journeys it may not bother you too much who you're sitting next to, you may want to consider this more carefully on night buses.
If you're worried at all about this, try to find a friend to sit next to you, speak to a member of staff in the bus ticket office or travel with a tour or group instead.
The other option is, of course, to avoid night buses and stick to day buses and trains as your means of transport.
I used Bookaway to search and reserve all my buses throughout Morocco and found them great and easy to use.
#9 Don't Be Scared
But the most important tip I can give to women travellers in Morocco is not to be scared.
Honestly, this country is very safe for female travellers and the vast majority of them, including solo female tourists like myself, will have a wonderful time here without any problems.
While I have advised you to be careful, respectful, sensible and firm (if necessary), please also remember to be warm, open and friendly if the situation invites it.
Do not let fear or preconceived ideas hold you back on this trip or prevent you from seeing the best of what Morocco has to offer.
Head out there and be brave – I'm sure you'll have a wonderful and safe trip.
PIN IT TO PINTEREST!
So there you have it my top 9 tips for women travellers in Morocco, particularly solo female travellers who want to stay safe but also enjoy themselves.
Have you found these tips helpful?
Have any more questions?
Then please don't hesitate to drop them into the comments box below…