Both classic transport hubs and both major European cities, travelling from Frankfurt to Amsterdam is a key route, not only for those transiting in and out of Western Europe, but also for travellers looking to explore 2 of this region's top cities.
So whether it's by train, bus, car or plane, there's plenty of options when it comes to travelling between these 2 cities and here I give you the full lowdown on them all, meaning if you want to explore Germany and the Netherlands in one great trip, you can!
---
Related Posts
---
This page contains affiliate links meaning Big World Small Pockets may receive a small commission on any purchases at no extra cost to you.
---
How to Travel from Frankfurt to Amsterdam
The distance from Frankfurt to Amsterdam is around 400km, which means it can take a good few hours to travel between these 2 destinations.
You can make this journey via train, bus, plane or car, all of which will have different pros and cons.
The factors that are likely to determine which option you choose are: price, amount of luggage, length of your overall trip and level of luxury vs adventure you want.
You may also want to consider your carbon footprint.
Using public transport, especially a train as they are electric in mainland Europe, is the most eco-friendly option here.
The car is one of the least eco-friendly options (topped only by plane, which I really don't advise FYI), but may be best for you if there's a group or family of you travelling together, or you have a lot of luggage.
For the purposes of this article, I'm going to discuss travelling from Frankfurt to Amsterdam i.e. in the direction of southeast to northwest, but please do bear in mind, you can absolutely visit these 2 cities the other way around too.
All this information will still apply in exactly the same way if you are travelling in the other direction, you'll just have to follow it in reverse!
I've also chosen to give details about how to travel from Frankfurt to Amsterdam, rather than visa-versa, because as a major European transport hub, it's likely most people will be arriving into Frankfurt first (especially if they are arriving by air) and from there, be looking to journey on to the capital of the Netherlands.
Train from Frankfurt to Amsterdam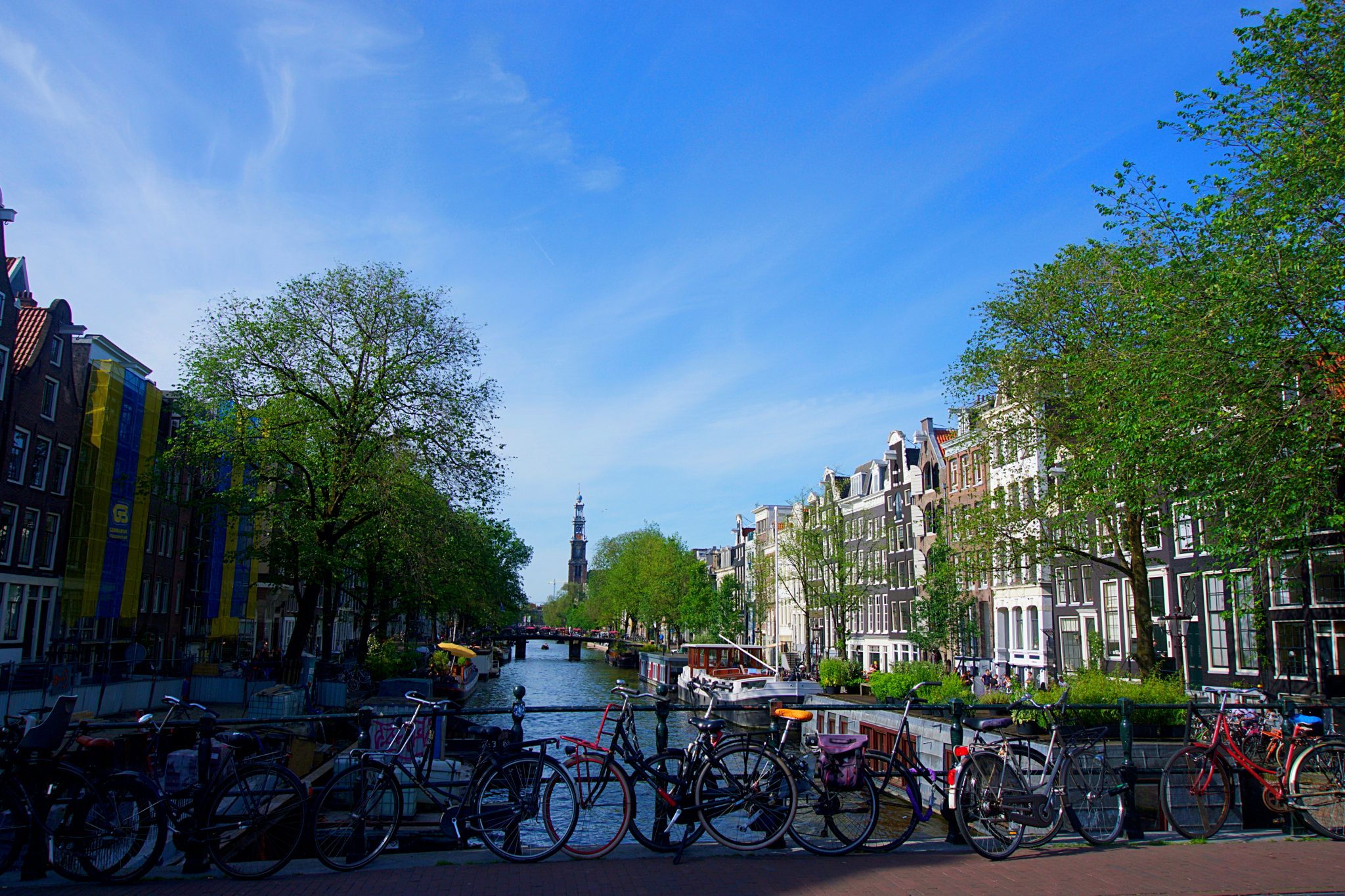 The Basics
Direct trains run frequently between Frankfurt to Amsterdam.
In fact, there are around 30 trains per day making this journey, so plenty to choose from!
The journey generally takes between 4 and 5.5 hours, depending which service you use.
Direct Deutsche Bahn Inter-City Express services (ICE) are the quickest and can bring you straight to Amsterdam Central station, which sits in the heart of this capital.
As such, travelling by train between these 2 cities is a quick, efficient and easy way to do it, especially as Deutsche Bahn's excellent trains offer a great level of comfort with onboard wifi, power sockets, toilet facilities and good seats.
All German trains, no matter whether they are high speed or not, are DB trains and leave from Frankfurt's Hbf station.
Hbf stands for Hauptbahnhof, which means main station in German.
Frankfurt Hbf is a central hub in the German rail network and many international connections pass through here on their way to Switzerland or Austria, as well as to other long-distance destinations in Germany such as Berlin.
Train services from Frankfurt Hbf then arrive either into Amsterdam's Centraal Station, Amsterdam Bijlmer Arena or Amsterdam Amstel.
Make sure to pay attention to the arrival station when heading to Amsterdam and choose the service that drops you off at the station nearest to your accommodation, or anywhere else that you want to be.
As usual, I just use Google Maps to work out which is the closest station, as well as to help me find my way to / from there using public transport or my own 2 feet.
Buying Tickets for the Train
So now that we've covered the basics about travelling from Frankfurt to Amsterdam by train, it's time to cover how to buy tickets for this service.
As is commonly the case when booking trains in Europe, you can book direct through the national railway site, in this case through Deutsche Bahn's website.
However, I very often find this site hard to decipher and confusing to use.
Which is why I always book my European train travel through Trainline, who make everything easy to understand in English!
In general, tickets can be booked up to 6 months in advance on this platform and start from as low as €30, but can go up to €60.
Comparing all train services between Frankfurt and Amsterdam is made super easy by Trainline's easy booking service, which is totally secure and can be used across multiple currencies and languages.
Plus their simple-to-use app is great for checking your train is on time, knowing the number of stops before you have to get off the train and for storing your e-tickets all in one place too!
You can also forget about the hassle of having to collect any tickets at a station, as tickets with Trainline are all electronic.
Booking online with Trainline allows you to book your tickets in advance too, as well as make use of any automatically-calculated split-fare advantages, which are likely to give you the best price too.
To secure the cheapest train tickets for Frankfurt to Amsterdam, booking standard class, non-exchangeable, non-refundable options with no seat reservations are likely to offer the cheapest rates.
When you book with Trainline, you can upgrade to ensure you have seat reservations for an extra €4.
You can also buy semi-flexible fares, which allow for some changes or refunds in the form of vouchers and also cost an average of €4 more.
And finally, you can also purchase fully flexible tickets, which are significantly more expensive.
As a budget traveller however, I'd always opt for the lowest price ticket, especially on a journey as common as that from Frankfurt to Amsterdam.
The other thing to remember is that you can absolutely just turn up on the day and buy your train ticket at your departure station then and there.
This won't give you the best price but, by leaving things to the last minute, it will grant you a high degree of flexibility.
The Train Journey
As with the vast majority of trains in Europe, there's no need to check in for your DB train ride.
You simply enter the station and then look at the boards for the platform your departing train will leave from.
Then you just find the platform, board the train and sit in your reserved seat, or a free seat if your ticket is unreserved, in the correct carriage class.
Ensure you then have your tickets (or e-tickets) to hand for when a conductor or inspector passes by.
It's also good to know that there's no restrictions on luggage with DB trains.
As long as you can carry your luggage onto the train, there's usually ample rack space at either end of the carriage, as well as above your seat for smaller bags.
Bicycles can also be taken onboard, although these generally need to be booked in advance and are likely incur a separate fee, payable at the time of booking.
If you need to arrange luggage storage in either Frankfurt or Amsterdam, then I highly recommend LuggageHero – a great left luggage app I've used myself across Europe.
Bus from Frankfurt to Heidelberg
You can also use a bus or coach service to travel from Frankfurt to Amsterdam and this can be a great option if you are booking last minute and trains are either full or too expensive.
If you are a budget traveller, then you can't go wrong with Flixbus in my opinion.
Prices on Fixbus journeys from Frankfurt to Amsterdam start from under €10 and peak around €20.
The journey can take as long as 10 hours, but this is largely for the night bus, which will depart in the evening and have you arriving in the morning – perfect if you want to save money on accommodation costs too!
The amount of time your Flixbus journey will take, will depend greatly on whether you book a direct service and also how much traffic you encounter enroute.
Flixbus buses depart from 1 of 2 stations in Frankfurt: #1 Central Station along Stuttgarter Straße or #2 Hbf along Mannheimer Street.
The Flixbus then arrives into Amsterdam at either #1 Amsterdam Sloterdijk Station, #2 Schiphol Airport (great if you have a flight connection) or #3 Amsterdam Bijlmer.
Sadly none of these are that near the city centre, so you'll then likely need to catch a taxi or use public transport – like a train or tram – to get to your accommodation.
Flixbus has free wifi, free power sockets, as well as free luggage allowances, onboard toilets and their app is great for storing e-tickets and checking the location of your bus live.
I've used Flixbus as a budget traveller across Europe, including in Germany and the Netherlands, and can I highly recommend their efficient and safe services.
Book your Frankfurt to Amsterdam FlixBus journey here.
After Amsterdam, you can then use Flixbus to head on to Brussels, Lille, London, Paris, Bruges or Warsaw, as well as a heap other destinations in Germany or The Netherlands.
Driving from Frankfurt to Amsterdam
You can also drive between Frankfurt and Amsterdam too.
This will take you around 4 to 5 hours, with the quickest route generally being along Autobhan 3, which skirts by the German city of Cologne, before crossing the border into the Netherlands.
At this point, most drivers follow the A12, the A30 and finally the A1 to Amsterdam.
Parking is available in both cities, but don't forget to factor in these costs, as well as those of fuel, if you are driving.
Personally, I used Parkhaus Hauptwache when I drove to Frankfurt.
Given the short time I had in the city, this was an excellent choice for a quick spot of sightseeing as it's so central.
If you're looking to hire a car in Germany or the Netherlands, then check out Thrifty Car Hire who have some of the best deals around and are both safe and reputable.
The pros to renting a car are flexibility and fewer limitations on luggage and plans.
The cons are the expense, organisation and having to drive in a foreign country.
Renting a vehicle is altogether better if there's a group of you, because you can share the costs and the driving duties.
You may also wish to try out a carpooling service like BlaBlaCar – as always just exercise caution and common sense when doing this.
Flying from Frankfurt to Amsterdam
Personally, I'd never fly a distance that was this short, not only for environmental factors, but also due to the price and hassle.
When a train is only 4 hours, then by the time you've got to an airport, checked in, gone through security, boarded a plane, flown there, disembarked, collected your luggage and got to your accommodation, I really don't think you're going to be saving much time.
Plus flying will be the most expensive option on this list.
However, I know some of you mad cats will still choose this as an option so, to get the best deal, I highly recommend you check out Skyscanner.
Mini Travel Guide to Frankfurt and Amsterdam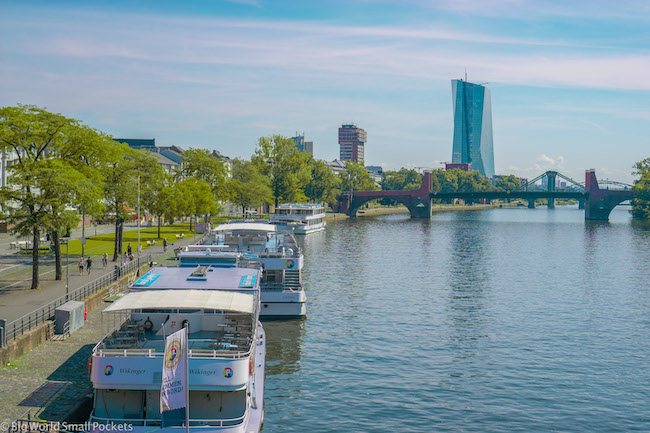 Of course, outside of the journey, it's likely you'll have some time to explore these 2 great cities too and here's my top tips for doing just that…
Frankfurt
Located in the southwest of the country, this region has some of the best and oldest festive markets in Germany and heading here to see this great city lit up like something out a fairy tale in December, should not be missed.
The other key time to visit this destination is during the summer, when the hot, warm and long days are perfect for getting outside and enjoying the wonderful nature, walks and historic sights of the city and its surrounds.
Summer also lends itself to some great beer garden fun and lake / river swimming – 2 greats parts of German culture!
Ideally I'd allow 2 nights for your time in Frankfurt.
The first night should give you the day to arrive and orientate yourself, check into your accommodation and perhaps visit a museum or enjoy a drink and a meal in the historic centre.
The next day can then act as a full sightseeing day, when you can take a tour or enjoy some time on the river.
If you are staying the night in Frankfurt, then check out this list of my top 10 Frankfurt Airbnbs.
To learn more about how to get to Frankfurt, as well as get around this city and a full list of the top things to do there, check out this post I wrote following my time there.
Amsterdam
When it comes to visiting Amsterdam, I'd allow a bit more time as this city is a tourism mecca!
If you haven't been before, you're in for a treat!
Check out my 72 hours Amsterdam itinerary for more ideas about how long to spend in this city and what to do.
I've also written a list of the best things to do in Amsterdam, which may help you choose your activities if you have more or less time in the city.
Don't forget, there's also a lot of day trips you can enjoy from Amsterdam, including to the coast. Learn more here.
Plus this city is beautiful to visit throughout the year, when the canals and wonderful streets always have something to offer – be it lazy summer afternoons outside with a beer or frozen, crisp winter magic.
Yes, there's no question Amsterdam is one of my favourite European cities to visit (and that's without going to the tacky red light district or getting stoned), so if you plan to spend some time here, check out these top accommodation options conveniently located in the city centre…
Mr Jordaan Hotel – a top-rated 3 star option with wonderful design features and very close to the Anne Frank House
Cocomama – an award-winning Amsterdam hostel, with a chic boutique feel and private as well as dorm rooms in the heart of the city
Modern Houseboat – a comfortable, yet quirky stay for up to 4 people on a peaceful green canal… the private terrace is hard to beat!
5 Packing Must-Haves for Frankfurt and Amsterdam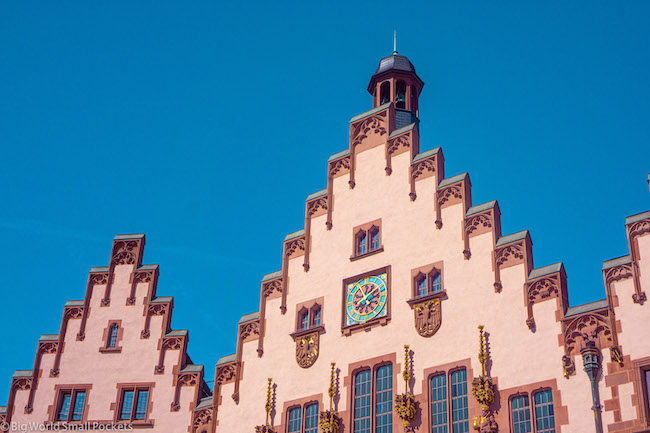 #1 A Good Camera – No doubt you're going to be snapping like crazy with these amazing city views and need to ensure you have a good camera to do these destinations justice. I love my Sony A6000, which is light, compact and great for travel.
#2 Decent Walking Shoes – No point coming to these 2 beautiful cities and not being able to enjoy them using your own 2 feet. Get prepared therefore and ensure you have a decent pair of walking shoes – these cross trainers from New Balance are ideal (and totally stylish) for the job.
#3 Light Waterproof Jacket – Whatever the time of year, you have to remember this is northern Europe after all – a region in which the heavens can open at any point! Don't get caught out therefore and ensure you have a good lightweight and waterproof jacket with you. This North Face one is perfect.
#4 Compact Hiking Day Pack – I never go on any city breaks without a sturdy backpack to ensure I've got room to carry everything I need and that the weight is equally distributed across my back and shoulders, This super featherweight Kompressor option from Marmot is my go-to because it folds down to nothing and is water-resistant.
#5 City Card – Both Amsterdam and Frankfurt have city cards you can buy online in advance that allow you to access loads of their top sights at discounted rates. If you plan to go sightseeing a lot, these cards are a great money saver to consider, plus they usually come with a whole heap of other benefits, such as discounted or free public transport too. Check out the I Amsterdam City Card and the Frankfurt Card for more info.
Travel Insurance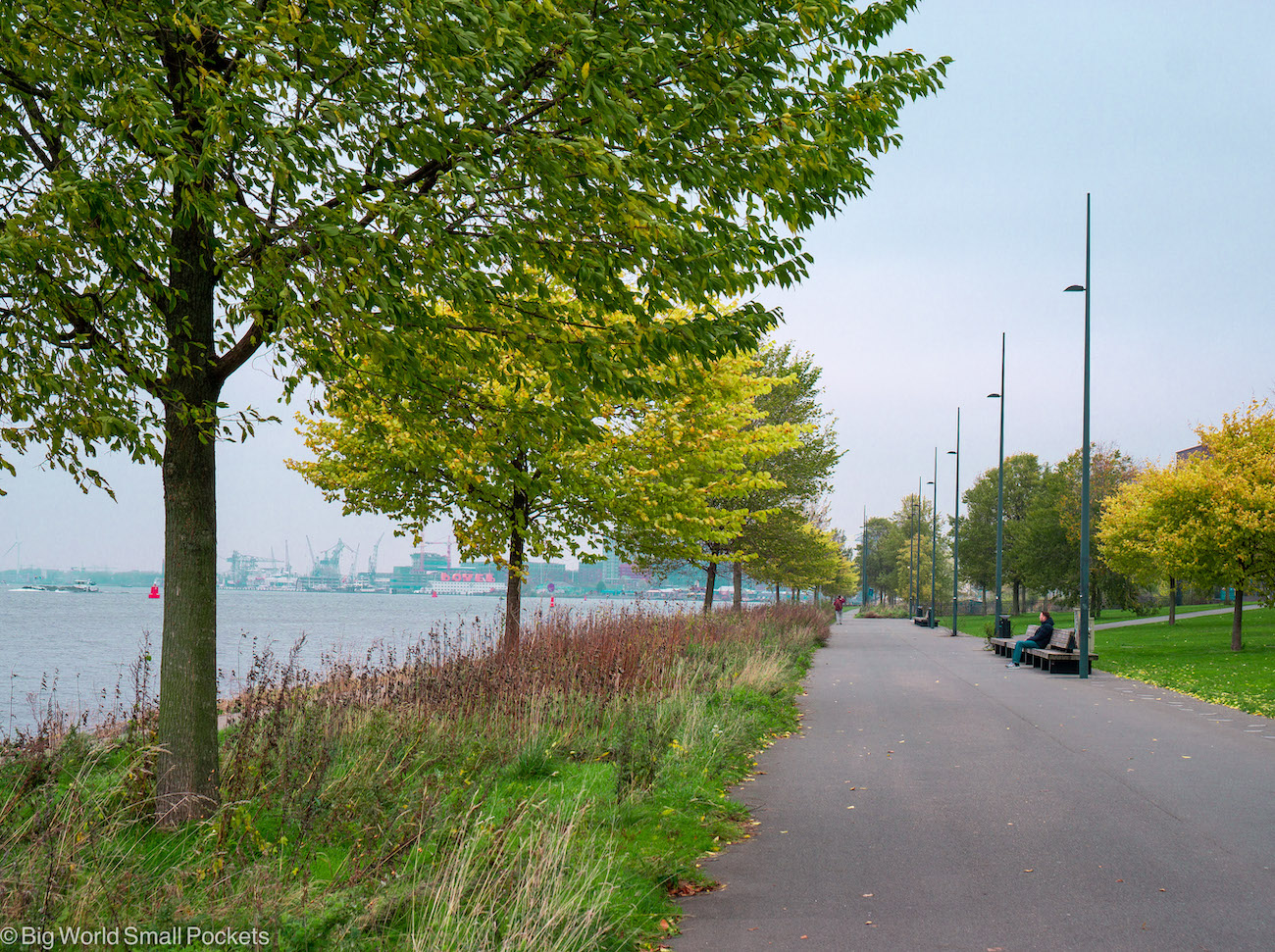 World Nomads offers simple and flexible travel insurance. Buy at home or while travelling and claim online from anywhere in the world.
Alternatively, if you're a long-term traveller, digital nomad or frequent remote worker seeking travel health cover, check out Safetywing's Nomad Insurance policies.
Continuing on Your Journey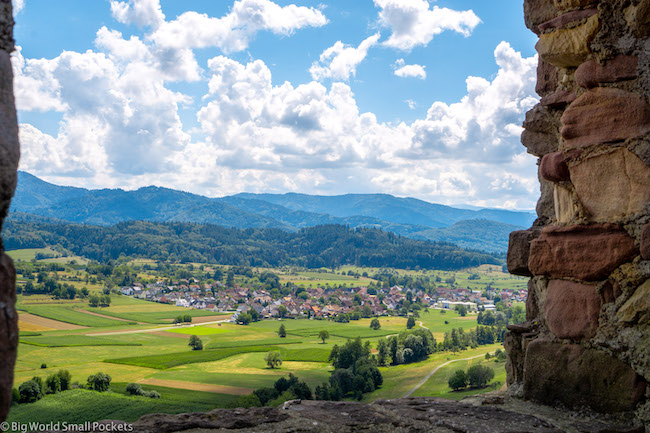 Don't forget that after your time in either Frankfurt or Amsterdam, the fun doesn't have to stop there.
The wonderful city of Freiburg and the Black Forest area can easily be accessed from Frankfurt and are well worth a few days of exploring!
Otherwise, other German cities such as Stuttgart and Cologne are easy to travel on to as well (learn how to travel from Amsterdam to Cologne here), or why not head across the border to enjoy the wonderful Alsace region in France with its great vineyards and Medieval villages?
From Amsterdam, you can either explore other great destinations in this country such as The Hague or Rotterdam, or head across the border into Belgium to check out Bruges, Brussels or Ghent or into France to visit the northern city of Lille.
PIN IT TO PINTEREST!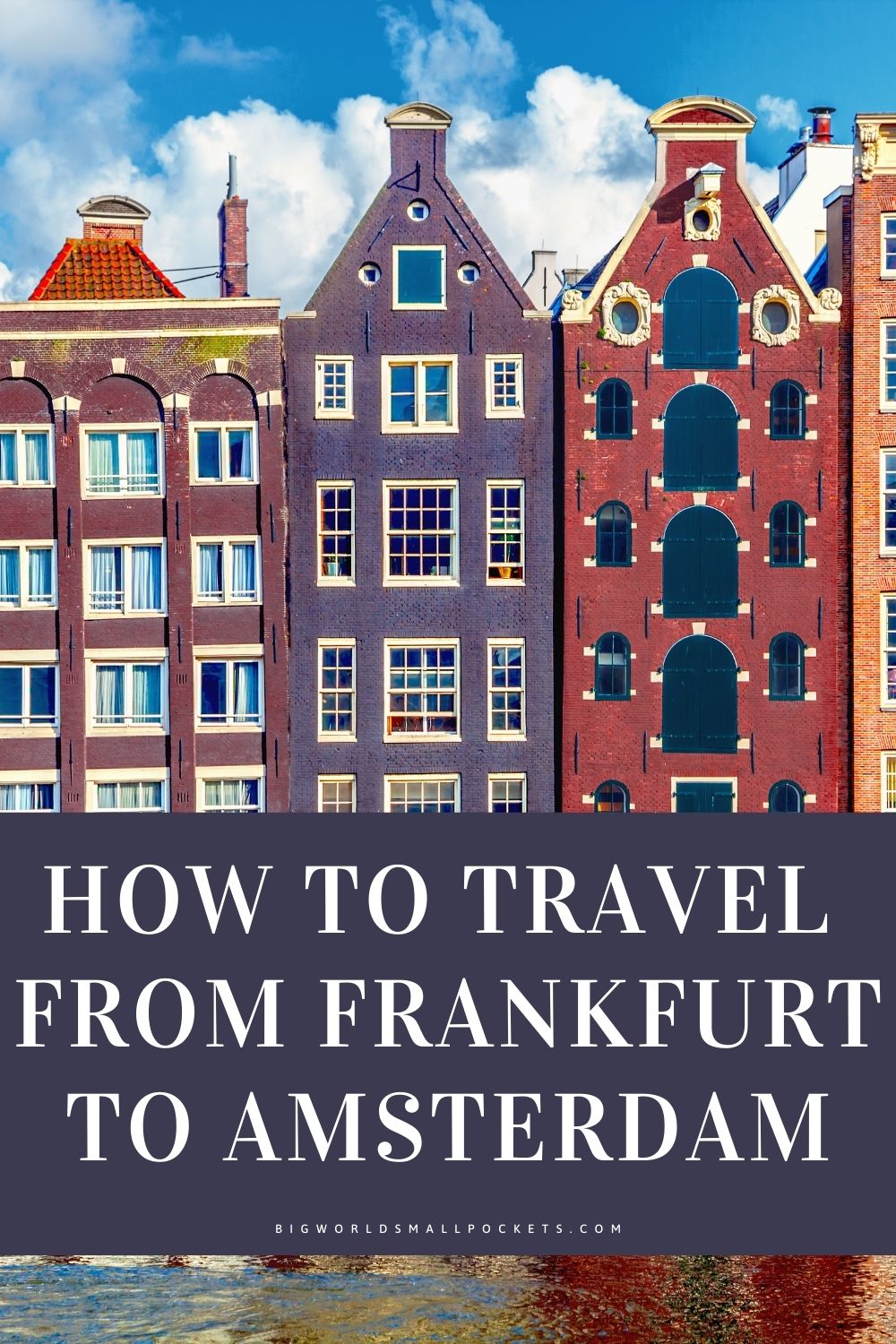 And there it is, my guide to everything you need to know about travelling from Frankfurt to Amsterdam.
Have you made this journey?
Which method of transport did you use?
Please leave any information about your journey that may help fellow travellers in the comments box below….