It's been said a few times before (and quite a lot on this blog!) but Argentina is absolutely one of the most diverse countries in the world.
Now that's mostly down to the huge size of this country, as well as its geographical location, and means it spans quite a few different climate zones and boasts an amazing array of epic sceneries
And while this is thrilling as a traveller, it also comes with its downside – mostly knowing when is the best time to visit, as each zone tends to have its own separate high season.
Well, here I'm bringing you the best time to visit Buenos Aires, as well as a short overview of what the rest of the country is like at this time of year too.
Hopefully this will help you plan the trip of a lifetime to one of the most amazing countries there is…
---
Related Posts
---
This page contains affiliate links meaning Big World Small Pockets may receive a small commission on any purchases at no extra cost to you.
---
Best Time to Visit Buenos Aires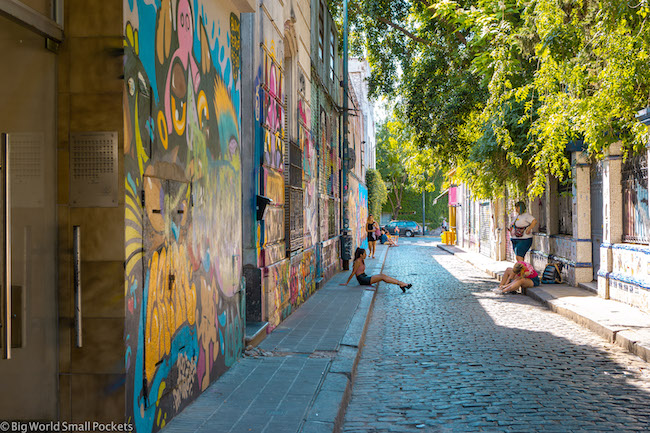 The best time to visit Argentina's capital is undoubtedly the spring and autumn months.
Being in the southern hemisphere, these are essentially the months of September to November for Spring and March through May for Autumn.
This is the best time to visit the capital because it sits outside of the incredibly hot and humid season, as well as the slightly cold and grey winter season.
Temperatures in both spring and autumn are pleasant – ranging somewhere between the mid 20 to low 30 degrees Celsius – and the days are generally dry and cloudless.
This makes them the best time for visiting the city's parks, street art, cafes and cultural icons.
In the summer months of December, January and February, it gets stifling hot in Buenos Aires and is far less pleasant to sightsee in.
In addition, prices skyrocket at this time as many North Americans and Europeans flood down to get away from their winter, which bumps up prices of accommodation, in particular, significantly.
Visiting outside of this high winter season therefore not only gives you better rates, but also lower crowds numbers too.
In addition, many locals vacate the city of Buenos Aires during the summer months and escape to the coast or other cooler regions of the country.
This also means if you visit during the high season summer months, you're also likely to get less of a picture of what a working and vibrant local city Buenos Aires is, as many of its residents are simply not there.
This is yet another reason to visit in Spring or Autumn instead.
At these months of the year, the city is full of life, well-priced, not too crowded and boasts lovely pleasant, long days.
The only other month I'd avoid is March, when the greatest amount of rain falls on Buenos Aires – again avoid this month as, although prices are cheap, it's likely to put a dampener (literally) on your fun city plans.
Visiting the Rest of Argentina During Spring and Autumn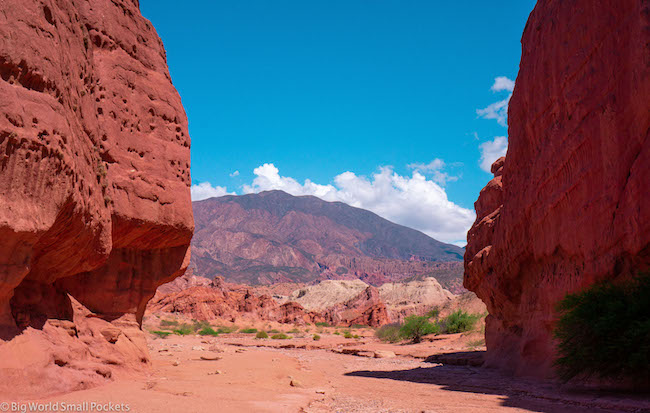 And the other headline great news is that Spring and Autumn are also great times to visit the rest of Argentina too!
As long as you avoid the peak times of Easter holidays, when again when lots of North Americans travel down here, and locals also head out to explore their country, these are prime times for lower crowds and good prices.
Visiting Iguazu Falls at this time is especially good and the wine districts of Mendoza, the desert region of Salta and the wonderful lakes of Bariloche are also on the hit list.
Depending when in these seasons you visit, Patagonia may also be accessible for hiking.
One of the main reasons Buenos Aires gets so busy in the summer months is because this is the prime time to visit Patagonia, in the south of Argentina.
In fact, this is the only time when you can get around all the ice and snow down there!
However, if you visit at the end of Spring i.e. November or the beginning of autumn i.e February or early March, you can still enjoy this incredible part of the country with lower prices and few crowds.
Again, this makes the best time to visit Argentina's flagship destination possible at the same time you visit Buenos Aires, which is a real winner!
If you're looking for multi-day tours of Argentina, check out .
Mini Travel Guide to Buenos Aires
Top 10 Things to Do in Buenos Aires
#1 Eat and Drink your Way Around Hipster Palermo
#2 Visit Eva Peron in the Famous Recoleta Cemetery
#3 Marvel at the Grand Historic Buildings of the Retiro District
#4 Visit the Eco Park and Japanese Gardens of the City
#5 Talk a Graffiti or History Walking Tour
#6 Visit the Grand Buildings of BA's Central District
#7 Snap the Colourful Houses of La Boca
#8 Watch a Tango Show in San Telmo
#9 Caffeinate in one of the City's Historic Cafes
#10 Party – this city sure knows how to let its hair down!
For more information about what to see, both in Buenos Aires and elsewhere in Argentina, check out this 10 day itinerary guide I wrote.
How to Get to Buenos Aires?
Buenos Aires hosts Argentina's main international airport, so if you are flying into this country, it's likely you'll land in the capital.
As always, I use Skyscanner to find the best deals on flights.
You can also take domestic flights to other airports within Buenos Aires (this city has a collection of them!), as well as long distance buses that arrive from many other major destinations around this huge country.
Check out Bookaway to view bus timetables in English and book seats – very helpful!
If you're travelling between Buenos Aires and Iguazu Falls, then check out this post I wrote specifically about this journey and how to do it best.
How to Get Around Buenos Aires?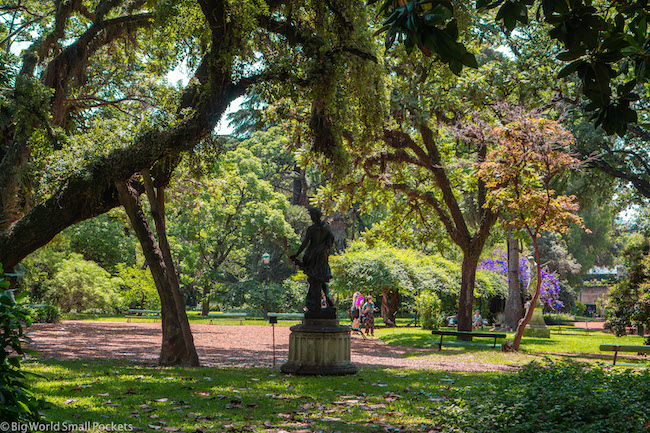 Once you're in Buenos Aires, use either Uber or the Metro system to get around.
SUBE cards can be used for public transport in the city and a card, plus 5 free rides, costs 200 pesos and can be bought in most metro stations.
I used the metro a lot during the daytime and found it very safe and easy to use.
Alternatively, ride-sharing app Uber, exists here and is incredibly reasonable, safe and easy to use – even if you don't speak Spanish!
Where to Stay in Buenos Aires?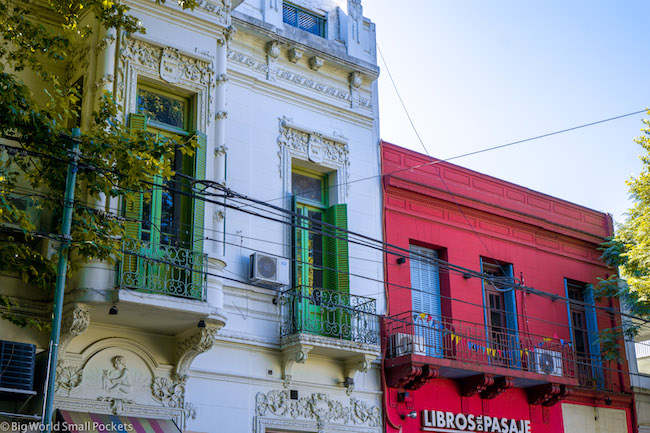 Buenos Aires is really a city of different districts – 48 to be exact – each made up of its own characters and story.
Out of all of these, and as a general rule of thumb, I highly recommend basing yourself in the Palermo Soho district – it's one of nicest, safest and most fun in the city and is a common place many travellers stay.
For budget travellers, the Meridiano Hostel here is fantastic and comes highly recommended with its historic building, great vibe and lovely roof terraces.
Otherwise, check out my list of the best Airbnbs in the city here.
Alternatively, if you're looking for a great hotel stay, then Casa Tatu in Palermo gets some great reviews thanks to its brilliant location and service.
Travel Safety in Buenos Aires
I travelled in Buenos Aires as a solo female backpacker and felt incredibly safe the whole time.
The friendliness of the people in this city only added to the general sense of ease and comfort I felt and public transport seemed easy and very secure.
That said, crime against tourists does occur in this city, especially petty theft.
Keep your valuable out of site and securely on you when walking and never walk alone after dark. Get an Uber instead!
To further help feeling safe when travelling in Buenos Aires, I highly recommend picking up a local SIM card when you arrive.
That way, you can always communicate with people, check maps and book accommodation or transport when you're on the move or if plans suddenly change.
There are many providers to choose from and getting a SIM card as a tourist is simple in any of the major cities here.
You can always ask your accommodation for help with this too and they'll usually be able to point you in the right direction.
World Nomads offers simple and flexible travel insurance. Buy at home or while travelling and claim online from anywhere in the world.
Alternatively, if you're a long-term traveller, digital nomad or frequent remote worker seeking travel health cover, check out Safetywing's Nomad Insurance policies.
5 Packing Essentials for Buenos Aires
#1 LifeStraw Go Water Filter Bottle
An absolute must on my travel packing list, the LifeStraw Go Water Filter Bottle safely removes 99.9% of bacteria found in tap water and, as such, allows me to drink tap water anywhere around the world knowing it's safe.
Great for your health, but also for the planet, this wonderful invention also massively reduces your plastic bottle usage, making it a double winner!
#2 Good Walking Shoes
Getting out in nature is what time in Argentina is all about, so definitely ensure you have some good walking shoes so you can enjoy the incredible landscapes here to the fullest.
I highly recommend these New Balance Cross Trainers which are perfect for city strolling and canyon clambering.
#3 High-Sided Travel Pillow
Whichever you look at it, there's a lot of travel time involved in adventuring in a country like Argentina, so make sure you're prepared with a good travel pillow that will save you on night buses and flights alike.
#4 Argentina Lonely Planet
My go-to when it comes to travel guidebooks, the Argentina Lonely Planet is still a great source of information including top tips on where to visit in this country and how to get there.
#5 Reliable Camera
There's no doubt you'll want to capture your Argentina memories and ensuring you have a reliable camera to do just that is super important.
I love my Sony A6000, which I used throughout my time in Argentina, as well as my GoPro which was ideal for snapping during those wilder adventure days!
PIN IT TO PINTEREST!
So there we have it folks, all the info you need about the best time to visit Buenos Aires and what this means for travelling around the rest of the country at this time too!
Hope you found the information useful!
And tell me, when are you heading to this city?