Oh Argentina, the stuff many an exotic travel dream is made of.
And yes, there's no denying I was beyond excited when I finally realised an adventure in this much-fabled country was going to be within my grasp.
Which was back in 2019. In the good old travel days!
While I had 6 whole weeks planned to journey the length and breadth of Argentina – from Salta in the north (after I crossed the land border from Bolivia), right down to Patagonia (the most epic hiking destination) in the south – suddenly everything changed when I found out I had been shortlisted for a British Travel Award (top blog *cough cough*) and so, in order to attend this rather prestigious London event, I had to return earlier than planned to the UK and, sadly, cut my time in Argentina short.
Tch!
Thankfully I did win the award (yes you are reading the words of the Best British Travel Blogger here… I know!) which made the returning home and the cutting of the time in Argentina well worth it!
And thankfully, I still did get 3 full weeks travelling across the north of the country, which was certainly enough to learn a lot about the things you need to know before you embark on a trip here.
There's no question I'll be returning to travel Argentina (especially explore the south of this magical land) just as soon as this annoying pandemic does one, but until then, I'm bringing you my list of the 15 crucial things to know before you hit up this destination.
Because when it comes to what to pack, the issues around money, solo female travel and how to survive as a vegetarian out here, I'd definitely got my fair share of experience!
So here goes….
---
Related Posts
---
This page contains affiliate links meaning Big World Small Pockets may receive a small commission on any purchases at no extra cost to you.
---
#1 How to Travel to Argentina?
So first up, it's probably a good idea to discuss how you're going to get to Argentina to begin your travels there.
If you're already in South America, then it's good to know Argentina has pretty straightforward land border crossings with Chile, Bolivia, Brazil and Uruguay (although the quickest way to this last country is actually via a ferry crossing!)
Most of these countries have several land borders with Argentina – yes that's just how huge all the nations are in South America – and I personally have crossed the border from near Uyuni in Bolivia as well across the border into Brazil from Iguazu Falls.
As long as you plan visas, make an early start and are prepared in advance, these borders shouldn't present any problems.
Alternatively, if you're arriving into Argentina from further afield, it's likely you'll touch down in the main international airport in Buenos Aires – Ministro Pistarini International Airport, Ezeiza (EZE).
This airport is located just over 22km outside of the city centre, but you can use Uber to get either to your accommodation in the city or to another domestic airport in the capital if you are immediately flying off to another region.
As always, I use Skyscanner to find the best deals on international and domestic flights in Argentina. See more in #7 of this article.
#2 Visas for Argentina Travel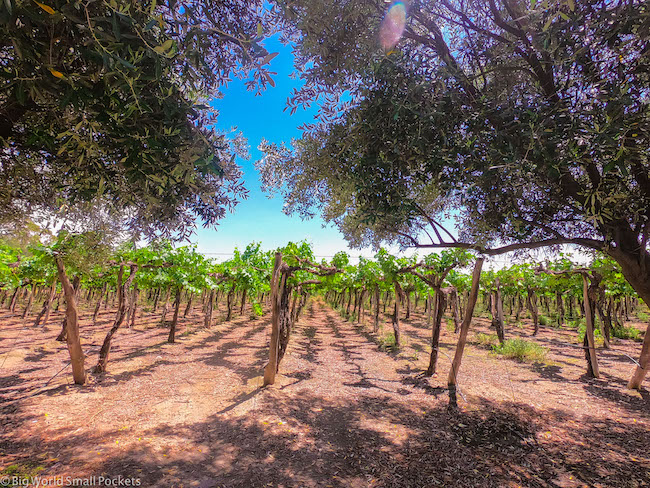 Most travellers from Europe, the UK, North America, Australia and New Zealand do not require visas to travel Argentina.
You simply get an entry stamp in your passport on arrival, which normally gives you 90 days to explore this country – a good amount of time.
After this point, do make sure you leave the country however, as immigration officials here are very strict when tourists overstay their allocated time and I heard from several travellers that have been banned from re-entering Argentina for a year after not leaving the country on time.
As always, and no matter the passport you hold, I do recommend checking your travel rights in Argentina with your local embassy or foreign office website well in advance of your intended arrival date.
#3 What to Pack?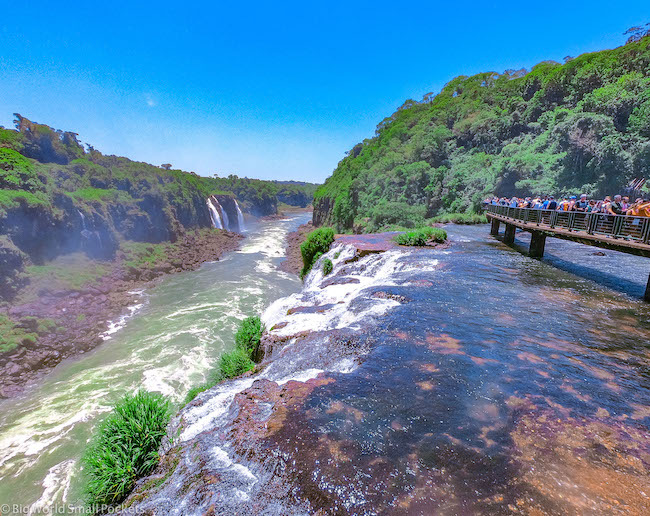 Argentina is one mighty diverse land, which I'll cover in more detail in the next point, but suffice to say if you are travelling to several destinations in this country you'll need a range of clothes and essentials to keep you comfortable across all climates.
This is especially true if you are heading down to the south of the country and / or you plan on doing some serious hiking here, which you certainly should FYI!
I give a complete item by item inventory of exactly what I recommend packing for your Argentinian travels in this complete checklist, so do check it out for more info.
This list was put together after my own travels in Argentina, and more broadly throughout South America, so it certainly has everything you should need, whilst also keeping things light and simple if you're backpacking like I always am!
#4 Getting to Grips with the Diversity
So yes, as I mentioned above, Argentina is a mighty diverse country.
Perhaps, thanks to its size and the different climates it straddles, it can actually be seen as one of the most diverse nations on the planet.
Form the dry, dusty high altitude deserts in the northern provinces like Salta to the lush, humid and tropical climates around Iguazu Falls, through to the seasonal zones like Buenos Aires and finally the great glacial lands of Patagonia, this country packs it all in.
Which is why it certainly pays to know a little about your travel plans for Argentina in advance.
Knowing which regions you're likely to travel to, what time of year you plan to visit and what sort of activities you aim to enjoy while you're there (such as camping and hiking etc) will help you greatly when it comes to knowing the type of weather you can expect and help you pack accordingly!
Remember forewarned is forearmed, and all wise travellers know this!
#5 How to Plan Your Trip?
Another key part of your planning stage, should be setting out a basic itinerary for your travels in Argentina.
Now don't freak out, I'm not suggesting here that you should have every day of your trip planned out to the nth degree (because trust me, I hate the idea of this just as much as the next freewheeling budget backpacker), but what I am saying is that I would highly advise having a rough itinerary planned out for your travels in Argentina.
Not only will this help with your packing (as outlined above) but it will also help you ascertain whether you can actually fit your intended plans into your intended timeframe!
Yes, when you realise just how long it takes to get between the different regions of this country, and just how much there is to do in each one, you may well need a rethink!
Indeed lots of people, including myself, completely overfill their Argentina itineraries and then, once they look at flights or buses around Argentina and the amount of time these take, do they quite often have to cut down their intended plans by a significant amount!
So, if you want my advice when it comes to Argentina travel plans, less is definitely more.
In Buenos Aires alone, you can easily spend 4-5 days, and that's without 2-3 days in Iguazu Falls, 4-6 days for the Salta province, not to mention Bariloche, Mendoza and Patagonia… and that's just the main highlights!
In terms of things you do need to book in advance of your Argentina travels, I would include guided hikes, domestic flights, long distance bus journeys and accommodation in Patagonia in this list because all of these things book up and sell out fast, especially during high season.
#6 Ideal Argentina Travel Itinerary
And this moves us nicely on to my crucial tip here about your Argentina itinerary.
Of course, the time you have to travel this country will drastically alter how much you can fit in, but with anything less than 2 weeks I wouldn't even think about trying to see the whole country, instead, I would choose half of it (either the north or south) and stick to that.
Because ultimately, not trying to cram everything in will lead to you having a better trip, and isn't that the point of travelling after all?!
Plus Argentina will always be there for you to return to if you need!
With 2 weeks in the north, I'd concentrate on Buenos Aires, Iguazu Falls, Salta Province and possibly the student city of Cordoba if you have time.
If you're coming across to Argentina from Chile, it may make sense for you to skip Salta (which will be sad, because this region is amazing) but possibly replace it with the equally sublime lake and hiking destination of Bariloche and the famous wine region of Mendoza.
Both of these lie closer to the Chilean border and coupled with Buenos Aires, will take you from west to east across Argentina.
Otherwise, if you're seriously into your hiking and you time your trip right (namely some point between November and February), then it's hard to beat Patagonia as a destination in itself for at least a week or 2.
This vast and unique natural landscape boasts incredible scenery, glaciers, wildlife as well as remote outdoor action and should not be missed.
Of course, if you have longer to travel Argentina, say 3 weeks+, you can start to combine some of these itineraries to create an epic journey across the country.
Just don't plan to do too much!
#7 Using Domestic Flights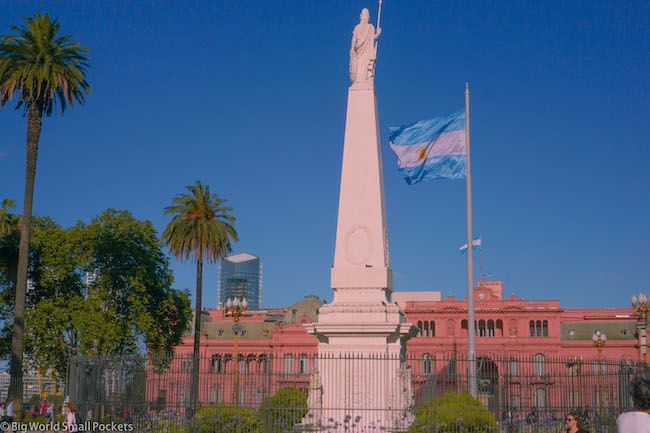 Not that I'm a fan of too much flying as regular readers will know (there is a climate crisis y'all), but I do accept, that most travellers in Argentina will take at least one domestic flight during their travels here.
And that's simply because, as I've already said at least 3 times in this article (so sorry if I sound like I'm rabbiting on about the same point!) the distance between destinations in Argentina is huge.
For those on a tight timeframe, domestic flights are basically a necessity and if you're thinking of heading to either Patagonia or Iguazu, they're basically a done deal because the bus journeys to either of these places, from the nearest other major destinations are at least 24 hours… if not more!
Learn more about how to get to Iguazu Falls from Buenos Aires in this post I wrote.
In general, I recommend booking domestic flights at least 2 weeks in advance, more in high season, because the most popular tourist routes sell out fast.
The good news is that there are budget airlines that offer good prices on domestic flights within Argentina and you can compare them all over at Skyscanner – my fav site for finding the best flights deals.
#8 Taking Domestic Buses / Coaches
If you're not flying, or trying not to fly everywhere in Argentina (and good on you), then long distance buses or coaches are the best way to get between destinations.
Luxury liners services destinations across Argentina and are used by many locals and travellers alike.
In general, standards are good, but you do get for what you pay for i.e. the more luxury services with comfier seats etc will cost more. I recommend paying a bit more for night buses especially.
Taking night buses is a good way to save on a night's accommodation and shuffle you between destinations without wasting an extra day of your trip – key if you're on a short trip and wanting to see as much as possible.
A good travel pillow as well as excellent earplugs and a decent eye mask are a must for long distance night buses in South America FYI!
I took long distance buses several times in Argentina, both during the day and night, and found the services very good and secure.
Buses can be booked in person at the central stations you'll find almost every town. This tends to be where all the bus departures leave from, and each company (and there's a lot) will have their own window / ticket booth where you can buy tickets.
You can also buy tickets online in advance, which I would suggest doing at least 1 week in advance of any major journeys, such as overnight voyages.
I recommend Bookaway for this purpose, as they allow you to compare flights and buses, book securely online and make everything easy to read in English!
Just remember to keep a bit of spare change as you'll have to tip / pay for the luggage handlers to load your bag each time you get on a bus in Argentina – this is not really optional.
#9 Travel Safety Issues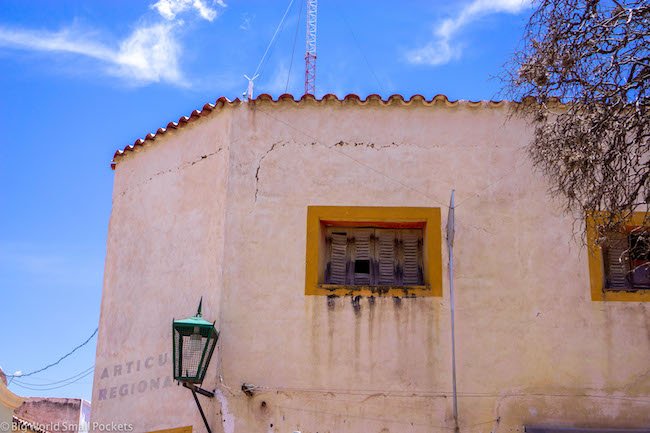 And talking about catching buses in Argentina leads me nicely onto discussing safety in this country more generally.
Throughout my time travelling in Argentina I felt entirely safe – even when staying in budget accommodation and catching overnight buses, my travels were hassle and worry-free.
The only place I would advise you maybe are a bit more wary is in major cities, especially Buenos Aires, where crime against tourists can occur, in particular robbery and mugging.
That said, I visited and walked around Buenos Aires by myself without any problems, but was careful to not have my phone out on the street or to walk around by myself after dark.
I also made sure I based myself in a more upmarket area – trendy Palermo to be specific – which I highly recommend you do too.
Taking free walking tours in this city (of which there are many) is a great way to see the capital and feel safe even as a solo traveller.
Learn more about the best itinerary for visiting Buenos Aires in this post I wrote about the city.
Buying a tourist SIM card is another great way to feel safe in Argentina because this allows you to keep in touch with people at home, use live maps to orientate yourself and also book or contact accommodation / tours / guides etc when you are out and about.
Keep your phone on you, but not in a pocket – a bumbag slung across your shoulder and front of your body is a great idea here.
In case you are the victim of any crime in Argentina, or worse have an accident or need medical assistance, then a key safety tip is to buy travel insurance for your trip to this country.
World Nomads offers simple and flexible travel insurance. Buy at home or while travelling and claim online from anywhere in the world.
Alternatively, if you're a long-term traveller, digital nomad or frequent remote worker seeking travel health cover, check out Safetywing's Nomad Insurance policies.
#10 Solo Female Travel in Argentina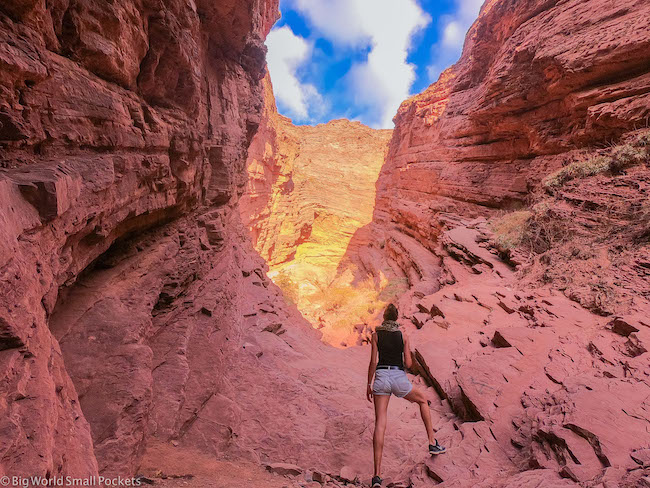 And getting a SIM card when you are in Argentina is also one of my top tip for solo females travellers in this country.
Although I don't recommend whipping your phone out on display at every opportunity, especially not in major cities here, having a phone with you, especially when it comes to being able to navigate yourself, is a great idea.
It always makes me feel safer and knowing I can contact people wherever I am, definitely brings peace of mind.
Also be careful going out alone at night – although again this only really applies to cities – as I felt very safe wandering out for dinner of an evening in almost any smaller Argentina town I visited.
I even went out in Buenos Aires of an evening too – at one point not making it home until 6am, although that's a different story – but was always with other people, using Uber rather than walking, and never alone.
Yes, taking an Uber is a great option after dark in the capital… or at anytime!
Picking up a bit of Spanish can make you feel safer too in Argentina, as can staying in hostels where it's easier to get local advice and to meet other travellers.
It's all common sense really.
If you think learning a bit of Spanish sounds like a good idea, then check out the great free language learning app – Duolingo – and also the Latin American Spanish Lonely Planet phrasebook.
I found this very helpful.
Just don't forget the language they speak in Argentina is very different to a lot of the Spanish you may recognise elsewhere in this continent or in Europe!
#11 Costs of Travelling in Argentina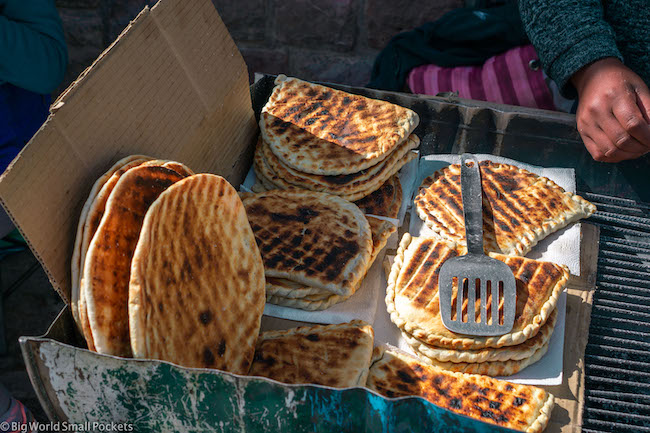 And now we come to the big one – how much does it cost to travel Argentina?
Well, honestly that depends when you are reading this post and when you are planning to visit, because the one thing you should know when you plan to travel Argentina, is that the economy of this country has a habit of being a bit unpredictable.
When I visited in 2019, they were again suffering a terrible economic recession, which tends to happen more regularly than it should here.
The Argentinian Peso was almost in freefall and while this made the country very cheap foreigners, it was very hard on local people.
Many restrictions had been bought in, which meant accessing money could be difficult for all parties, which leads me into my next point.
#12 ATM Fees
Because of the highly erratic and worrying value of the Argentinian Peso when I was in the county, there were big restrictions on how much local people could withdraw from the ATM on a daily basis.
At one point this was really low, barely enough to survive on
In some places, this also translated to tourists, which meant many travellers found themselves without enough cash to pay for their accommodation etc.
Nightmare!
My tip therefore, is to strongly check the state of the Argentina economy before your travels and also to familiarise yourself with any restrictions there may be in advance.
Bring cash, and plenty of it too, as that never fails.
It's also useful to know many Argentina ATM machines charge foreign cards a crazy fee to use them.
#13 Western Union App
For this reason, and because they gave incredible rates when I was there, one of the best tips I can give for when you travel in Argentina is to download and use the Western Union app.
This is a global app that worked brilliantly in Argentina and was used by almost every traveller on the circuit when I was there because the news of it spread like wildfire!
The basic way to use the app is to load currency from your bank account onto the Western Union app, convert this from your home currency into Argentinian Pesos at a great rate, and then go into a Western Union office in Argentina to collect your cash.
The fees are much lower, the amount you can take out much larger than the ATMs and the exchange rate is better too.
You're welcome! …. and no, this is not sponsored, it's just a great piece of advice!
#14 Drinking
You can't really come to Argentina and not try at least some of the amazing wine this country is famous for, preferably within the place it's made.
Mendoza is the main spot, but the smaller town of Cafayate is also delightful.
Both allow you to rent bikes and cycle to nearby vineyards to savour the produce with some seriously epic natural backdrops.
Craft beer is also taking hold in Argentina and trendy Palermo in Buenos Aires is the spot to try many of the news ones.
Otherwise, the other local tipple is Fernet – lethal stuff that is usually served after a meal but may also be served mixed into coffee.
You can blame the Italian influence in the country for this one!
It's good to know tap water is safe to drink in most parts of Argentina.
That said, I still like travelling with my trusty Lifestraw Filter Bottle, an amazing bit of travel technology that makes it safe to drink tap water anywhere in the world by filtering out 99.9% of harmful bacteria.
#15 Eating & Dietary Requirements
And finally we come to the food factor!
Of course Argentina is known for its steak and if you eat the meat you should probably try this when you are here.
If you don't however, you need not fret.
I found it easy to travel in Argentina as a vegetarian, especially in major cities and towns where the food scene is quite progressive.
Bread is served with most meals, so gluten-intolerant people however, may find they have a slightly harder time.
Local markets and supermarkets sell an array of fresh products and western goods, which means you can generally get your hands on whatever you need!
The Italian influence in this country also means Italian food here can be sensational. Some of the best pizza I ever had was in the capital, BA, no joke!
PIN IT TO PINTEREST!
So there we have it, my list of the top 15 things to know before you travel Argentina.
Have you visited this epic South American country?
Do you have any advice to add to this list?
Please join the discussion in the comments box below…