Ok, let's be real here!
10 days to see a country as huge as Argentina, is nothing.
It's barely scratching the surface…. it's less than the surface!
As in, if you actually stayed on a bus for 10 days non-stop you probably couldn't see the whole surface of Argentina, let alone if you get off and explored anywhere!
Buttttt, don't let this put you off 🙂
Sorry, I don't mean to sound harsh or cynical here, I only want to warn you that with just 10 days in Argentina, it's going to be hard to see a lot.
On the other hand, you are going to see something and trust me, 10 days is more than enough time to fall in love with this incredible country.
From its amazing cities to its tasty wine regions, its soaring mountains and dazzling lakes to its magnificent deserts and steamy jungles (and that's not even stopping to mention the food or people) Argentina is an absolute feast for the travel senses and if you can spare any amount of time to visit this incredible county, even if this is only 10 days, then you definitely should!
So with this in mind, let me advise you stick to one area of the country if you want to enjoy the best of your short trip to Argentina – in fact, this is one of my top tips when planning your travels in Argentina!
If you try to see too much and hurtle around the country, you'll actually risk seeing and enjoying nothing and when it comes to Argentina, that's a travel crime!
So here it is, my perfect itinerary for 10 days in Argentina…
---
Related Posts
---
This page contains affiliate links meaning Big World Small Pockets may receive a small commission on any purchases at no extra cost to you.
---
Arriving into Argentina
If you're arriving by air internationally into Argentina, the chances are you'll be arriving into the amazing capital of this country – Buenos Aires.
But with only 10 days in Argentina, you don't want to waste time seeing a destination twice, so I advise getting straight out of the city and onto your first destination by taking a domestic flight while you're still in the airport.
This way, you can loop back to Buenos Aires and enjoy the magic of this city as your final stop on this itinerary.
Just make sure any connecting flights you take into and out of Buenos Aires leave from the same airport – there's a couple in this city and they aren't close together, so it definitely pays to check!
If you do get stuck, then it's useful to know Uber operates well in Buenos Aires and can be used to get you across this city safely and on a budget.
And now back to finding flights… if you're travelling on a budget, then my tip here is to use Skyscanner to find the best deals on both international and domestic air travel in Argentina.
Skyscanner really is a winner as it includes budget airlines, like Norwegian Air, who run some great deals in this country.
And if you want to book transport tickets for travel within Argentina, then check out Bookaway!
Day 1-5: Salta Region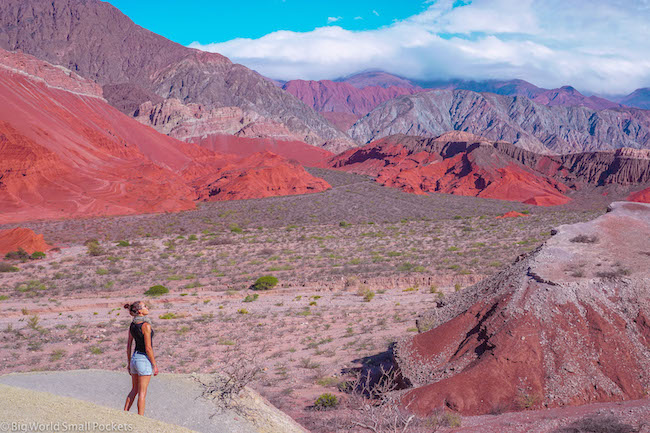 It sounds controversial, but once you've arrived into Buenos Aires internationally, I immediately suggest heading out to the incredible region of Salta.
Often overlooked by tourists, especially those from outside Argentina, this is an incredibly underrated region that offers so much, especially for people looking to explore a real and different sense of this country.
Salta is in the north of Argentina and is a region that borders both Bolivia and Chile.
Known for its incredible desert scenery, wineries, dramatic road trip opportunities and vibrant traditional Andean culture, it's a unique region that offers some amazing travel experiences.
You can easily fly to the capital city of the region – Salta – from Buenos Aires, and from here rent a car that will allow you the best freedom of movement around this remote region.
Once you've hired the car, don't spend too long in Salta city (an afternoon is enough) but instead head north to the amazing Jujuy province to explore the towns of Purmamarca, Tilcara and Humahuaca.
The latter of these is my favourite with its quaint local feels, less touristy vibes and an amazing 14 coloured mountain (the Quebrada de Humahuaca), which is UNESCO-listed to boot!
If you base yourself in Humahuaca, you can also enjoy trips out to the remote towns of Iruya and Uquia, which should nit be missed.
Otherwise, there's salt flats and coloured mountains to explore around Pumamarca too, as well as epic hiking and ancient ruins to check out near Tilcara.
There's so much to do up here, you can easily spend a week exploring, but I suggest 3 days with your short timeframe, before you push southwards to Cafayate!
This amazing wine-growing region, which is south of the city of Salta (meaning you'll pass back through here) again has stunning landscapes and reserves to explore, with the added bonus of some incredible cycling and wine tasting opps!
Allow at least 2 days for this part of the Salta region, taking in both Cafayate and the nearby Quebrada de Las Conchas as well as Cachi (and it's snow-topped mountain backdrop) if you can!
Trust me, when you realise the driving distances involved in Argentina, you'll see even this is an ambitious project!
Learn more in this post I wrote about the 13 best things to do in Salta region and 7 top tips for travelling there.
Day 6-7: Iguazu Falls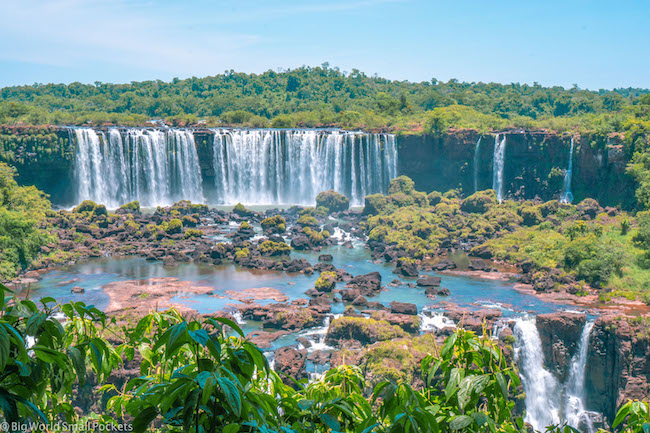 From the desert vibes of Salta, it's then time to head to a completely different landscape – the tropical rainforest and the mighty, breathtaking, insane power of Iguazu Falls… and I'm not over-selling it!
Yes Iguazu Falls is absolutely, without question, one of the most amazing places I've ever been and for me, even topped the mighty giant that is Victoria Falls on the border of Zimbabwe and Zambia!
To save yourself the insanely long bus journey from Salta to the Falls' province of Misiones, hop on a domestic flight from the city of Salta (after you return your hire car) and head to the airport of Cataratas del Iguazú International Airport, which is just outside the town on the Argentinian side of the falls – Puerto Iguazu – in Misiones.
There's around 2 direct flights each day that make this journey and it's definitely worth grabbing one of those if you can to save hanging around!
And that's because you'll want as much of your 2 days at the Falls as you possibly can.
On day 1, I suggest arriving into Puerto Iguazu, checking in, dumping your bags and then heading straight to the Brazilian side of the falls, which you can do in a day from the Argentina side.
It's straight-forward and cheap to do this if you use the frequent public transport that's available.
Buses by the company Rio Uruguay help you cross the border smoothly and easily too and then take you straight to the Brazilian Falls visitor Centre in Foz do Iguaçu.
Otherwise, you can also take a tour to the Brazilian side, if you really want to move quickly.
Check out my list of top tours in and around Iguazu Falls here for some great options.
You can easily explore the Brazil side of the falls in half a day, which means you'll comfortably get back to the Argentina side to spend the night there.
On the second day of your time in this incredible place, it's time to head to the Argentina side of the falls, for which you should allow the best part of a day.
I suggest getting to the falls a little later (around 10-11am) so you miss the initial crowds and then you have until 5pm to explore the many trails and lookouts here.
Remember to book in advance for a boat ride under the falls if you want to do this, otherwise you're likely to miss out like I did!
Hmpf!
You can then either grab an evening flight out of Puerto Iguazu or head back to spend one more night in the town and leave early the next morning instead.
Personally I'd opt for the evening flight if possible – there's bag storage at the falls visitor centre on the Argentina side (meaning you can head straight to the airport when you're done) and then you get to wake up in the amazing city of Buenos Aires fresh and rearing to go in the morning!
Learn more about how to get from Iguazu Falls to Buenos Aires in this detailed guide I write about making the journey by plane, bus or organised tour.
Days 8-10: Buenos Aires
And finally, we come to the last 3 days of this 10 days in Argentina itinerary, and you're back where you arrived and ready to depart… but not before you have an amazing time in one of South America's most incredible cities.
Buenos Aires is a feast for food lovers, culture vultures, party animals and history buffs.
It's huge and sprawling, but its vibrant, green, alive and very Argentinian!
I absolutely fell in love with this city and even the week I spent there was not enough to see all its different parts and attractions.
I highly suggest basing yourself in the trendy Palermo, which is safe and close to loads of great restaurants, bars, cafes, parks and other great parts of the city.
With just 3 days in Buenos Aires, you'll have to cram stuff in, but the many free walking tours in this city are a top way to learn a lot in a short amount of time.
The regions I suggest visiting most are Retiro and Recoleta Cemetery, San Telmo for the tango, La Boca for the history, Palmero for the cafes, parks and graffiti as well as the city centre for the monuments and buildings.
That should be more than enough to cover you for the 3 days!
Learn more in this perfect Buenos Aires itinerary, which is a full travel guide to spending a jam-packed 3 days in the city.
Alternative Itineraries for 10 Days in Argentina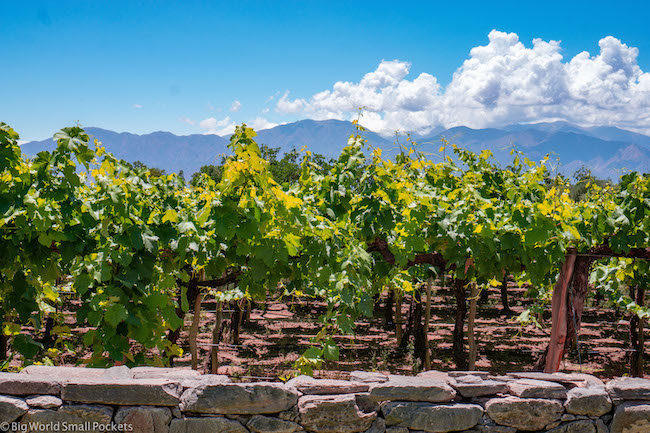 As you will have noticed by now, the itinerary above covers destinations in the north of Argentina because, as I explained in the introduction, it's just not possible to see the whole country in 10 days.
And, with the north being closer to the capital of Buenos Aires and you having just 10 days, sticking to this region will give you significantly more time to enjoy the diversity it presents, rather than spending your time travelling long distances in planes, buses or cars and seeing less of the country as a result.
The north of Argentina is also more flexible in terms of climate and can really be visited at any time of year, which sadly can't be said for the south of the country. Here, wild cold climates blow in during the winter making travel fun in this region pretty difficult.
After all, it's really for the epic hiking that you trek all the way down to Patagonia and if you can't do that because of the weather, then there's not a huge point in going.
That said, if you do time the seasons right, then this amazing region at the bottom tip of the country would make for another great 10 itinerary.
There's so much hiking, camping and incredible landscapes to take in down here that you could easily spend a whole 10 days there and not see it all.
Alternatively, if you want to mix things up a little more, then you may also want to throw in some time in San Carlos de Bariloche and Mendoza.
These regions are in the west of Argentina and aren't as far away from Buenos Aires and other destinations in the country, meaning they can be easier to mix in.
Mendoza – a famous wine region – makes a good alternative to Cafayate in the Salta province and from here you can "easily" skip into Chile if that's your next stop.
Otherwise combining Mendoza with a trip down to Bariloche – a famous lake region that offers amazing hiking and scenery too – is much closer and easier than Patagonia and offers more flexibility when it comes to climate too.
With a few days in Mendoza to cycle and enjoy the wine, 5 days in Bariloche to enjoy the lakes and walking, and finally a few days in Buenos Aires to soak in the offerings of this amazing city, you've got yourself another great 10 days in Argentina.
Perfect material for a second trip!
Mini Travel Guide to Argentina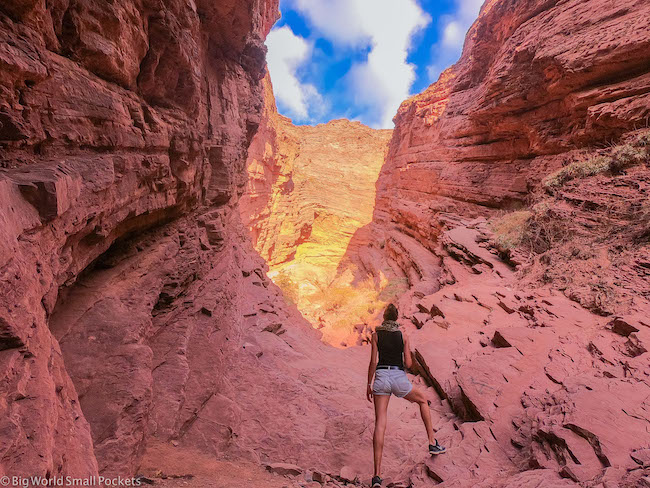 When to Visit?
I highly recommend visiting Argentina during the country's summer months, which run from November to February.
How Long to Spend There?
Argentina is a huge country and you really need at least 1 month to do this destination justice.
If you do not have that much time, then choose one section of the country only and enjoy that!
More ideas can be found in my ideal 10 day Argentina itinerary post here.
Travel Safety in Argentina
I travelled in Argentina as a solo female backpacker and felt incredibly safe the whole time.
The friendliness of the people added to the general sense of ease and comfort I felt, and across the whole country public transport was easy and very secure.
Travel Insurance for Argentina
World Nomads offers simple and flexible travel insurance. Buy at home or while travelling and claim online from anywhere in the world.
Alternatively, if you're a long-term traveller, digital nomad or frequent remote worker seeking travel health cover, check out Safetywing's Nomad Insurance policies.
Recommended Argentina Tours
One of the best ways to discover the marvel of Argentina if you're short on time, is to take a day trip there with a local.
You can find a list of guided tours (including costs and reviews) here at GetYourGuide.
Otherwise if you're looking for multi-day tours of Argentina, check out these great picks.
Travel Money in Argentina
When it comes to paying for things in Argentina, you can't get better than a Wise card.
The easy way to spend abroad with real exchange rates, no markups and no sneaky transaction fees, you can use your Wise card just like a debit card here… and it links easily with Google and Apple pay – sold! Grab yours here.
5 Essential Packing Items for Argentina
#1 LifeStraw Go Water Filter Bottle
An absolute must on my travel packing list, my LifeStraw Go Water Filter Bottle safely removes 99.9% of bacteria found in tap water and, as such, allows me to drink tap water around the world knowing it's safe.
Great for your health, as well as the planet, this guy massively reduces your plastic bottle usage, making it a double winner!
#2 Good Walking Shoes
Getting out in nature is what time in Argentina is all about, so definitely ensure you have some good walking shoes that allow you to enjoy the incredible landscapes here to the fullest.
I highly recommend these New Balance Cross Trainers, which are perfect for city strolling and canyon clambering.
#3 High-Sided Travel Pillow
Whichever way you look at it, there's a lot of travel time involved in adventuring in a country like Argentina, so make sure you're prepared with a good travel pillow that will save you, your neck and your sleep on night buses and flights alike.
#4 Argentina Lonely Planet
My go-to when it comes to travel guidebooks, the Argentina Lonely Planet is still a great source of information including tons of top tips on where to visit in this country and how to get there.
#5 Reliable Camera
There's no doubt you'll want to capture your Argentina memories to the max, and ensuring you have a reliable camera to do just that is super important.
I love my Sony A6000, which I used throughout my time in Argentina, as well as my GoPro which was ideal for snapping during those wilder adventure days!
For a full list of what to pack for your 10 days in Argentina, check out this complete checklist I put together following my time there.
PIN IT TO PINTEREST!
And there you have it, my perfect itinerary for 10 days in Argentina!
Are you planning a trip to this amazing country soon?
If so and you have more questions about destinations I cover here, pop them into the comments below and I'll get back to you…