Another of my top-rated London Day trips, heading to the beautiful area of Box Hill, which lies just outside the capital is the perfect day out for anyone who wants to take in an epic view and enjoy a good stroll and maybe a pub thrown in.
Made famous by novels such as Jane Austen's Emma, which shows how even the Victorians loved this spot, this National Trust natural icon, located in the county of Surrey, offers something for everyone, including families.
But this day trip is perhaps best suited to those who want to enjoy a good stroll, because this area of natural beauty is certainly best explored on 2 feet!
Here to ensure you have the best day there, are my top 6 Box Hill walks – with difficulty ratings, as well as distance levels, this guide makes it easy to choose the best trail for you and also gives a ton of useful about other elements of a Box Hill trip, including how to get there and what to pack …
---
Related Posts
---
This page contains affiliate links meaning Big World Small Pockets may receive a small commission on any purchases at no extra cost to you.
---
Where is Box Hill?
Located just outside London, in a county that borders the south side of the city, Box Hill is located in Surrey in between the towns of Leatherhead and Dorking and next to the village of Box Hill.
It is situated within a protected Area of Outstanding Natural Beauty, known as Surrey Hills, which fans out around Box Hill itself and includes several villages, National Trust properties and amazing lookouts.
Box Hill is very close to London and easy to access from the capital, but also feels beautifully leafy and green, even though you are really close to the city!
Sitting just off the A24 it's easy to drive to Box Hill, otherwise the nearest train station is Box Hill and Westhumble if you're on public transport.
There's more information on how to get to all these Box Hill walks at the end of this article, so do read on…
Why Visit Box Hill?
Box Hill makes the perfect London escape and probably the best reason to visit is to get some fresh, country area and to enjoy the beautiful green space around here, as well as the expansive views.
Because, as its name belies, Box Hill is a hill (aha!) – and not just any old hill I might point out!
No this high spot gives some seriously amazing and sweeping views across this gorgeous part of the UK all the way to the South Downs on a clear day.
As such, Box Hill makes the perfect London outing if you want to ditch the concrete for a day.
Thanks to the preserved nature of this green space (it is looked after by the National Trust), as well as the many walks you can enjoy in nature here, this is the perfect country trip for those short on time or budget or both!
Best Box Hill Walks
And now we get to the crux of this article – the best Box Hill walks you can enjoy when you get here.
Because one of the best things about this place is absolutely the amount and variation of walks here – from long, arduous hikes that require a decent level of gear, to short circular paths perfect for the all the family… the choice (as our Cilla would say) is yours.
Check out my list of the best 6 here, as well as their length and difficulty rating, and then make your decision about which Box Hill walk you want to enjoy next…
#1 Stepping Stones & River Mole Walk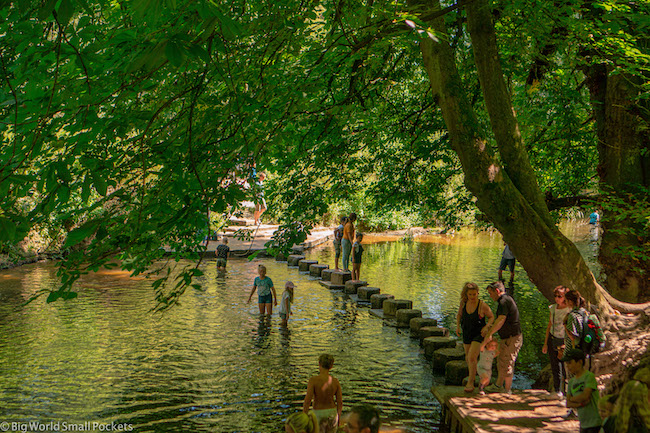 The Stepping Stones walk is the most popular Box Hill walk for families because it includes, yes you guessed it, some stepping stones.
Located at the foot of Box Hill, the stones here cross a river where there are also paddling opportunities and rope swings.
The stepping Stones are located to the west side of Box Hill and have their own car park just off the A24.
There's often a strategically placed ice-cream van here too (wise move!), but few other facilities.
Popular with families and picnic-ers, for obvious reasons, many people just enjoy the Stepping Stones themselves.
Some braver ones then combine this attraction with a walk up Box Hill itself to the lookout at the top.
There are clear trails up to the summit of Box Hill, which are signed as soon as you have crossed over the Stepping Stones – perfect if you park at the bottom of the hill but want a steep challenge!
If you'd like to extend this walk further still, then you can do so by strolling along the Rover Mole afterwards.
For this Stepping Stones and River Mole Walk I suggest parking at the top of Box Hill, coming down the hill via Salomon's Memorial and once you reach the river using the Stepping Stones to cross it.
From here, follow the river to your right, until you come to a gate and then enter Burford Meadow.
Continue until you get to Burford Bridge, cross back over the river and road here and then, by the Burford Bridge Hotel, look for the path that takes you back up Box Hill.
Follow this path back to the top car park – it will handily lead you past the Old Fort and on o the National Trust centre enroute too.
Difficulty: Moderate
Distance: 2km
Time: 1hrs
Selling Point: Good for Kids
#2 Happy Valley Circular
The Happy Valley Circular is a lovely walk that takes in Broadwood's Tower – a ruin on top of Box Hill – before dipping into the Valley behind the summit.
Begin at the car park at the top of Box Hill and follow the red signs to Broadwood's Tower, which a National Trust property recognisable thanks to its turret-like shape.
After reaching the tower and admiring the view, take the steep steps down to Juniper Bottom and once there, turn right and continue along the bottom of the valley through clearing and then woodland.
Once you reach the top of the valley, you'll come to the main road by the Smith and Western restaurant and the Box Hill village sign.
Cross the road here and join the North Down's Way trail back to the car park.
Difficulty: Moderate
Distance: 4km
Time: 1.5hrs
Selling Point: Variety
#3 Juniper Top Circular Walk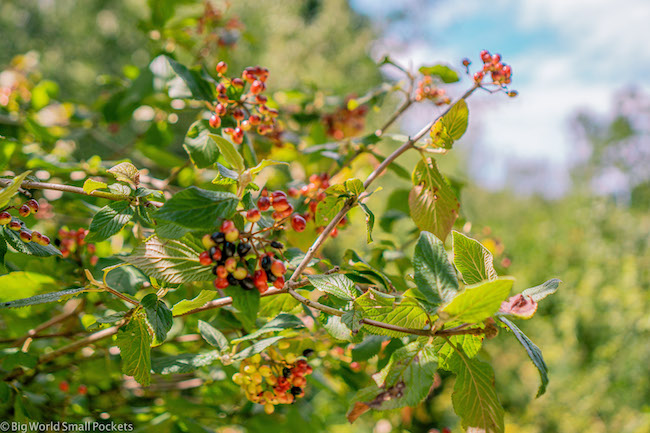 This walk takes you into the Juniper area of Box Hill – so-called thanks to the wild junipers that grow here and are often used as the predominant flavour in Gin making!
Again, it's good to start this stroll from the Box Hill summit car park, where you can admire the amazing elevated views before dipping into the woodlands to your left to follow the North Downs Trail.
Before too long, you'll see the purple Juniper Top trail signs… follow them!
These signs will lead you out onto the road by the Smith & Western Restaurant, where you'll cross and re-enter the woods by the white sign for Box Hill village.
Continue to follow the purple trail signs and move through some beautiful woodland, until you're eventually spat out on Juniper Top – another elevated clearing with amazing views.
Walk across the top and then descend into Happy Valley.
From now on follow the Happy Valley trail signs back to Box Hill car park – see walk #4 on this list for more info.
Difficulty: Moderate
Distance: 6km
Time: 2hrs
Selling Point: Top Views
#4 Whitehall and Mickleham
The Box Hill walk starts from Cockshot car park, so it has fewer crowds and takes you to the less well-known parts of Box Hill.
From the car park, cross the road opposite and head up the hill in front of you through woodland to White Hill.
Continue on until you cross the old Roman Road – Stane Street – and begin to descend down to the pretty village of Mickleham.
Admire the quaint church here, as well as the Running Horses pub, before continuing on to Box Hill School and St Michael's School by following the road to your right.
After this, head up to Mickleham Gallops and across it before descending back to Cockshot Car Park.
If you prefer to do include the Stepping Stones in this way, then turn the other way at the Running Horses pub and head back along the path that borders the A24 road – going back towards Box Hill.
Walk as far as the Stepping Stones, which are clearly signed, scoot across them and then head back up the steep climb to Box Hill.
This route allows you to take in the view at Salomon's Memorial too, before you head back across Broadwood's Tower, down to Juniper Bottom (see walk #3 for more info) and back to Cockshot car park.
Difficulty: Moderate
Distance: 6km
Time: 2hrs
Selling Point: Quieter

#5 Butterfly Walk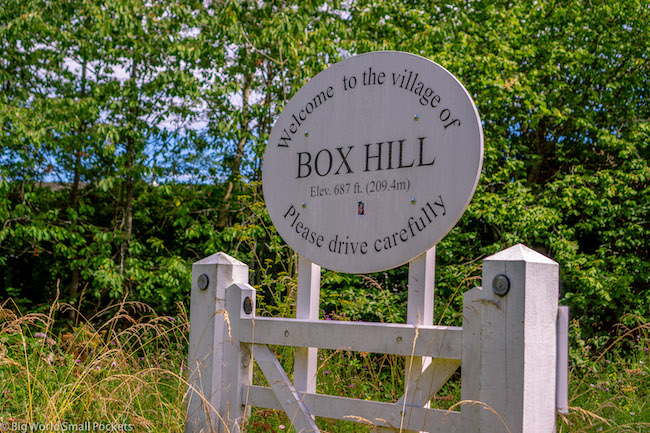 Things start to get a bit more challenging as we now head onto the Butterfly Walk.
For this Box Hill walk, you again want to start at the top of the hill and then head towards the Old Fort on your descent.
Cross Zig Zag road as you head on towards Broadwood's Tower and then descend into Juniper Valley – the one utilised by the Happy Valley trail.
Follow this trail back up the valley and into the woods, but take a left to avoid the extra distance of walking as far as the Smith and Western and white Box Hill village sign instead cut back sooner to reach the top of Box Hill.
Look out for butterfly aplenty on this walk as two-thirds of all British butterfly species have been recorded at this site!
Difficulty: Moderate
Distance: 6km
Time: 2.5hrs
Selling Point: Wildlife & Woodland
#6 Box Hill Hike
This is the big daddy of the Box Hill walks, but is most certainly worth it for the views and all-encompassing sense of the landscape.
As with the Happy Valley Circular, the Box Hill Hike takes you from the National Trust centre along to Broadwood's Tower, from where you'll descend down to the valley floor or Juniper Bottom.
Turn left here and continue onto the Cockshot car park before climbing up the steps to Whitehall and then onto Mickleham Down before descending to the village Church.
If you want a shorter trail (or you want to build in the Stepping Stones) you can then turn left back along the Thames Down Link, otherwise turn in the opposite direction and head on to St Michaels' School.
At the King William Pub, turn right and head up the hill to Mickleham Gallops.
Cross the Gallops and take the path to the right that then descends back to the Valley and Cockshot Carp Park, before continuing onto Headley Heath through gate 26.
Head across the Heath to Box Hill village.
Pass through the village and then onto the National Trust Centre and Salomon's Memorial for the final winning view!
Difficulty: Challenging
Distance: 12km
Time: 3hrs
Selling Point: The Big Guy
Other Box Hill Walks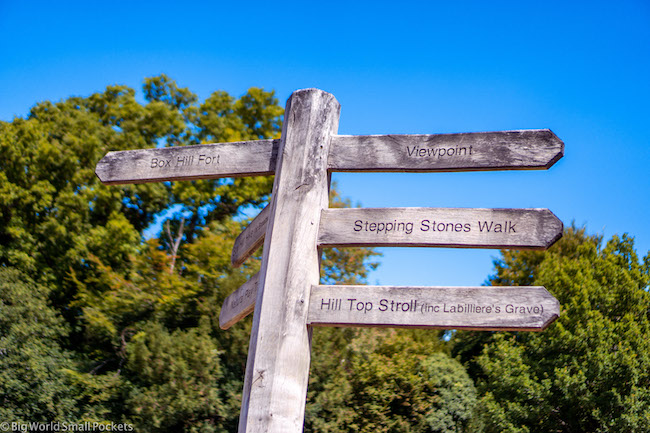 Hill Top Walk – an easy short walk, that sticks to the top of Box Hill only and is perfect for those that want to avoid too many slopes and steps
Riverside Walk – Following the River Mole, this walk takes you through ancient woodland as well as modern farmland. It also includes some interesting World War 2 structures enroute.
How to Get to Box Hill
If you want to enjoy a Box Hill walk, but aren't sure how to get to the area, read on to get all the details about getting there by both public and private transport…
Train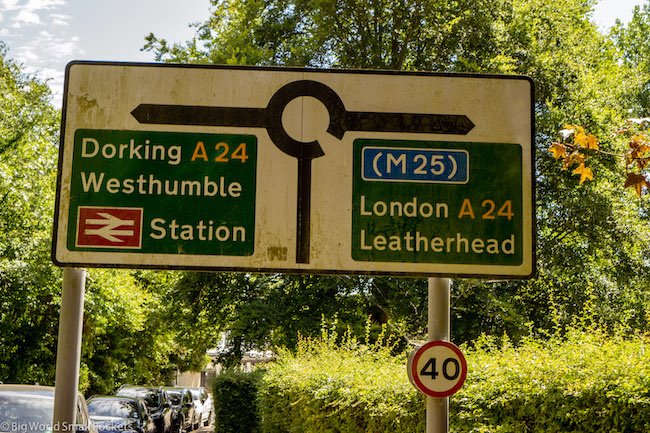 If you're catching the train to enjoy your Box Hill walk, then the nearest station is Box Hill and Westhumble, which is set a short distance from the bottom of Box Hill, nearer to the Stepping Stones area.
This is a tiny, village station, with few facilities beside a ticket machine, a bike storage spot and a small car park.
It is, however very easy to get to London from here, with regular and direct trains from both Waterloo and Victoria that take under an hour.
You can buy single tickets for under £10 and often cheaper if you book in advance.
For this reason, I really recommend booking your journey in advance through Trainline.
Booking online in advance is going to give you the best-priced tickets and, with Trainline's handy app, you can arrange e-tickets, meaning you don't have to mess around with collecting any passes at the station.
Alternatively, you can buy tickets at the Box Hill and Westhumble or London stations on the day of travel – you're just likely to pay a bit more, but this does give you more flexibility.
You can also use Dorking train station to access Box Hill, although this is further away.
Bus
Being so close to London, there is a London red bus that takes you very near to Box Hill, by way of the village of Mickleham.
If you want to get to the start of your Box Hill walk by bus, then check out TFL for details of the #465 that runs between Kingston and Dorking past the foot of Box Hill, from where you can walk up.
Even better is #21 London bus that goes via Epsom, Leatherhead, Dorking and Crawley to Box Hill's east car park every day except Sundays and public holidays.
Cycle
If you're coming from further afield than London (or perhaps even closer!), then you can also cycle or drive to Box Hill too.
It's a 85 mile return cycle from London to Box Hill – part of which is now very famous (it's called Zig Zag Road so you can guess the shape!) after featuring in the 2012 Olympics.
Check out this route, which will take you from Wandsworth in London to Box Hill.
There's plenty of places to secure your bike once you get to Box Hill, if you then want to enjoy a stroll… or a picnic!
Car
Alternatively, if you're travelling via 4 wheels, there's several parking lots around the National Trust headquarters, located on top of Box Hill.
The main car park usually fills up very quickly, especially on sunny weekend or public holidays, but there is a good level overflow car parking you'll pass as you near the National Trust centre – it can be worth diving into one of these anyway to avoid the queues.
In order to support the work of the National Trust you must pay to park at Box Hill – it's free if you're a National Trust member, otherwise it costs:
£1.50 per hour for the 1st 2 hours
£4 for up-to 4 hours
£6 for 5 hours+
Payment for parking can only be made via the PayByPhone app – which I annoyingly discovered only once I'd reached Box Hill and had hardly any signal to download the app!
Word of warning therefore… do download this guy before you leave home and make sure you know your registration number!
Facilities at Box Hill
So yes, as you can guess from this, phone signal can be patchy around Box Hill, so I would advise downloading the parking app, as well as an area map of Box Hill, before your journey here.
A map you can use offline will be really handy if you are walking here and maps.me or AllTrails are 2 great examples – the former is free, the latter is specifically for walking routes.
Outside of phone signal, it's good to know there are some public toilets at the National Trust centre, which is located at The Old Fort, Box Hill Road, Tadworth, Surrey, KT20 7LB.
There's also a tap you can use to fill up water bottles here, as well as some refreshments including an ice cream van and small café, which is generally open from 10am – 4 pm.
In addition to the café, there's also a National Trust shop and a Discovery Centre, which is great for kids.
For adults, there's plenty of lovely country pubs scattered around Box Hill to enjoy at the end of your walk.
The Running Horses in Mickleham, which dates back to the 16th Century, is an absolute gem where you can enjoy a drink, some delicious food or even a boutique room for the night if you want to extend your day trip.
The whole of the Box Hill area is generally considered dog-friendly, so furry friends are welcome too!
What to Pack for a Box Hill Walk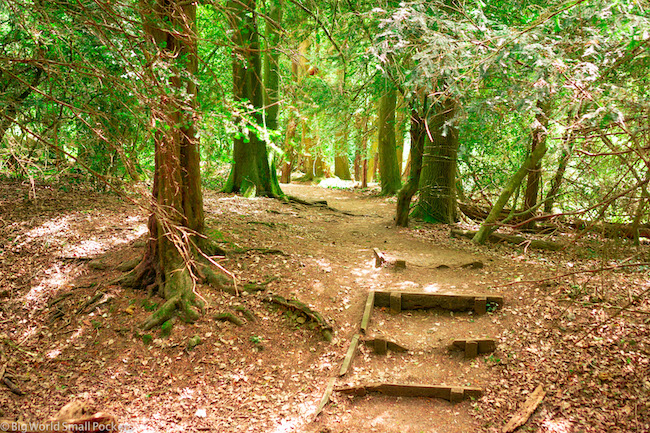 And finally, here my list of the top 5 packing essentials you shouldn't head to Box Hill without…
#1 A Good Camera – No doubt you're going to be snapping like crazy with these amazing elevated views and need to ensure you have a good camera to do Box Hill justice.
I love my Sony A6000, which is light, compact and great for travel.
#2 Decent Walking Shoes – No point coming this far and not being able to enjoy your chosen Box Hill walk to the max.
Get prepared therefore and ensure you have a decent pair of walking shoes – these cross trainers from New Balance are lightweight and ideal for the job.
#3 Light Waterproof Jacket – Whatever the time of year, you have to remember this is England after all, a country in which the heavens can open at any point!
Don't get caught out there and ensure you have a good lightweight and waterproof jacket with you.
This North Face one is perfect.
#4 Compact Hiking Day Pack – I never go on any day trip without a sturdy backpack to ensure I've got room to hike with everything I need and that the weight is equally distributed across my back and shoulders.
This super featherweight Kompressor from Marmot is my go-to, because it folds down to nothing and is water-resistant.
#5 Picnic Blanket – And finally, I would never head off to Box Hill without a good picnic blanket – you just never know when you might want to spread it out and chill on the grass with a strawberry or 2!
This one
, with its waterproof base, is ideal.
When to Visit & How Long For
Summer is definitely the best time to visit Box Hill in my opinion, as the dry, sunny weather you're most likely to get at this time of year will certainly help you enjoy the views and walks the most.
Do beware however that weekends and school holidays get very busy here, so try to visit during the week when schools are in session if you can!
A day is certainly enough to drive to Box Hill from London and to spend a good few hours walking around the site, visiting the stepping stones or Mickelham and perhaps enjoying some pub food or a tea in the National Trust cafe.
If you're heading off to enjoy more of Surrey or the South of England however, then Box Hill makes for a great starting point and first-night stopover.
Check out my recommendations below about where to spend the night if you're stopping for an evening here…
Where to Stay Near Box Hill?
If you hadn't gathered already, Box Hill is literally just a patch of elevated land, which means there's nowhere to stay here!
The nearby town of Leatherhead does offer some options, but your best bet is to really head to the historic market town of Dorking if you want to stay overnight.
Nestled in the Surrey Hills, Castle Mill Bed and Breakfast here is a top-rated spot with easy access to public transport and a beautiful garden with lake views.
Otherwise, for a more budget-friendly option, the Juniper Hall Hostel, located brilliantly in Mickleham, is definitely the option to go for!
PIN IT TO PINTEREST!
And that's everything you need to know about the best 6 Box Hill walks!
Hope you've found this guide handy in planning your time to this amazing part of the UK.
Have you been to Box Hill?
Have any tips to share?
Please drop them into the comments box below so we can help fellow travellers out…