Planning to travel Bolivia? Then here's 19 things to know before you go.
One of the smaller countries in South America (although still massive if you come from Europe) beautiful Bolivia is one of the cheapest countries to travel in this continent.
Chock full of amazing natural as well as cultural assets, Bolivia really is a feast for independent travellers too, with a lot of adventure, a chance to learn Spanish and an amazing cultural heritage all thrown into the mix.
But it certainly does pay to know a few things before you set sail for this most-lusted over destination and to help you out with some advice, here's my list of the 19 things you need to know before you travel to Bolivia.
Having romped through this country myself as a solo female on a shoestring, you can definitely trust my advice because, let's face it, I've made the mistakes so you don't have to!
---
Related Posts
---
This page contains affiliate links meaning Big World Small Pockets may receive a small commission on any purchases at no extra cost to you.
---
#1 It's Cheap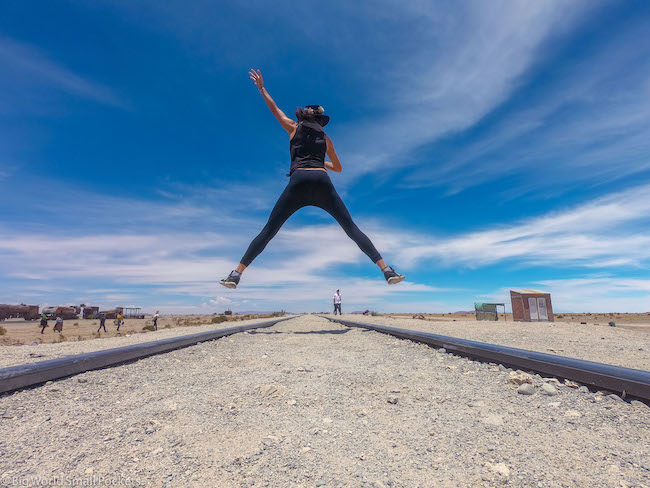 The first thing to know when it comes to travelling Bolivia is that, much to the delight of the budget-conscious, Bolivia is an incredibly cheap country to travel in.
In fact, it's definitely the cheapest country I've been to in South America and, I hasten to add, it's possibly one of the cheapest countries I've been to worldwide!
Yes I averaged a spend of only £29 per day here (way less than what it cost me to travel Peru), which makes this an incredibly budget-friendly spot.
Got to be happy with that!
And the easy way to spend abroad with real exchange rates, no markups and no sneaky transaction fees, is to get a Wise card.
Just like a debit card, Wise is a great travel card and links easily with Google and Apple pay. Grab yours here.
#2 Keep Tours to a Minimum
And one of the ways I did manage to keep my budget low when travelling Bolivia, was to limit the number of tours I did.
Honestly, tons of companies here will try and sell you either countrywide tours on arrival or tours to spots like Uyuni that start in La Paz.
Sure, if you're rushed on time and want life to be really easy you can enjoy some of these tours, they definitely have their place; however overall, Bolivia is a very easy country to travel in and getting to different places around the country independently, using public transport is super easy.
If you want to stick to a low budget, then my advice is to use public transport wherever possible and then only take tours you absolutely have to i.e. the Uyuni Salt Flats.
And the best deal for any of these types of tours can always be found at the destination itself, so wait until you get there to negotiate a deal and book.
If you're not totally comfortable with travelling this country independently however, then a small group or guided tour is a great option that will have you seeing the best of Bolivia safely, securely and easily.
Check out these top picks for some super ideas and prices.
#3 Eat Local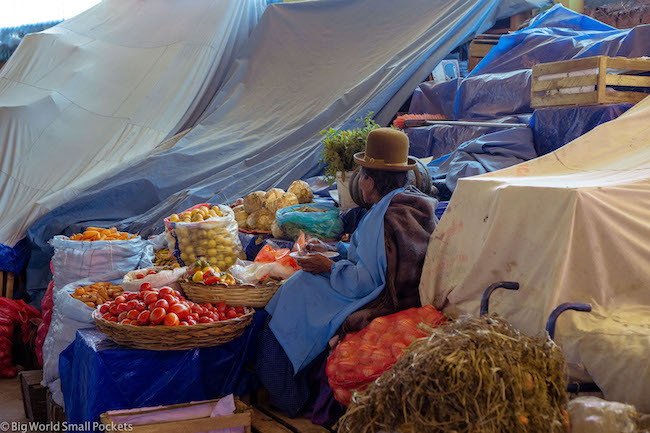 Another way you can save money when you travel Bolivia is to eat local.
By this I mean, head down the streets to find markets and street stalls selling delicious local fare.
In other words, avoid the gringo cafes and stick to sampling Bolivian cuisine the local way – although you can avoid the cuy!
Another great choice to help keep food costs down is to pick a hostel that includes free breakfast!
Lots of them in this country offer that, so be sure to check at the time of booking if yours is included.
#4 Visit for at Least 10 Days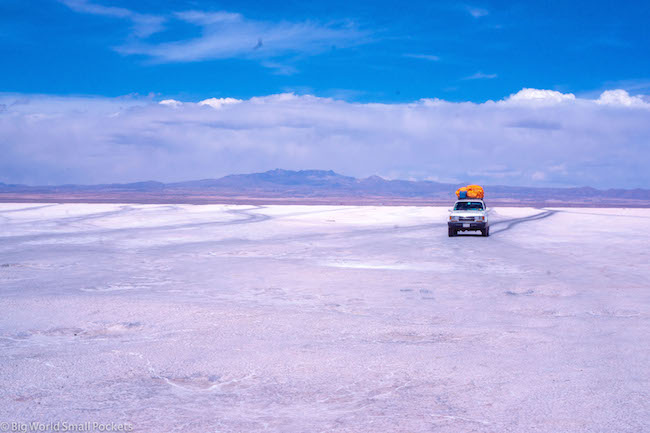 If you're looking to balance costs with exploring Bolivia, then I'd suggest at least 10 days in this country as a minimum – up to 1 month if you can!
Most European, North America and Australian passport holders are granted a 30 day free visa on entry – so make good use of this!
Staying longer in a country will always help you get better deals, as you learn how much you should be paying for stuff, and you can often return to hostels or locations and negotiate a repeat business deal!
Also, I do feel Bolivia often gets overlooked on many South America travel itineraries, as they simply charge through this country enroute from Peru to Chile, not giving this little gem more than a week.
They are missing out!
Although I had to cut my time in Bolivia dramatically short after the sudden events of a military coup, I did have plans to stay 4 weeks here to see and learn as much about this country as possible.
After all, the longer you're in a place, the better you get to know it and the more you tend to fall in love with it.
And trust me, Bolivia is worth falling in love with!
#5 It's Safe
So as well as being small, Bolivia is also very safe.
At least in terms of local people it is.
Outside of the major cities, life is very rural and people are always willing to stop and help you.
The thing you do have to watch out for in this country are protests, political action and, as I discovered, military coups!
Although I actually didn't feel unsafe when one of these unfolded around me, they do make it hard to travel as roadblocks can literally lead to being unable to leave.
Trust me, it just pays to do your research about what is going on in the country in advance.
World Nomads offers simple and flexible travel insurance. Buy at home or while travelling and claim online from anywhere in the world.
Alternatively, if you're a long-term traveller, digital nomad or frequent remote worker seeking travel health cover, check out Safetywing's Nomad Insurance policies.
#6 Cross Via Land From Peru, Chile & Argentina
International flights within South America, i.e. ones that cross borders, are insanely expensive so, another key tip if you want to keep your budget (and your carbon footprint) low when you travel Bolivia, is to bus between neighbouring countries if you're travelling as part of a longer South America trip.
Crossing land borders between neighbouring Peru, Argentina and Chile is actually very straightforward and can easily be done on public transport, or through companies like Peru Hop.
I entered Bolivia from Peru – arriving into Copacabana (learn more about this town here), where you can then explore Lake Titicaca – one of the best places to visit in Bolivia.
I then left Bolivia from Uyuni and crossed by land into the Salta region of Argentina. Learn about this journey here.
#7 You Can Take Internal Flights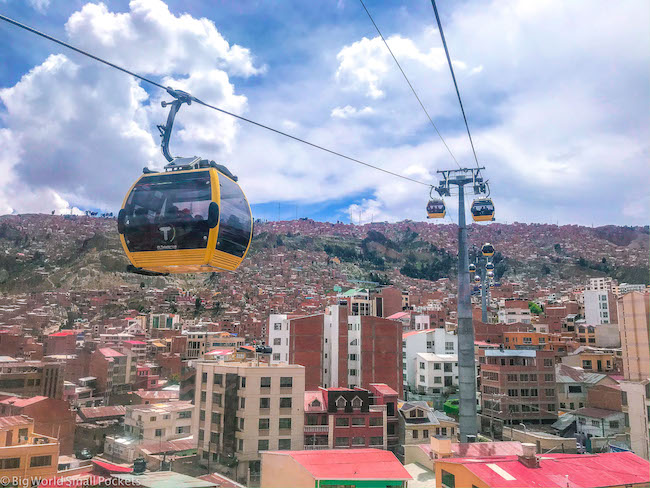 Although I don't really recommend them for environmental reasons, you can take internal flights within Bolivia if you're in a rush and want to scoot from say La Paz down to Uyuni as quickly as possible.
Book in advance and you can get some good prices.
As always, I use Skyscanner to book flights because they include budget airlines and I've found they offer the best deals.
#8 Take a Day Trip to Uyuni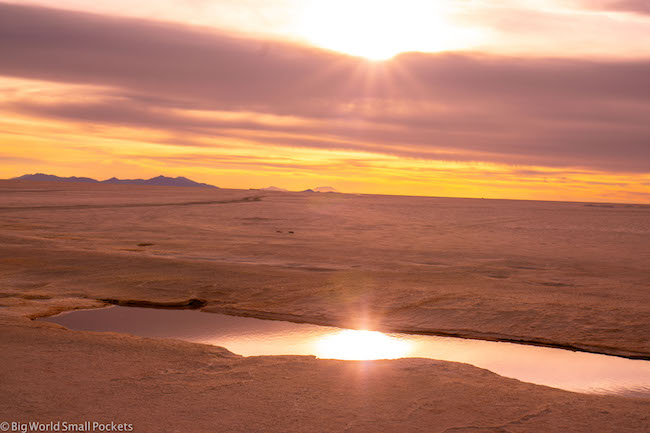 Look you can take longer, but if you're not carrying onto Chile and the Atacama Desert as part of your Uyuni Tour, you'll see all the best bits of this wild Salt Flat in just a day trip… and you will save a lot of money in the process.
If you are carrying onto Atacama and Chile, then do definitely take a longer 4 day tour, because it works out much better value for money and is a great way to cross this remote border too.
Learn more in this post I wrote all about Salay de Uyuni tours.
#9 Pack a Head Lamp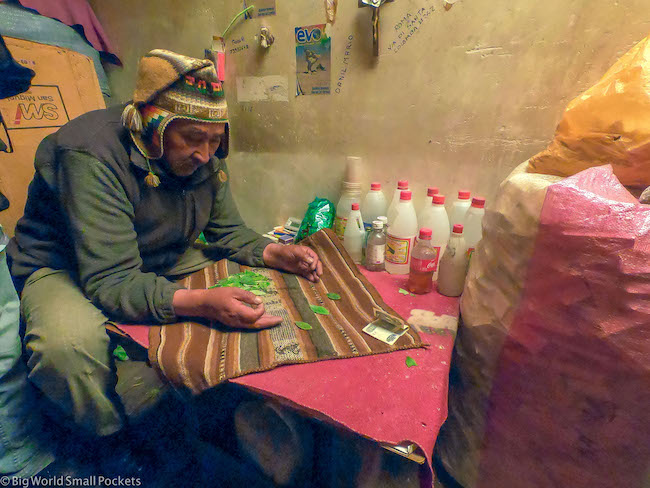 Power cuts are very common across Bolivia and if you're taking any trips to places that are remote, such as overnight in Uyuni or the Amazon, then you'll definitely want a good and reliable headlamp!
I love my Black Diamond Storm, which has served me super well the world over.
Its red light function is great for keeping bugs away and the batteries last in it for ages.
Learn more about what to pack when you travel to South America in this complete checklist I made.
#10 Come in the Shoulder Season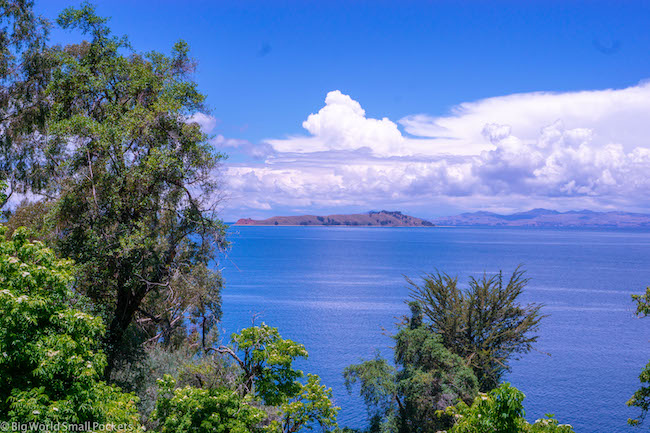 The most popular time to visit Bolivia is in the Andean high season, which runs from June to September.
It's coldest at this time, but there's also the least rainfall, which means it's great weather for hiking and enjoying Bolivia's high altitude scenery.
However, it does get busy at this time of year with tourists, and prices go up too as a result.
As such, I highly suggest travelling in the shoulder seasons to Bolivia, which run either side of high season i.e. April to May and October to November.
These are great months to travel Bolivia because the weather should still be good.
As long as you avoid major holiday times such as Easter and school breaks, prices are also quite cheap at this time and most of the sights are not too crowded!
#11 Bolivian Bolivianos is the Currency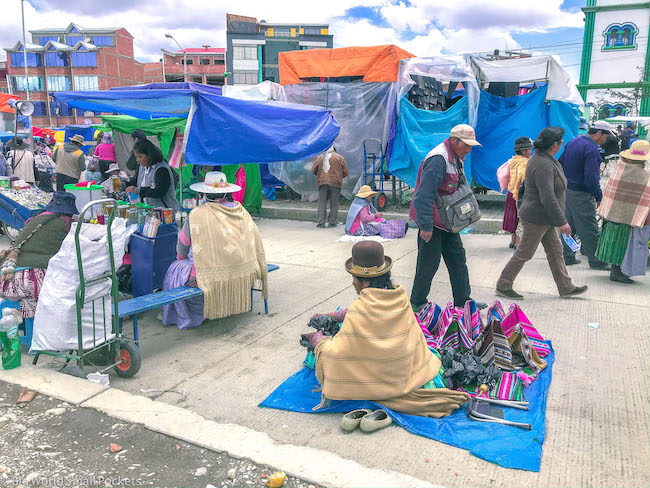 The currency in Bolivia is the Boliviano – yes confusing I know, but there it is!
1 USD is worth roughly 7 Boliviano (BOB).
You can get Bolivianos at the border, withdraw them from the ATM on your arrival, or change them at a neighbouring country a few days before you arrive.
Just don't change any money at the airport… of course, the rates are notoriously bad!
When it comes to paying for things in Bolivia, you want to ensure you're not being charged overseas transaction fees or getting poor exchange rates when using your card abroad, which is why I always take my Wise card away with me wherever I travel.
The easy way to spend abroad with real exchange rates, no markups and no sneaky transaction fees, you can use your Wise card just like a debit card across South America… and it links easily with Google and Apple pay. Grab yours here.
#12 Get a Local SIM Card
I tried to take the moral high ground in Bolivia and for the first time in months not get a SIM card in a country I travelled in and simply rely on wifi at hostels etc… I instantly regretted it!
Not helped by the fact I had to make an emergency departure from the country due to aforementioned military coup, I just found not having maps available, hostels bookable, info at the tip of my finger and Whatsapp to enjoy, a complete mission.
And don't get me started on those long bus journeys I could have used for travel research!
As such, I absolutely recommend getting a local SIM card if you travel Bolivia even for a week.
They are super cheap, readily available and you won't regret it!
#13 Take Free Walking Tours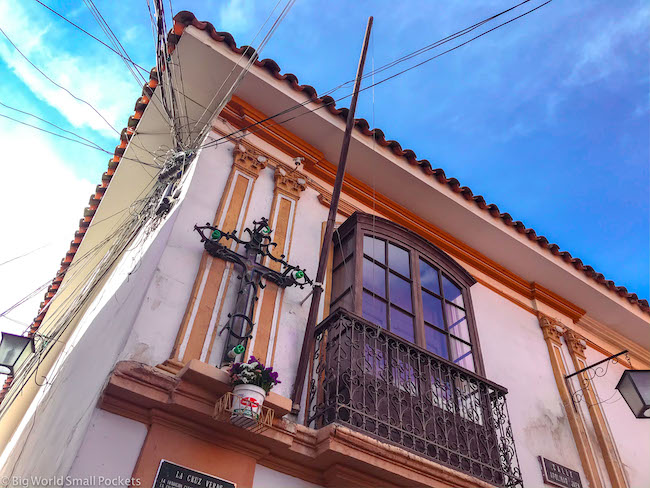 In many popular destinations in Bolivia, especially cities like La Paz or Sucre, there are free walking tours with locals you should definitely enjoy.
Not only are they cheap – you need only give your guide a tip at the end – but they are also a great way to source local info and to support individuals, often students, both linguistically and financially.
You can generally find out when and where free walking tours meet by asking at your hostel.
#14 You'll Easily Meet Other Travellers
Well and truly on the traveller list, you'll easily meet other travellers when you come to Bolivia, especially if you visit during the high or shoulder seasons.
Some hostels are more party orientated – such as Wild Rover – but even the less geared towards those crazy 20 year-olds who just want to get drunk, are really fun and easy to meet people.
In particular, I found these 3 hostels great for chatting with other travellers:
Joshua's Eco Hostel – Lake Titicaca
Hostel 3600 – La Paz
Piedra Blanca Hostel – Uyuni
#15 Take Your European Plug
It's European pin plugs that are used throughout Bolivia, so do not travel here without your Skross World Adapter – it won't let you down!
#16 It Pays To Learn Some Spanish
Yes almost everyone working in the tourism industry in Bolivia, especially if they are young, will speak very good English, but beyond this many local people will speak their indigenous language and Spanish, otherwise known as Castellano.
If you really want to enjoy travelling Bolivia therefore, and get the most from your experience by shopping at local markets, chatting with taxi drivers and conversing with fellow passengers on the bus, then it definitely helps to pick up a bit of Spanish.
Start with some lessons at home before you come – Duolingo is a great, free language app and pick up a Latin America Spanish Phrasebook to bring with you.
You then may want to consider Spanish classes in Bolivia where they are very reasonably priced. Again this helps sustainably support local businesses and individuals.
#17 Solo Female Travel is Easy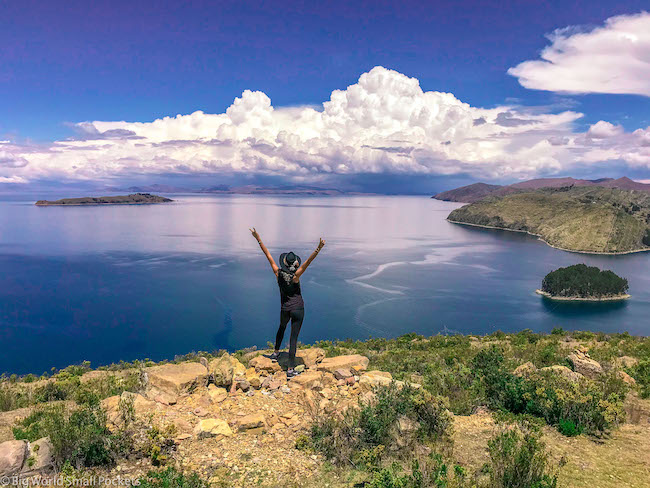 I travelled Bolivia as a solo female and found my experience very safe and pleasant.
I was never harassed on the street and while I did always maintain common sense and avoid unnecessary risks, such as walking out alone at night, I found the country very secure.
Having a SIM card would definitely have helped me feel even safer.
World Nomads offers simple and flexible travel insurance. Buy at home or while travelling and claim online from anywhere in the world.
Alternatively, if you're a long-term traveller, digital nomad or frequent remote worker seeking travel health cover, check out Safetywing's Nomad Insurance policies.
#18 Think About Your Dress Code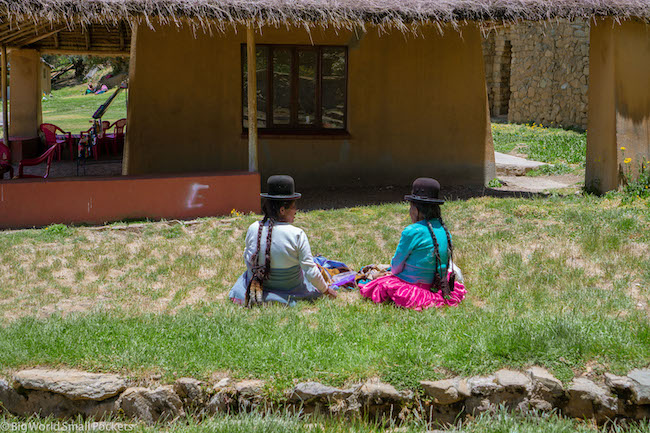 One of the most frequent questions I receive from people who want to travel Bolivia is about dress standards.
And while this is South America and most people here are deeply religious, dress codes are not super strict.
By this I mean, Bolivian women certainly dress respectively in general with covered legs and arms and often a hat – yes the traditional dress still seen in this country is amazing – but tourists are not expected to do that same.
That said, being super-exposed is definitely not the done thing either and during the time I was travelling Bolivia, I generally I opted for trousers and a T-shirt, plus a scarf around my neck.
I especially loved wearing my travel scarf, which come with a handy security pocket where you can safely store important bits like keys or passports.
This clothing also works because, with most of the country situated at altitude, it just doesn't get that hot, especially not at night!
It's also good to protect yourself from the really strong UV rays this high up in the atmosphere (don't forget a lot of Bolivia is over 2500m) so ensuring your legs, shoulders and neckline were covered, is a great way to do this.
#19 And the Best Places to Visit in Bolivia are…
If you're heading out to travel Bolivia and want me to cut straight to the chase and tell you the best places to visit, they are (in my humble opinion):
PIN IT TO PINTEREST!
And there you have it my fellow budget travellers – the 19 things you need to know before you travel Bolivia.
Hope you have an amazing time planning your trip to this country, and an even better time when you are there!
If you have any questions about travelling Bolivia then drop them into the comments below and I'll get back to you…