Windsor is, without a doubt, one of the best English day trips there is from London and this article will give you all the info you need to make the journey between the 2 destinations.
A royal feast of a place with a plethora of beautiful green spaces, some resident deer and a ton of cobbled quaintness thrown in for good measure, Windsor really does have something for everyone.
And if you were in any doubt, then there's even a Legoland here for the kids!
But the joys of Windsor don't stop there because, you also have the amazing Royal residence, beautiful Windsor Park and the streets of this historic market town to explore too.
So if you're interested in heading to see Windsor, its castle or, indeed, Legoland, then here are all the ways to travel from London to Windsor… and back again!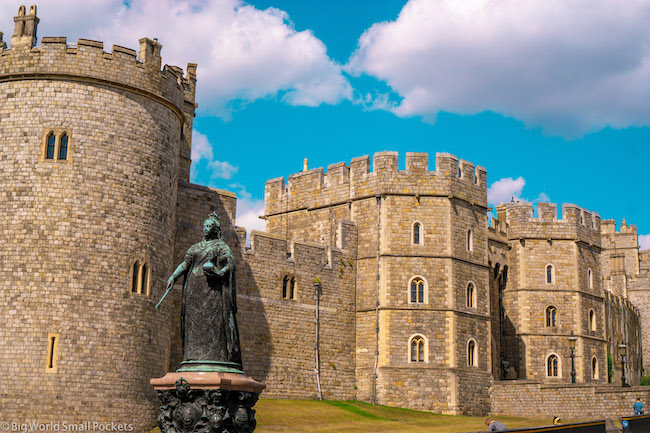 ---
Related Posts
---
This page contains affiliate links meaning Big World Small Pockets may receive a small commission on any purchases at no extra cost to you.
---
London to Windsor By Train
If you're catching the train from London to Windsor, then it's useful to know that the city's main station is actually called Windsor and Eton Central.
Don't be confused by the name, this is the station you want!
A tiny station, with just 2 platforms, it is, however, very close to Windsor's High Street and within a tourist-friendly restored heritage building now turned shopping area.
If you're actually heading to this station from London, then you'll likely need to change at Slough – confusingly trains don't go direct from the capital to Windsor.
But don't let this put you off, even though you have to make a change, this is a quick, straight-forward and simple journey that takes little over an hour.
Slough-bound trains leave regularly from London Paddington and, as always, I recommend using the amazing free app Citymapper to plan your journey to this station if you're elsewhere in the capital.
You can then buy your train tickets on the day of travel from a machine in the station or, if you'd like to get the best-priced train tickets, I definitely recommend booking your journey online in advance.
And when it comes to travel across the UK, I always book my tickets through Trainline.
Not only does their website easily allow you to compare multiple journeys when it comes to times, changes, lengths and prices, but their handy app also allows you to store all your e-tickets, meaning you don't have to mess around with collecting any passes at the station.
Alternatively, you can also buy tickets from London to Virginia Waters and then walk through Windsor Great Park to arrive at Windsor Castle in style, care of the Long Walk!
This fairly decent stroll takes a few hours and leads you through large swathes of Great Windsor Park's 4,800 aches, as well as the famous deer park, before finishing at the amazing Snow Hill viewpoint.
From here you walk down the iconic straight route to the gates of Windsor Castle, before exploring this Royal residence, as well as the city of Windsor and then hopping on a train back to London.
If you choose to enjoy Windsor this way, as I did, then the best option is to buy a one-way ticket to Virginia Water train station, and then a one-way back from Windsor & Eton Central.
Again, this is possible through Trainline.
Train travel in the UK can be really affordable if booked in advance and is also a very eco-friendly mode of transport.
The simplicity it affords, thanks to the regularity of trains between London and Windsor, makes this a winning way to get between the 2 cities, especially if you're just on a day trip.
London to Windsor By Bus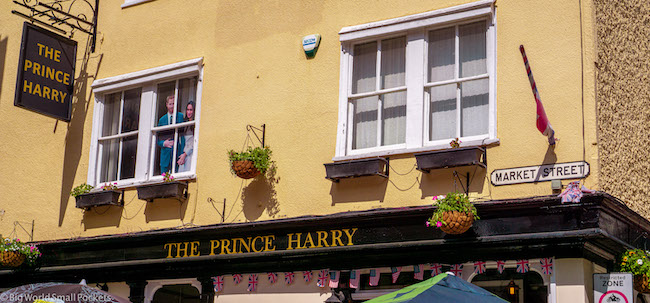 If budget is a real issue for you and you're perhaps booking late in the day (meaning the cheapest train tickets aren't available to you), then you may want to consider catching the bus from London to Windsor instead of the train.
National Express runs many buses to Windsor's Legoland, which is a major attraction in the city… as we've noted!
In fact, there's several direct coaches daily from London Victoria Coach Station, where National Express have their main terminus in the capital.
Again use Citymapper to find your way to this coach station, bearing in mind it is a 5-10 minute walk from the main Victoria Station – allow ample time!
Once in Windsor, the National Express stop is along Victoria Street – yup confusing but true!
From Victoria Street in Windsor, you can then easily walk to the Castle, Long Walk and all of Windsor's other main attractions.
As always, bus travel in the UK tends to be slower than the train – mostly due to traffic – but is cheaper.
You do the costs / benefits analysis therefore and decide which is better for you.
If you do decide to take the bus, then again I suggest booking in advance.
The one-stop shop for all things travel in the UK, you can actually book your National Express buses from London to Windsor via the Trainline's website too.
This allows you to easily compare the bus and train services.
The White Bus Service also runs from Windsor to Ascot if you're travelling onwards in that direction.
Bus travel isn't as green as train travel (because trains to Windsor are electric while buses still use fuel), but taking public transport is still always better for your carbon footprint than a private mode of transport.
London to Windsor By Bike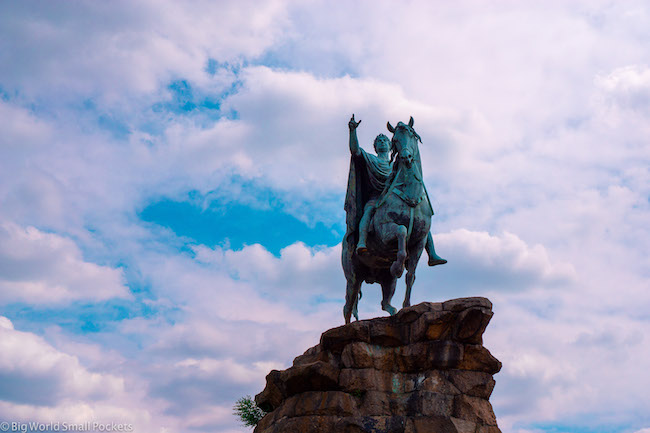 You can also cycle from London to Windsor.
A pretty long route that takes around 2hrs, this one is, however, very rewarding and scenic.
Largely flat, you'll mostly follow the beautiful riverside cycle from Richmond (in southwest London) to Windsor along the vehicle-free Thames Path.
You've then got National Cycle Route 4 to join onto, which actually goes through Windsor Park itself!
Cycling is allowed through Windsor Great Park, it's just the Long Walk bit that you have to dismount for.
Needless to say, cycling is definitely the most environmentally-friendly way to get from London to Windsor and in the summer, this route along the Thames Path is just gorgeous.
London to Windsor By Car
Alternatively, if you're travelling via 4 wheels from London to Windsor, you can reach the city in an under 1.5 hours – dependent upon traffic and which side of London you're coming from.
Being situated west of London, it takes a lot longer to get to Windsor if you're coming from my neck of the woods i.e. Hackney than if you live by Heathrow!
Once in Windsor, there's several parking lots within the city itself you can use.
If you're on a best, the best option is to hit up one of the long-stay car parks, which are just a few minutes walk further out of the centre, but offer much better value parking than the short-stay bays in the heart of the city.
Long-stay car parks in Windsor include:
• Romney Lock and King Edward VII
• Alma Road and Alexandra Gardens
Lives updates on road signs within Windsor give current info on which car parks have spaces.
Alternatively, there's several parking lots within areas of Great Windsor Park too if you want to extend your stroll.
The Park's car parks are open dawn until dusk and can be found at The Savill Garden, Virginia Water, Ranger's Gate or Cranborne Gate.
For more information, click here.
Parking costs in the Great Park are up to £10 per day and machines onsite accept either credit or debit cards.
While not great for your carbon emissions, car travel can be very affordable if there's a group of you and give you a high degree of flexibility if you're motoring on to another destination (not London) after Windsor, such as Salisbury, Stonehenge, Bath or Bristol.
I'd probably recommend other forms of transport if you're just going to Windsor for the day, but if you are making a journey here as part of a longer adventure then a private vehicle might be the way to go.
If you need to hire a car for this purpose, then check out Discover Cars who have some of the best rates around.
Top Travel Tips for Windsor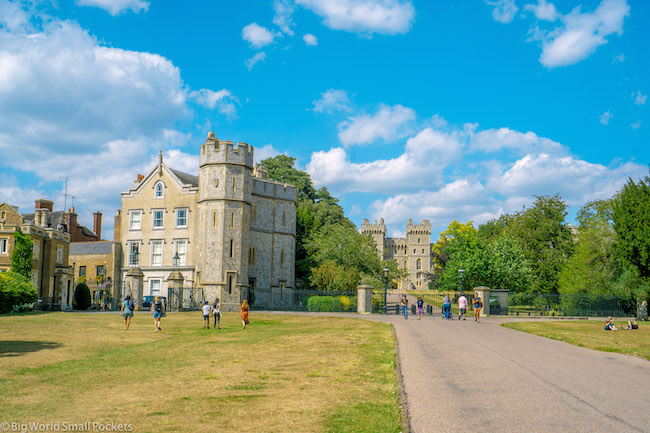 Best Time to Visit Windsor?
The best time to visit Windsor is definitely during the summer months, when the better weather from May to September will allow you to get out and explore the glorious walks and historic sights around.
Just watch out for any Royal events happening – these will bring more crowds!
Where to Stay in Windsor?
If you want to stay in Windsor for longer than a day, check out the Castle Hotel in Windsor or the beautiful Windsor Cottage, which are both incredibly well located in the centre of the town.
Travel Insurance for UK Travel
World Nomads offers simple and flexible travel insurance. Buy at home or while travelling and claim online from anywhere in the world.
Alternatively, if you're a long-term traveller, digital nomad or frequent remote worker seeking travel health cover, check out Safetywing's Nomad Insurance policies.
Travel Money for the UK
The easy way to spend abroad with real exchange rates, no markups and no sneaky transaction fees, you can use your Wise card just like a debit card here… and it links easily with Google and Apple pay – sold! Grab yours here.
PIN IT TO PINTEREST!
And there we have it folks, my full guide on how to travel from London to Windsor by both public and private transport, including train, bus, bike or car.
Hope this information has proved useful and that you can get to Windsor and soak in all that regal ambience soon!
Have you already been to this historic market town?
How did you get there from London?
Would love to know (+ any top tips you have) in the comments section below…